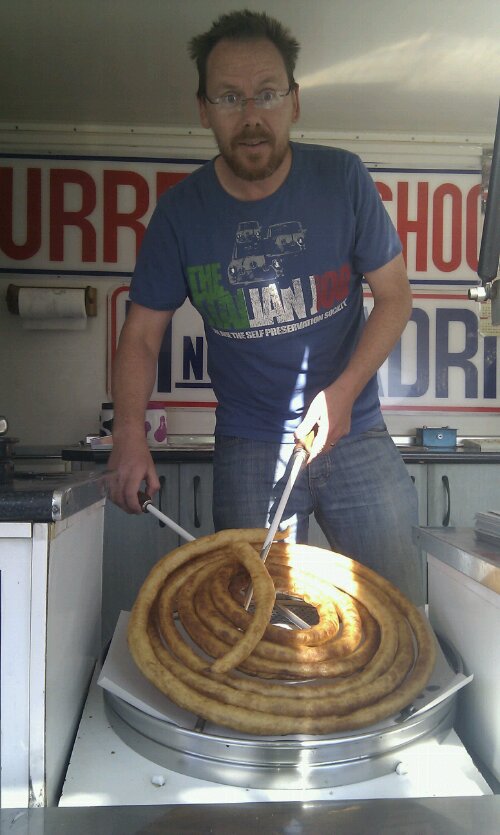 We're here: N36.82637 W2.51641
The weather: sunny right up until the point I waddle into the Mediterranean, then cloudy.
Today's been a day of contrasts. From mountain village to sprawling industry and from land to the underwater realm of the sea.
While we were parked overnight on the mountain road above Yegen, I woke up during the wee small hours to hear, well, nothing. I listened harder. Nothing, no birds, cars, rivers, people, music, sirens, nowt. Magical.
When we got up around 8:30, I opened the van door to be greeted by a fantastic vista. Obviously the same one we had last night, but this one sun drenched with mists sat in the valley below us. I grabbed my Uke and strangled out a few chords in a vain hope of artistic inspiration which never came.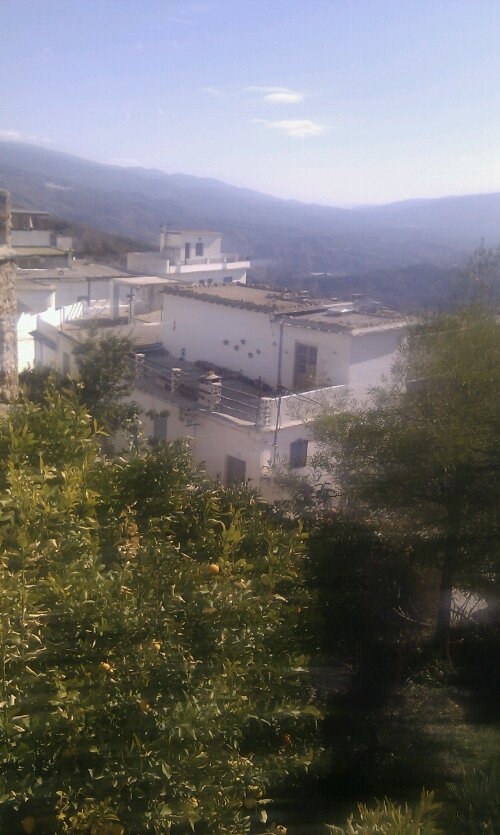 A short while later the horn honking started. A van of some shape and size would arrive on the road behind us and go road-rage crazy on the horn for a few minutes before descending into the village continuing the honking. A little while later another van or lorry.
Mystery solved as we walked down to the church to come across a big pants stall, followed by various others. Market day. Cool. Next thing we know we're €20 lighter and we have huge bags of sugared almonds, mixed dried nuts and churros (straight Spanish donuts) in tow. I'm reading a book recommended by our friend Chris called Flinch. It says we should be proud of our mistakes; we need more scars in life to show we have lead a full life. Those churros were a tiny little scar after we accidentally bought €5 worth instead of 5 pieces. We got a HUGE bag and are now pig sick of the stuff.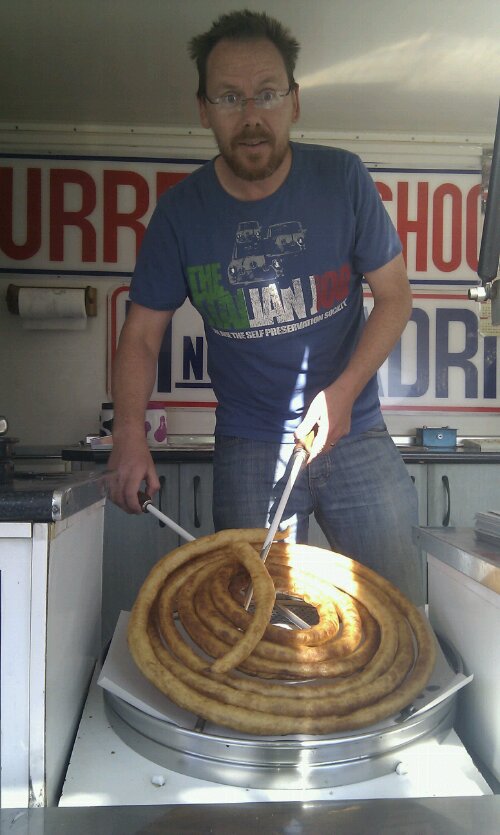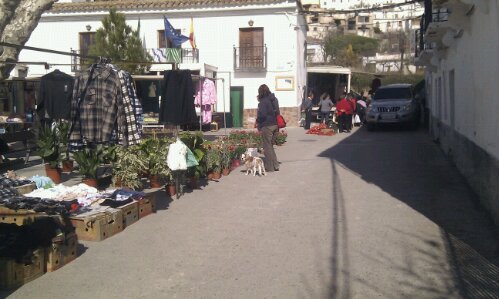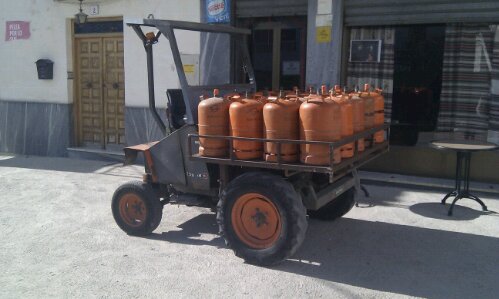 We left the village and headed down progressively straighter and faster roads through the hills. As we rounded a corner looking down on the several-mile-wide plain between hills and the Med, my Brain went into go slow. Huh? The whole plain was flooded by the sea? Miles upon miles of it. Ah, wait, nope. It's the plastic greenhouses we've heard of, only on a far more vast scale than we had imagined. They must be employing half of Morocco to tend these crops. Where the water comes from is a mystery as up in the Alpajurras, it's a scarce and well managed commodity, with tiny channels carrying it whither and hither.
Arriving at our campsite, in a tiny cleft carved by a now dry river, we find the receptionist is a Scot! One in a bad mood it seems as he doesn't let on he speaks English at first, even though Ju has asked him. He's loudly and slowly speaking in Spanish to Ju as walk in, as though talking to a half wit. Needled, I wander past saying what a pleasant man he is, in English, then leave reception for poor old Ju to deal with him. He started speaking English soon afterwards and did indeed turn out to be a nice man, must have been having a bad day.
Once we'd parked up, Ju swapped the bedding as I whipped off the bent part of the air suspension in the hope it was the source of our clonk. I doubt it was but we'll find out tomorrow.
As my half naked oil and dirt coveredness is under the van I hear a friendly Brit voice. Tony enquires as to the nature of our problem before regaling us with tales of his old Hymer blowing up in numerous different ways. We're hoping Dave doesn't get similar ideas and are glad for something a simple as a clonk to be ailing him.
It had also slowly dawned on me when we arrived that the sea about 50m from Dave was the Med. Hey, the Med's warmer than the Atlantic! Out comes my snorkeling gear and in I go. The surface of the sea does an excellent job at hiding the fantastic miracle of adjacent worlds. As soon as my masked noggin enters the water, previously hidden fish, anemones and sea cucumbers are revealed. The initial shock of the cool water faded and I got a good fish-chasing session in before having to get into the roasting campsite showers for half an hour.
Ju's been in touch with some family friends further up the coast and a date's arranged for a catch up. Should be fantastic to hear about their life here and see their home and land. They may also be able to recommend a garage?
Happy days!
Jay