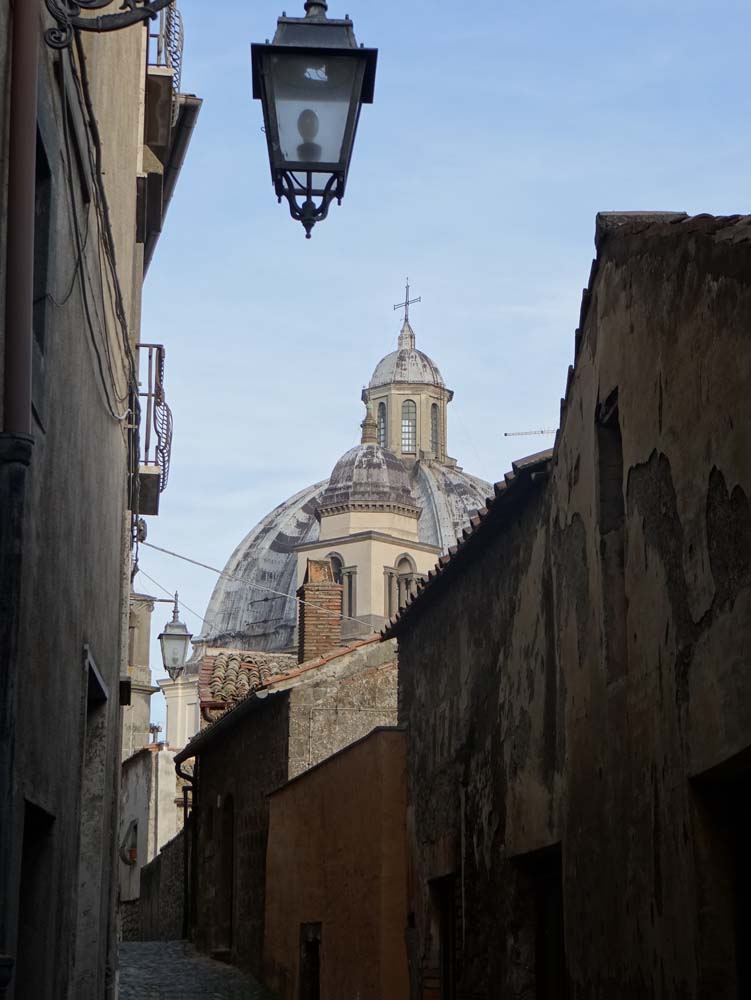 Dave the motorhome has company, being parked for once with neighbours, a few Italian motorhomes at a sosta in Montefiascone (N42.53324 E12.04264). Why so much company in November? Could be the fact it's free, with heater-powering electricity and is right next door to Cantina di Montefiascone, a co-operative wine and local products seller? Angus told us about the place in a blog comment, thanks Angus, they still have inexpensive (€1:30 a bottle) wine which we've had a look at (wink, wink) and will be back in later to get some in, and maybe even some of the €2 plus stuff, blow the budget!
Despite Eurostar Italia's best efforts to keep us awake, intermittently firing windowed-bullets at us through the night, we had a good night's sleep. A couple of Italian neighbours arrived late and left early, craftily missing the €18 fee! We took our time leaving, refilling Dave's water and peering inside the office building with fridge units, chairs and desks all half-cleaned of mud. As we left Ju spotted four cars, with mud on their roofs, pushed to one side, their owners perhaps away on the train somewhere when their transport found itself part of the distant river. This was the nearest I've ever been to real flood damage, and it looked awful.
A fog had dropped in the night, so the guidebook's promised views up to the cliff-top town from the road leading south never materialised. With a series of switchbacks, we rose up and over the edge of a hill, most likely a dead volcano crater, and popped out above the mist.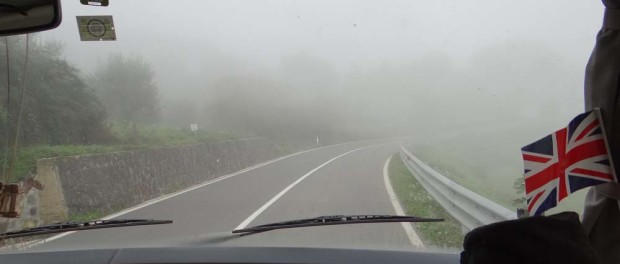 Heading for Lago di Bolsena in Lazio, which is definitely formed from a crater, the largest of it's kind in Europe. As the patched and re-patched road rumbled on, forcing us to shout to hear other, we wondered whether Dave's Fiat-based suspension was made for this punishment – being Italian maybe the factory knew what was coming? Only a short drive through the hills and the lake appeared, like a rubbed out hole in the greens and browns below, a pure and beautiful sight. We pulled Dave over into a daft-dangerous lay bye on a bend and gawped at it, breathing in the air and sunshine.
The lake itself eluded us, not physically, we found it easily enough but the empty, dishevelled sosta wanted €14 a night and the car park nearby, equally empty, wanted €1 an hour. On another occasion we'd have stayed as the lake, with it's narrow black sand beach was so calm, bewitching and a few feet from the sosta. Not today though, perhaps some Italian desire to avoid paying is rubbing off on us, or maybe we just felt a little hard done to being asked the same price for high season as no-season. Whichever it is, we took to the road again and headed for here. As we entered the town, sat nav pointed us down a hilly street with cars either side. Alarms rang! Quite right too, despite being initially calmed by the fact a yellow bus was in front of us, he soon pulled over into a too-small gap to reveal a triple-parked car. Top. With cars lining up behind us, I considered leaning on the horn until someone came out and shifted it, but Ju deftly leapt out and guided me through – in an act of trust I've learned to only look at her as she's stood in the road in front pointing out how many inches I have each side. We squeezed through, a small victory!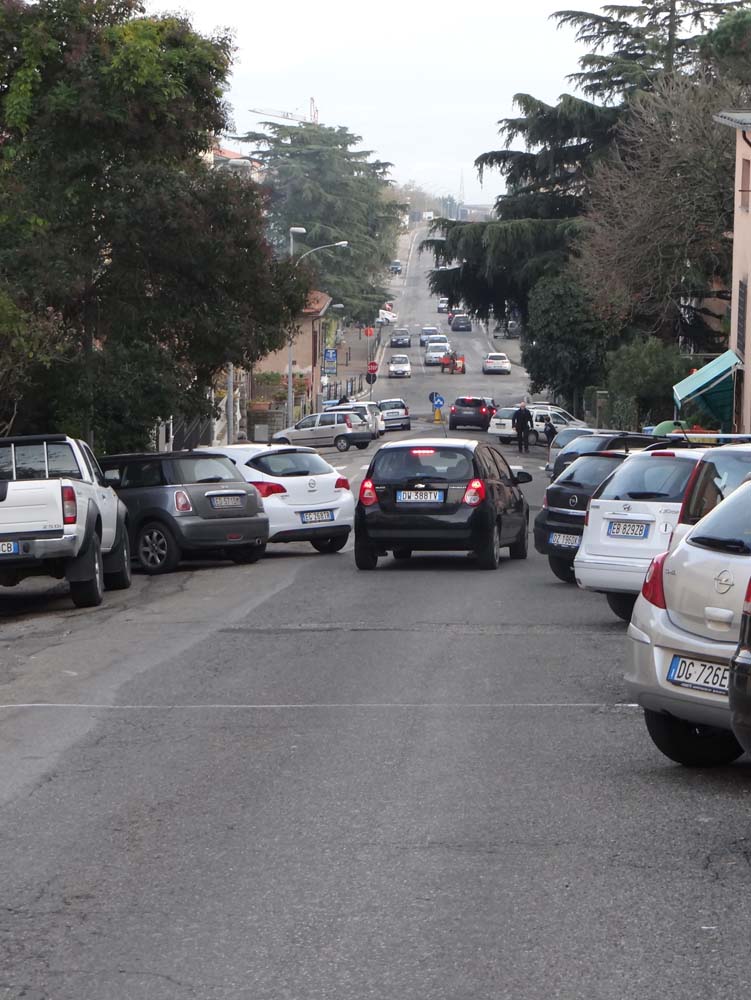 Montefiascone shares some common traits with it's neighbouring towns we passed through on the way. It has Etruscan origins, so is easily over 2000 years old and is on top of a hill, or more accurately another volcano. Ju ran her finger down the Rough Guide and out popped an interesting fact: rather too much of the local wine, called Est! Est!! Est!!! (yep, including the exclamation marks) did for Bishop Giovanni Fugger, and his pickled body lies in a church in town. Needing no more temptation to get out of Dave, we headed off, having a look inside the wine shop next door on the way (and I sneaked in a 'test' of one of the open reds on display, don't tell Ju).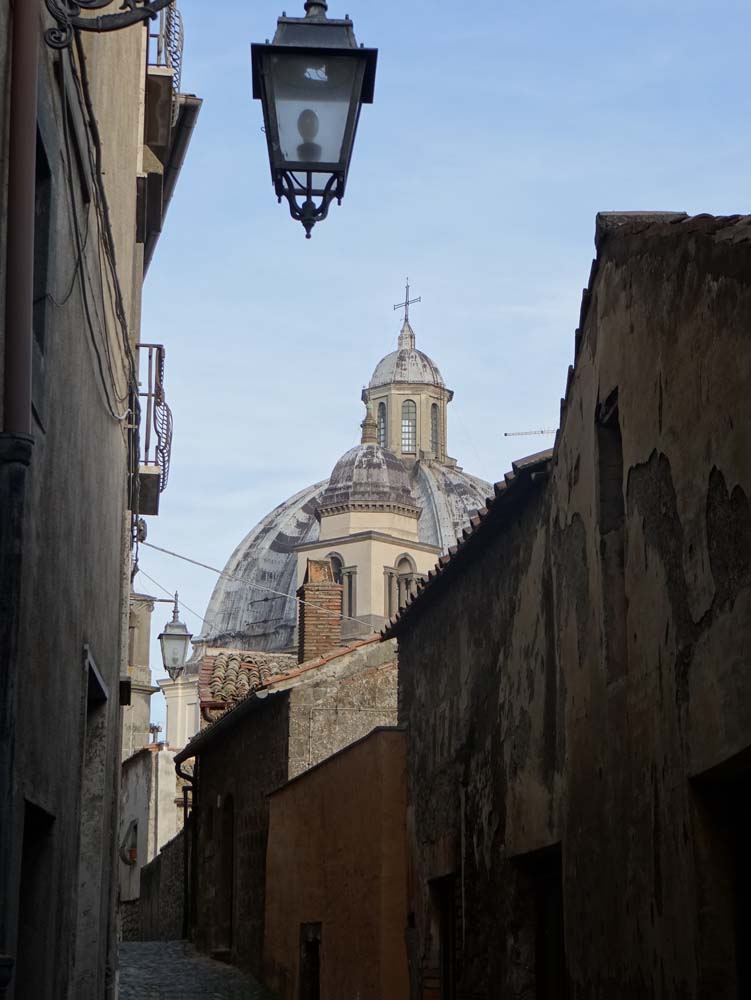 Being on a hill, walking about the place takes some effort, and may have worn off a tiny percentage of the wild boar calories we munched for lunch. Hiking (sounds better than walking) around the south suburbs of the town and around to the east, a viewpoint had us in raptures and threw Charlie into shivers of fear. He's not liking the heights, nor either of us being near the heights, as we guess he figures if we go so does his grub, and he's a meat-seeking missile our pet beast.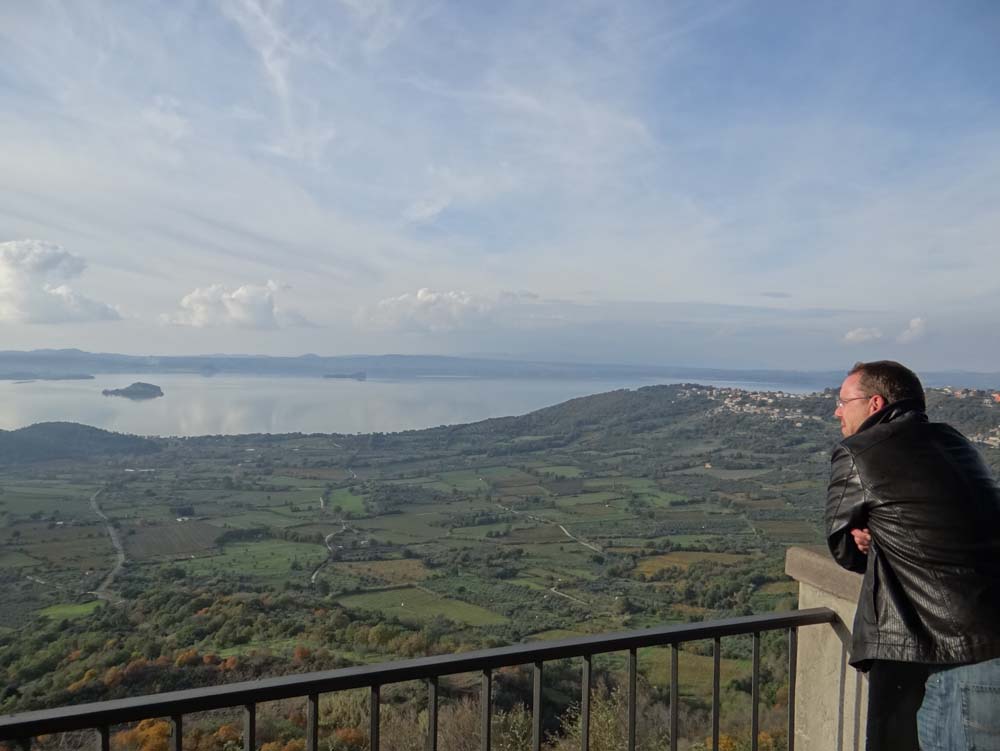 Into town, we find it's a bit run down in comparison with the immaculate previous few towns we've seen. Black and white photos at one of the town wall gates show this is nothing new, kids playing barefoot in the stone streets. We did track down the wine-loving Bishop though, his body eerily mummified beneath the cathedral. Heading back to Dave we've got word that newly-weds Phil and Katherine, who we met in a pass top in Switzerland, have beat us to Rome and are on their way back up, popping in to meet us. Hooray! They're great company, and we loved their boxer dog Lennox.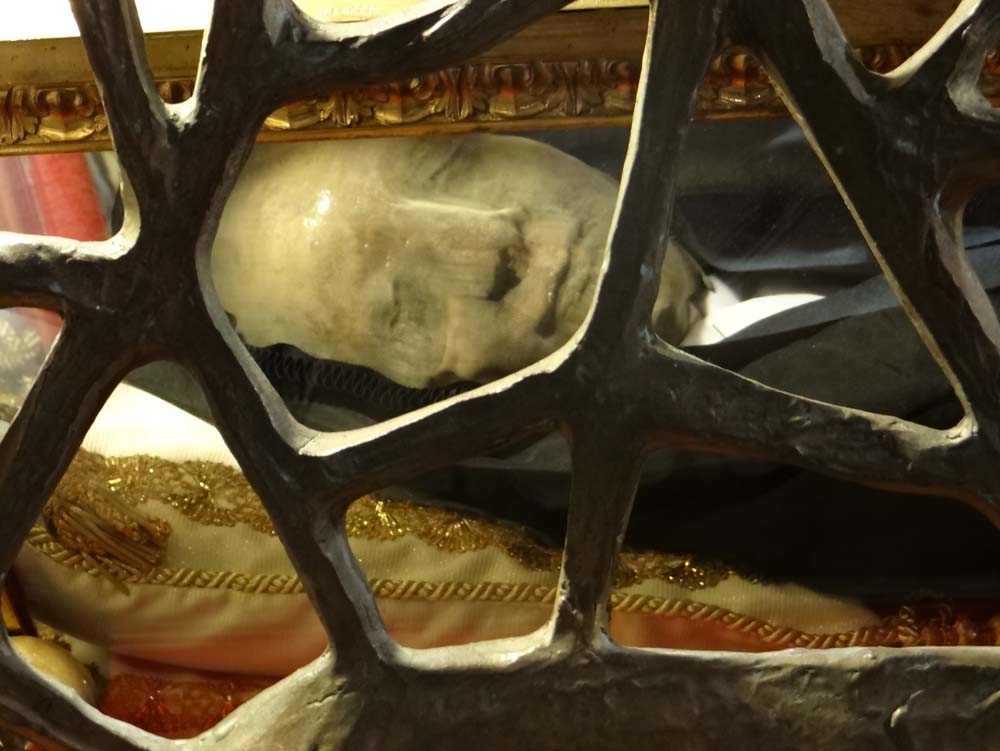 So. The heater is on. Charlie is snoring. The sun's gone down immediately plunging the world into pitch. The music is playing and we've a few beers to drink. Happy days.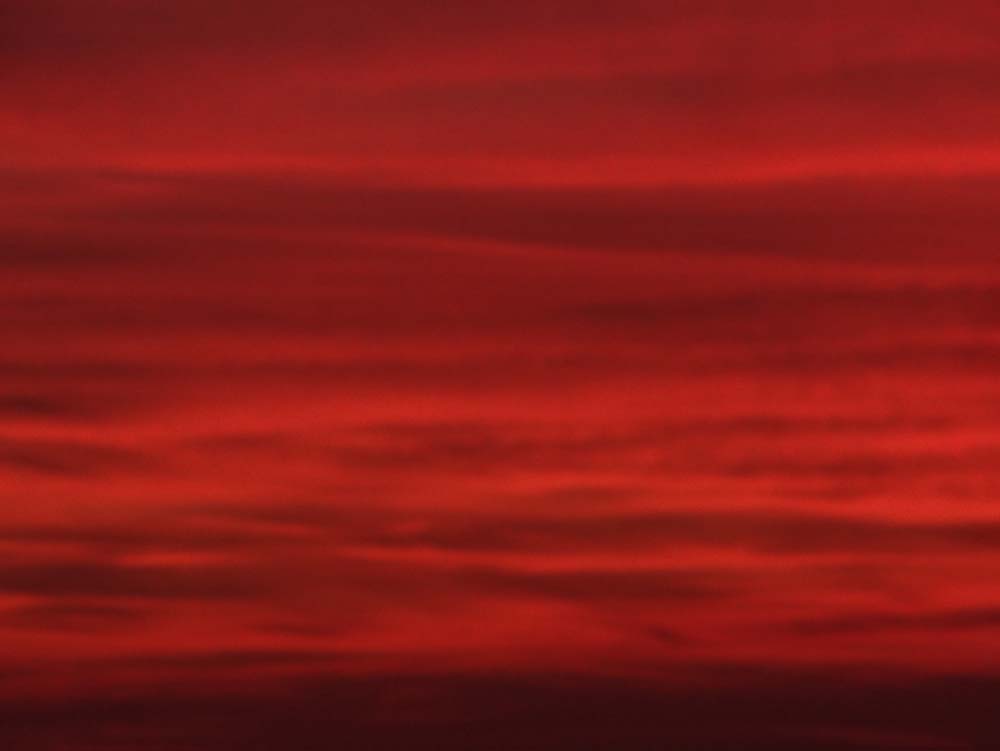 Cheers, Jay