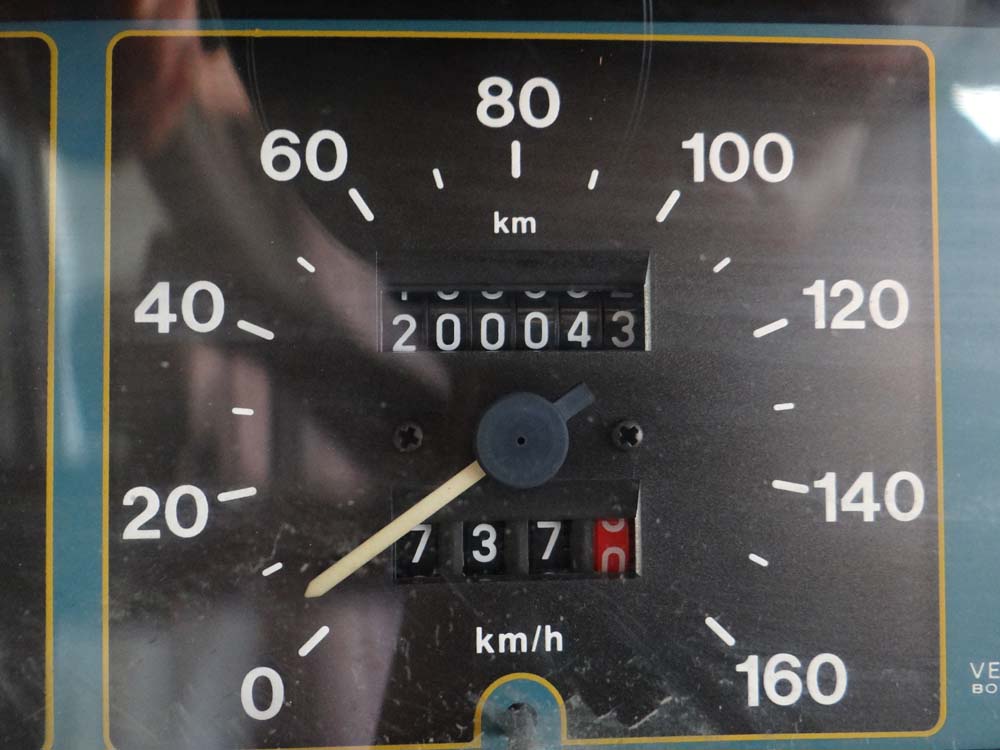 Dave the motorhome's punching the air (alright, maybe stretching it a bit far with that one, as he's armless). His clock's ticked over to 200,000 Km, of which about 40,000 Km we've done in him over the past two years. He's dragged us up mountains and edged us safely down them again. He's trundled alongside lakes and seas. He's been stuck in sand, and once dragged the Italian coastguard out of the stuff. He's tootled up a volcano or two. He's bounced and crashed along holed and unsurfaced roads in North Africa and Eastern Europe. He's generally bloody rocked and we can't be happier with the old fella.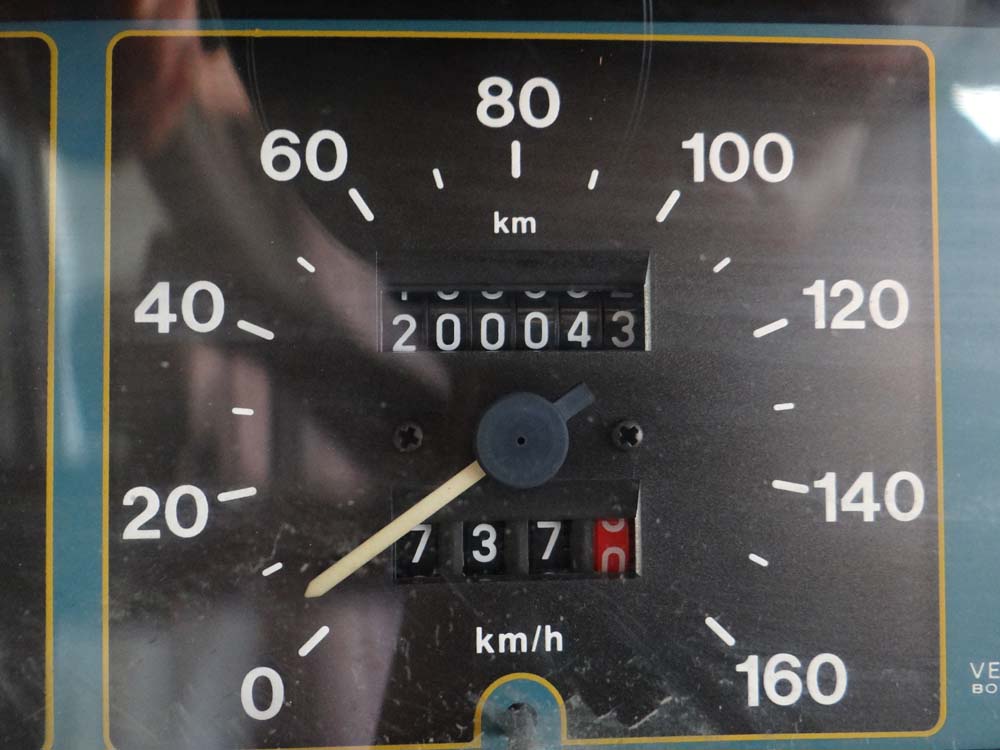 The Italian red wine (from Montepulciano, what a place) is out, and we are celebrating with a wide-mouthed glass at Lieu-dit Herbaudiere, at a packed out aire for a fee of 8 of your finest Euros (N47.02006 W2.30105).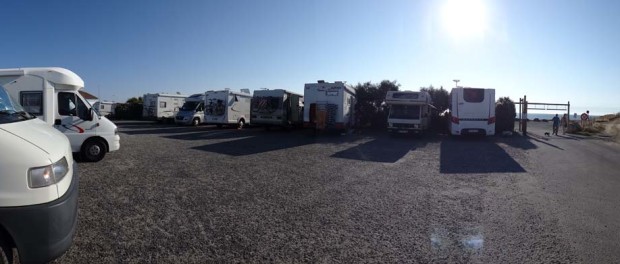 This morning we awoke, I got out of bed, and hit the beach, taking all of about 30 seconds in the process. Charlie grumpily and groggily accompanied me for a wander about on the rocks, the sun arching upwards against yet another flawless sky. I can tell you, I felt great breathing in the morning-fresh salty air and stumbling about alone leaning over suddenly-lifeless rock pools.
As the aire slowly came to life, a German couple in a VW camper we'd shared a few words with pulled out, on their way to La Rochelle, hoping to get some better luck with their fishing gear. A couple of Irish vans which had cracked with the craic last night had already gone. We chatted with Pauline and Michael again, as the local bin men came to empty the recycling bins. The sight's something, a weird claw grabs the bit of the iceberg of a bin which protrudes above the Earth, pulling it and an enormous metal box out skywards. Swinging it over the back of the truck it cracks open at the bottom like some infernal monster and spews out its contents before being landed deftly back in place. As I'd accidentally popped Charlie's bagged poop in the wrong bin, I kept a low profile.
Michael's a character, with a thousands stories I'm sure. During 7 years in the merchant navy as a baker, he'd been all over the world, perfecting his trade and, I would wager, having a rip-roaring time in the process. Only problem was the time away; he once did a 6 month tour, followed by 2 weeks at home and then an even longer tour, so he only saw his wife for those 14 days that year! Packing it in he set up his own bakers and didn't look back, selling the business many years later with 20 staff and 4 shops. Awesome. Now they've a brilliant life split between a house on Crete, a house in the UK and the motorhome trips.
As we'd all got somewhere to go, however slowly, we said our goodbyes and set off. We'd this place programmed into the satnav, with a vague plan to drive to the island via the causeway (which is flooded half the time), rather than the rather more conventional and reliably massive bridge from the mainland. Dave cruised on, ticking over to the magical 200,000 Km without us noticing.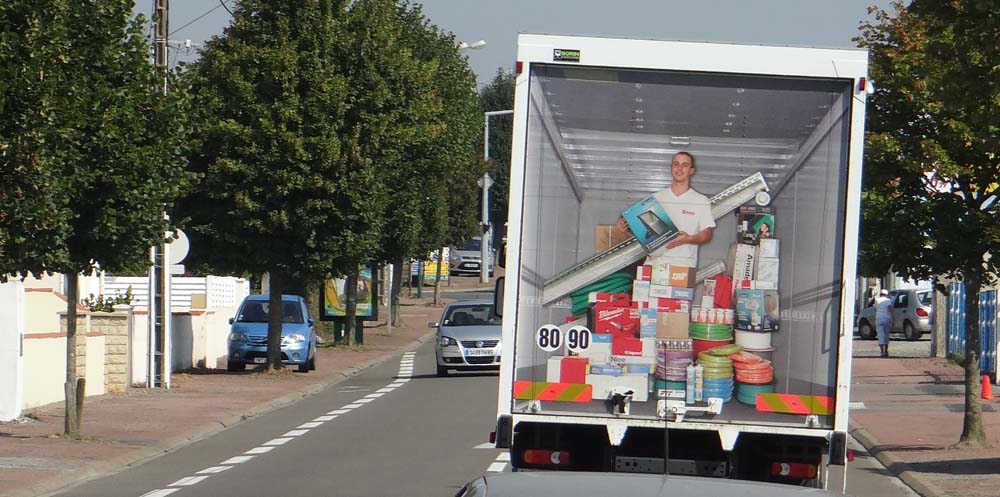 French villages and adopted a certain pragmatism when it comes to slowing down traffic entering the built-up area, using a combination of purposeful hazards which doesn't usually include the dreaded speed camera. The chicane is the favourite by far, followed by the raised junction and finally the dustbin lid-sized roundabout. They also go in for 'Your Speed Is:' signs, some flash up a sad face (51Kph) and then a happy face (49kph) – these give us a great feeling as we anchor up. Passing village after village, the scorned satnav's estimate of 2 hours started to look more than realistic; so we fortified ourselves with a Maccy D's.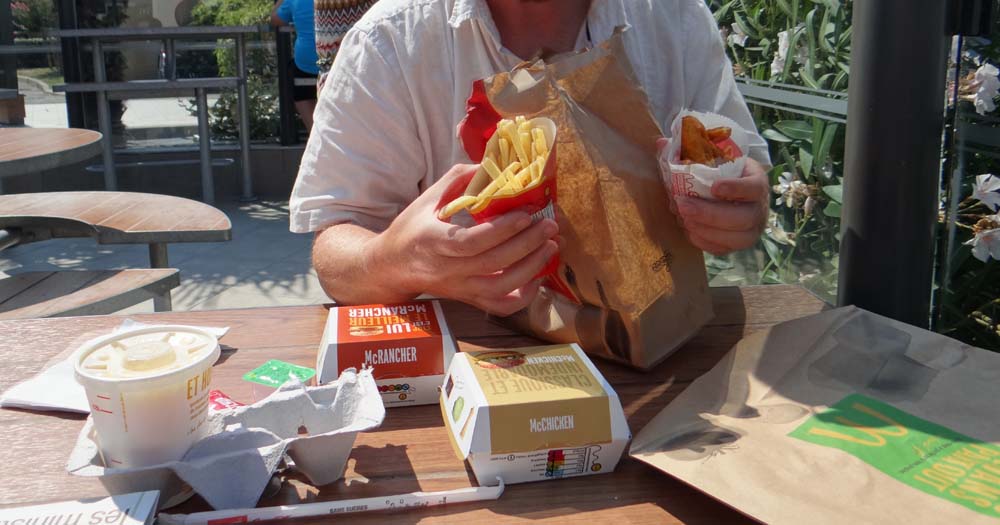 The countryside around this bit of France, south of the Loire, is a bit dull. Flat, featureless but for a shed load of fields of corn and wheat. We'd picked the 'coastal route' north, but the sea refused to appear and so we just pushed on, getting a bit excited when finally the crops gave way for salt gathering pans.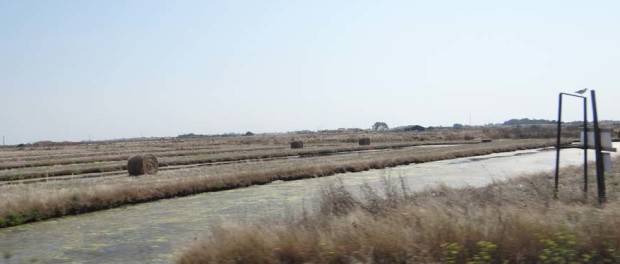 A couple of big fat green signs popped up: L'Ile de Noimoutier, left and right. Left took you to the bridge, right to the causeway. Stuff it, we took the bridge as we'd no idea when the causeway was open, and can check it out for the drive back tomorrow. Over the hump of the sea-leaping road I felt like Dave was rolling off the top of a (tame) rollercoaster.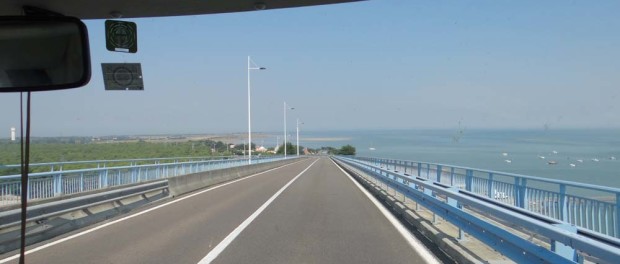 Touchdown on the other side, I flicked eyes sideways at the satnav: 30 minutes to destination. Flippin' 'eck, as the road widened to a dual carriageway it became clear this is a decent-sized island. On we cruised, by this point I was eyeballing all the other camper vans knocking about, and childishly/successfully (delete as appropriate) wishing them away from our chosen sea-side aire.
Half an hour passed and in we swing. Between whitewashed red-tiled single-storey houses we wound through the little town here and drove straight into one of a couple of free places. Since then the aire could have easily refilled itself with folks turning up and driving off, but there's a lovely campsite next to us (which drops to only €13 tomorrow) and a couple of other big aires on the island, so there's plenty room for everyone.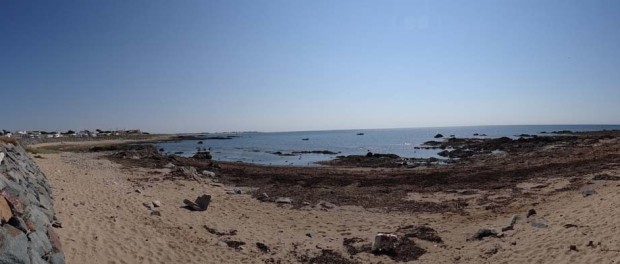 After a quick chat with yet more fellow Brits (we're getting used to speaking English again with other folks!) we drifted over to the stone and sand beach, walking alongside it and around past Atlantic Wall defences from the last war. They stand in good shape, huge but still a teeny weeny bit of concrete in a system which ran the enormous distance from Spain to the top of Norway.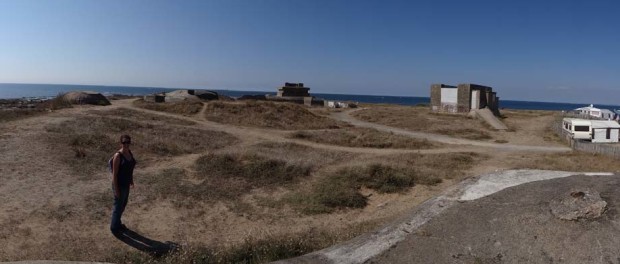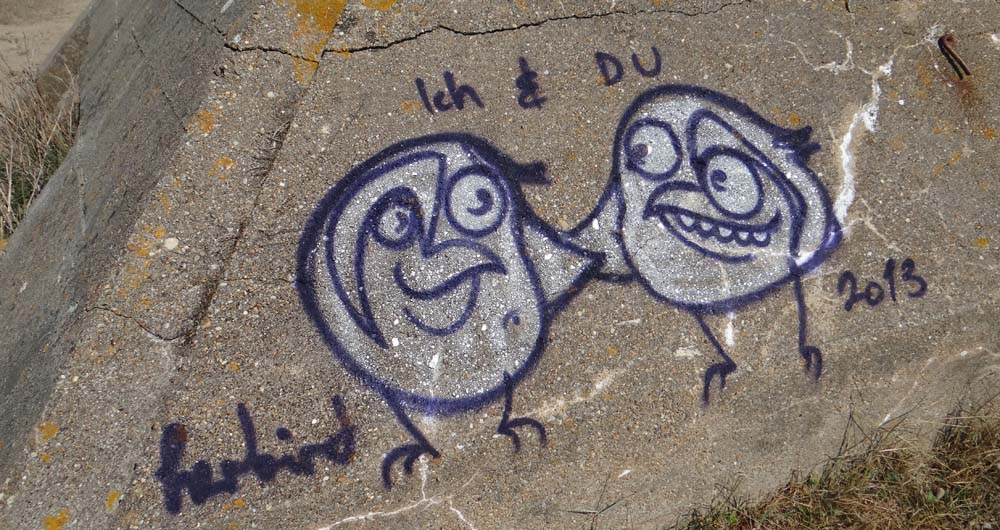 The island's quite, but end-of-season lively with a few folks pottering about walking their dog, themselves or tipping back a tipple at the harbourside. It's rather a nice place to be, and we ambled around pointing out English number plates, eating churros, sticking our (my) heads into Mini Mokes (one's on the list alongside a Fiat 500 and a Piaggio Ape) and watching boats float in and out of the pleasure and fishing ports.
Further ambling back to Dave, Ju tucking into an afternoon kip while I took to the rock pools. Slipping like a clown into a pool and soaking my sandals in the process, I looked about to see if anyone had noticed the dent in my ego, then decided as I was already wet, I may as well stay wet. I picked a pool, and sat on a rock with my feet in it. Shading eyes against the sun, I breathed the place in, filling my lungs with it. Nibble. Err, an unusual sensation on my right foot took me aback. I counted 16 translucent little prawn-like creatures nibbling the dead skin. One of the larger ones had deployed his lengthy claw-ended arm and was trying to pull off a minute bit of skin beneath a toe nail. Yep, it felt weird but I let 'em have a go for a while, figuring some folks pay good money to let foot-level aquariums full of black fish do a similar job.
It's 7:14pm now, and the sun's heading for splash-down with the sea. With zero clouds, we're guaranteed a great view of it, as long as I get the rest of this wine supped and get over there in time. Busy busy busy!
Cheers, Jay