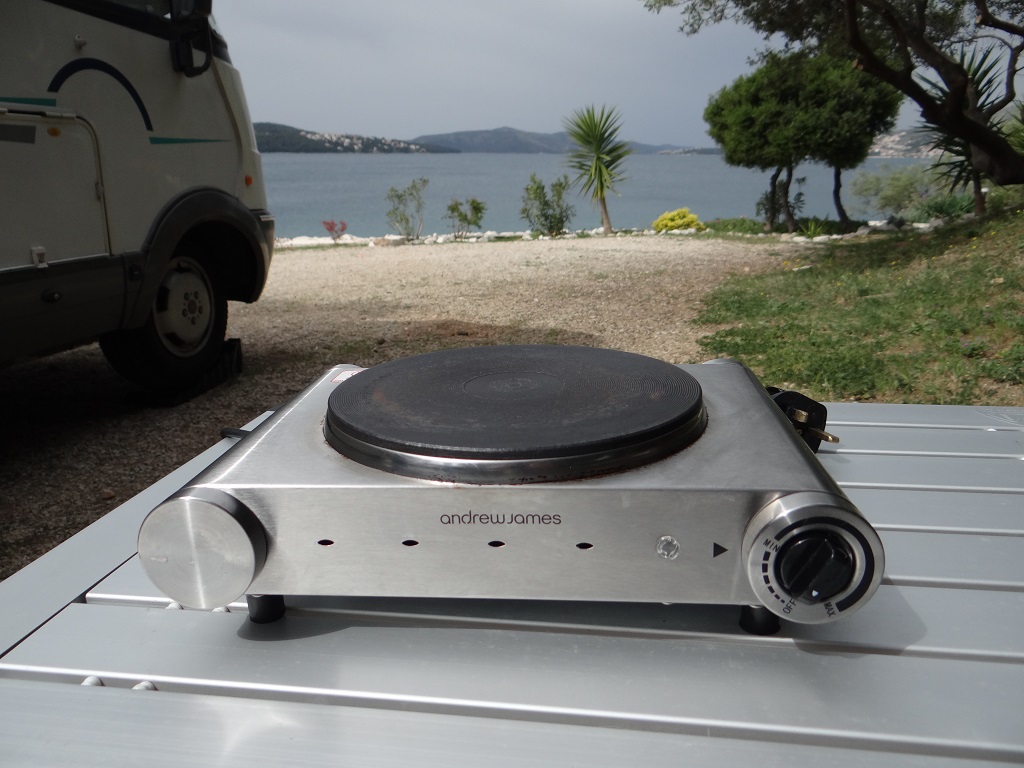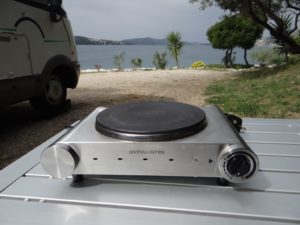 We've been on a campsite in Croatia for the past two weeks (yes, I know, it's a hard life), and haven't used any gas the whole time we've been here. The fridge is running on 220V (included in the ACSI discount camping rate), we're using the site showers, heating water with a travel kettle and are cooking with an Andrew James electric hob.
The fact we've not used any gas means we don't need to worry about running out and being forced to move. As we have refillable LPG bottles (I installed a GasIT system), we can't just swap over bottles, so in some circumstances it's more convenient for us to use electricity for cooking than good old LPG.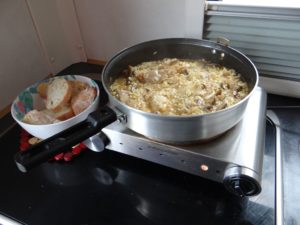 And that's the kind of reason we like having an electric hot plate. If you thought of it purely in terms of how much gas you'd have to save to pay for the device, and to account for the space and weight, you might just stick to gas. But we also have the option to cook outside on it (Zagan has an external 3-pin 230V point, but we could just use an extension cable). And we can use it in countries where there is no LPG but where we'd normally stay on a camping site, like Morocco. And it also just feels good to be getting the best possible value from campsite facilities, as we are here!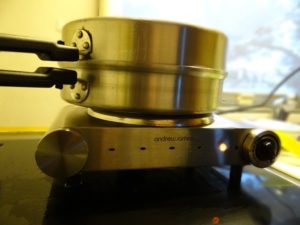 When we set off on this trip we had a choice of the hotplate, or a Remoska electric oven, which we used on our last trip out. The Remoska was included with the purchase of the van, but this time it stayed at home and the hob came with us. The decision was purely due to the fact we also have a double skillet (see photo), which functions as an oven for us, and combined with the hob we find it more flexible than the Remoska. If we'd more room/weight, we'd have both.
The single hob we have consumes up to 1500W, so approx 7A maximum. We've come across a small number of campsites which only provide 4A, but haven't had a problem using it on this trip.
We've found the single hob to work well for us, although it does have the downside of being best suited to one-pot meals. You do have the option to use both electricity and gas of course, so if you felt the urge/had enough pans/were good at juggling, you could go full-on Gordon Ramsey and knock up a four-potter! Or even get a two-hob version (which we also have at home), and start your own bacon cob business on t'road?
Links to all the stuff mentioned in this post below, all tried and tested by us.
Cheers guys, Jay