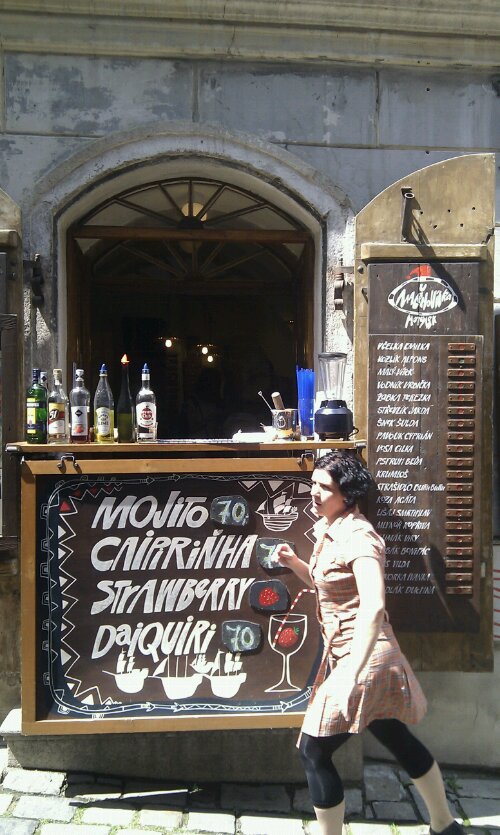 Dave the motorhome is flanked by younger Czech, Dutch and German cousins in a small official field just outside Cesky Krumlov (N48.81548 E14.30875).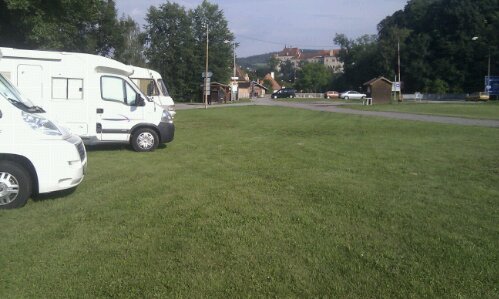 After a wonderful night's peaceful kip, we took long showers this morning, refilled our water tank and turned south. By the chance of satnav, we overshot today's destination and had to backtrack a while, albeit on a different road.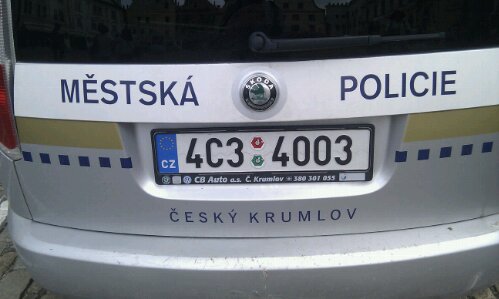 A few short miles on smooth road through the trees, corn any wheat and we're in Cesky Krumlov, without a single Czech Crown to our name. Parking, a rather dull but necessary requirement of motorhome living, is plentiful, but we're without local wonga. Pulling into a grassy car park just after the town, the guardian walks over. In German he asks us, well, something. Ju's schoolgirl German, as much as she denies it, translates, and we find ourselves with 3 hours stationary tax, proved with a carefully hand written note on the windscreen.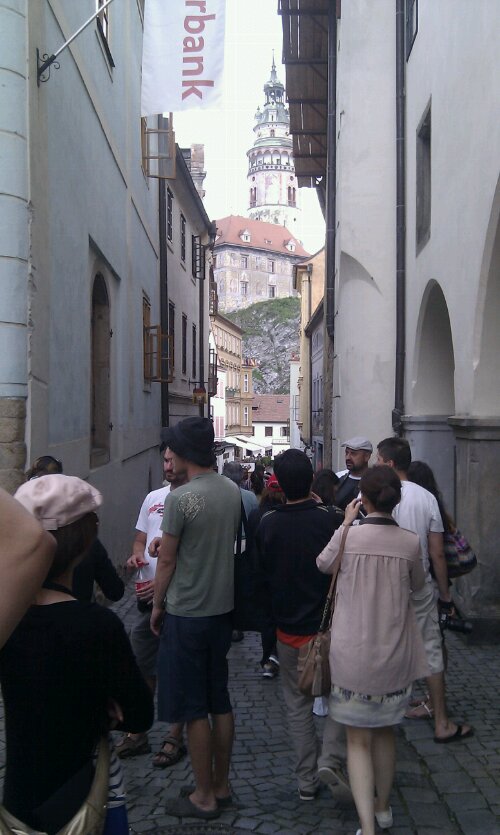 The walk back to the town is a quick one, the looming backside of the castle welcomes us. A castle to me means crenelated stone and arrow slits, not a smooth rendered wall with a rank of ordered, glassed windows. This is a French castle, a chateau, all form and no function my mind decides; historical fact irrelevant.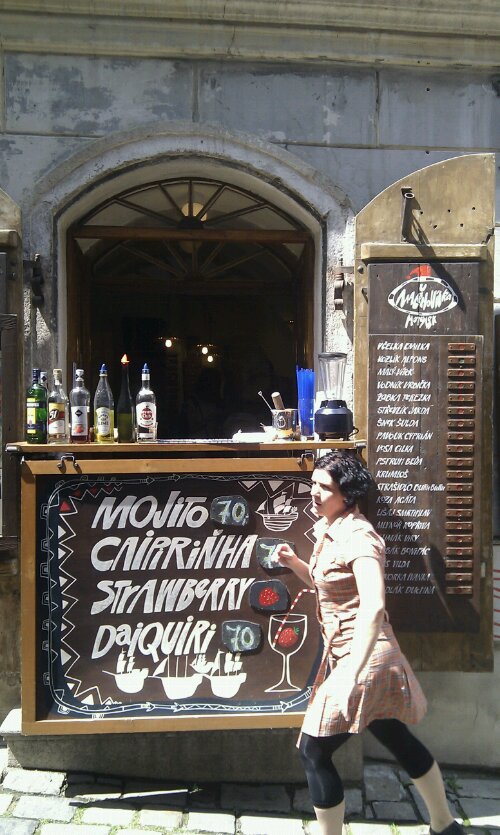 The towns wrapped around tight turns of a chocolate river, canoes and rafts sweep along it, butch and terrified riders below us. Two new bridges are better built, one for tyres, the other for feet. Despite the upheaval, heavy diggers hammering away in a section of dried river, the water riders whoop their way down a long wier, some capsizing, most raising an oar in victory as the scoot under the half formed bridges. We watched for a good while, each vessel carrying a new character.
The town itself has been polished. The communists saw it crumble, the capitalists reborn. Most was are smooth, painted pastel colours, some decorated in icing. Playful symbols abound, thigh high brass fingers point up from the pavement, life size children's toys call to be mounted on worn saddles.
It's packed out. Huddles of Japanese tourists lead by an unlikely knowledgeable Japanese guide, bunch up in the streets. A bridge near the castle looks down onto a brown bear, his coat a fur of health, munching on fruit as cameras click and flash.
Our guidebook, as ever in trite comment, tells us we'll come for a day and stay for a week. Yeah right. We came go 3 hours, and ended up staying overnight, the same sentiment I guess, it is a laid back place. The dark local beer has a burnt hoppy taste, and at £1 a pint, it's a major Jay draw. The restaurants like Charlie, snoring Al fresco beneath heavy tables, and always bring him a drink. We eat chicken and liver, cheaply offsetting the parking fee.
Would we recommend Cesky Krumlov? Ooh, yeah. Folks are friendly, helping us out with our phrasebook pronunciation. The beer, food and ambience are a treat. The shining cobbles, trodden by thousands, feel flat enough, until you've had a beer or two that is. Come on in, the water's lovely.
Jay