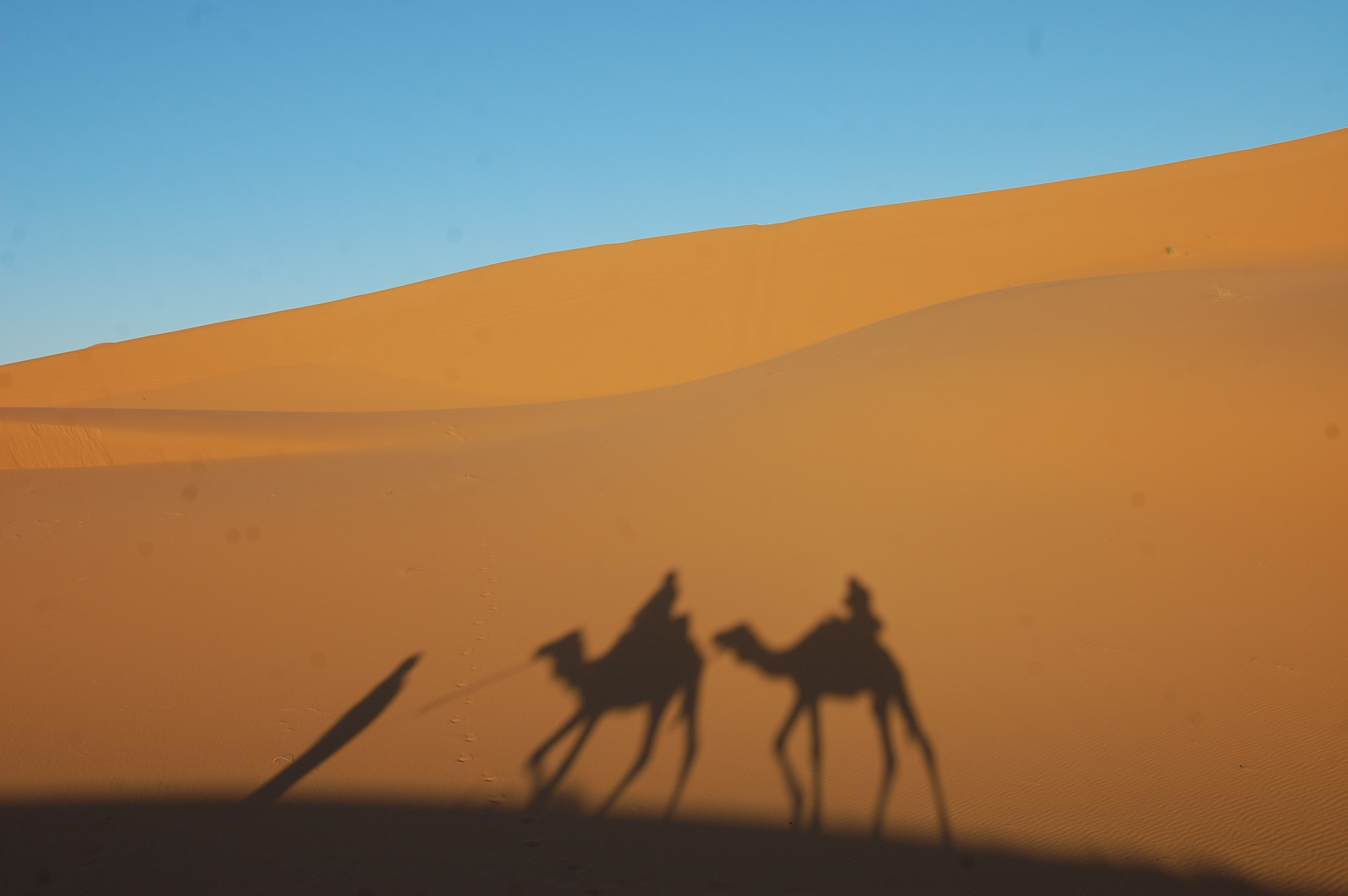 We're at the same good old 5 star (actually only rated 3.5 stars officially, but hey, it's 5 stars to me) hotel next to the Erg Chebbi dunes.
Weather: from the point we watched the sunrise wrapped in a duvet sat outside Dave, to the point we saw the sunset sat near our camels on the dunes, it's been sun with a tiny bit of cloud. A bit of wind kicked up a dust 'storm' in the distance.
Quick blog today, as it's 9:30pm and we've been so busy we've not eaten. We've:
Watched one hell of an amazing sunrise at 6am.
Had a Hammam with Chris and Tina. Basically it's a steam room, where you get rubbed with a greasy soap, wetted up, then scrubbed by a lady with a rough mitt to get all your dead skin off. I went for a DIY scrubbing as I'm too English to have someone rubbing me. Probably a good thing as the poor lass who did the scrubbing worked so hard she had to leave the room after each person, then fell asleep in a nearby room straight afterwards.
We then walked into town, bought some provisions from a tiny little shop, and spotted the campsite where fellow travellers and bloggers Adam and Sophie (Europe by Camper) and Chris and Catherine (The World is Our Lobster) were staying, so we popped over and surprised them. After years of reading their blogs, we finally caught up over a mint tea in the desert. Cool.
We then negotiated our way past a crew of faux guides in the making – 5 to 8 year old nippers trying to show us back to our auberge, when we knew where it was. They were a good laugh, but we gave them nothing apart from advice to go to school.
A 2 hour trek in the dunes on camels followed. A great experience, and our guide Omah (sic?) was a good guy, speaking several languages in each sentence. He attempted to flog us 'his work' half way through – polished fossils and the like – but we politely refused – which he took in his stride.
Getting back to the campsite after sunset, the other guys had walked over to see us, so we had a cheeky beer (well, 2 beers, they're about £1.60 for a small bottle) in the bar. It's now late and poor old Tina's cooking us some grub.
Are we seeing the 'real Morocco' here? Sure, it may be a five star place but if you walk about 0.5km down the road you get to see the real thing all right. Nevertheless we are living it up, this place would be luxury in any country but in Morocco it is pure decadence and for 50Dh (about £4.50) a night. Fabulous.
Jay
A little video of us wandering the dunes on camels: