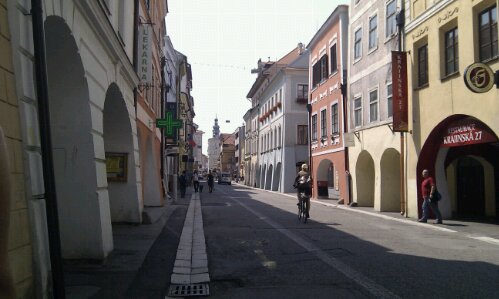 Dave the motorhome is parked in a swimming pool car park in Tabor in the Czech Republic (N49.41855 E14.66404).
The local beers last night took their toll as we both had to drag ourselves out of bed in order to leave the car park we were in before 10am. Walking goodbye to Cesky Krumlov we only drove a couple of miles to Lidl for a stock up. Jay couldn't face buying any beer until I pointed out how cheap it was – about 30p a bottle – and how the countries after here will be much more expensive. Stomach churning, a few bottles made it into the trolley. When we get back to Dave to unpack, he's been joined by the Czech football team bus, we can only assume that the team were also getting some cheap beers in Lidl before heading to London for the Olympics.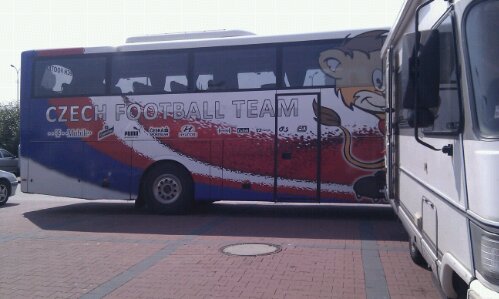 All stocked up, we could probably manage a couple of weeks on just our tin and jar collection, we headed north to Ceske Budejovice. As you approach the town every other advert by the road side is for beer, and so it should be as the town is home to the original Budweiser Budvar beer.
A handy Dave friendly car park just outside the old town made life nice and easy, which was needed as we were both flagging. Having drunk quite a bit of beer last night (mixed with lemonade – which was way more expensive than the beer!), we settled on a slow walk around the town.
Reading our guidebook we were promised 'one of the largest squares in Europe', it's about the tenth time we've been told that about somewhere. As we made our way down the cobbled pedestrianised street, lined with arched walkways either side, the vast size of the square began to reveal itself to us. 48 historical houses surround the paved expanse, as well as a town hall complete with four metal dragons forcing their way out of it's facade like gargoyles. The town hall was painted pale blue, the rest of the huge houses were painted in a complimentary array of soft hues, all mixed up like a bag of sweets.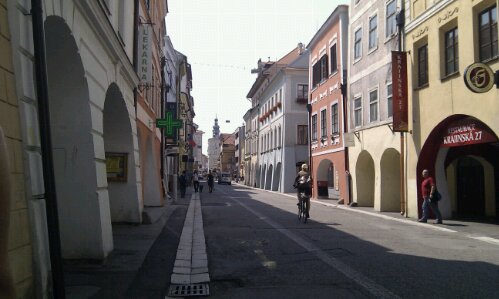 The guy in the tourist office was eager for me to have everything I needed, so I emerged with a map and leaflet with a choice of two walking tours – seriously the place isn't that big!
A wedding was taking place in the town hall, the bride, a mass of pale pink taffeta, and her groom are played out of the building by a man with an accordian. They march across the square to the fountain in the centre for a few snaps, taken by one of the guests, sitting on a bench near Charlie and Jay – they may be looking at their photos in years to come wondering who they are! To a chorus of car horns, the happy couple were whisked away in a Skoda, Jay is getting a tad obsessive at how many there are here – old and new. A little while later another blare of car horns, Friday is a busy wedding day.
After managing to walk past the eon offices (our previous employer), and a few employees sporting their lanyards and id cards, we decide to celebrate not being at work with an ice cream in the park.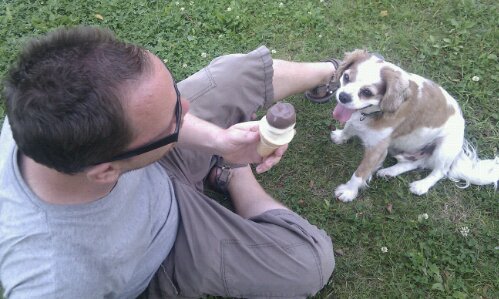 A few more sights as the temperature rises and we're done. We look at our database of places to stop and it's a tie between Pisek and Tabor. Both have free car parks, but Tabor takes the edge with a castle. Just before the clock ticks over to three hours in the car park, we set off – the two hours were a bargain at 30sk (about a pound).
As we leave Ceske Budejovice we pass a KFC, we haven't seen one of those for ages and it's hard to resist the tempation with a hangover, but we do. We follow the trolley bus power lines for a few miles until we're back in wide, flat agricultural countryside again.
The hours drive bring us to the car park of the local aquapark, and as it's a hot Friday in July it's heaving. We park up on the edge and wait for a decent sized vehicle to leave before Dave races over to get it's space ahead of one of the circling cars spotting it.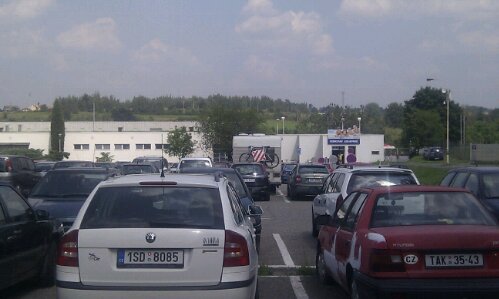 The town is about a kilometre away, and we spend a pleasant couple of hours walking around it's narrow streets, decorated houses and tall stone defensive walls. The place is famous for being the reason Bohemian means what it does today. Years ago if people wanted to live in the community they had to hand over all of their possesions and they were distributed among everyone – possibly an early form of communism? As true capitalists we hold tightly onto our camera and phone as we sit down for a cold drink and some chips in the town square.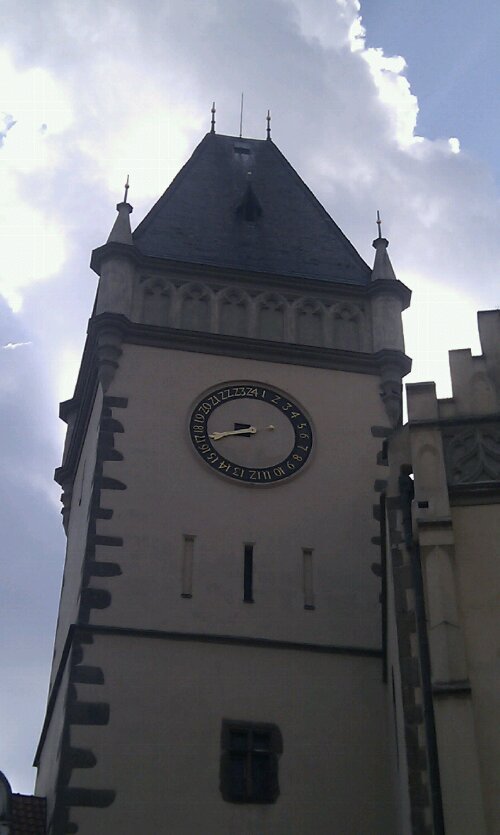 We're now back in Dave and debating what to do about the Olympic opening ceremony. There's no wifi in the car park, so we can't watch it on tinterweb. We might try running the much unused tv on the invertor to see if we can pick it up on local telly – I spotted a Czech motorhome using an old analogue aerial like ours, so there's hope. Or we could head back into town to see if it's on in a bar, well it is Friday night. But after last night I think it'll be soft drinks all round.
I'm a little bit jealous of everyone back home today, it's going to be an amazing couple of weeks – enjoy!
Ju x