"Up to much this weekend?"
"Yep, I'm off up to Derbyshire to sleep in a couple of car parks"
"Eh?"
Yep, we love sleeping in car parks. We've slept in some of your finest,  shiniest, five-star car parks in Europe and North Africa. Tarmac ones, gravel ones, grassy ones, sandy ones, one surrounded by flowers, the lot. Ones facing out over the ocean, mountain ranges, broad lakes, ancient sites and majestic rivers. Enormous ones big enough for the local kids to drag-race tinny two stoke motorbikes until the wee hours, and ones small enough they were effectively only big enough for us and maybe someone willing to sleep upright next to our van. OK, that last one was technically a campsite in Tunisia, but the Camping and Caravanning club would not, I think, approve its membership.
Car parks, it turns out, are all we need when we're ensconced in the pampered luxury of our self-contained adventure wagon. Cooking, sleeping, showering, entertaining, reading, watching TV, dressing, visiting the little boy's room and storing fresh food. Even the vaguest idea of a 'modern' motorhome these days provides the lot, in abundance. Hot and cold running water. Private toilet and showering facilities. Blown air heating. Double bed, prepped with our own preferred fluffiness of pillow. Cool beer and your choice of cold meat cuts at your fingertips. Pure luxury. But you knew that. I wonder if anyone's told Derbyshire Dales District Council though? Their website has this to say about parking a motorhome in the Matlock area, the area we were travelling in:
"All of our bays are marked out to the standard car park bay dimensions of 2.4m X 4.8m, which will allow motorhomes constructed on small commercial vehicle chassis to park."
Hooray!!! OK, they're a bit short for us but if we can find one where we can overhang we'll fit, fabulous. We'll pay the standard parking rate and jobsa guddun. Oh, wait, what's this next bit?
"Your motorhome may be left overnight, but only if unattended. Sleeping within the vehicle is not allowed. Cooking anywhere within the vehicle or car park grounds is also not allowed."
WHHHHAAATTTTT???? So we can eat in there, as long as the food is raw? We can sleep in there, but not after the sun has gone down? What is this witchcraft!?
Yeah OK, there are a bunch of cultural reasons for Britain not wanting the itinerant to just roll up to someone's fine town and start snoring in said local's favourite car parking spot. The cheek of it. Croatia agrees, as does Holland: no motorhome parking outside campsites or a sharp-hatted fellow will descend on you, wide eyed and gleeful. He'll grab your lughole and drag you off to the local cash machine, demanding payment of a fine to swell the state's coffers.
Never mind, there are other options to campsites here in the UK:
Britstops. The reason this blog post was written, and outrageously only mentioned after all the above ranting and rambling on! I'll try and make up for it by getting back on subject below.
Wild camp. We've not done much of this in the UK so can't comment much either. Have a look at www.wildcamping.co.uk if you fancy this option.
Point your wagon's nose at a ferry/tunnel and hot foot it to France. Grab a copy of All the Aires and/or Camperstop before you go, and you'll find thousands upon thousands of official, dedicated, free or low cost motorhome parking spots across Europe.
Option 3 is my preference, but I suspect folks from mainland Europe wanting to visit the UK might not like that option as much as me. Also, our own circumstances mean floating off to foreign parts isn't currently possible (work of all things, boo, hiss). Wild camping in the UK doesn't much appeal, so we've headed over to Britstops.com, got their book for £30ish and driven off to a couple of these stopovers over the weekend. Result: fun.
Britstops is the British equivalent of France Passion, only with more real ale and pub grub and less confit de canard and vin en vrac. The fab folks who've set the scheme up have taken the time to explain all of the above to business owners across Britain. In return they have agreed to play host to a few motorhomes each for a night at a time, in the hope you'll buy some of their stuff. Win-win situation.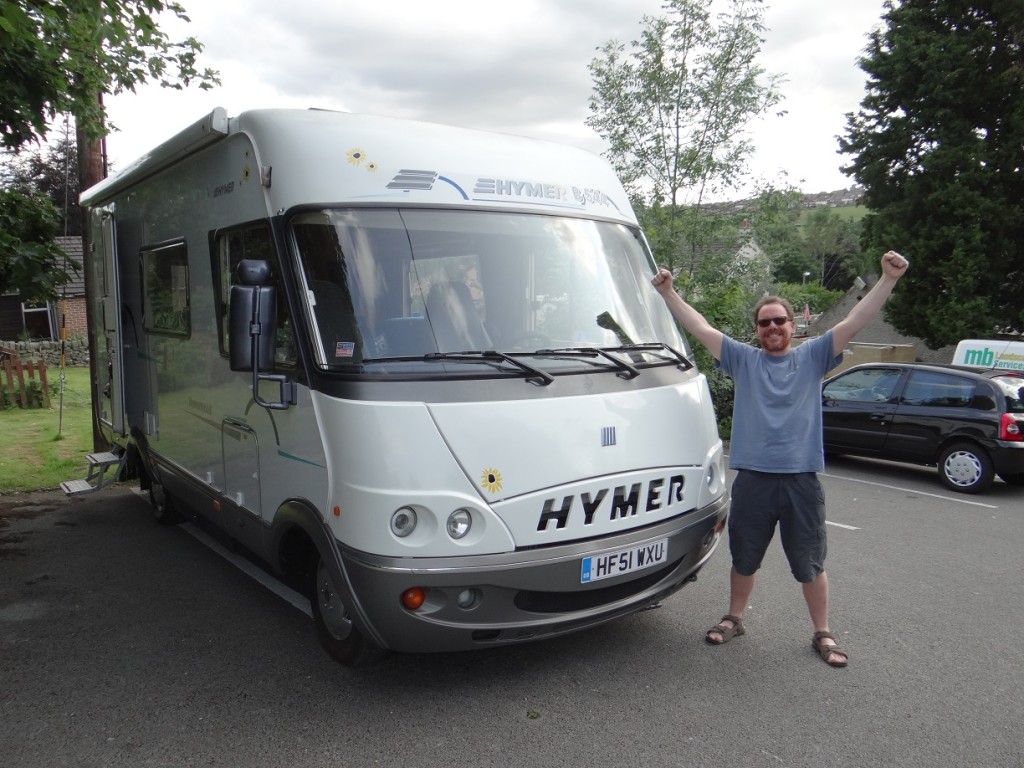 What it isn't is cheap. If you're after the kind of low cost kipping you can get in France (you could easily never spend anything for a night's sleep over there, ever) then it's not for you. We visited two pubs and spent £14 in the first one and £25 in the second. A quick scan of CL campsites in the same Derbyshire area we stayed in on www.ukcampsite.co.uk comes up with costs around £13 to £18 a night. There's a campsite at Carsington water which charges £6 a night. Calculator out: we could stay on a small site, cook our own grub and quaff Lidl ale and we'd be financially better off, just.
But we didn't cook for ourselves or drink our own stuff, the host provided it for us, and with a smile too. In the case of the second pub, they threw in some fabulous views too. We could have stayed at home and saved another tenner a night. The idea behind Britstops is that you get out and about, enjoy the facilities of your wagon and enjoy the facilities offered by the host. Winner.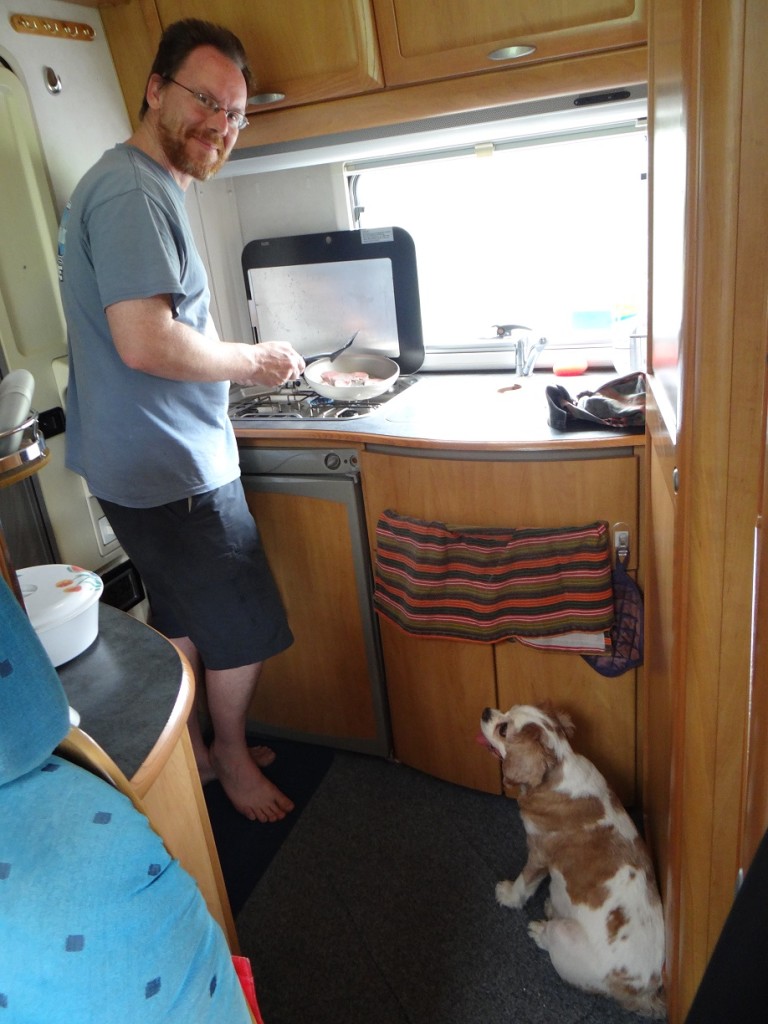 Our experience was a good one, and we'll be using more of these stops until we opt to slingshot south over the channel for the late Autumn. One pub's car park sloped more than I dared ride up on our chocks, but the guide warned about this. The other one was perfectly flat, gravelled next to a grassy area and facing out over the Peak District. Neither offered any facilities, which was fine. The first did only snacks, but that gourmet pork pie with apple and black pudding was a killer! The second dished up 'cooked from frozen' fare but the atmosphere was pleasant and the parking spot was great.

Sleep came easily in both spots, as we spent the days ambling about the hills and dragging Charlie away from the scraps spilling from market stalls at a food fair. Zagan's facilities all performed flawlessly, although we have to admit to a schoolboy error of not filling the water tank, so the old habit of not showering every day immediately resurfaced! The tank is now half full ready for next weekend. Five days, and counting.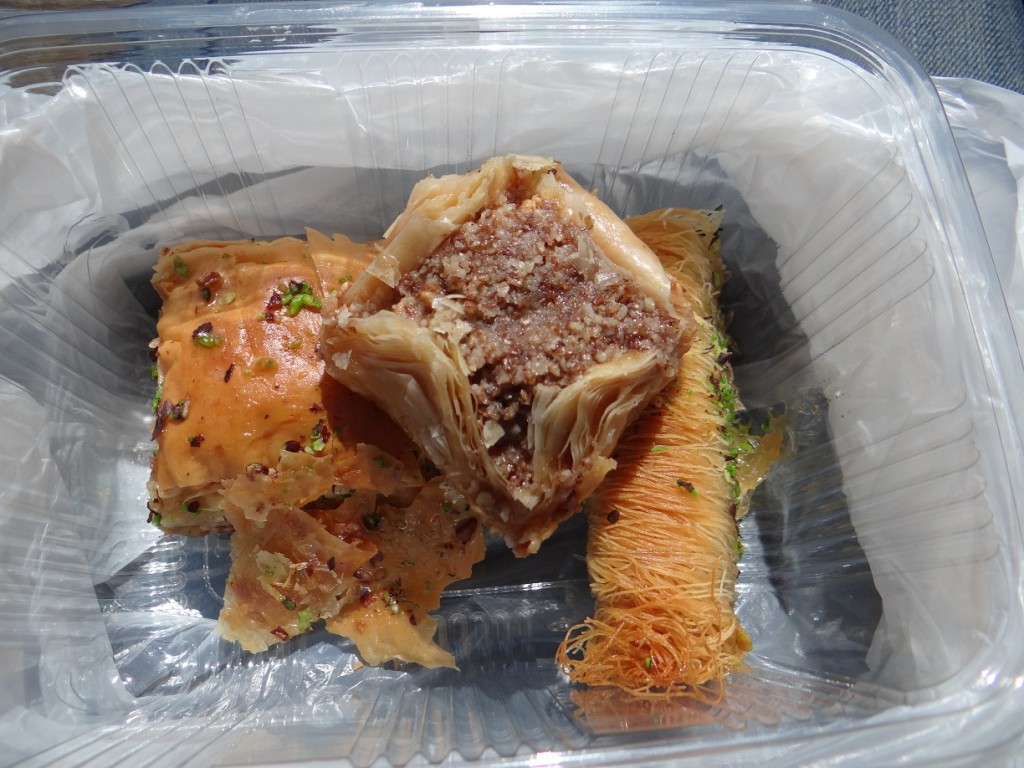 Cheers! Jay