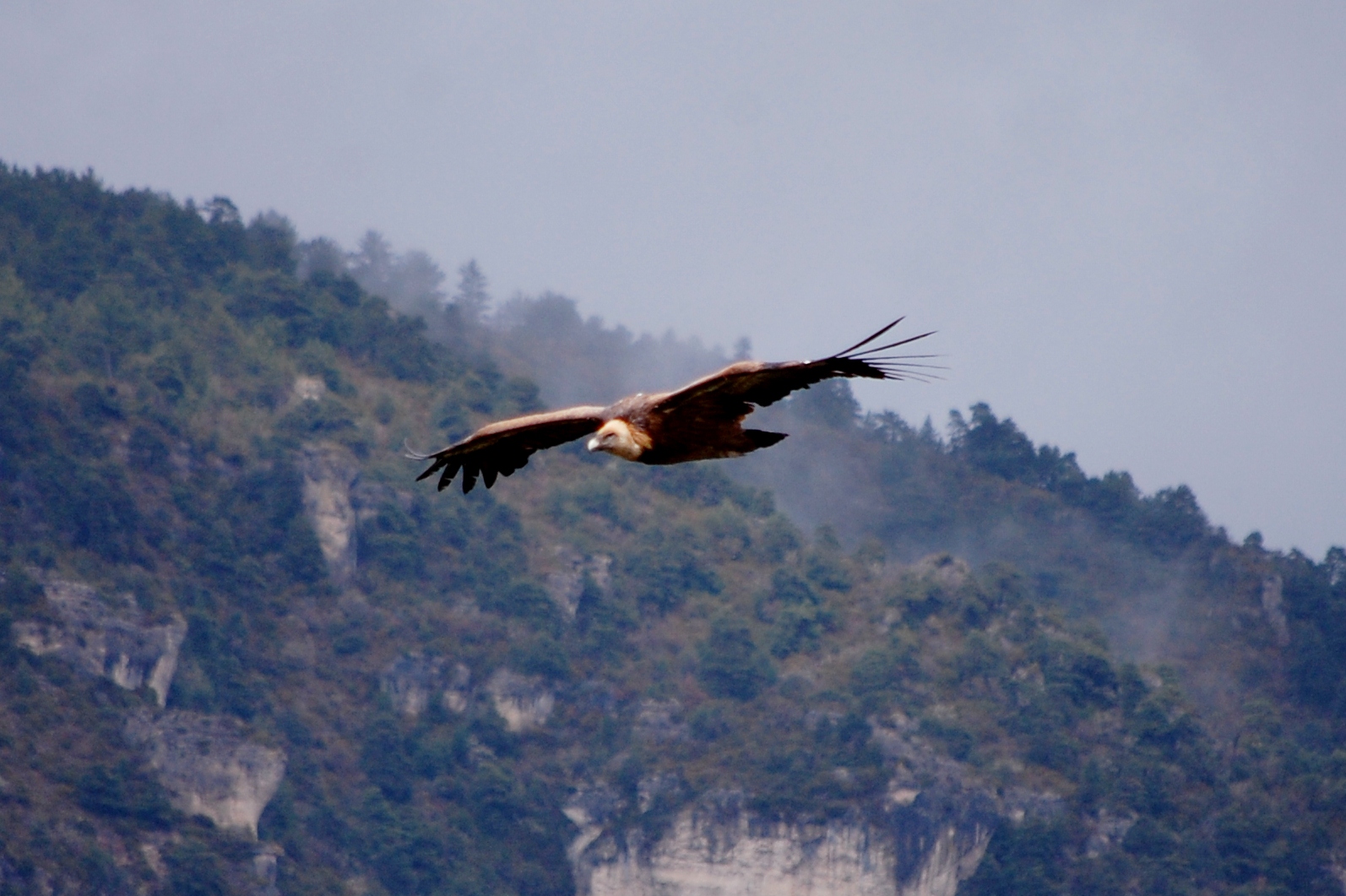 We're here: N44.09585 E3.08611
Weather : It's April, it's showery
It had rained on and off again throughout the night, at one point it got so heavy that we had to turn the sound up on our movie (Raging Bull), but we managed to sleep through it. There were no dips in the river this morning, J was busy writing an article on our experiences of buying a motorhome when I woke around 8.30, by the time it was all finished and we'd had breakfast and showered it was around 11am before we made it onto the road.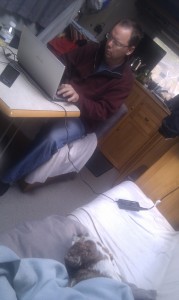 As we made our way through the towns and villages we spotted that something wasn't quite right with Dave, his speedo wasn't moving and we were. A quick check of the mileage told us that it hadn't moved since we filled up with fuel after picking him up from the garage on Thursday, so we suspect it might not have been reconnected to the gearbox when it was put back in. As J uses the speedometer on the satnav when we're driving we didn't spot it. We pulled over but soon realise that we need to take off the engine cover to get to the gearbox and reconnect the wire, so we'll leave that one to when we get to our next aire – for now we're not clocking up any miles, probably not legal and also not good for our MPG calculations.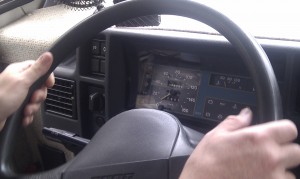 With our vrac wine all used up I set out to see if I can buy any wine for less than a euro per litre. In Spain we were paying €0.55 – €0.60 and in Portugal €0.49 for the cheapest bricks of wine from Lidl, they are somewhat of an acquired taste but when it's that cheap you soon acquire it! A trip into Netto only manages €1.14 for a brick, surely Lidl in France will have the same stuff as Spain? Er, no, but it does have 1.5l bricks of Spanish table wine for €1.49, by my maths that's €0.99 a litre and that will do for now. I take two and vow to continue my quest at a later date.
We head for a free aire in the town of Millau and as we start to descend from the hills above it we spot a sign for a panoramic viewpoint and pull in. The viewpoint is over Millau and the Millau Viaduct which carries the A75 motorway high above the town. The A75 being the road that we had just got off to avoid the tolls for crossing said viaduct.  The weather closes in, the viaduct disappears into cloud and the rain starts – big rain. So we decide that it's a nice quiet place for a spot of lunch and out comes the camping cookbook. We'd bought a huge tub of mushrooms in our big shop at Carrefour on Thursday, so it was time to try out the mushroom stroganoff – it was yummy, we'll certainly be making that one again. We finished off with desert using the recipe for Chocolate and Marshmallow S'mores. It's never had a name to me before, but was the first thing made at my Mum and Dad's when we got our first microwave. Heated marshmallows with chocolate sandwiched between two digestives – hmmmmm.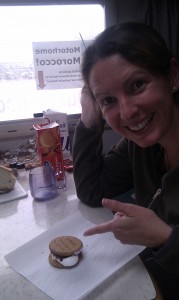 After we'd finished eating the weather improved and a dark shadow flew past the van. I grabbed my camera and jumped outside. All around us were birds of prey making their way back to their circling point above us. I got some great snaps, along with a French man who was telling me all about them and how to get the best photos of them, but in French – which was unfortunately a bit lost on me. But we both had an appreciation for these magnificent creatures.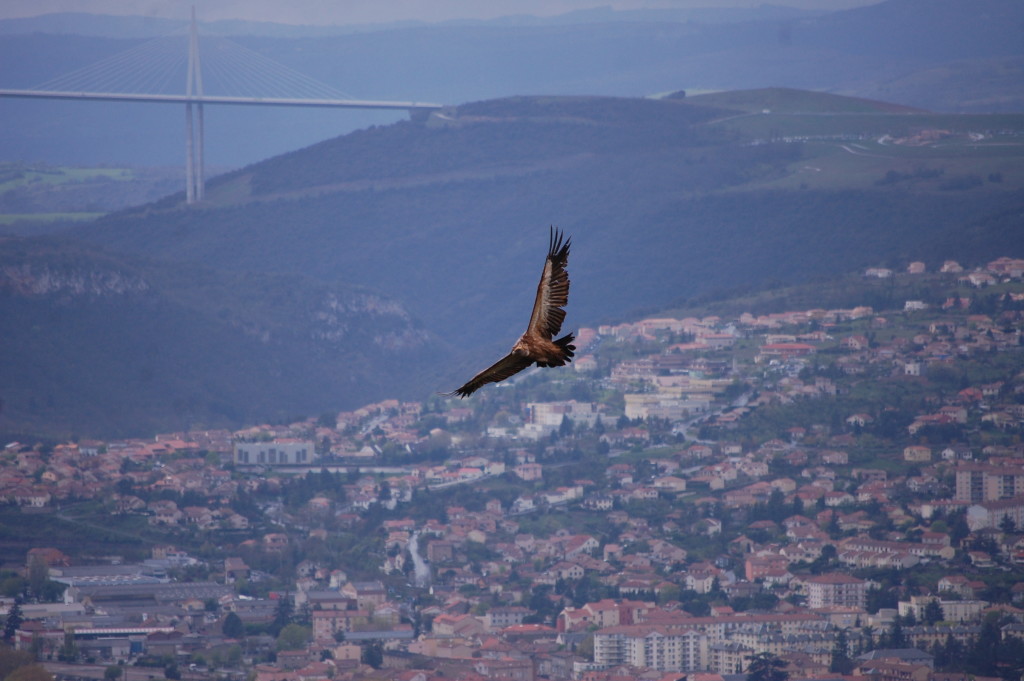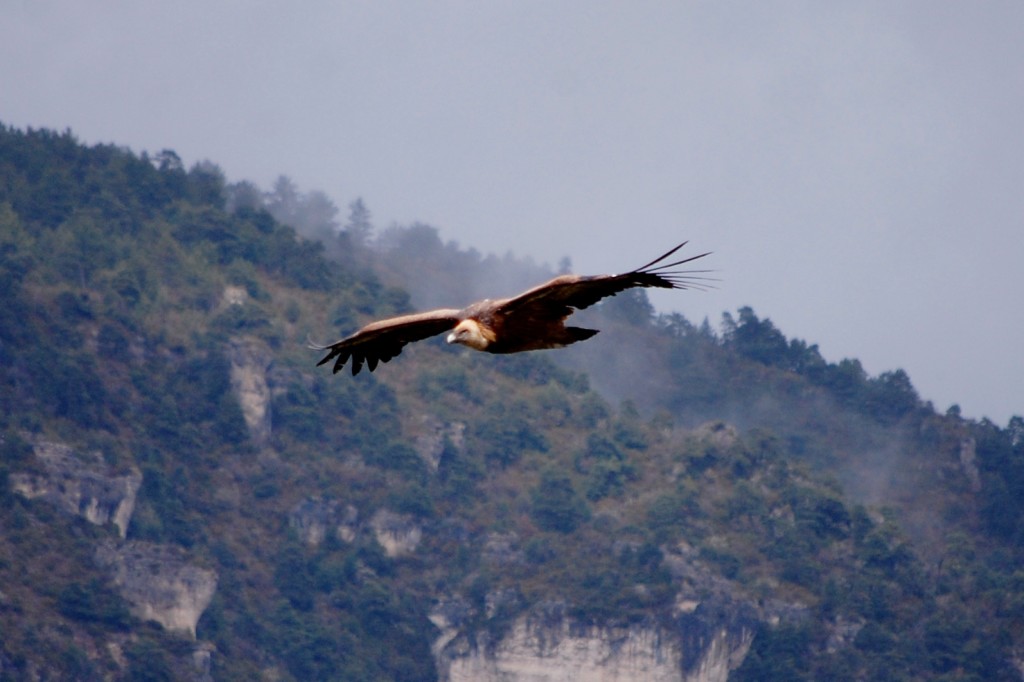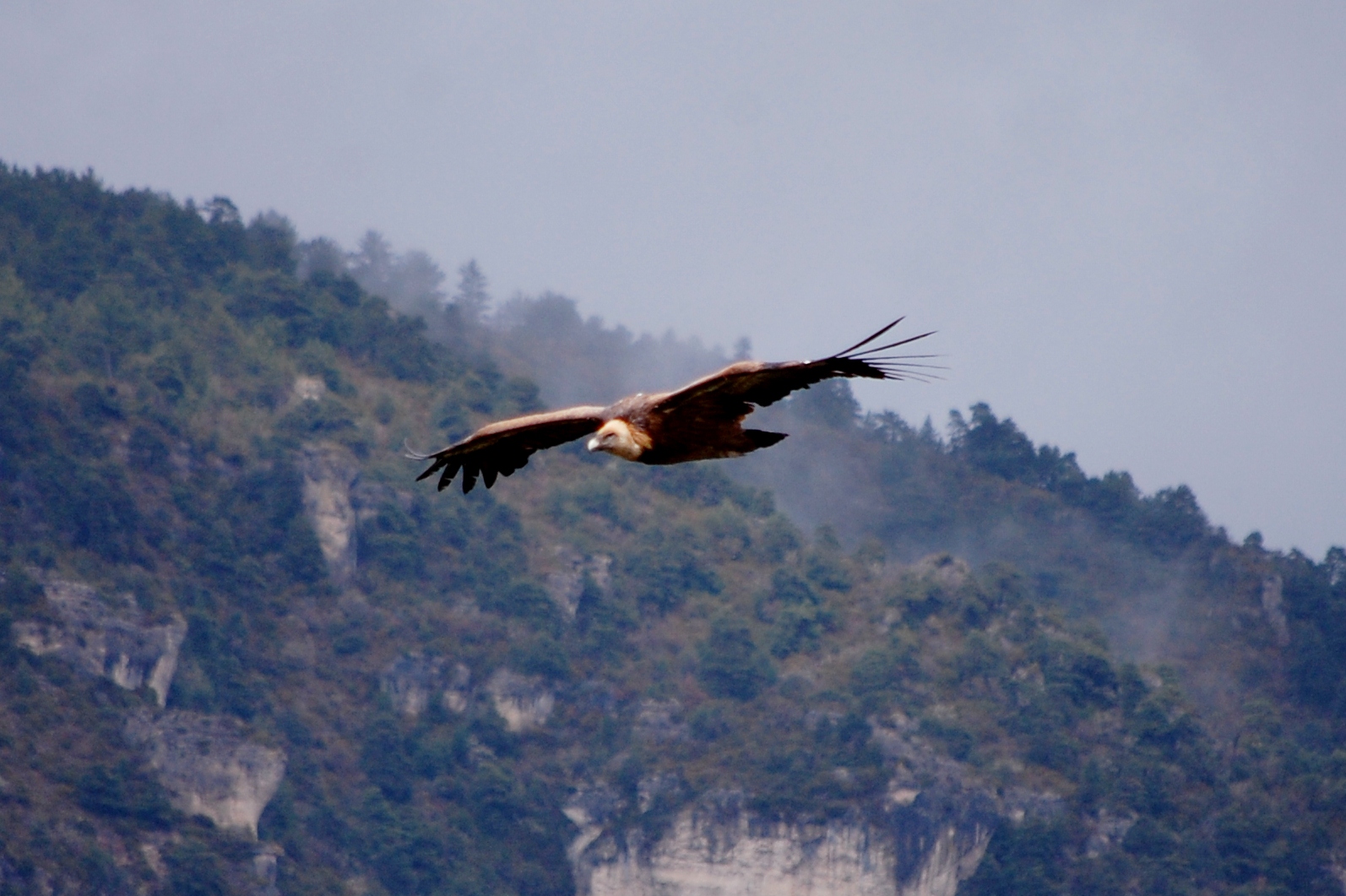 We found the aire in Millau, parked up and set off for a look around the town during a break in the rain. The town has embraced the viaduct that rises above it, in fact you can get open top bus tours around the bottom of it and tourist information lists several viewpoints for it. The town itself has been reputed for it's cheese and glove making since the middle ages (although I haven't seen any evidence of the two being combined). It also has a building that was the headquarters for the strikers in the 'Great Glove-Making Strike in 1935'! The rain soon started back up again, so we headed back to Dave before we'd finished the historical town walk – still we might have time to have another look around in the morning.
Not wanting to be outdone by my lunchtime creation, J turned to the camping cookbook for inspiration for tea and rustled up his own version Pan Potato Cake, which was very tasty (but not as good as my stroganoff!). It was only after we'd finished it did we realise we've eaten only vegetarian food today – it wasn't intentional, and it's all been yummy, but I don't think I could give up bacon cobs, ham and burgers – sorry!
So, it's Saturday night, we've ripped into the Lidl wine – which is a tad rougher than the stuff we bought in Spain – and we'll probably stop in Dave as the weather still isn't good. We've looked over the entries to our caption competition and agreed a winner – the entry was from facebook from Christine Murphy and is below the pic here: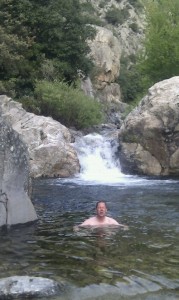 We're in an aire with around 20 other vans in it, everyone sat in their own van – mostly watching TV if the satellite dishes are any indication. It's a shame people don't mix more. If we see people outside their van we'll pop over and talk to them (especially if the van has a UK registration!), but we're not quite up to knocking on doors to say hello yet. Wherever you are tonight, have a great time.
Ju x