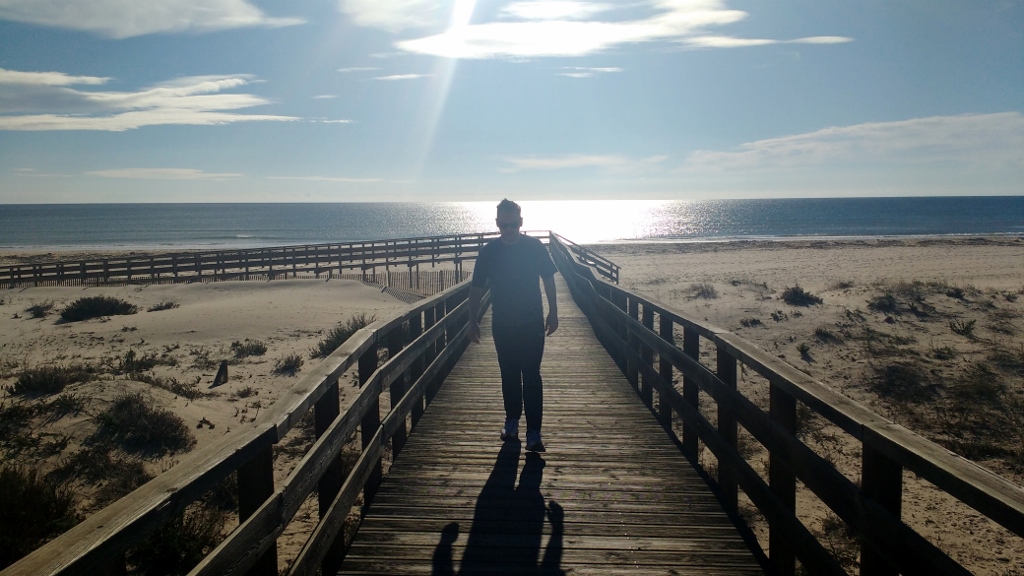 Zagan the motorhome's cooling down as the sun sets over the motorhome aire in Manta Rota (N37.16451, W7.52162). At a whopping £3.80 (€4.50) a night, it's not hard to understand why the aire's gradually filling up. Motorhomes from the UK, Sweden, Belgium, Germany, France, Switzerland and the Netherlands are all settled in, with not a single Portuguese or Spanish van that I can see.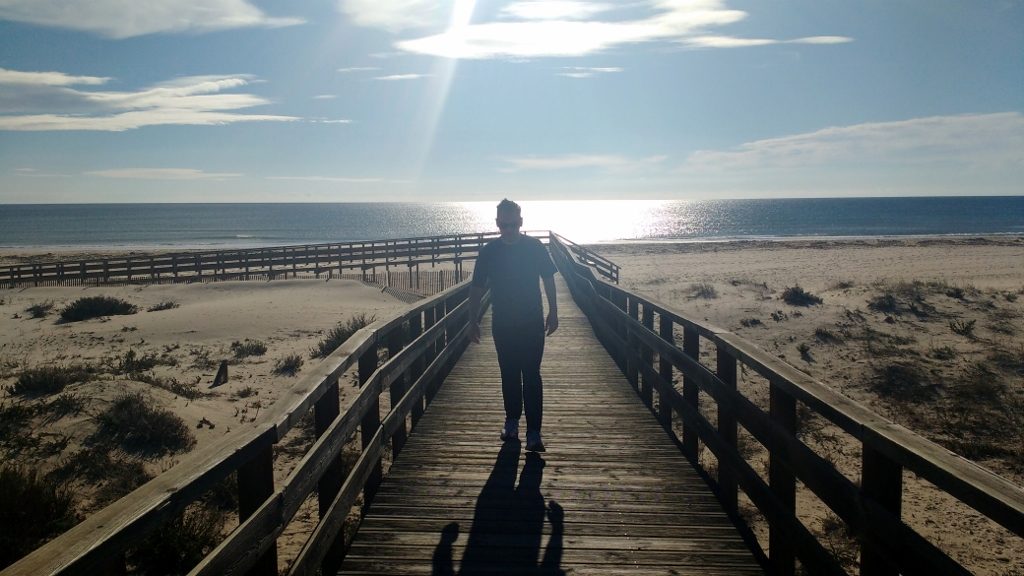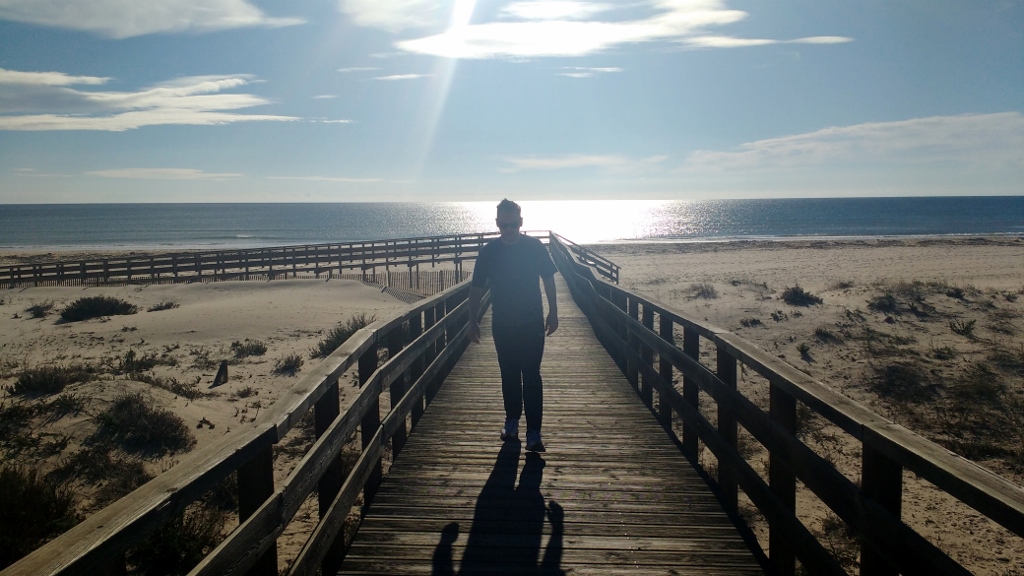 We just met a couple who've got my head spinning. Carol and Andy are here in the aire in their classic Hymer B544, roughly the same age as our old sturdy Dave was. After a brief chat, the most incredible story emerged: they've been travelling for almost 36 years. Leaving the UK in their late 20's for a year out, they never quite made it back. They've been living full time in their current van for, wait for it, 16 years. 16 years! In the same van! With no home base, everything they own is in it. In earlier years they lived on boats, sailing yachts across the Med and to the Azores and doing house sits, no doubt among a myriad of other experiences. Their budget is roughly £4,500 to £5,000 a year, for everything. Our own story is a blip compared to theirs, for one thing we blow 3 times as much wonga as they do. We're frivolous, what an incredible couple of people they are.
I've never met anyone who's achieved quite such a dramatic lifestyle. The nearest we've come has been Glen and Steve, who have been on the road for over 20 years and retired in their 40's (if I remember correctly), like we have, sort of. I asked Andy if they had any regrets. You can guess the answer methinks. If you worked on the assumption most folks get 4 weeks off work a year, they've had 468 year's worth of holidays between them, although of course they weren't holidays, they were a steady stream of life. Being at the point I'm at, pondering whether we're doing something worthwhile, it was fascinating to chat with them. They're finally gearing up to buy a house back in the UK to get a base while they can still afford it, which I imagine is going to be quite a change. For one thing they'll suddenly have a load of room's worth of stuff to buy.
It's all food for thought as we ponder our next move. We're still on for Christmas down here in Algarve, and are heading over to the aire in Alvor a couple of hours to the west of us to meet Jules and Phil, where we'll put down roots for a week's festivities. After that the Marrakesh half marathon's also still on the cards, and we've put in a 13km run down the beach to Monte Gordo (close to the Spanish border) and back to keep our training up. When we got to Monte Gordo, by the way, we were taken aback to see fishing boats being hauled up to a 'parking area' on the beach. Leather-and stone-faced fishermen hauled out buckets of flat fish and squid or sat with fingers playing an age-old rhythm, fixing holes in their nets. The backdrop was an incongruous scene of high white apartments, bars and restaurants – presumably all of which grew up around the fishermen who've been the one constant over the decades.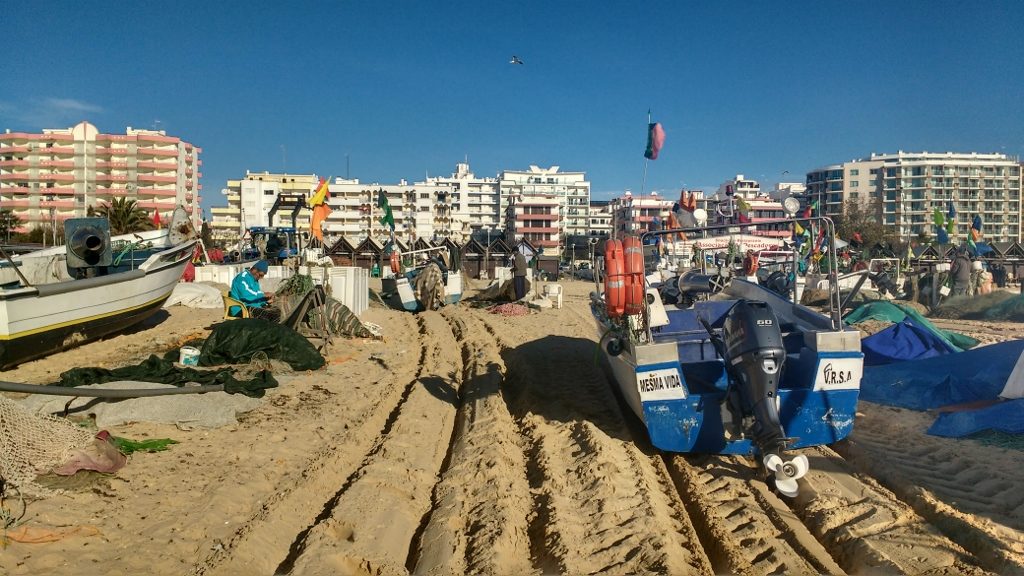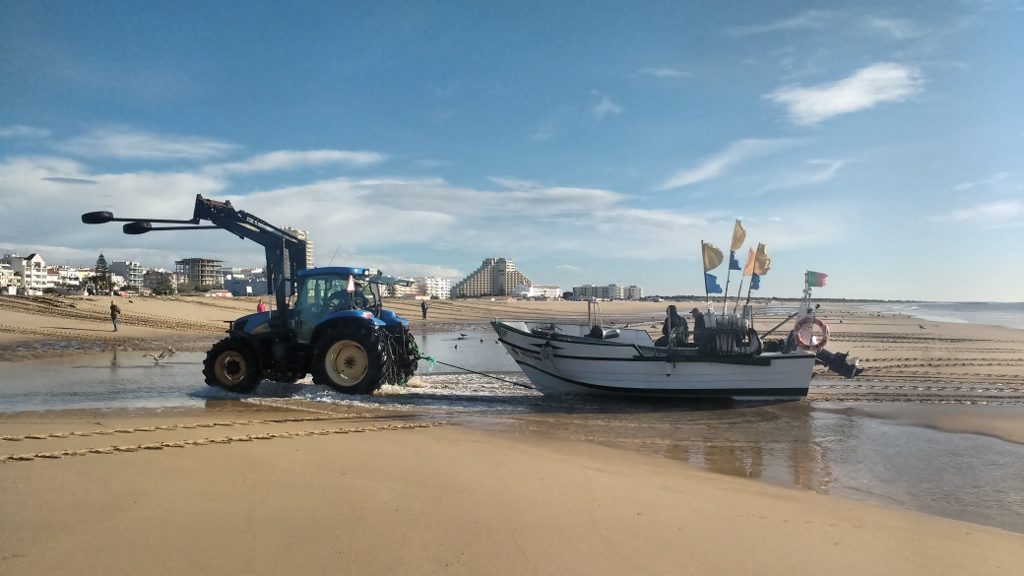 I've enjoyed the past few days here in the aire, living the life of a potterer. Pottering about, messing with this and that, ambling out over the dune boardwalks to the beach to kick the shells and drying bamboo flotsam about. Carrying water to and from the service point, taking note of the partially-visible lives of the other folks here, most of whom are well settled in, using cars, quadbikes, scooters and pushbikes to make forays off the site. Some have solar panels lined up on the ground, and one even has a custom-made trailer with two huge adjustable panels set at right angles to one another, and a wind turbine above. Santas sit in windows or cling to wing mirrors or posts. Everyone seems to have a dog, and a better tan than us. And why not? The Swedes in front of us must be loving the escape from the endless darkness and ice back home.
Ju's done more than me, and has clipped Charlie's fur, cleaned Zagan out, done some Search Engine Optimisation (black magic) on a friend's website and more besides. She almost had to look after me too, after I managed to semi-poison myself with some badly defrosted seafood which warmed up a bit too much before making its way into a paella. I got away with a 2am visit to Zagan's loo. I once had a similar predicament in the Malaysian jungle, with a frantic half-run to a shack-loo infested with ants and a squat toilet. Zagan's smallest room felt like the Ritz in comparison.
Cheers, Jay