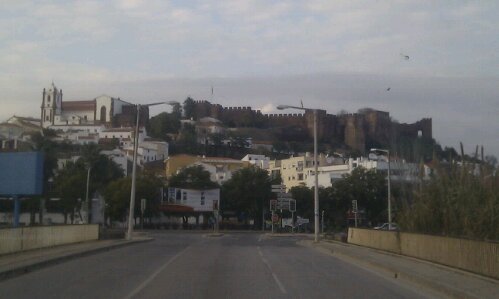 We're here – N37.18465 W8.44231
Weather – a bit of light cloud
We're back on the road and a little bit in shock. We were told that when we got to the Algarve there would be a lot of vans, but we never expected anything like this!
This afternoon (after a final shower, hair wash and blow dry – haven't been able to do that since we were in France) we stepped into a lovely clean Dave with some extra shelf space after a sort out and re-jig. We loaded up our lovely clean clothes and bedding and after a quick trip to the supermarket to replenish the dishwasher tablet supply we were off.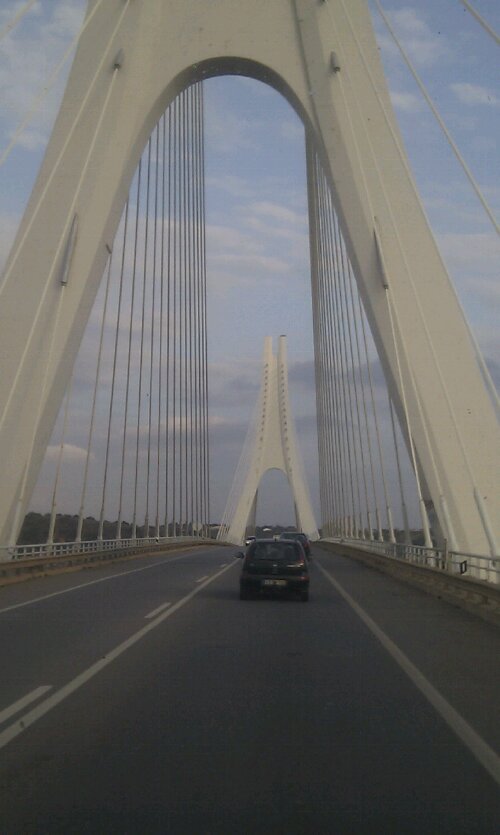 We've had a great rest at the villa and will be forever grateful to Eric and Anne for their generosity. We've realised that wherever we live in the future we want a real fire (and a dishwasher) and that we don't miss tv at all, we hardly watched it when we were there. The news was pretty much the same as it was when we left!
We drove into Lagos and did a big shop at our supermarket of choice – Lidl. €80 or so later and Dave's cupboards are brimming with tasty treats again. We then headed east and inland to a town called Silves.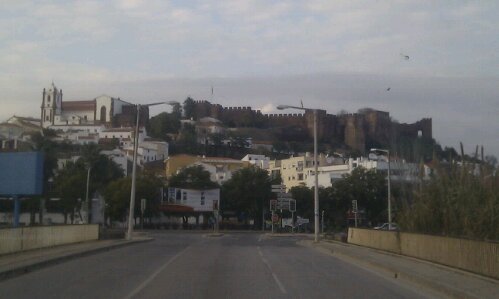 The fields at the side of the road were full of orange and lemon trees bursting with fruit, and we were surprised to see a couple of garden centres selling palm trees in pots that were around 10ft tall – lord knows how you get them home.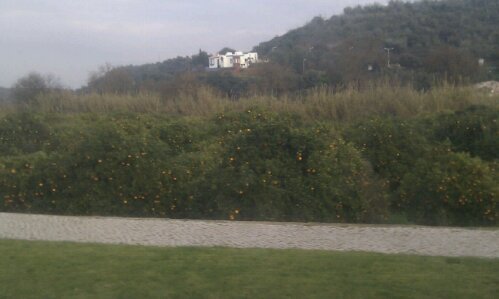 As we followed the satnav to the suggested parking spot in Silves, on our left we noticed a few vans in the swimming pool car park. As this was right across the road from the town centre we pulled in. Then we spotted the vans on the other side of the car park. I'm not kidding you, there must be about 100 motorhomes of all shapes and sizes in here – good job it's a massive car park.
We headed up into town and had a look around the outside of the tower, church and castle – all made from the red local sandstone. The town is on one serious hill and at the top we could see the suggested car park with just 3 vans in it, but then it is quite a way out of town.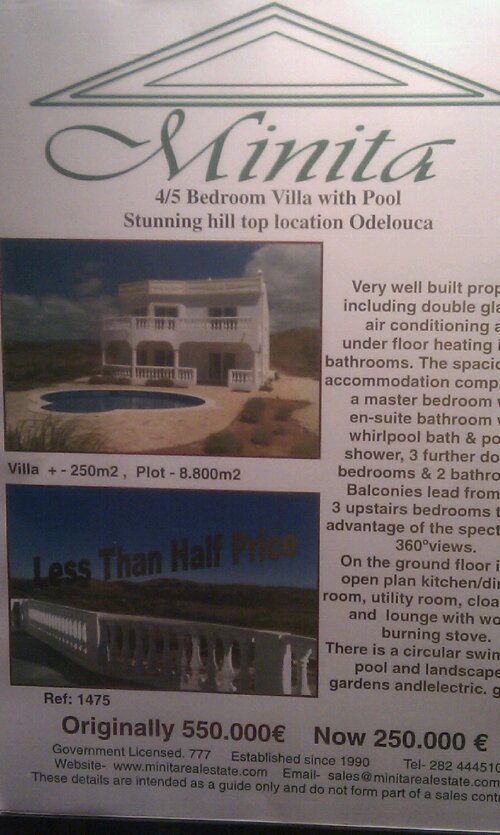 As dusk came we had a cheeky beer and Chocolate St Emillion pudding on a fairy light lit terrace by the church, then headed back to Dave. We decided to explore the motorhome town that has sprung up and while walking round we bumped into some English folks sitting on a bench with a box of wine and some crisps. We joined them for a while and they told us all the best (ie cheapest) places to eat at – seems the bar next to the fire station is the universal winner with the swimming pool cafe coming a close second. They'd been here for a while and one bloke was hoping to stay here til March! They said that the police in nearby towns were having a clampdown and moving people on, and as no one has been moved on from here in the past, everyone has ended up here. There may be a black cloud on the horizon though as it seems this temporary town made it into the local paper with people complaining about the number of freeloaders. It's like we're the new style gypsies – I wonder if Channel 4 would be interested in doing a series on us?
Anyway, we're here for tonight and possibly tomorrow now as we're tempted to try out the fire station bar. Then we need to make our way further east as there're some travel guides waiting for us at Faro post office.
The rest in the villa was lovely to but it's good to be back on the road again.
Finally for all you Charlie fans, be sure to check out J's update from earlier today – the many faces of mugwai – more pooch pics than you could ever ask for!
Ju x