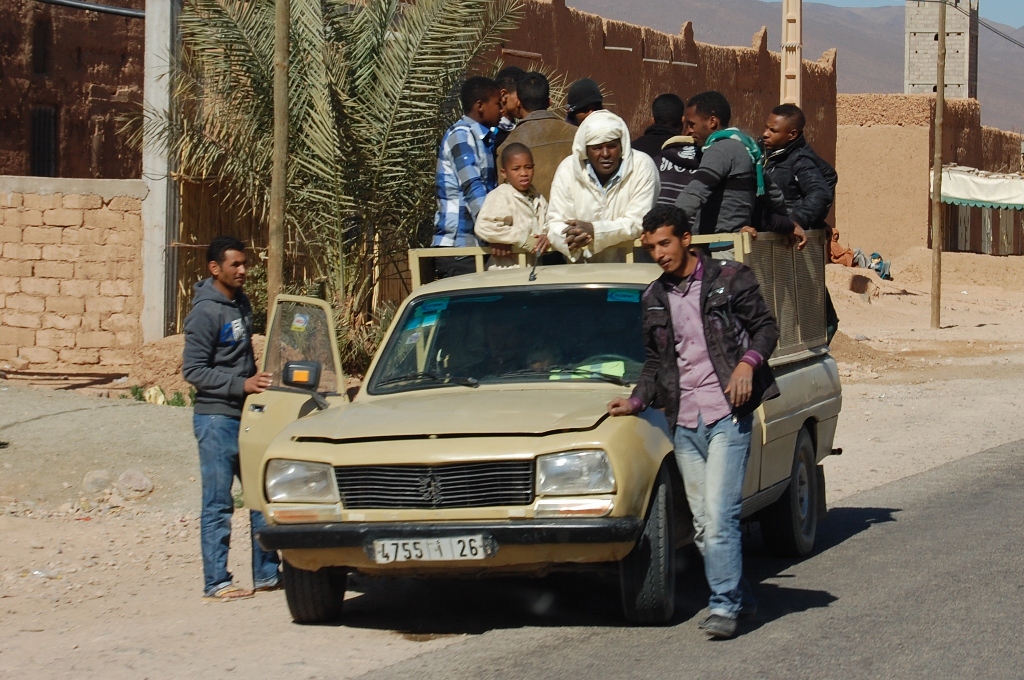 We're back here: N30.92322 W6.88731
Weather – sunny and warm, then cold when the sun goes down.
This morning J took Charlie for a long walk while I gave Dave a thoroughly good tidy and clean – he was full of sand. He's a bit better now, but still a bit grubby. I'm kind of looking forward to getting to a laundrette to clean the sofa covers as they are more Sahara colour now than their original cream.
We got on the road quite early as we'd decided to drive straight back up to Ouarzazate (where we stopped a few days ago), having gone as far south as we wanted. Before we headed back north we stopped off at a famous painting in the town – J has even spotted Michael Palin in a photo next to it, that's how famous it is!! He went looking for it on his bike yesterday but couldn't find it – turns out he walked straight past it. Have a look at the photo below, it's not small!! Should I be worried that he's doing the driving?
We were on the road for about four hours working our way back through the stunning scenery of the Valle du Draa. It looked like today was washing day as there were many groups of women sitting by the rivers and wells.
We stopped for a spot of lunch in Dave where J found a skull, it was nearly going to be attached to the front of Dave (so near that the cable ties were out and the bonnet off) but common sense ruled in the end. We also made a quick stop for J to buy some dates from a roadside seller (they do say that the dates down in this region are the best, so we thought we'd better try them).
We reached the campsite at Ouarzazate and realised we were next to the couple we'd parked beside in Zagora a couple of days earlier. After chatting to them and finding out about all their adventures (UK – South Africa, New York – San Francisco!).
J, Chris and I set off for the supermarket to get some supplies. Of course by supplies they meant beer – so this dictated which of the two supermarkets in town we went to. When I say supermarket, think more along the lines of a tesco metro sized shop, but with about a tenth of the stock – the shelves were sparsely filled. But the beauty of the supermarket here is that you pick stuff up yourself and it's priced. The other food shops here are a bit smaller than Dave with a counter across the front. A man is behind the counter with food stacked on shelves up to the ceiling (so there's usually a ladder there too), so much stuff in one little space and not a price to be seen!
After we'd wandered around the entire supermarket and picked up some essentials for us that the locals probably don't bother with, such as cereal, tinned mushrooms (as there are no fresh ones) and cordial that's not mint or grenadine flavour, J and Chris approached the counter as all the beer was behind it. They had a choice of shelves of various prices from 15 – 23dh per can. Obviously they went for the 15dh shelf (about £1.30 a can) and got four cans each, not that you could chose what you actually got, you were just given the cans at the front – so J has three different types of beer.
To give you an idea of prices, here are some of the things we've bought at supermarkets (and approximate UK prices):
Bread (flat round loaf, about dinner plate size) 1dh (8p)
Eggs 1dh each (8p)
100g Gouda cheese 19dh (£1.80)
185g tin of mushrooms 17dh (£1.60)
500g Spaghetti 12dh (£1.00)
4 x 125g natural youghert 8dh (75p)
10 x pain au chocolate 26dh (£2.30)
Litre UHT milk 9dh (72p)
6 x toilet roll 15dh (£1.35)
Litre bottle of Moroccan wine as take-out from the hotel bar we were at the other day 65dh (£6.20) – and it wasn't very nice!
We then went into the local souk (market) and picked up some mince for dinner – here they have the meat hanging up around the stall, no fridge/chiller. We were lucky to find the man with the mincer! Chris bought a chicken (lucky again as we found the man selling pre-killed chickens, the other stalls were all selling lives ones that they killed and plucked for you). Finally on our walk back we bought some veg and bread from another two shops – you really need to use some shoe leather shopping around here.
We may be shattered, but we're all stocked up and having spaghetti bolognaise for tea – yum!
Ju x