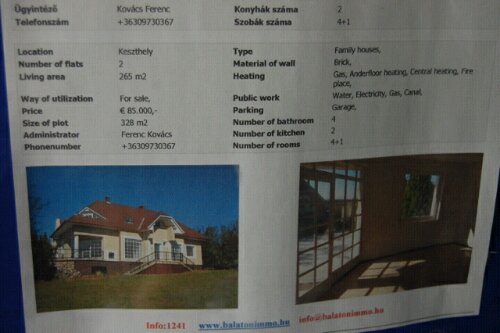 Dave the motorhome is overlooking the Inner Lake (N46.90857 E17.88792), near Tihany on Lake Balaton, Hungary. We could be in the Cotswolds here, the resemblance is striking. Ah, thinking it through, no we couldn't as we're free camping freeloaders who'd be summarily booted into a campsite in the UK.
Dave, or more accurately Dave's occupants, reached boiling point today. After weeks of roasting, all packed in hiding from the long sought after blaze, a mini flash point was reached. Tempers flared (we don't argue, except when we do, which is thankfully rare). A detour away from the Budapest route to Sumeg turned into a 'head for the Austrian mountains' cold rush. As Dave rocketed north, a wipers-can't-cope downpour plunged us back into rational thought. We fancy seeing Budapest. It'll be flipping miles to drive to it again. Let's go back. We're back, sat in a gorgeous location, cooled off, for now!
The day started early, a thunderstorm crashed around us, the sort you feel in your lungs. Charlie was unimpressed, some native element within informing him of a danger; he's equally afraid of fireworks. Some pooch soothing takes place, the bullet-like rain drops the temperature a few degrees, we sleep some more. We'll miss these salad days when they're gone.
Our Hungarian hosts paid us little attention as we camped out on their lake shore. They seem a restrained, introspective bunch, but I think it's a facade. Official figures finger 9% of the populous as full-on alcoholics. They remind me of the Fins, who they appear to share an ancestral link with, although Hungarian massive meals have had a noticeable affect on some physiques. Hungary itself is a relief of civilisation in contrast to the edgy feel of ex war zones in Croatia and Bosnia we passed through. There are cycle paths here, and machines grab car park fees rather than parking guardians. Even the carny folk running the pitifully empty carousel and dodgems strung pink flowery hanging baskets on their elongated gypsy wagon. Even better: it's not too civilised, it's not too a part of Europe. Walking 5 minutes places Dave in the free parking zone, free camping seems de rigour, we see hardly any other motorhomes, prices are in forints, not the euro. Hungary has, or at least had, a desire to join the euro we read. We're glad it's stalled, it's vastly improving our 360 times table.
An engine-just-warm trip rounds the west end of Balaton Lake, dropping us in Keszthely. The place shines, rubbed up with EU wonga we guess, the usual stone and water makeover applied the Fo ter square.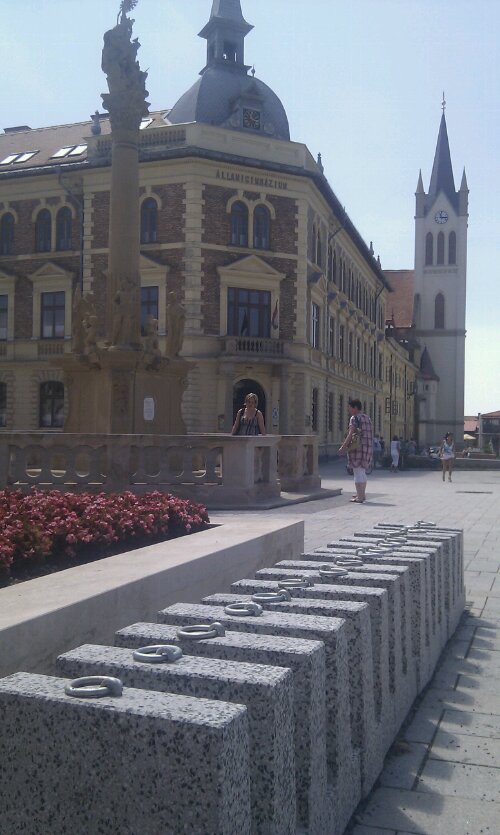 There are people here too, real live Hungarians! The few restaurants and cafes are well populated with quietly spoken punters, not a single mobile phone in sight. Even a bus load of teenagers, begrudgingly trudging into the Festetics Palace, fail to produce a smart phone. Maybe all their friends are physically with them, not that that would halt a similar British bunch from communicating via Facebook servers in Texas. We follow them in, sneaking Charlie past the No Dogs sign. Rebels.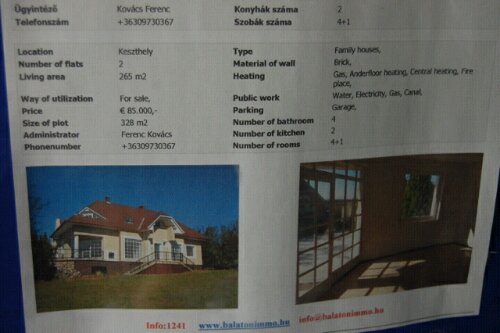 The heat built, sunshine ironing us flat. Charlie was watered to bursting but remained delirious. The umpteen tiny, entertaining but uninspiring museums failed to draw us in (700 porcelain dolls in Hungarian costume anyone? No? What about the Hungarian Parliament Building fashioned from 4.5 million sea snails? No? C'mon! Alright, how about Erotic Renaissance literature told through the medium of wax figures? Hmmm).
It was about this point the sun ignites us. Dave carries us in uncomfortable silence to Sumeg, site of one of the few Hungarian castles not hacked apart by the slighted Hapsburgs around 1700, after a little rebellion. We spotted it on the hill, and ploughed on Austria-bound.
The return journey, air perceptively thinner, took us through some gorgeous country. Sun flowers for once obliging, staring intently at us in their thousands.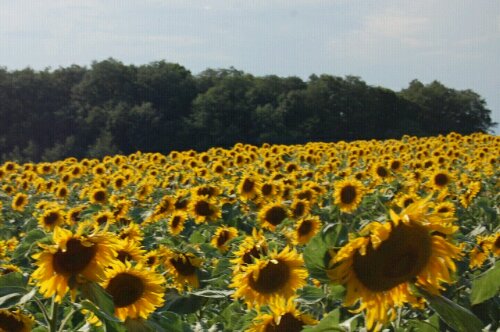 Hills rolling around, small vineyards drawing the eye.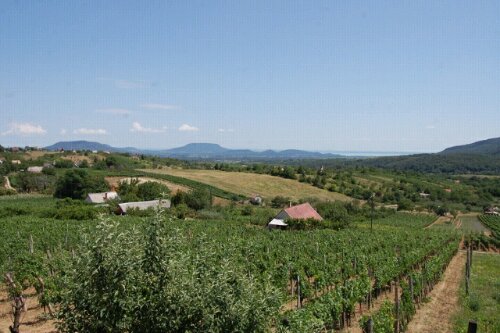 Our lack of a vignette (an electronic windscreen token needed for toll roads) has us swinging about, accidentally alighting illegally on an unfathomable stretch of toll before sneaking off again into nowhere. One back road suddenly narrows from smooth and wide to single and rough, then back again. The rough bits are reminiscent of old roller coaster simulators, each corner of Dave a past-it hydraulic ramp, thumping us and our home a thousand time as the world shudders past our wide windscreen.
Eventually we find this spot. It's calm, quiet, pretty. A breathtakingly free spot to park up, unharassed, and drink a cool glass of Serbian white and listen to the longed-for rain tapping the roof. More flashes in the distance forewarn of canine distress, he's asleep for now though, don't tell him.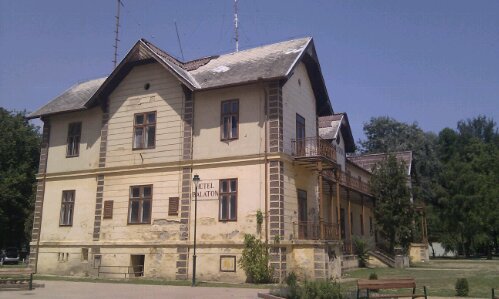 Cheers, Jay