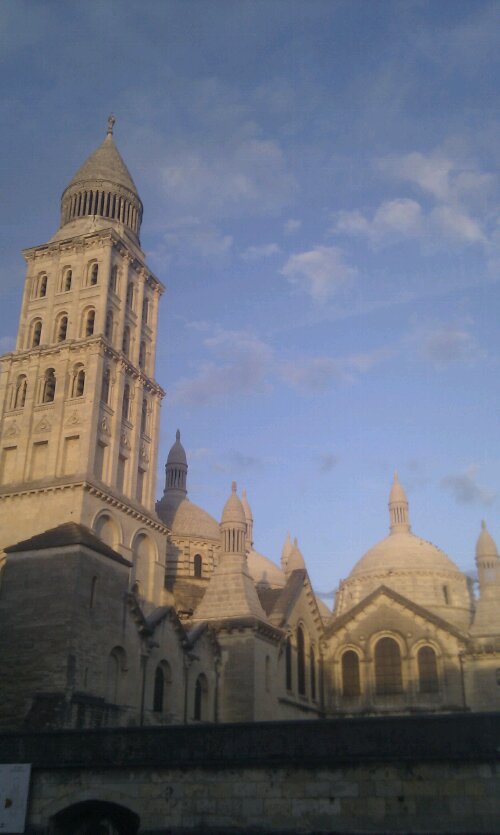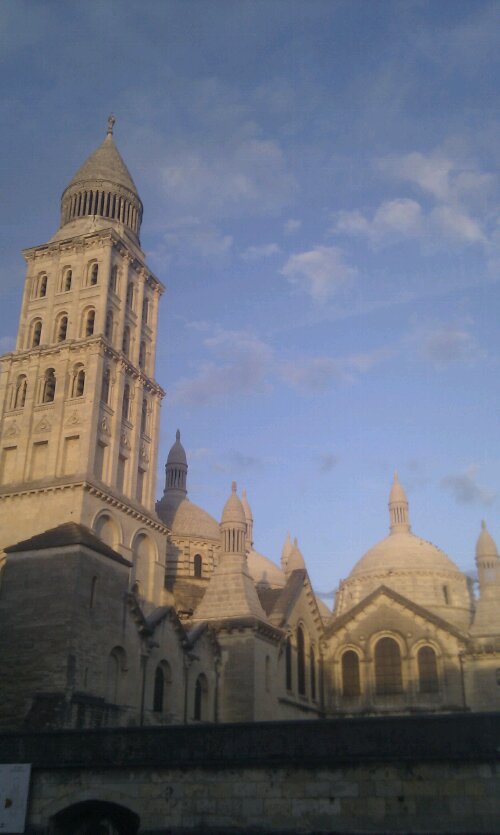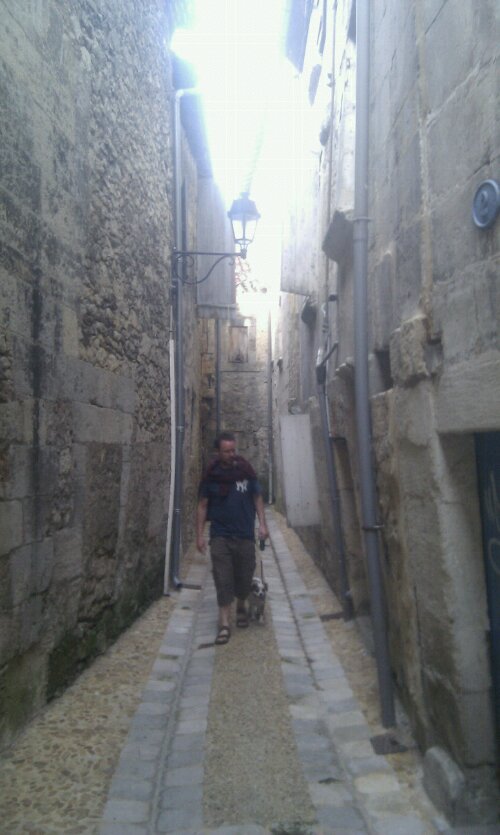 Day 21
Distance – 1916kms
Weather – sunny and warm (shorts and flip flops weather!)
Waking up on a Monday morning isn't so bad if you're in a nice quiet aire surrounded by autumnal trees and the sun is shining.
After the usual shower, breakfast, tidy van routine we went for another stroll around Brantome. It was empty – of course, all the locals were back at work today! Smugly we almost had the town to ourselves, so decided to take a tour of the caves behind the Abbey where it was first established. It was a bit like the broadmarsh caves as the place had changed a lot over the centuries and has become a hotch-potch of different eras, but still well worth 4.50euro each – Charlie managed to sneak in for free, then complained all the way around as he doesn't like caves! My favourite part was two huge carvings on the wall of one of the caves. I can't begin to imagine how you'd go about doing something like that, just one mistake and it's ruined, it's not like you could start again.
We're not too sure about the state of Dave's leisure battery, it's a few years old and doesn't seem to hold as much charge as J expects – I don't have a clue, but just know that the lights are on every night which does me. So as we were heading for a larger town J hit the internet for the French equivalent of Halfords called Norauto. We piled in and once again J impressed me with his French, but after discussing with the guy what we needed it turns out they don't sell them, we'd need a proper camping car place. We got directions and headed over there but it was closed on Mondays, we might pop back but the French seem to be celebrating the 90's girl band All Saints tomorrow so it might not be open.
We drove through the town of Perigueux to get to tonight's aire which is by the river about half a mile from it's centre. It looked really pretty, so we set straight off to explore. The town has loads of little alley ways and a real old world feel about it. We happened to end up on the alley that housed shops which sold everything to make you fat – yummy looking hand made chocolates, macaroons, cakes, pastries – in fact you could put on a few pounds just window shopping! We walked around the outside of the very impressive medieval cathedral, with so many towers and domes the roof looked like it's own city, and on to the Roman part of the city. This wasn't quite so impressive with just a couple of ruins and a road called Rue du Romaine, but at the end of it was a big tower which was once part of a Roman temple, so it was worth the walk.
We headed back through town as night was falling and debated if there is a competition among pharmacies as to who can display the most green neon. We're now back in Dave and the lights are still working. J's cooking up steak for tea and we've had two lots of children at the door asking for bon-bons for Halloween. There's nowhere to hide like we used to at home, so it's a good job the naughty cupboard is well stocked.
Ju x