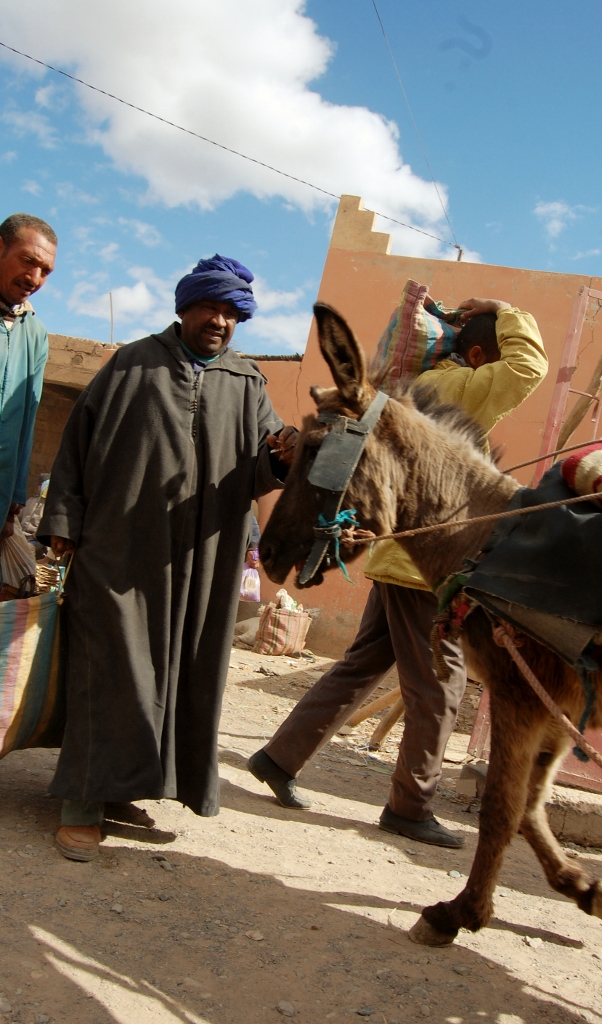 We're here: N30.33777 W5.83219
Weather – cooler with some clouds today, heating on tonight.
We ate in Dave last night, a massive Tagine of chicken and cous cous cooked up by the campsite for us. It arrived along with gravy, spicy stuff and bread. We all ate until we were full (and polished off the emergency sherry supply), there was still plenty left, so Charlie and Loli both have a box of cous cous to add into their food for the next few days.
This morning we had a tour of the Kasbah next to the campsite we were on. The couple who own the campsite (Gail who's French and her husband who is Moroccan) are part of the family which own the Kasbah, and the money from the campsite and tours help to pay for its maintenance and renovation. Gail's husband's grandfather was a lord who owned a lot of land (20km in one direction and 30km in the other – or basically as far as you could see from the top of the kasbah). Unfortunately when he died it was during a time of change in the country. The King was willing to grant ownership of the land to the next lord, but his three sons couldn't decide who it should be. They took so long that the King died and they lost all of the land – but managed to hang onto the Kasbah. So now instead of around 200 family members living in it (when the family had land and money), there are just a few who live there and are trying to renovate/maintain it.
The tour was really interesting with lots of facts about Moroccan life and how things generally work around here. We even found out about how palm trees grow – it takes about 4 years before they even break through the soil. Afterwards we sat down for a mint tea and had a good chat with both of them. It was good to talk with someone who spoke good English and was able to tell you the way things work – ie you don't haggle for food.
After the tour, we set drove down to the local souk (market). We'd been to a few souks since we arrived, but the one at Agdz was big, busy and something to behold (if you're ever passing, do stop by – it's only on once a week though).
We all marvelled at how Moroccans don't let anything go to waste. You could get various water carriers made from old tyres, woven donkey baskets and tins remodeled from various other metal objects. Imagine a normal Sunday car boot sale, thrown in a about 50 donkeys, 100 mopeds, no order to the stalls, dusty wind and a general air of not knowing what's going on and you'd be about right. We walked around for a while, Chris was loving the hardware type stalls, but the only thing we bought was some fresh popcorn and caramelised peanuts (all fresh and warm) for about 90p. J did the battle with the lack of queue or process while I took some snaps of locals and what was going on around us.
After the souk we drove through some dramatic scenery along the Vallee du Draa to Zagora where we'd got the co-ordinates for a campsite. We weren't sure if satnav was playing us for fools again as the road to the site was stony and lined with very run down buildings, but we saw another European looking couple walking along with shopping bags and carried on – that's generally the best way to be sure you're on the right road for a campsite.
The "take your time" campsite is a small area in front of a walled of complex of rooms for rent and restaturant. When we arrived Abdula greeted us and sorted out some mint teas while we filled in the paperwork. From speaking to Gail it seems this paperwork is used for helping to find missing people – so we were more than happy to fill it in, just in case we disappear!!
Chris, J and I went for a walk into the town to procure some food for tea (and we'd heard a rumour that you could buy wine and beer here). We found a "supermarket" with lots of dusty bottles of mint cordial, but no alcohol. Still we got some less dusty orange cordial and stocked up on water. J (our French speaker) enquired as to where we could buy alcohol and we were directed to a nearby hotel. We went in and asked as reception and were pointed round a corner and behind a screen. Here we discovered the other side of Morocco.
A dark room with the curtains drawn, screens all around so you can't see in it, the air was thick with tobacco smoke and huddled in small groups around low tables were men – drinking small bottles of beer (sorry folks no photos!). We'd found the only locals bar in the city. I was a bit worried as several heads turned when I walked in as it was strictly a man zone, but no one actually said anything, although the bar man was very grumpy – but it seems he was like that with all his clients. I asked for a wine, but that only came in bottles for take out from a locked room around the corner. So, J ordered me a beer (the only drink they had) and we went over and sat in a corner to drink it. The place was dark and seedy and reminded us of some of the coffee shops in Amsterdam – as the ambiance make you feel like you were doing wrong. We were obviously drinking much faster than the locals, some of them could make a beer last a very long time. They were 16dh each (about £1.50) so cheap(ish) for us, probably very expensive for them.
Before we left we walked over to the take-out room and bought a couple of bottles of red wine for 65dh each (about £6), and as I waited for J and Chris to complete the transaction – holding the shopping – two men walked in and nodded and smiled at me. They were probably pitying the poor European woman who couldn't live without alcohol!
On our way back we picked up some meat for dinner. The huge leg of something was hanging up outside the shop and the man hacked off a chunk for us then cut it up. We don't know what it was, or how long it had been there, but Tina cooked it up into a lovely curry for our tea, while Chris and J demolished all the alcohol we'd just brought.
Ju x