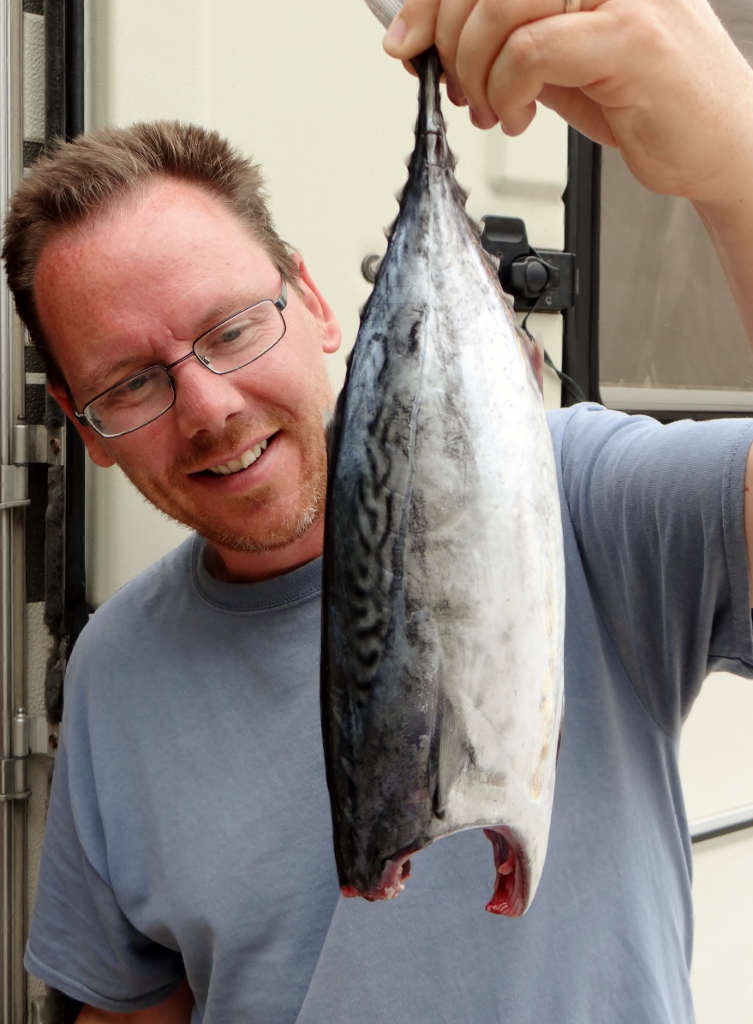 Dave the motorhome is a bit confused, we only travelled for about 20 minutes today but he feels like he is in Norway, sitting on the banks of a fjord next to a tiny village at Gerakas Port (N36.78569 E23.08665).
Last night in Yefira there was only the sound of Charlie snoring and the waves lapping onto the beach next to us as we slept, a much quieter spot than our one from the previous night only a couple of hundred metres away on the causeway to Monemvasia. This morning the sound of thunder woke us, the long-promised storm to break the heatwave was close, but the cooling rain was just a sprinkle of drops for a minute or so. The sky around us was a mixture of thunderous black clouds and stunning blue, it looks like the weather just can't make up its mind.
We had a decent free wifi connection thanks to Monemvasia council so Jay tuned the laptop into Radio 2 so we could listen to Chris Evans. Once again the Greek two hour time different was apparent as the dulcet tones of Vanessa Feltz wafted out of the speakers; Chris and his breakfast show weren't on for another hour as it was still 5.30am back home. As we listened to Vanessa, Jay wrote a review of our directional Wifi Antenna which is now finally getting some use.
Mr Evans and crew entertained us as we finished our breakfast and got Dave ready to go, our destination wasn't on our map but was suggested to us in a comment on one of our posts from Peter Highe who had stopped there for a few days. With roughly scribbled instructions from looking at the place on Google Maps (thank goodness for the wifi) we set off for Limenas Geraka.
I read yesterday that Sir Alex Ferguson has announced his retirement and among all the pages of information about his career, trophies etc. there was one 'fact' that stuck in my head; he is credited with inventing the phrase 'squeaky bum time'. Why do I bring this up now? Well that was what we experienced today as we drove through a tiny narrow village the walls seeming to get closer to each other with each passing metre. A parked car pulled onto someone's drive so we could pass and around a couple more corners the road started to widen and climb up a hill. We released our held in breath then I spotted the name of the town – Aj. Ioannis – it sounded familiar so I checked our scrap of paper with the directions on it, ah that's right 'make a right turn before you reach Aj. Ioannis'!
Jay wrestled a reluctant Dave round in a three, to five, point turn and we braced ourselves to run the gauntlet again. A couple of turns into the village a small sign pointing left said Monemvasia – it wasn't the route we had come along and knew we could just get through, but it might by-pass the village so we went for it. The road (and by road I really mean a Dave width path) now headed down hill curving around houses and fields of olive trees before we finally met up with the main road (and by main road I really mean just wider than a single carriageway and slightly less bumpy than the path we'd been on) where we turned back towards Monemvasia and took the turn we had missed.

Soon we were winding our way over hills covered in dark green shrubs, where the road was cut into the hill grey rock rose up, the earth among it was the bright red colour of the cliffs on the coast. If the grey clouds above were blue sky it would have been a most beautiful scene. A couple more villages were easy to get through, no tight 'pinch points' here as the few pale pastel coloured houses lined the side of the single road. Dropping down towards what looked like a huge lake we realised how close our destination was (we've only driven around 650 kilometres in over a month in Greece as there are so many amazing places to see), as a small collection of houses sat on the shore.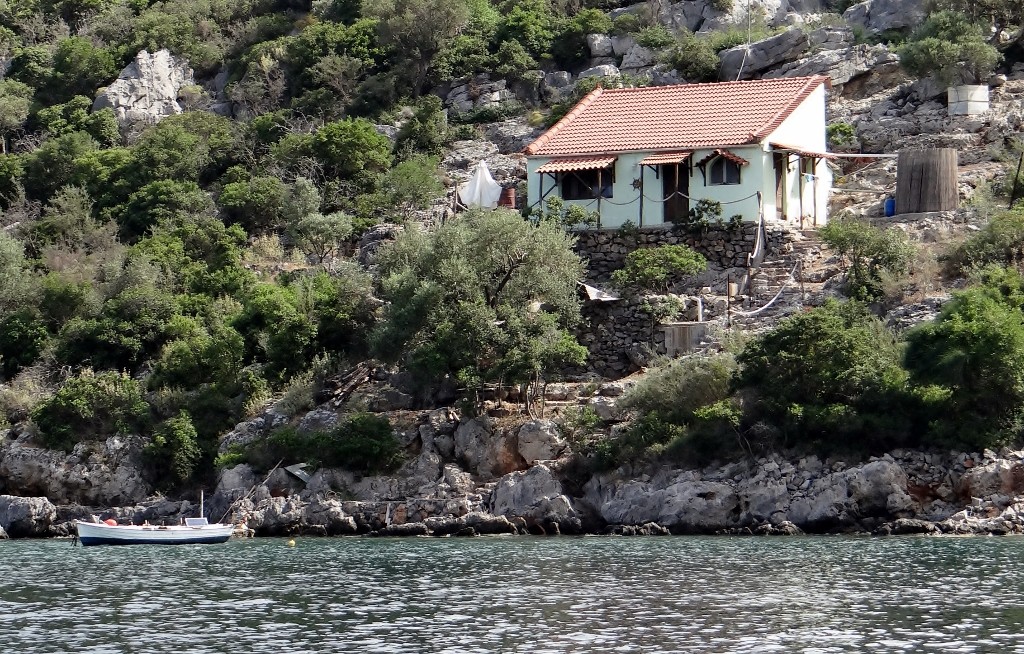 Finding a nice big car park we left Dave and set off on foot to see how wide the road ahead was. The single track ran against the water's edge, with houses along the shore until we reached the main part of the town, where a few tavernas had their tables and chairs out a foot from the quayside edge. Assessing that it might be a bit tight due to a couple of parked cars, but worth the attempt we wandered back to Dave and pottered along the road to the car park at the end; Gerakas Port. In the port there was only one boat was anchored up, a young couple lay sunbathing on its deck. But all along the roadside fishing boats were tied up and piled high with nets.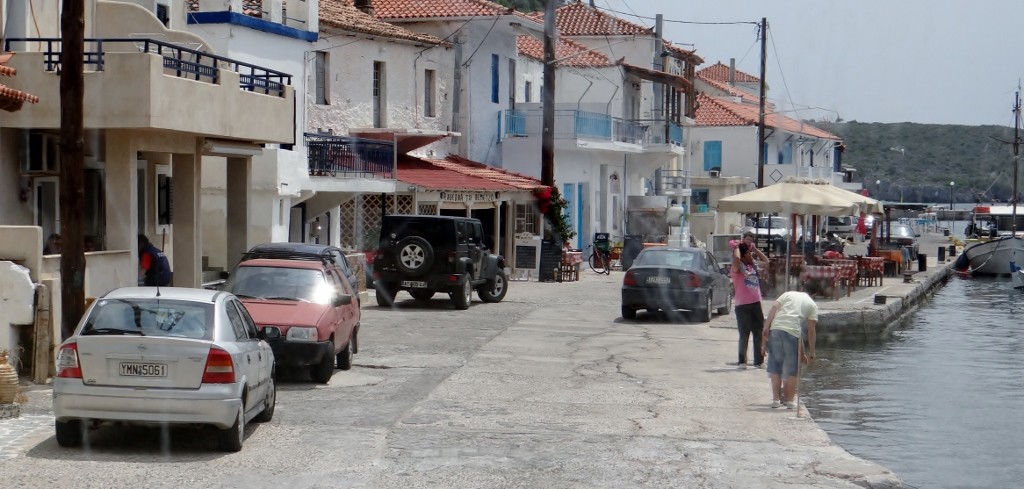 We went for another walk back along the road we had just driven to see where we fancied eating for lunch, but spotting a small shop were diverted by a fella with a bucket of headless fish (my favourite kind). Inside the shop was more like a home than a shop, to the right was a small kitchen where the fish were being wrapped in cling film on the kitchen counter. Over to the left a couple of tables and chairs were surrounded by shelves holding tins of milk and tomatoes, plastic water bottles filled with olive oil or wine and jars of honey that was treacle black in colour. Glass fronted display cabinets, which looked more suited to a living room than a shop, were filled with incense, tins of coffee and salt, beside which were stacked cans of pop still in their cardboard trays and plastic wrapping. Little hand written price labels, drawing-pinned to the shelves, and a large glass fronted fridge were the only giveaways that it might not just be the home of someone who likes to keep a good stock of food.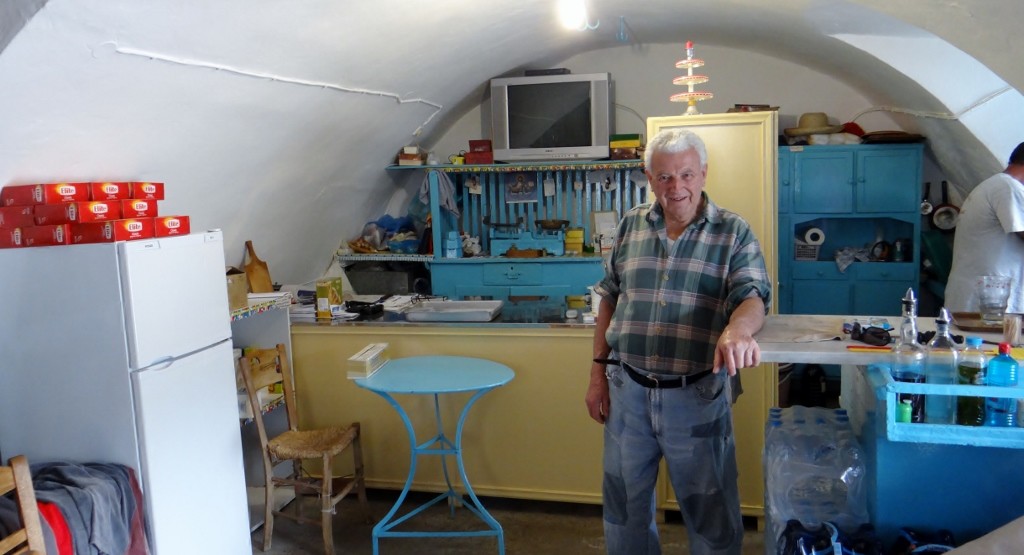 After a bit of confusion and some sign language we bought ourselves a fish, which was then taken outside to be de-scaled, gutted and cut almost in two by one of the proprietor's friends. 'Ten minute grill' we were told, I tried to explain we don't have a grill, but I'm not sure it was understood. The weighty fish cost us just €5 and we headed straight back to Dave to cook it, even though we were early for lunch by Greek standards.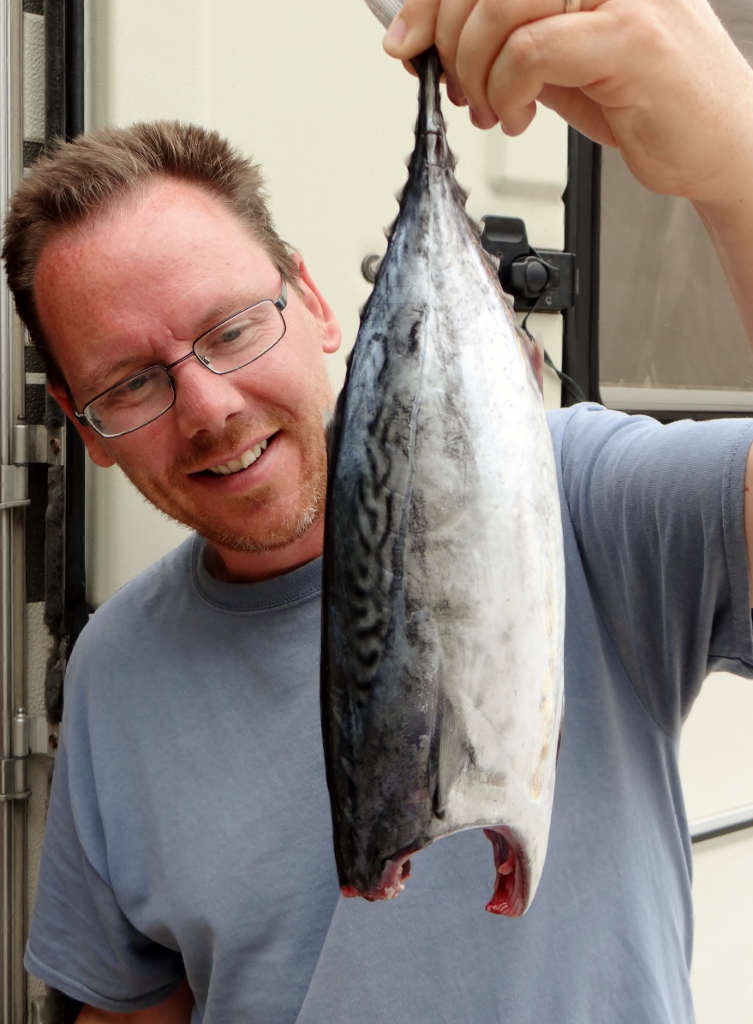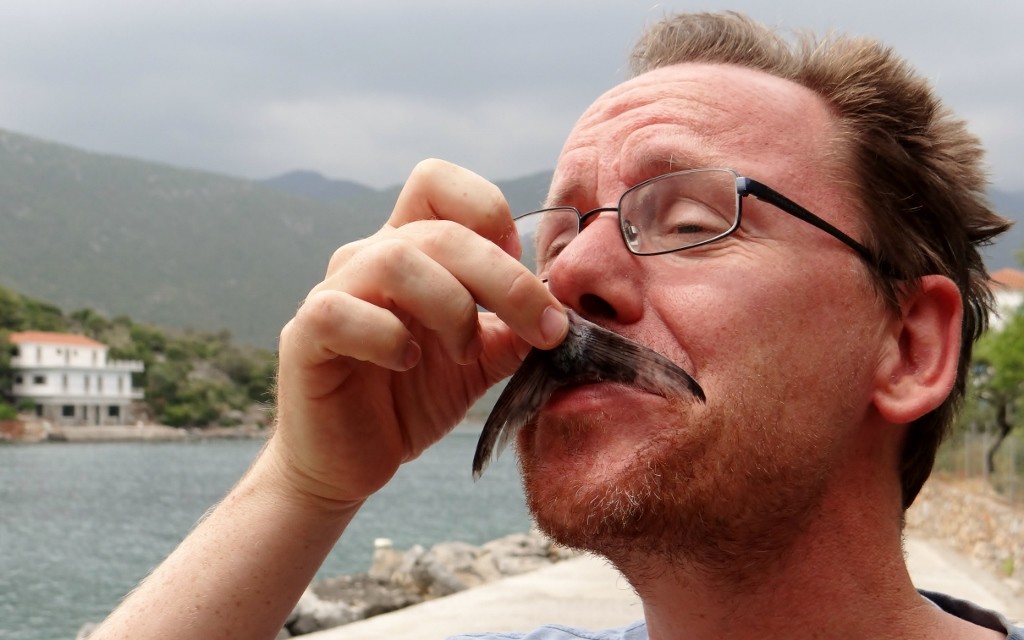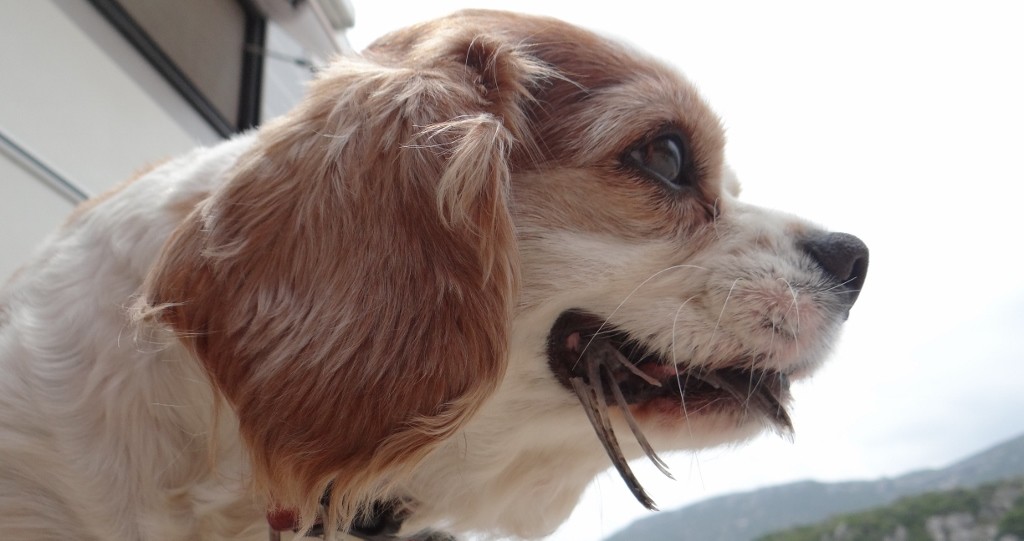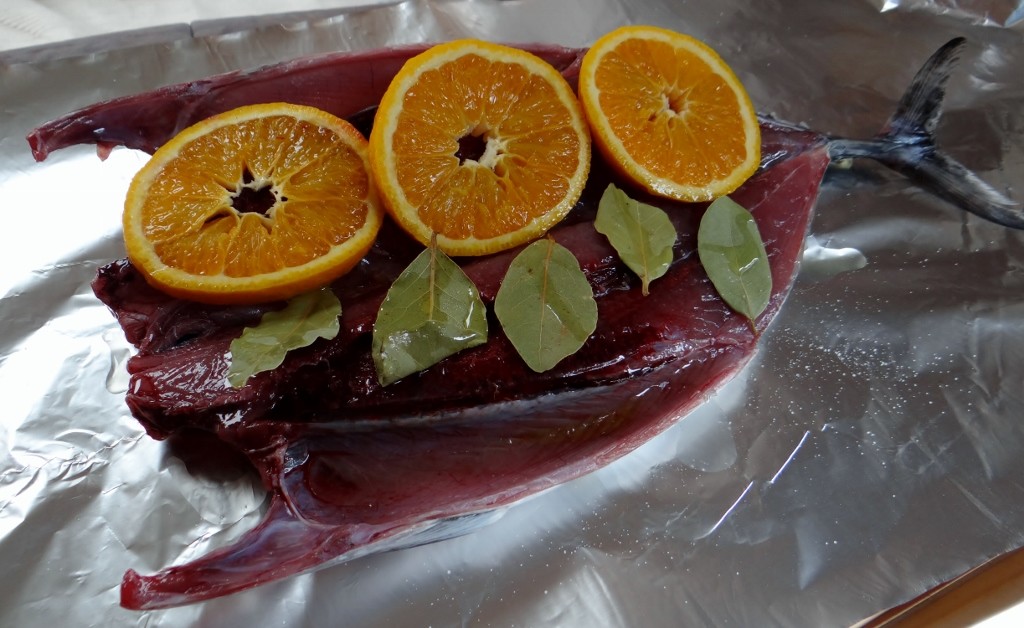 Half an hour later and everyone in Dave was full, and there is still loads left for Charlie's breakfast. This afternoon we've been chilling out, I've read a bit more of my book and Jay has been for a snorkel. We set off in search of the Ancient Acropolis of Zarax, but the path just led us up a hill then down back towards where we had parked Dave – maybe Dave is Zarax, or parked on it! There is no wifi here, which is hardly surprising as there are only about 30 houses sitting at the base of a bowl of hills, so we've activated our local SIM card and started our 30 day top-up that we bought in Gythio – it works! Why couldn't Italian local SIM top ups be this easy?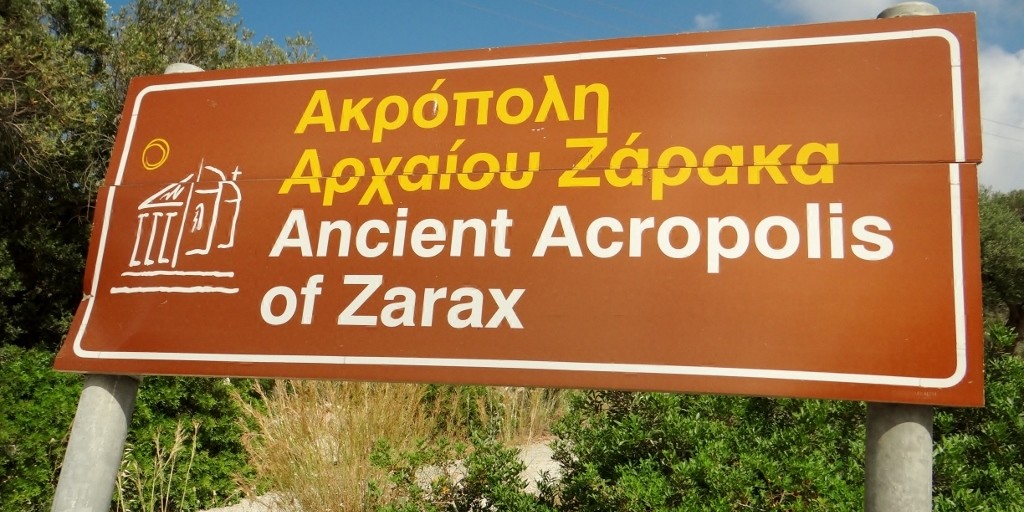 The sun has come and gone as the varying shades of grey and black clouds pass overhead, no more rain but it's still hot enough to be in shorts and when there is a gap in the cloud our bottles of water on the dash board are getting heated up nicely so we can wash the pots with them later.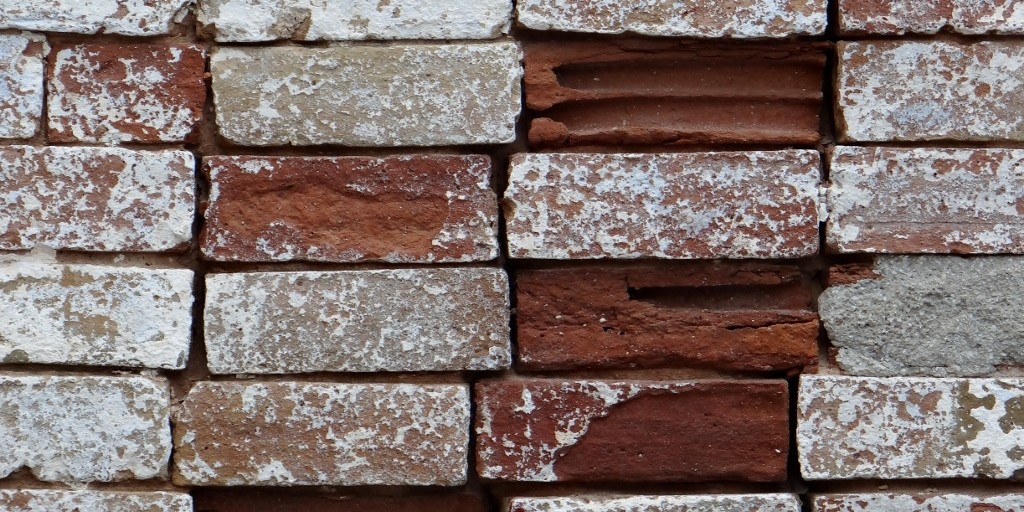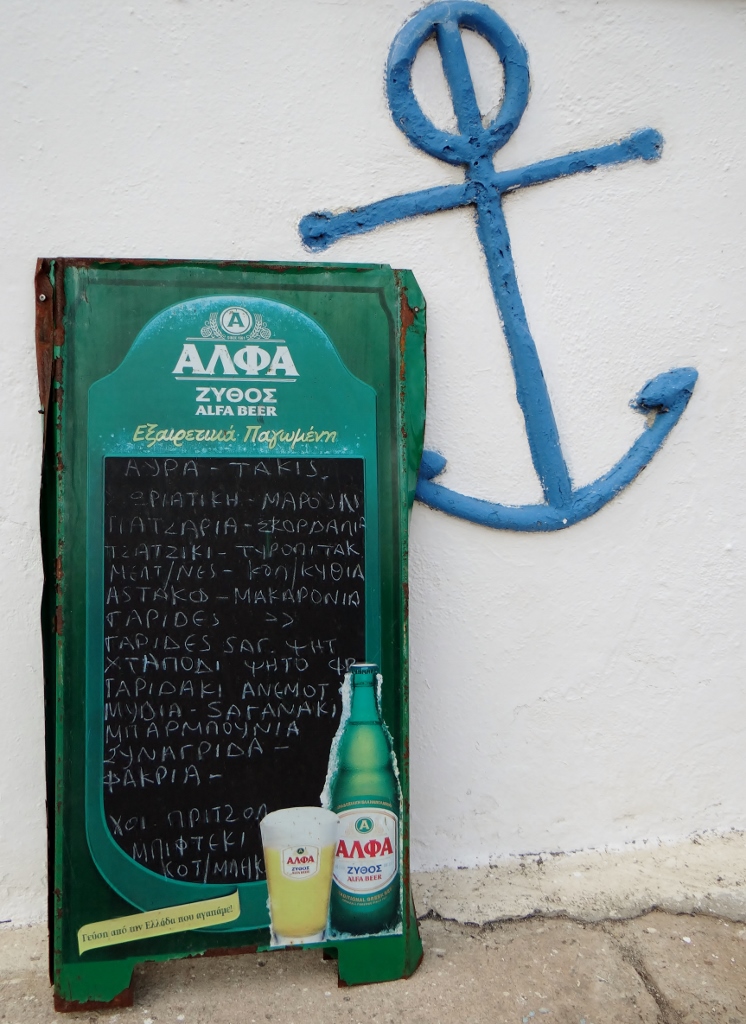 This is a really cool little chilled out place, so we might stop another day and let the bad weather pass as we're taking a pass over the hills/mountains which is supposed to have stunning scenery. It would be a shame to miss it because it is shrouded in cloud.
Thanks for the tip Peter!
Ju x
P.S. A massive storm has just broken over us, huge black clouds, lightning, roaring thunder echoing around the hills and torrential rain. We've had to get our internet dongle back into the van for fear it might get struck by the lightning which has just got a nearby boat. Charlie is hiding under the table and we're in awe at how much water can come out of the sky in one go.