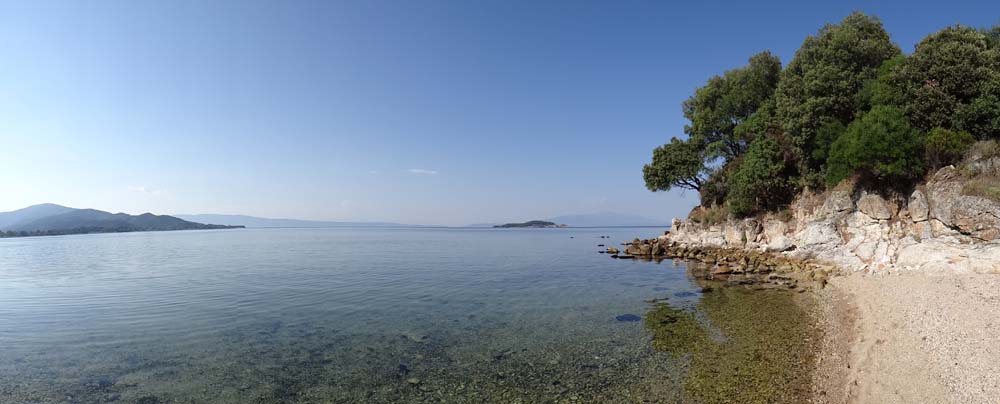 Dave the motorhome's hot, real hot. It's been 36°C most of the day, which is about 96°F in old money. The internet says it's a heatwave, yup, it's roasting. Charlie's been soaked three times to keep him reasonably comfortable, but all the same, he's not chuffed he's been unable to take his usual afternoon drivetime nap. We're parked alongside yet another purely beautiful beach at Olympias (nothing to do with Olympia or Mount Olympus), a small fishing/tourist town on the eastern coast of Halkidiki (N40.59077 E23.79139). A police car arrived earlier, totally ignored us, and parked up a short distance away. Ju watched and waited for them to come ask us to move, but one chap got out and walked through an unlocked gate to an ancient (and presumably therefore should be locked) site while the other had a wee against the gate. They ignored us on the way out too, which we're taking as a license to kip, which is a relief as this place is as sweet as a nut.

8:30am this morning Ju picked up an email from my Dad. 'Your mother's been in hospital for four days, but all is fine now, can we Skype at 7′? SHHHH****T, the news we both dread. Selfishly we don't want to end our trip, but either of us would in a heartbeat if our folks need us. As we're 2 hours ahead in Greece, 7am UK time was 9am here and we sat and waited. Cometh the hour, the campsite WiFi came good and Mum appeared in almost HD quality, looking healthy, smiling, saying how great the hospital was and, in order to demonstrate she really was OK, managing a good old moan about the amount of noise on the ward making it impossible to sleep. Mum: I love you like life itself, look after yourself, and keep on moanin'!
Relieved, we started mission: Find a Greek Dentist. One of my teeth felt like I'd lost a small piece of filling a couple of weeks back, and had been convincing myself all was good since. With the onset of a jaw and ear ache, I wondered if I'd an infection though. Question time: Greek dentist versus Bulgarian or Romanian dentist. I've no idea about the quality of service in any of these countries, and refused to check t'Interweb as some scally who'd never been to ither country to check would no doubt have written scraps of scare stories on forums. We packed up Dave, handed over an entire €13 in campsite fees and set off for the next town north: Sarti.
Sarti, it transpires, is a melting pot of Eastern Europeans on their jollies, a custom-built little resort, a sort of Balkan Cleethorpes in the Sun. Cars registered in Hungary, Romania, Czech Republic, Bulgaria and Serbia lined the street, the opposite side wall to wall tacky plastic, fast food, bars and a huge Yellow Label painted supermarket. Ju jumped out to ask a shop owner if there was a dentist about. We should have known the answer would be no, Sarti's clearly got a population of about ten people outside of June, July and August.

The shop owner told us the next town north had a dentist, so we headed straight off. Not that I'm in any pain, in fact all evidence of discomfort mysteriously disappeared as soon as my sub-concious knew we were off to 'the chair'. Sarti would have been interesting to look around, in a voyeuristic way, but it was already hotting up.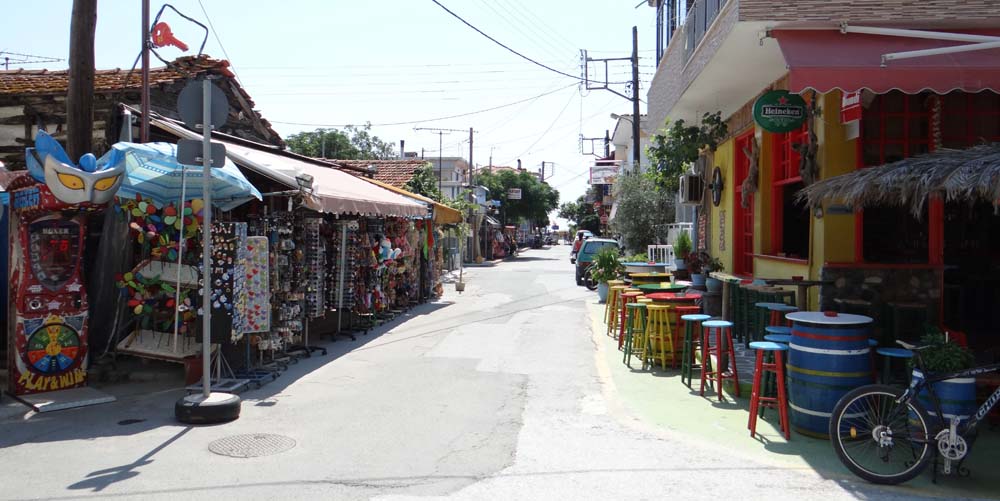 Pushing on north along the coastal road, dipping and weaving like Mohammed Ali (Dave floats like a butterfly, stings like a bee!) I stole glances over to Mount Athos. The places fascinates me. 335 km2 of timewarp. Greeks can get past the 'border' at the northern end of the peninsula, or at the ports, with no paperwork, as they're automatically deemed to be religious pilgrims. As long as they're not women that is, since you female lot have been banned for 1000 years after some illicit stuff went on with shepherdesses; temptresses, the lot of you. The Orthodox Church, I assume, has no idea that not everyone's heterosexual. Oh, if you're a layman, you need to have short hair too, or it gets chopped when you get off the boat. Oh, and don't be sitting anywhere with crossed legs, or standing with your hands behind your back, as this annoys the monks. As does smoking, singing, humming, swimming where anyone can see you, staying more than one night at a monastery or not being a fully paid up Orthodox Greek. As an infidel like me, you can get in, you just need to get a Byzantine permit, signed by the four largest monasteries, dated in the Julian calendar (used only the monks on Athos and the Berbers of North Africa), by applying to the Pilgrims Office in Thessalonika. It can take 6 months, apparently, but I guess it's worth it to see a place which has been relatively isolated for so long.
Back to teethville, next town, Ju again leaps out into the heat and asks as a pharmacy. From the driver's seat I could see her being accompanied by one of the staff, who pointed at a huddle of large villas on the opposite hill. It turned out this is the dentist: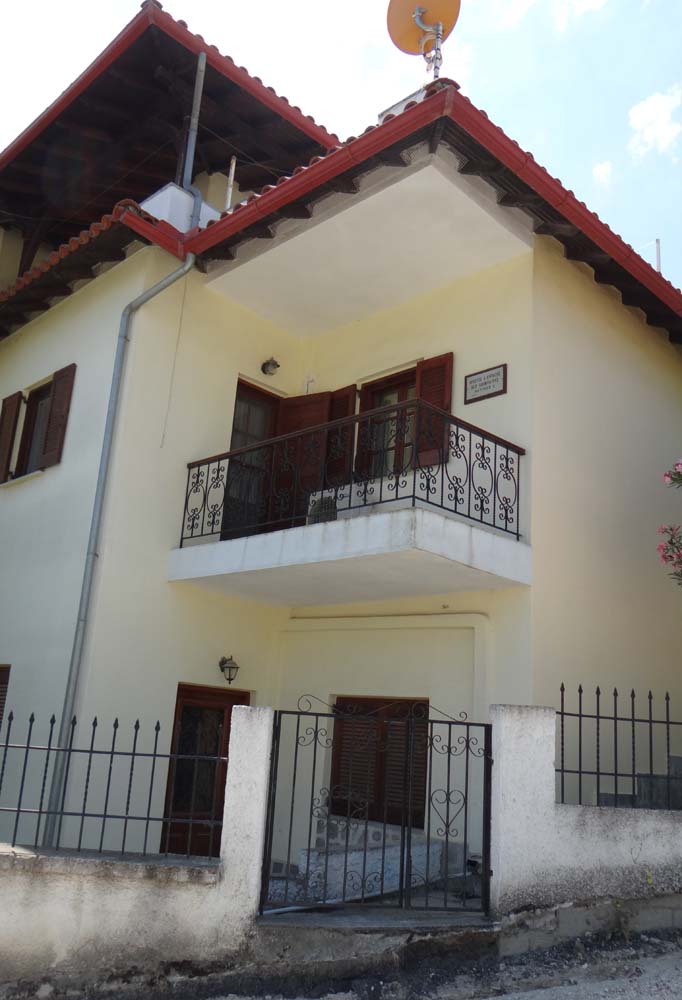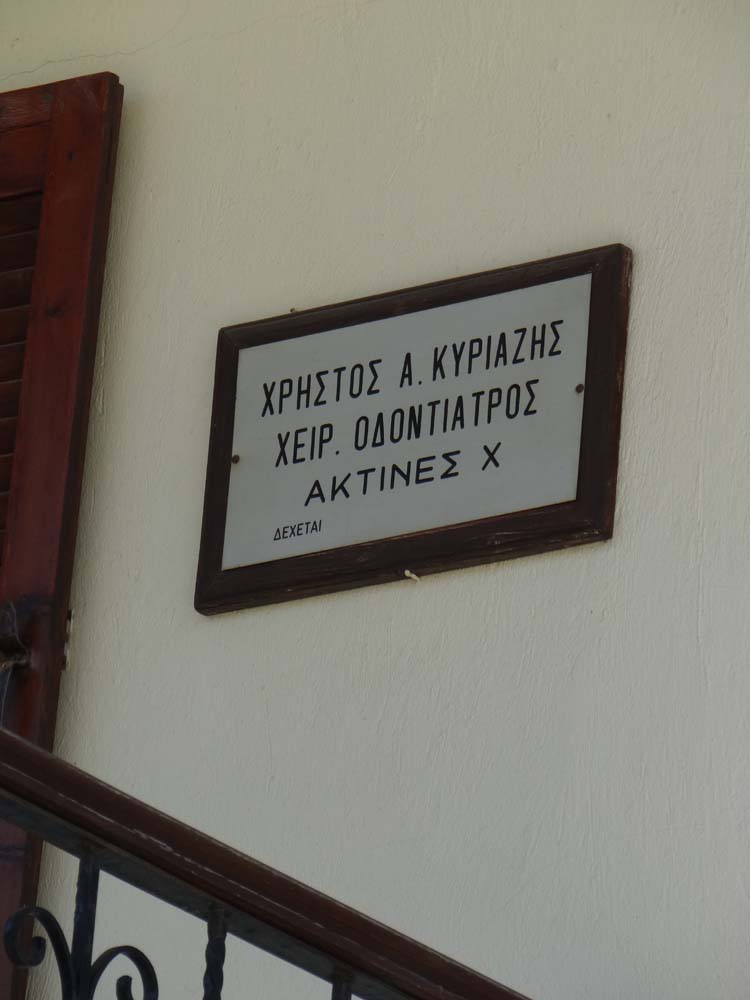 We hit the buzzer and a young girl appeared, sporting a very promising look of braces on her teeth. A whiff of dentist smell wafted out and peering past her the place looked plush, immaculate. 'Milate anglika' we asked. Yep, she spoke English. Is the dentist here? No. It was 12:30 and a small wooden sign said he was there until 1pm. She disappeared to make a call. He'll be back at 5pm. Cool it was not, roasting it was, so we got back in Dave and drove north rather than sit and cook. Secretly relieved…
Next stop: Nikitas, forming a neat circle of the Sithonia peninsula. This time the dentist was next to the shoe shop, and open Mon, Wed and Fri, 5:30pm until 9pm, plus a few hours on Saturday. Sweat was running down our arms, we swung Dave around to Lidl to get some last Greek supplies and have a think. Again the car park was packed with Balkan motors, and not rusting heaps either. Serb Mercs, a Bulgarian Audi, a Macedonian Jag, a few 4x4s and VWs, nothing anything like as old as Dave. Inside, Ju reported, was a mini-storm of buying, almost all the UHT milk stack was gone and she had to rugby tackle a Serb granny to get the last 6 pack of bottled water.
By the time she came back, armed with a stash of favourite meatballs, white beans and Gigantes (think baked beans big enough for Apollo), my lack of any tooth-related discomfort had me pushing for a delay. We delayed, heading north through the thick woodland, offering a tiny bit of respite from the heat. The Junction appeared, the one we've become used to, where we can't work out which way is which. Parked and slowly translating the knocked-over sign from Greek to Latin, a horn beeped next to us. Looking around a chap in camouflage gear in a pick-up asked if we're OK, where are we going. I told him, strangling the name of the place which he repeated back sounding almost completely different. 'Follow me', and off we go, immediately losing him as we were sooooo slow. There being no turn-offs, we couldn't get lost, and found him waiting at the next junction with his hazard lights flashing. He climbed out and pointed up the road, 'Straight on, this way', before driving off ahead of us. What a fab guy.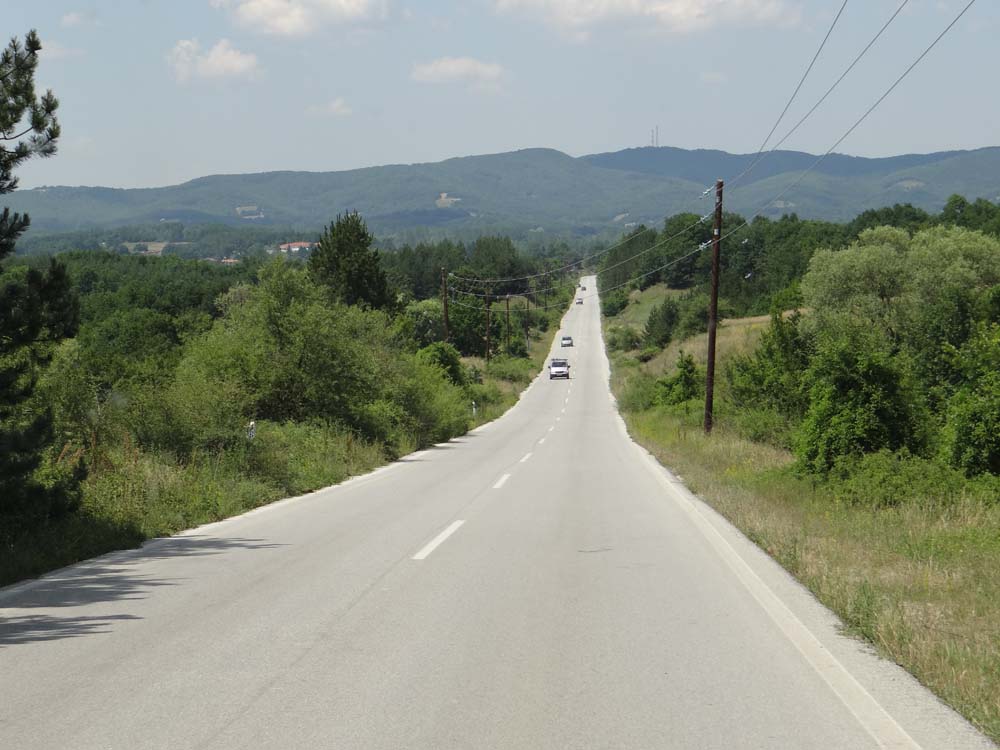 The straightness of it all didn't last long, more pinpoit accuracy driving on narrow roads through the trees needed, switchbacks 'n' all. Bees clearly do well around here, as there were hives in small clearings everywhere.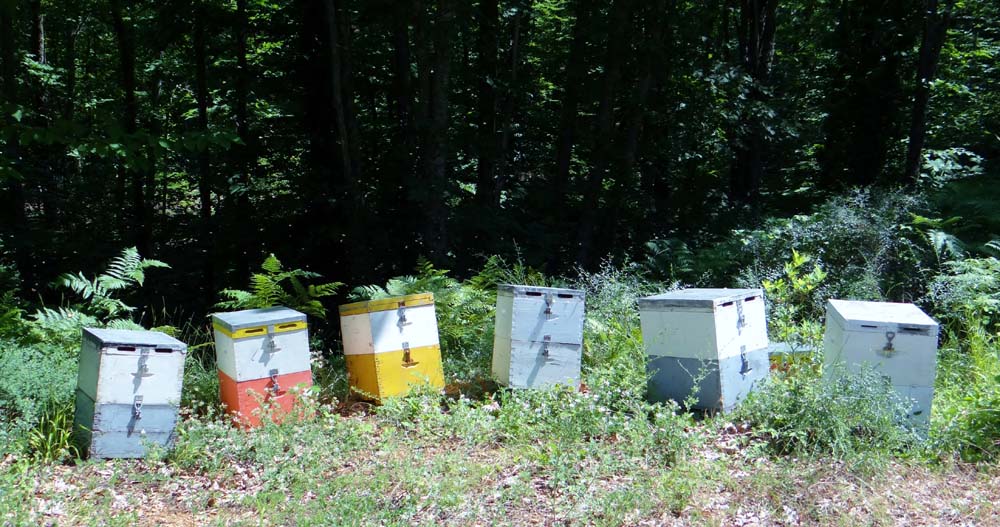 And finally Olympias came into sight below us.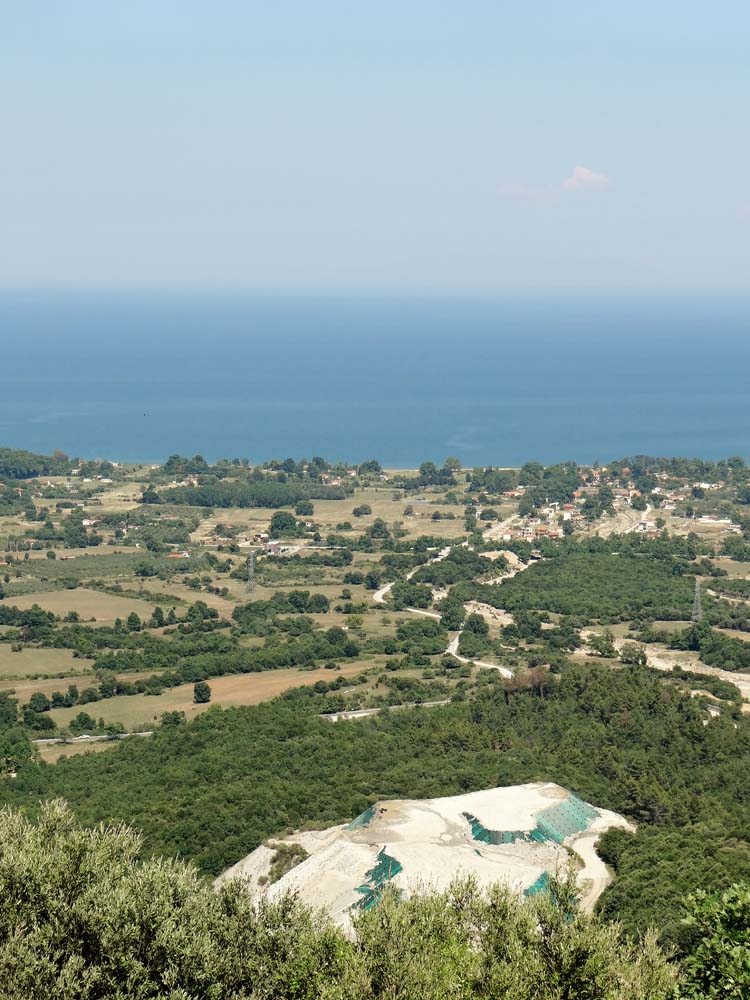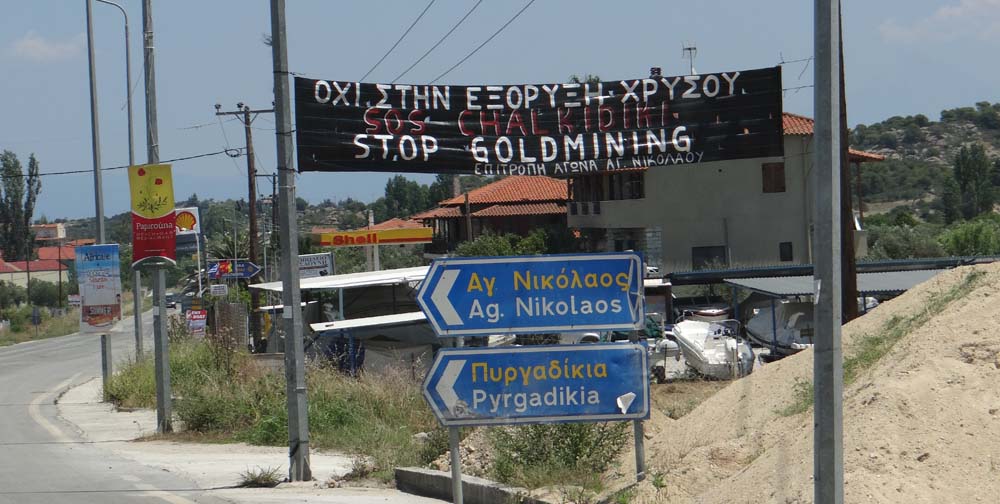 Further on the beach and town appeared, very much locked in the mid-day heat, and we found a spot to hide under a tree, reading and drinking cold water while it gradually cooled (it's dropped to 30°C now, at 9:30pm). Once I'd checked out this spot we decamped and managed to get some more shade, cue more reading and another dog soaking. The beach below is quiet, just a few Greek and Ukranian cars have parked up. The snorkelling was fabulous. Rocks which looked to be coated in tar were actually thick with mussels, and each rock harboured an array of hermit crabs, anemones, urchines and deep-coloured fish. While I sat on a tiny isolated beach, looking over at Athos and basking in the sun, I spotted a bit of the sea floor come alive. A crab had somehow glued stones and bits of detritus to himself, disappearing as I moved. I spotted a few marine worms too, incredible-looking things, a few inches long, yellow-blue with horns and a tulip-like growth on their backs. I've not managed to find them on t'Interweb.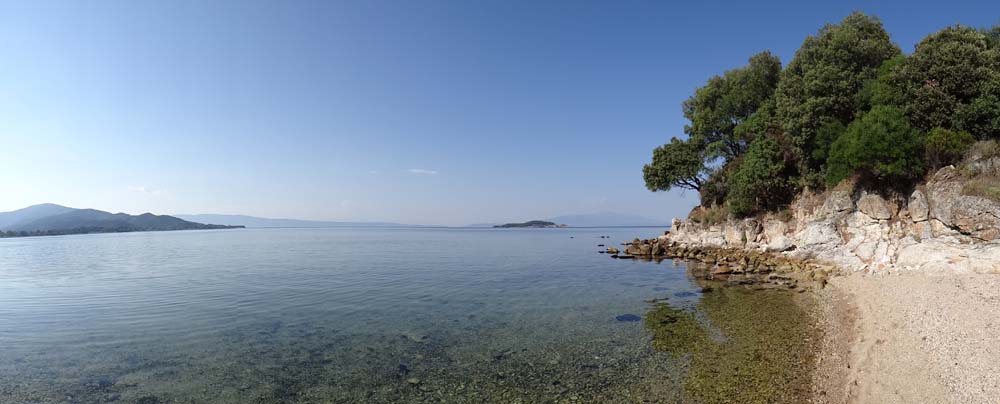 Time to go! A couple of other pics from today: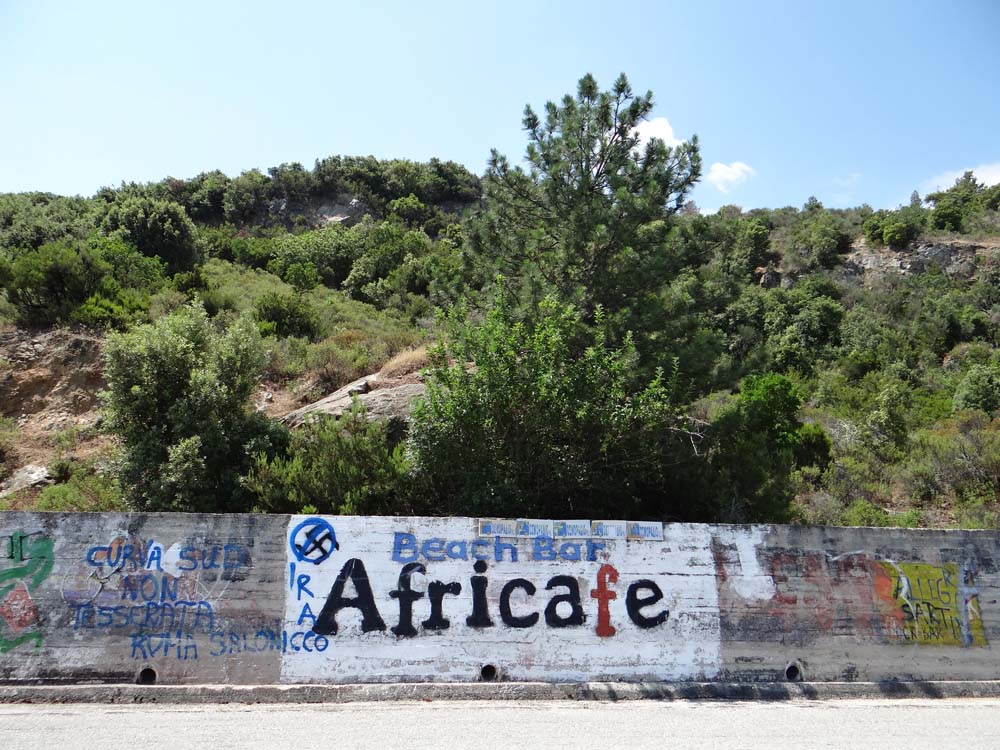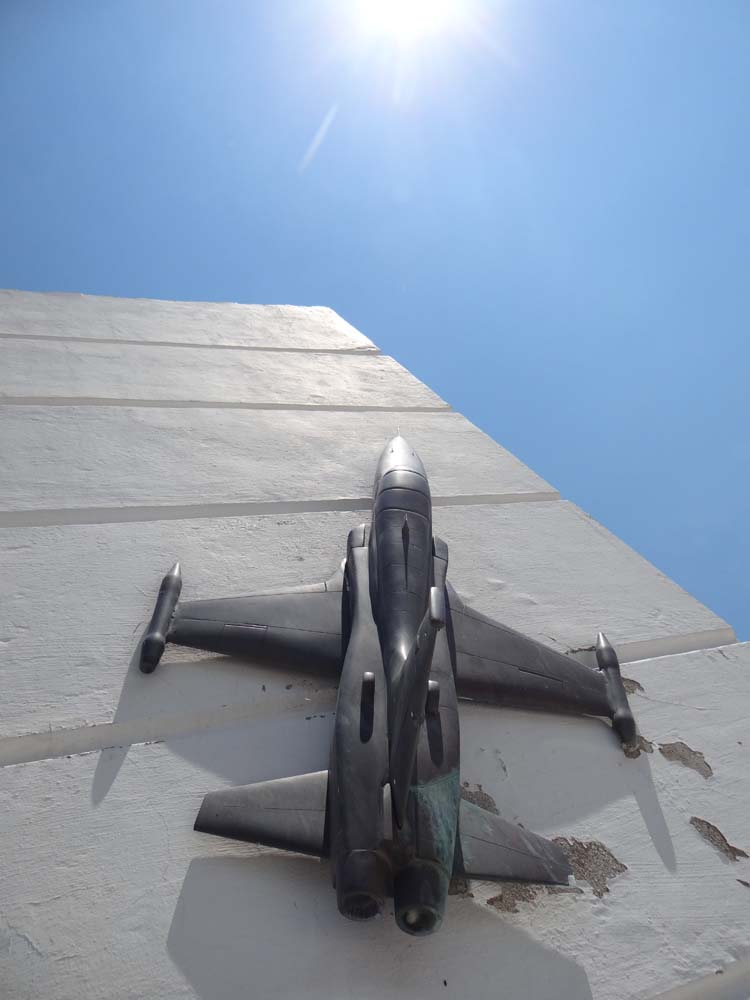 Cheers, Jay