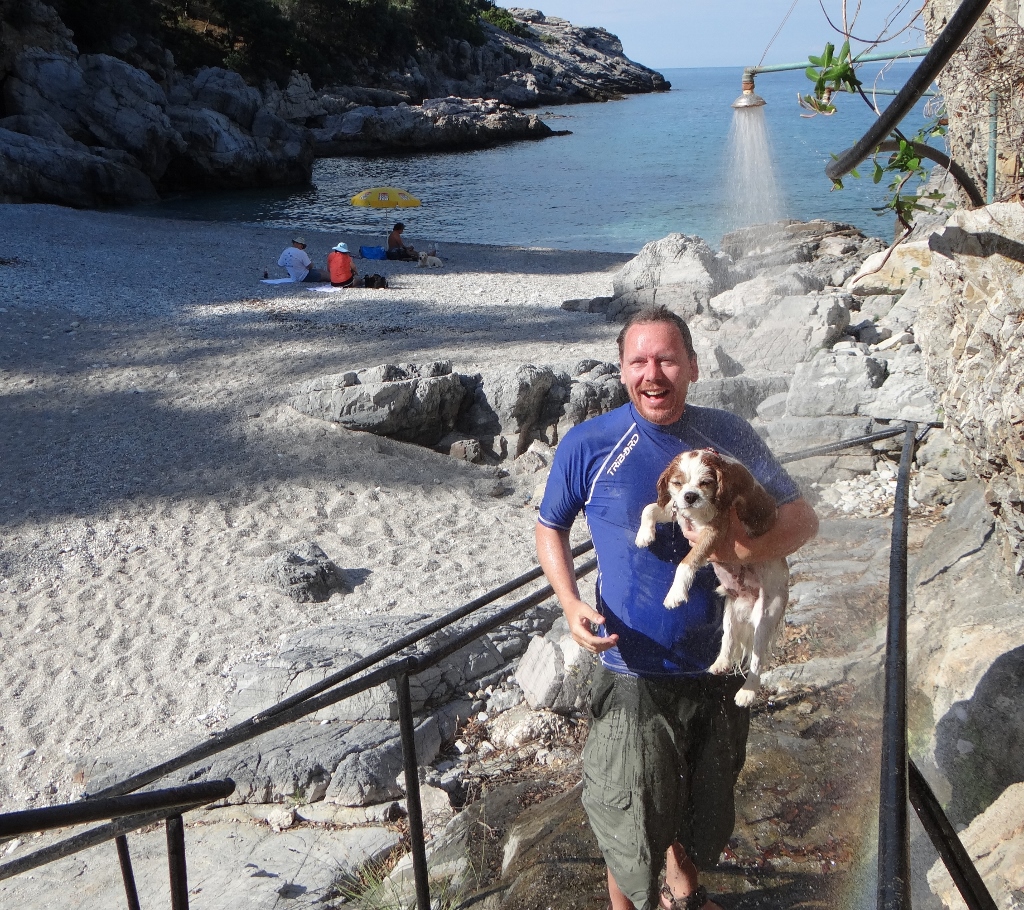 Dave the motorhome hasn't moved an inch, he's still sitting in the car park a few metres from a perfect beach at Lambinou on the Pelion peninsular. After seeing what a perfect spot we had found yesterday, we decided to go crazy and stop for another day.
Last night a couple of wild dogs wandered around Dave, sniffing at where pampered pooch Charlie had been snuffling around before. Charlie lay in his bed snoring. There wasn't a soul around and in the quiet of the night we slept like logs (or should that be dogs as Charlie can sleep better than any log!)
This morning we were woken by the heat of the sun, always a nice way to be woken, as opposed to an alarm clock. I crept out of bed and opened the windows to let any breeze in to cool Dave a bit. It was just after 8am. We relaxed in Dave, Jay cursed the flaky internet connection as he tried to do a bit of work while I read my latest book – Twilight, I missed the whole phenomenon of it the first time around and wasn't overly impressed by the film, but figured I'd give the book a go. Verdict: not bad so far.
After a king's breakfast of avacado and bacon sarnies, we set off for a walk along the road that had brought us here. It carried on around the coastline above the bay we were swimming in yesterday. After five minutes the road changed to a dirt track, another five minutes and the dirt track became a footpath winding its way through olive trees and past abandoned looking houses. Ten more minutes and just as we could tantalisingly see another bay around the corner, the footpath was blocked, a metal barrier was firmly across it. Unsure if it was to keep out animals or humans we took the hint and turned around.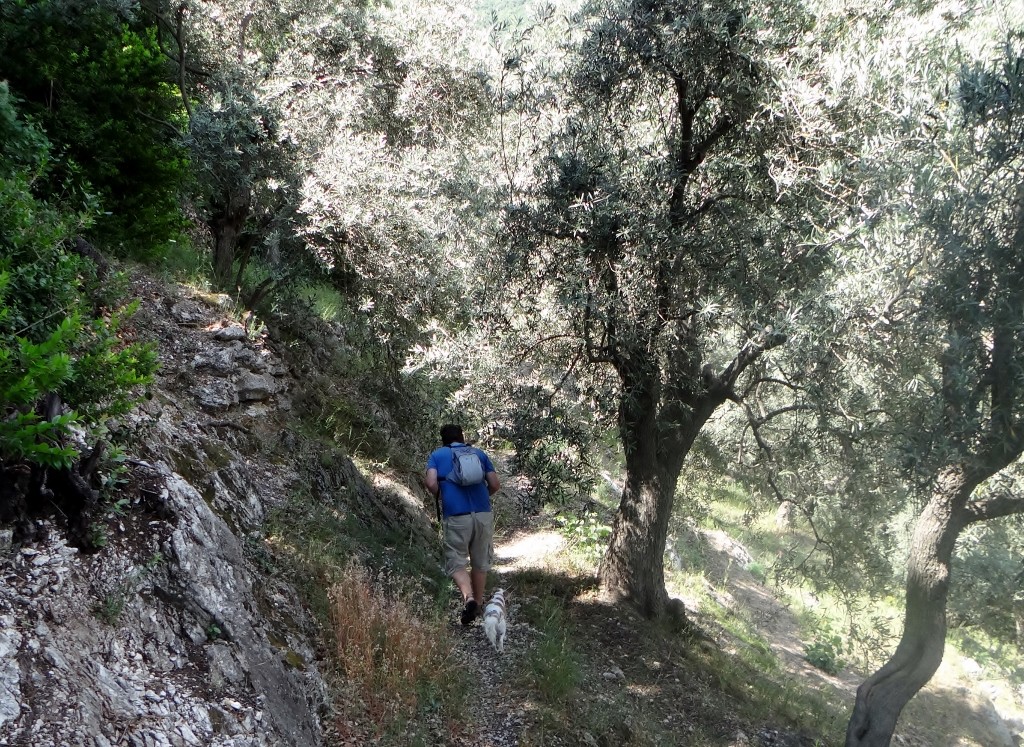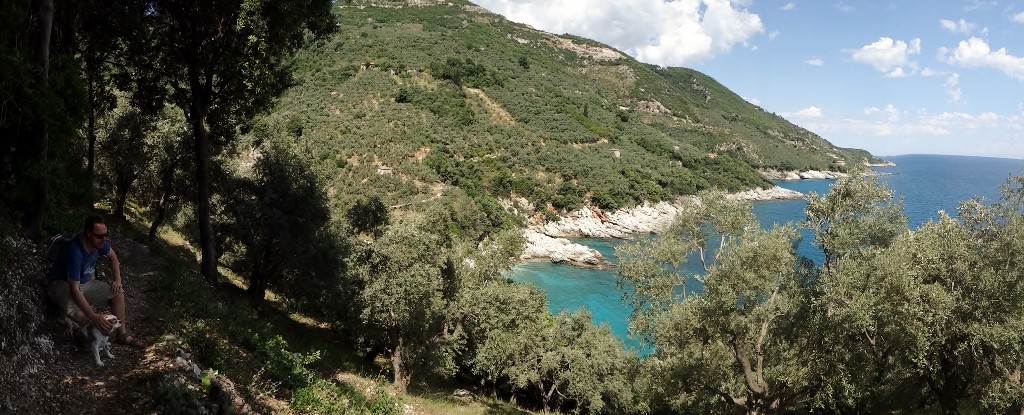 As we wandered back Charlie started to make some very strange noises. If you know Charlie you'll know he does make odd sounds, but these were odder than normal, it soon became clear that he'd snuffled something up his nose. The poor pooch stood with all four of his paws splayed out to steady himself and sneezed non-stop, eventually a tiny bit of grass appeared out of his nose. He sneezed again and it became a slightly bigger big of grass, another sneeze and there was more of it – eventually a 10cm long piece of grass appeared from his nose, I have no idea how he sniffed that in by mistake!
By now the sun was high in the sky and the air was heating up. We hid from the midday sun in Dave and I had a lovely afternoon nap. Just after 3pm we packed our stuff and headed down to the beach below our car park. It was quite busy down there today, about eight people (this counts for a packed beach around here) were lying out in the sun's rays. A few fellas were lighting fires a bit further up the dried river bed that led to the beach, using them to burn the bits of wood and tree that they had been chain sawing down all morning. At the beach bar a group of men worked to set up metal wire supports for two parachutes which would create shade over a patch of bright green lawn in front of the bar – a cool retreat from the summer sun. I suspect the little beach bar gets quite packed out over the next couple of months – at least I hope it does, it really deserves to.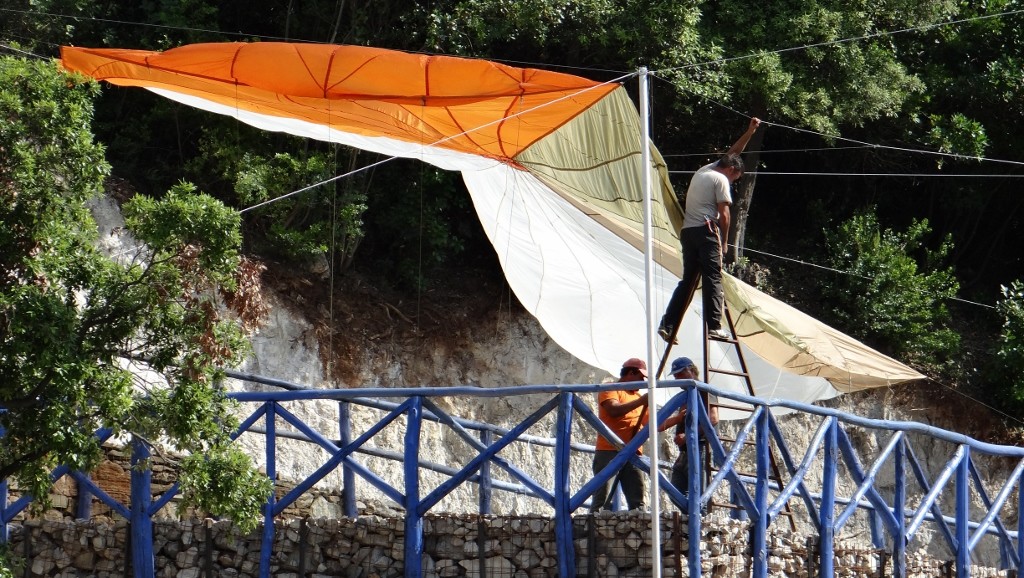 Jay snorkeled and Charlie and I laid in the sun (well actually mainly in the shade provided by our golf umbrella with a sarong over the top of it). The afternoon drifted by, the shadow of the sun going behind the trees the only sign that it was time to get up and go.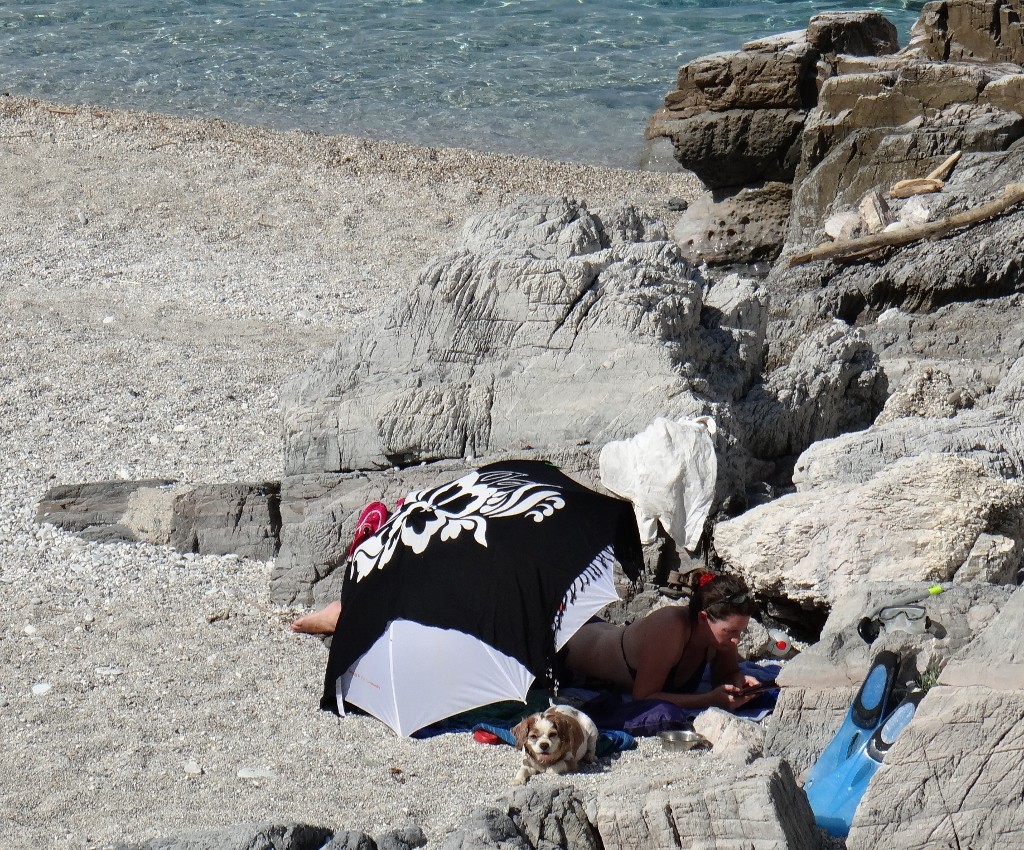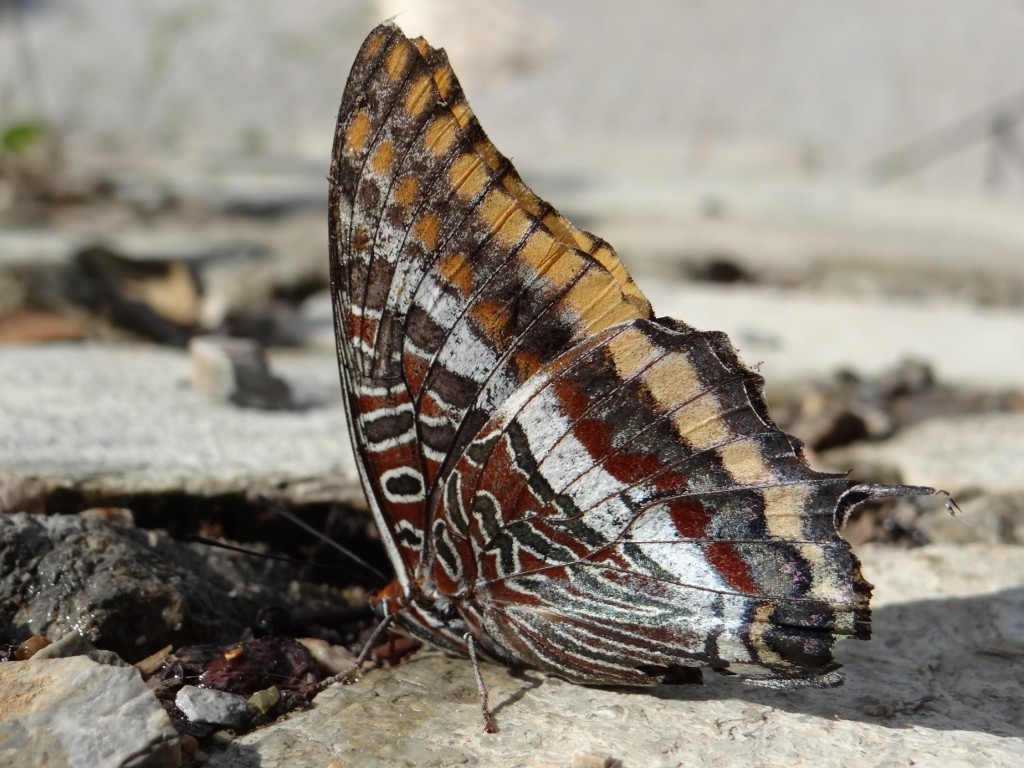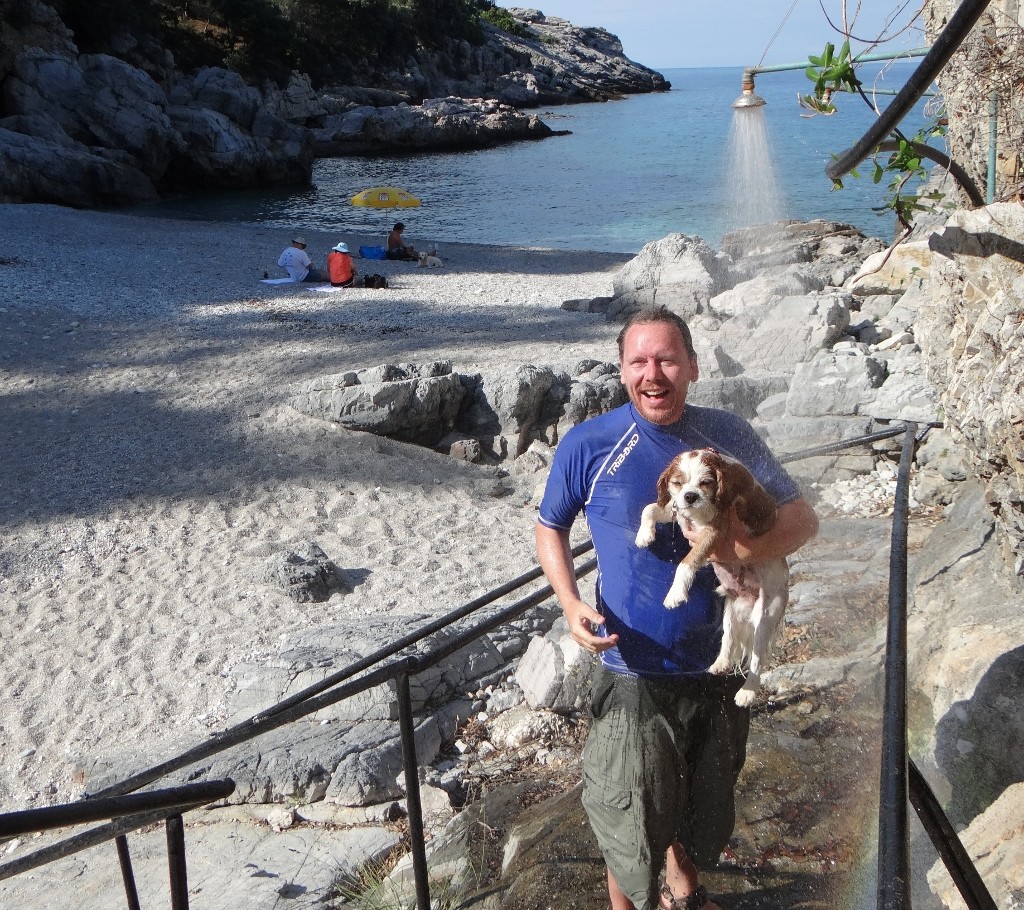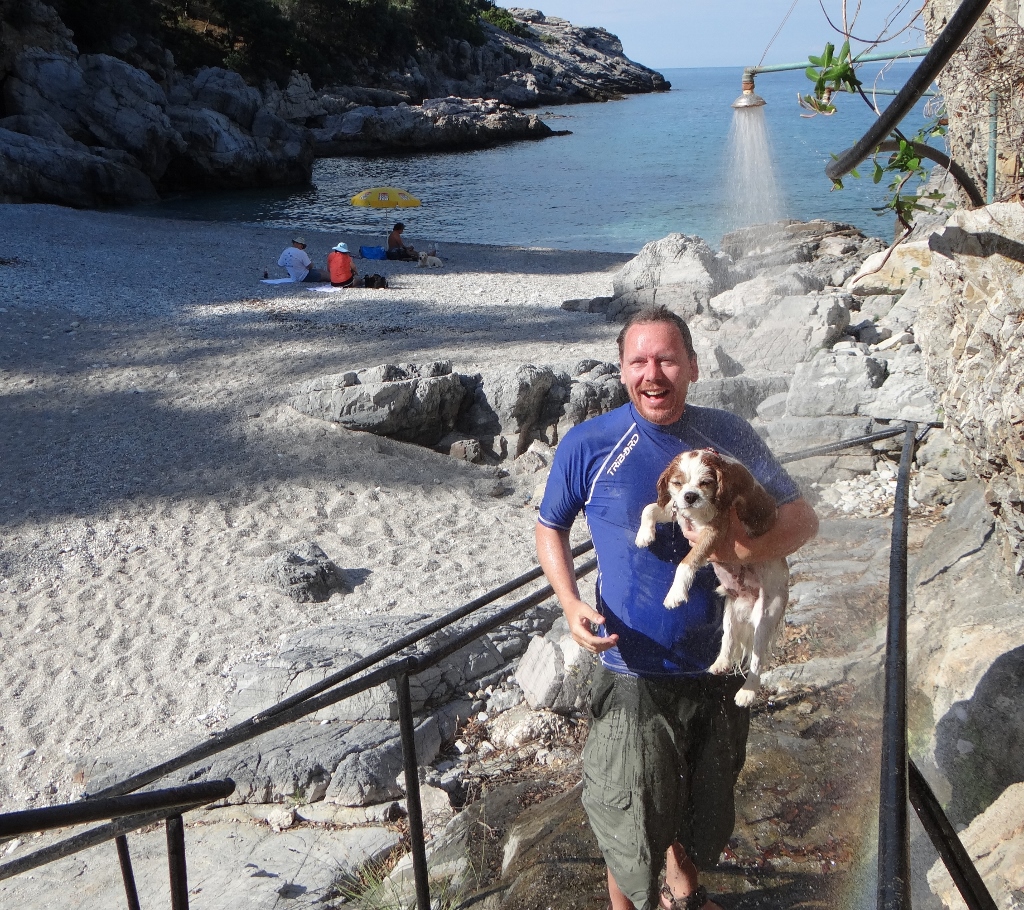 We're back in Dave now, Jay has just rustled up some tea. Charlie is snoozing and the internet is still flaky. Fingers crossed it will get better as the sun sets – no idea why, but this does seem to be the case.
It's been a lovely relaxing day, giving Dave time to steel himself for the climb back up the mountain side from here. Once again we need to get the maps and brochures out to see where to head for next, although this place will certainly take come beating!
Ju x