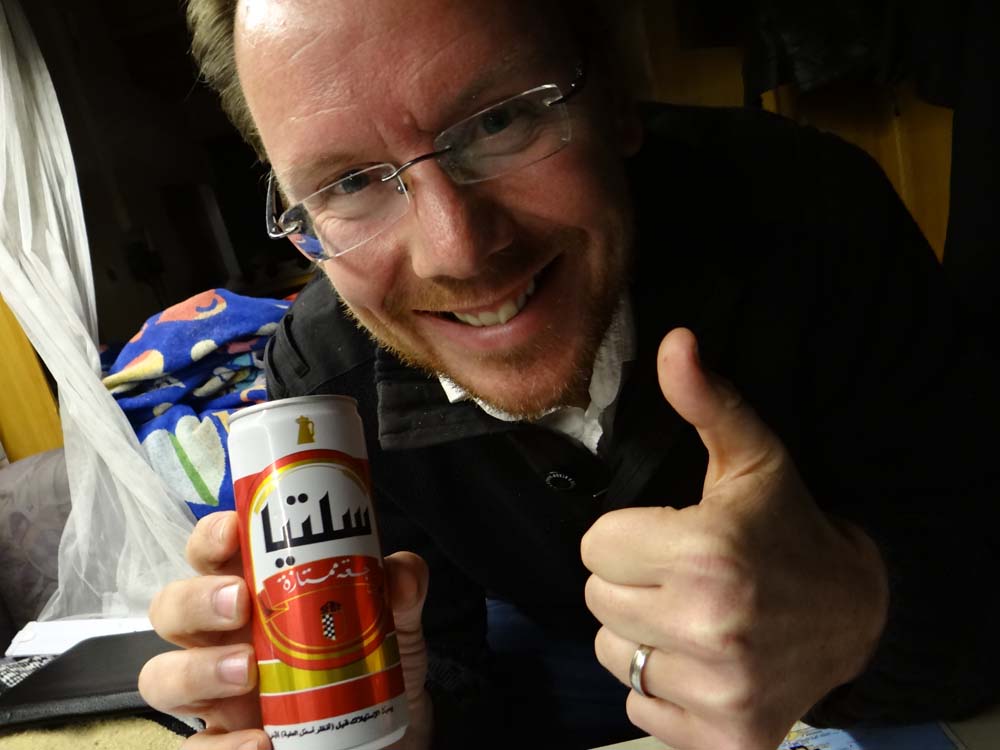 Dave the motorhome is rested up under trees, their lower four feet painted white like socks, in a youth hostel complex near Bizerte (N37.25231 E9.91932). We're on the Mediterranean coast in North East Tunisia. When I say a Youth Hostel complex, we're not really sure what it is, and neither is the security guard who let us in (see below). A pack of visibly flea-festooned dogs around us explodes into a frenetic fit of yapping and barking every few minutes, although the goat herd next door has gone silent now. We're unsure how we're going to get Charlie out for his evening walk.

Yesterday the rows of, on the whole, well maintained and new cars quickly flowed away from our car park as darkness fell. A pretty normal situation for us, alone in the darkness with a view of the lights twinkling across the Gulf of Tunis. Tired from lack of sleep and nerves, we hit the sack at 9:45pm. A wolf-pack howling of dogs coupled with the banging tunes from passing cars kept us awake for a while, but we drifted off. A knocking woke us a half hour later. And again. Not good. I got out of bed and opened the curtain, without donning my glasses, to see a blurry figure gesticulating at me, his face close to the window. I couldn't see a car, assumed he was a beggar and used a bit of non-offensive mime to say 'we're asleep, please leave us alone', and shut the curtains. Incredibly, as I looked out the other side, there was his silhouette, strutting off through the shadows in the trees behind us, the easiest beggar-dispatching ever?
Only he wasn't a beggar. After more lying awake wondering whether we were safe, and finally lapsing back into sleep, another knock. This time there's an armoured police transit van and a uniformed officer stood outside. I leapt up, pulled on a shirt and jeans, and got out barefoot to talk to him. Incredibly politely, extending his hand to shake it and speaking in French, he told us he was concerned for us. We were in an isolated place. We should park outside a police station. If a few men came, we wouldn't be able to make others aware of the problem. I told him someone had already been. Yes, that was me, he told me. Ah. Although the place looked fine to us, we'd be fools to ignore him. He drove off a little way, we checked the internet for the nearby police station, packed up Dave and drove up the hill into Sidi Bou Said.
Even at midnight, the streets were busy with groups of men walking or hanging around, increasing our sense of unease. Four or five men lounged around a cash machine next to the closed metal shutters of the police station. Carrying on arond the corner, we found a quiet residential street, surrounded by the mandatory white and blue painted villas, and pulled Dave over under a streetlight. This time we slept. Whether we were actually unsafe in our previous place, we don't know. Our feeling is the policemen was going on duty, walking to the station in his civvies. He saw us and tried to make us aware of his concerns. When we shooed him off he walked up the hill to the station, got changed and came back in his van, an hour later. He really must have wanted us to be safe, and we guess he sees very few motorhomes parked up here.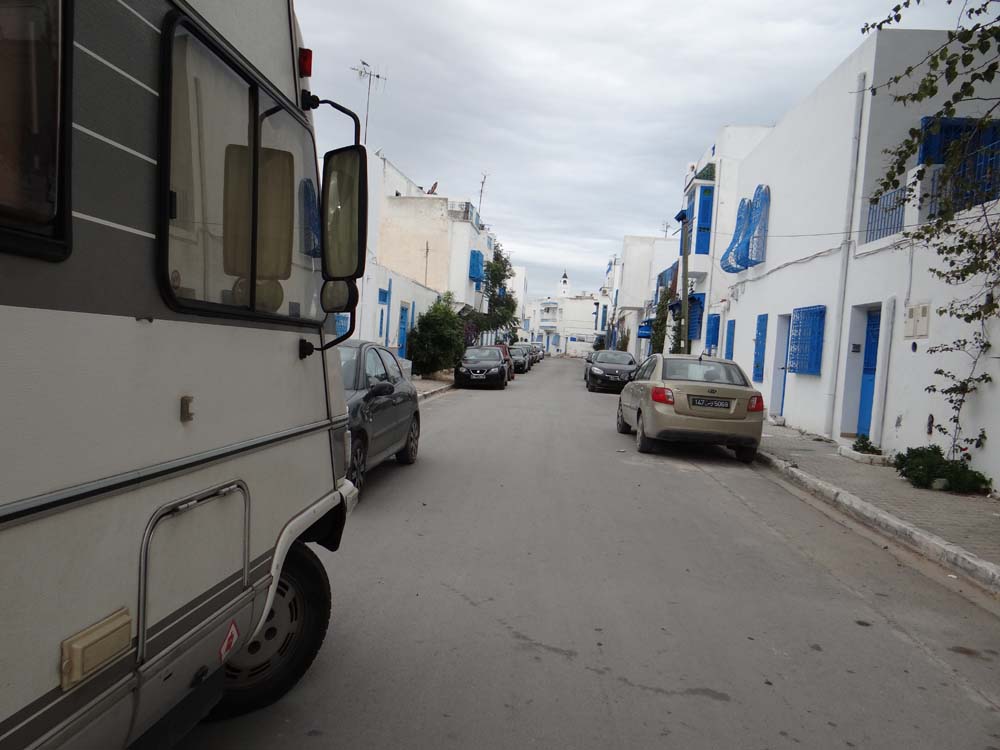 After this experience, we decided to exit the Tunis area for somewhere with less population. Before leaving the area we found the US WWII war cemetery, bit were foiled by a locked gate. After a few minutes a couple of guards arrived in a van and told us it's 14 January today, now a national holiday, an anniversary of the day ex-President Ben Ali fled the country. The cemetery would be open tomorrow, but we'd planned in Bizerte as our destination, about 30 miles north of Tunis, along a motorway. When I say 'planned in', we have no TomTom maps for Tunisia, since the Morocco ones we paid £30 for were a bit useless to us. Instead we hooked up the laptop to the Internet, shared out its connection over WiFi and used Google Maps on our GPS-equipped phone to work out where we were, sorted.
The route north was an easy drive. Compared with Morocco (and Italy), the roads around and out of Tunis are perfect. Wide and smooth, often with clearly visible white paint marking out the lanes and give-way points, longish slip roads, fabulous. On an 'how hard do I need to concentrate scale', my commute in the UK would rank 0 out of 10, I could arrive at work having almost dream-driven in. Morocco ranked 10, my back gave way to a stabbing pain after a couple of hours. Sicily ranked maybe 7 in the towns. Here, so far, I'd say 5. Mopeds and bikes drive the wrong way up streets, taxi drivers slam brakes on like taxi drivers anywhere, some crazy junctions have zero paint or signs, but on the whole it's an easy job.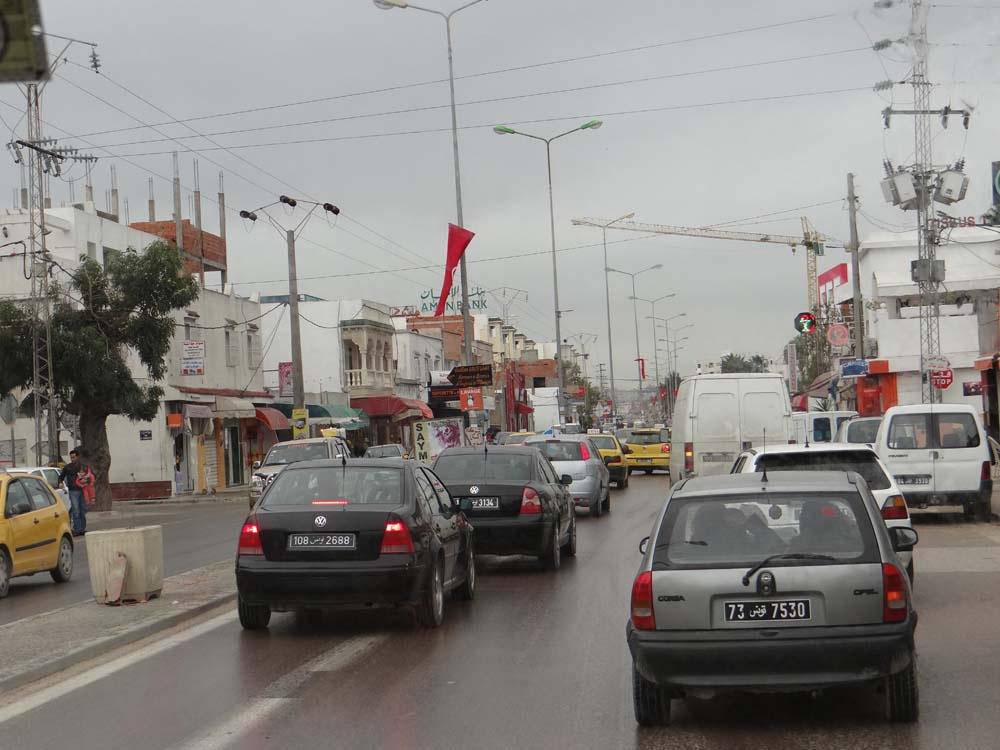 An abrupt halt in chic booths punctuated our exit of Tunis, replaced with familiar block concrete single story shabby outlets and workshops. The toll motorway was dead, the few cars and trucks around us pulled off at the exit before the ticket booths. In perfect condition, compared to the wrecked machines in Sicily, we grabbed a ticket and took the heavenly road north. Armed police before and after the booths have consistently ignored us, or just waved us through. The landscape could have been anywhere Mediterranean, groves and fields of green, rolled up at the distant edges by rising hills. Shepherds lolled along under a light rain, after small crowds of goats, sheep and cows. The crash barriers offered just enough room for a goaty nibble of the lush grass on our side of the divide. After the 30-odd miles were up, the toll booth man took 1.9 Dinar from us, about €1.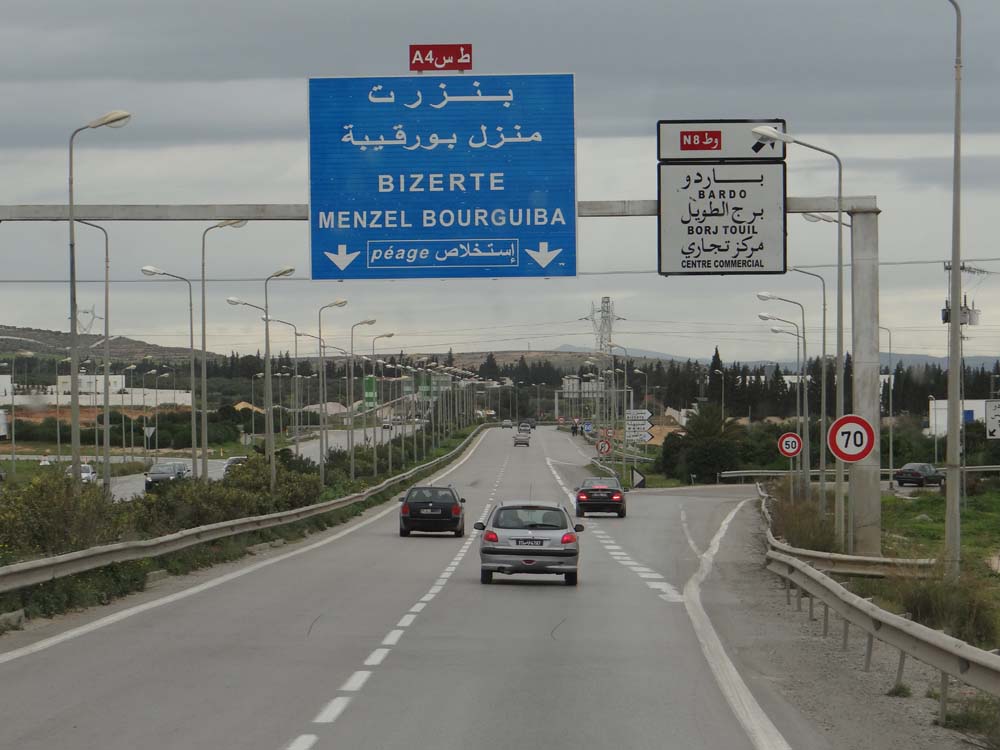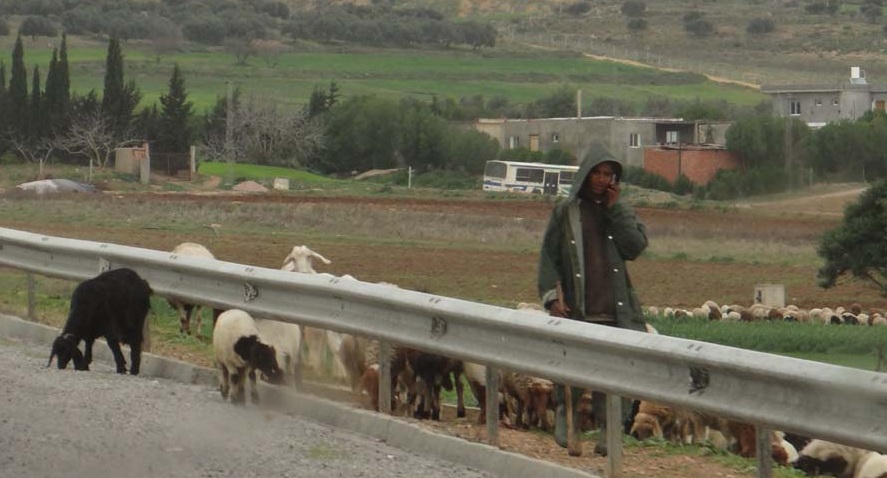 Bizerte, like most a North African towns we've see, was once 'supervised' by the French as a colony. The Europeans built up a grid-pattern new part of the town alongside the old rabbit-warren medinas. This place has the distinction of being the site of a ruck between French and Tunisian troops, oddly happening after the country had achieved independence. France was still clinging onto Algeria at the time, and had bombed a border town, causing an unsurprising amount of ill-feeling towards the still-resident living-it-up-in-luxury French folks. Cue trouble. The Tunisians won out, something they're very proud of.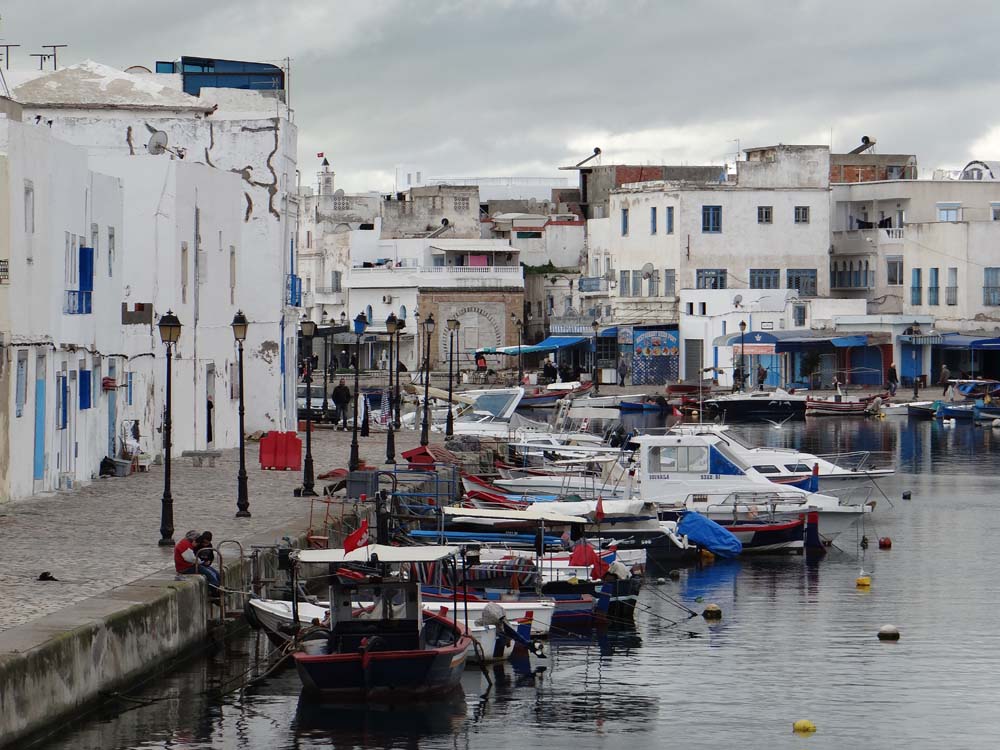 We drove into town over the bridge which loops over the canal linking a huge inland lake with the sea, turning right at the bottom and heading for the port. Again, wide roads, plenty of free parking, a complete contrast to Italian towns. Spotting a police station we pulled in and I walked into the place and up the dark steps to the first floor reception. A uniformed young-ish man behind the desk looked bemused even before I spoke, I really must shave off this ginger beard. He'd no clue what a camping car was (French for motorhome). I tried 'caravan', which he understood, still smiling and utterly confused. Once he understood we wanted to stay just the night, and we were parked outside, he said it was fine. I could hear him loudly speaking with two headscarved ladies as I left, 'Camping car?'.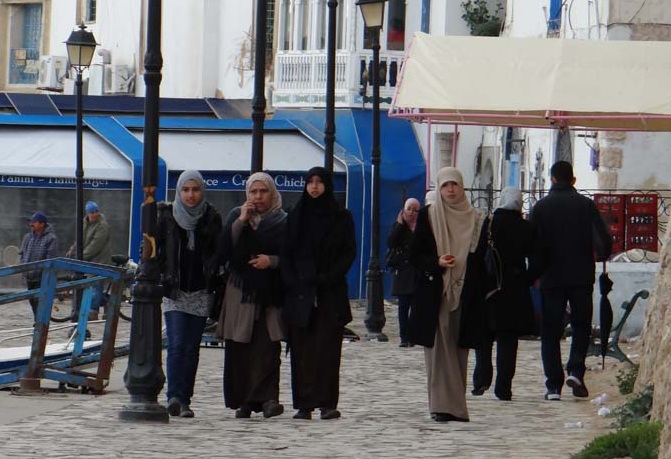 The town was an interesting place to wander, set around another sea inlet. People came over to see Charlie, pet him and have their photos taken with him. A chap made a valiant attempt to hook us into a guided tour of the town (making out he was just showing us around), but after our Moullay Idriss experience in Morocco, we shook him off, shrugging our shoulders when he tried a last 'but I have four children' gambit. Another chap tried his best to converse with us in German. Eventually we worked out he wanted 3 Dinar to visit his sick brother in the krankenhaus (a fabulous German name for a hospital). A smiling sorry, another 'what can you do' shrug or two, and we were free. A third chap showed us the receipt for some present or other he'd sent to a man in Wales, complaining he'd sent it weeks ago and had heard nothing in thanks. A bad friend he said. We wondered what on Earth he was on about. More shrugging.
Most people aren't on the make here though, so far. We've asked for directions, chatted with fishermen, talked about Charlie with a fair few people. Unlike the constant begging and selling of Morocco, Tunisia feels easy going, but the almost total lack of campsites, presence of armed soldiers inside a razor-wire perimeter of some building in town, and our friendly policeman last night, along with good old culture shock, has us on edge.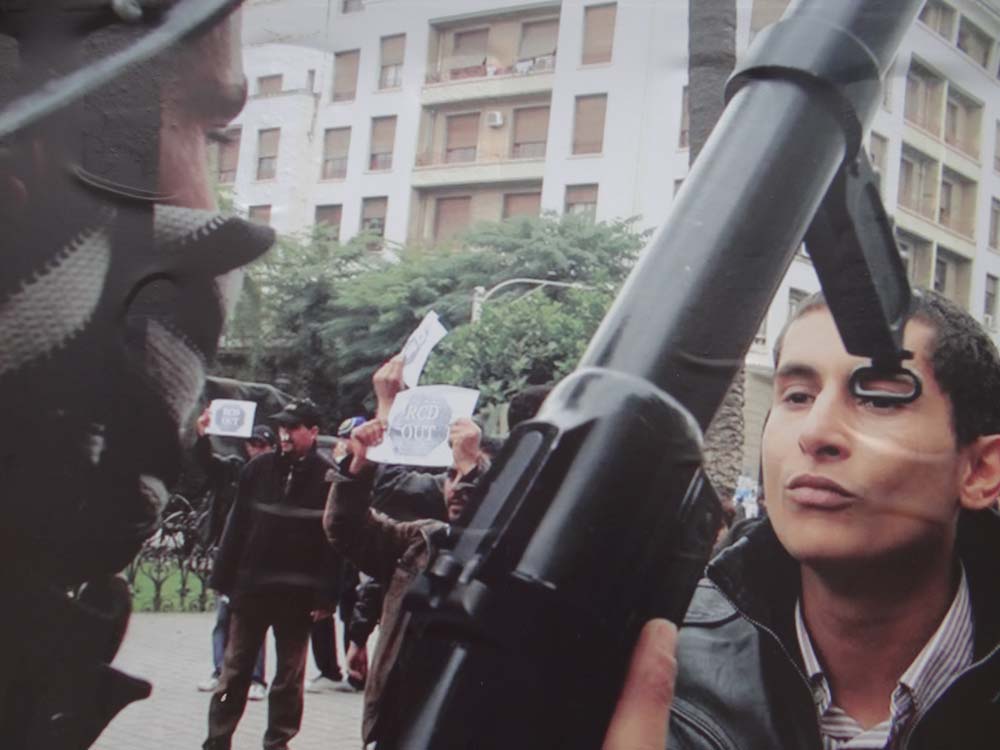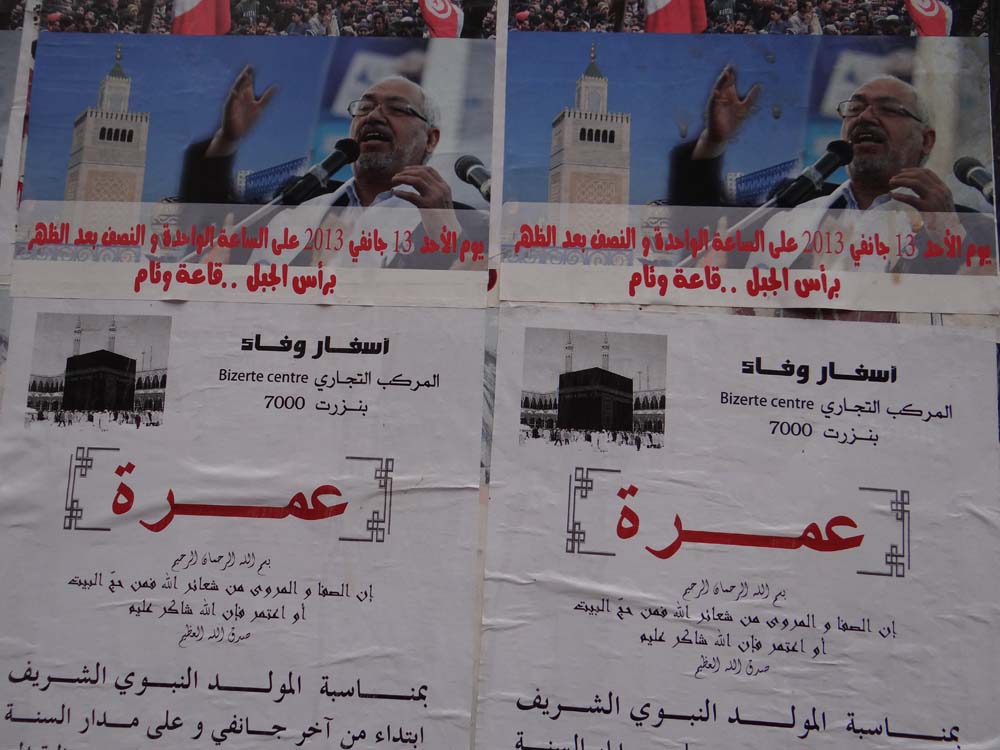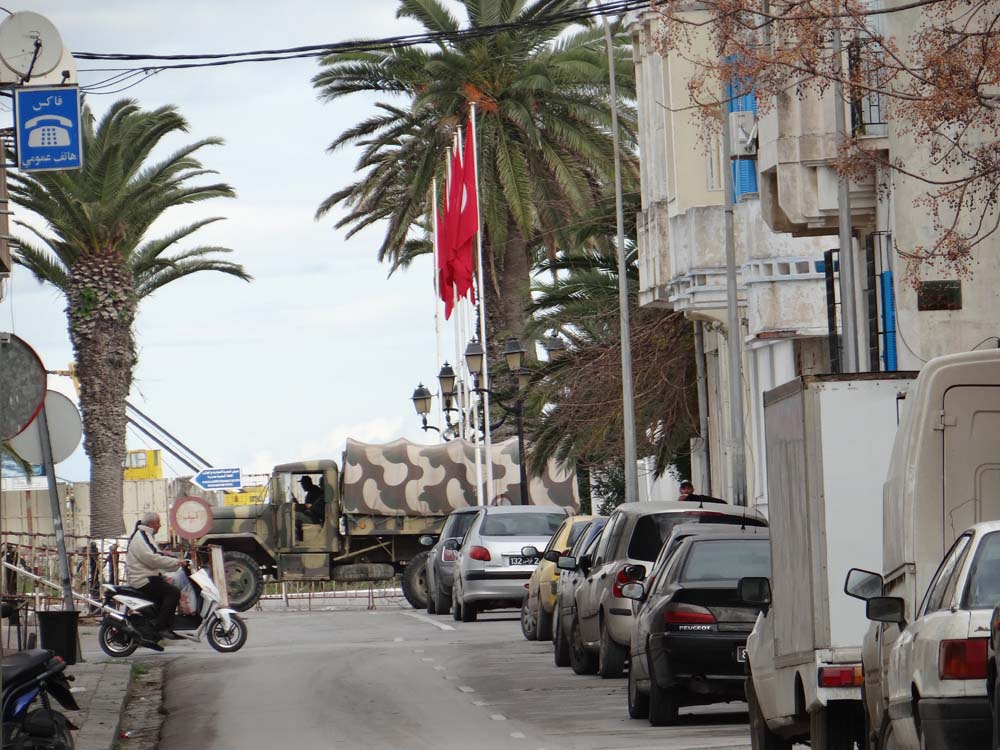 That bring us here. There are posters of the successful protestors from a couple of years ago everywhere. Graffiti calls for anarchy. Men painted a mural of armed soldiers being confronted by a dove-releasing pacifist. Blood-red national flags fly from every lamppost. Stuff it, we wanted a night of good sleep. The Rough Guide reported a youth hostel a few km south of town and we'd heard they would take motorhomes. Finding the place closed, we parked up next to a nearby beach, miles and miles of squeaky white sand, and messed around with Charlie. 3:30pm, we headed back, a guard getting out of bed to come over and advise me in French there is no security here, we should look for the Youth Hostel near the roundabout. Off we go, driving around asking police and shop owners the way for an hour or so, before Ju figured out that we'd been at the right place.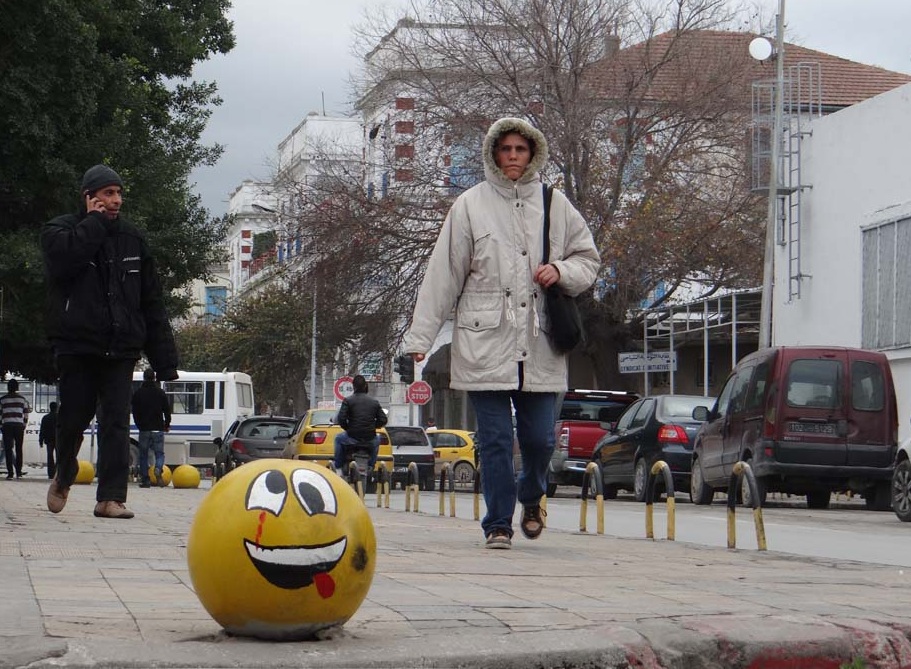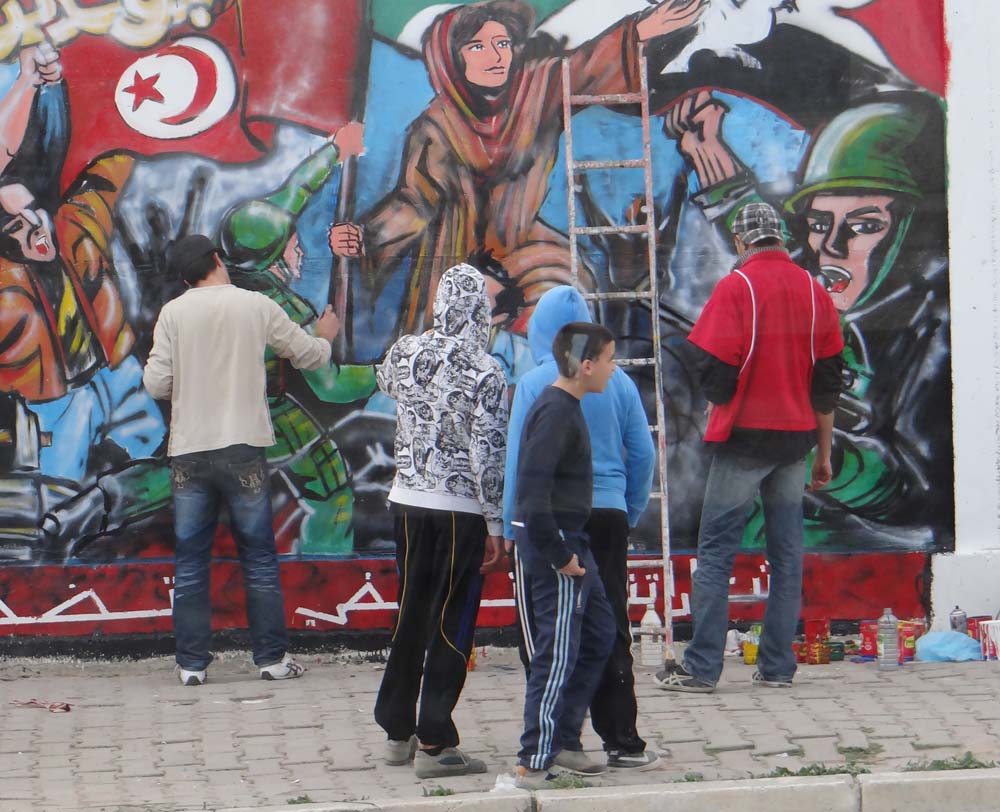 Back we came, this time turning out both of us in force. Again the 'no security' argument as we looked at his security booth, the tall walls and gates? Huh? After pressing him more, ignoring him saying something about there being thieves in Tunisia, he eventually walked us inside to a sheet with the camping prices up, including the cost for a caravan. Who knows, but my guess is he just wanted an easy life, and he makes the same wage whether anyone stays or not. It's 9 Dinar for the two of us and Dave, €4.5, another €5 if you want leccy, which we don't need. I piled in, not hearing the pleas to stay out of the trees, and promptly sank Dave half a wheel deep in the sand. We're out now though, thanks to Ju's good use of our floor mats, and feel pretty chilled. Having said that, I'm off to the fridge for a beer, I need one!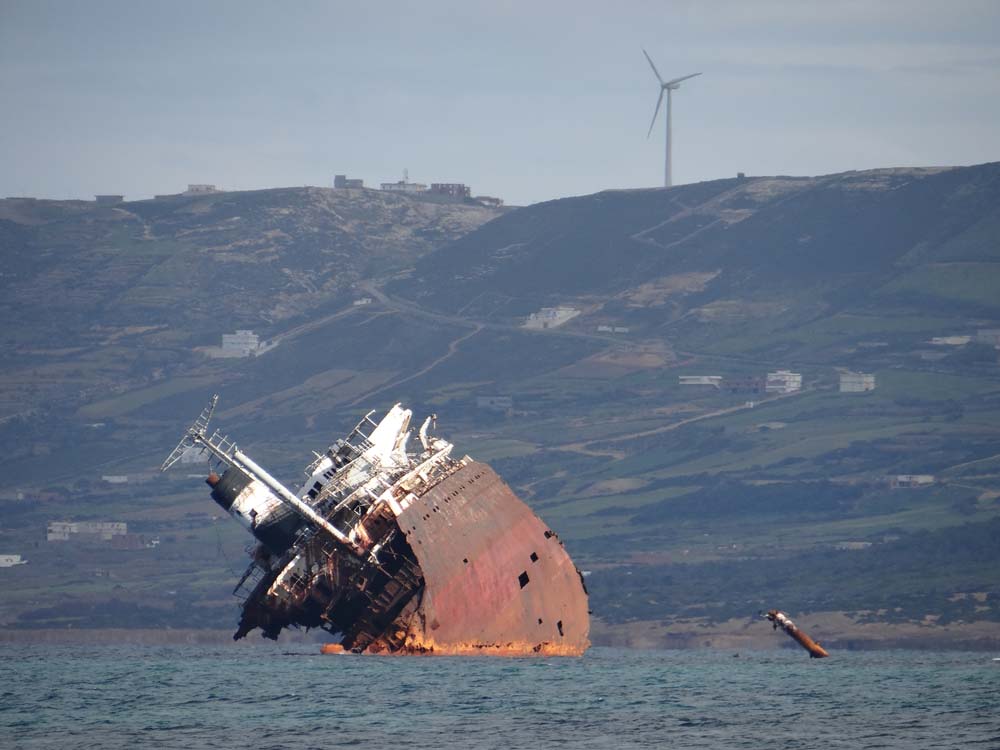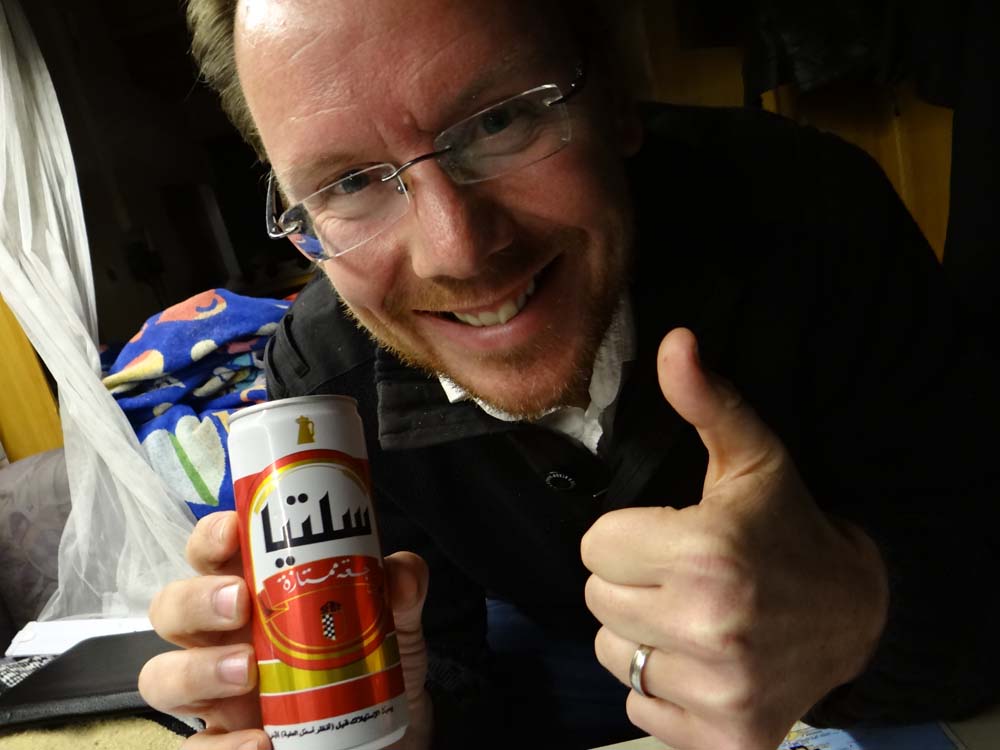 Cheers, Jay