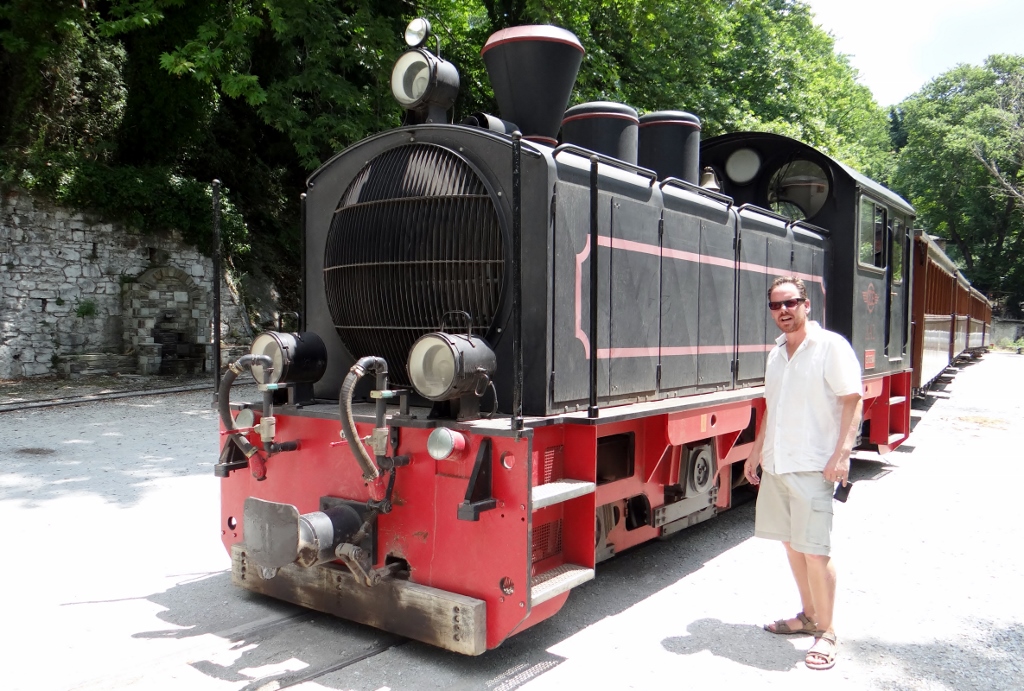 Dave the motorhome is breathing in the cool mountain air on the slopes of Mount Ossa. He has found himself a perfect little grass clearing, next to a small church and walker's hut to spend the night in, just below the village of Anatoli (N39.73312 E22.69786).
With Dave clean, his cupboards brimming with clean clothes, my hair straightened, our waste tanks empty and our water tank full, it was time to say farewell to the campsite – and Jurgen, Roswitha and their friends. As Jay got Dave ready for the off, I popped along the row to say our goodbyes and getting a few last minute tips from everyone as they've spent plenty of time touring around here. Jurgen had a surprise farewell gift for Jay, I'll let him tell you about it tomorrow, but he was very, very happy about it! Hopefully it's not goodbye, it would be great to meet them again and as we've already bumped into them three times, the odds of a fourth meeting don't seem so improbable!
We paid up at the campsite (€16 per night for two with electricity thanks to our ACSI discount card) and set off for the hill side village of Milies to see the Pelion trenaki (narrow-gauge railway). Reaching the edge of the village we followed the signs and turned left to miss out the village centre (top tip one from Jurgen and friends), but as we reached a bend in the road a coach was parked up. Jay tried to squeeze Dave down the gap between the coach and a high stone wall, but was stopped in his tracks as the coach driver beeped his horn warning us that we were centimetres away from scraping down his side. If the road had been straight we'd have been fine, but the curve brought us just a little too close for comfort, and also caused problems reversing back out. Quite a lot of arm waving later and a minor panic when I thought Dave was about to drop a wheel off the road into a deep well with no edge to it (which I also nearly ended up in) we got out without a mark on either of us and parked up a bit further down the road.  The coach drove off and I went for a walk along the road to see if it got any narrower.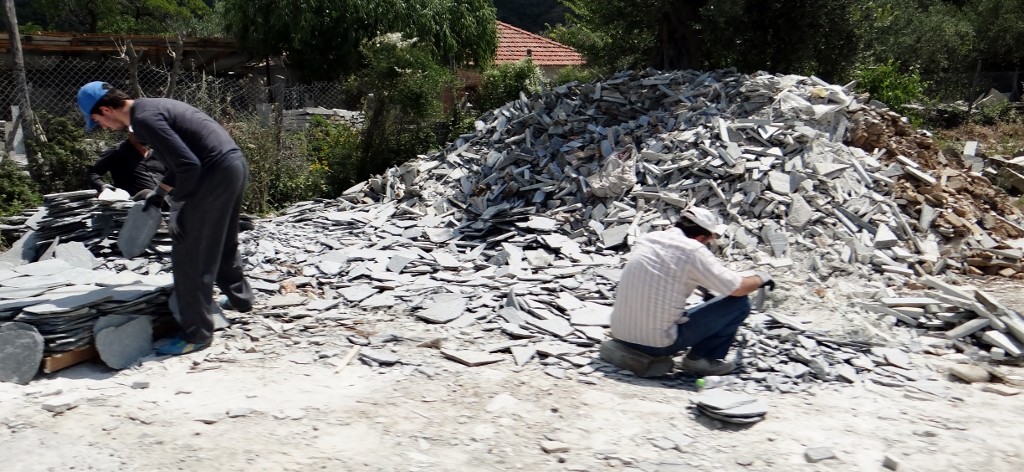 The road never got any thinner, but also we didn't want to meet anyone coming the other way. So with nerves jangling from the closeness of the coach and the narrowness of the road we edged our way along with me running in front checking for obstacles. It took us a bit longer than expected, but we eventually reached the safety of the train station car park. Well I say car park, the train tracks go right through the patch of gravel land (GPS: N39.32611, E23.14431). Breathing a sigh of relief, we got out for a look around.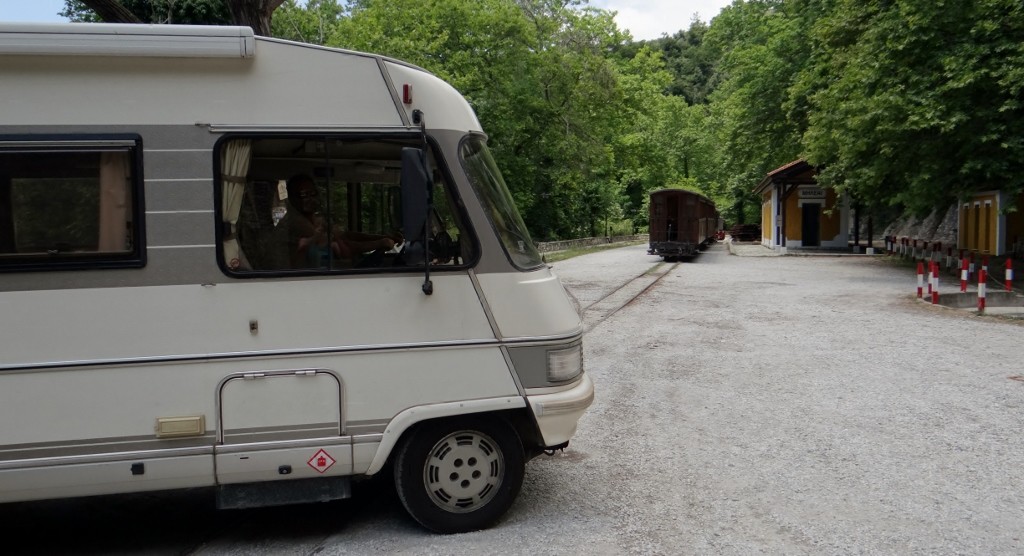 The original 60km line was built between 1894 and 1903 by an Italian consortium and stretched all the way to Volos. The arrival of the train turned Milies into a buzzing commercial centre as all the local products from the nearby villages – olives and olive oil, wine, fruit, wood and wheat – were brought to the railway by mule and donkey and could arrive in Volos in just under two and half hours. The picturesque journey from Volos to Milies first ran along the edge of the sea before cutting inland through groves of fruit and olive trees. It then climbed up through gorges and along lush hillsides using several multi-span stone bridges and two tunnels. Finally crossing a riveted iron trestle bridge over a steep ravine.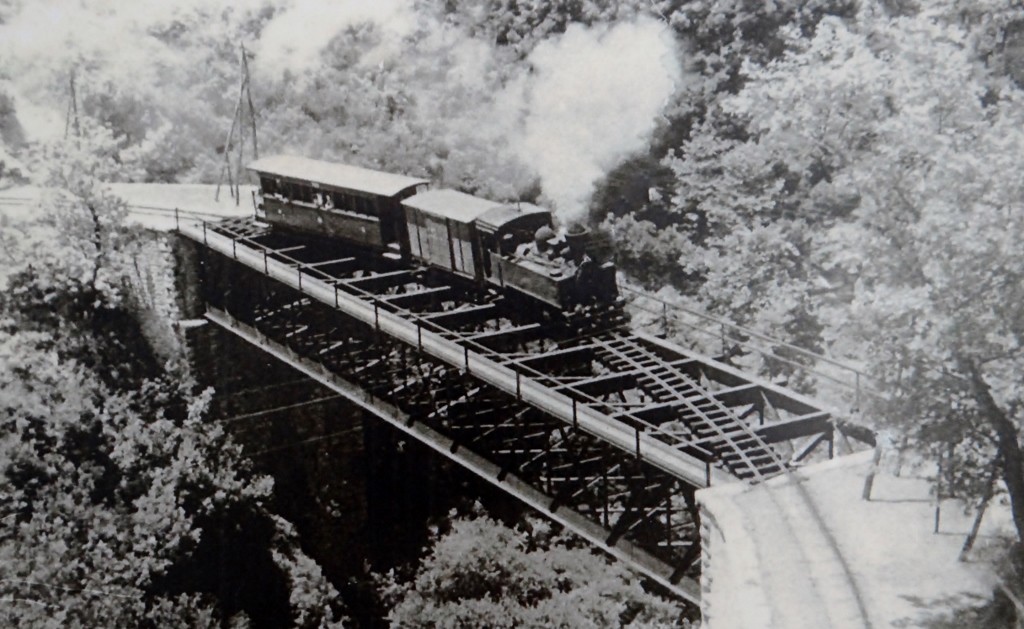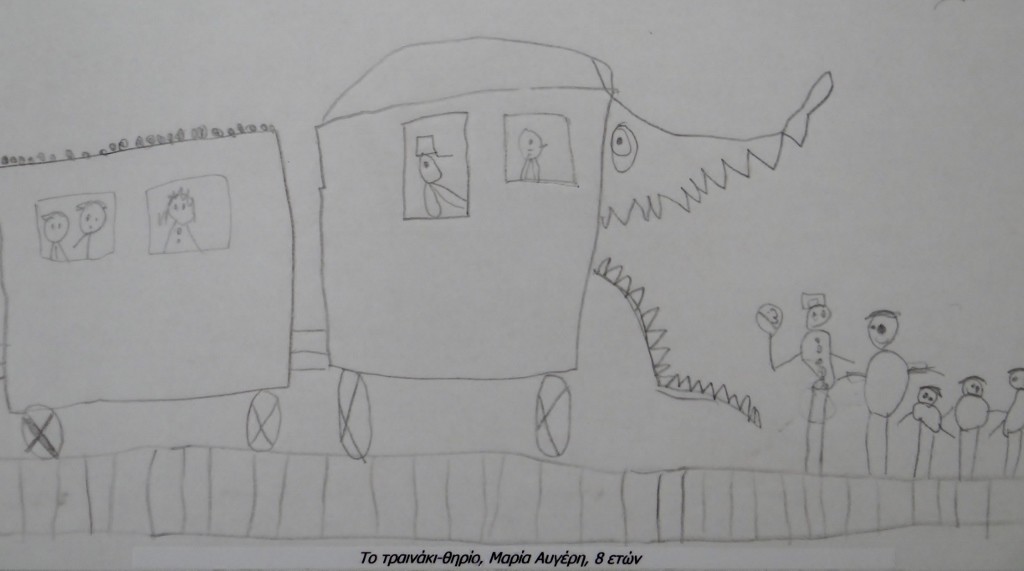 Unfortunately as new roads opened on Mount Pelion, buses, trucks and cars could make the journey in a quicker time so fewer and fewer people took the train. After 68 years of service in 1971 it was closed down. It was reopened for a short time by the 'Friends of Pelion Railway' but forced to close to preserve the state-imposed monopoly for OSE, the train provider. In 1997 OSE started to run a tourist service using one of the original Belgian steam locomotives. It doesn't go all the way to Volos any more as the lines, which are embedded in the road, run perilously close to a series of tavernas. The original steam train has been changed for a diesel one (which has been made to look like a steam one!), but as luck would have it today was Saturday and the train was sitting waiting for us at the station.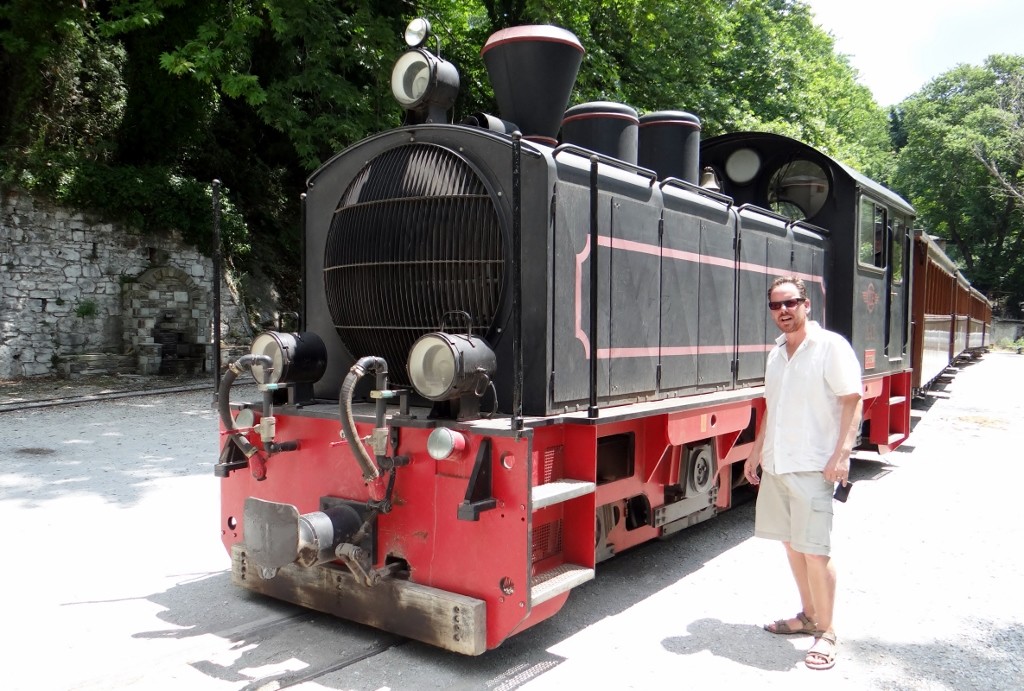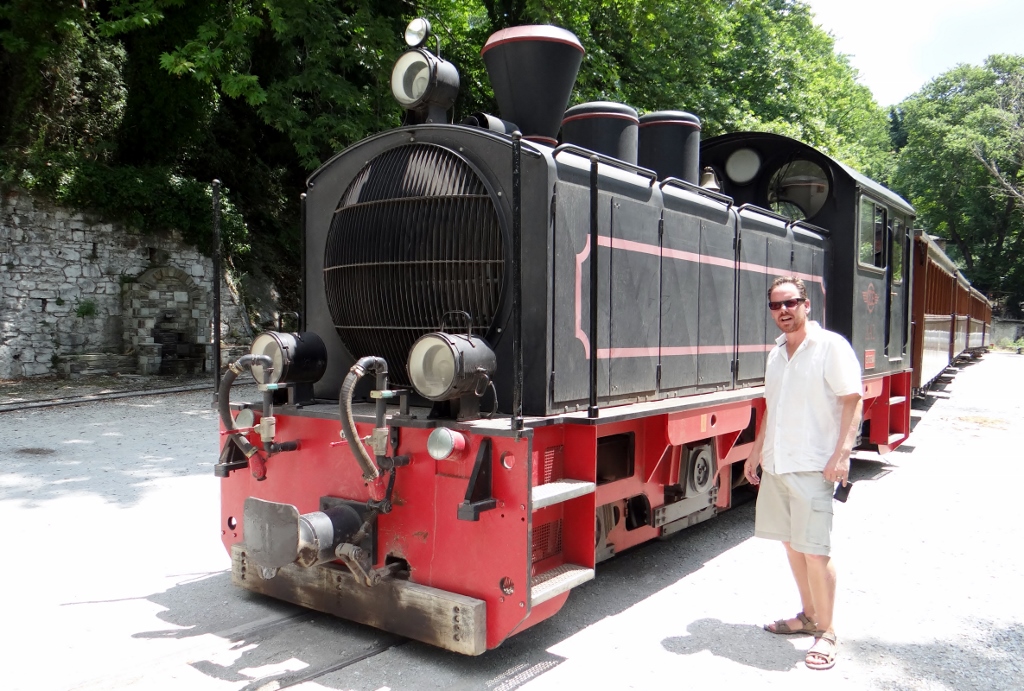 We marvelled at the faux steam engine and had a little look around an exhibition that was set up in the former ticket office/waiting room, before walking along the tracks. You can take a lovely three hour walk to the current end of the tracks, but that would mean another three hours back to pick up Dave, so we opted for the 700m stroll to the iron bridge.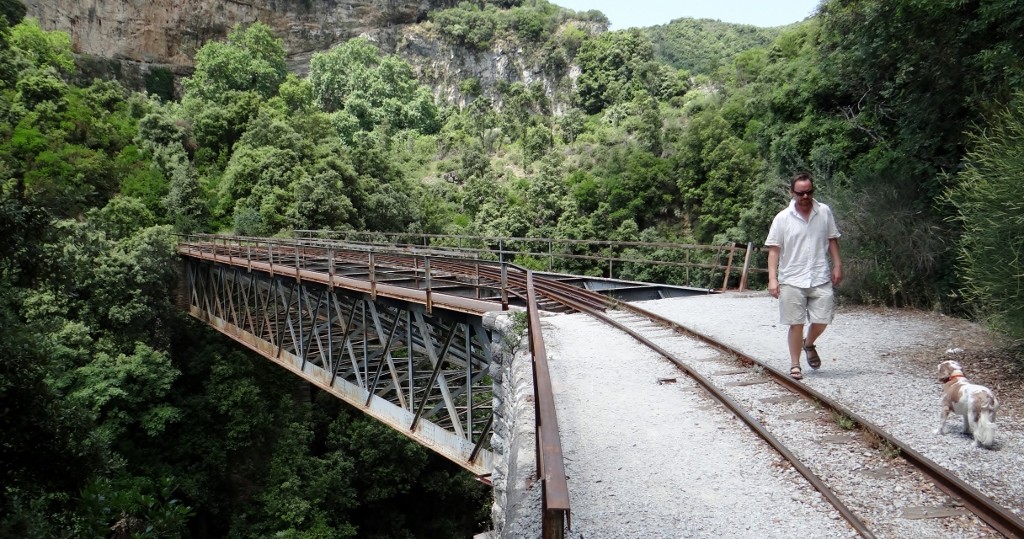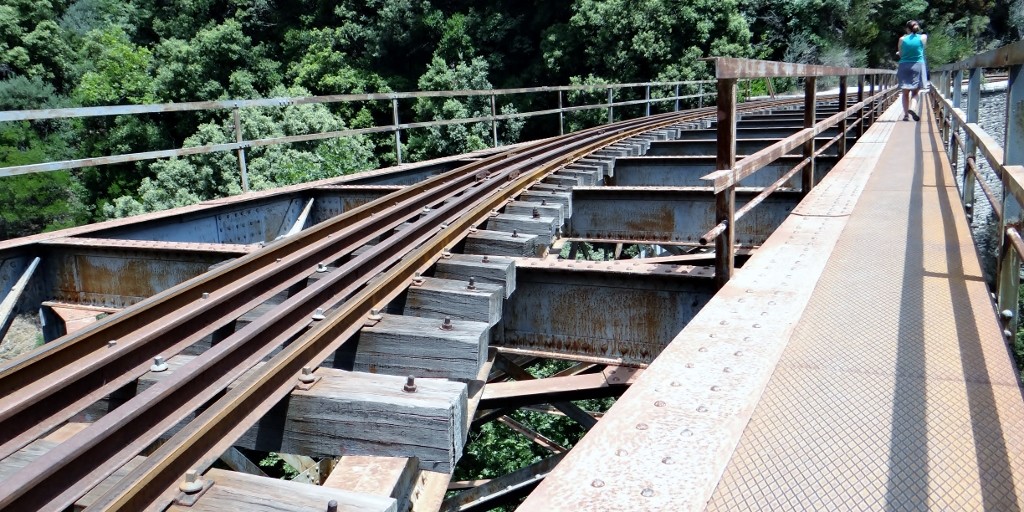 After a quick snack we set off again, originally we'd planned to drive to Meteora today, but it's a long way from where we were, so a quick look at our map and our Womo book, and we decided to head for Mount Ossos instead. We made our way along the narrow road with me staying put in the passenger seat this time – roads are so much easier to drive along when you know you can get through. We retraced our tyre tracks back down to the coast and past the campsite, making our way towards Volos. As we passed the embedded train tracks at Kato Lehonia we spotted a sign for a Lidl, but we were too late and missed the turning. We suspected that there would be several in Volos, so we carried on. Our need for the big yellow circle isn't urgent, we're short on milk which you can get anywhere, but for about double the price it is in Lidl, and we fancied some more of the British style crisps we bought during British week – hopeful there might still be a couple of packets knocking around the store.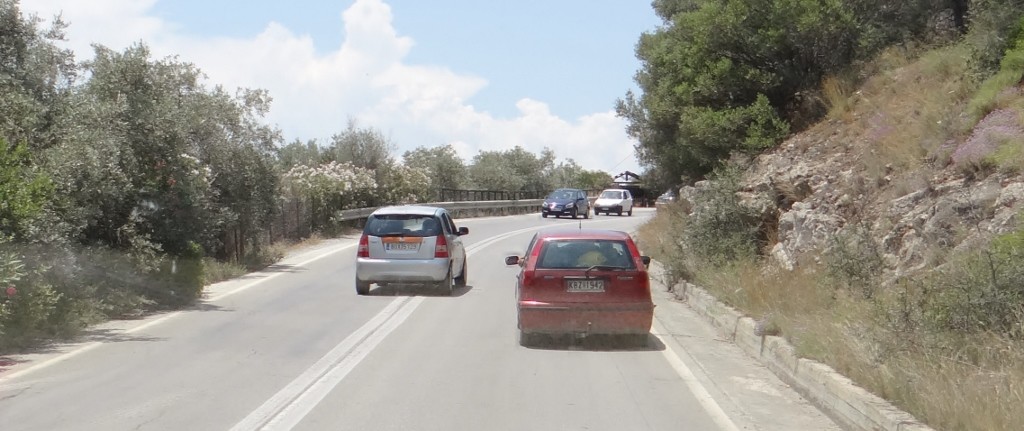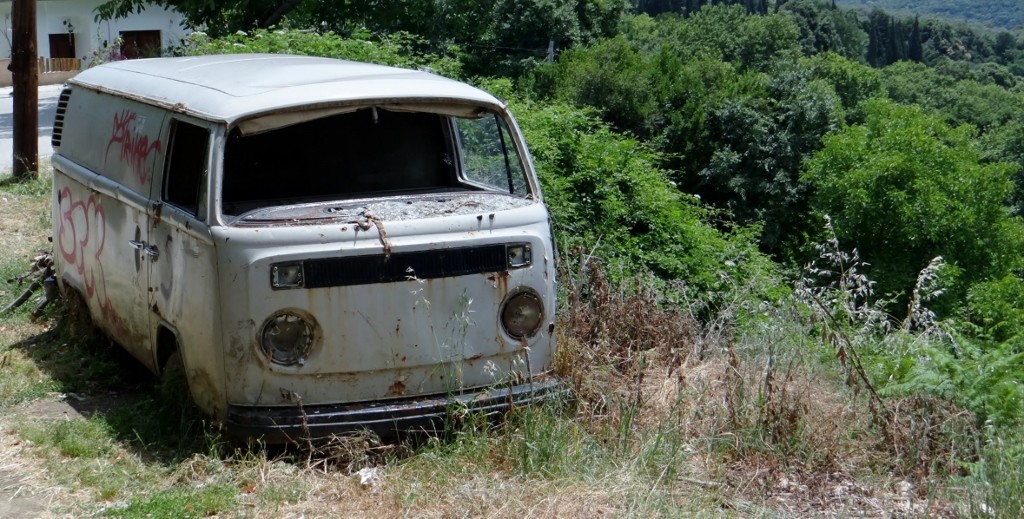 Reaching the edge of Volos we were back in big city territory for a short while, two lanes of traffic with cars parked on either side, traffic lights and scooters everywhere; a hazard perception test for Jay. He performed superbly as always and soon we were out of the chaos.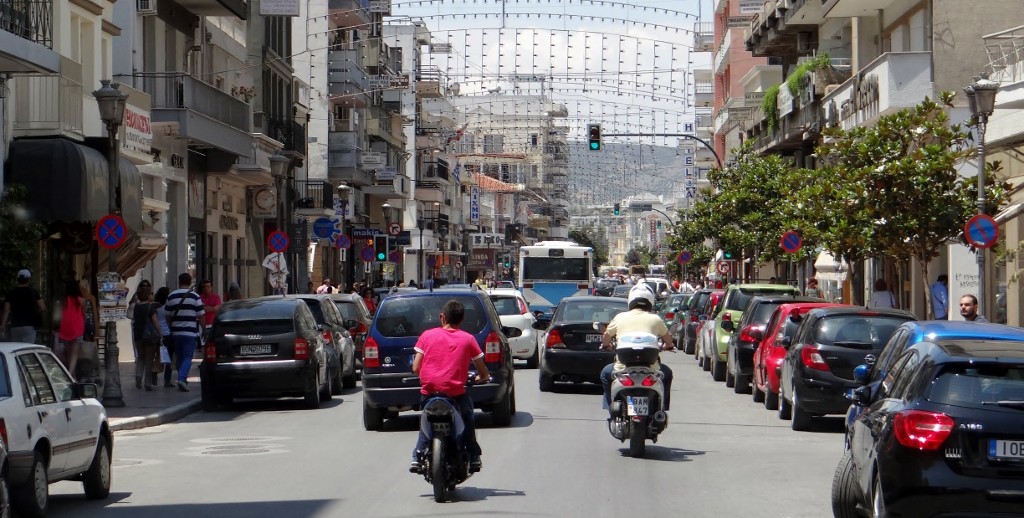 The only Lidl was spotted on the other side of a four lane road, so we carried on, stopping only at a petrol station with diesel at €1.31 a litre, the lady owner having a lengthy, albeit one-way, conversation with us in Greek. We followed the blue signs (free roads) north to Larissa only to miss the vital turning and end up on the motorway. All the money we had saved buying the fuel at a cheaper station was about to be wiped away – I was gutted as it was all my fault.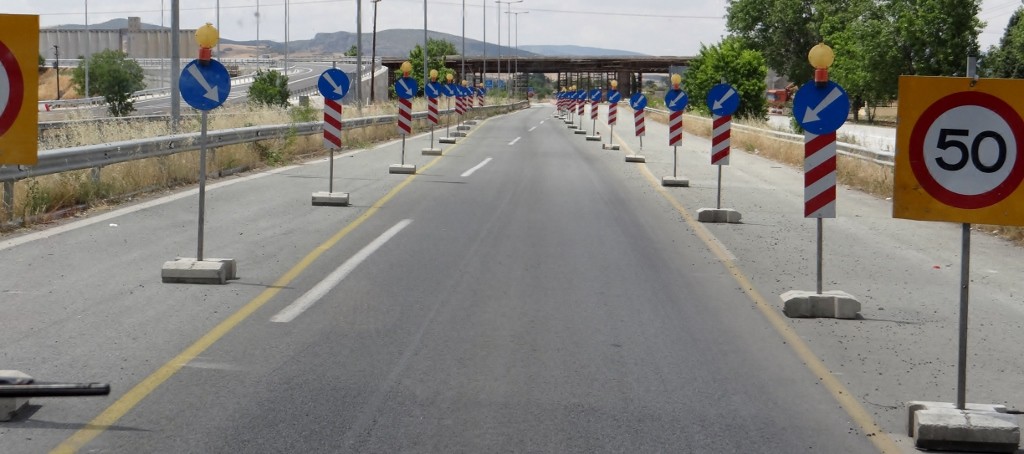 We pulled off at the next exit and I got my wallet ready, but there were no booths – a freebie bit of motorway! Winner. We made our way back onto the free road which ran dead straight through mile after mile of flat wheat and corn fields. Most of the wheat had recently been harvested and hovering about the fields were small reddish-brown birds of prey, waiting to scoff the creatures that had hidden from them in the wheat. Driving through another town we saw storks in their nests on top of telegraph poles, before we began the climb up the side of Mount Ossa.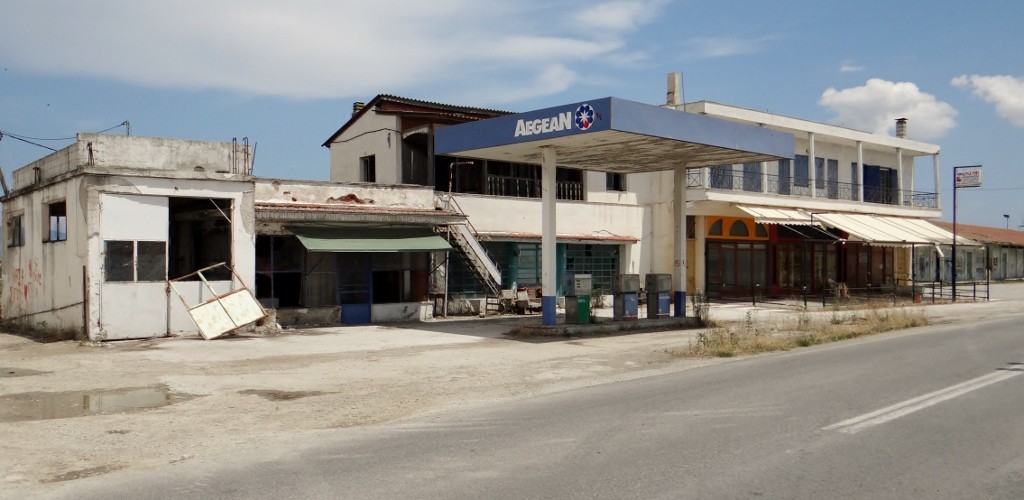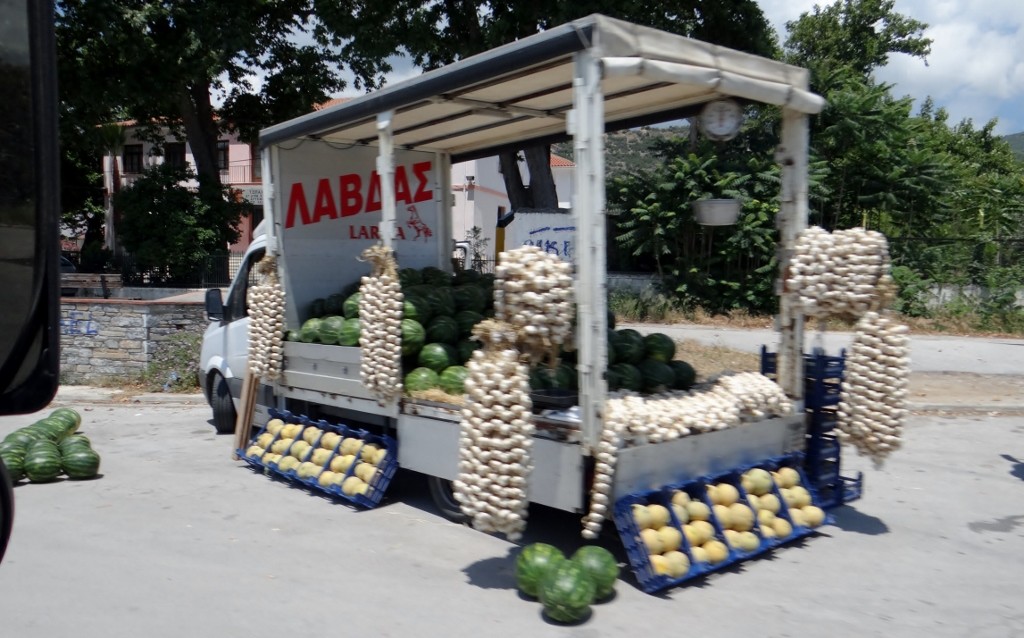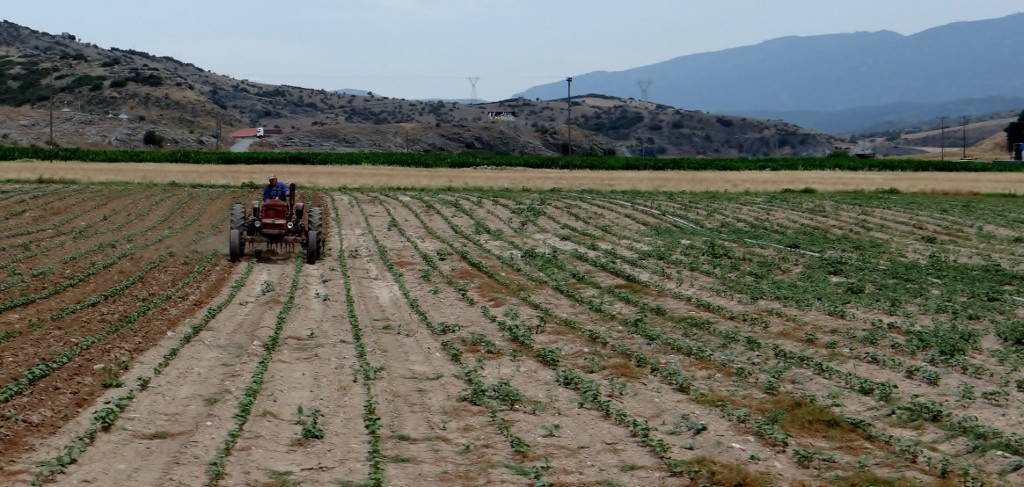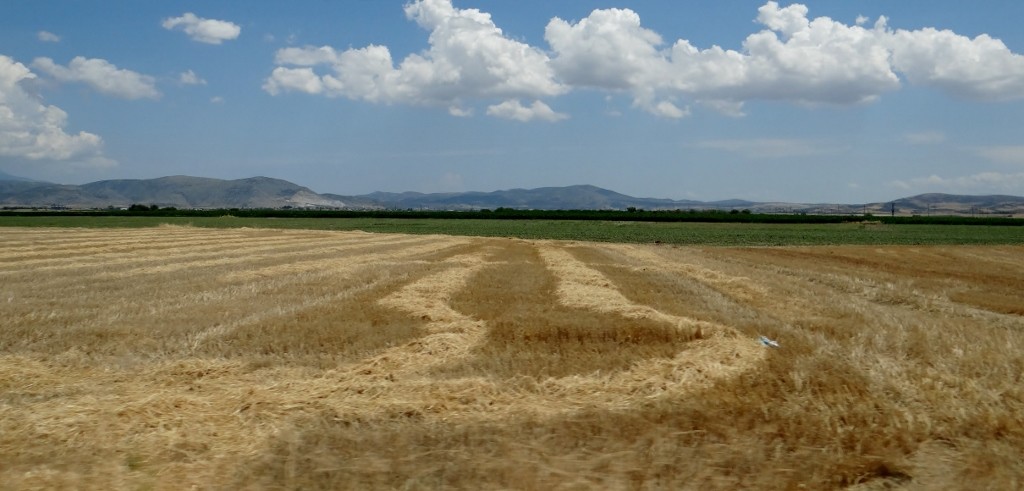 Jay was glad when we finally pulled into our little stop for tonight, the climb of the road was winding and although the views over the plain below were beautiful, he didn't get chance to appreciate them as he guided Dave along.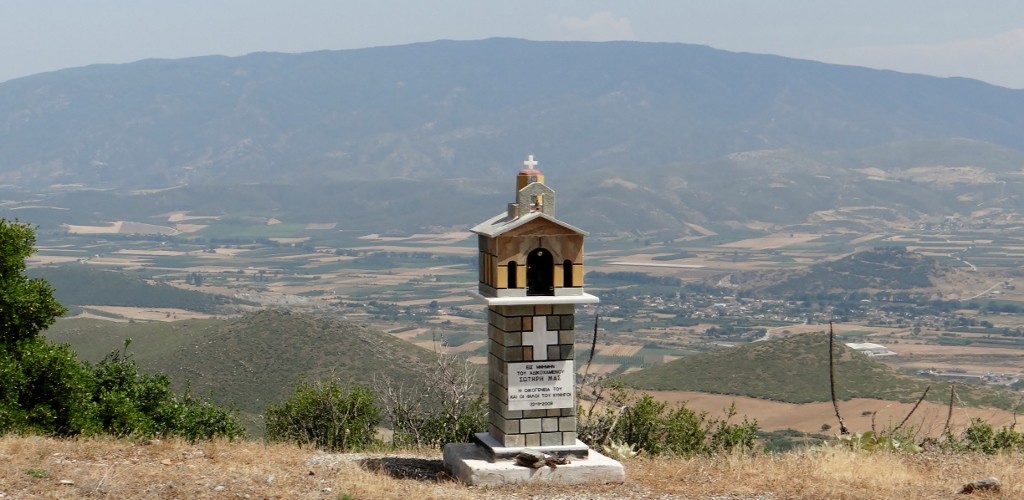 It was 4pm when we got here and I settled down to read some of the English newspaper we'd been given, while Charlie and Jay went for a walk and explore. The air is certainly cooler up here, it's down to 24c now and it isn't even 8pm – I might need a jumper. So, we'll chill here (hopefully not literally) for the night before heading off to Meteora tomorrow.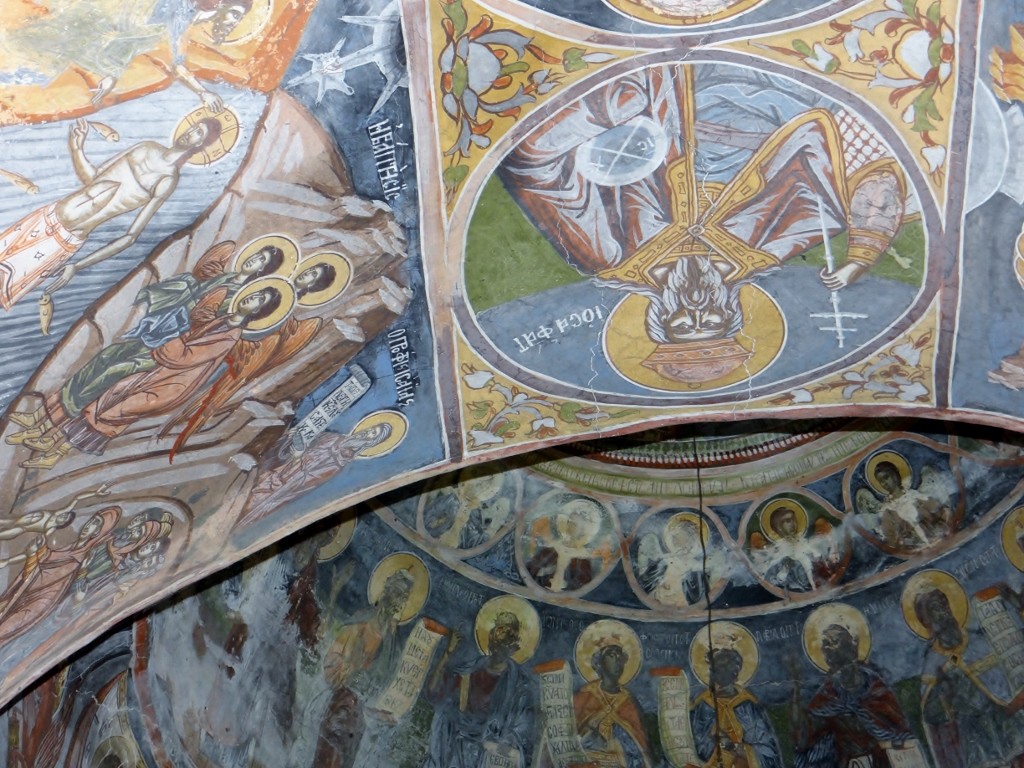 Ju x