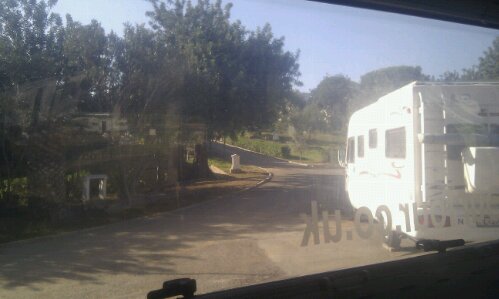 Today is our 100th day on the road (The day counter on the side is a day out, even though it's set to start the day we set off!), so we set down to write our 10 tens – highlights, lowlights, places etc.  But as we tried to come up with them we found it really hard.  The whole trip has been one big adventure and there's nothing we'd do differently if we were to do it all again (except maybe making sure we shut the skylight before we set off – we learned that one a a few Euros too late!).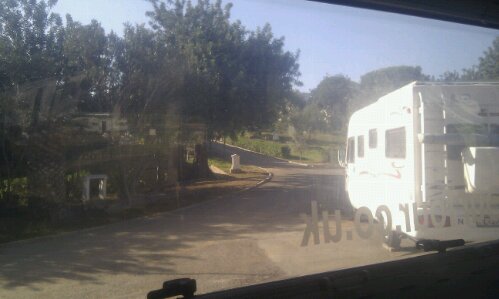 Anyway, below are our top three places visited, top three highlights over all, along with other things we've enjoyed and discovered, top three lowlights and other things we've learned from and finally our top five favourite things about Dave.
Top three favourite places we've visited:
San Sebastian in Spain, after all the concerns we had about crossing over into the unknown.
Picos de Europa – We didn't even know they were there!  But along with Chris and Tina we did a couple of fab walks around the lakes and gorges and drove along some of the most terrifyingly twisty roads with sheer drops off the side
The Dordogne – It was all we'd hoped it would be, and we reached it at the height of Autumn so it was ablaze with colour.
Top Three Highlights
The people we've met.
From Chris and Tina (who we travelled across Northern Spain with and who rescued us when Dave had to spend a day in the garage), and Jacqui and Marc (our gnome friends from Stuttgart), Buks and Sonja (from South Africa whose lives are so different to ours) to Harry (who we met at CapBreton who is 85 and still motorhoming), the Spanish A8 maintenance man (who tried so badly to help us when when our tyre blew even though we didn't know a word in common) and all the people who come up to stroke Charlie (and show us pictures of their dogs). So far it's the people, not the places, who have been our number one highlight.
Freedom


I guess this comes from not really having a plan.  When we're done with somewhere, we get the books out and look to see where we want to go next.  We could go left, or right, we could go to another country. And, as we're pretty much self sufficient, just needing to stop for fuel and food (and the occasional toilet empty), we don't feel that we have anything stopping us from going where we want and doing what we want (as long as it's within budget!)
Places we've been able to sleep


As we've got braver with our wild camping spots, Dave's windows have framed amazing views that even the most expensive hotel couldn't give you. We've woken up looking down over a mist filled valley with a vulture perched on the rocks and goats running around the van in the Picos de Europa and we've watched many wonderful sunsets over the Atlantic ocean. We've also slept among the vines in vineyards, on the banks of the Dordogne, looking out over Porto and on the edge of a cliff next to a church and lighthouse, plus many more.
Other things we've enjoyed/discovered:
Getting better/braver with languages (especially in France)
France Passion sites – They've enabled us to meet the French people who make a living from the land on farms, vineyards etc and each one has a tale to tell
Driving (and surviving driving) in the mountains
Seeing wild animals (boar, vultures, storks, herons, eagle)
The warmth and sunshine
The "can do" attitude of people – we've had Dave fixed twice once within two hours and once the next day (to be fair we'd destroyed quite a bit of him), but both times without an appointment
Doing day to day stuff in a foreign land – J still hasn't recovered from the suckling pig he found whole in the Supermarket
Learning about places – we knew nothing about Portugal, its dictatorship, The Moors, the earthquake in 1755, Port making etc 40 days ago
Spending time with each other and playing on the beach with Charlie (he loves the beach)
Dave still being in one piece (just) – including the additions we put on!
Finding that a drinks bottle holder on a mountain bike is perfect for a bottle of wine
Realising that the British stick to the rules too much (everyone else parks where is says no parking and takes their dog onto the beach when it says no dogs)
Free food – searching for oysters, digging in the sand for pipi, picking Walnuts, 'acquiring' (ahem) oranges
Top Three Lowlights (or learning experiences as they should be know!)
Breaking Dave – When we lost his skylight on the motorway through our own fault of not pulling it fully down and also when I thought we'd lost his back half as a tyre blew out and burst into the cab leaving a big mess and us stuck waiting for the breakdown man on the A8 in Spain
SatNav Issues – We use a road map when going from place to place as satnav is happy to use very small roads to speed up a journey and we're not. She often chimes out to us "you are still on the fastest route" obviously expecting us to be going slowly because we're caught in traffic, not because we're driving Dave.  Once we reach a city we're pretty much at her mercy. She's had us trying to drive up a very steep, narrow, cobbled street that poor Dave couldn't keep a grip on, so we had to reverse/slide back down it, and there have been many buttock clenching moments on narrow streets in towns and cities – it's a good job J is a good driver and knows how wide Dave is.
Parking in cities (or rather not parking in cities) – A couple of our fellow travellers have been broken in to, or had attempted break-ins (saved only by good locks), all of which have taken place in or around big city tourist attractions. This is part of the reason why we decided not to go to Lisbon and are wary of stopping in big cities.  It's a shame, but if we don't feel right in a place we won't stop or leave Dave there.
Other experiences we've 'learned from'
Getting used to wild camping – it took quite a few sleepless nights thinking we were about to be murdered in our sleep
The constant rain in Northern Spain and Portugal (I thought it was supposed to fall mainly on the plain!)
Wild dogs and guard dogs and not jumping out of our skin when they bark – they wait until you're right next to them – grrr!
Laundry blues, especially when the dryer packed up in Spain and we had one soaking load, one wet but spun load and one load in the washer covered in washing liquid. Poor Dave became one huge sauna/dryer for a couple of days
Seeing and hearing from our family and friends at Christmas and not being there to enjoy it with them – the messages and skype sessions were wonderful, but they did leave us a bit sad that we weren't back home
New Year celebrations in Evora – there weren't any, well none we could find, even the TV ignored it on the three channels we could get
Feeling poorly – J's had a dodgy stomach on and off for about a month now which wipes him out.  We're still working on the cause.
Seeing J with his head shaved – it was a shock for both of us (but he did look a lot better once he'd trimmed his beard)
Seeing Ju's grey hair – as no one I know will see me I've stopped dying my hair, but it's depressing how much grey there is appearing
Favourite things about Dave
The bed – it's comfortable, you don't have to make it out of cushions and it drops down so quickly when you want a nap
The layout – good for entertaining (four spaces around the table), kitchen by the door (for quick smoke release when cooking), lots of storage, wet room with decent shower (and good for hanging rain sodden clothes), big bench for Charlie – he likes his space
The driving position – comfortable, good arm rests, good mirrors
Heating – you nip out of bed in the morning and pop it on for half and hour and soon it's toasty (and it heats the bathroom too!)
His looks – at first we were more impressed with his interior, but we've grown to love his off whiteness, blunt nose and how well he blends in at places.