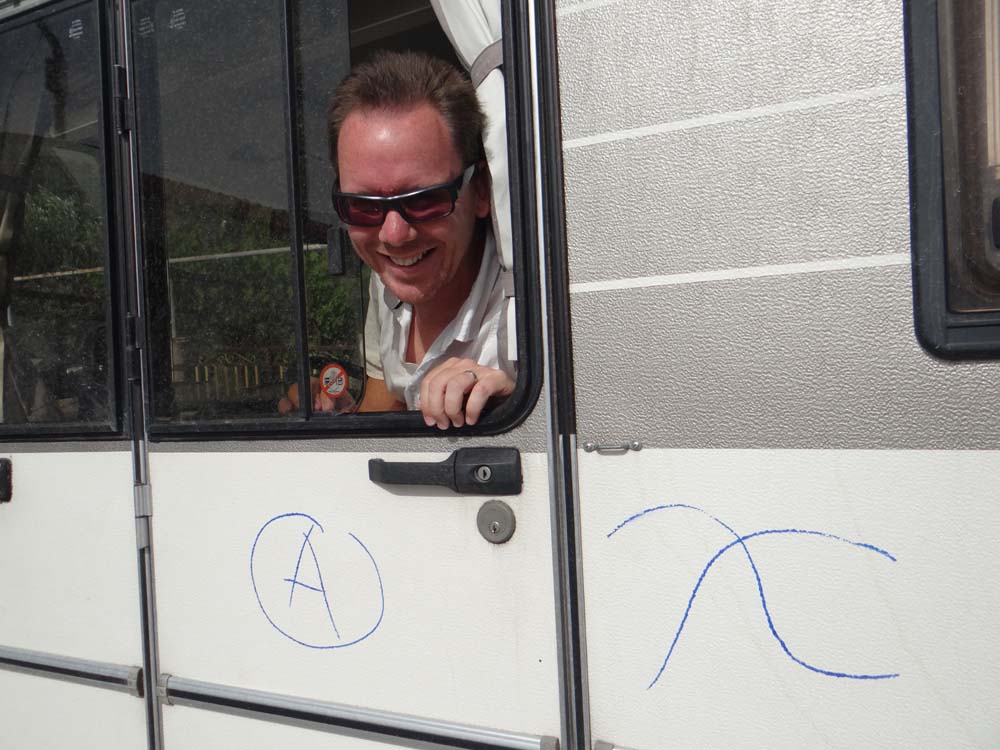 Dave the motorhome is being held aloft a few feet above the ocean by a stubborn thumb of rock, the Isle of Hydra is a misty knobbled length of rock across the water (N37.41361 E23.45431). The sky has returned to a steely grey blue. The air seemed to be about to rush us earlier, turning us into Team Dave Awning Winder-Inner in a flash, but only one of the many yachts sailing through the straight as unfurled its spinnaker. In a moment of devilishness it occurred to me that maybe the captains of these unwieldy beasts share my confusion of their myriad of ropes, knots and wot-nots, and all get around on diesel power like us.

As evening threatened to descend yesterday, we decided to nip over to Poros. Earlier we'd watched the small, white covered taxi boats, lined up against the quayside, their captains man-handling their boat along the line each time space was made at the front by a departing taxi. They seem to take all of ten seconds to cross the couple of hundred meters of sea, and folks dug around for change in the purses as they embarked with bags of Lidl shopping, so we guessed the price wouldn't be sky high! €1 per person, each way, we found out (€1.50 after midnight). Charlie was welcome on board and travelled for free, in his usual state of nervous attention to being surrounded by water. As we climbed out on the other side we asked the boat man when the last boat back was. 'No last boat, all night, every ten minutes'.
We'd seen the hydrofoil arrive yesterday, after a large car ferry, presumably dropping off Athenians for a weekend away from it all. Two car ferries ran for much of the day from Galatas too, so the island has to be one of the most connected in the world! Ju spied the sun sinking behind a haze so we headed up to the town's clocktower for a look-see from above while we had the light. Within a few minutes we were in someone's back garden, a dead end. I guess the maze of white steps spread like tree roots down the hillside had done their job, confusing us invaders as we rushed the place, we'd make pants pirates. Descending hand-painted signs appeared to guide us around and upwards, up to the clock which stands tall with the help of some hopeful-looking steel ropes wrapped around the rock it stands behind.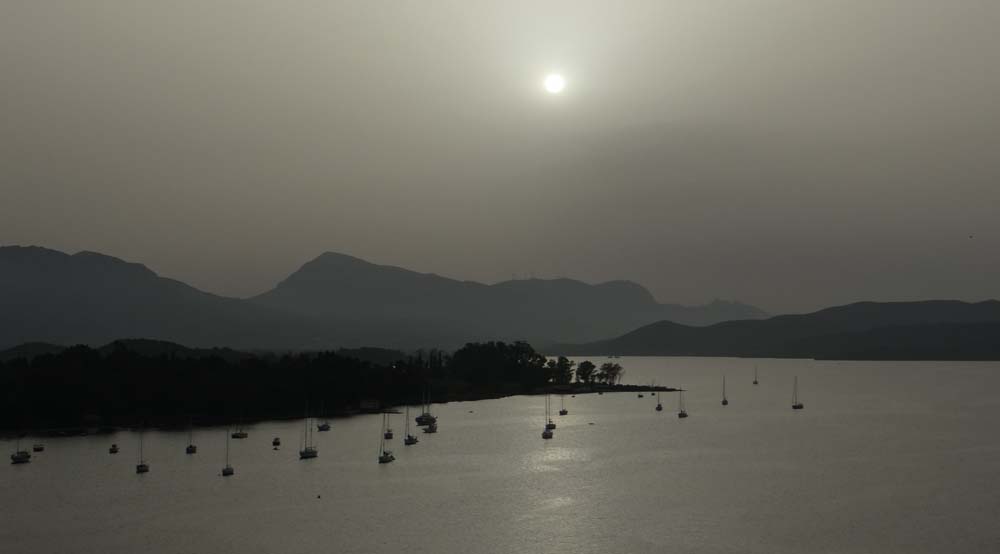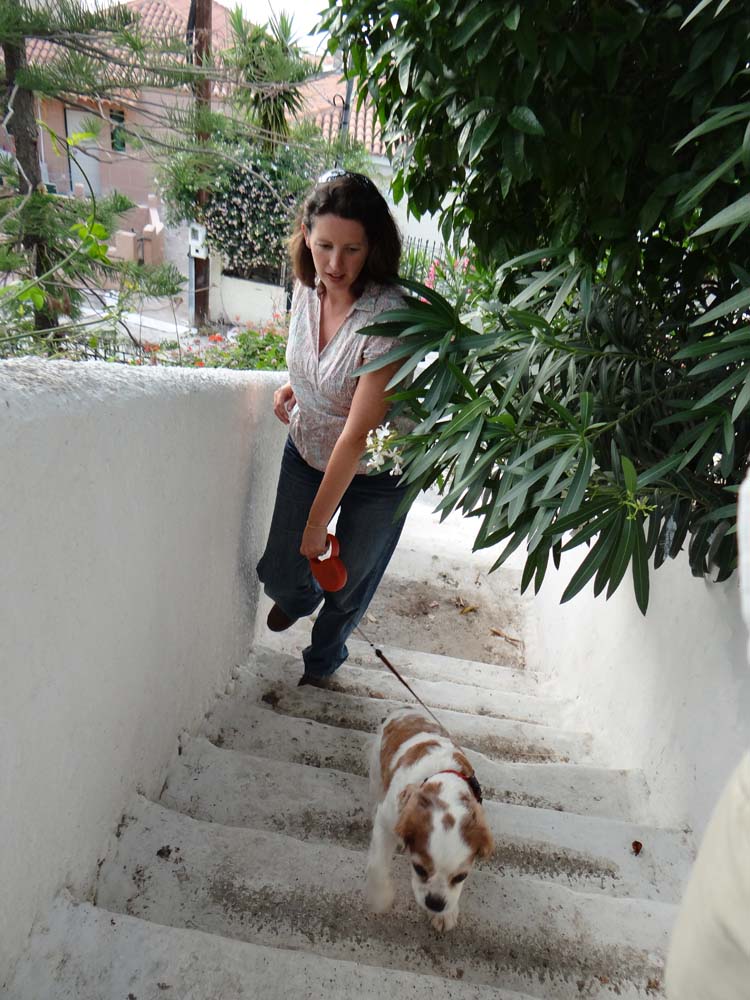 Ju has a theory about places like Poros: they're rather more pleasing to look at from a distance than close up. Up to a point this held true, as the view of Galatas had me in mind of Beauty and the Beast, it's a work-a-day kind of place, nothing special. Poros itself held a charm though. A deck-hand sat attempting not to look bored behind the first mega-yacht (I can think of no other name to describe these floating boasts), his job to help people take the step from the WELCOME mat onto the decked boarding bridge, thingy, majib. We stared, of course, as we were supposed to. I pondered the distribution of wealth and wondered about how such a massive gap in income had come about in Greece, when Ju pointed out all these remote-control toys of the gods were all North European registered. Ah.

On we wandered, past restaurants, shops and cafes all shamelessly plying for the yacht-dweller's dollar, we could have easily gotten our washing done here and delivered back to our yacht (they might turn their nose up at Dave) or bought just about any nautical accessory we might need. Wikipedia reliably informs me Poros was the sight of a Russian Navel Base during the Ottoman Empire, when they'd won rights of access through the empire's waters, and the site had later been taken back by Greece, becoming the oldest Greek naval base. A trumpeted call rang out as we ambled along, reminding us of the base's presence. Walking past it we were childishly delighted to spot a guard in full Hellenic Navy uniform, all blues and whites, taking delivery of a tinfoil-wrapped takeaway. Hand-stencilled signs warned 'no photos'. Through the iron railings the place looked disheveled, blond grass sprouting up in defiance of military order.
Just as the base ends so does the island. Poros is an oddity, it's actually made up of two islands (Sphairia and Kalaureia), joined together by an unremarkable bridge under which the tide was flowing at a decent lick. Fast enough for a speedy game of pooh sticks we decided. Longy versus shorty, Jay versus Ju. Longy took an early lead, consolidated it mid-race and although started to tire at the end won by an easy 8 lengths. A quick look at the other side confirmed there wasn't much to see, the thin steady stream of folks crossing on bikes were presumably after the cheap seat accommodation away from the St Tropez end of things.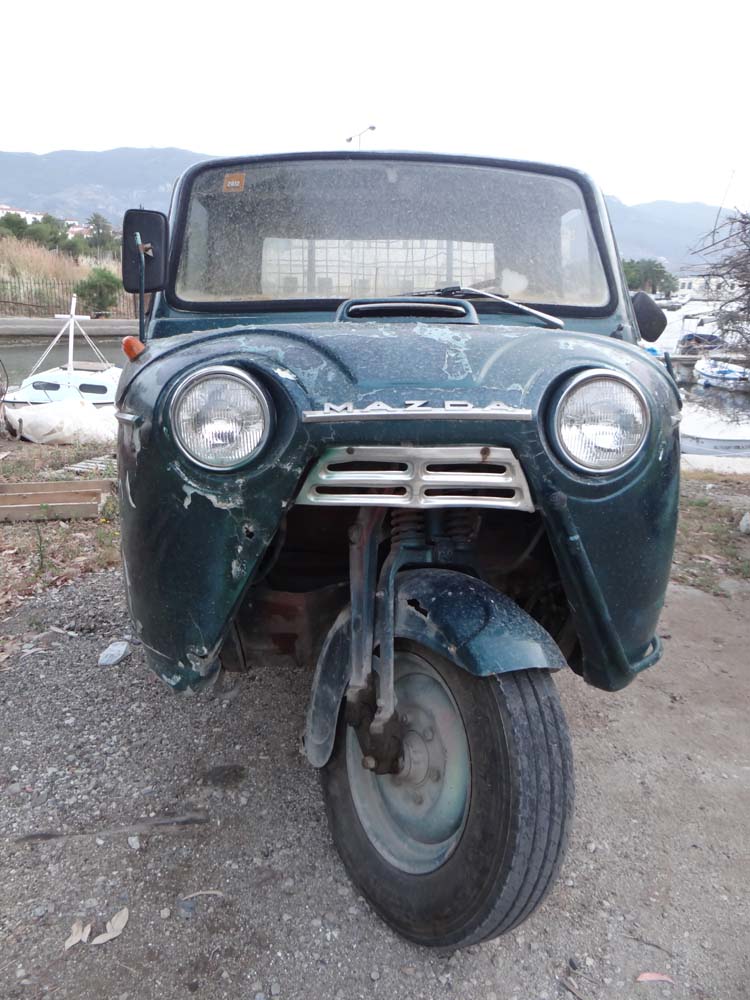 Turning tail we headed back for the bright lights. As usual a Heinz 57 dog came over to sniff Charlie. These Greek staples are (a) never on a lead (b) most certainly not recognised by the Kennel Club (c) covered in ticks and fleas and (d) appear to be universally benign. Charlie endures all of 3 sniffs on average before baring his teeth. I swear I've seen a Greek dog the size of a small donkey raise an eyebrow in respect when confronted with our diminutive mutt's fearlessness in the face of overwhelming doggy odds. Odd that he's scared silly of just about everything else.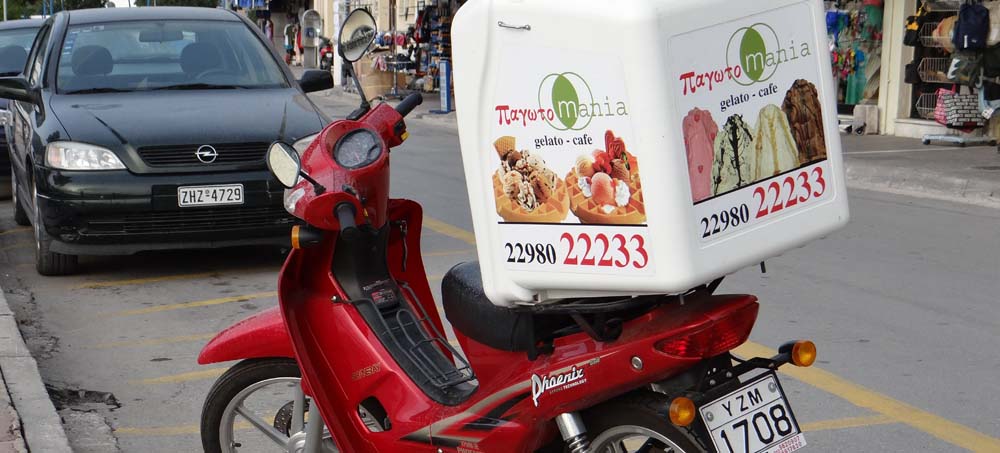 The front rooms of the more opulent floating palaces were on open display to us hoi polloi. We recoiled and burst into laughter at the life-sized portrait of the one proprietor and his family. Another seemed intent on antagonising his terrace-housed neighbours with a noise from a huge home cinema system. Further along the quayside a trawler pulled in, an abrupt contrast to the affluence, men inside smoothly throwing and stacking splintered boxes packed with ice and fish.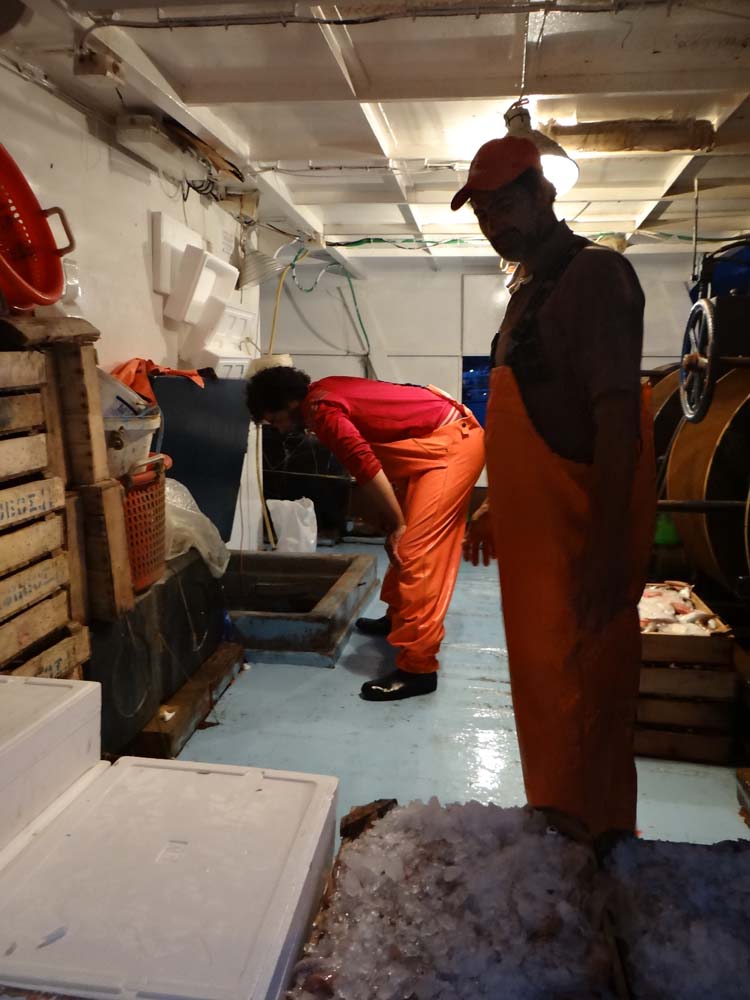 A poddle through the back streets, a disappointing tat-less 'tat alley' lead us to the bright light of a cake shop where Ju was relieved to find the owner spoke perfect English. With much baklava in a royal red and cream box, all syrupy nuts and pastry, we opted to skip past the hovering waiters and their beautifully-positioned but blandly-similar eateries and took the boat back. Charlie found himself in the arms of a Greek lady, who took him from me as I staggered into the swaying thing, whispered into his ear for the crossing and only handed him back when she needed both hands to steady herself and her familiar-looking red and cream boxes.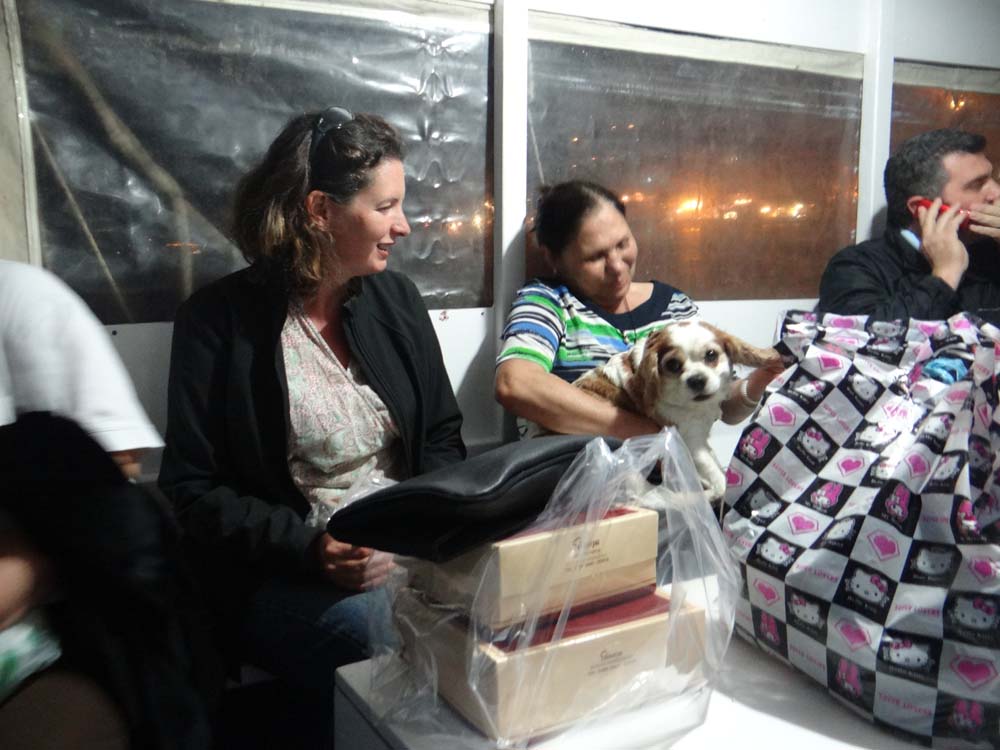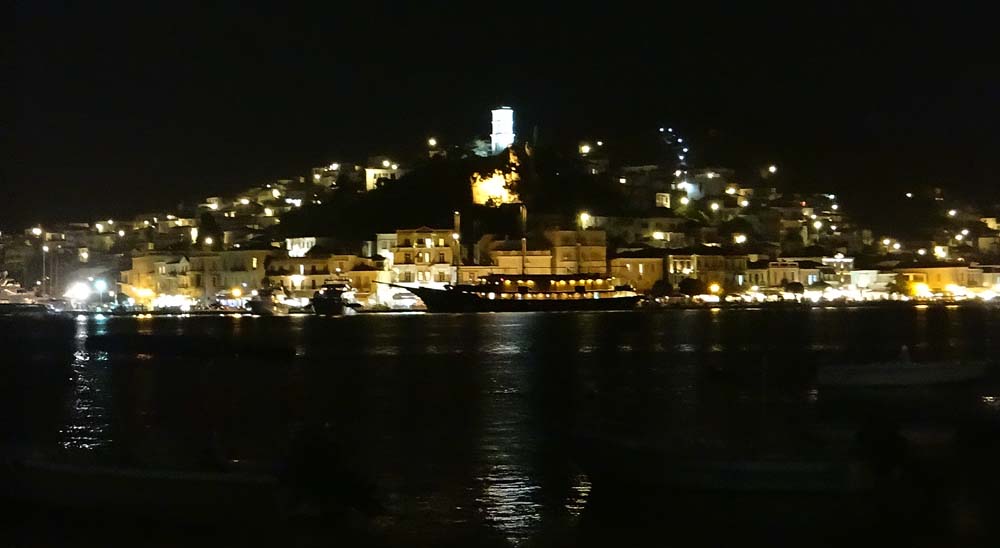 In Dave we watched an episode of Michael Palin's Sahara  wondering how he'd travelled through Morocco in 40 minutes when it took us a month, but otherwise enthralled by this Most British of wanderers. Parked up close to a couple of bars, shouts, music and laughter entered Dave through our cool-air delivery system (the open skylight with its newly fitted mosquito net) but we slept like dogs.
In the morning, pots washed, we left and turned South, our exit from Galatas impeded by a bin lorry but only for the time took a chap to fold in one of its Price Charles eared mirrors. Onto the road, the Rough Guide promised a delight of lemon, an entire hillside of the stuff, topped off with a little cafe serving up lemonade. We think we found it, but maybe not. One or two lemon trees, lots of barbed wire and an elbows-in access road turned us away.
As the road rounded the far eastern edge of the peninsular it bucked about like a drunk hunchback, like some kind of maniac's Scalextric. Dave refuses to do more than 20mph on these roads, and we pulled in a couple of times to let folks past rather than risk the barrier-less tumble into the sea or a Glaswegian Kiss with an oncoming Greek bus. Peejay's database told us of a kipping spot somewhere along here looking out to Hydra, but didn't say it would be marked out by a familiar-looking motorhome! Susanne and Wolfgang were already here, the fourth time we've bumped into them now. On times 1, 2 and 3 we'd learned only the name of their dog Baldy, we now finally got their names. Our German is pants, their English better but mime proved the better option as we attempted a chat before they headed off, possibly to be seen again further north.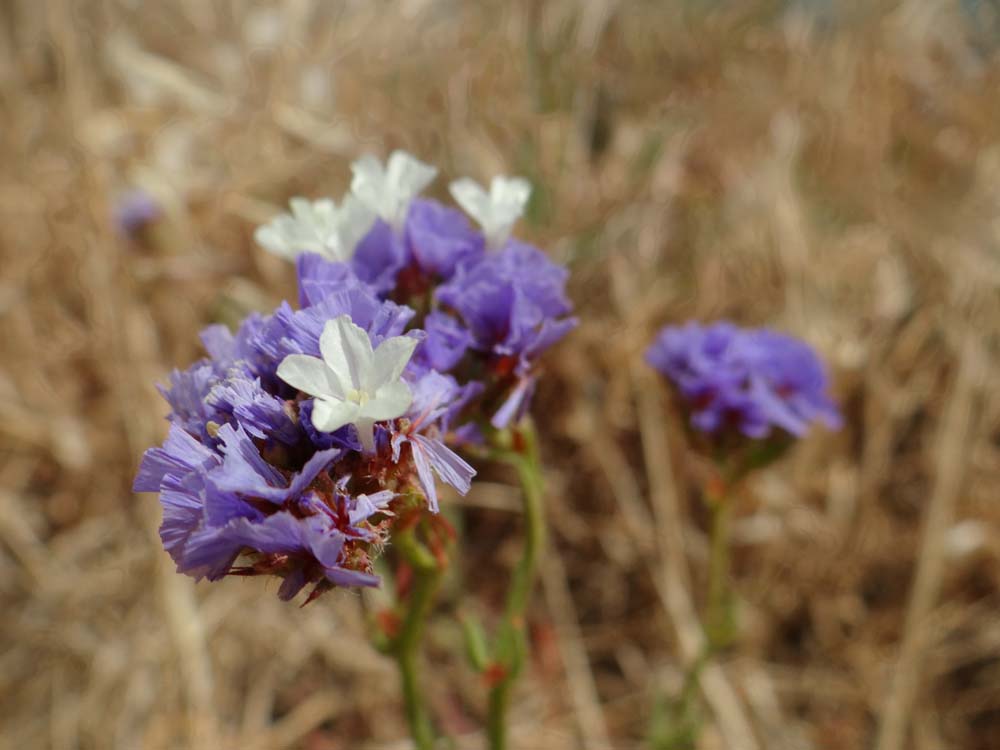 Phew! You'll be pleased to know since that point we've done nothing but chill out. This spot's beautiful. A car an hour passes behind us. A small pebbled beach has entertained Charlie and we've sat and read. The big excitement came about an hour ago when a fishing boat gurgled past us, all of a few metres from the rocks below. Peter from Sweden had told us a few days back that the law says something along the lines of 'no fishing within 3 nautical miles of the coast, unless the water is at least 50m deep'. This chap's nets are in about 2m of water, go figure.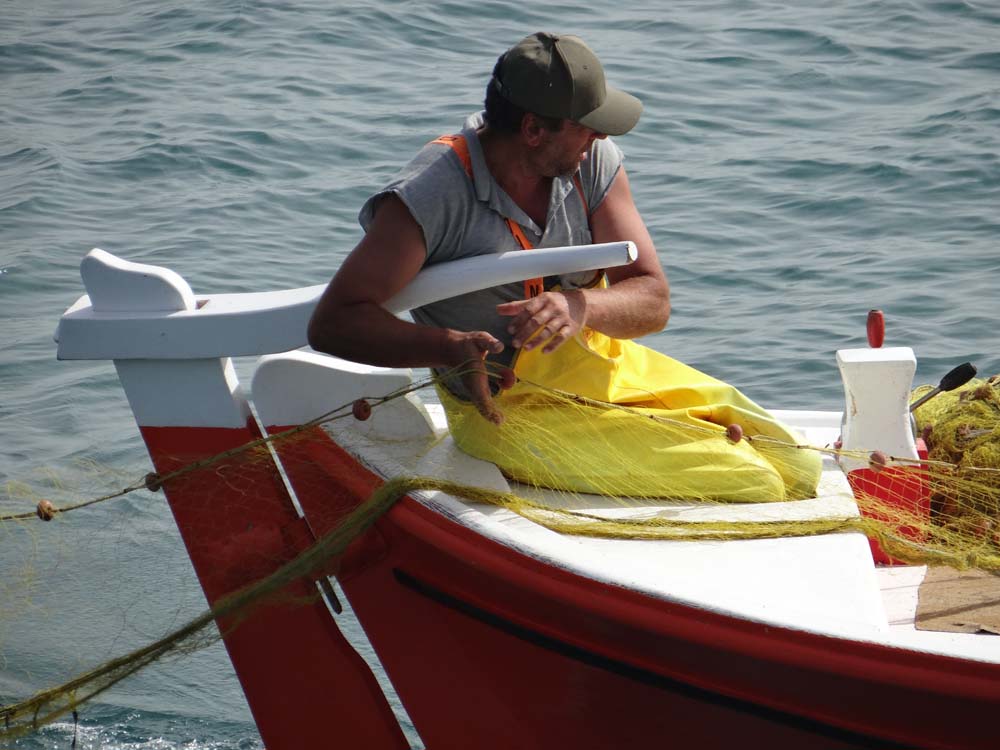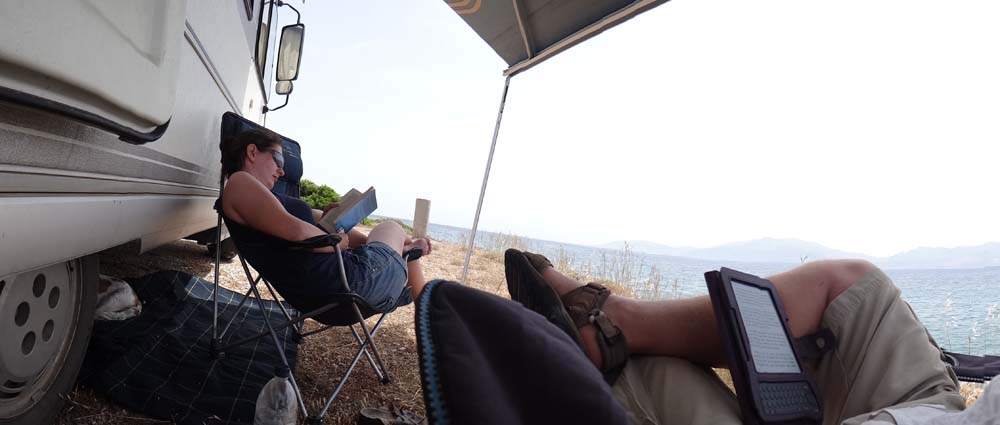 Cheers, Jay
Ah! Nearly forgot the title! As we tried to park up for the non-lemony lemon grove Ju walked around Dave and, her face a picture of shock, exlaimed' they've drawn all over Dave'. Some wag in Galatas (let's call 'em that) had taken a pen to us and drawn on the 'anarchy' symbol, alongside one I don't know. We washed it off with some alcohol hand wash.