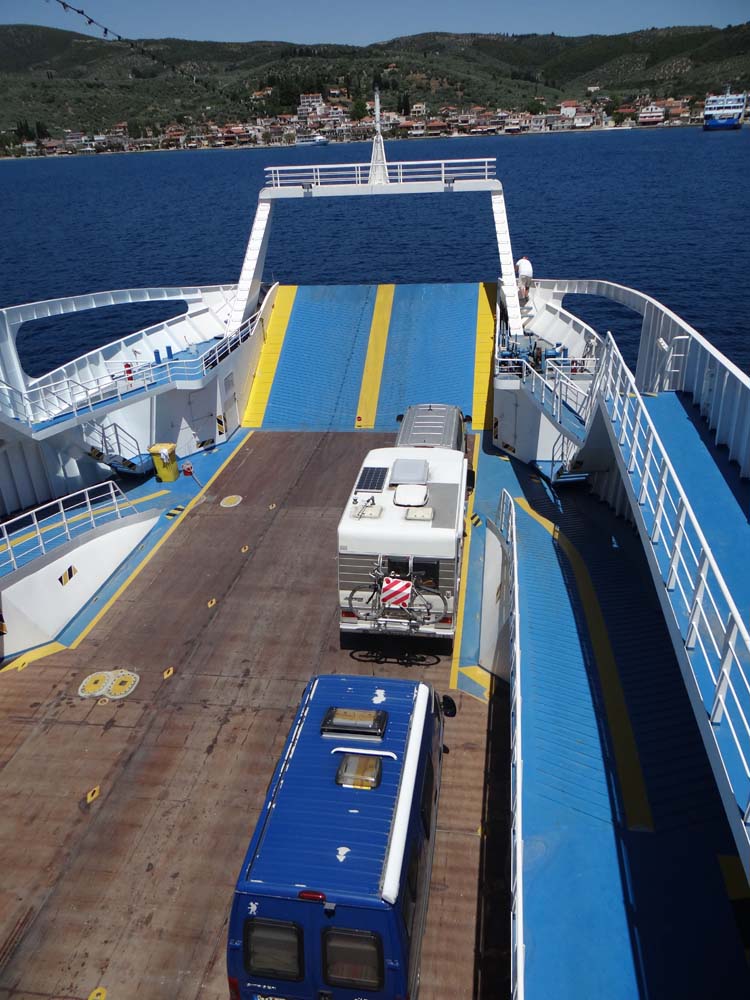 Dave the motorhome has retreated a few hundred meters back from what is practically a cliff face upon which perches Makrinitsa, we're in a lay by with the sound of flowing water and singing birds and with a view down over Volos, way below us (N39.39269 E22.99855). The road behind seems pretty quiet, even on a Saturday evening, hopefully a good spot to rest up for the night.

Ooo, eee, it's been a busy day today! The map's out as I try to recall what we've been up to. As we've gone 'over the fold' today, I guess there's a kind of virtual landmark in our journey around Greece – we've gotten into the northern half of the paper, we're making progress, quite a bit of it.
Our kipping spot last night appeared to have the added benefit of being next to a bench. Only problem with this is the fact other folks also see this as a benefit. Local youths fishing late into the night congregated around it until about 11:30pm, late for us, just getting started for them. No worries, once they'd headed off we slept like nippers, waking this morning to a welder's torch of sunshine. As Charlie re-acquainted himself with the beach I checked the beach showers – slowed to a dribble – we needed to find water somewhere else.
The island of Evia's a pleasant place to chill out, but we had a Rough Guide promise of better things. The Pilion Penisular lies just to the north, back on the mainland. Idiosyncratic villages, strong regional cuisine, a dozen or so excellent beaches, a recipe for an instant holiday idyll, so says our guide book. Evia 0, Pilion 1, time to burn off.
Dave packed, breakfast munched, teeth cleaned, we spun Dave around and headed to Ajiokambos for the ferry back to the mainland. The by-now usual shenanigans with Greek road signs ensued as we'd arrive at a town, spot the sign for where we wanted to go, follow it to the next junction and find only tiny places were signed, which weren't on our map (we might as well be using a blow-up globe!). This time we didn't need to resort to Google Maps though and found our way along the route. For much of it the road formed a vertical column of light and air through tall pines, many of them being tapped for their sap with painful looking scars hacked through their bark. I've no idea what the sap's used for; we joked it's popped into cheap white wine and voilà, retsina.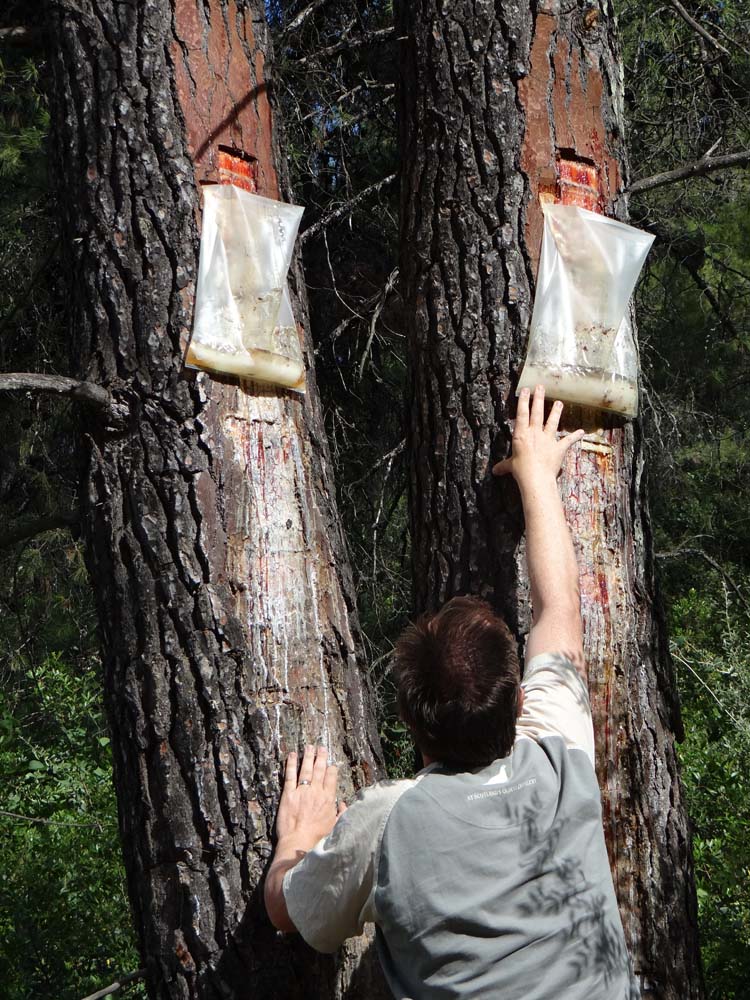 As the road flowed, we cruised as usual. Corners come at you unannounced, verges crumble away, crash barriers appear as often as Lord Lucan. Carrying our home along with us means we have to go slow, there's no choice, but be serious, is that really a tanker overtaking me down this road?!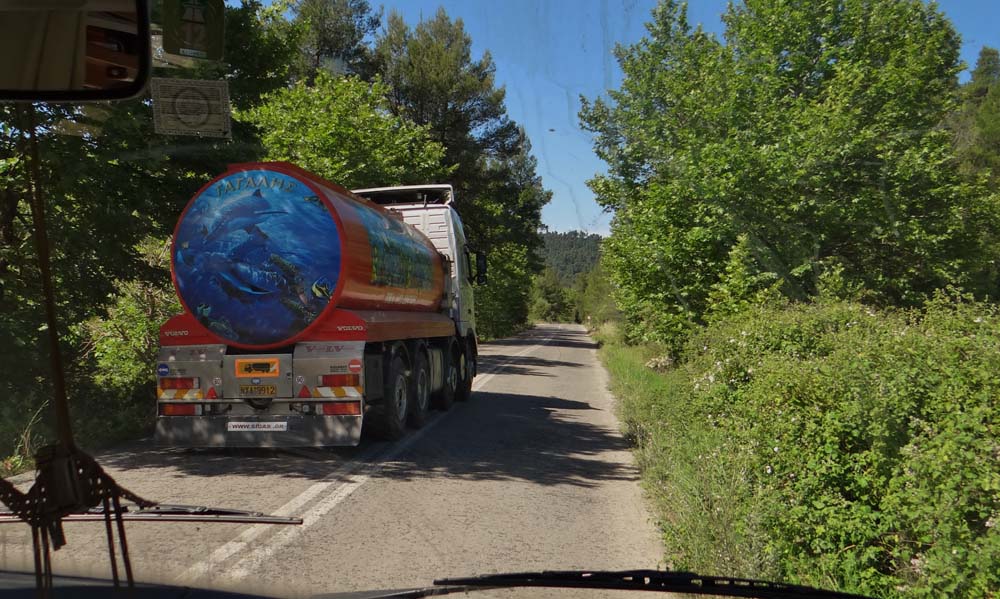 Onwards and upwards, another town with a bunch of 'no lorries' signs at the edge of it. The car towing a boat, for some reason driving with this hazard warning lights beating away, took a side road. Erm, should we be heading down there too?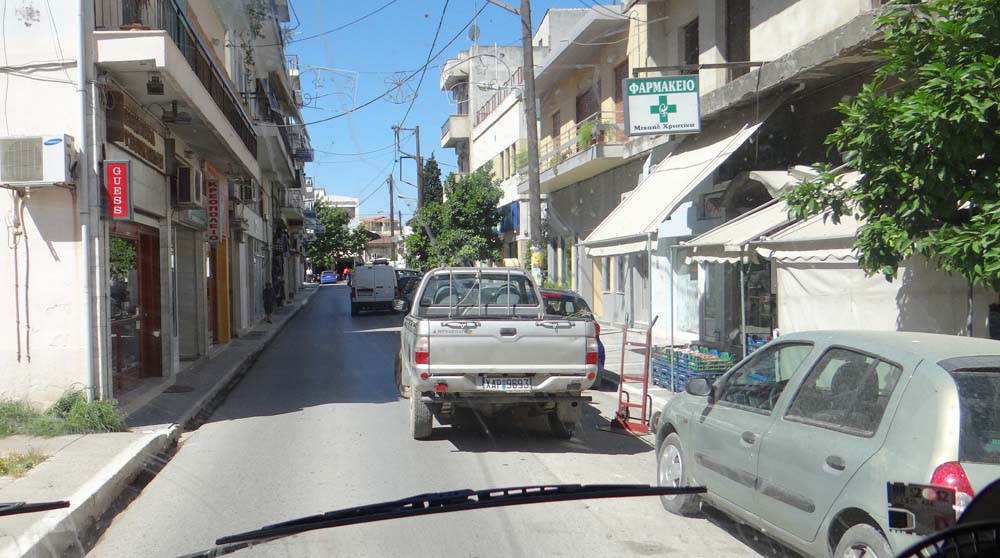 After maybe 90 minutes of driving and dodging things, we made it the port and the small square of concrete which marks out the dock. On we go, ignoring Ju pointing at the 'no entrance' signs, I've gone a bit native. A chap lifts himself up from an official looking cabin, indicates with a broad wave of the arm that we need to exit and come around the back, the official port entrance. Oops, again no-one really cared. Pulling into the car park, the view out over towards Gylfa was beautiful, an expanse of sea, sky and mountain, the higher peaks still spread with snow. The ticket office was closed, signs showing departures every couple of hours, but we could see the ferry already departing from the other side and growing slowly bigger.
Charlie took in another beach and somehow the massive boat caught me out as I wandered about eyeballing the Romanian Orthodox priests and their black-clad austere-looking female companions in a mini-bus in front of us. The ticket office opened a few minutes before the boat came in, €20 for the both of us and the van, which seems expensive, as everything seems expensive to me these days. Every penny's a prisoner! I later found a €2 coin, so am discounting the ferry ticket to €18 in my head.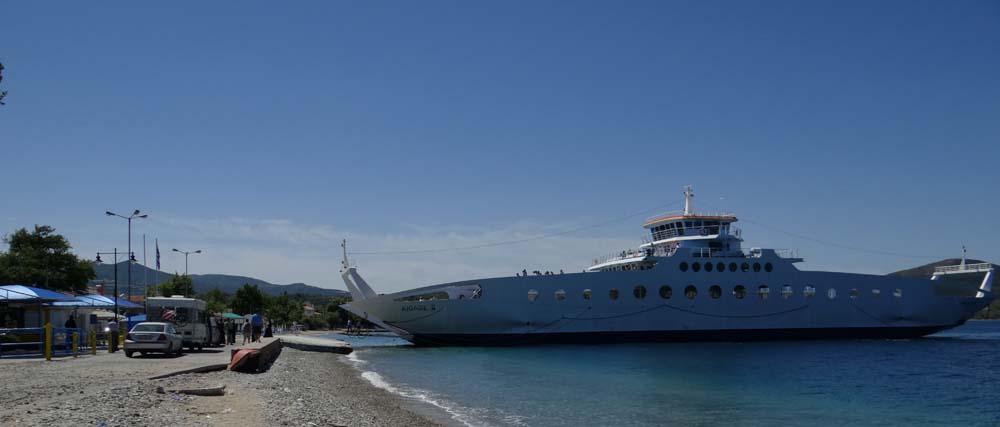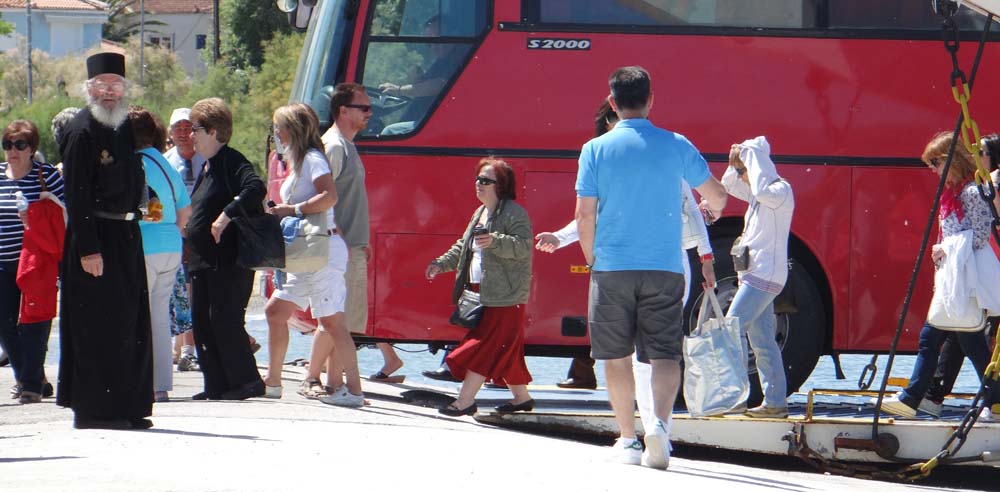 It was a roll-on, roll-off affair, so we just drove on behind the Romanians (they spoke English when ordering their tickets, it always seems odd when folks use English as this 'universal language', but I'm not complaining). A German motorhome pulled up behind us and as we wandered about the under-populated boat we bumped into the couple occupying it a couple of times. The second time, the bearded gent cautiously asked us 'Did I meet you on Djerba?' Incredibly, Jurgen had seen us parked up at the youth hostel on the Tunisian island when he was there with his wife Roswitha on a package holiday, and had come over for a chat about motorhomes. Would you believe it! We laughed at the coincidence and chatted our way through the boat ride. They're here for a few weeks touring, having taken the boat down from Venice and are also off to the Pilion, but to a campsite to meet friends. We said our goodbyes as the boat docked, but may well see them again soon.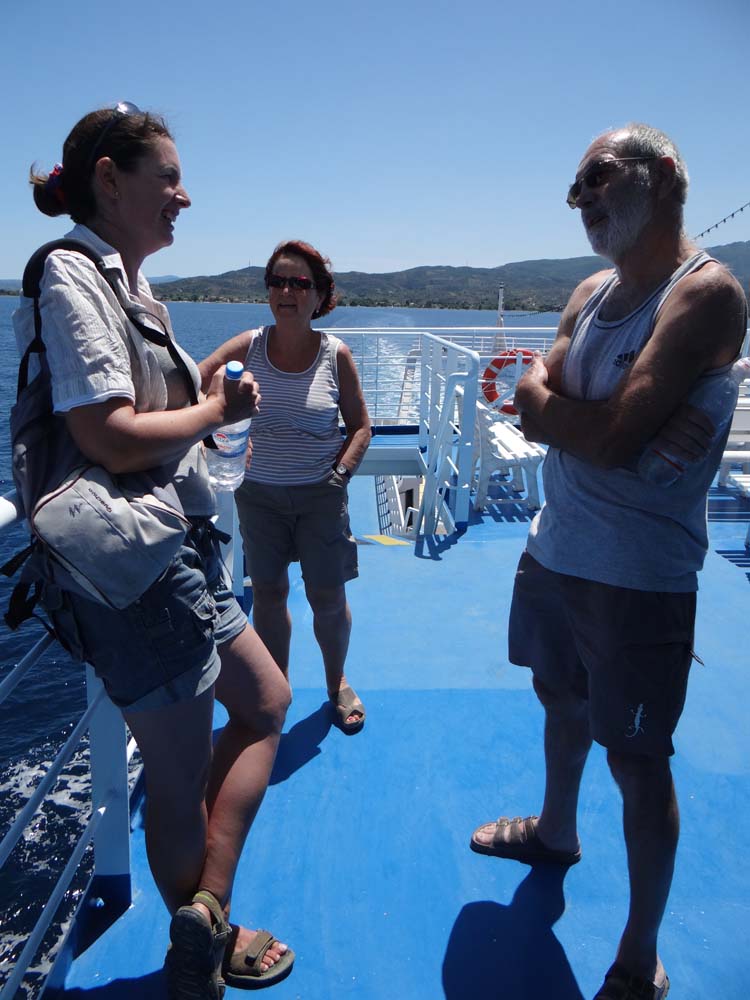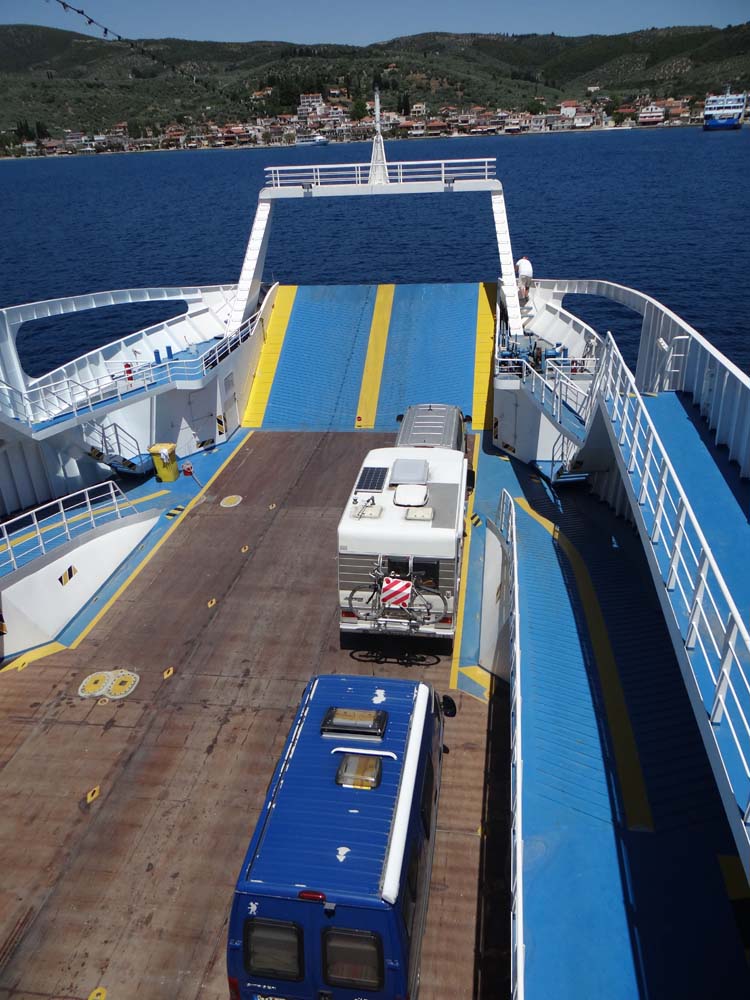 Leaving the ferry we'd not sorted out a stop for the night so pulled over and fingered the map. There's a green dot on it at Achilion, indicating a location from PeeJay's Greece Stopovers list, that'll do us. Along an easy road, back among the ubiquitous olive trees, we found the town pretty quickly and pulled into a gravel car park near the marina (GPS: N39.00600, E22.96458). We ate some lunch, wandered the town, mucked about on an anti-aircraft gun, found a tap on the building behind us and topped up with water (we both need showers!) and thought 'what now'?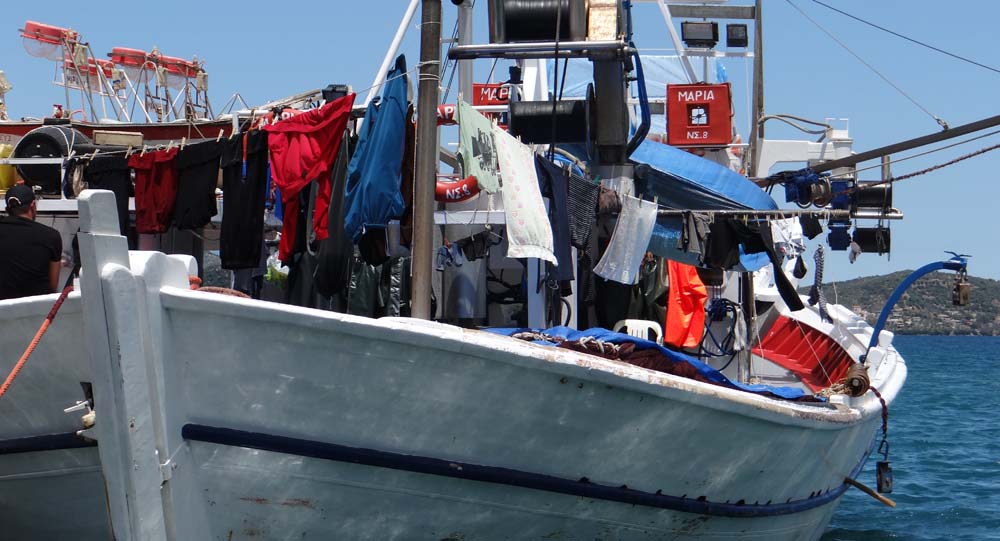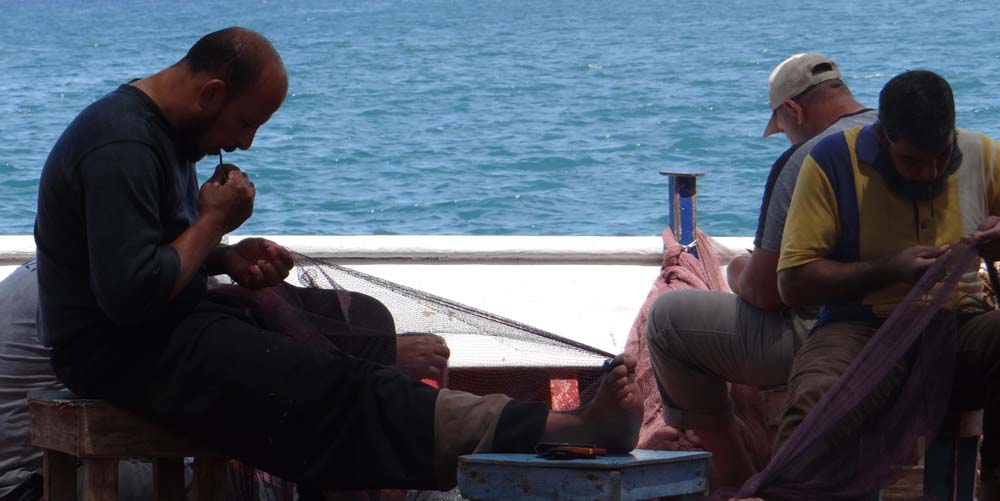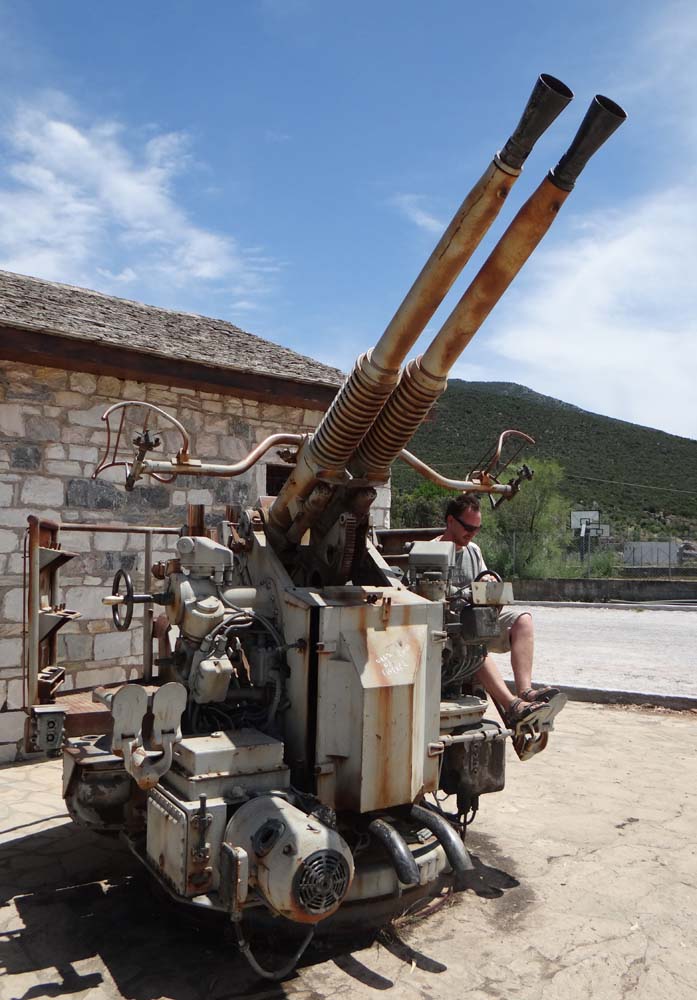 It was only 3pm and we'd seen the town. The Pilion called, only about a 90 minute drive north around the western edge of the Pagasitic Gulf, faster if we fancied paying the motorway toll which, you guessed it, we did not. More guesswork found us on the correct road, although we didn't know that. Plastic prices at a petrol station indicated cheap LPG, 76c a litre. In we went, more to ask directions than buy fuel. We were down to our last 4 litres of gas and yes, we were on the right road and yes, you could get to Volos without (Ju rubbing thumb and fore-finger together) paying.
Just as an aside, you can't fill up your own car with fuel here in Greece, neither diesel/petrol nor LPG. Someone always comes over to do it. You don't give them a tip, and they don't expect one. While Ju was chatting with Thomie in Athens, Thomie had recounted how she'd pulled up at a UK fuel station and sat in her car waiting for someone to fill up for her. No-one came, as no-one ever fills your car up in the UK. Talking today we recalled the odd situation in Italy, where you pay more for someone to fill your car up; nowhere else have we found this.
Back on the road, I find myself overtaking a car across solid double white lines, honking a couple of times in thank-you as he's pulled over for me. He honks once in response. I feel truly a native. Although thinking about it I had a good view ahead, when I'm edging in front a few meters before a blind bend, then maybe I'll be accepted as a true Greek driver?
Further on, another petrol station, this time with lit up prices above the plastic ones, all topped off with flashing lights: cheap diesel! At €1.29 a litre we popped in €50 worth, finding it just as cheap at the next station (but no flashing lights!) before a good old BP station reversed things closer to Volos, charging a whopping €1.45 a litre. Somehow they get business, even in cash-strapped Greece?
Volos itself doesn't get good press in the Rough Guide. It's been levelled by earthquakes and is a sprawl of squared off concrete, squatting low to the ground for maximum stability when the next shake comes. A dual carriageway skirts around the lot, populated with scantily-clad moped riders running red lights, carrying a helmet on their elbow (if at all) and pulling onto the road into the path of thundering traffic with the inspired confidence of youth, or the protection of Jesus, or both.
Proudly having killed no Volos mopeders, our next challenge rose up vertically ahead of us, a wall of tree-covered rock, the road up to the heights of the Pilion Peninsular, up to Makrinitsa. My chest swells as though a father at an under 16's football match. Dave pulls us up these crazy ascents without breaking into a sweat, his temp gauge staying nicely at the 1/3 hotness mark. Umpteen switch-backs, second gear whining away, we rolled on, along a road which seemed to have climbed the hill on sheer willpower alone.
Off the main road for a couple of clicks, we reached the hill town, having gawped at it along the road. It's magnificent, all slate-roofed whitewash houses, limpet-clamped onto the slope. Fortunately for us a bus blocked the entrance to the town at the bus U-turn point as we'd have tried to get in otherwise, a move which would have most likely gotten messy. Instead we spun around and parked at the side of the road next to a huge rock which had some time earlier been attached to the cliff above.
Makrinitsa came into being in 1204, created by folks fleeing the Christian fourth crusaders, turned murderous looters. They must have been pretty fed up and scared to have chosen such an inaccessible spot, but they picked one hell of a view. They must have been fit too, the town's got a 200m altitude difference top to bottom. We took a walk around, spying the varied tat to be had and pointedly ignoring the majority of the uphill tracks, except the one which was covered in donkey poo and got me all excited at the prospect of finding such a beast up the hill. No joy. It's a photogenic place, hopefully the pictures below do it some small justice.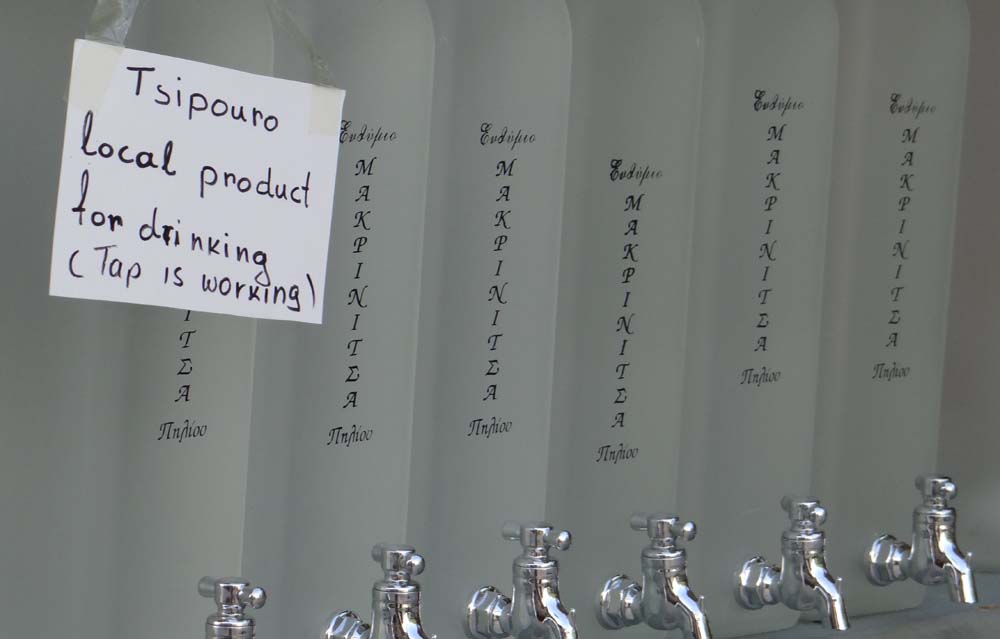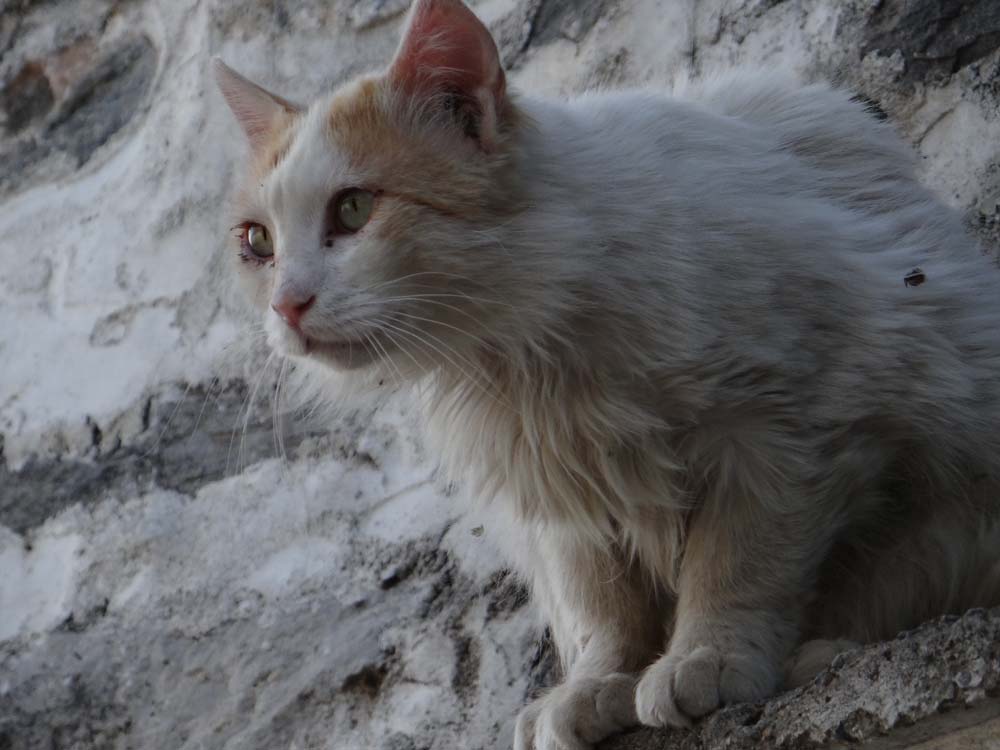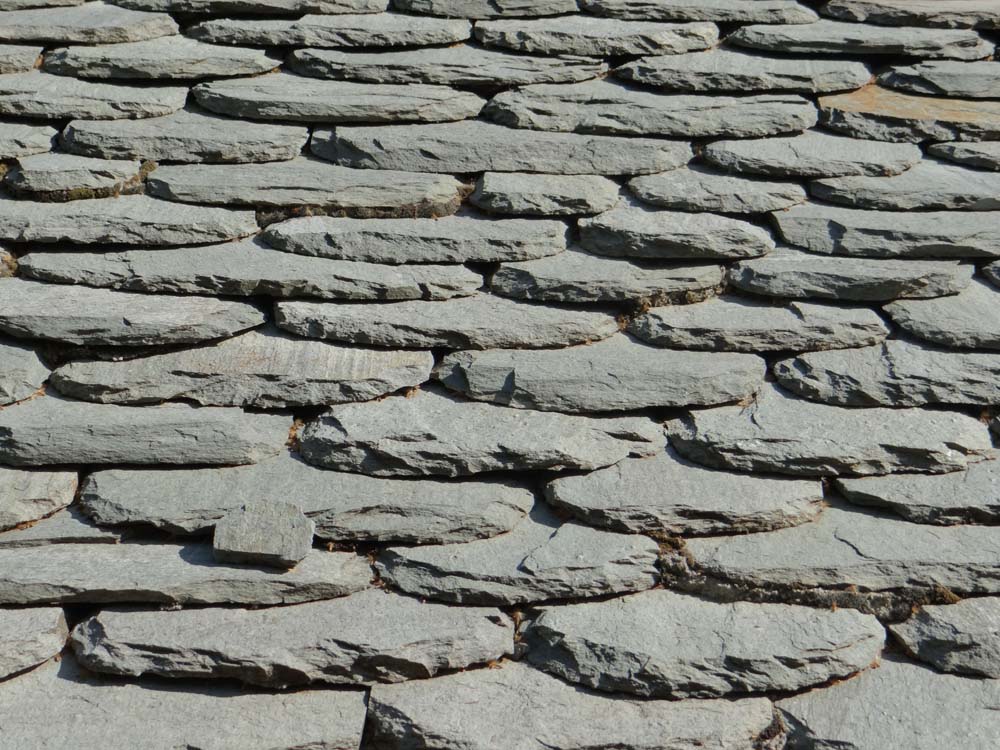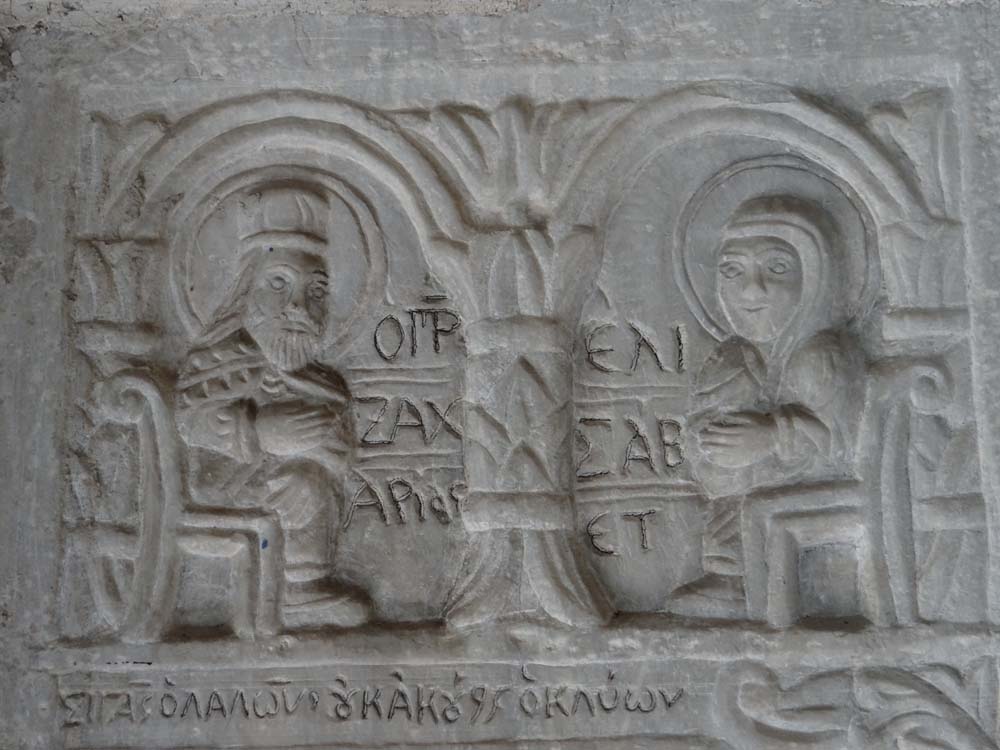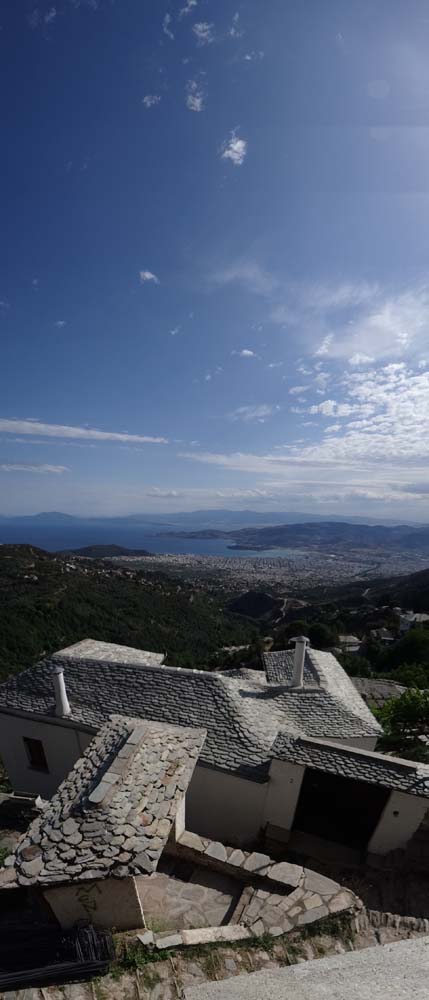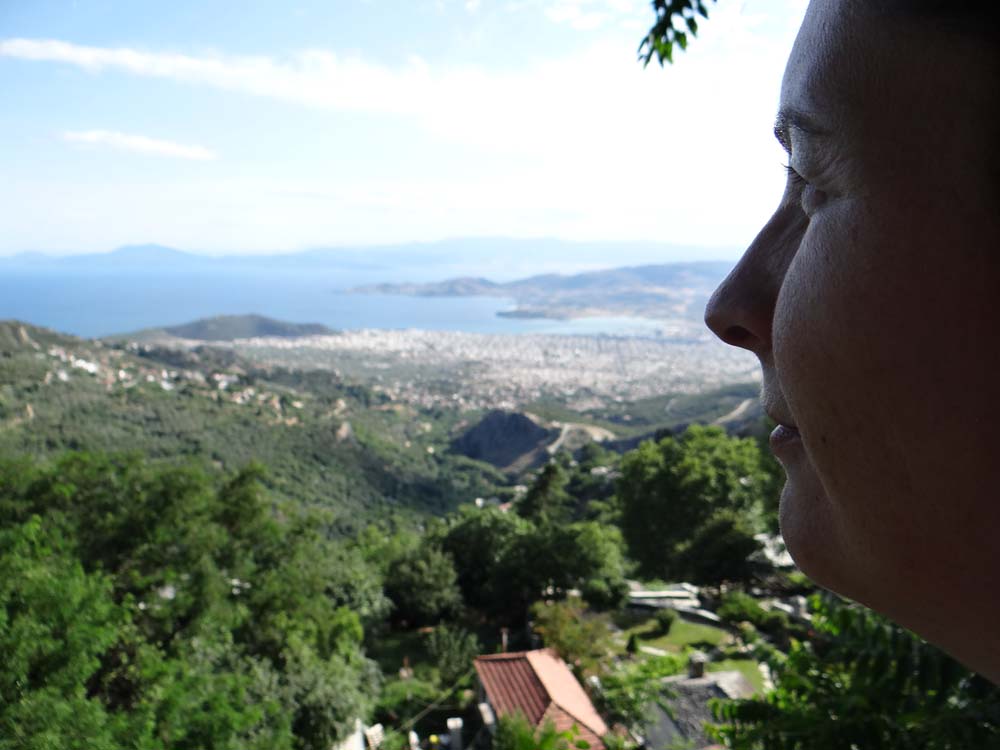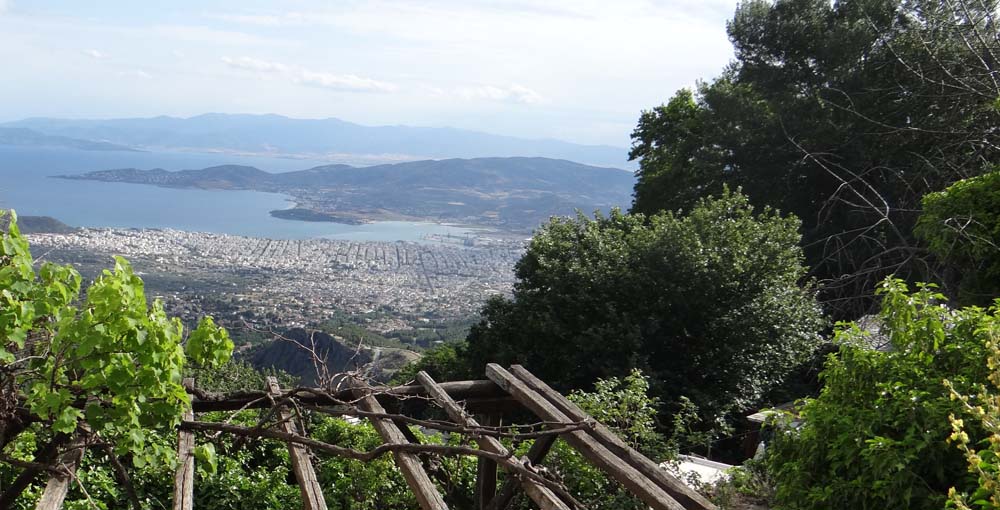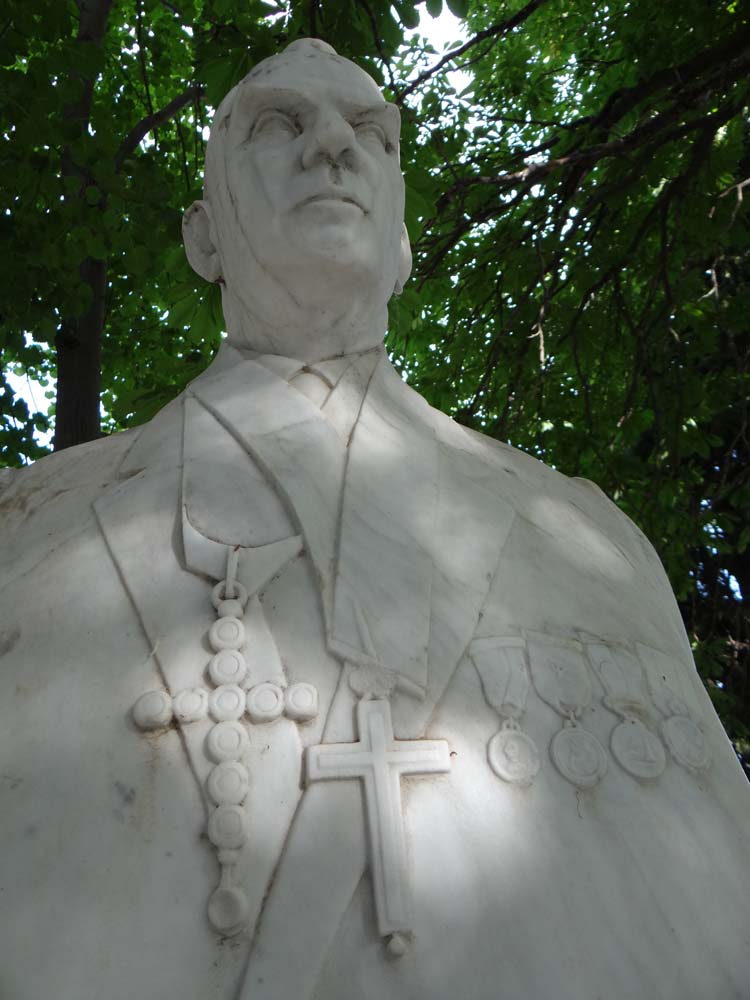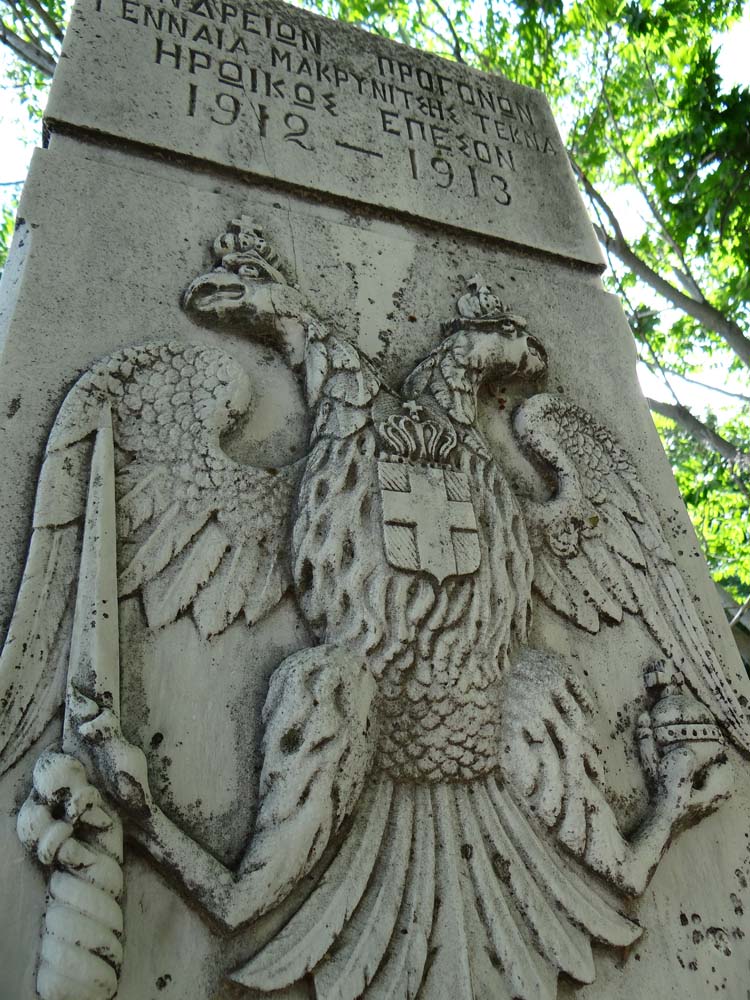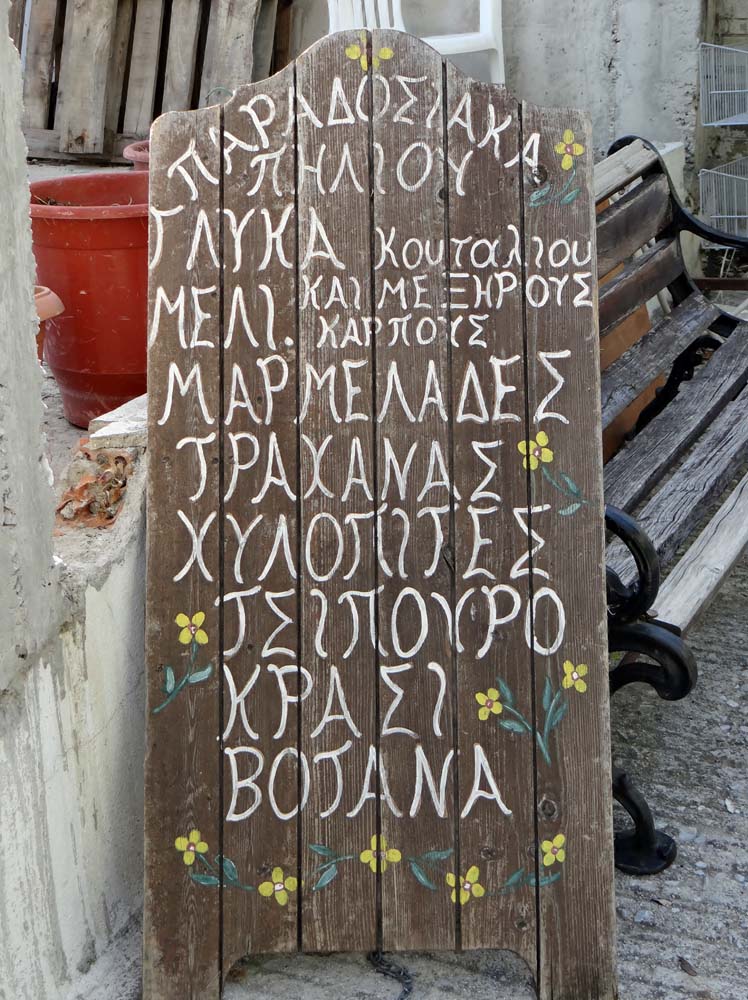 The light's gone now and Volos looks to be on fire, its streetlights and houses have lit up after a blazing red sunset over the hills out of sight to our right. Time for fish and chips, good old Lidl.
Cheers! Jay