Welcome to our OurTour shop!
We've occasionally found ourselves with a bit of time on our hands as we travel, so spent some of it doing some writing. As well as our daily updates, information for this site and the odd magazine article we've also written a couple of books.
Motorhome Morocco – An OurTour Guide
We wrote this guide specifically for people wanting to visit Morocco for the first time in their motorhome or caravan. Before we left we had so many questions and struggled to find all the answers in one place.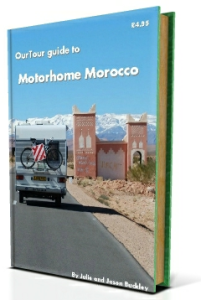 For a country that's closer to Spain than France is to England, it sounds so very different, but also such a great adventure. We want you too to experience this adventure and have put together a practical guide to touring Morocco; all the information about the book is here: motorhomemorocco.ourtour.co.uk
The site includes a free preview of the book, and information on buying for PC, Mac, Tablet and Kindle.
A monkey ate my breakfast : Motorhome adventures in Morocco
Regular readers of our daily blog updates will already know what an amazing time we had touring around Morocco. The trip was not only an adventure, but also a learning experience and one we wanted to share.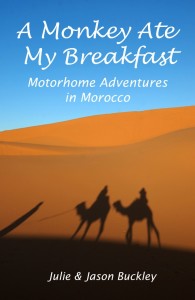 After returning from Morocco we started to write the full story of our time in the country; ten months later 'A monkey ate my breakfast' was here.
You can find all the information you need about the book here : A monkey ate my breakfast. On this page you can download the first chapter for free and there are also links to Amazon where you can either purchase a paperback copy or download an ebook for your kindle.