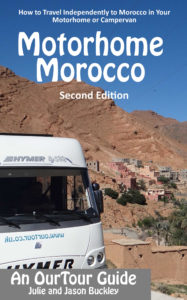 If you like the idea of driving to the Sahara desert, now you can!
Following two independent tours of Morocco in 2012 and 2017, we've comprehensively updated the OurTour Guide to Motorhome Morocco. This second edition provides all the information you need to confidently take your motorhome to Morocco, and experience North Africa without the costs and constraints of a guided tour.
Experience the thrill of driving on the edge of the Sahara desert and sleeping right by the dunes.  Explore the bustling streets of Fes and Marrakesh and sleep in the shadow of the by the famous Koutoubia mosque. Witness first-hand the beautiful culture, historic architecture, and delicious food or relax by the coast taking in the winter sun.
Click here for a preview of the latest edition
"An essential purchase for anyone considering visiting Morocco by motorhome."
ukmotorhomes.net
Motorhome Morocco is available in three formats:
Paperback, (images inside the paperback are black and white)
MOBI for Kindle readers
A5-sized PDF document.
"I'd suggest that this new guide is essential reading for anyone heading to Morocco in a motorhome for the first time."
MotorhomePlanet.co.uk
The Paperback and Kindle versions are from Amazon UK (if you are overseas please go to your local Amazon store and search for 'Motorhome Morocco'), while the PDF version comes direct from us.
The PDF is in A5 format to make it easier to view on smaller devices, and so you can print two pages on an A4 sheet if you want to. The PDF is in full colour, and costs £6, which is less than the Kindle and printed versions since we don't have to pay print, delivery and commission costs to Amazon.
A few notes for the PDF version of the book:
You can use PayPal or your credit card to buy the PDF file.
You'll be sent an email to your PayPal email address with the download link.
Please use the download link within seven days of purchase.
The file is around 15MB in size, so best downloaded on a WiFi or other broadband Internet connection.
If you have any problems, just drop us a line at julieandjason@ourtour.co.uk.
Enjoy your adventure to Africa!
Julie and Jason