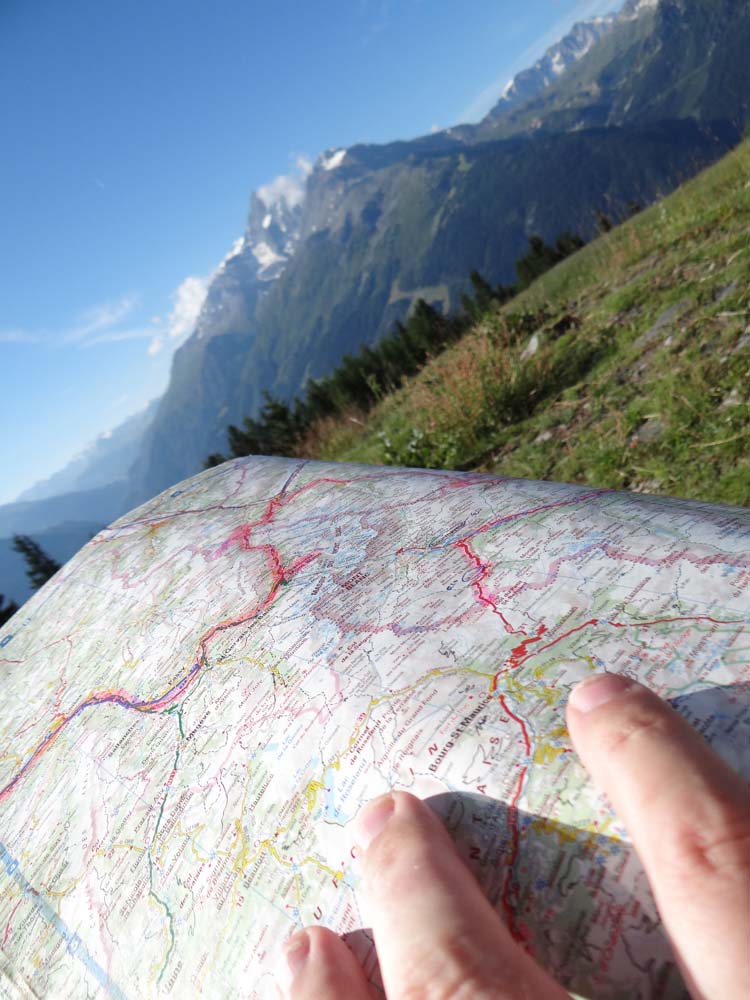 Dave the motorhome's off the hill. After a few fabulous days up high and in the shadows of monster peaks, we've made a run West and are in a pretty little town crammed full with French tourists, in the official aire at Chanaz (N45.81374 E5.78758). If you've ever flown into Chambery on a ski or boarding holiday, if you're eagle-eyed you'll have most likely spotted the place from the air. It's at the north end of the lake you fly over on your descent, the one you think you'll splash-land into before the runway appears at the last minute.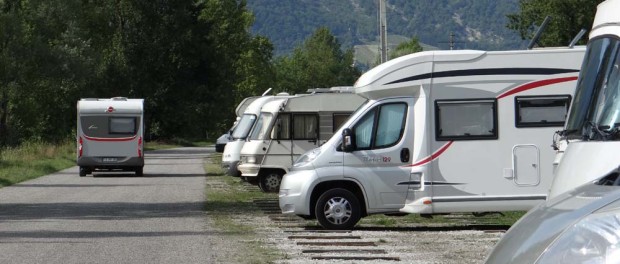 Darkness came last night, tempered by a flash-light bright moon. We sat in Dave as the air cooled enough to tempt a little mid-summer run of his gas heating, watching an episode of House. Quick, hit pause: across the valley at the Les Arcs resorts the most tiny of full-sized firework displays went off, accompanied by tiny 'bumphs' as each miniature shower of bright sparks spread out in a dome in the sky. It was laughable: a great display and so tiny it would befit a dolls house. Later on another pause as our own adopted La Rosiere display cracked off. Although we seemed to be parked just above the resort, we faced most of the benign explosions at eye level. Charlie didn't see the fun side, hiding under the table for hours.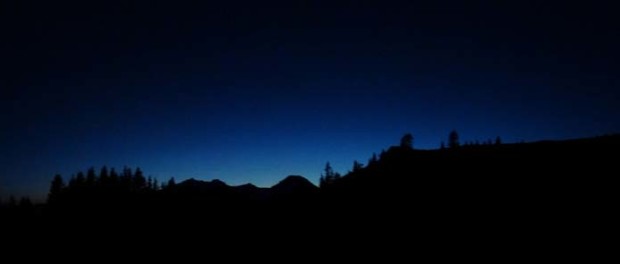 This morning I ate a bowl of breakfast with a view of heaven. The tree-bearded massif opposite which cups Les Arcs provided as magnetic a sight to me as a wood fire on a frosty night.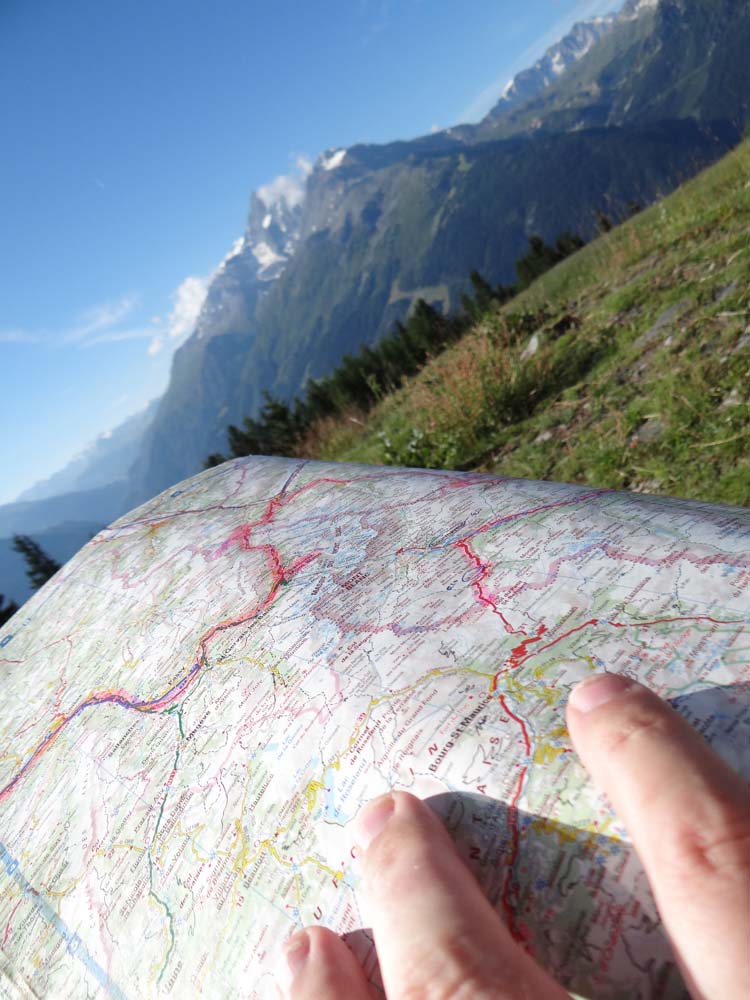 The detour we've taken around the Alps the past few days has been a challenge from a driving viewpoint. Almost two years of squeezing Dave though gaps which he probably shouldn't fit through has helped make it more fun. The traffic-rammed cols had me in a zone, much like the one you hope to get into when distance running, easing our broad shoulders around umpteen hairpins, squeezing past fast oncoming cars and vans, finding the edge of the barrier-less road without losing what's left of my thinning hair. Before we left La Rosiere today I set our sat nav for home: 14 hours, 1300km. That's how long it takes to get from Nottingham to this particular Alpine Valhalla. If you can't tell, I've found our summer Alpine detour to be magical.
The road down the hill from La Rosiere stripes the mountain. Each run back and forth is coupled together with a broad switch-back, it was an easy descent only needing 3rd gear engine braking from time to time. With a bottle or two of food colouring we could have pulled off a Red Arrows display; Dave was once again emitting enough fumes to attract Green Peace attention. Determined-looking lycra-clad cyclists panted their way up the opposite side of the road; one of the luckier ones (following us down the slope) pulled off a brave undertake on a hairpin and gradually disappeared off in front of us. I resisted the temptation to honk Dave's horn in encouragement for the climbers; most of them look at me like I'm mad; perhaps nipping up a mountain of a bank holiday weekend is like a brisk walk to these guys?
'Un bouchon', is the French for a traffic jam: literally it means a 'cork'. I love these bits and bobs of the language. 'Il y a tout le monde': means 'there is the whole world', or 'oo-ee, it's busy'! As we rolled into Bourg-St-Maurice both terms could be usefully uttered as we crawled our way through the place and into a fuel station to top up Dave's mountain-depleted tank.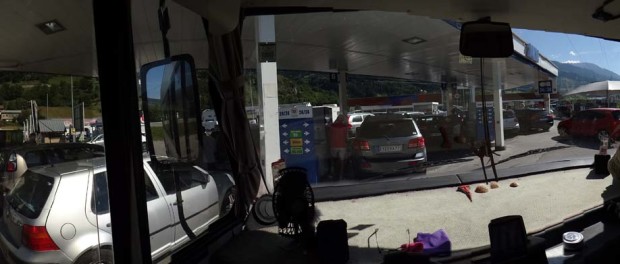 Afterwards, off along the Isere valley, we nipped into a Lidl at Moutiers, buying half the shop. As Ju checked the receipt we found half the stuff we bought was for a different price to what had been advertised on the shelves. Odd, Lidl's normally the picture of smooth, efficient process, the McDonalds of grocery shopping. We'd also been intrigued by a bloke, with a full trolley as full as our own, elbowing his way past everyone as a second till was opened. Is this normal here in France? It seemed not as the rest of the queue shook their heads in disgust.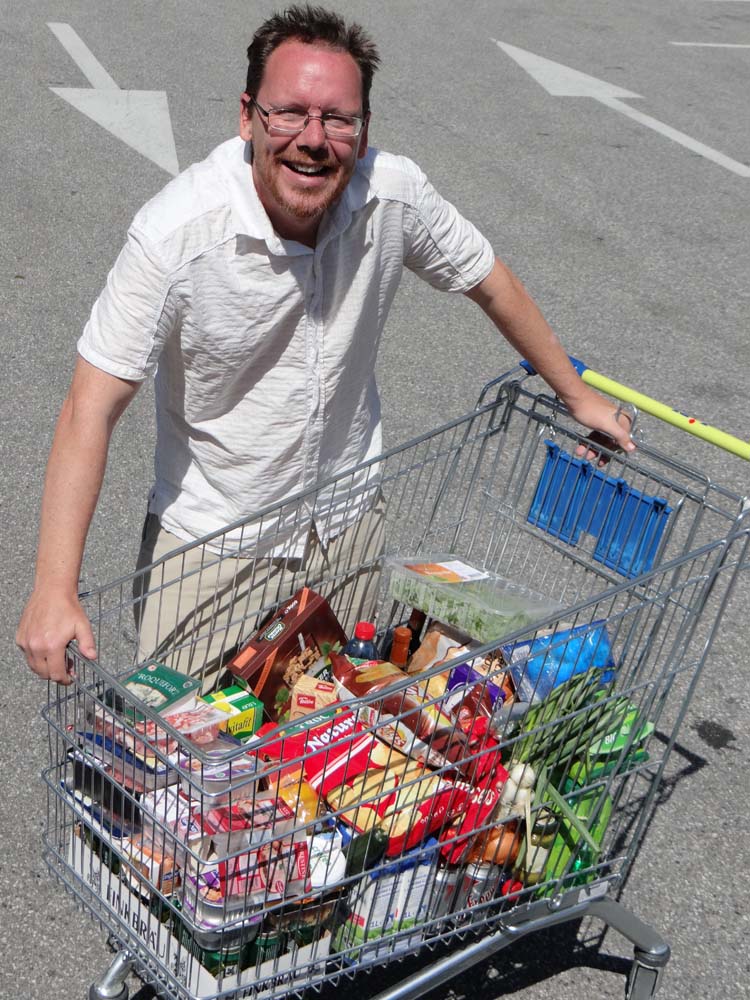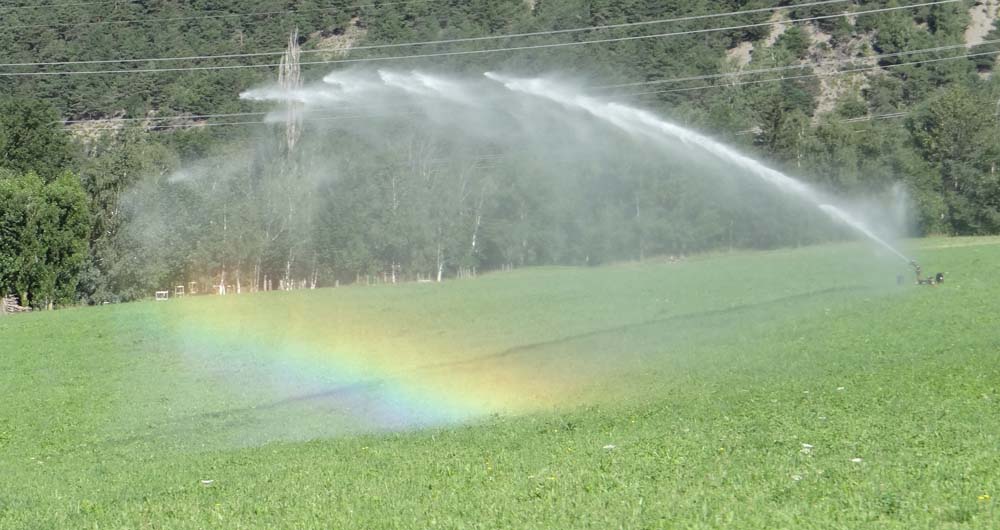 Easy-wheeling it along a section of oddly-free motorway we pulled into Albertville in search of water. Our tank was less than a quarter full, and I for one needed a shower, real bad. We found the town's motorhome aire had been commandeered for a medieval event, but could sneak past the barriers on foot to fill up with a few litres of water, pumped by hand in true-medieval fashion. The town centre looked quite pretty from our vantage point, but we needed to get further through France, and set off again for here, a spot Ju had found through our campingcar-infos.com database.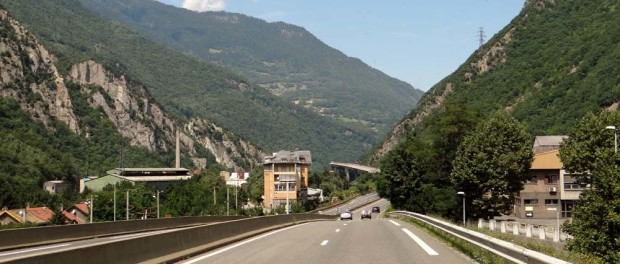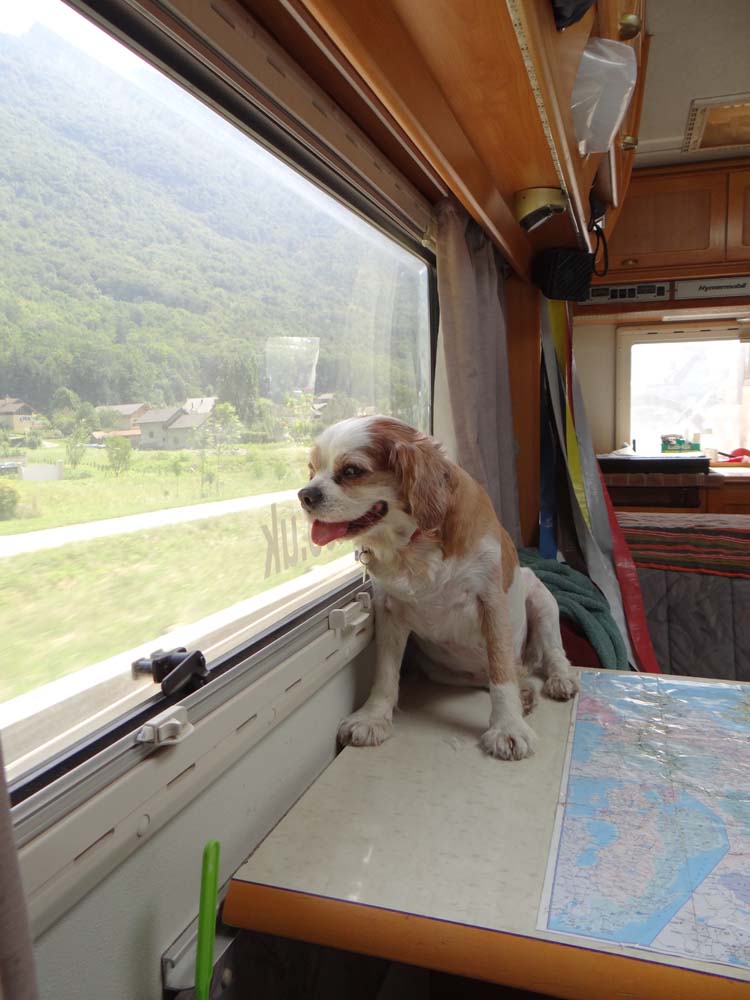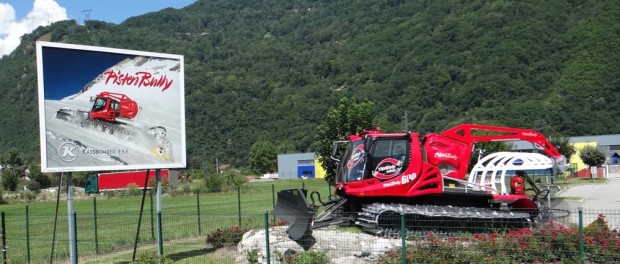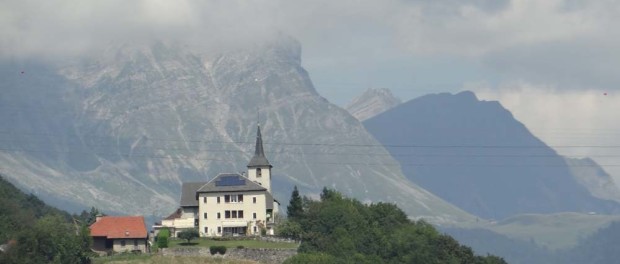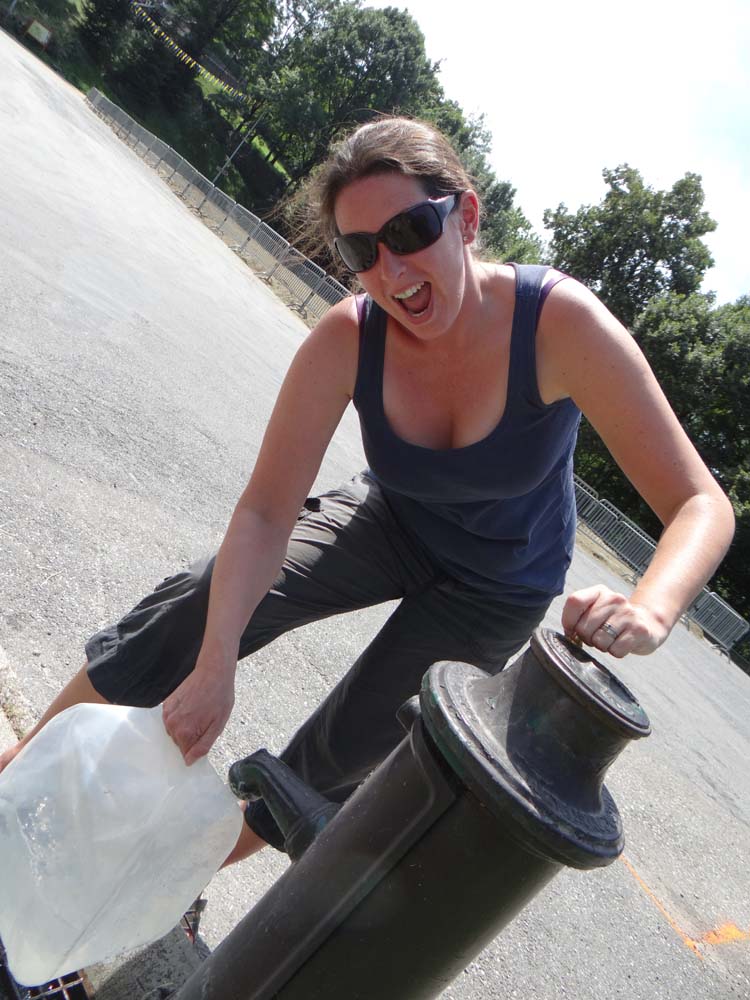 Through Chambery, again on beautiful and free auto-route, we spotted the lake we'd flown over a fair few times, and headed up to the West of it, laughing at the 'Tunnel Les Chat' signs which cropped up every few minutes: cat tunnel? Charlie would love it. It turned out to be a rather narrow route through the hillside linking us up with the Rhone valley. Dave's 2.2m wide, and the signs forbid anyone over 2.35m. I could understand why as I tried to keep Dave in between lines set just a few cm apart wider than us, for the mile-long Smartie tube. Only cars and the odd van came the other way though, no lorries to test my nerves, cool.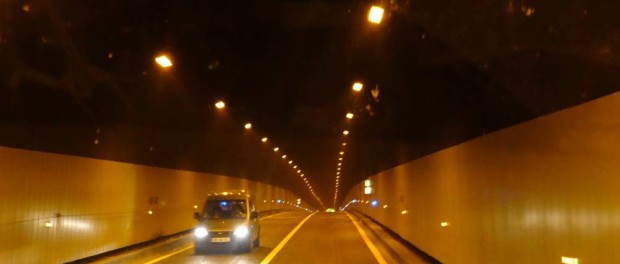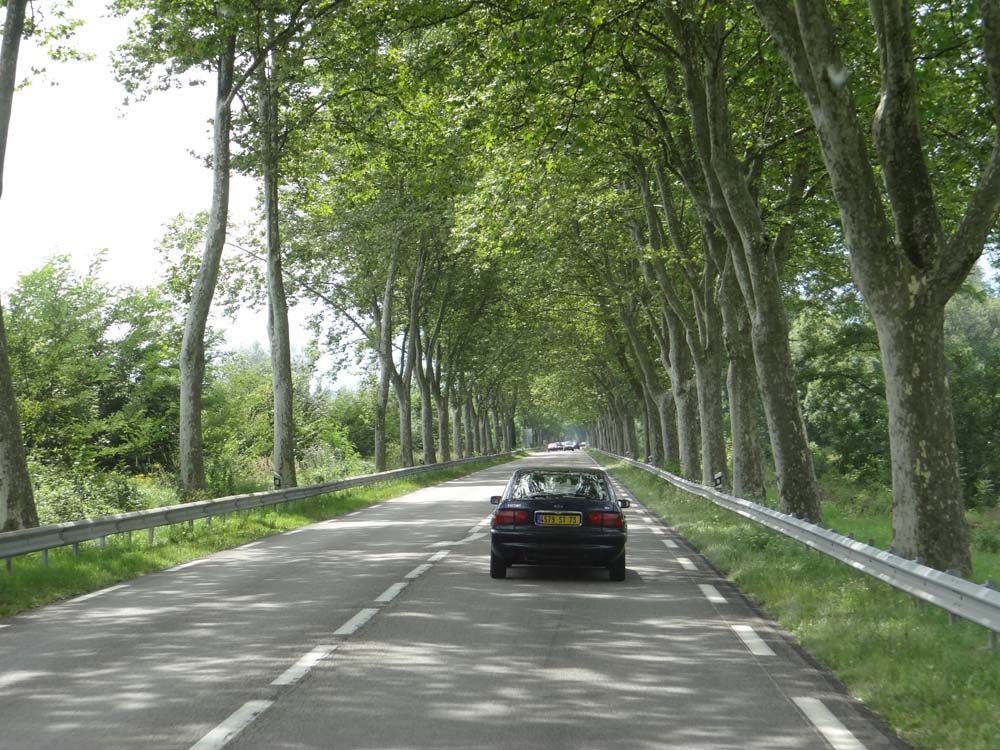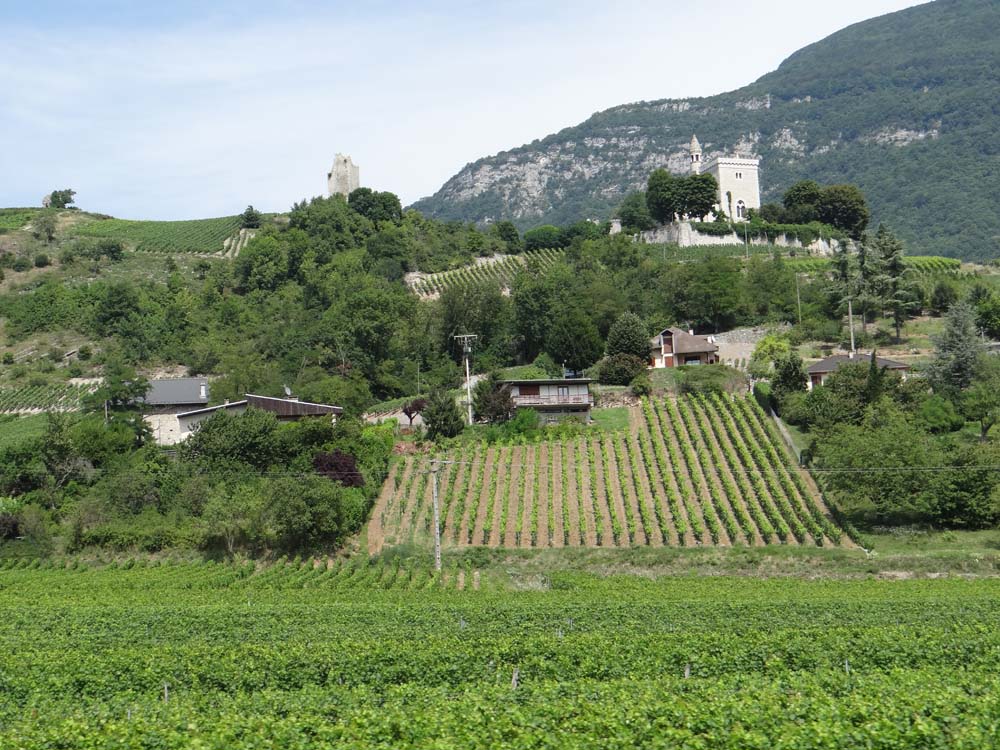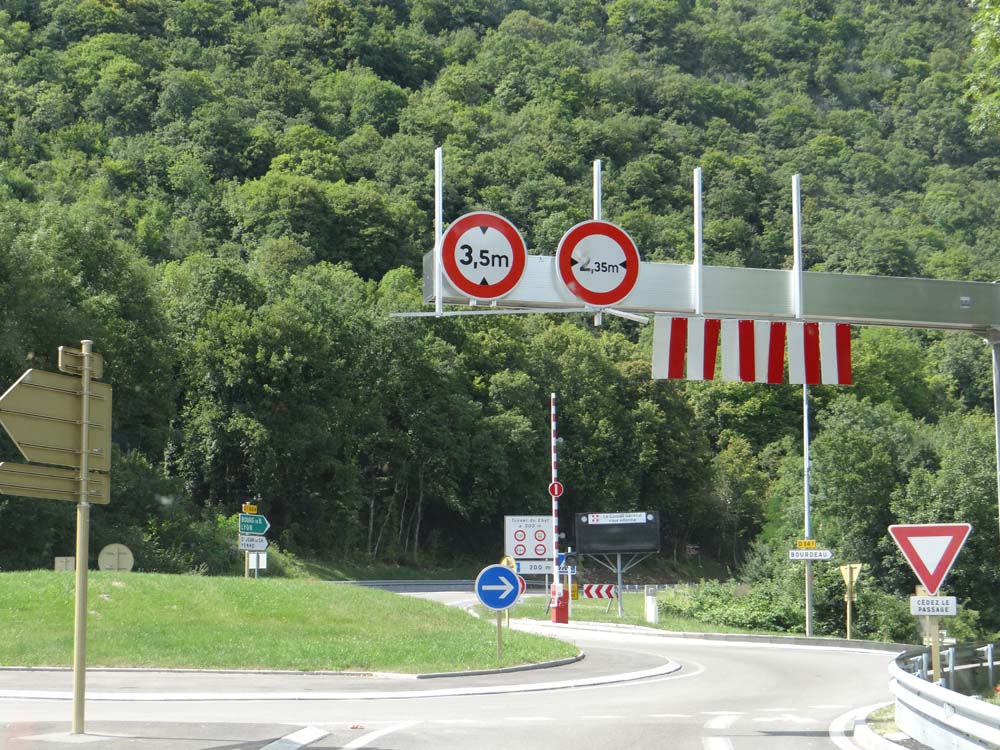 After more tight, but now quiet route, flowing alongside a tributary of the Rhone and flanked with cliffside, we arrived here, at Chanaz. Nah, we'd never heard of it either. It's a tiny place, but awash with flowers, stone-buildings and boats taking trips along the Rhone and the canal which connects the Rhone with the Lac du Bourget, the same one which threatens planes landing at Chambery. The aire's huge, enough spaces for I dunno, 80 motorhomes. Ju tried to pay the €5 all day parking charge to find the machine won't accept €5, only €2, and that covers us until 10am tomorrow. Winner! We've given a bit back by buying a €2 token for a water fill-up from outside the packed-out campsite.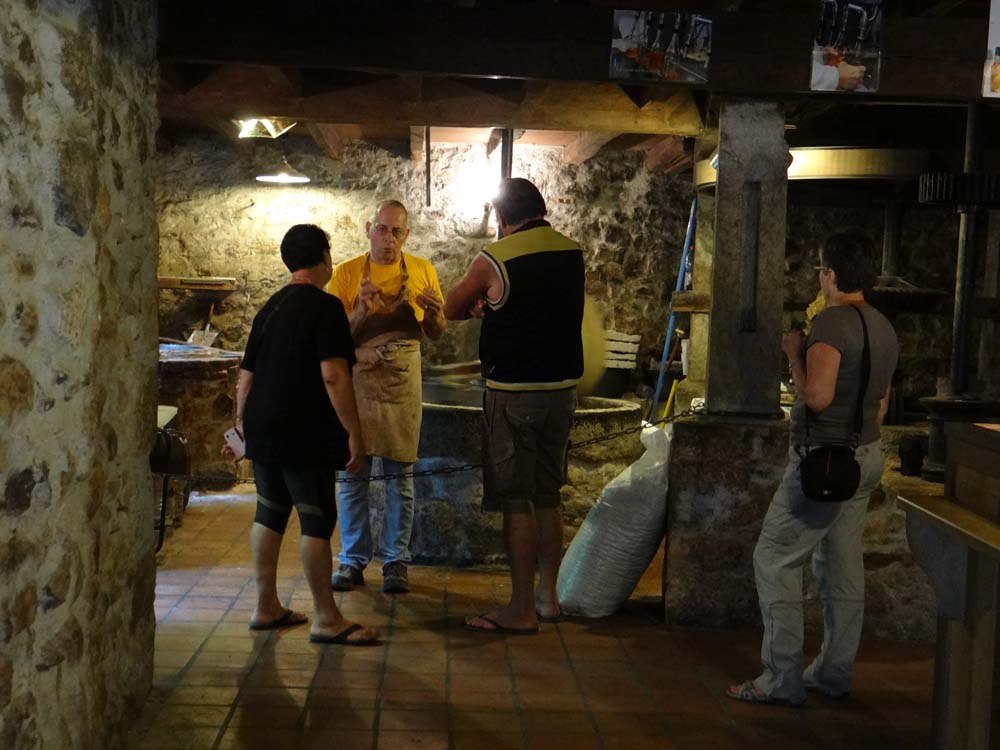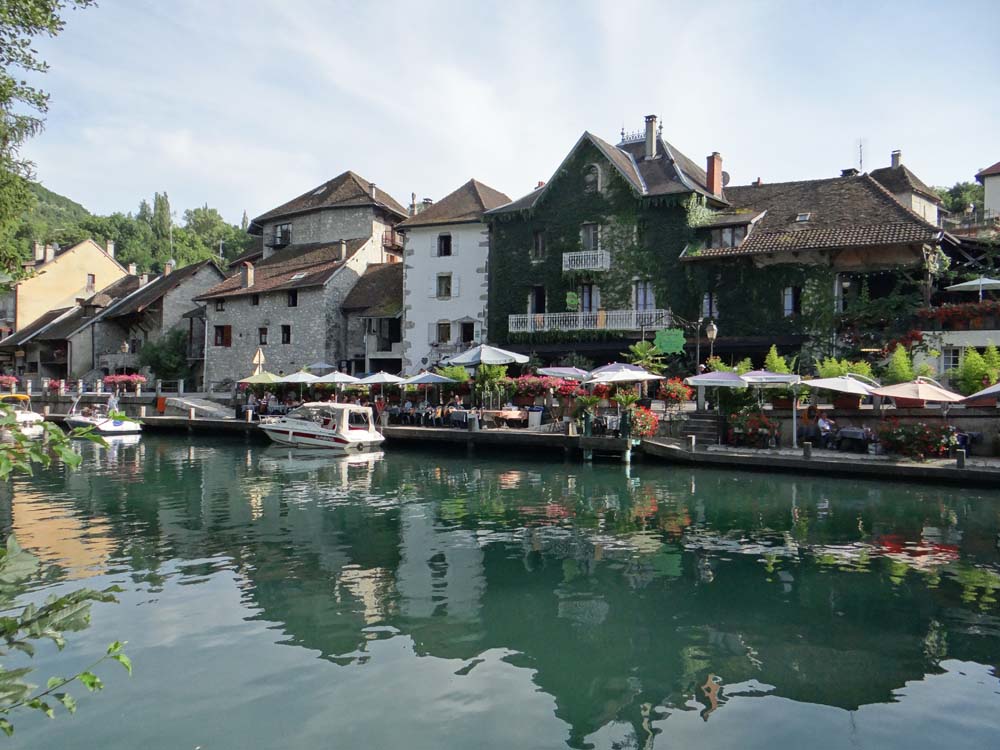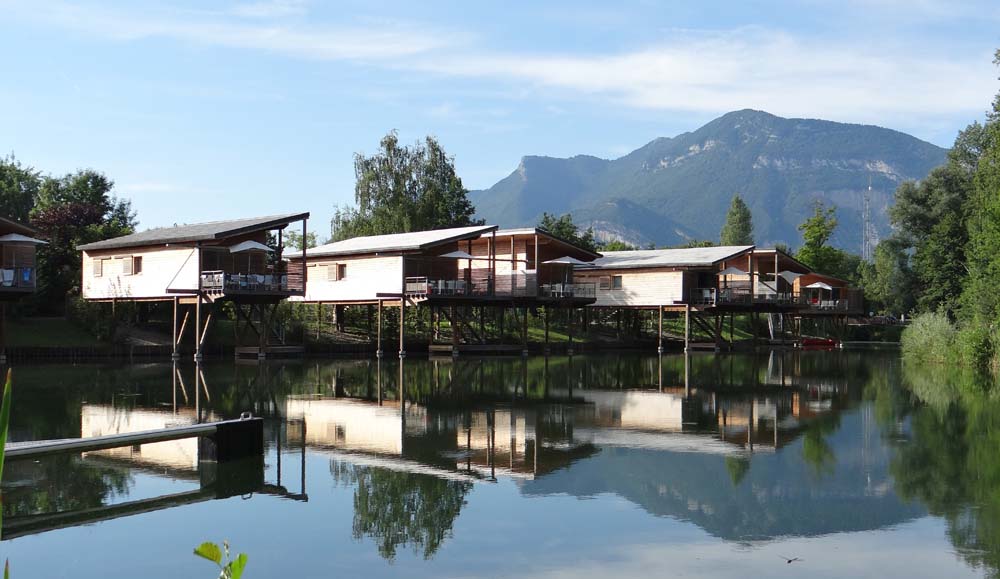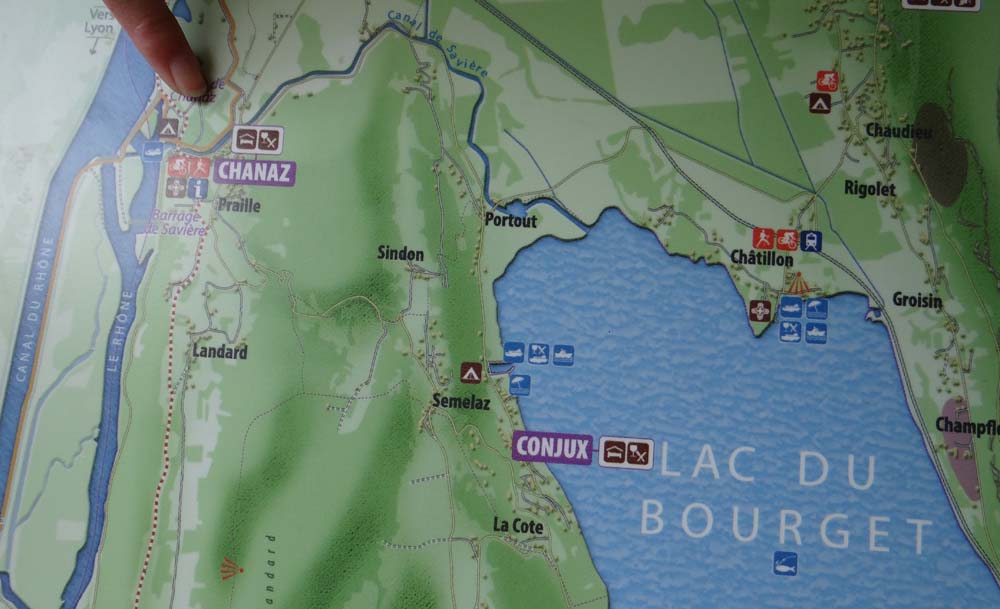 Oh, and it's roasting hot all of a sudden! The sun-screen's on, Charlie's been soaked in the river, and a few Lidl cans of beer have been chugged. Our plan now is to spend a day or two getting to meet up with Jamie who's invited us to his place in central France, then hopefully to meet our friends Chris, Tina and their baby Libby further West. We heard today they're hoping to get their stricken motorhome shipped back to the UK and have picked up a hire car. From our experience of clutch-death in Narbonne, it's not easy flipping between modes of transport, especially as you've normally got no luggage!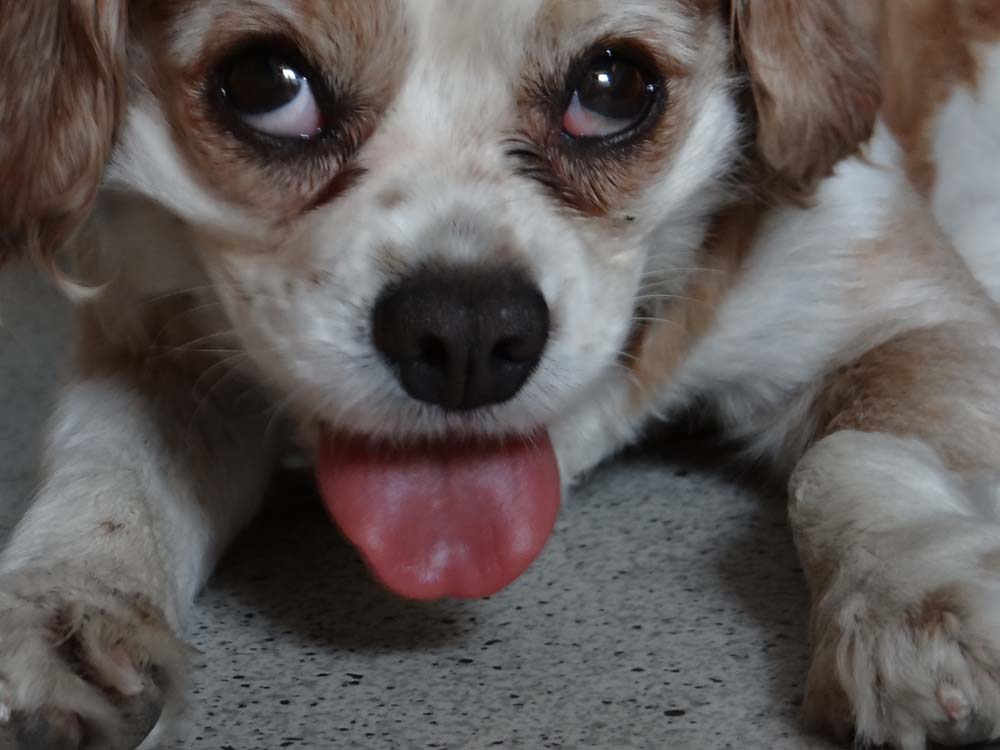 There's a band on tonight in the town, so Ju's washing up the plastics as I type this, and once it's cooled off some more we'll get over there to eye it up.
Cheers, Jay