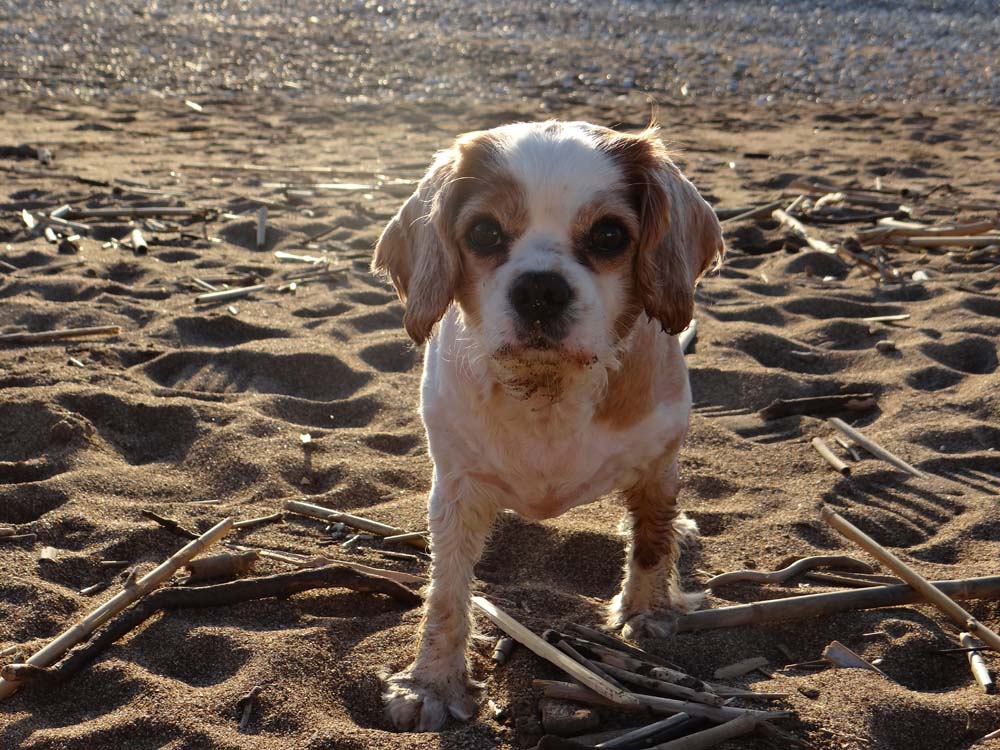 Dave the motorhome has a flipping incredible view out of the over the Kyparissian Bay, we've stayed in one place for more than a day, hooray! We remain parked up on the beautiful beach at Kalo Nero and we have the place to ourselves, which suits me better than Ju, she prefers the company of fellow motorhomes. The weather has played up to the scenery, bringing out our sandals flattened in the back of a cupboard for six months; after a day's mucking about in the sun my feet are a patterned in white and red.

Much to Ju's disappointment, my decision for what to watch on the lappy last night was The Jungle, an ancient BBC documentary featuring a dare-devil David Attenborough. As I supped a Greek dark ale perhaps surprisingly named 'Fix' and tasting of export bottled-Guinness, David swung about helmet-less on a thin rope 100m up in the air and in his delicious drawl went on about life in the canopy. Poor Ju, she wanted to watch House.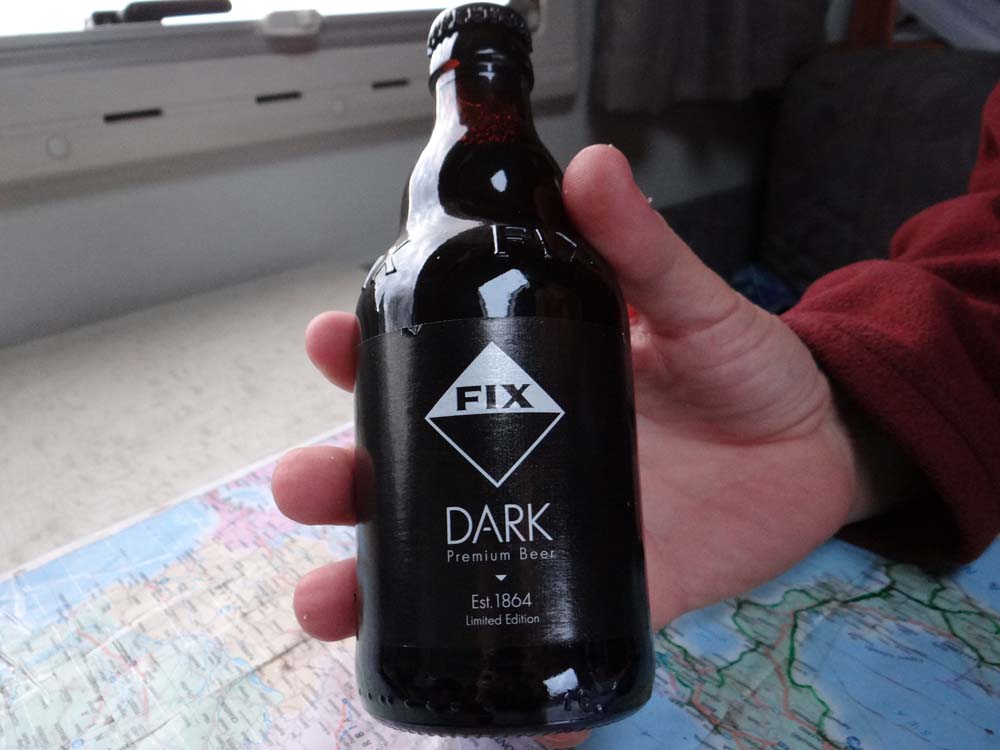 This morning a warming Dave got me out of bed, stepping from the door into the beach, which almost feels like our own private stretch of Blue Flag sand. The sky was a flawless pale blue, the sun rising over the tree-carpeted hills behind us, the sea calm and flat, just perfect. Charlie was volunteered for a stick chase on the beach, interrupted only by the world's flattest dog. Yup, flat she was, walking somehow with her entire body pressed to the low foliage up here on the top of the sand, doleful eyes staring upwards. Our mutt popped into the van for safety, I sat and stroked the interloper from the van step. I guess she wanted grub, but was happy to take some affection. As I stroked her ear I noticed a lump inside it, not a growth but a literally bloody disgusting tick, fat from feeding on her. Beside it a clump of smaller ones. I hate these ugly animals, with the range of evil diseases they can carry. Considering removing them I figured I didn't know this dog from Adam, it could well choose to take a chunk from my arm, so sadly she continues to play host to them.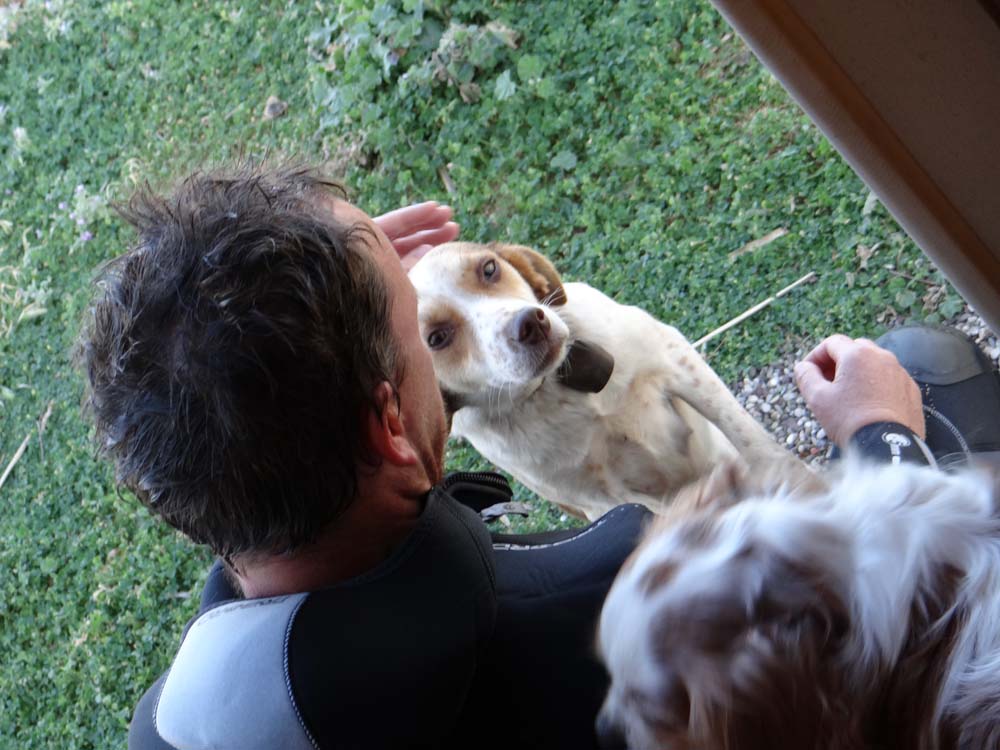 Breakfast consisted for me and Charlie of yoghurt and honey, while Ju tucked into the Greek bread. The yoghurt was delicious, as it should have been at 10% fat!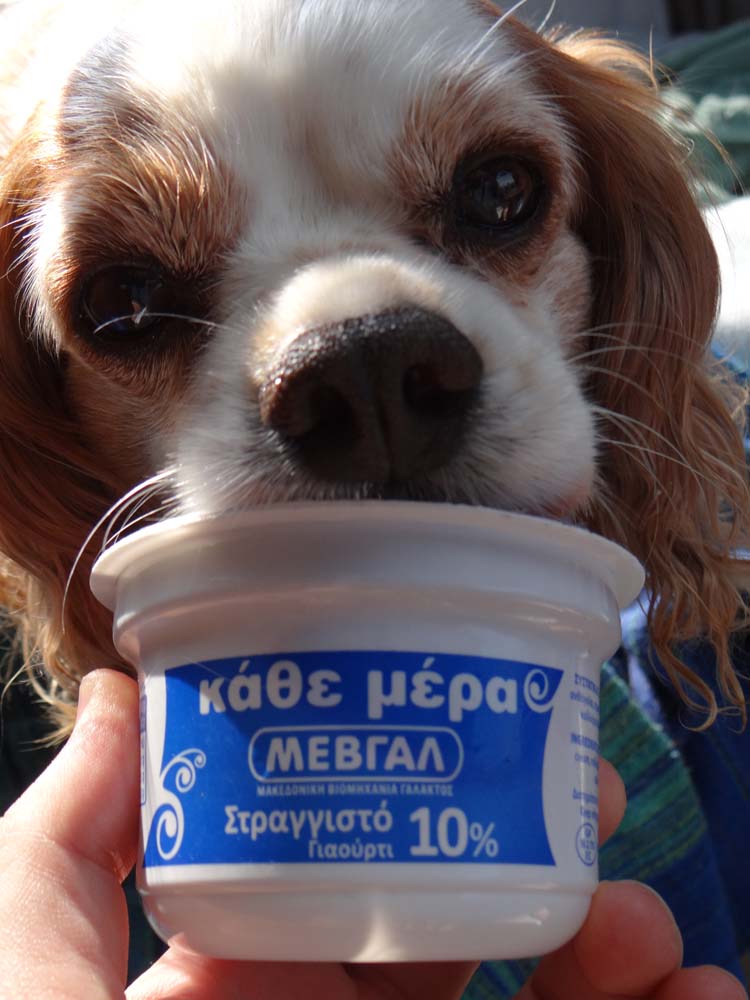 With the sun shining and sea calm, out came my new toy, my wetsuit. I'd wanted one for a year or so, and picked up a 5mm Decathlon beauty, complete with hood and front zip before we left Italy. Visibility was limited to about a whole meter, so I saw nothing but sea, but it was beautifully warm. Dave's outdoor shower hatch got about its second use in 18 months as I stood in the sun and washed off the salt, I'm loving Greece.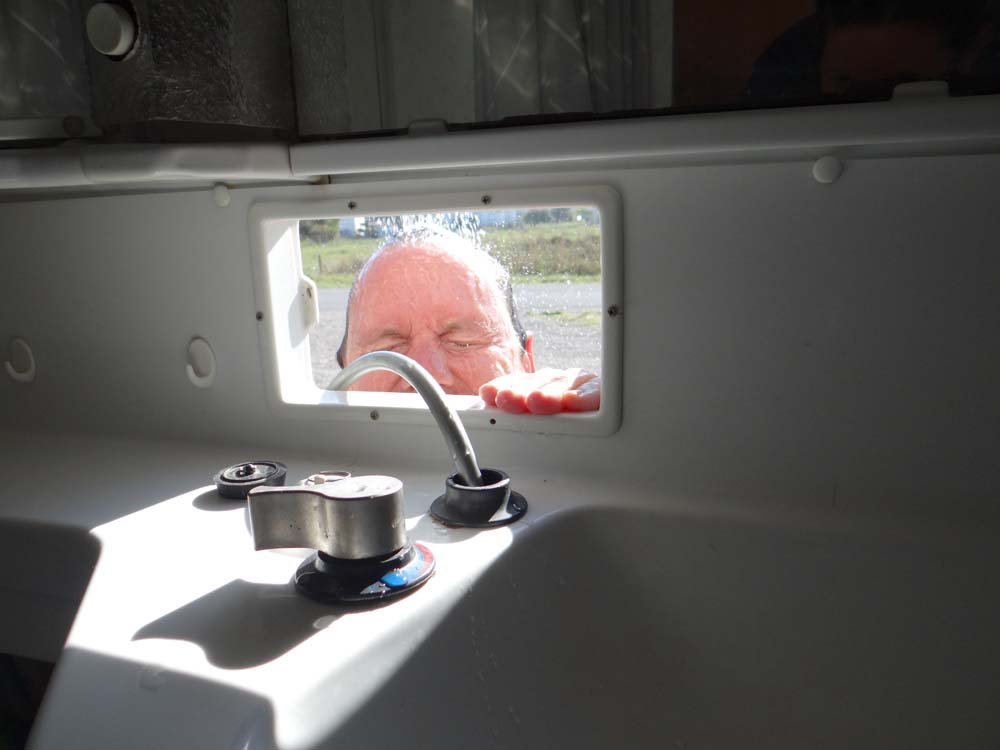 With my fooling about done, and Charlie having chased down a thousand sticks, we tucked into our usual Mediterranean-ish lunch, with the inclusion of an exception: the Cathedral City, which Ju is now worshipping like an idol, holding it aloft for the sun to glint of the burgundy package before carefully unsealing it and nabbing a slice.
Afterwards Charlie came in for the chop, his fur being removed outside Dave by Ju while I chatted with a chap who'd turned up on his trail bike to say 'hello'. Where I say 'chatted', read 'listened to', it was a one way and fascinating chat. The crux of it was that he was an ex policeman, living 10km up in the hills and coming here for a swim as he fancied. He'd worked 23 years and then retired on a €2000 a month pension, since reduced to €1300. He wasn't bitter. He'd a place with some land, he kept chickens (foxes kept at bay with a dog) and sheep (which he slaughtered and butchered himself: 'once you've seen it done once it's easy'). He grew his own veg and told me he could live on €500 a month if he needed to (about £5000 a year). Turning to the subject of the economic crisis, his view was people in the countryside were doing OK, only those in the city who wouldn't fall back to a low-cost, simple country life were suffering. Bulgarians and Romanians were working the tomato crops, a 10 hour day for €25. I told him I thought this rather low wages to which he responded it's money, better than nothing, Greeks could do these jobs. After telling me Lidl was too expensive, he left.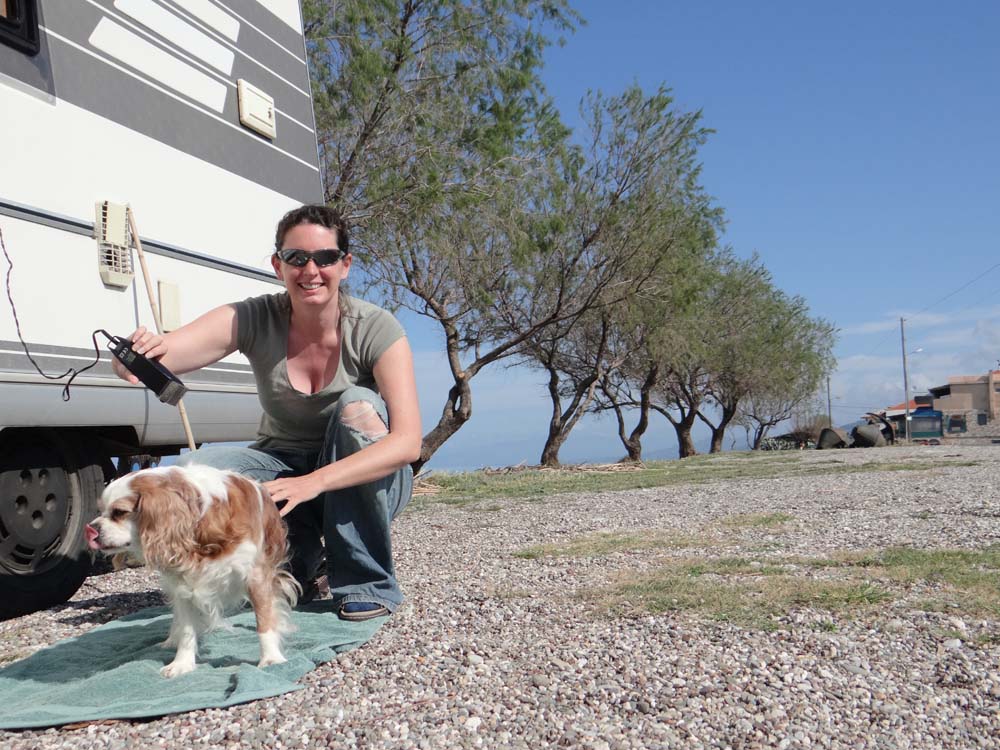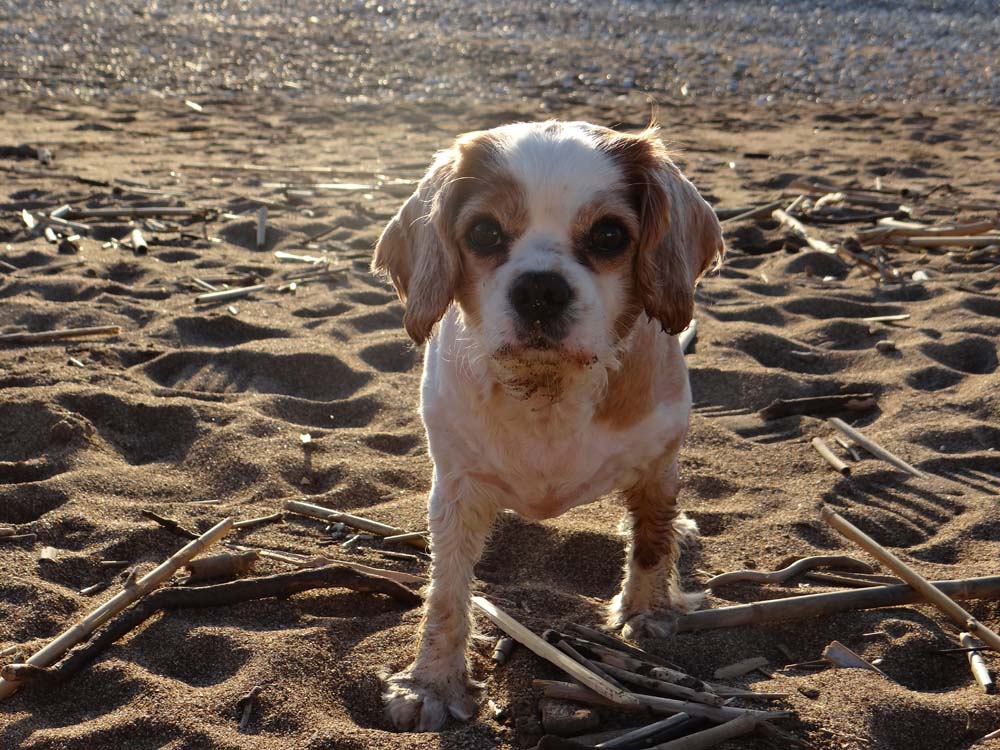 We took a walk through the nearby village. As ever, we have to keep our eye out for places to properly empty Dave's loo, and had some intel that the train station loos would do the job. Fittingly, the loo there looked like something from Train Spotting, at least as much as I could see from the kicked-in bottom half of the door, them being firmly locked since the last train passed this way over two years ago. The village itself is a pleasant, low-key affair, complete with a Best Western hotel at one end. Walking back along the beach, my anti-untrusted-dog stick turned over a glob of black stuff, crude oil. There were a fair few clumps of it of varying ages, on a beach where Loggerhead Turtles nest, grim.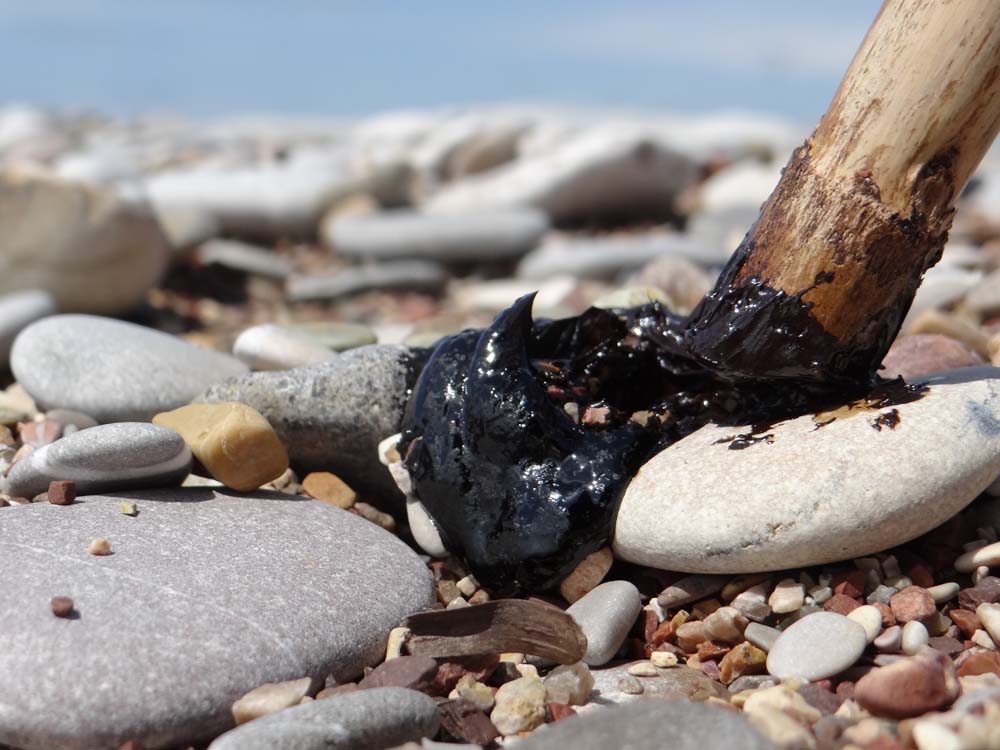 This afternoon we've done not much. I practised my Greek alphabet with a stick on the beach. Ju read and snoozed. It's been a great day or doing not much, topped with the morning sun and tailed with it sinking gloriously below the horizon as fishermen trail nets behind small boats. Oh, nearly forgot, a small celebration kicked off part way through the day too, when Ju located a couple of Finkbrau cans of beer hidden on my clothes shelf before we went to Tunisia!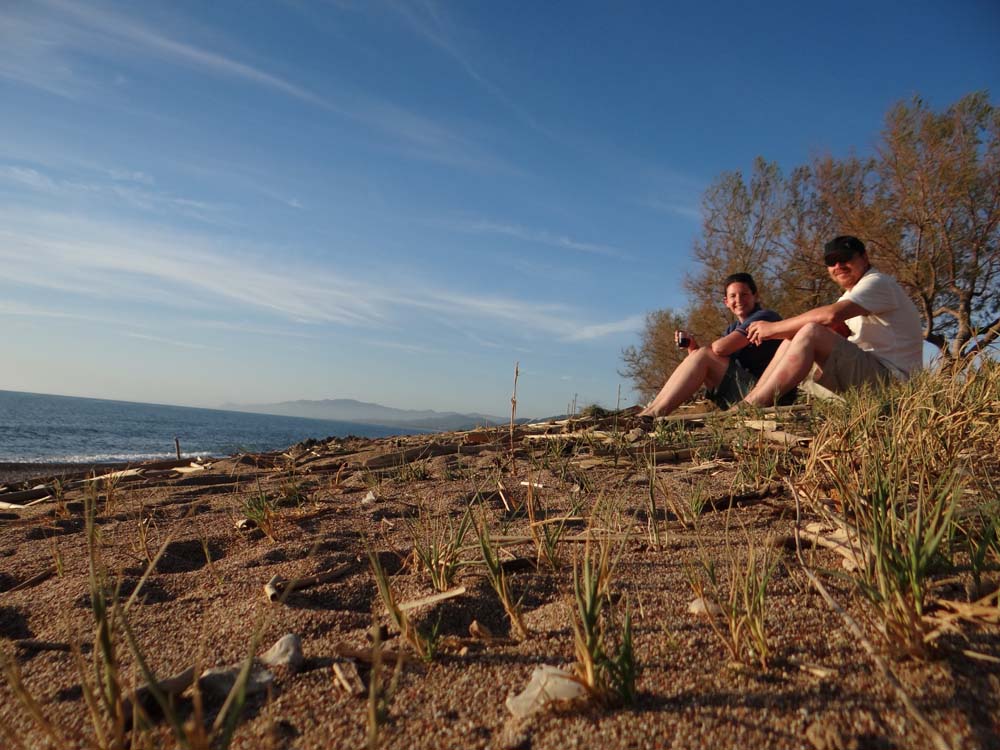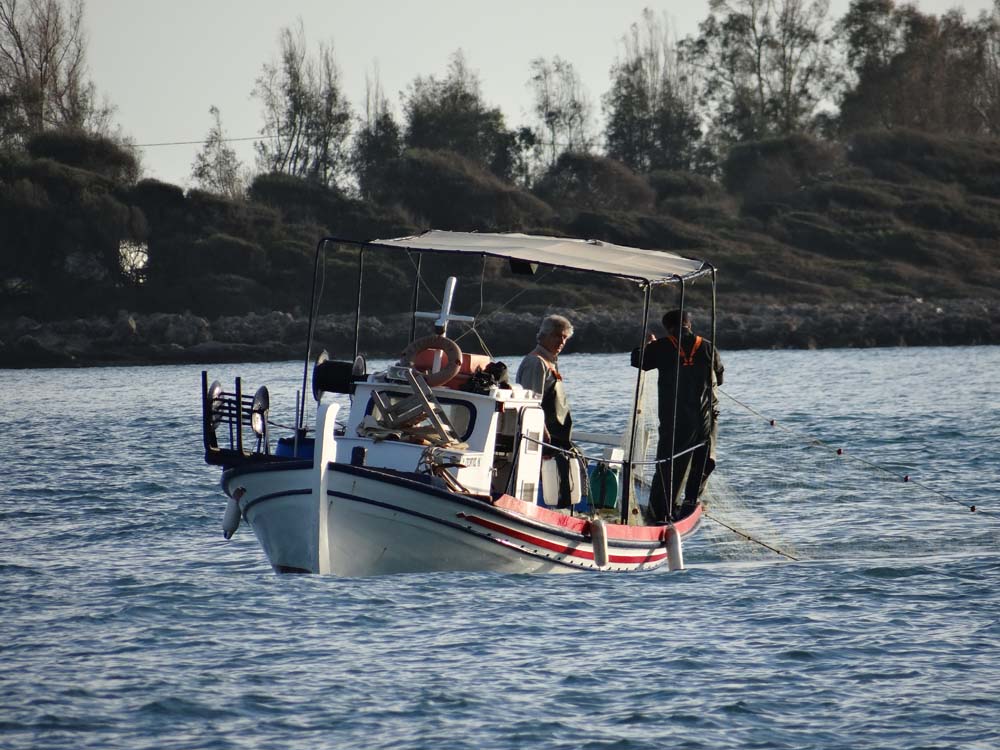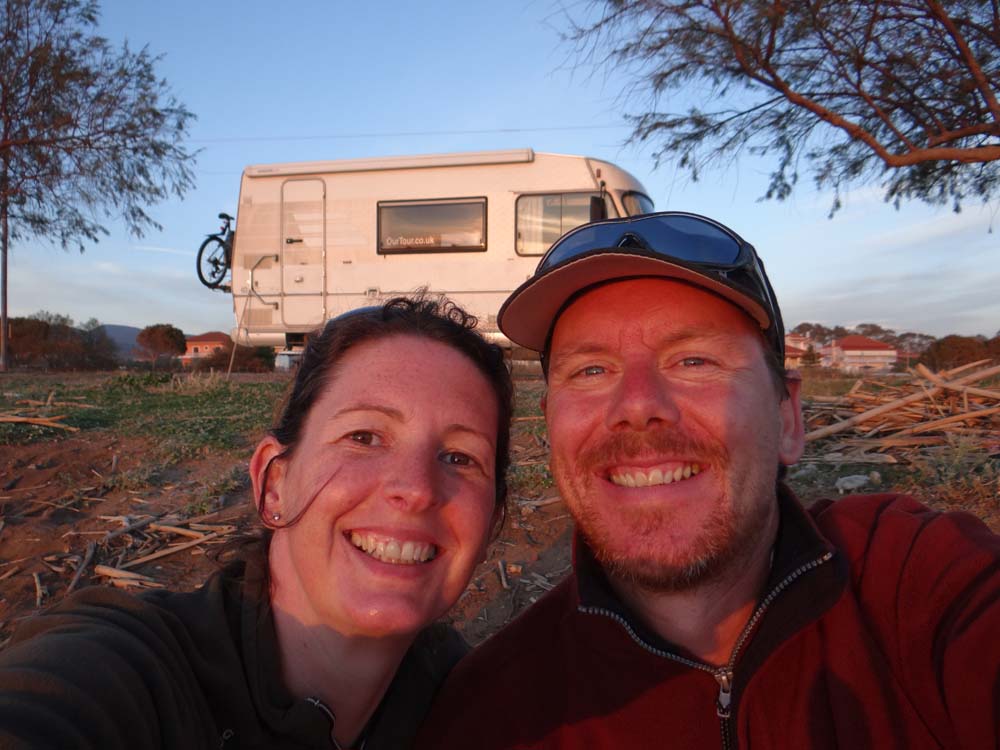 Cheers folks from a horizontally-chilled Jay.