Welcome to the Ourtour Travel Blog!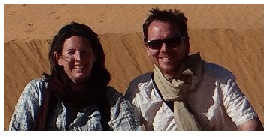 We're Julie & Jason Buckley, a couple of Brits. This blog follows our travels, as we travel Europe and North Africa by motorhome. It's a wonderful life, and we hope we can give you a flavour of it through this blog. Click here for more about us!
We are currently: on tour! The vague plan is to visit the Alps in winter, then possibly a sniff of the Mediterranean before slingshotting North to stand at the North Cape in the summer. All in, maybe 10 months of travel. Woo hoo!
Click for GPS, Costs and Stories!
OurTourBlog on Instagram
Want to buy us an ice cream?
If you've enjoyed the information on our blog and want to say thanks, please use this link next time you're shopping on Amazon.co.uk.



We've signed up to Amazon Associates, so by clicking through here you'll still see exactly the same stuff at the same prices, but to thank us for sending you their way, Amazon give us a few pence when you buy something.

If Ju has her way it'll all be very well spent on ice creams!