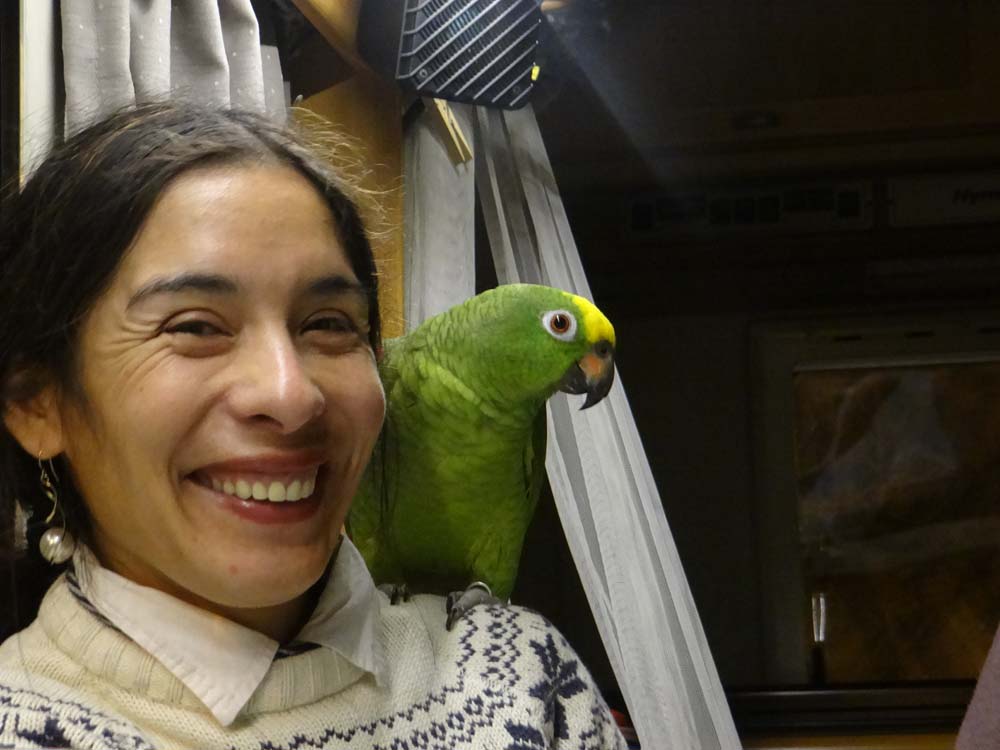 In December 2013, Ali, Joyce and their parrot Ozzie (who we were lucky enough to bump into up high on Erice, Sicily) headed for Greece. Here's the story of their trip across Europe, from the UK into the southern Balkan country:
For those of you who prefer to escape the bleak British winters like us, & have a home on wheels, why not try Greece? On a road atlas the distance looks quite daunting, but driving at a leisurely pace & on a route as the crow flies you can be there in less than a week. Any more than six hours a day behind the wheel can get tiring, I opt for 3 in the morning & 3 in the afternoon if we're on a mission to a destination. Our route encompassed a Dover-Calais ferry crossing, & using toll free roads thru France. 1st night we spent was on the France/Belgian border at Revin, a sleepy little hamlet, a piece of undeveloped rough ground on the edge of town served its purpose well for us for a good night's kip.
On to Luxembourg the next day & into Germany, navigating easily using an iPad, a blue dot location pinpointer that constantly updates every few seconds, just impossible to get lost.
Once onto the German motorways the going got quite boring & as we neared Karlsruhe the traffic congested. We eyed a nice big autostop with all the services & decided to overnight there with all the truckers to save sitting in traffic around rush hour.
Next morning the road was running freely & the weather was perfect for motorway driving. Crossing the Alps had given us concerns but the evident lack of snowfall in the foothills would make us feel easier. The dual lane road ended at the Austrian border & we kept south on the 179 road thru several toll free long tunnels & a few steepish winding gradients. The mountains were as impressive as we remembered them, snowcapped & towering into a deep blue sky. Before we knew it we would be skirting around Innsbruck, back on the motorway & making our descent.
The Italian border & the E45 lay ahead of us, all dead easy going, the van just chugging away at a constant 100kph. We had opted to use the Italian autostrada rather than having to navigate twisty mountain roads to descend the Alps at such a late hour, we only had an hour or so before nightfall. We retrieved our telepass ticket to use the autostrada at the automated barrier & bombed south to the north shore of Lake Garda. At the telepass exit we were expecting to be fleeced but the machine said we should insert €9 for the toll, not too bad we thought.
We found a quiet, large car park on the periphery of a lakeside town. Being mid winter the place was deserted so overnight parking was not a problem at all. The next day we had perfect weather to take in the spectacular views of Lake Garda from its eastern shore & meandered slowly down its length snapping shots at various points along the way.
Back at sea level or almost, we avoided the cities of Verona & Padova before finding the coast road near Venice. Then it hit us, fog, thick fog, for 2 days we were shrouded in fog. We went to explore a couple of Lido's thinking we might find a good spot to park up for the night & seek out an open wifi network & sure enough we did just that at Porto Garibaldi, near Comacchio.
From Ravenna to Rimini we drove an awfully potholed SS16 in the fog. The road got better as we went thru cities such as Pesaro & Ancona before we stopped again right on the sea front at Lido di Fermo, with palm trees !!!
We continued on south on the SS16 retracing a route we'd taken earlier in the year thru Pescara & Vasto along the Adriatic coast following the railway as we went. We overnighted at a spot we knew at San Salvo Marina & took in some sea air by going for a jog each way of the 4km beach.
The panoramic views of the turquoise water were fantastic as we wound our way down to Termoli where we found Lidl, those most convenient mid-size German supermarkets that have woven a web across Europe. Bottles of cheap Italian red wine were stocked up on plus the essentials, (ie, more litre boxes of red wine!)
This is where the SS16 turns inland towards San Severo & Foggia & what a road to remember, dotted at 2 & 3km intervals in lay bys were female prostitutes scouting for punters, it was 10am on a weekday morning, the strange sight of scantily clad & for the most part nasty looking women hawking themselves, mostly single but some in twos & threes, just didn't seem right.
We caught a sight of a minibus that had stopped at one such lay by & offloaded several African women, maybe by their pimp we suspected, or could they be freelancing??
We were soon to be funnelled onto a dual lane road still called the SS16, by high galvanized steel barriers either side of us that ran, it seemed, for eternity. We caught glimpses of the sea thru the barriers as we left towns such as Barletta, Trani & Molfetta in our wake. We skirted around the heaving metropolis of Bari after having a taste of it a few months earlier, awful, concrete high-rises & stinking industry.
We exited the SS16 at Marina di Ostuni for a spot of lunch by the sea & found a deserted rather trashy beach town with no Marina. It was a short distance down to Brindisi where we would take the Grimaldi Lines, overnight ferry to Igoumenitsa in Greece. 
The €162 for our 7.5m van & the 2 of us for the 8hr crossing seemed like a great deal, so we took it. Albania was another option but at almost the same price & not an EU country so we ditched the idea.
Apart from loud engine noise the ferry crossing was smooth, we managed a good 6+hrs kip in our own bed & woke up to the sound of lorry engines starting up around us, we peeped out & could see the lights of Greece at 5:30am. At 5:50am we were driving down the ferry ramp & out of the harbour without any arrival procedures that one would expect, we followed a Bulgarian reg Transit van stuffed full of contraband right into a foreign country!

All hail Greece !