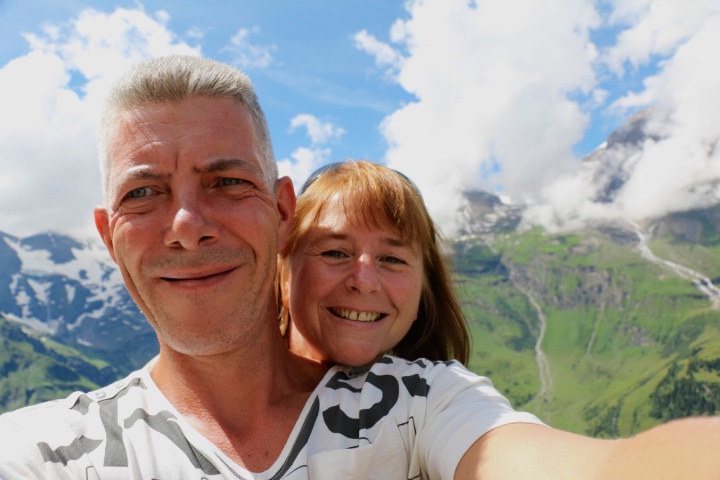 We've been following Joanne, Craig and the sadly late Peanut for the past months as we await another turn on the road. They email out their 'tell it like it is' stories, useful tips and vivid photos as their 'Bumble' every week (you can download an example here, and another one here) which we devour as vicariously wanderers whenever they arrive. They've kindly sent their story below, along with how to get in touch with them. We're sure you'll enjoy it. Cheers, Jay and Ju.
Who we are
Joanne and Craig, two ordinary people who had a dream of travelling the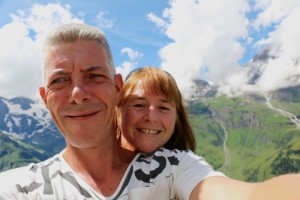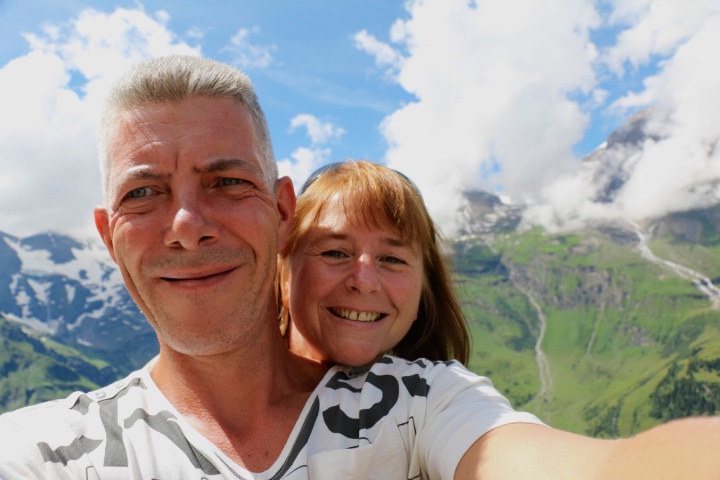 world.  The dream often coincided with talks of our retirement plans or whenever we got chatting about spending more time together, enjoying a stress free life, doing things we'd always dreamed of etc. You know the kind of things we are talking about, right? Well, one day we'd had enough, decided life was too short and took the plunge to live our dream.
We are both in our mid to late 40's and been together for 30 years doing normal stuff like working, paying off the mortgage and finding hobbies to help us chill at the weekend.   We don't have any children and up until June 2015 we had a mini dachshund called Peanut who sadly died at the age of 15.  Both of us love to travel and we've done the spectrum from cheap bargain bucket flight to all inclusive with cherries on top.
In 2013, we went through a period of nothing but bad luck and it really made us reflect on what was important to us and what we wanted out of life.  The rat race, the material things, the fine dining suddenly didn't appeal any more.  When faced with losing each other and the people you love, it makes you realise what is important.   This was our turning point.  Like Jay and Ju we worked hard and we'd invested our money.  We took a long hard look at what we had, made a few tweaks and decided to take early retirement and… live our dream.
We spent a full year putting things in to place and planning what we would do.  This involved working 6 months notice, which was one of the hardest things we've done.  Both from a financial and mental point of view.  By this stage in our lives, we were enjoying a successful career with large salary and benefits.  Handing in our notice took away our financial lifeline and giving that up was hard.  All of a sudden we had to think about our money in a very different way, yet all around us were our friends, still enjoying the benefits of a normal life.  But the hardest thing was was working 6 months and having no desire or motivation for the job.  Of course, your professional side keeps up the appearances but inside it was torture.  At this stage, we felt trapped between two worlds and even though the new world was unknown, we never questioned our decision.  In our hearts, we know it was right and that kept us going.
It was at this point, we discovered Jason and Julie's website.  Now we are not just saying this but their website provided us with so much information and support during our planning stage.  Not only that,  but their daily updates provided us with the motivation and inspiration to keep heading for the dream.  Their website is like a sweet shop for travellers!
We bought our first Motorhome and did the usual stuff like going away at weekends. Each week we would do something new to the Motorhome like fit solar panels then spend the weekend trialling the gadget.  We spent hours researching what we needed and then spent the same amount of time installing it.  Craig virtually took the Motorhome to pieces and rebuilt it, so he could understand what to do if anything went wrong.  We optimised our storage to a fine tea and whittled things down to essential stuff except for my clothes, Craig would say.  By spring of 2014, we were ready for our first adventure.
Our Motorhome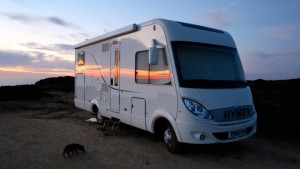 We purchased a 2007 Hymer 694SL, a handsome chap and named him Homer.  In April 2014, we set off and that year we travelled around Italy, Sicily and a little bit of Austria.  We had a great time but the challenges of living in a poorly built Motorhome combined with an newly acquired itchy skin condition took its toll and within 6 months we were back in the UK.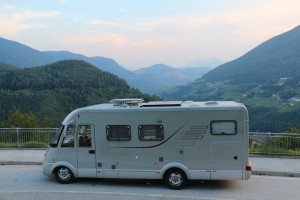 Once again, we questioned what we wanted and still came up with the same answer, so with that we sold the 694SL and bought a 12 month old Hymer B590.  By early December 2014, we were back on the road.  The B590 named Vin, is completely different to the first motorhome and we love him.  Firstly, it feels more stable and nothing falls apart when you touch it. The built quality is good and with a Mercedes 3L V6 we can get to most places that we want to.  For us, the size is right with enough room to feel comfortable but small enough to get in most parking spaces.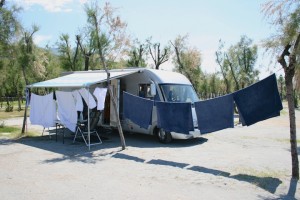 We've installed solar panels, gas and adapted the Motorhome (all ourselves) so we can wild camp where ever we like. We have lots of tips like how to do your washing and drying and Craig's even done a little mini booklet on travel tips.
The best thing about Vin: he now feels like home.
Our Bumble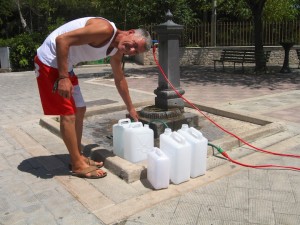 We call our travel tales 'Our Bumble'.  No particular reason other than we just seem to bumble everywhere.
When we set off in April 2014 we'd never been in a motorhome, never mind live in one.  It was always a dream to own one but the reality seemed awfully different.  Life on the road was challenging and it took some getting used to.  Like being together 24/7 in a small, confined space with no me time.  No nipping around the corner to see your friends or family or nipping to the pub for a pint.  The frustrations of not having electricity and water when you clicked your fingers but most of all the smell of the bog, well it drove us potty!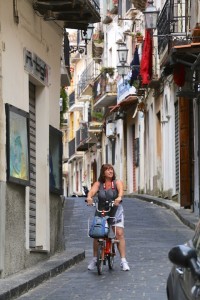 However, the places we discovered were amazing and having the flexibility to stay where ever we wanted was fantastic. For us, the first trip allowed us to really understand what we wanted from a motorhome and how we needed to adapt to motorhome living.  Now we have everything in place, travelling is just wonderful and the freedom to bumble where ever is totally liberating.
Places we've been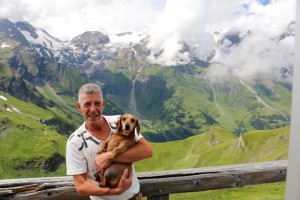 2014 – down west coast of Italy, round Sicily, up the east coast of Italy, in to Austria and Germany then home. 2015 – set off December 2014 and travelled down to Portugal for the winter.  We covered everything south of Lisbon both inland and coastal.  Then at Easter we crossed the boarder in to Spain travelling all over Andalusia.  We have just arrived in the region of Murcia and looking forward to bumbling around both the coast and inland.  We will probably head home at the end of the year for our MOT and get everything ready for 2016!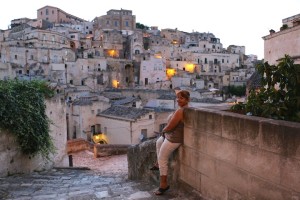 As a rule of thumb we travel to a new place each day but if we like it, we stop a while longer.  We eat just like we would at home, visit all local attractions and it costs us around €23 per day for everything – diesel, food, camping, services, tolls, entrance fees, LPG etc.  On top of this we have annual insurance and servicing costs….but that is it.  So for around £7,000 per annum we now live a wonderful life travelling around Europe, seeing some fantastic places and meeting some brilliant people.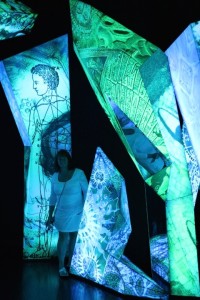 We do a weekly 'Our Bumble' for friends, family and anyone who fancies a read  It's a simple PDF that we email to everyone with a write up on what we did, what we found and of course, loads of pictures.  You can download an example here, and another one here. We keep it real with stories of our adventures including the good, the bad and the ugly.  We live our dream and we love it but at the end of the day, we are still a normal couple, so we have our ups and downs, so we share all.  Like being one of the first couples to walk El Chorro after being closed to the public for over 15 years.  To heartbreak of losing our best buddy, our dog, Peanut, who we miss like crazy.  At first, we just emailed a few people but over time the list has got bigger and now we issue Our Bumble to a few hundred people.   In addition, we keep a list of all the wild camping spots, the GPS position and a few photos, so we can share with fellow travellers. We've attached a couple of our bumbles, so you get a taste of what we get up to.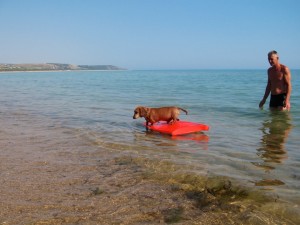 Our plans…keep bumbling around, enjoying the freedom to learn new things, discover new places, meet fascinating people and to live our dream.  Hopefully one day we might bumble in to you!
If you would like any more information, receive our weekly bumble or if we could be of any help then please email us at ourbumble@icloud.com.