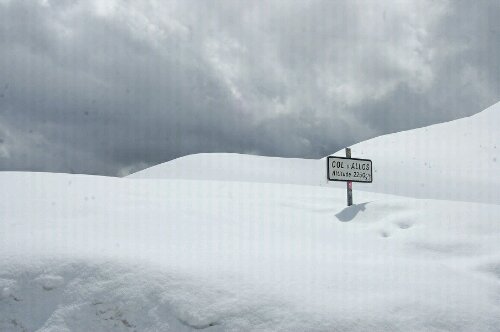 We're here: N44.38508 E6.65874. It's a tennis court car park, which appears to be one of 5 official motorhome parking spots in Barcelonnette, in the French Alps. We found the main parking spot (€6 a night), with a big fat padlock on the gates, so here we are (it's free here, we're happy). I can see snow capped mountains for 180° from Dave's cab.
The weather is: threatening snow clouds have given way to white fluffy ones with outbreaks of the sunny stuff.
Road maps only tell me so much. Looking at our route for today, we could see we'd be following the Verdon river upstream, into the western edge of the Parc National Du Mercantour. We could see a mountain pass (a 'col') needed to be driven over, Le Col d'Allos, with the road going wiggly either side of it. Finally we could pick out the odd 2500 meter peak to the west.
The reality of the drive today was a little more dramatic. We're proud of our old Dave; he's really done us proud today.
The road from St Andre Les Alps started off running along in a deep valley, flanked by wooded and rocky slopes. We shared the valley with the Verdon, a sleeping dragon at the moment, fast but low, exposing the trunks of unfortunate trees it's ripped down and carried off once it's been awakened with snow melt.
As we slowly climbed along the valley widened, and occasional glimpses of snow capped mountains thrilled us and scared us in equal measure. They appeared to be directly in our path. A sign alongside the road telling us the Col des Champs is closed had us in a flap, pulling over to try and find it on our route. We couldn't find it, and the same sign told us the Col d'Allos was open, so on we went.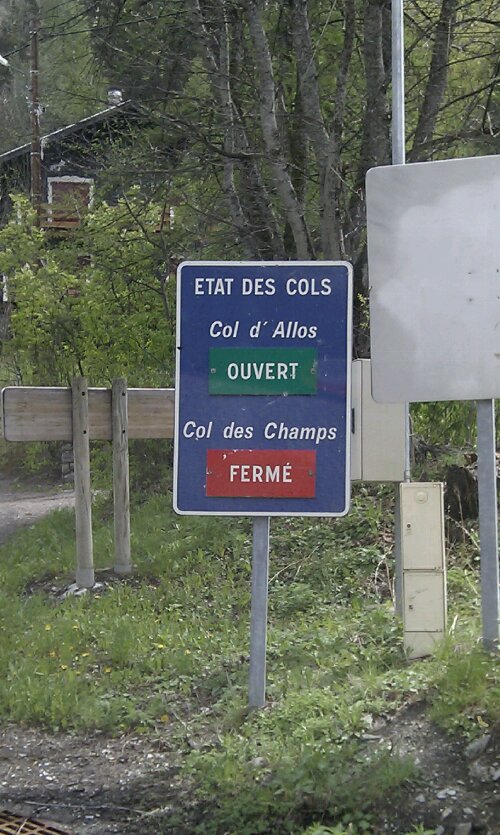 Passing a few alpine-looking villages, we quickly came across Colmars. Our usual lack of research sometimes really pays off! The place is a small mountain town with two citadels to protect it. The lower one is free to enter and surrounds the town; we wandered into the narrow streets and alleyways for a nose. This being a Sunday and presidential election day, everything is closed including tourist info. From the signs dotted about we gleaned the fact the town had been on a frontier or two during its life, and the walls and towers had been knocked up at different times over the last few hundred years. Sounds much like most of the fortified villages we've seen; pretty spots now, but moulded by fear in periods of terrible violence.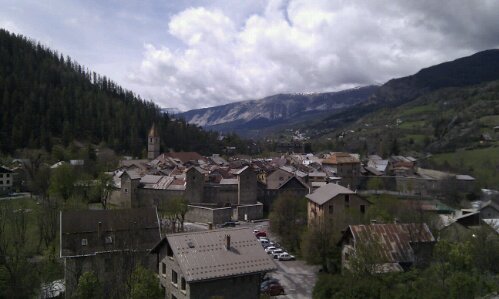 Further north, the mountains and snow drew closer. We started to pass small ski resorts, their silent chair lifts clawing up the dry slopes either side of us. There's no one around; they're ghost towns. The largest of these is La Foux d'Allos, and as soon as we'd passed it the fun started.
The road up until this point was wide enough for two cars. The surface was OK, a bit roughened by snow chains, rock falls and endless freezes and thaws, but an easy drive. Passing La Foux, we were on the last ascent to the col. Although the road became smoother, it also became decidedly more testing. Suddenly there was a meter of snow on the higher side, and a barrierless drop on the low side. The tarmac strip seemed just wide enough for Dave, but we did manage to creep past an oncoming car, subconsciously leaning up hill as we edged along. We later discovered this is one of the highest paved roads in Europe, and being off a main tourist route, barriers were presumably deemed too costly.
I'm not afraid of heights, but I was absolutely crawling Dave along this road as it twisted back and forth every few meters. One slip of a foot or hand, or a mechanical failure, and we were all off over the edge, not even a tree to slow us. A marmot skittles across the road at this point, and we both gawped at it, forgetting where we were for a moment, before Ju grabbed a camera to snap the next one.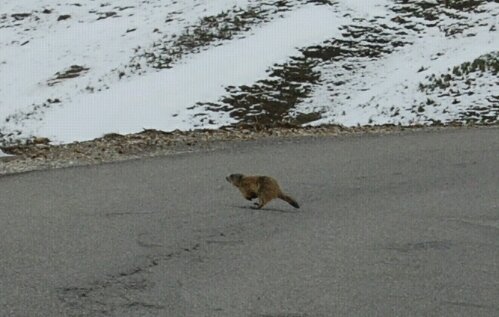 We might have even caught one of the little fellas on video, but even if you can't spot him you still get to see the amazing views as we climbed the Col.
The Col sign finally appeared and my fear changed from the drop off, to the huge snow clouds around us and the thought of cooking Dave's brakes on the descent. We didn't hang about at the top, but it soon became apparent the descent was lass scary, with most of it barriered. It was still enough to draw a constant stream of expletives from me as I saw the next sections of road clinging to the sheer rock face. The Tour de France has been over here 33 times in its history; those riders are rapidly becoming even more respected to us.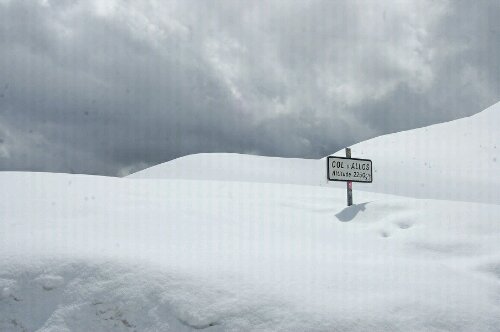 Soon enough the road grew straighter, wider and flatter. Easy. We cruised into Barcelonnette with eyes peeled for a petrol station. The diesel won't be France's cheapest up here, but compared to Italy, now just a few km away, it'll be a steal. We've spotted a station so will fill up tomorrow. This afternoon I'll be generally staring at these mountains; we're in the Alps and loving it!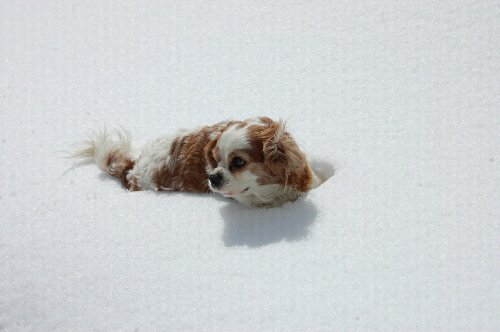 Cheers, Jay