We'd originally planned to set off in June 2012, we brought it forward (or should that be backward) to April 2012. Then a week ago we decided, why wait?  We'd saved up some money, so why not go now.
So we set about squeezing months of prep we had, into 10 weeks.  Problem one – no van!  When we'd originally started looking we thought it would be about £23k for a van, once we'd established what make and model it came down to around £17k, but our change of departure date meant we needed to think around the £10k mark, so we spent several hours a day searching autotrader and eBay.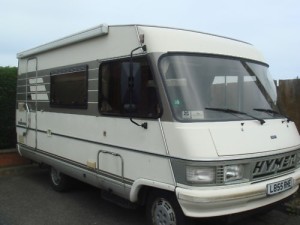 We struck gold on eBay when we found a Hymer 544 in Humberston.  On Tuesday night we made a trip up to see it.  Al and Pam, the lovely couple who owned the van but unfortunately couldn't use it any more, showed us around all the van's features and we knew it was the one for us. So a quick call to the bank on the way home and we arranged to go back and pick it up on Thursday.
All we needed now was a name. Harvey the RV was a tough act to follow, but when we found out that Al's nickname for their cat, Cairo, was Dave we figured it suited the van too, so Dave it is.
There will be more pictures to follow (and as soon as I can work out how we'll update the countdown to our travels on the right). For now we're busy making lists of everything we need to do, preparing the house to rent, selling stuff at a much faster rate and sorting out everything we'll need to do before or departure date (currently 12 October!) – wish us luck!!