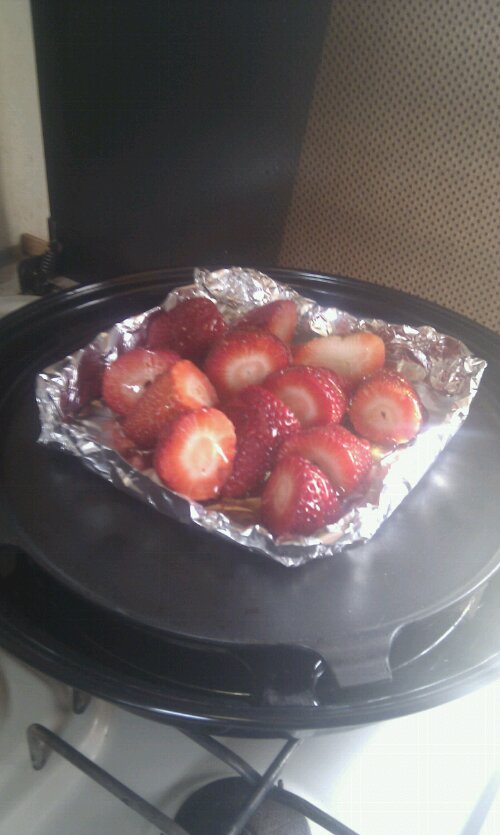 We're here: N43.17146 E3.18088
The weather: rained overnight, gradually getting brighter. Now strong sunshine with a few clouds. The Rough Guide describes the wind on this stretch of coast as enough to 'flay the shell off a tortoise'. Dave's swaying to and fro as I tap this out.
After 6 months (nearly) on the road, we discovered we have an oven in Dave. Nah, there isn't a secret cupboard with a microwave popping out, we're talking about our Safari Chef Gas BBQ, bought by Ju's brother and sister-in-law. We've an external BBQ point on Dave, but as we use aires or free camp much of the time, it's not seen as much use as it should have. Hence we forgot it can be used as an oven, the top part detaches and we've popped it onto Dave's gas hob. You beauty. Last night's tea: pizza and garlic bread. Today: roast strawberries in honey. Someone send out the Fray Bentos pies!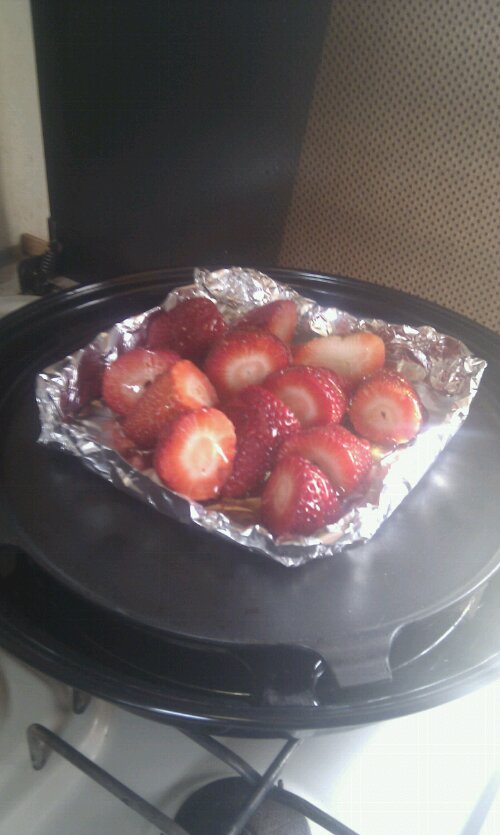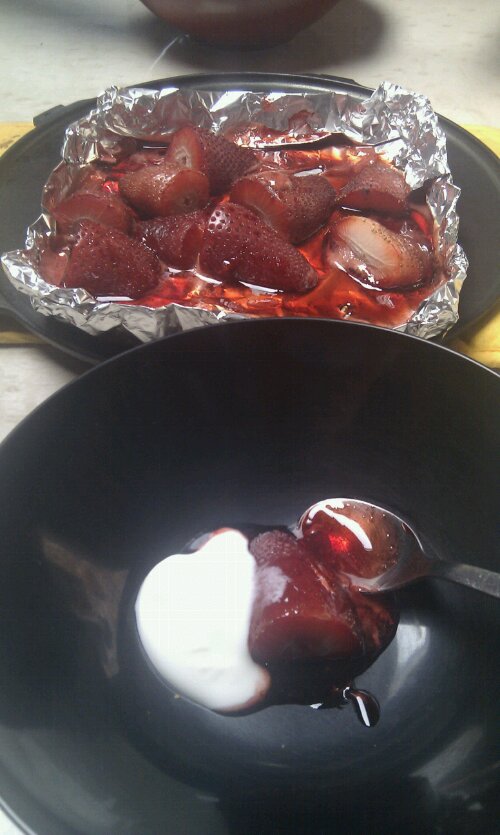 We hit the sack about 10 last night night and within a few minutes were joined by a car playing bangin' tunes. He parks a space away from us, when there is a car park with maybe 300 free spaces opposite. As we're not paying a bean to park, we're persona non grata. As far as we know this is the guy's regular Saturday night spot so we've no business asking him to turn the music down. We listen. 10 minutes later a door opens and there's some loud talking. He drives off, leaving us to kip; maybe a local had words, or he'd met up with someone, who knows. That seems to be the way of it when free camping; at least in France, Spain and Portugal. The worst we've come to expect is kids knocking on the door, or the police asking us to move. We'll see how other countries and seasons work out.
Fiat asked us to return on mardi (Tuesday) to book Dave in for next week's clutch surgery. Gives us a couple of days so we decamp and have headed 20 minutes to the coast, driving past huge fields of budding vines and through patchy, stony pine woods on the way.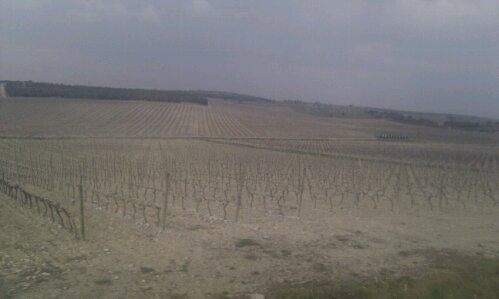 We're near Narbonne-Plage, next to 2 designated motorhome parking spots, which are both occupied by cars. There's a sporadic stream of motorhomes running past, so most parking spots are height limited.
As we wandered down the beach with Charlie (No Dogs signs up, but no-one else was on the beach, or appeared to care) we came across a Sunday market. It was packed, and reminded me of our family Sundays at Watnall Market as a nipper.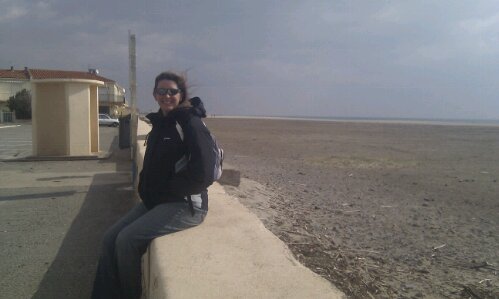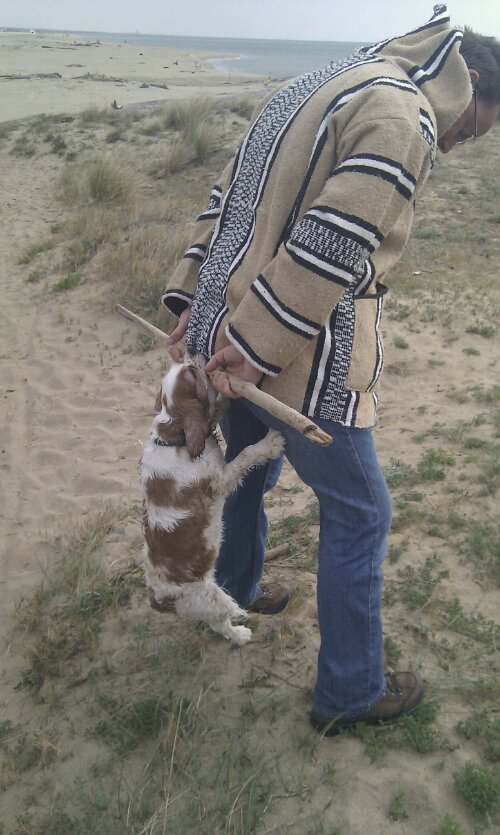 After being distracted by a goat (animal rescue), and dragging ourselves past the poulet roti (roast chicken, about €8 each), Ju spotted a good number of people had large trays of strawberries. We find the stall: €3 for 2kg, that's a lot of strawberries. As she waits to be served, a verbal fight breaks out with the veg stall opposite and all customers are temporarily forgotten as they have it out. Within minutes it's all over and they're shaking hands and slapping backs, best buddies again.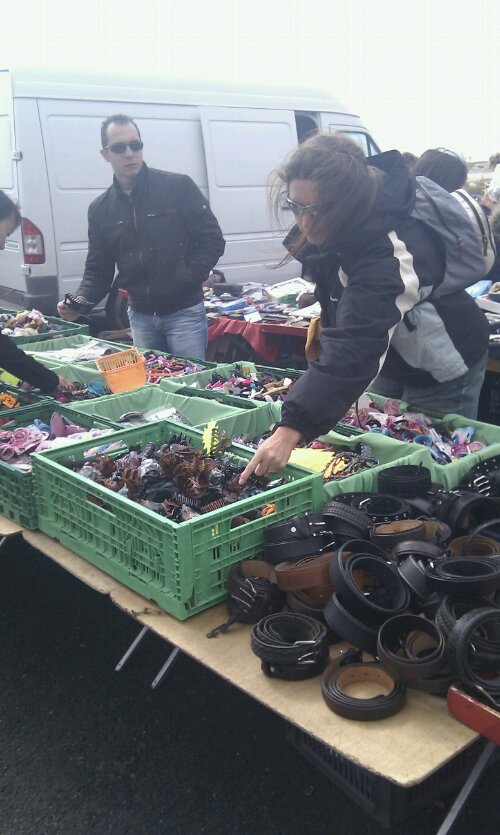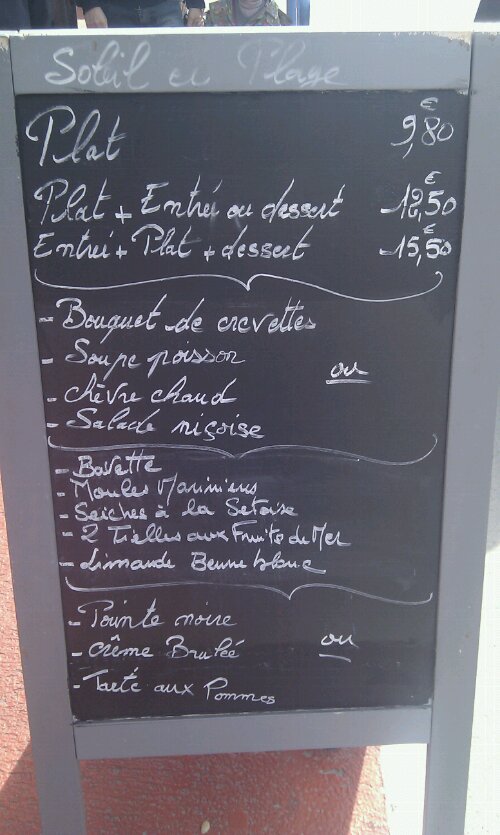 Back at the van, Ju's worked through puzzles, while I attempted to pull together an itinerary. We have the Rough Guide, Lonely Planet, our All the Aires France book, a copy of the campingcar-infos.com aires database and the 1000 places to see in France book Marc gave us. I rapidly reach the conclusion that route planning is over rated and take Charlie for a walk.
There's an inlet from the sea, lined with small boats, just next to us. We head up it to find a couple of small lakes frequented by fishermen, other Cavalier King Charles owners, joggers and a couple of guys testing their 4×4 skills with mini remote control trucks. It's a friendly atmosphere and my French gets tested a couple of times. The Rough Guide says this is a tacky coastline. I don't disagree, but it's still a nice place with friendly people.
The nice-to-have problem of how we travel through France remains. For the next 10 days we'll see Carcassonne and the surrounding countryside and villages, assuming the clutch holds out. After that, who knows? Back to the books!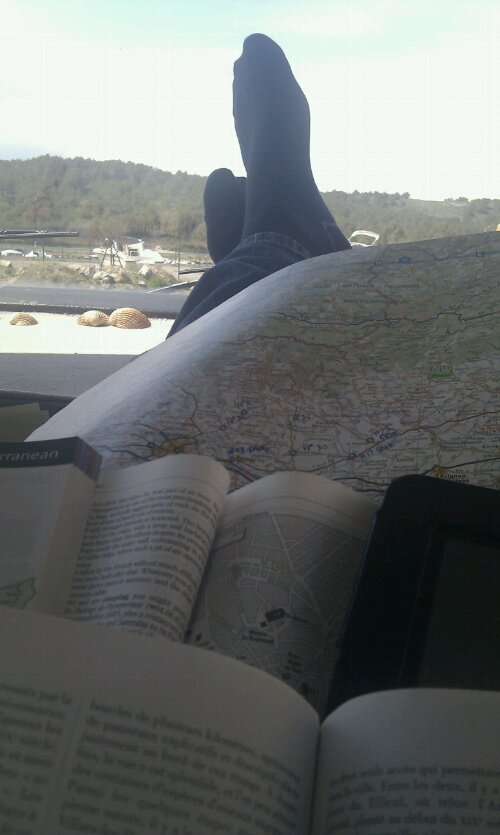 Happy Easter, Jay
P.S. Thanks to all who have left comments for us, sincerely appreciated!
P.P.S We finally hit the £60 payout limit for the ads on here. Thanks! The money would be going into the new clutch pot, but I'll try and spend it on beer first.
P.P.P.S We've just noticed were parked right next to a monument to Pierre Brossolette, first or second most important French resistance leader. He was exfiltrated from here to Britain. Later when captured by the Gestapo he killed himself during torture rather than risking talking. Clearly a hero, but the wind chimes from his monument are gone, probably driving less heroic mortals like me nuts.