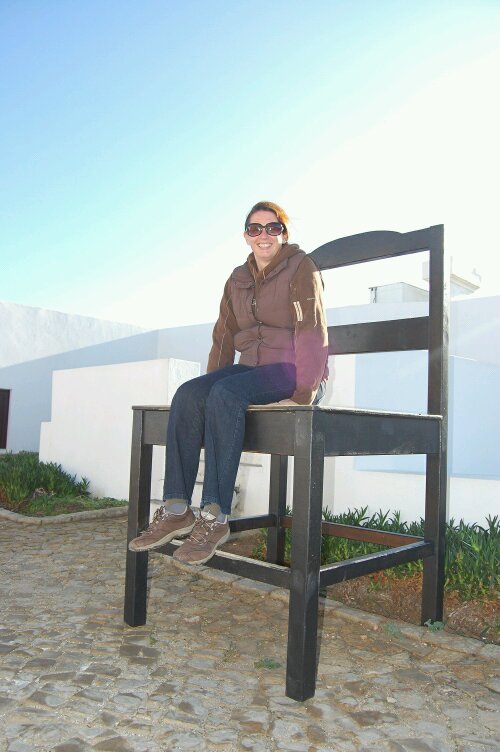 We're here N37.00505 W8.94540
Weather : sunny :-)
It was a quiet and starry night last night so I nipped out and got a pic of Dave lit by the moon.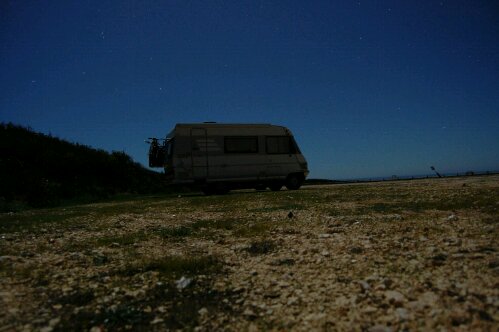 We took it easy this morning and had a lie in then after breakfast went for a walk down to the beach at Odeceixe. Once again we had it to ourselves – seems to happen a lot – which explains why the shop and restaurants were closed, but looking at all the parking spaces available it must get packed in the summer. We sat by the river for a while watching the fish flap their tails above the water, I suspect they were after food on the bottom of the shallow river, but part of me hopes they were doing it to annoy the trouserless fishermen a few meters downstream.
Before we left sunny, warm, quiet Odeceixe J took a reading of our solar panel's output (see previous entry) and Charlie had a fur cut ready for the hotter weather in the Algarve.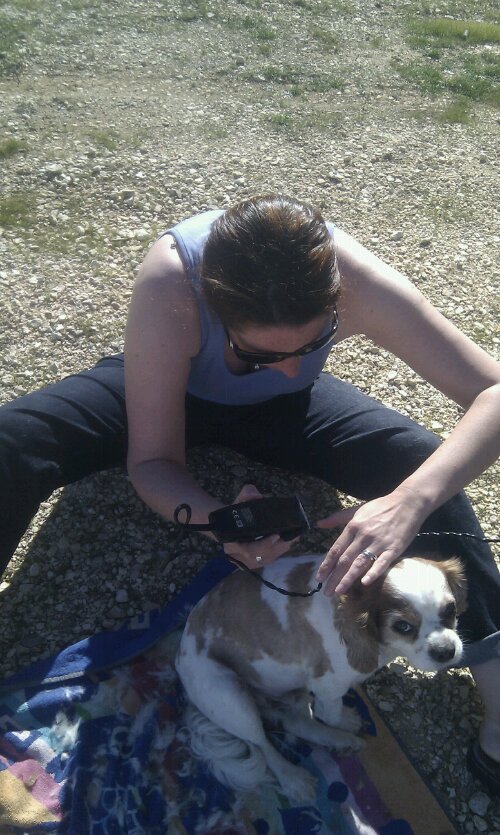 As we drove down the last stretch of Europe's west coast, we passed piles of cork which had been harvested. We were both surprised by the amount and that it all comes off the tree in one piece. So on the ground were piles of what looked like hollow logs.
We reached the most south westerly point of mainland Europe just in time for a spot of lunch in Dave. Our last Spanish Omelette, so we'll need another trip to Lidl soon, or get back to Spain!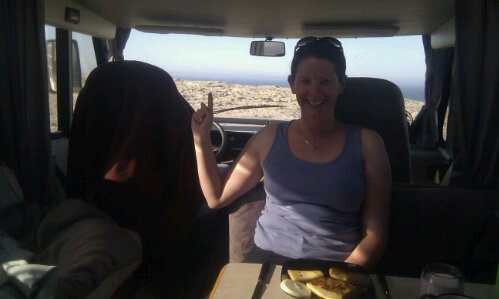 After lunch we went for a walk around the Cabo de Sao Vicente. There was a fort (most of which was closed off unless you visited the museum), lighthouse, cafe, museum and obligatory souvenir shop. In competition with the souvenir shop there were a few stalls selling ponchos and knitted goods to any tourist who didn't realise it would be quite so windy there and didn't bring a coat.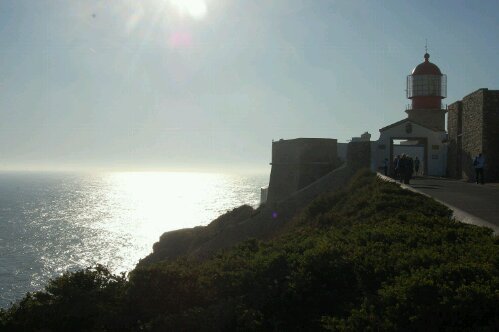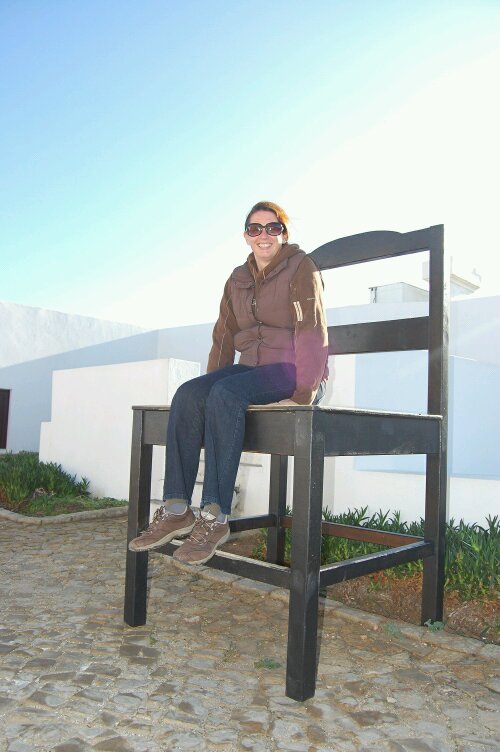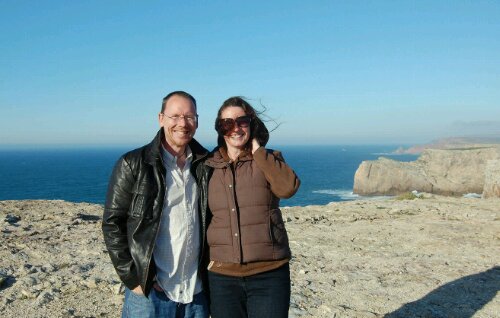 Next to the fort was a plaque commemorating a German tourist who fell to his death there in 2001, and sadly we'd heard from Jacqui and Marc that another German tourist died a couple of days ago just a bit further along the coast – we made a point of keeping extra far from the edge.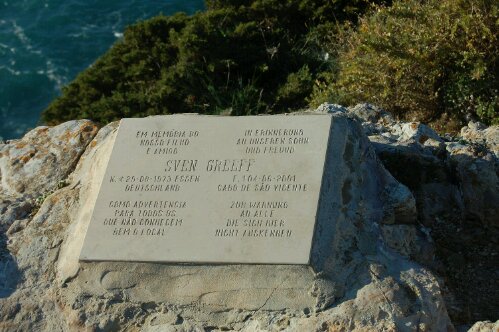 In stark comparison the locals seemed keen to get as close to the edge as possible for extreme fishing – look closely they're there, how long must their lines be?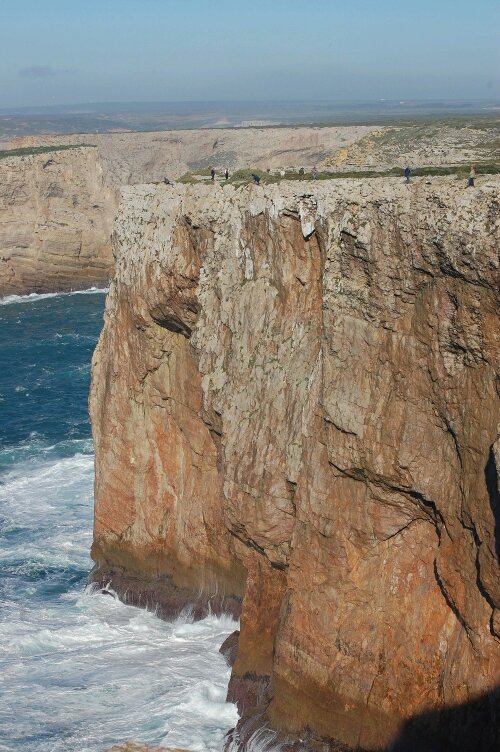 After travelling south for almost three months, we started our journey east with a short hop to Sagres – where J has taken the opportunity to try a few mini Sagres beers – he's feeling better!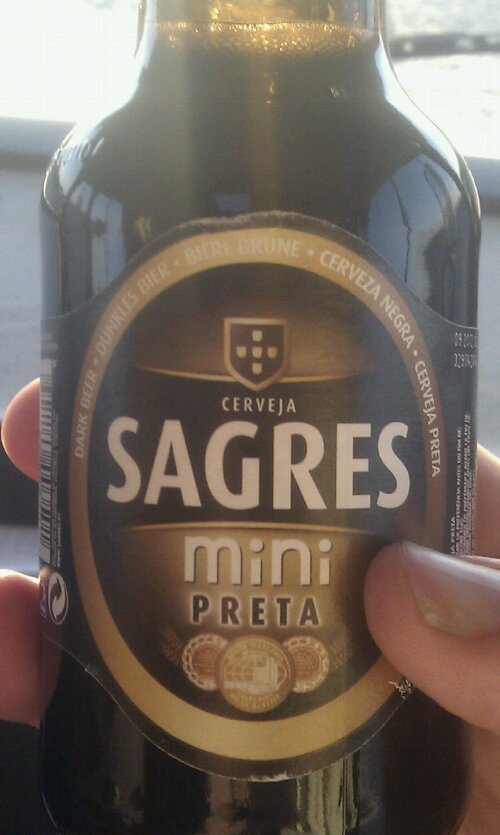 We've parked in the fort car park with about 10 other motorhomes, we also passed another car park in town with more in it, so it looks like we've reached the motorhome centre we've heard so much about – The Algarve.
As the sun was setting we went for a walk up to the fort, but at €3 each and only half an hour til closing we decided not to visit. But we did pass a stereotypical Frenchman, who must have left his string of onions in the car!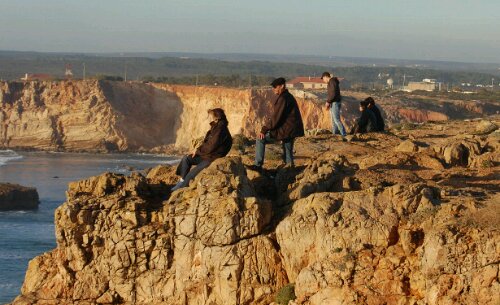 We walked round the clifftop (a good few meters from the edge!) and looked east to see what lies in store for us – looks like it's more cliffs and a lighthouse!
This evening saw a hard fought round of scrabble (which is why this update is a bit later than usual) which J won by one point! So it's level pegging in the series. Just realised that my next blog update will be from the villa we've kindly been lent – I can't wait!
Ju x