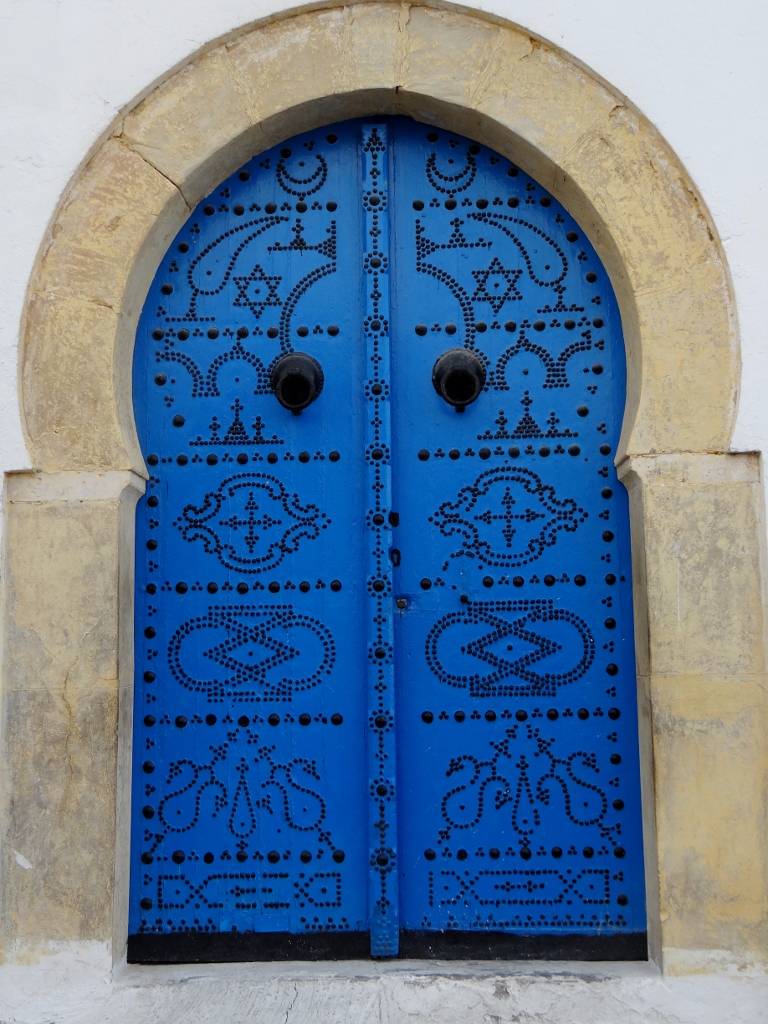 Dave the motorhome has a great view from his car park spot for the night in Sidi Bou Said (N36.86517 E10.34363), looking out over the Gulf of Tunis. Yes, we've made it into Tunisia!
The ferry crossing was a very looooong ten hours which consisted of:
Me being seasick for around eight and a half of the ten hours
Piping hot showers
Charlie sleeping under the beds
Charlie peeing in the corridor next to a group of Tunisian men who were sleeping in it
Several trips to the information desk to find out when the entry documents would be available – every time the answer was in an hour
Announcements in multiple languages, but the only one in English was that the shop was open
Head scratching at said entry paperwork, especially the one all in Arabic!
A good hour chatting on deck (as everyone had to leave their cabins at 9.30pm) the only other motorhomer on board, Robert – who spoke no English but fortunately very slow French with lots of mime – just for us!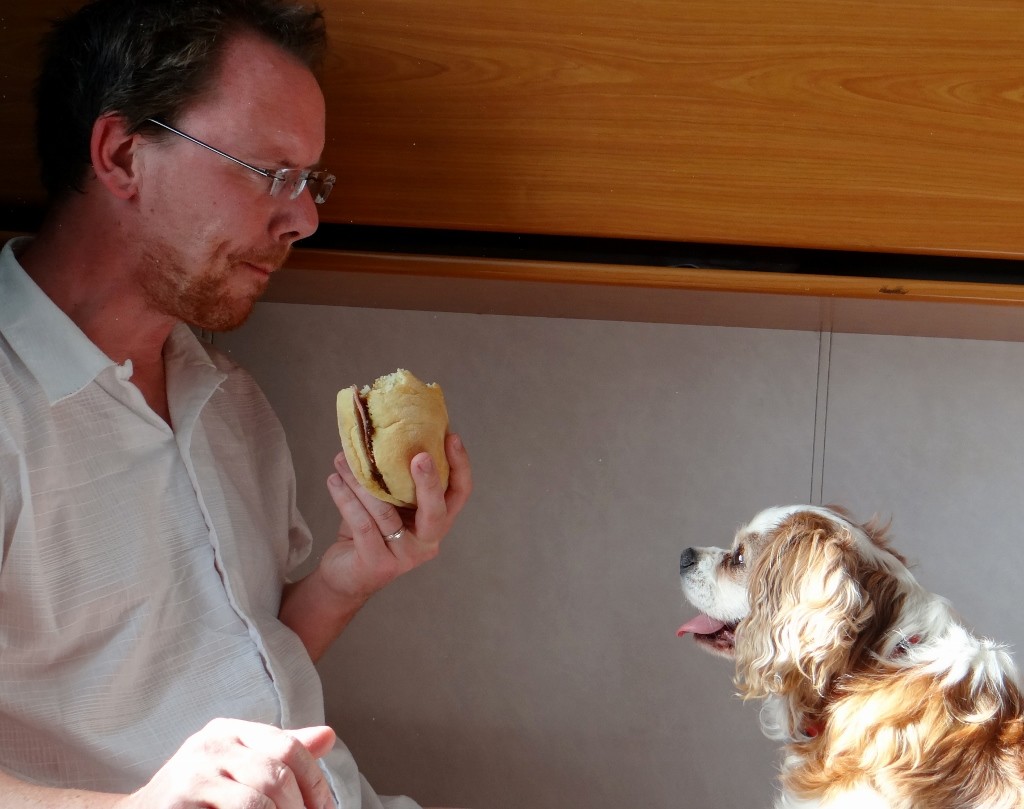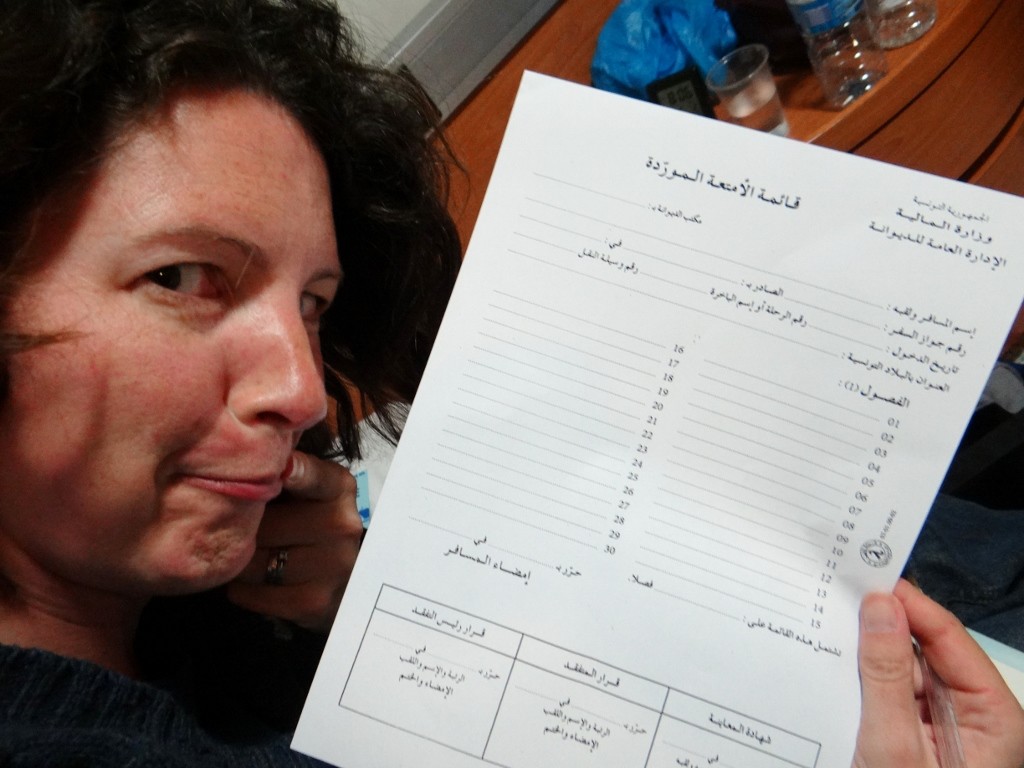 Just before 11pm we docked in Tunis and joined the scrum of people to get down the stairs to the car deck. Dave was happily sat where we'd left him, in front of him the row was empty of cars, the doors to the ship were open, so Jay went local and drove us straight out. We followed a couple of heavily laden cars into the confusion of the customs area. We drove from booth to booth, up and down various lanes (sometimes twice after we missed a step) getting our reams of paperwork stamped. Charlie was signed in by the veterinary official who didn't actually look at him, just his passport. Then just over an hour later – it could be some sort of record – we squeezed our way through the mele of parked cars surrounding the entrance to the port and hit the open road.
Our planned first night place was scuppered as it was full of parked cars greeting people from the ferry, so after a couple of trips around a roundabout Jay nipped over and asked a policeman. In very good English he pointed us to two places, both free, one of which was outside the local police station – so we headed there. We parked up and let Charlie out for a quick walk, to his delight he discovered there was a beach next to us. Finally around 1.30am the adrenaline of getting in wore off and we headed to bed. The traffic and people around Dave were noisy but we soon passed out.

This morning we woke around 7.30am, still tired but too excited to sleep any more. A morning beach walk and breakfast were followed by a search for some free wifi. Our directional wifi aerial came good and picked up a network so we could email home and let them know we were OK and check out google maps for our route today. We haven't got the maps for Tunisia for our satnav, and while we have got the Michelin  map for the country cities are basically a dot with no detail. Vaguely memorising the route we set off, immediately being sent off course by a one way street. We drove around trying to guess our way but the road signs were sporadic and Arabic. We pulled in at a petrol station and filled Dave right up to the top with lovely, lovely cheap diesel (1.09TD about €0.55 a litre), something he hasn't had for a while.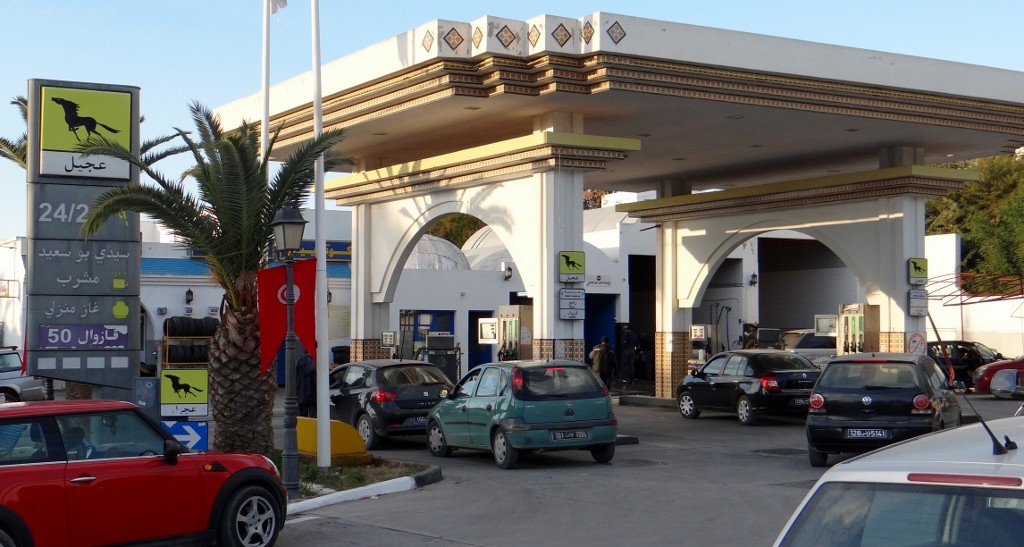 As we reached a main road things looked up a bit, road signs were now in French too, but we still had to pull over to check a screen shot of google earth on our laptop. A u-turn here and a bit of guess work there saw us slowly round in on our target – Carrefour supermarket. A little piece of France in Africa.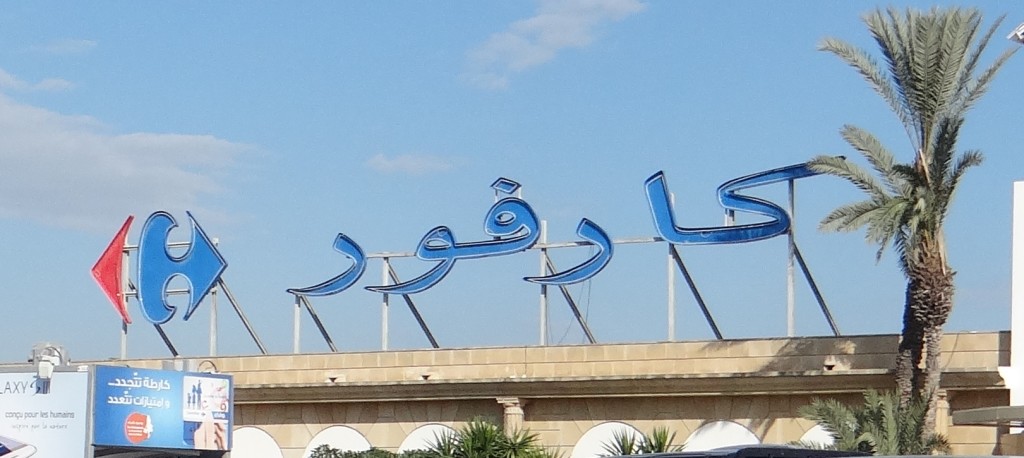 The car park was packed, but we found a space at the end of a lane next to some huge concrete plant pots so Dave wasn't sticking out too much. A security guard in a booth in front of us waved us into position as close to the car in front as possible. He was one of many security guards, police and machine gun totting army personnel (complete with armoured personnel carrier with gun) we saw around the store and its car park. The President was ousted from power here two years ago tomorrow, and on the anniversary last year there were problems as people were disgruntled things weren't moving fast enough; as it approaches again there is a huge police presence everywhere.

We headed for the Tunisiana shop to buy some 3G internet access, only it was much more expensive that we had seen during our research – a dongle alone was 119TD (€60) – we already have two, but we couldn't buy just a SIM card – then we'd have to pay for data on top of that. So we left, deciding to have a look around and rethink. As we entered the Carrefour shop it was like being back in France and it included a large electronics section. Wandering around we spotted the mobile phone area and checked out the prices – the Tunisiana dongle was the same price here, but they had one from Orange which was quite a bit cheaper. So 89TD (€45) later we now have another 3G dongle and a month of data (7.5GB plus unlimited over night!).
Next it was time to food shop. We'd already stocked up in Lidl in Italy, so this was for stuff we'd normally keep in the fridge and freezer as we had to empty them for the crossing. But of course the odd box of Pain au Chocolat crept into the basket, a tin of Confit du Canard and a few other lovely French treats. We left when our basket could hold no more, in fact we put a short baguette on the top our stash but by the time we reached the checkouts there was only the bag for it left, it must have slipped out onto the floor somewhere!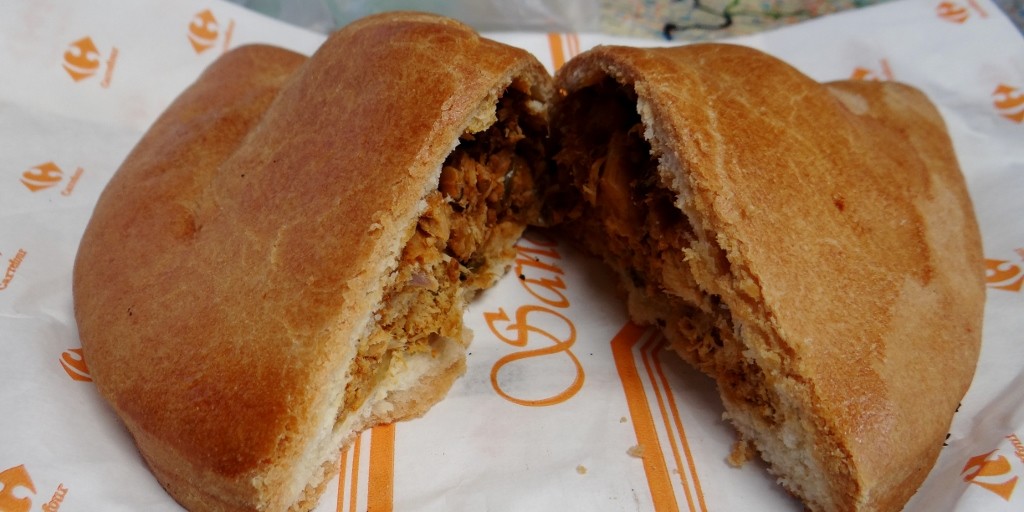 Back in Dave Jay got the internet going while I played Tetris with the food in the fridge and freezer – it all fits in just. As we scoffed an 'English Pie' (it was written in English too) for lunch the security guard next to us let out a shout and ran off after a car, a woman got to her feet confused as one of her shoes in the middle of the car lane. The guard was after a bag snatcher who had grabbed it from her as he drove past, knocking the woman over. Several people rushed over to help her and from the look on their faces this wasn't an everyday event. More security guards arrived quickly, but we didn't see if they caught the thief.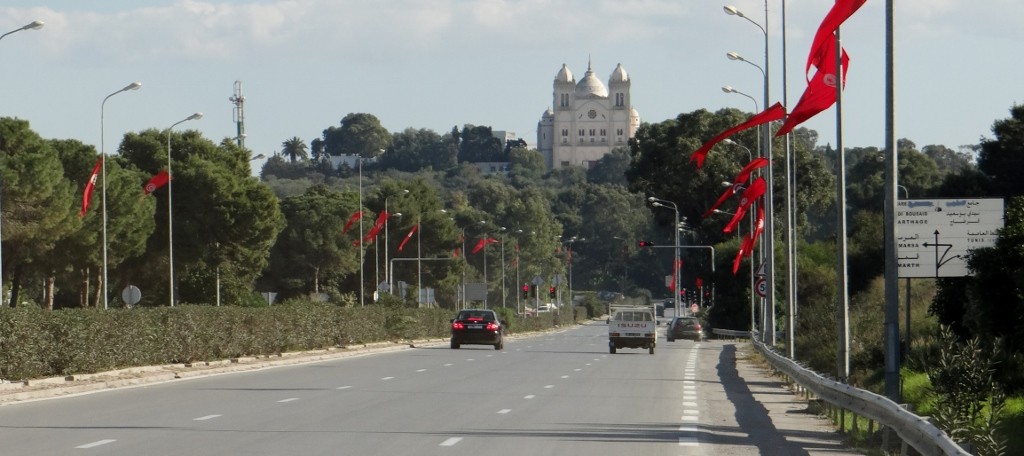 Armed with google maps on the laptop I assumed the role of satnav. I navigated us past Carthage – former home of Hannibal, of the elephants fame – and its many Roman ruins. If we hadn't just driven through Italy which has Roman ruins on every corner we might have stopped off, but we're a bit ruined out right now. Our destination for the night was a car park near the resort of Sidi Bon Said, near because on each entry road to the town there are barriers where you have to stop and pay to drive in. Our Rough Guide tells us this place is as chic as they come and is a favourite retreat for wealthy Tunisians. People come here in droves to see the white cubical houses with their studded blue doors – a colour scheme turned into a bye-law by French painter Baron Rodolphe d'Erlanger in 1912.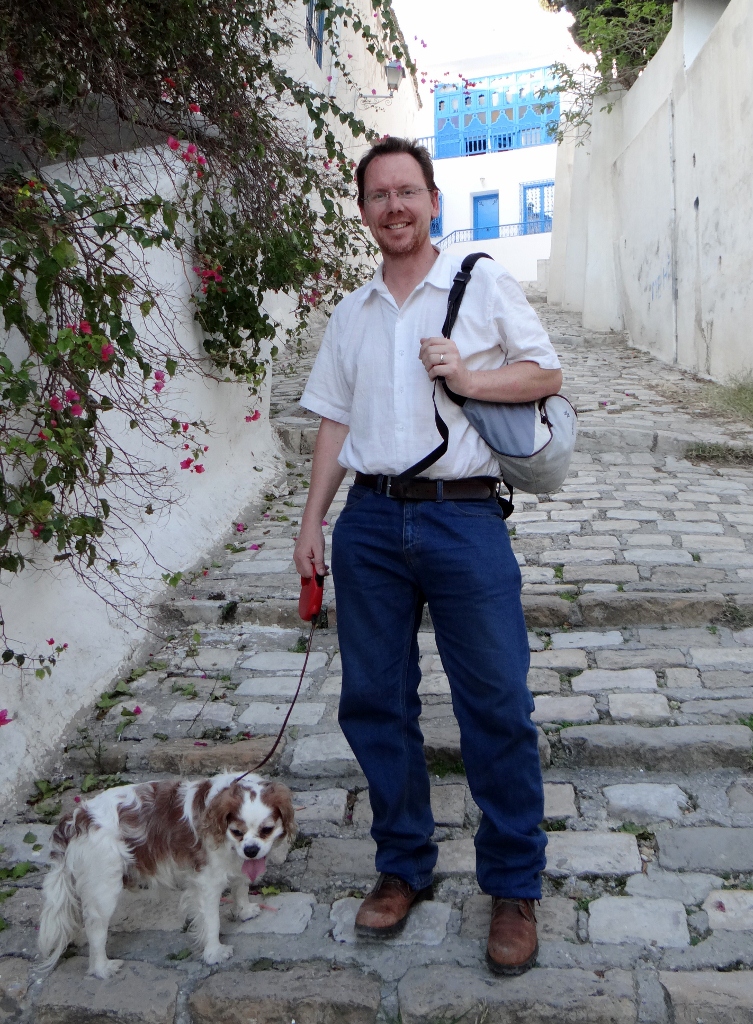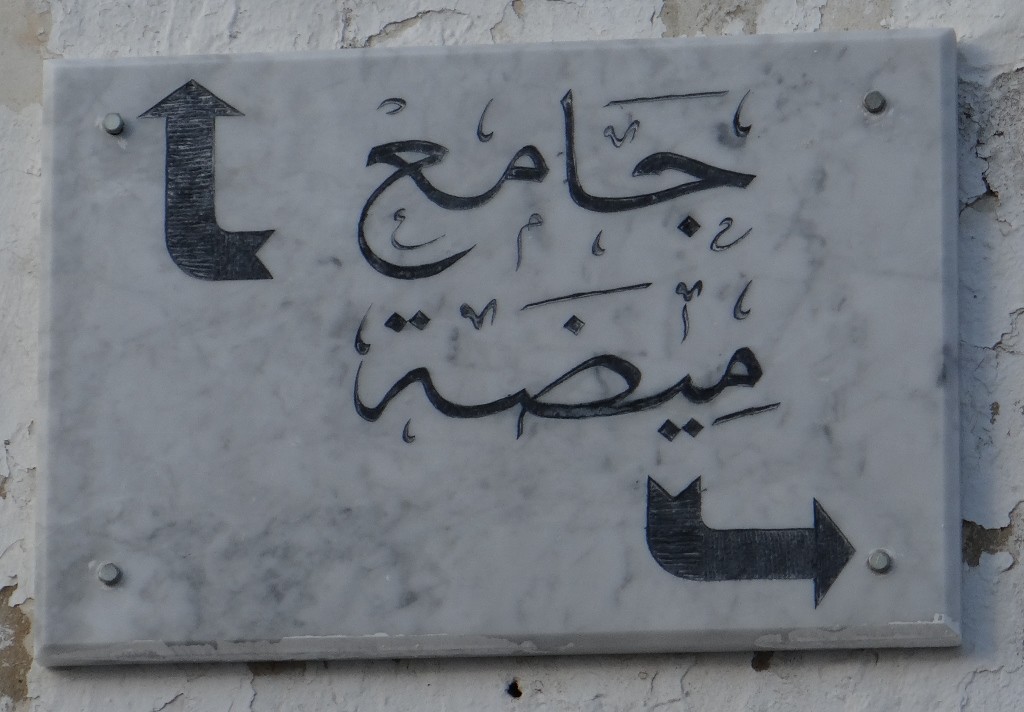 The town is perched on a cliff top, so we joined many others on a long climb up the steps from the harbour. Reaching the town we were amazed at how busy it was, the streets were packed. We climbed up to a balcony area and as Jay took photos I got talking to two women who wanted their photo taken with Charlie. They told us that they lived 20 miles away but visited today because they saw on facebook that the day before someone had set fire to part of the Mosque 'In our religion bad things happen sometimes, it's not unusual'. The reason for the huge influx of people into the green edged building behind us now became clear, and for once the holy building wasn't off limits to non-Muslims, so Jay popped in to see. Meanwhile Charlie drew a crowd by doing his tricks for sugar coated nut treats – he won't need to be fed again this week!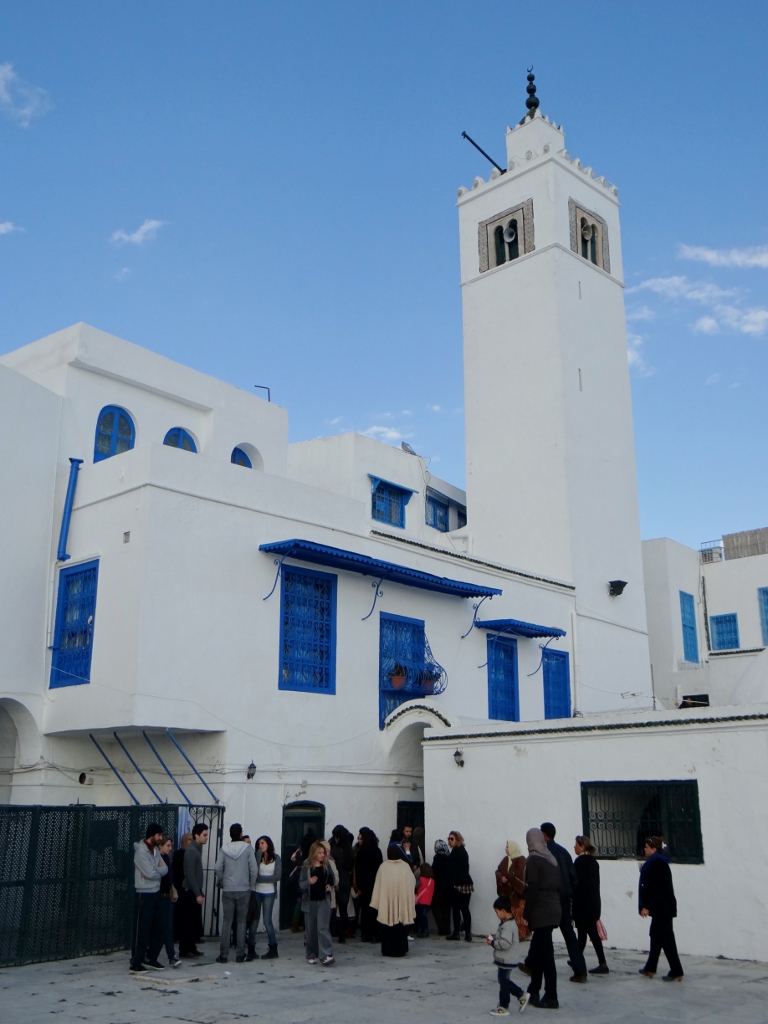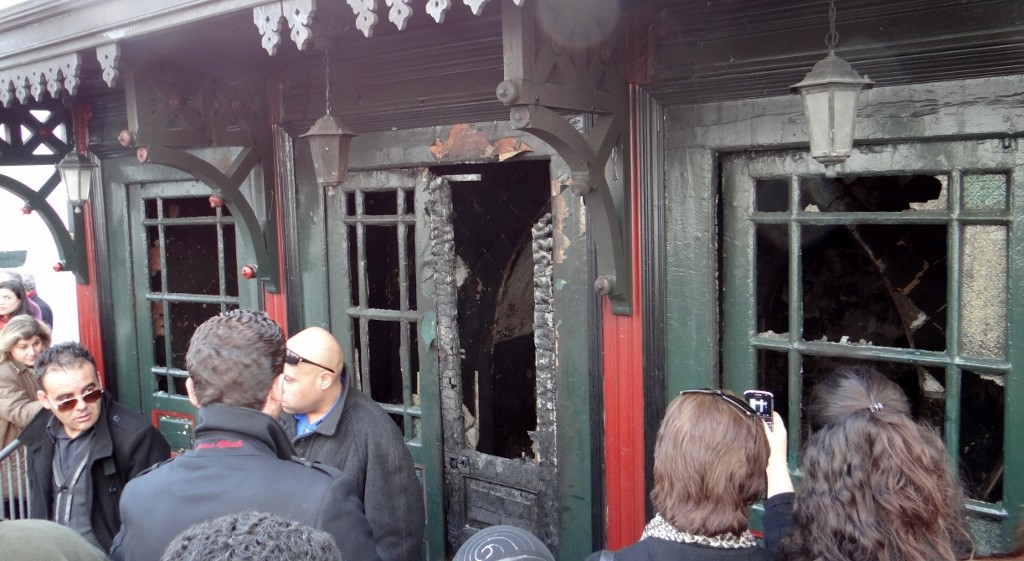 We wandered around the town looking at the souvenir shops, the crowds queueing outside nut based confectionery shops and the bubble bubble pipe smokers in the cafes. The place is really chilled out and many people who stopped to pet Charlie spoke English, those that didn't spoke French. Finally we followed the crowds down into the new part of the town and wandered around a bit lost but enjoying ourselves as unlike Morocco there isn't any pressure to buy stuff or from beggars, it feels good. Our bearings weren't too far off and we found Dave just as the sun was setting. Jay has cooked up a huge curry for tea, which was most welcome as I hardly ate anything yesterday, and tonight we'll chill out and maybe form a vague plan of where we'll go – but there's no rush, Tunisia is looking like a great place for motorhoming.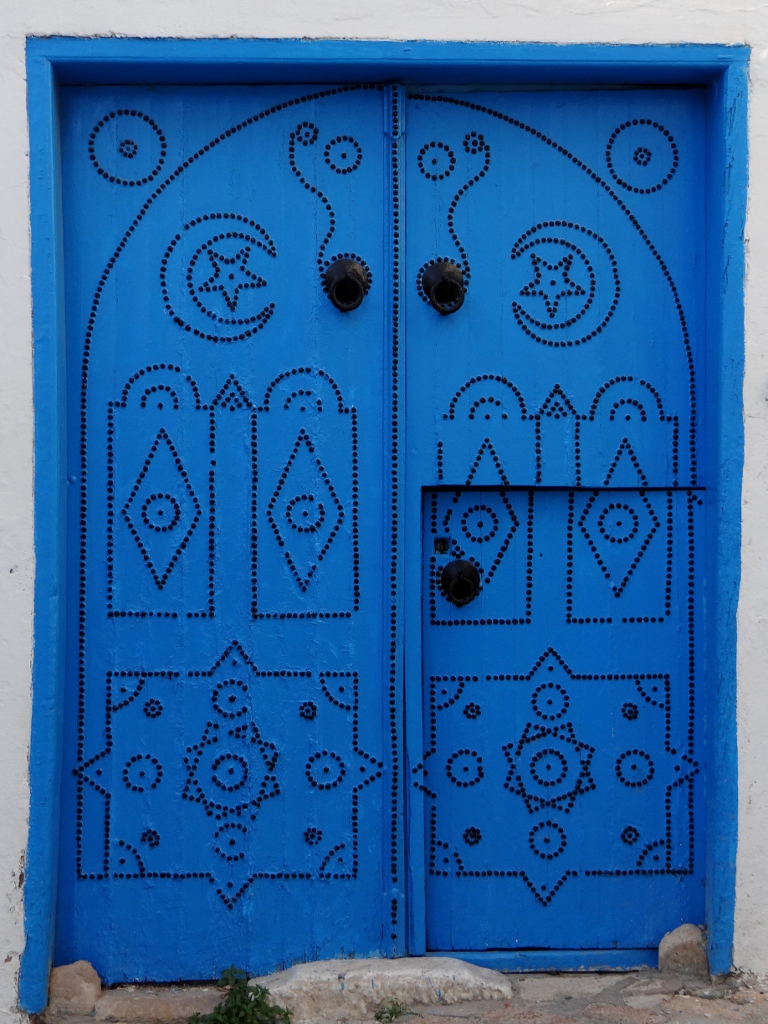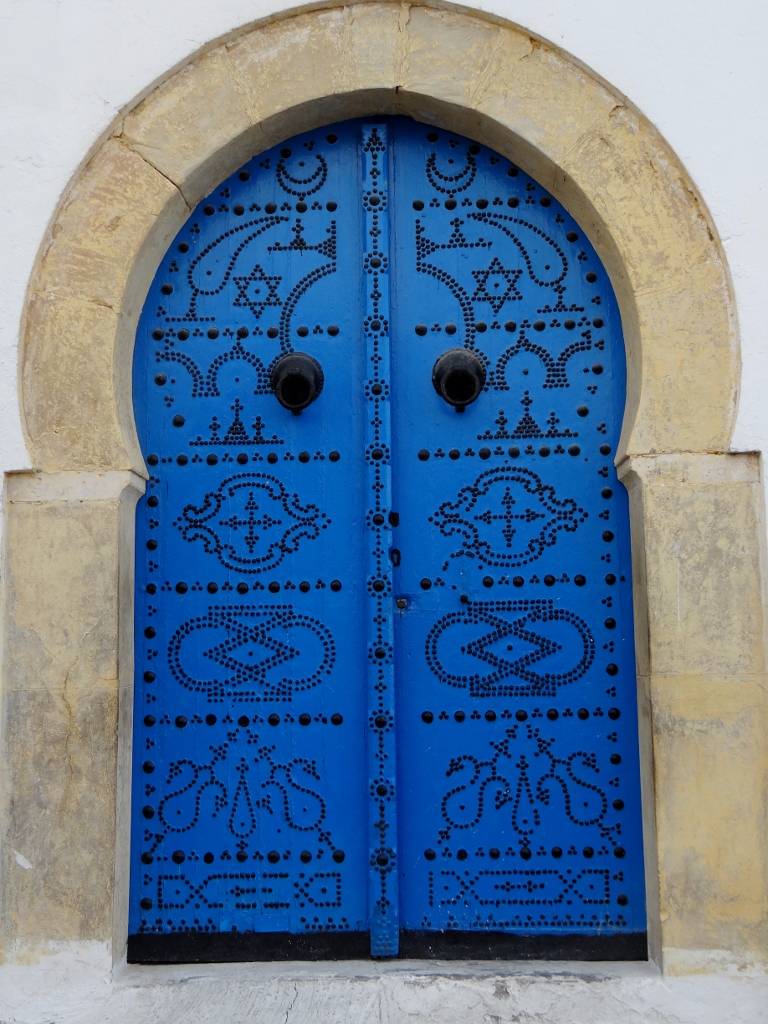 Ju x