Dave the motorhome has the most amazing view out of his windscreen; to his right the ruins of the ancient citadel Acrocorinth climb up the rocky hillside while directly in front he is looking down over the Gulf of Corinth – from a great height. We're parked in the car park for Acrocorinth (N37.88992 E22.86828), which is now closed for the day, about 50 metres behind us another German motorhome is tucked around the corner and hooked into the electricity of the local taverna (with the owner's knowledge of course).
Last night it was hot, so I stayed up and finished off updating our spending overviews from our time in Italy. I can't believe how long we were there for, and how little we spent considering everyone says it's an expensive country. Around midnight I hit the sack, but Jay stayed up later and read for a while – Dave's drop down bed isn't best placed when it's hot as it can get quite stuffy up there, especially if there are two of you. After a while Jay moved down a level to sleep on Charlie's bench, but of course Charlie refused to give it up so the two of them were squeezed on there when I looked out this morning.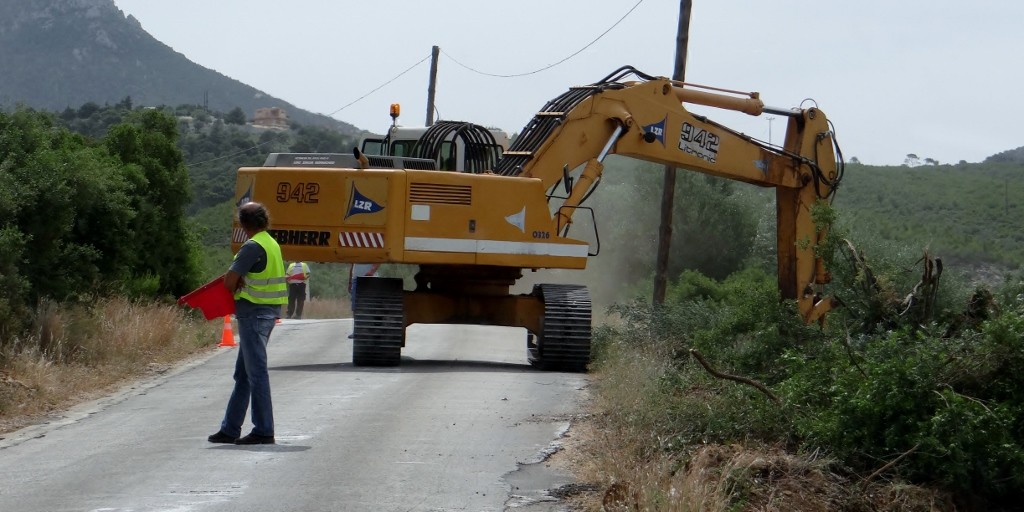 We set off to retrace our tyre tracks from yesterday, along the coastline and back over the Corinth canal to The Peloponnese. A quick check as we drove over showed no massive tankers in the canal, so no need to stop as we already have loads of photos of the place from yesterday.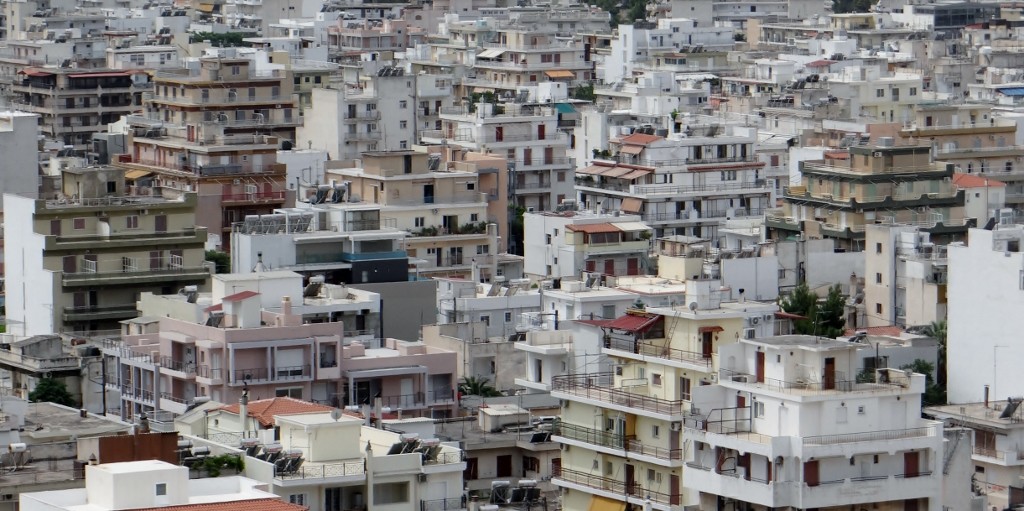 We spotted the sign for Korinthos just after we passed the turning, but as we drove along and saw the mass of high rise apartment blocks we counted ourselves lucky that we were on the road going around it, that was until the next junction. We were given the choice of straight on and onto the motorway, or right and onto another motorway – not a single blue (non-motorway) sign was in sight. I looked in vain for an answer from our pretty useless map (as at 1:700,000 there just isn't any detail) and plumped for straight on.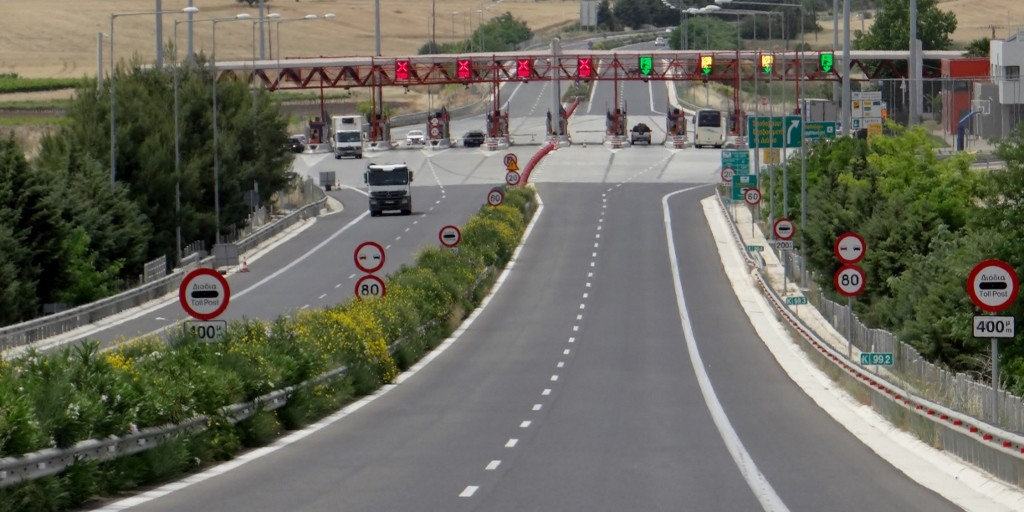 Fifteen kilometres later we reached our first junction, just the other side of the toll booth. I got a couple of Euros out of my purse as it wouldn't cost that much, but the screen flashed up €6.40! We were classed as a small lorry – no more Greek motorways for us. We asked the attendant how to get back to where we were going, the reply was to take the exit, go under the bridge and get back on the motorway north. Not fancying paying over €12 for a minor mistake we opted to try and use our map to get back using the free roads.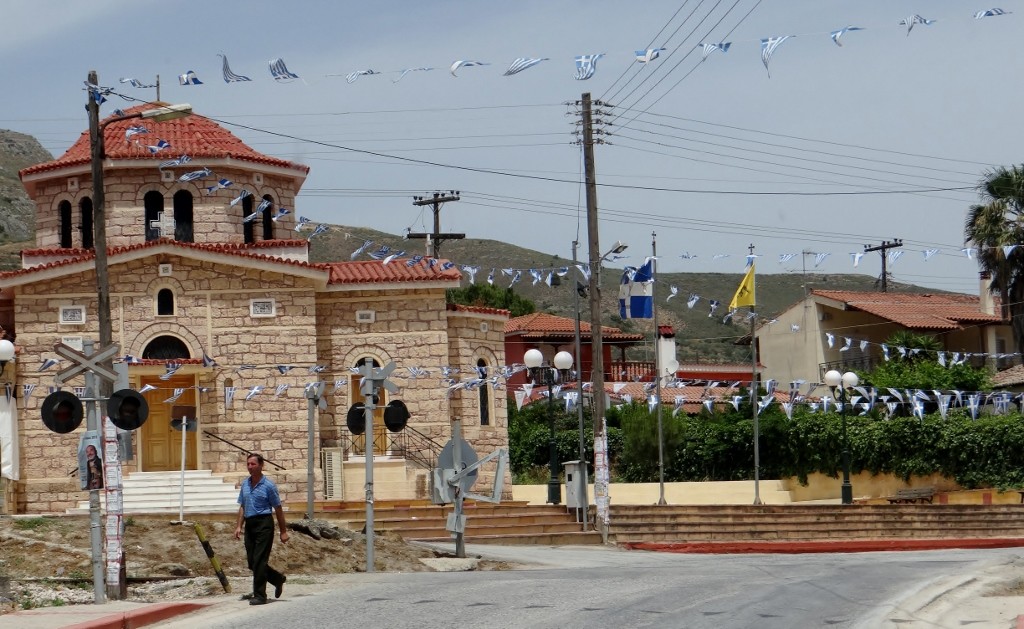 After a few u-turns, a dirt track, twice entertaining the locals drinking beer in a taverna and a lot of stares we made it back on the right road and spotted a sign for ancient Korinthos – just after we passed the turning. A handy petrol station u-turn and we were on the right road, or were we? My guide book told us that Ancient Korinthos and Acrocorinth are four kilometres apart. Ancient Korinthos is €6 to get in, Acrocorinth is free.
With the sun beating down on us we spotted a sign Camper stop. Several people had recommended this place and we even had a promotional leaflet with a photocopied map on it, so we followed the signs with the plan to stop there for the night (GPS N37.54.41.5, E22.52.43.1) and then try and find Acrocorinth tomorrow. We pulled into the small farm and were greeted by a young boy, the grandson of the owner. He spoke a bit of English and told us to park where we wanted. Slotting into a space between the only other two vans there I jumped out with the chocks to level us off, but as I reached the drivers side Jay was already deep in conversation with a German fella from the van next door. He was showing us the womo.de book for The Peloponnese and a free place to stay in Acrocorinth, the photo did it for us – we decided to move on.

Feeling bad about not stopping, as it was a lovely looking place and only €10 a night, we asked if we could pay to use their service point, which we did before heading off through the tiny narrow streets of ancient Corinth navigating with our phone, hooked up to our laptop on the internet. This Heath Robinson set-up's not an ideal solution for every day as it uses lots of our precious data, but handy for situations like this. Before we knew it we had passed two coaches and some Doric columns, and were parked with the amazing view out of our window.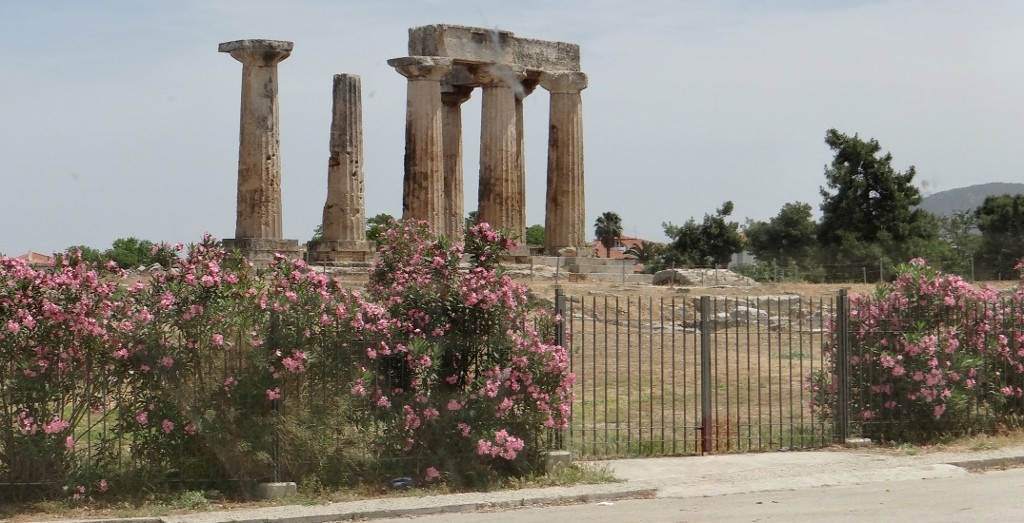 Our guidebook told us that the ruins close at 3pm, it was now 2pm, so we grabbed a chocolate bar and can of pop each, slapped on some factor 30 and hot footed up the worn and slippy stone path. At the gate a sign told us it was open until 7pm today, but as we were already on our way up we carried on. We wandered around the ruins for over two hours, drinking in the amazing views and looking at the jumble of chapels, mosques, houses and battlements which had been erected by Greeks, Romans, Byzantines, Frankish crusaders, Venetians and Turks.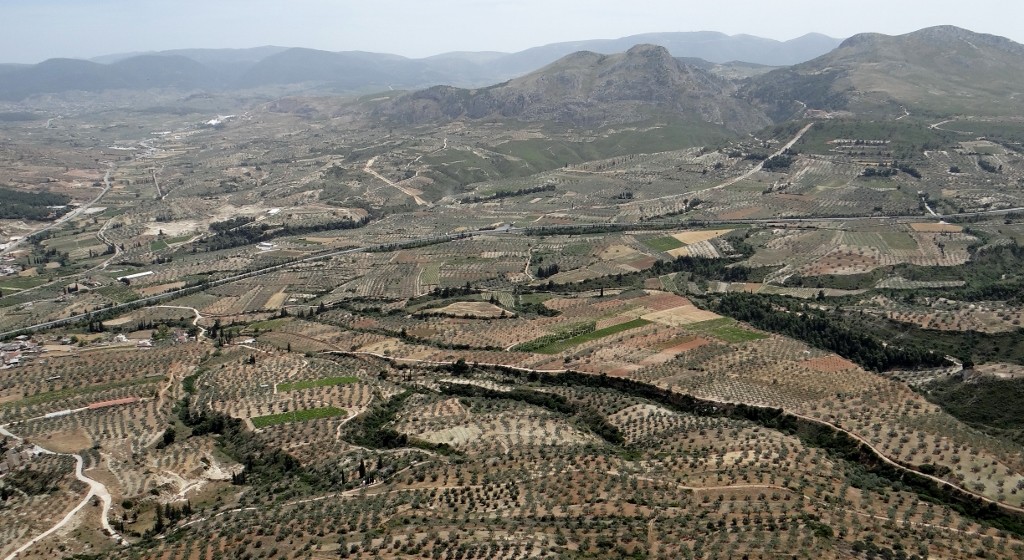 We sought out the Upper Pirene spring where a Fourth Century BC arch stands underground guarding a pool of water which has been said to never have dried up. The water was crystal clear and even though our mouths were beyond dry we didn't dare drink any – Charlie however lapped it up (once Jay had collected it out of the scary pool in an empty bottle) and a couple of bottles worth were thrown over him to cool the poor hot dog down.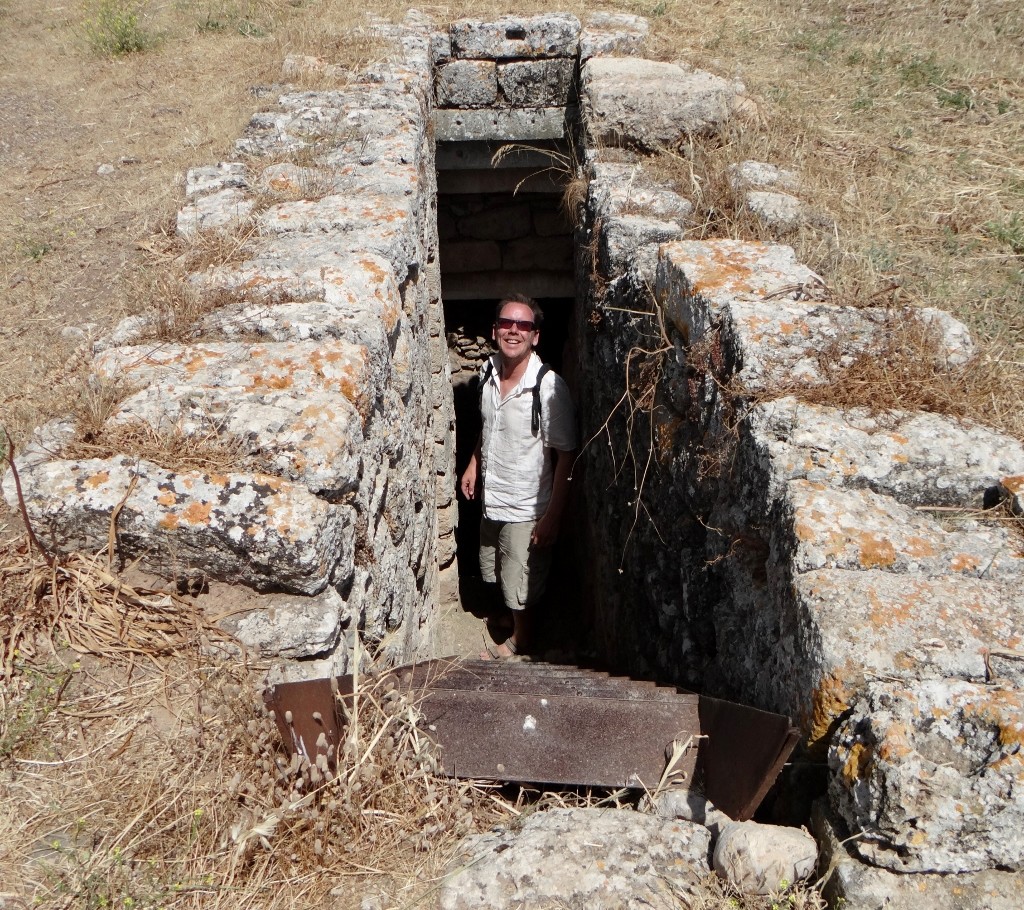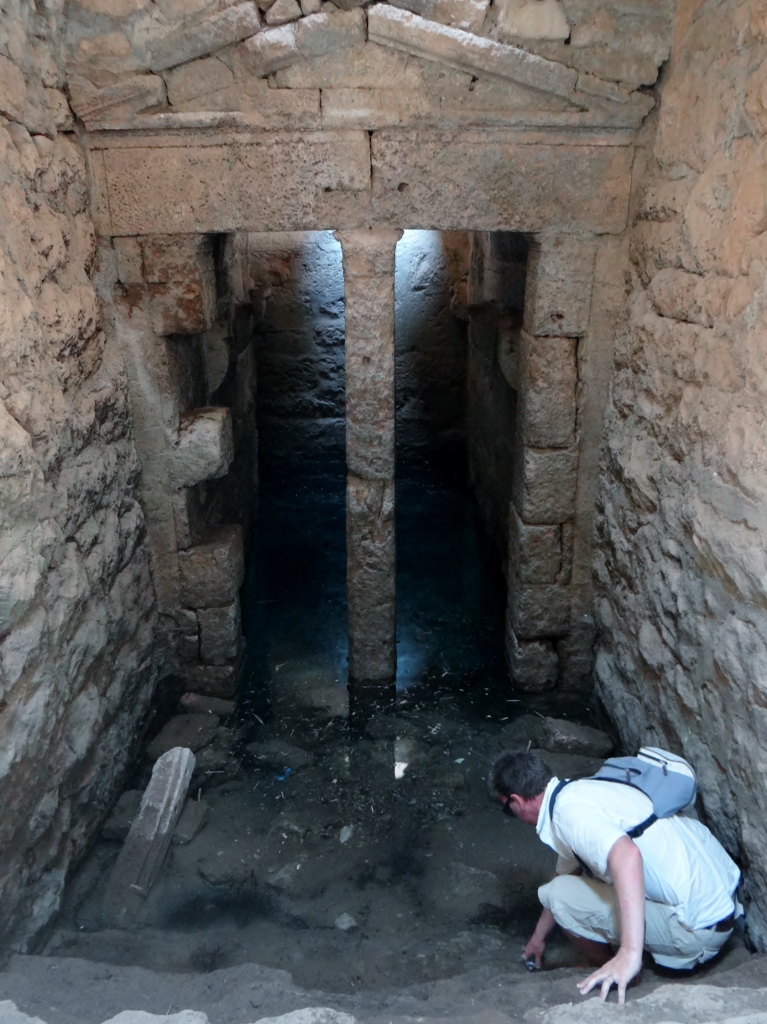 At the top of the citadel the Temple of Aphrodite was once home to 1,000 sacred 'courtesans', who prompted Saint Paul to stay here for 18 months in 51 AD in an unsuccessful effort to reform the citizens of Acrocorinth. However all that remains now are ruins and although we were sure the view from up there would be spectacular, the hill was a step too far in the heat.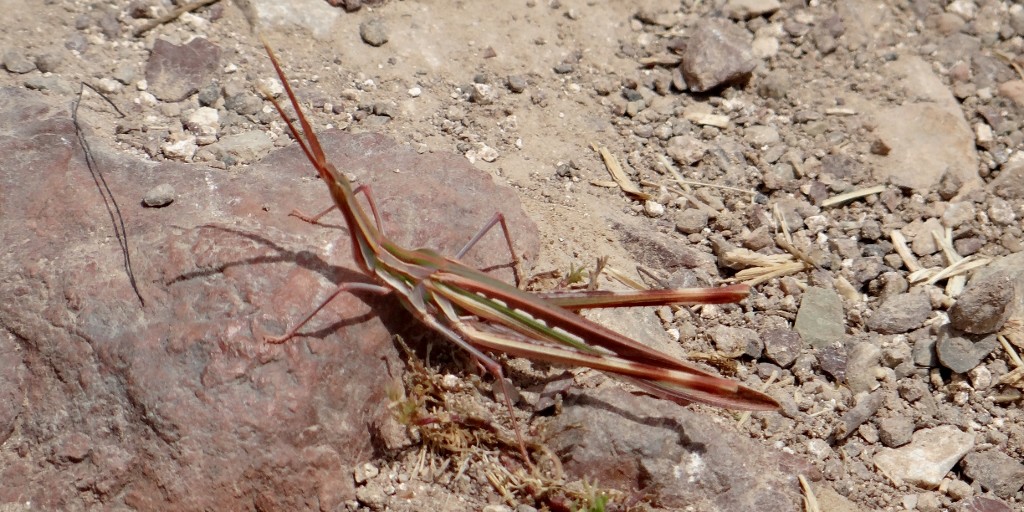 Defeated, we planned our route back to Dave from tree to tree. There aren't many of them up there, but we'd made a mental note of where they all were as they offered a much needed break from the relentless heat of the sun. When we finally made it back to Dave the thermometer was showing 36°C in the shade! Never has a pint of orange juice and water with ice cubes tasted sooooo goood. We sat and drank as if we'd just walked across the Sahara.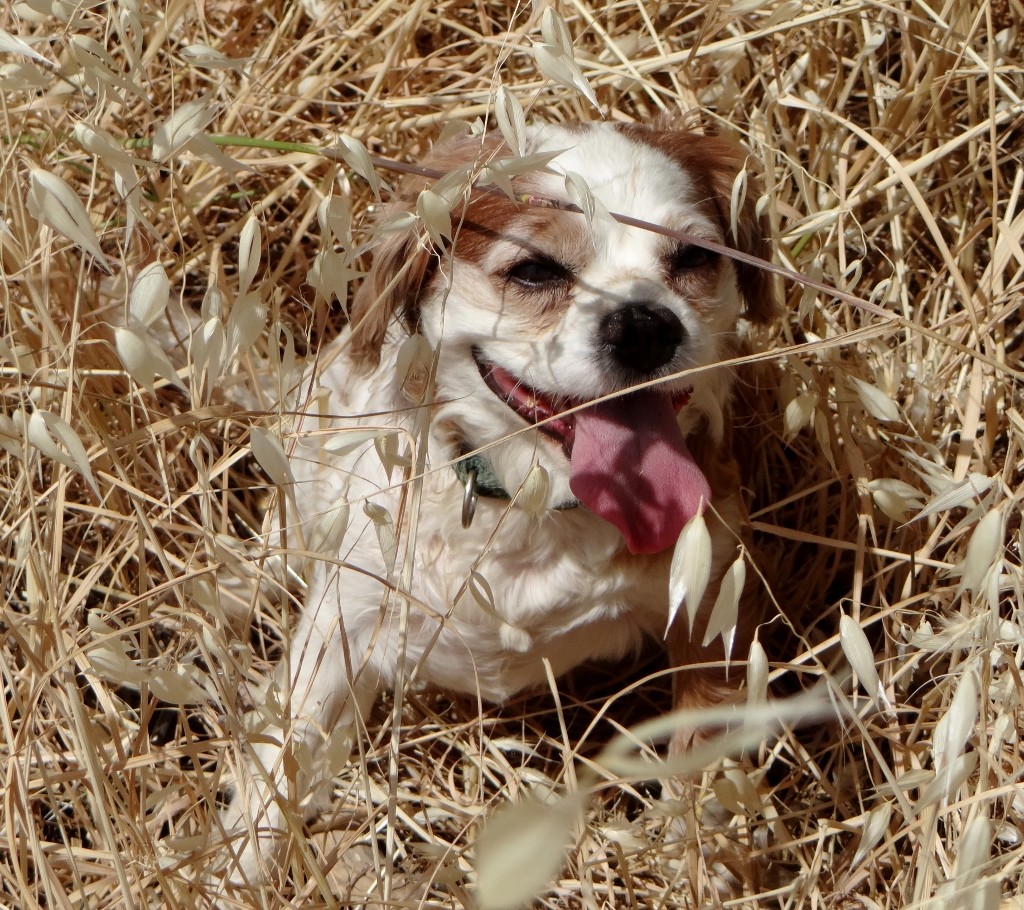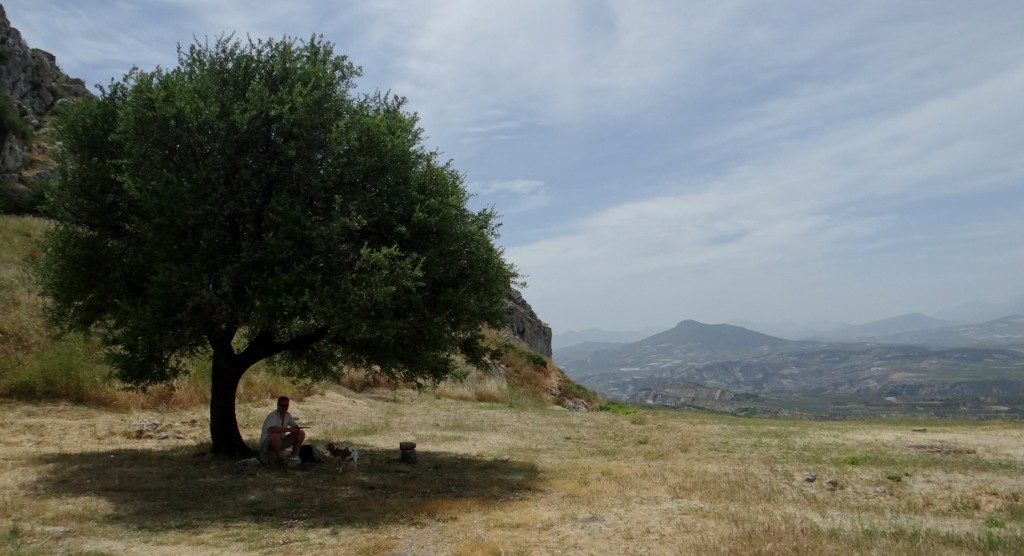 For the rest of the afternoon we chilled in the cool of Dave and had a quick Skype session with Jay's family. The sun had set and the temperature is slowly becoming more manageable (25°C at 10.30pm), Charlie has stopped panting for the first time in hours. Our view out of the window is now sea of blackness with a million twinkling lights – I might sleep with the curtain open tonight and just look out at it. We've seen some amazing views from Dave's windscreen on this trip, this is another that will stay in my memory forever.


Ju x