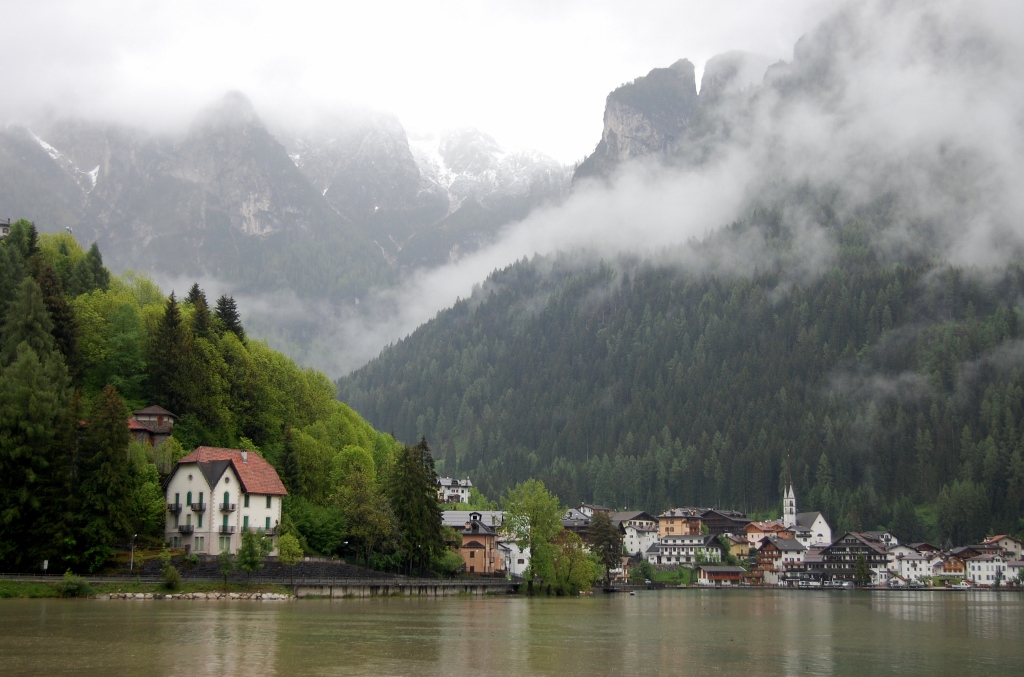 We're here: N46.41014 E12.01814
Weather: cold and raining
Last night I struggled to sleep as the rain got progressively heavier on Dave's roof. As it's only a couple of feet above our heads when we're in bed it can get very loud, and I was on Charlie watch so I couldn't save myself from it with ear plugs. Jay took Charlie for his morning walk and when they both returned sodden and chilled we decided to abandon our plan to walk up to the castle on the hill above us. So we got the maps out and found ourselves a free sosta up in the Dolomites and set off.
After two unsuccessful attempts to get LPG for Dave yesterday, one station didn't have any (and they don't always sign post when they do have it) and the other was closed (as it was Sunday). In fact most of them were closed as they had 'pay at the pump' systems, so you could still get fuel, but not LPG. Today we pulled into another garage, the LPG pump was broken. The next station had no LPG, but we figured we'd get some diesel while we were there. We had four buttons to choose from €5, €20 and two others saying something in Italian. No matter which buttons Jay pressed it refused to dispense anything, so we drove across to the next pump and then noticed the price on that one was 5c a litre higher – they must serve you on this one, so we drove off. Another drive through, leaving an attendant wondering why we didn't want to pay more to fill up Dave and we finally found a garage where we could serve ourselves diesel and got the pump to work, so we filled up at €1.67 a litre. But they had no LPG. Finally we found a station with LPG – it only took us six attempts! The nice man filled up the gas for us and we can now go mad and have the heating on, which is this weather is much needed.
We drove for a few hours today, mainly into and out of petrol stations, to reach the Dolomites (another UNESCO world heritage site!). We're parked up in Alleghe next to the lake that was formed when a huge rock slide (apparently common around here – gulp) dammed up the river in the 1800's. The sosta we're in is free and empty right now. Tomorrow we'll move into position on the mountainside so we can watch Mark Cavendish (owner of the rainbow world champion jersey) and the Giro d'Italia on Wednesday. Stage 17 will take them right past Dave's door. The road we drove along today is part of the route and there is no sign that it's taking place in a couple of days, you'd expect road closure signs or some bunting – but there's nothing.
We've done quite a bit of driving and are now having a quiet day keeping warm and dry in Dave (as you might be able to tell from the photos). It's time for some rice pudding from our favourite camping cookbook and to crank up the heating. Fingers crossed for sun on Wednesday so we can get our bunting out.
Ju x