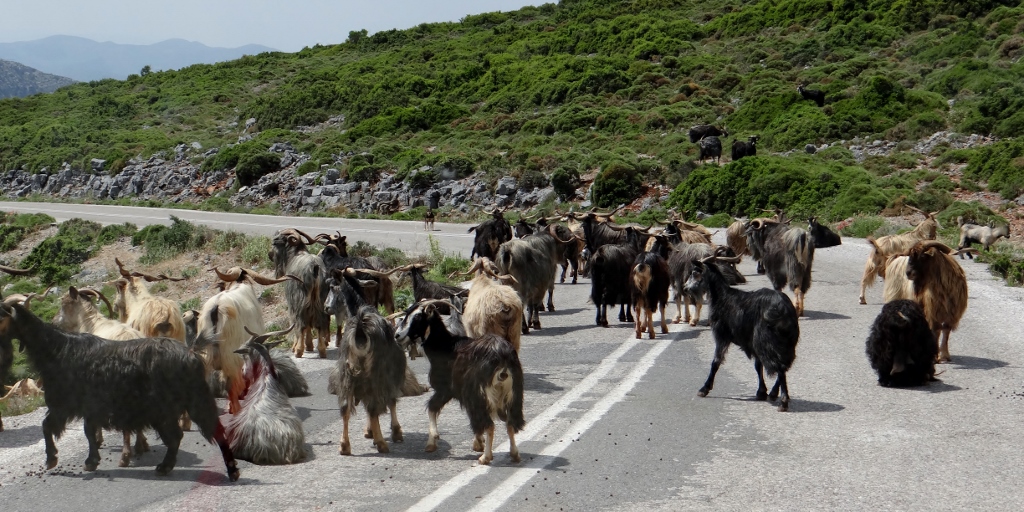 Dave the motorhome is feeling a tad tired, he's had a long drive today and is glad to be parked up in the official motorhome parking at Plaka on the coast (N37.14843 E22.89280). There are a few other motorhomes parked out next to the coast guard station by the no camping signs, but we figured that if the local council are kind enough to provide us with a parking place for free (and some services) then we'll use that instead of clogging up their seafront. To be fair I bet they don't mind at this time of the year as the place is pretty much deserted, but we're just fine fenced in here with our own beach access and next to a couple of allotments.


Before I start writing I have a confession to make, we've had a little bit to drink. I know it's only early, but while we were wandering around the harbour it started to rain, as it got heavier and heavier we sought shelter in a taverna and well, it would be rude not to. Half a litre of the house wine later (€3 bargain) I noticed that my glass was somewhat bigger than Jay's – oops!

Last night we went out for a bite to eat and got talking to Ruediger and Sabine from Hamburg who had parked their motorhome near Dave an hour or so earlier. They were surprised to see us going out to eat so late, and I think it's fair to say that we've slipped into the Greek way of life a bit. Back home we'd be starving for our tea by 6pm, now we'll happily start cooking around 9pm or even later. Jay spied an empty crab shell on Ruediger's plate, and the decision was made; crab for Jay, souvlakia for me. While we waited for our food Ruediger and Sabine ordered another 'kilo' of wine and we sat chatting for an hour or so.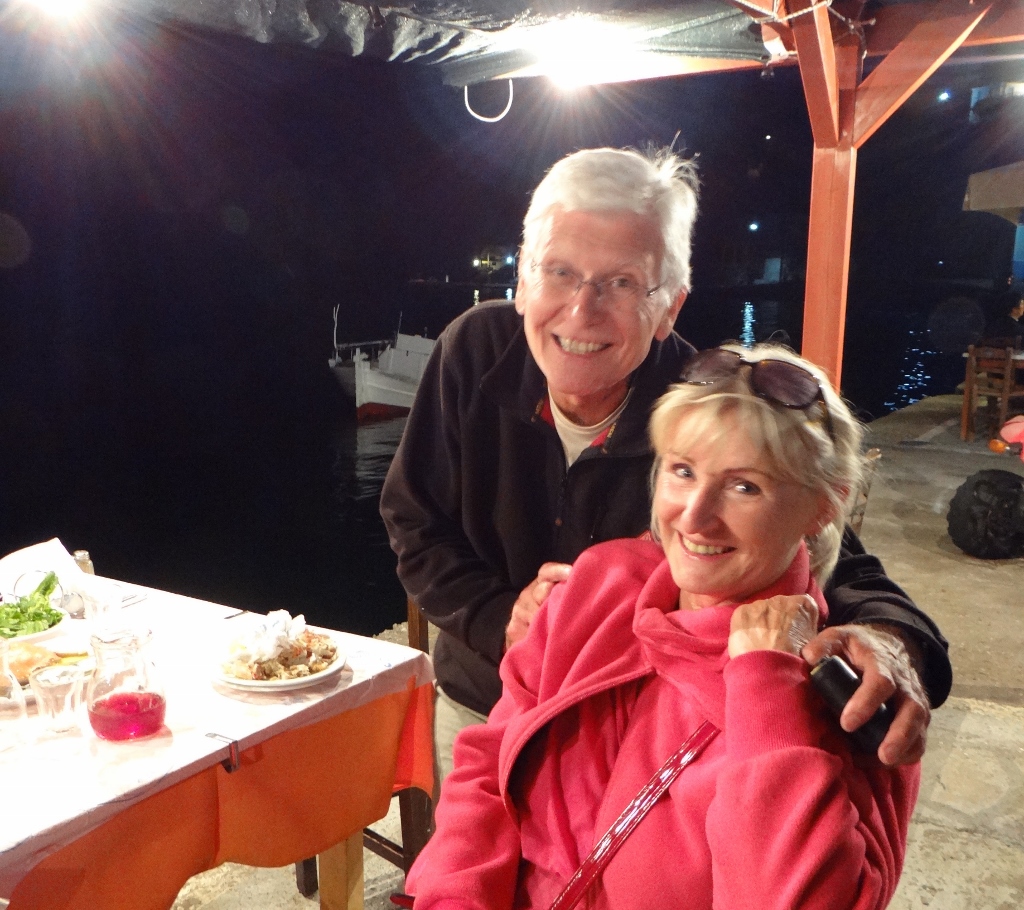 We arranged to meet Ruediger and Sabine for breakfast before they headed for bed which was not long after a plate of chips and some bread arrived for us, it was all greedily devoured as by now we were getting hungry. It must have been gone 10.30pm when the food finally arrived, but it was well worth the wait. Jay had a whole crab, drenched in butter with a set of nut crackers to get at the best bits of meat, I had three skewers worth of tasty meat sitting on a bed of pitta (which here is more like a naan bread). We ate until we thought we might burst.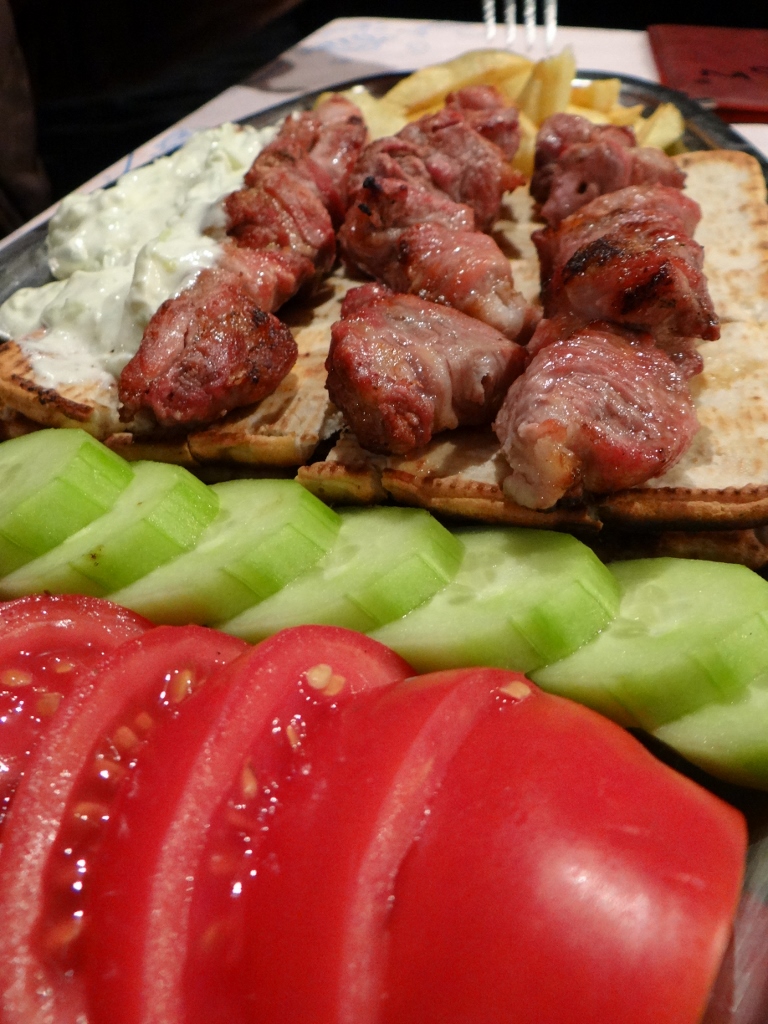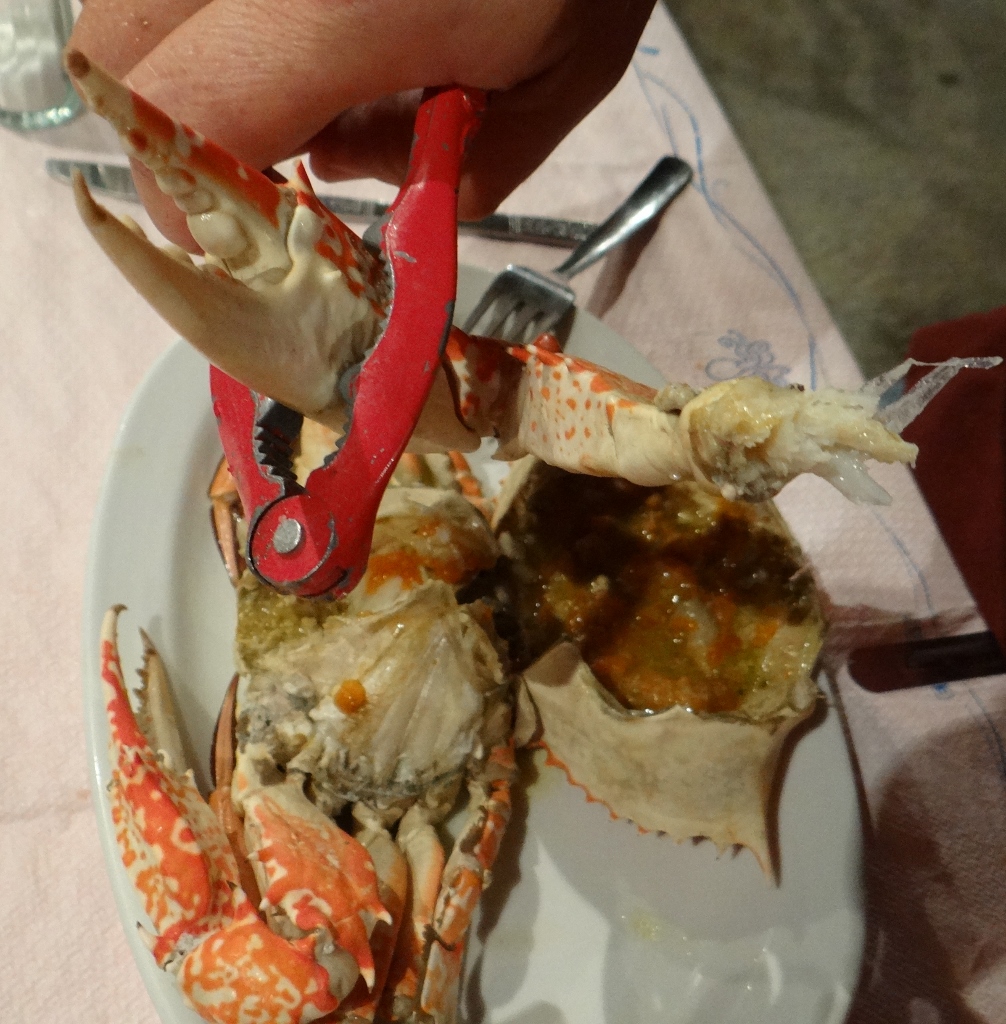 Back in Dave Charlie knew we had some tasty crab legs for him, but he would have to wait until the morning to get his teeth into them. Around 3am Charlie woke Jay up demanding to go outside and find some grass to eat as his stomach making the most strange noises again. I managed to sleep through that, but when they came back in Charlie wouldn't settle so I moved onto his bench with him and we cuddled up together for the night – poor puppy.
This morning the alarm wasn't welcome at 8.30am, but we'd arranged breakfast for 9 so we dragged ourselves up. Charlie was feeling much happier and scoffed his crab legs down, followed by some left over fish from the other day. We met up with Ruediger and Sabine and wandered back along the quayside to the taverna for breakfast. The woman who served us last night was still in bed, her husband said, but he would sort out our breakfast. We ordered our drinks and sat chatting. After about half an hour we looked across to see the husband, and chef, still sitting in the sunshine with his cold coffee. So who was cooking our breakfasts? It turned out no one was, it looked like we'd only ordered drinks. The husband headed off into the kitchen and half an hour later appeared with four lots of egg and bacon. Still slightly stuffed from dinner the previous night I managed to force it down and was set up for the day.
We said goodbye to Ruediger and Sabine and promised to pop in and see them in Hamburg on our way back for a pint of Kilkenny and a schweinshaxen. Then we set off first along the waterfront, squeezing between parked cars and restaurant tables as we waved goodbye to the little community that was so welcoming. In convoy we crossed over a high mountain pass, shifting goats from their sunbathing spots on the road with a beep of Dave's horn.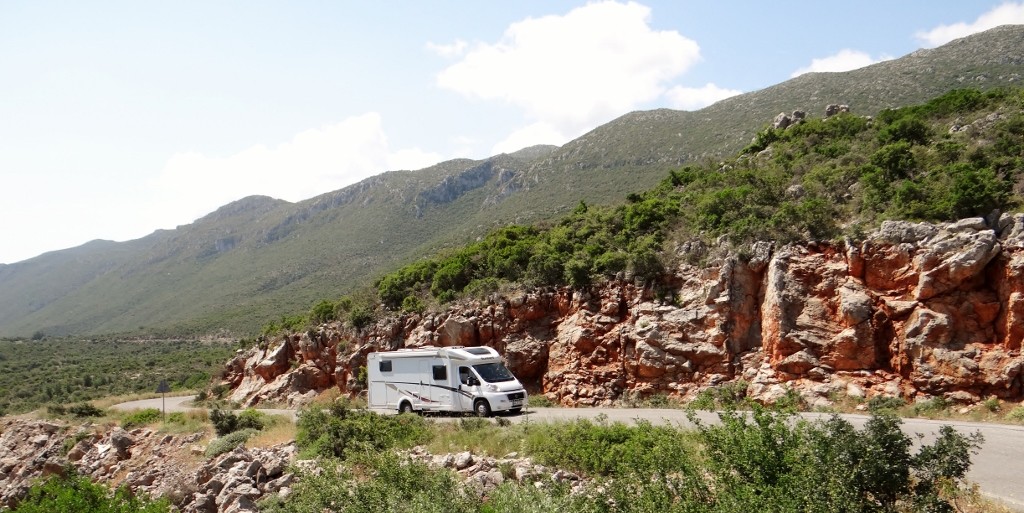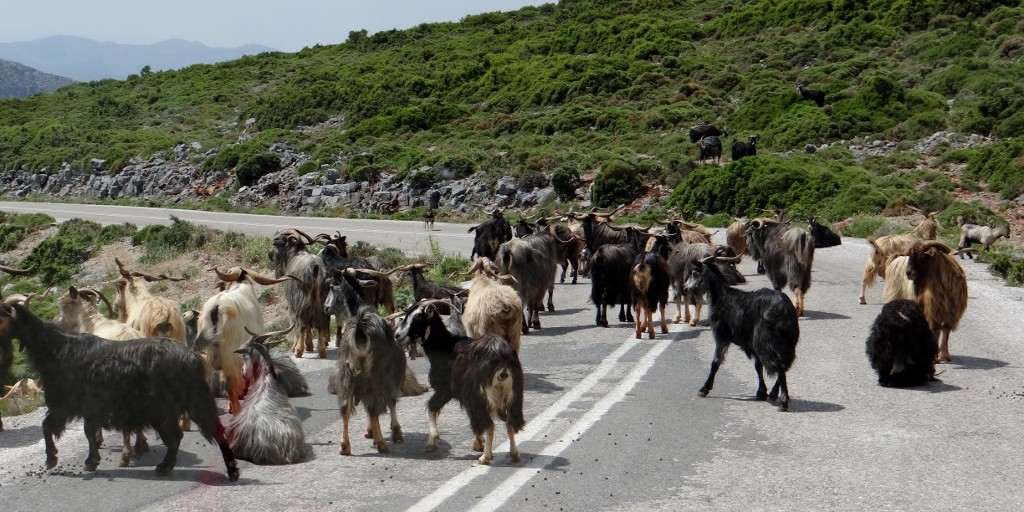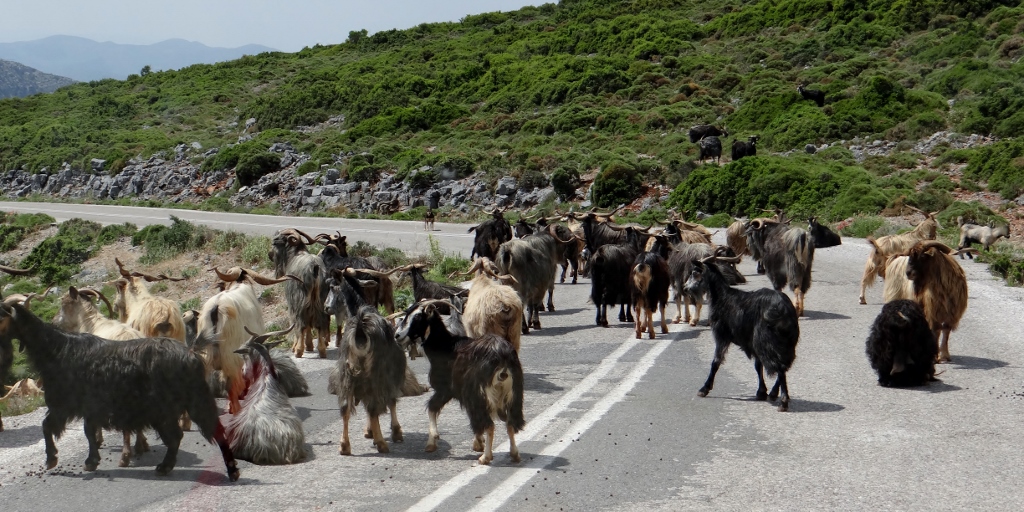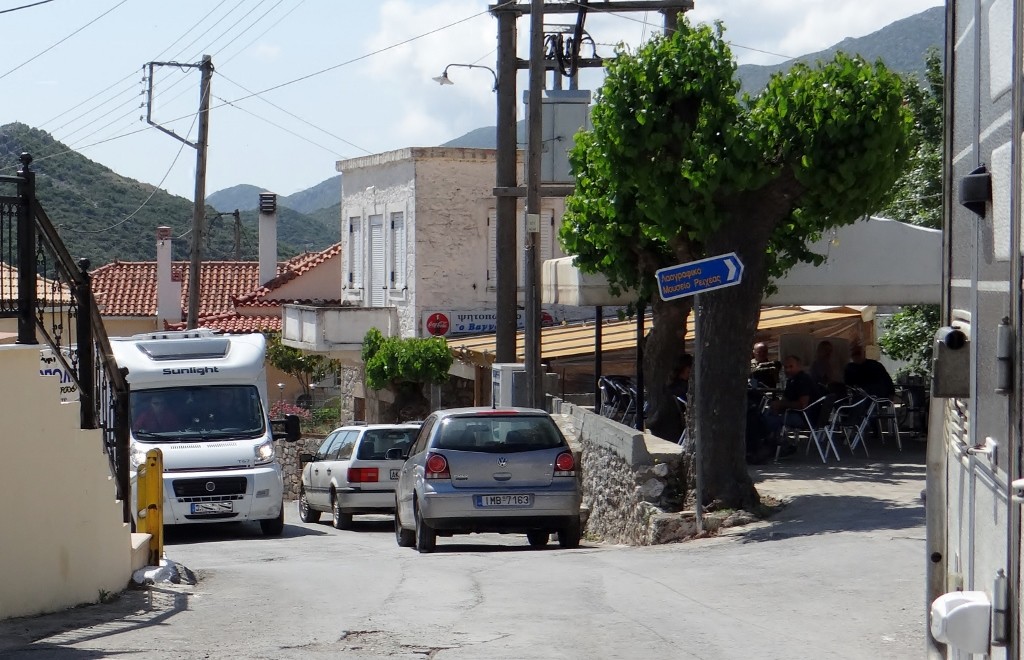 As we reached Molai we ran out of road sign luck, there was nothing to give us a clue where to go. I shrugged out of the window to the guys behind to let them know we were taking a guess with our next turn, they beeped farewell and after a pause headed in the other direction. Did they know where they were going, after all our map is rubbish? We did a dodgy u-turn and set off to follow them, then I spotted a sign to Sparti opposite another junction, another slightly less dodgy u-turn and we headed off in the right direction hoping the others would find their way soon enough.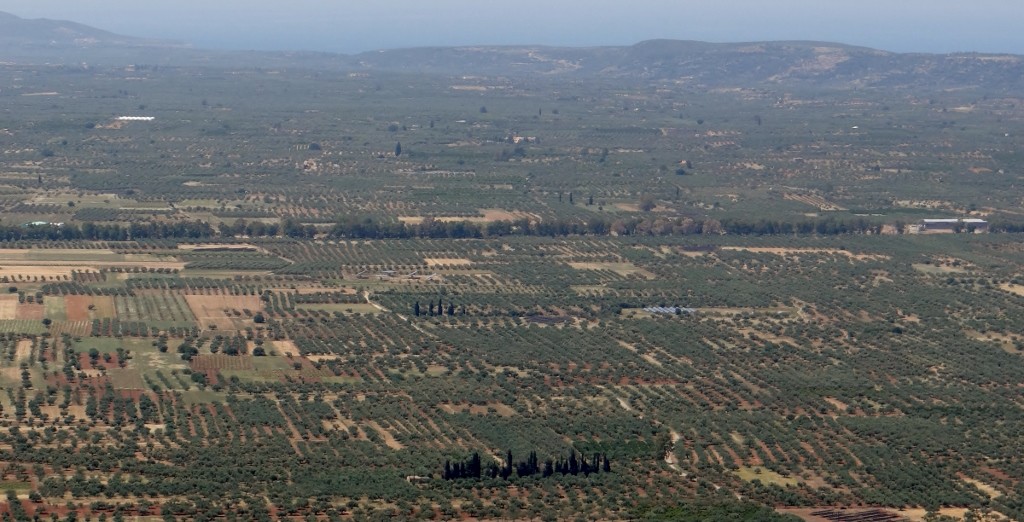 The road became familiar as we'd driven along it a few times over the last couple of weeks, and a plot was formed to nip into Lidl and pick up a few supplies before stopping at Carrefour next door to get see what was in there. As we pulled a parking space in Lidl Ruediger and Sabine drove past on the main road, they weren't that far behind us. As I got my trolly I spotted a familiar looking pooch tied to a Swedish scooter – Peter who we had met at Kamares beach was here buying some stuff too. I freaked him out the first time we met him by knowing his name, I think this time he was just shocked to see us as we'd left his beach a while ago. We had a quick catch up by the freezers then headed our separate ways once more. That's the sad thing about this type of life, you meet some really lovely people, but then you have to say goodbye.
With Dave stocked up we headed north towards Yeraki, another Byzantine town described by our guidebook as 'a creditable third to the sites of Mystra and Monemvasia'. We turned and followed the signs to the new town and when we reached it we found a sign saying nothing over 4m long could continue. We double backed and looked for another route, but to be honest we didn't bother looking too hard – we'd seen first and second in the Byzantine town league, so we weren't in a rush to see third place. When no obvious sign was visible we got back on the main road and climbed up to Kosmas. Set up in the mountains the handsome little town was lovely and cool so we pulled in and had a bite of eat in Dave. As we ate the heavens opened and we were thankful we weren't descending the mountain road in that shower.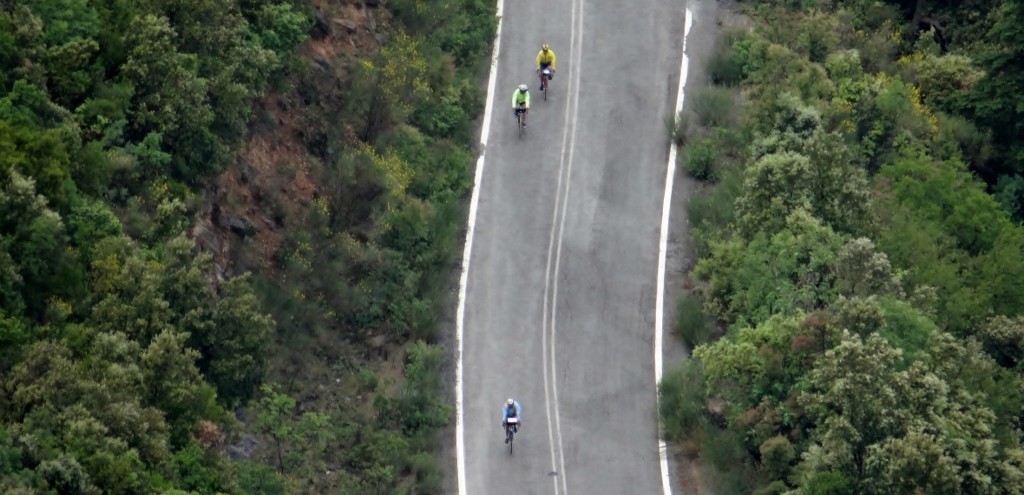 While the town looked nice it didn't captivate us, after lunch we moved on heading downwards into the Dhafnon gorge, behind a tour group of cyclists with a supporting bus. They got away from us when we stopped to take photos and admire the amazing views. Perched up above us was the Panayia tis Elonas (Elonis Monastery) which you can walk up to for stunning views, but the rain had caught up with us again, so once more we ploughed on down to Leonidhi.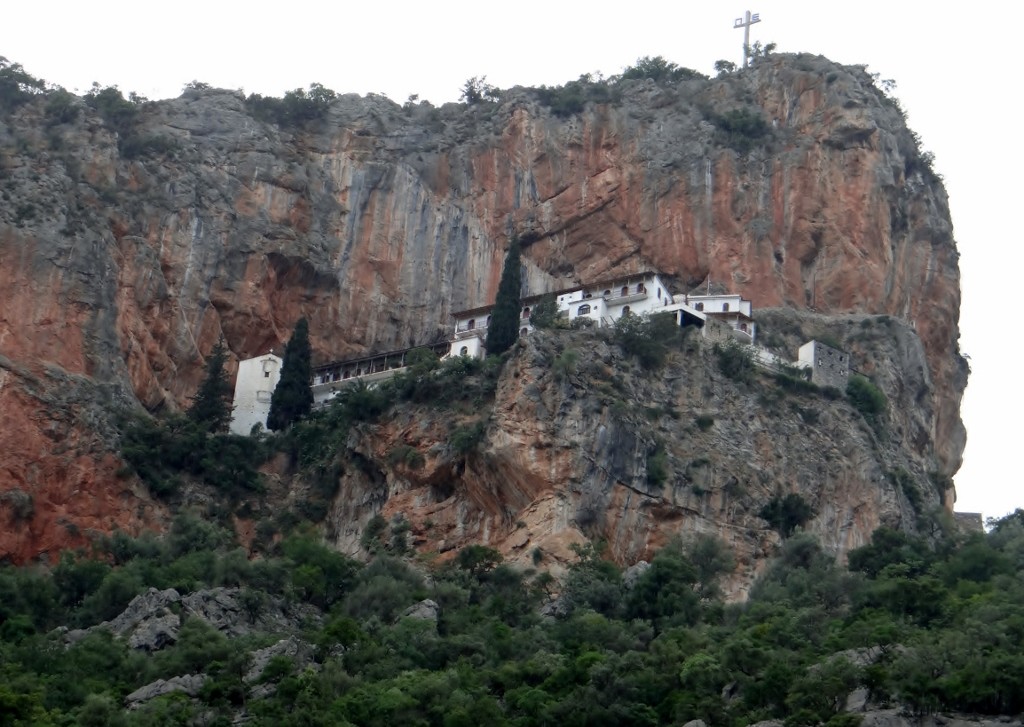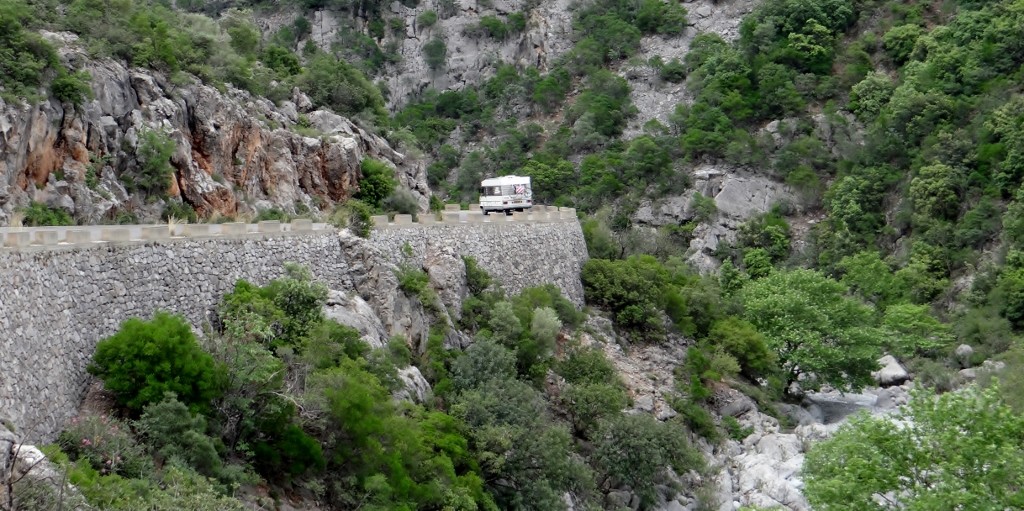 The name of Leonidhi is etched in my memory banks. So many other motorhomers who we have met have warned us of it. The town has some very flaky signage to tell you that anything bigger than a car can't go through the middle of it as the road narrows; a lot. If we carried on along the main road we would get stuck. We thanked all of our friends who warned us about it and turned right to drive along a nice wide road by the dried up riverbed full of flowers. The town itself is surrounded by giant red cliffs that wouldn't look out of place in the deserts of southwest America, but we could smell the sea air by now and didn't stop.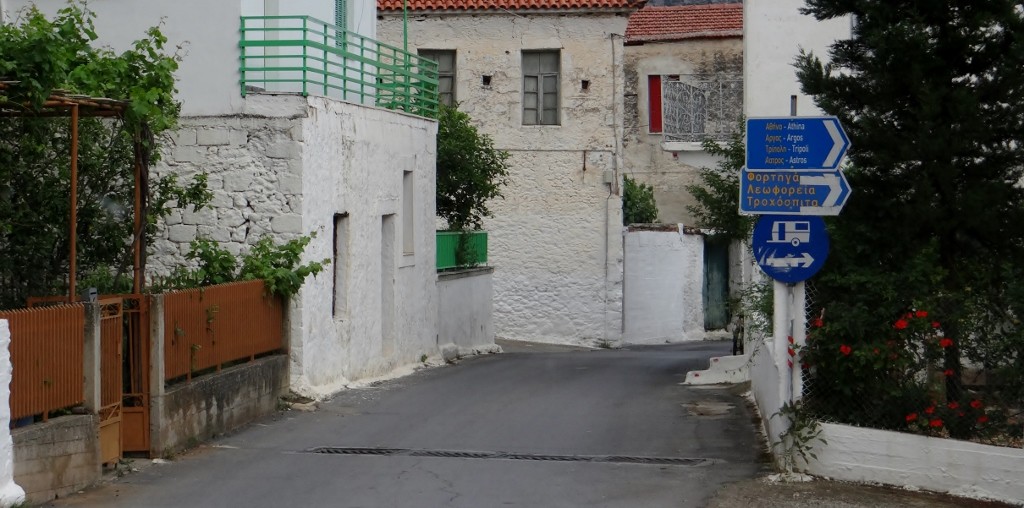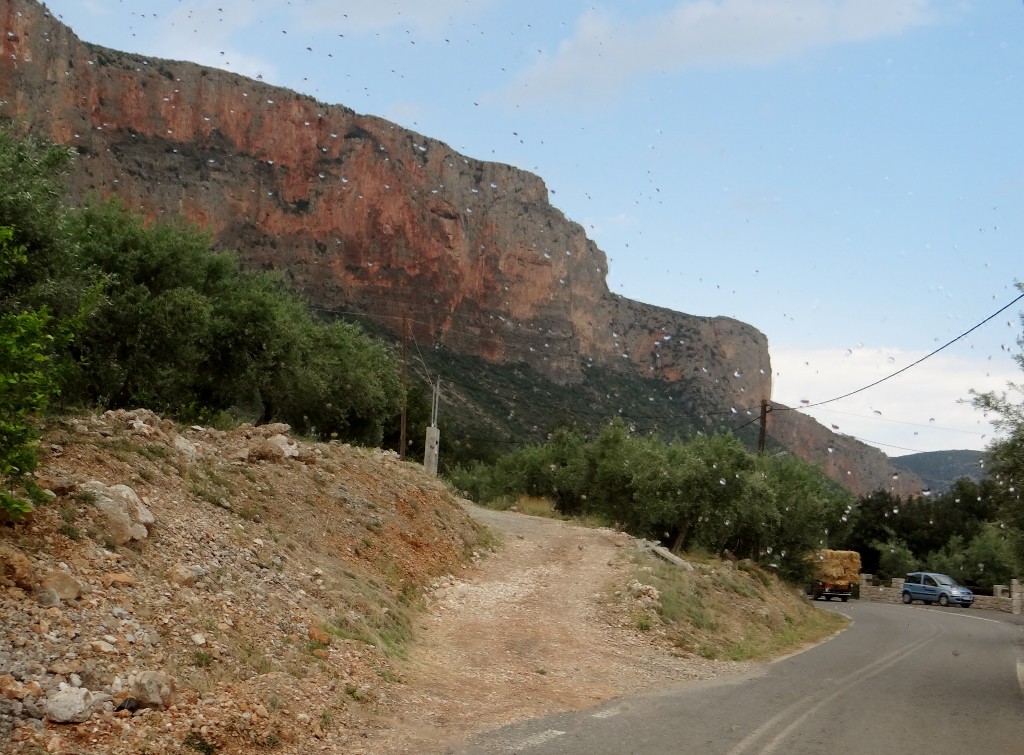 Our final road brought us to Plaka, and not a moment too soon as a shooting pain had Jay reaching for his shoulder. I jumped out and checked to see if we would fit through the town, and spotted several other motorhomes – one of which we've bumped into twice now as we've toured the Peloponnese. We parked up and put the kettle on. It had been a long drive, but now we were over the last big bump of the fingers and just have the sticky out thumb to explore before we head over to the mainland (you might want to look at a map to understand what I'm on about!).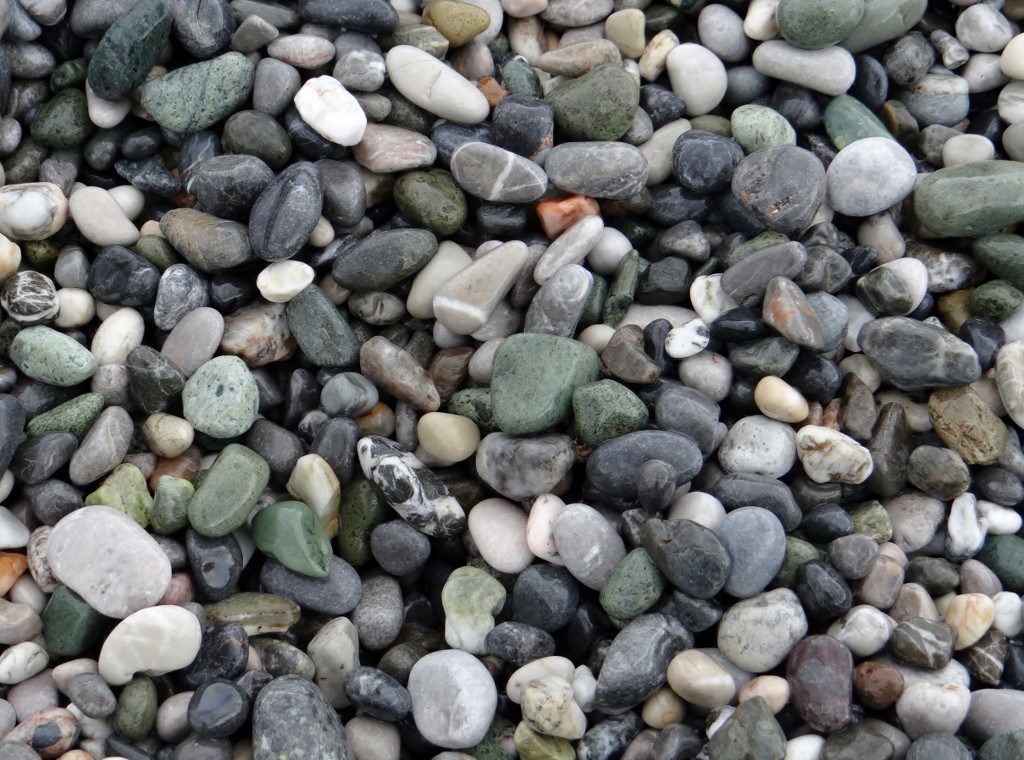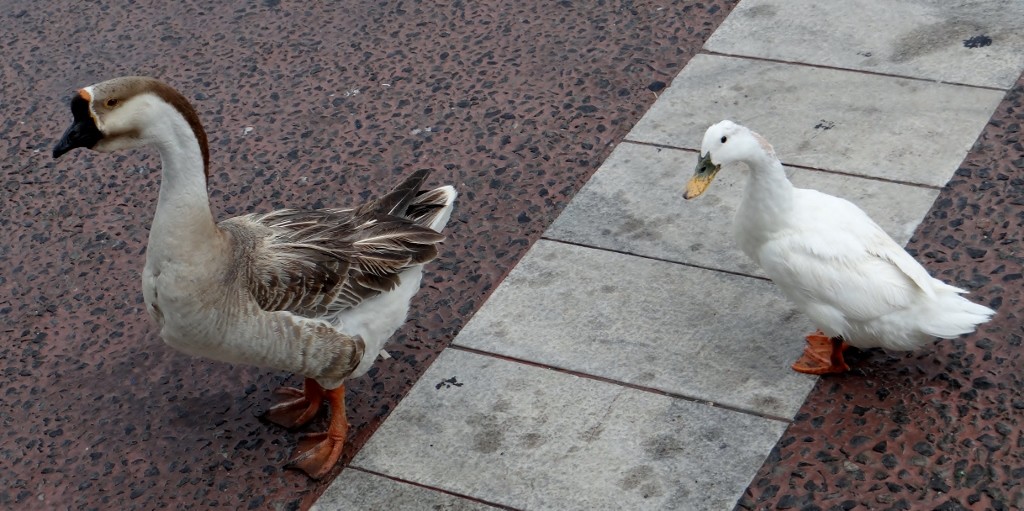 We've moved into the designated parking area and been for a stroll which ended in quite a lot of wine. The sun has set on this quiet little port town and Charlie is snoring once more. Jay is cooking up tea tonight and even though I'm still sort of full from last night and our huge breakfast I'm sure I'll manage to scoff it when we finally get around to eating later. We knew the food in Italy would be wonderful, but we never expected the Greek food to be so good too, perhaps it's because it is just so simple, tasty and smothered in olive oil – our waistlines continue to expand.
Ju x