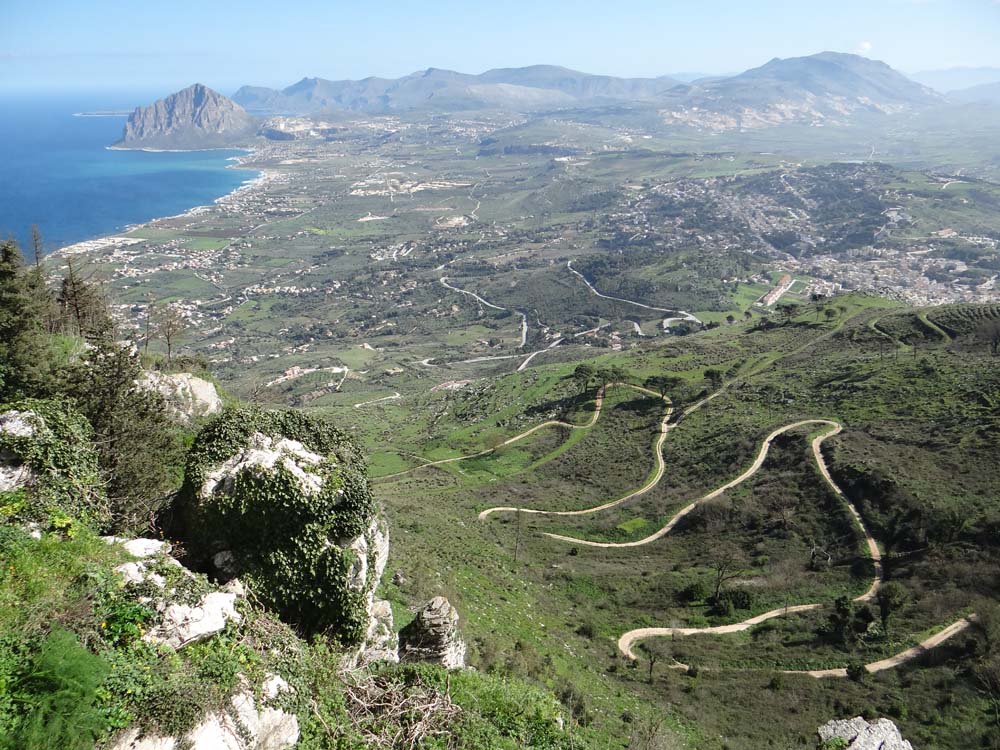 Dave the motorhome has a bird's eye view of of the north west coast of Sicily, parked on the edge of a cliff (N38.03582 E12.58375) in the mountain-top town of Erice (which, as far as we can tell, is pronounced 'ay-reech-ee'). He's not, strictly speaking, parked legally just here, passing a no-motorhomes sign to reach this perch, but no-one is interested in us and there is an official area for us to park if we need to move, a few hundred meters down the mountain. Also, the view I mentioned appears and disappears with the hours. At the moment we can see nothing below us, looking down into an abyss of grey-white cloud. No, wait, they're clearing and the oblong salt flats south of Trapani are slowly melting back into view.

Erice's another of Italy's cities which seems to have stood for ever, over 2500 years, and once you're up here you can see why; its position 750m up offers stunning 360 degree views (sometimes), and a perfect defensive position. The ancients thought it was as high as Etna. Looking at the map yesterday, the roads leading to it looked nasty, oozing perceived narrowness, tight switchbacks and sliding-backwards gradients. In truth we cruised up, our only worry the fact we couldn't see more than a few meters as we ascended into the cloud.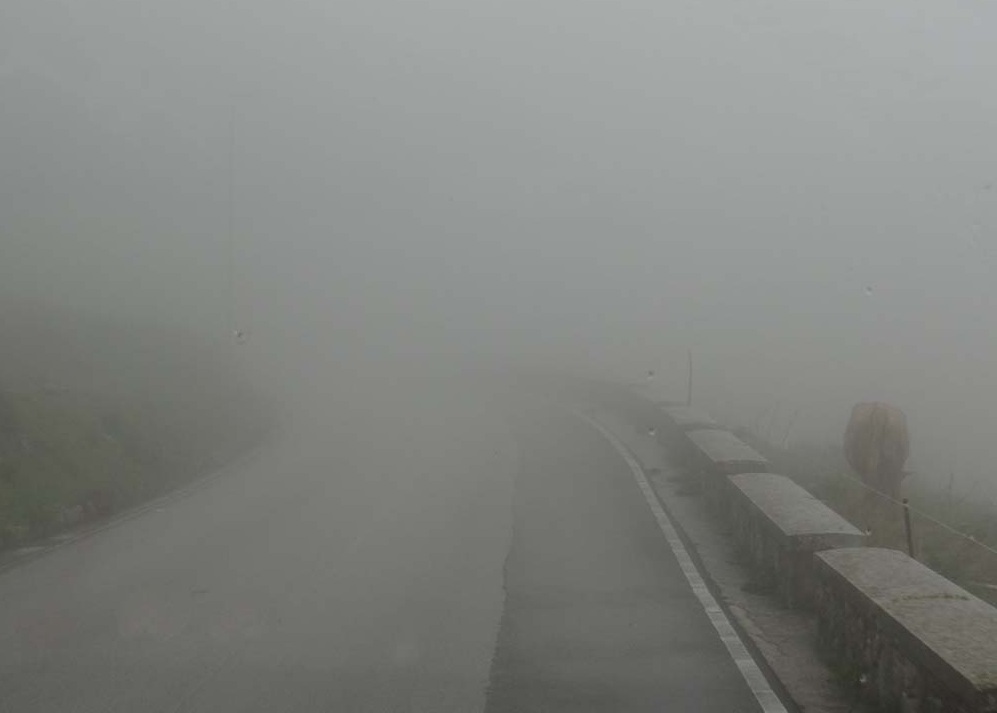 Dave easily made the 2nd gear climb and we popped him in the official parking area, waiting out the cloud and wondering why our 3 SIM had started redirecting us to their 'give us more money' web page. The latter remains a mystery, but the cloud cleared enough for a us to have a look at the town above us.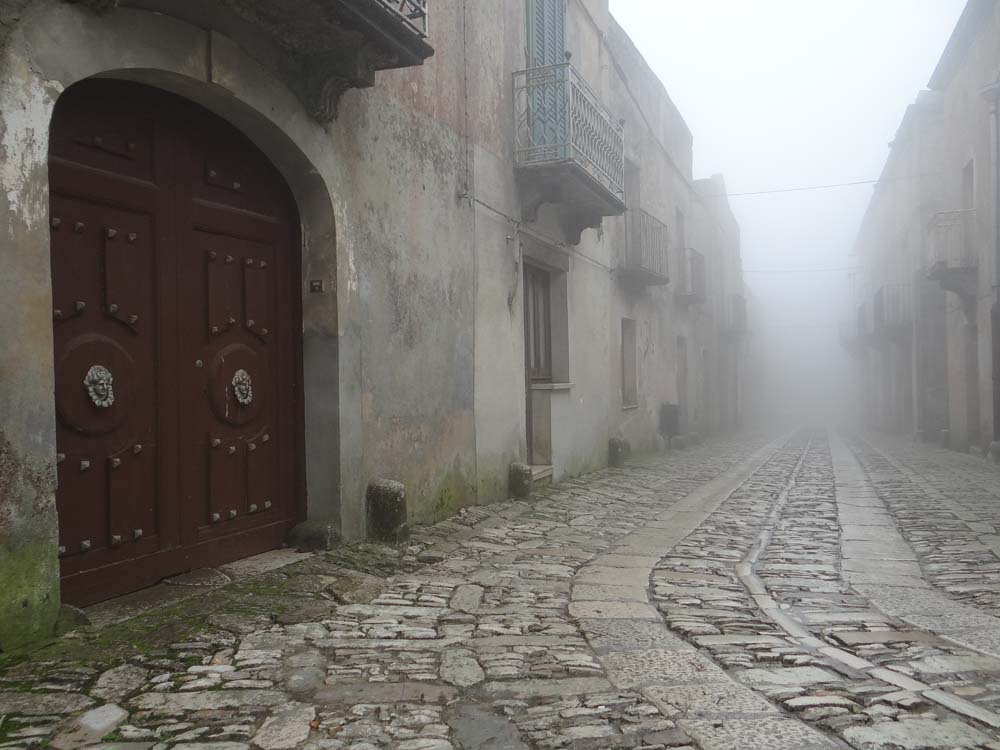 The town looks medieval, and is immaculately clean, Enna's received the dubious honour of hosting all of Sicily's graffiti taggers, perhaps the council didn't pay up the pizzo? The town plan here announced the place as 'The City of Peace and Science', although the key to the map firmly announces it as the City of Churches. There are maybe twenty of them listed, crammed in up here, and all firmly locked.
In gaps in the cloud the land below us flashed past, in tiny Sim City proportions, we followed the path of our future road into a distant mountain pass, turning around to look north and trace the coastal route we drove on the way here. A deserted castle topping off a vertical stick of rock like a match head caught our eye, not least for the house number screwed to the rock for the un-needed postie.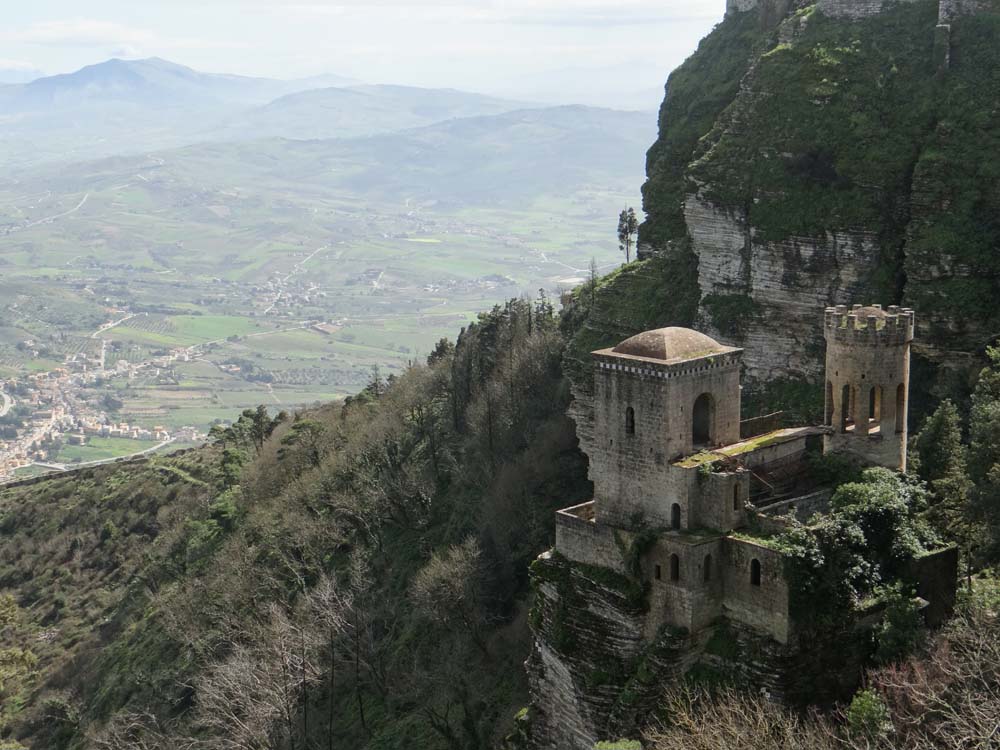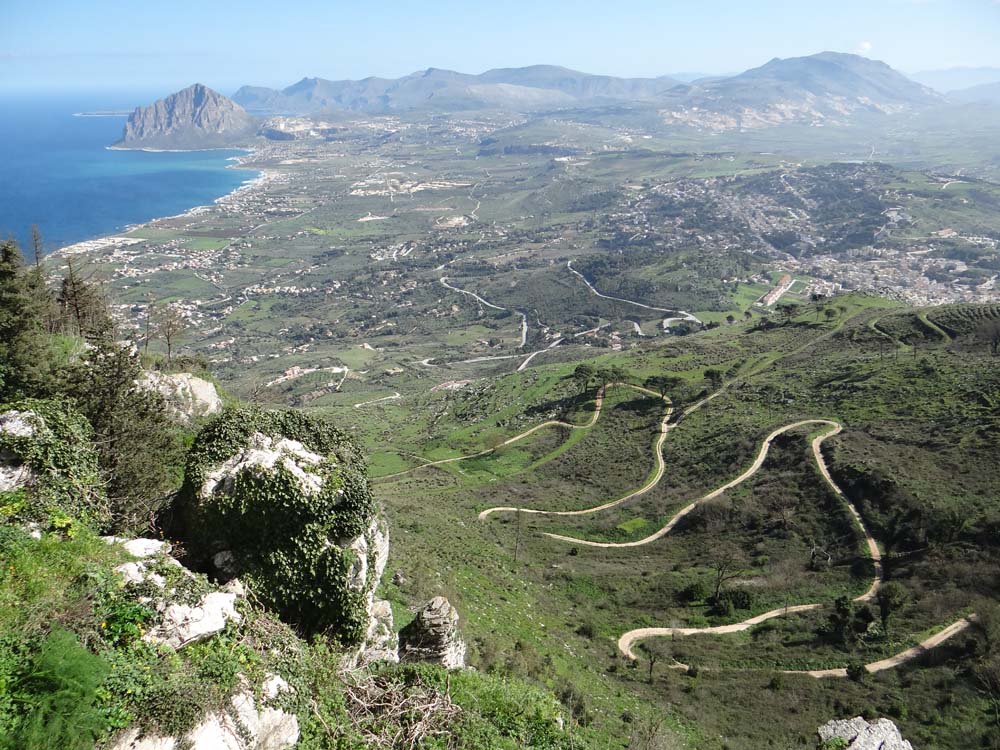 Like when you buy a car, and suddenly start to spot the same model everywhere, we spot toilets now. Public ones, where we can void Dave's cassette and take on fresh water supplies. Ju's eagle eyes found some we could easily access and just around the corner (where we're parked now), wonder of wonders, a UK-registered motorhome! Hoorah! No-one was home so we fetched up Dave and started the jobs in a hurry. Pretty much straight away a couple of figures headed our way. Not to scald us for being the pikies we are, but to introduce themselves, Joyce and Alastair and, huh? eh? what the? Ozzie, a green parrot, stood corsair-like on Alastair's shoulder, completely disinterested in our loo.
A while later we caught up with them, parking Dave behind their home (they live and work from it). Ozzie has a huge cage in the rear lounge area, but spends much of her time out and about (you can tell it's a she as she has four red wing feathers rather than three, and likes to build a nest). We asked all the questions I guess anyone might ask: any problems getting her in and out of the country? Nah, no need for a pet passport, DEFRA advised they throw a cloth over the cage to hide it when crossing the UK-French border! Does she fly outside? Yep. No need to ask if she talked, as she laughed away whenever one of us did.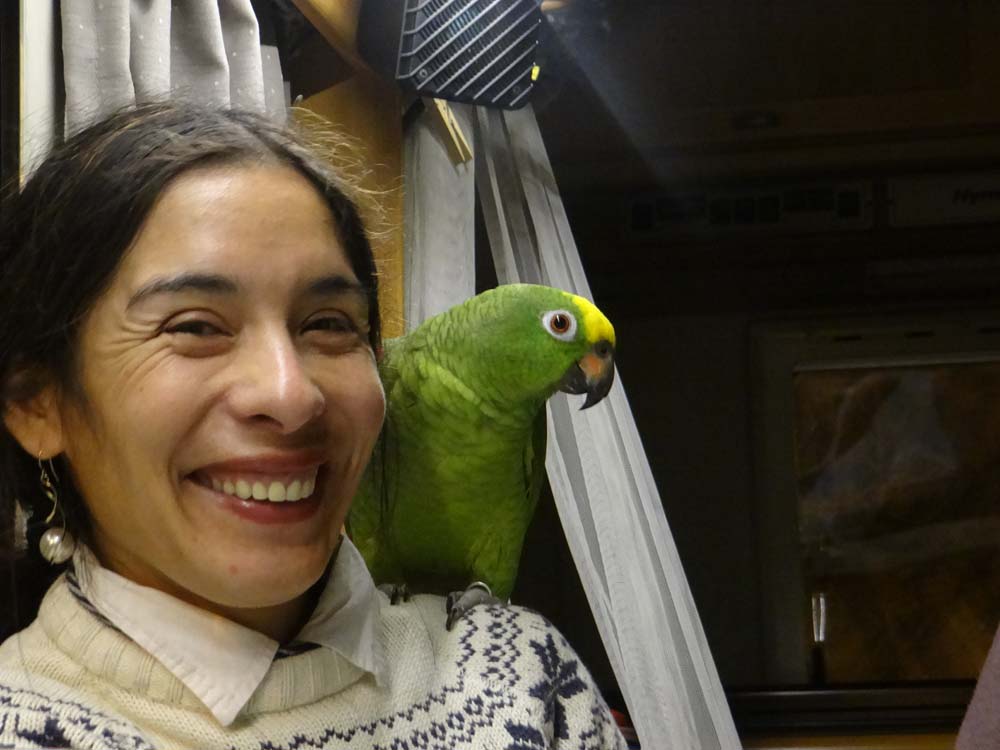 In the evening we invited the crew over to see us for a drop of rouge in Dave, totally bewildering poor old Charlie who only finally went to sleep at about 2am, exhausted from whimpering, air sniffing and eye-bulging staring.
Alastair has basically travelled for the entire of his adult life. While our stories ended with something like 'yeah, and then we got stuck at the ferry port for three hours', his were more like 'yeah, and then we got stuck in the US for three years'. I could have listened to them all night, and made a game effort to do so, having to give up at 3am as the wine had run out, Joyce had left for home with Ozzie, Charlie was snoring and I'd just accidentally drunk undiluted Tunisian almond cordial, yuck. One thing I recall from this fine evening was the fact they manage to full-time in the UK without using campsites, their life ethos relies on them being able to survive on wages from contract work. It's possible it seems, although UK law says you're not allowed to sleep in your car at the roadside, how totally different to here?
Today's been a recovery day, erm, for me anyway. The weather was completely clear when we woke so we took another stride around town, still pretty much deserted, churches still closed. One of them bears a sign saying it was built by the Normans. About ten years after they invaded England they'd occupied this part of Sicily, booting out the Arab rulers.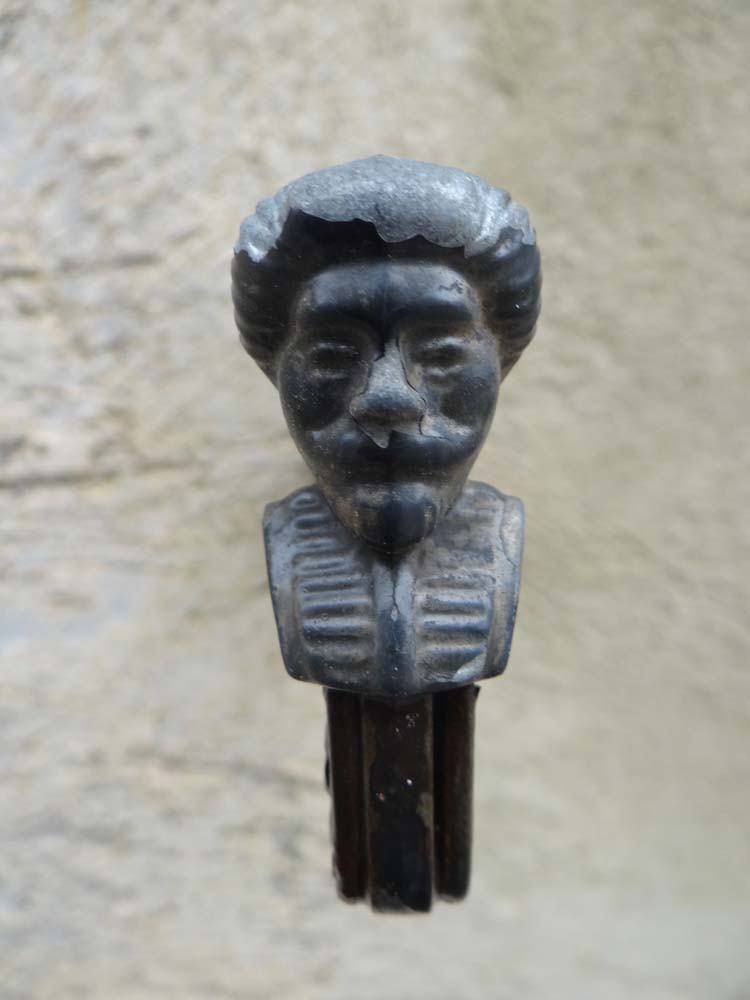 We've taken another look around the town before hiding back in Dave, Ju knocking up a medicinal fry-up, and cranking up the heating. The view from our window is, well, let's put it this way, Saturday tourists have stood alongside us gaping at it before turning around and seeing us; we must look rather odd. A few more pictures of Erice:
We're starting to talk a little now about our return to the UK. We've some big decision to make: where to live, what work to look for, how we'll take care of Charlie, whether to keep Dave or sell him. We've questions too, equally big, will we be able to settle back into our previous world? Will anyone want to employ us? What are our long-term aims in life? What do we want to do with the rest of our lives? We still have 6 months of joyful, commitment-less wandering ahead of us before we have to sort this little lot out, bring it on.
Cheers, Jay