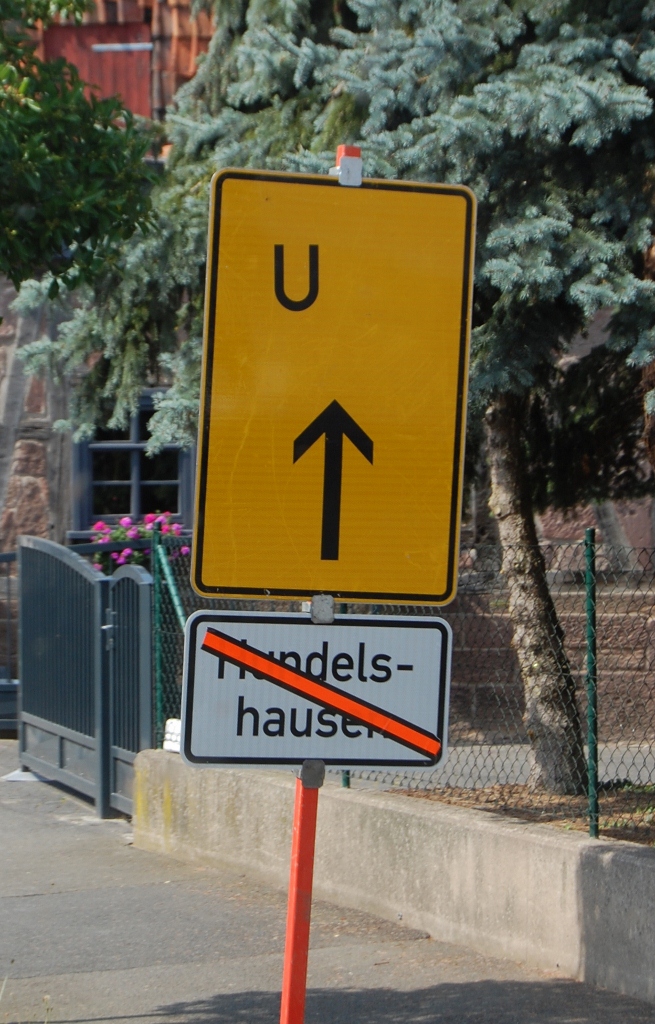 Dave the motorhome is parked up in a rather nice stellplatz a ten minutes walk along a canal towpath to the town of Göttingen (N51.52138 E9.93048).
We were woken by thunder and lightning last night as a big storm resoaked the last of the laundry that was still drying outside. Fortunately there were only a few T-shirts left outside, which were soon re-hung in Dave this morning to finish drying – much to Charlie's annoyance as they hung over his bed.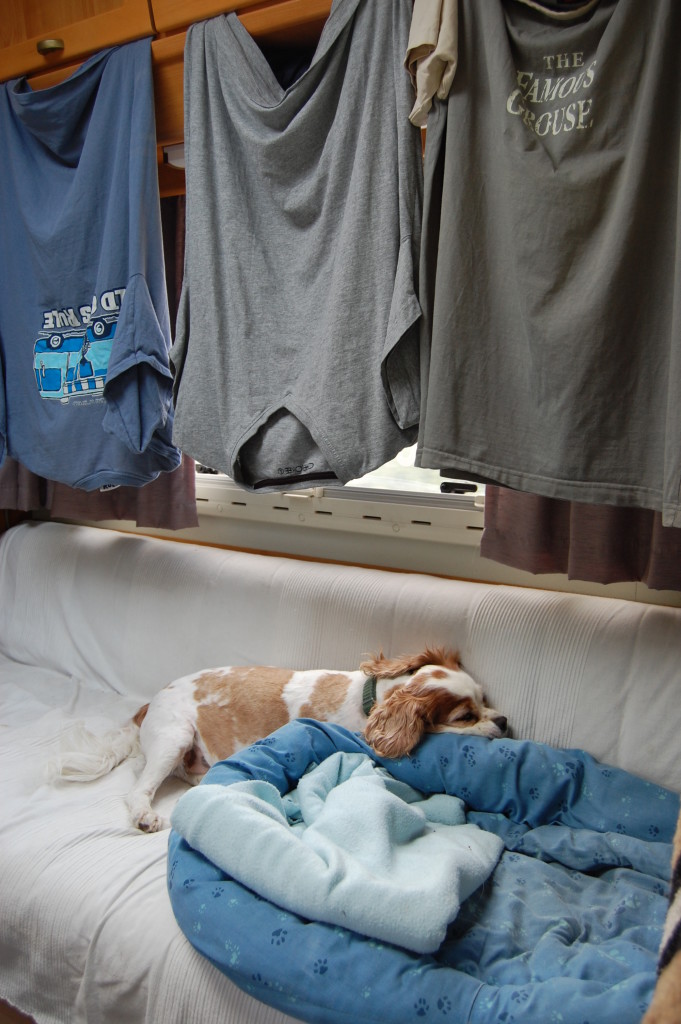 Last night I apologised to the man in the caravan next to us after Charlie was swarming around him begging for food. He asked if we were Dutch or English, he could only see Dave's back registration plate, and only us and the Dutch have yellow ones he pointed out. He told me of his travels around England, Scotland and Ireland and how he really liked York and Robin Hood's Bay – fortunately I've been to both, so (for once) was able to comment. I asked him where he'd recommend for our next stop and he told us of his home town of Göttingen. Checking on our database we find the details of the stellplatz next to the swimming baths as he described it and put in the co-ordinates.  We needn't have bothered as when we finally reached the town it was very well signposted.
I say, finally reached the town, as today seemed to be a day of diversions. Not for us, but for the roads. Firstly we wound our way through small villages where the houses were tiled giving them a reptilian appearance.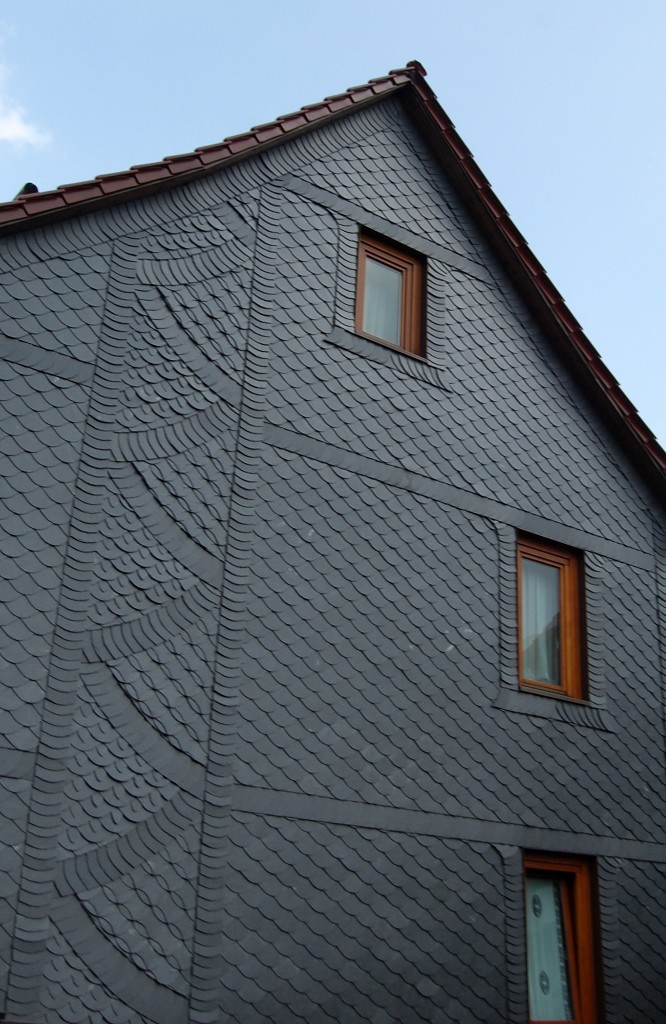 We then found ourselves on a huge motorway which Satnav knew nothing about so kept telling us to turn in 80 metres. Picking our exit junction off the unknown motorway using our map we get far enough along the road, so it's not worth turning back, before it came to an abrupt stop. A line of cones blocking our path. Now I won't claim there weren't signs, but they said something about lorries not being able to continue (we think!), not that everyone had to stop. From previous experience we've learned what to do in situations like this, follow the Umleitung signs. For some reason these signs are in yellow like the signs pointing you to places, and signs for actual places, so you'd be forgiven for thinking there were a load of towns called Umleitung across the country, when in fact they are pointing out a diversion. Thankfully they are always well signposted, so ignoring Satnavs chirps to 'turn around where possible' we follow the signs and find our way across country to the town we were aiming for.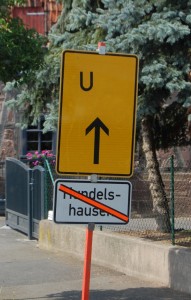 This week we've made a pact not to buy any supermarket food as Dave's cupboards are full to overflowing. However one of the cupboards is pretty full of empty beer bottles as you pay a Pfand (deposit) on bottles and get it back when you return them to the same brand of store. It's even marked as a separate line on your receipt. It's a bit of a pain if you're constantly moving like us, but otherwise a pretty good idea to get people recycling. Spotting a Lidl we turn in and sort through our empties, most of which are of course for Aldi! We grab our four Lidl bottles and head for the enclosed Pfand station next to the front door – obviously a bit posh here as it's usually a machine inside the shop. We opt to have a voucher for the store rather than give the money to charity and our one euro token is reinvested as a loaf of bread.
Next we needed to get back onto the motorway, but once again a blocked road – this time we at least were offered a sign telling us they are busy building a tunnel – and another Umleitung. Finally we make it to Göttingen and the stellplatz. We scrabble for change as the overnight parking machine only takes coins, but I manage to decipher that we can pay with a note at the nearby swimming baths. All that accomplished we pick up an information leaflet and map from the stellplatz information board (making it worth it's €9 a night fee in my book) and take a stroll into town along the canal towpath.
We didn't know anything about the place, so were surprised to see the headline 'Göttingen, City of Science' on the leaflet. But reading through it seems that over 40 Nobel prizes have been awarded to scientists from here and up until 1933 it was considered the centre of the mathematical world. Names and dates are inscribed in plaques on walls letting us know who stayed where and when.
Statues pay homage to Friedrich Wohler who synthesised urea! and Georg Lichtenberg (who among many, many other things proposed the standard paper sizes used around the world – expect USA and Canada for some reason!).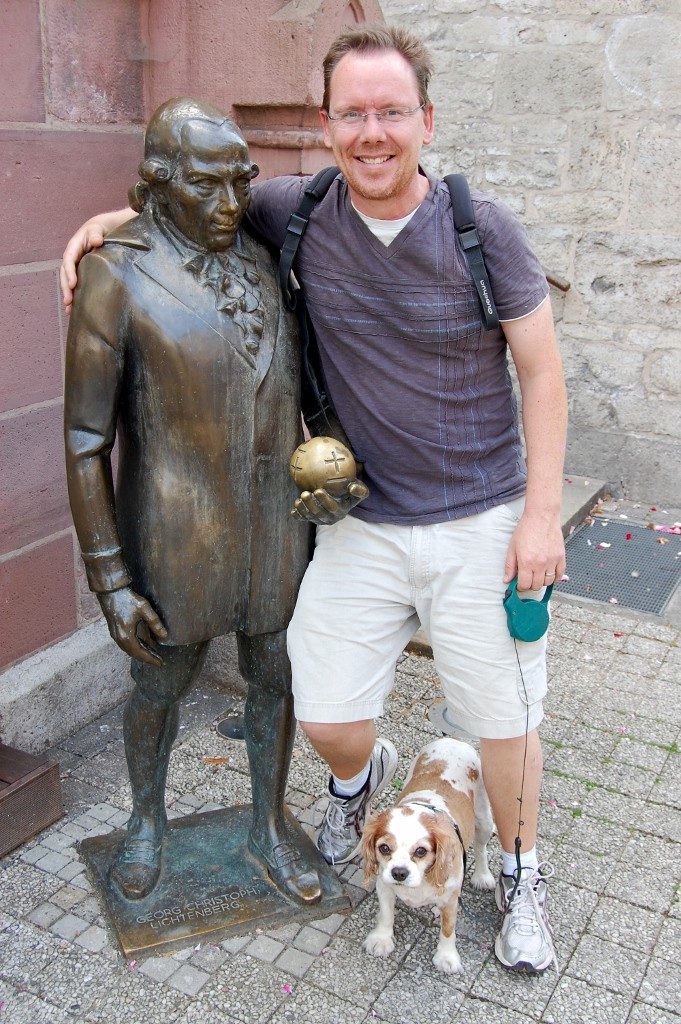 We wander around the town admiring the jumbled collection of old buildings and churches, but unlike many places we've been to this town feels alive. It could be because it has a large university, but the buzz of people walking around the streets felt good – even the 'chuggers' (charity muggers) smiled when you said no thanks. The only down side were a few beggars, one even came up to us and asked for a euro to buy some bread, he didn't look like he was expecting the simultaneous 'No' – he'll have to do better than that, we've been begged from by the best in Morocco!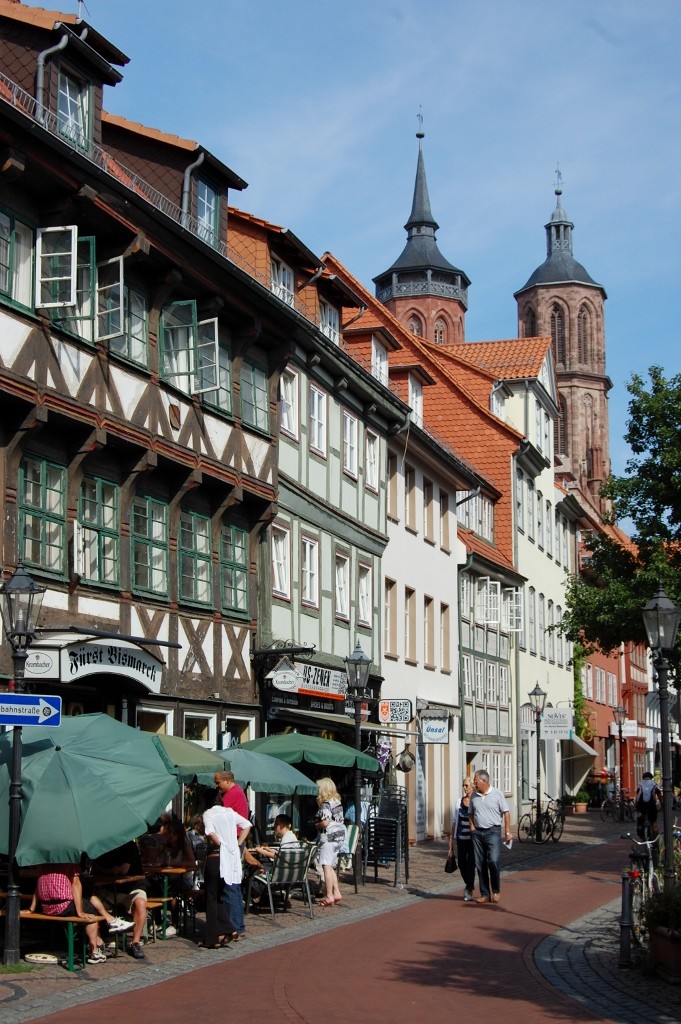 The main square had a bit of a hub-bub going on. A film crew was in place, people with security style ear pieces strode about purposefully, walkie-talkies crackled and a girl waited on a float dressed in a Graduation gown.  She was wheeled, in a decorated cart, over to the fountain in the squares centre to perform the graduates tradition of kissing the Ganseliesel – a young girl bringing geese to market – on the cheek. This took place several times with crowds cheering – we've no idea what it was for, but kept us entertained.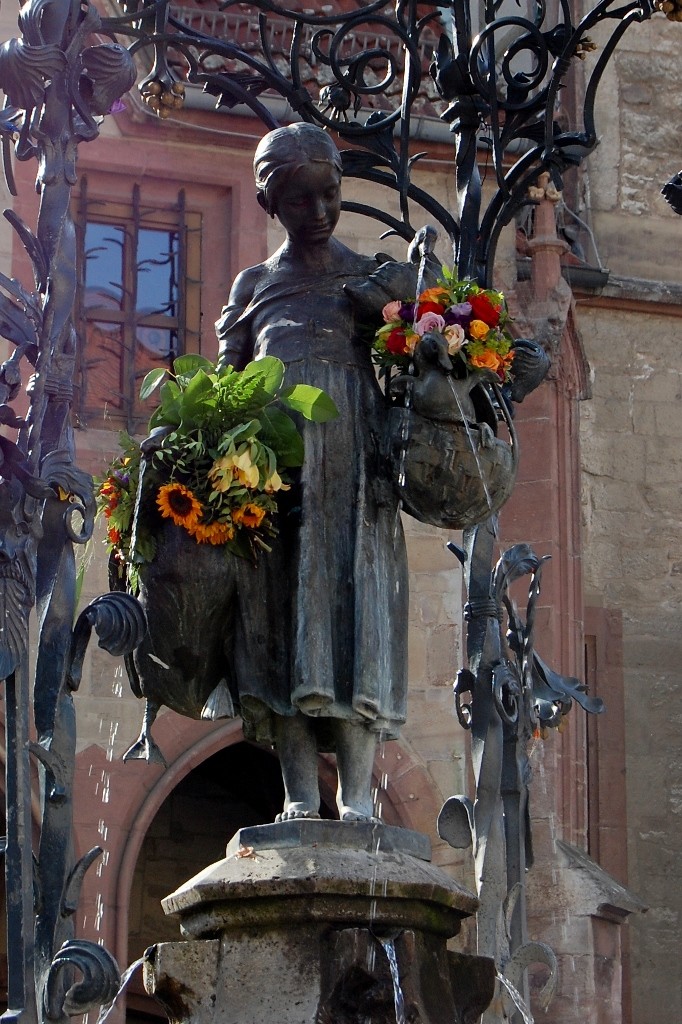 We sat having a drink watching the world go by and I have to admit that this place reminds me of my home town of Nottingham on a summer's day, not just because the names are similar, but the vibrant feel of it. I like this place and I'm so glad we parked up next to a couple of its inhabitants last night.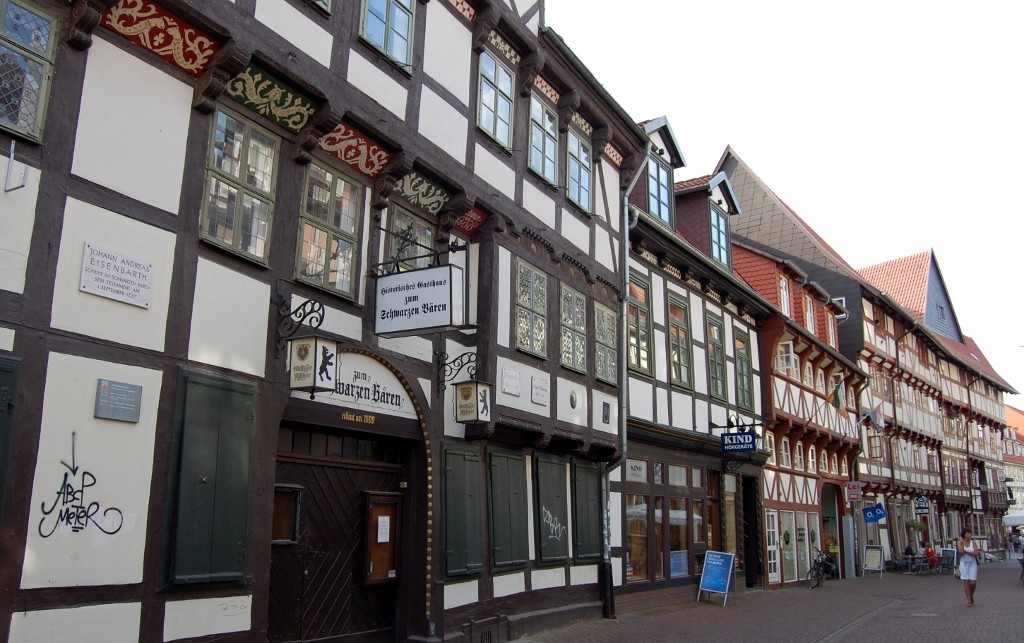 Ju x