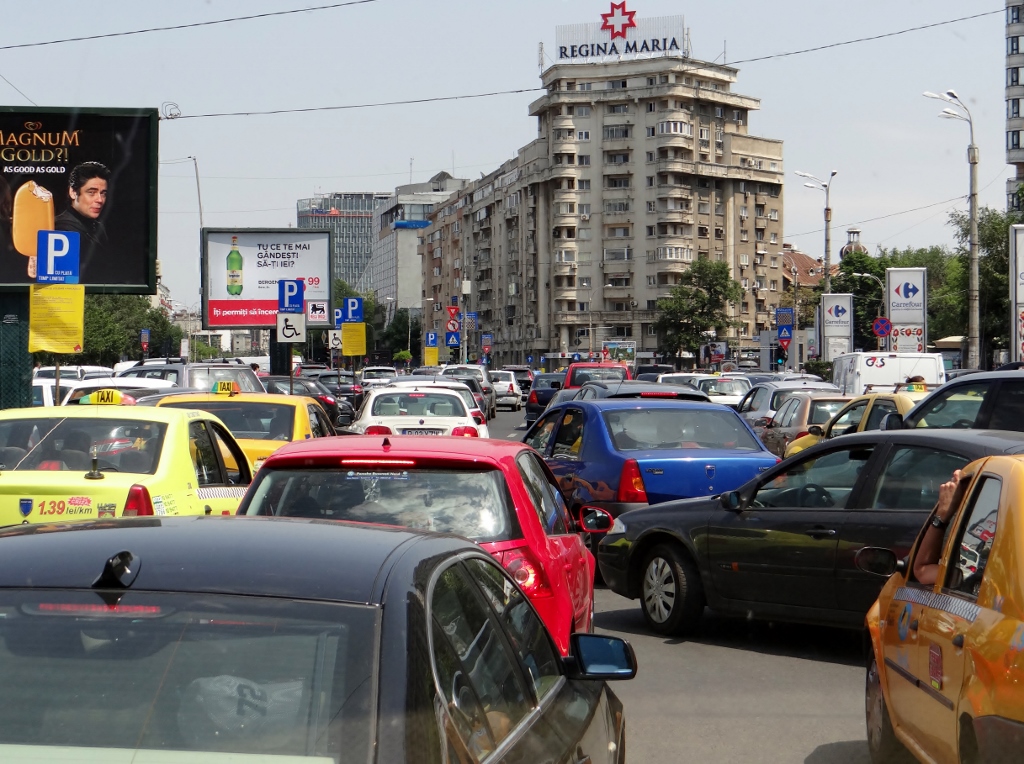 Dave the motorhome is in yet another country, not only that but he's parked up just outside the capital city – a very rare treat. We're within earshot of the traffic but among the trees at Casa Alba, the only campsite in Bucharest (Buchuresti) N44.51694 E26.09278.
Last night as we watched Michael Palin wander around Romania, in his series New Europe, our eyes were distracted by what looked like glowing embers drifting around outside Dave's window. We checked to make sure the place wasn't on fire and continued to watch, commenting on how nice Romania looks. So we watched the episode where he travelled through Bulgaria just in case it was TV magic making our next country look more inviting than where we currently were; it wasn't. Michael skipped through Bulgaria in a very short space of time, a bit like us – although we like to think we did get to see a pretty side of the place.
As Jay took Charlie out for his evening walk the source of the glowing embers was discovered, the forest we were parked in was full of fire flies, their little lights blinking all over like Christmas decorations. It was magical to watch them, until something in the trees next to us moved – and we shot back into Dave like a right pair of wimps, convinced it might be a bear or wolf. Five minutes later a car drove up, turned around next to Dave and parked up a hundred metres or so down the road. Parked in a remote place I always worry when someone else arrives – what on earth are they doing there at this hour? Surely they must be up to no good. But they left us alone and obviously just wanted their own quiet time, or rather time to shout and laugh very loudly while we tried to sleep.
This morning I was woken by the dawn chorus, it was as if all the birds in the world were perched in the trees around Dave and singing to him. As the sun rose their songs tailed off and I nodded back to sleep, waking around 8.30am when the souvenir sellers arrived to set up their stalls. We had a long hard look at our maps – do we go to Bucharest or not? Big cities don't tend to go well with our motorhome/pooch combination, so we often avoid them. We read up on what there was to see and do between the Bulgarian border and Bucharest and there seemed to be very little, so a decision was made. We'll go.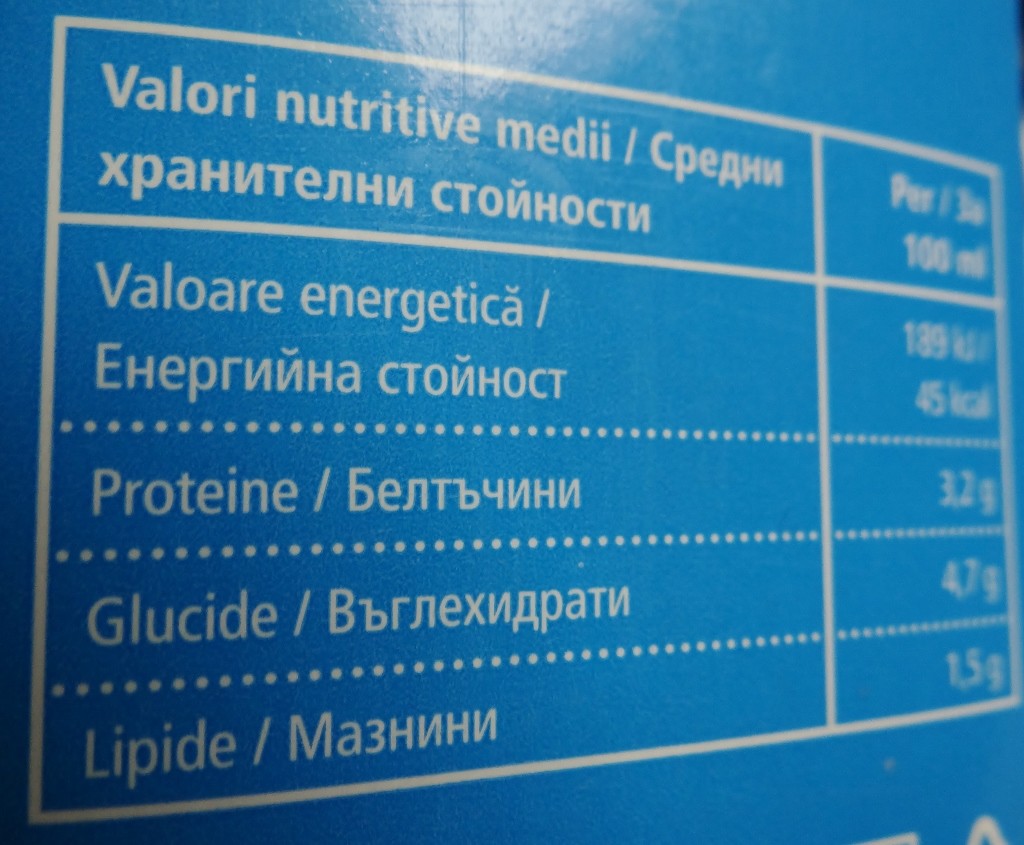 We set off and Bulgaria said farewell to us with a blazing display of sunflowers which spread for miles off into the distance, until we reached the outskirts of Ruse on the banks of the Danube, here the road turned into a dual carriageway and the scenery changed to concrete tower blocks. We pulled in to a service station and spent the our last 16 Lev on LPG, no harm in topping the tank up as Dave's cupboards are too full for any more chocolate or food.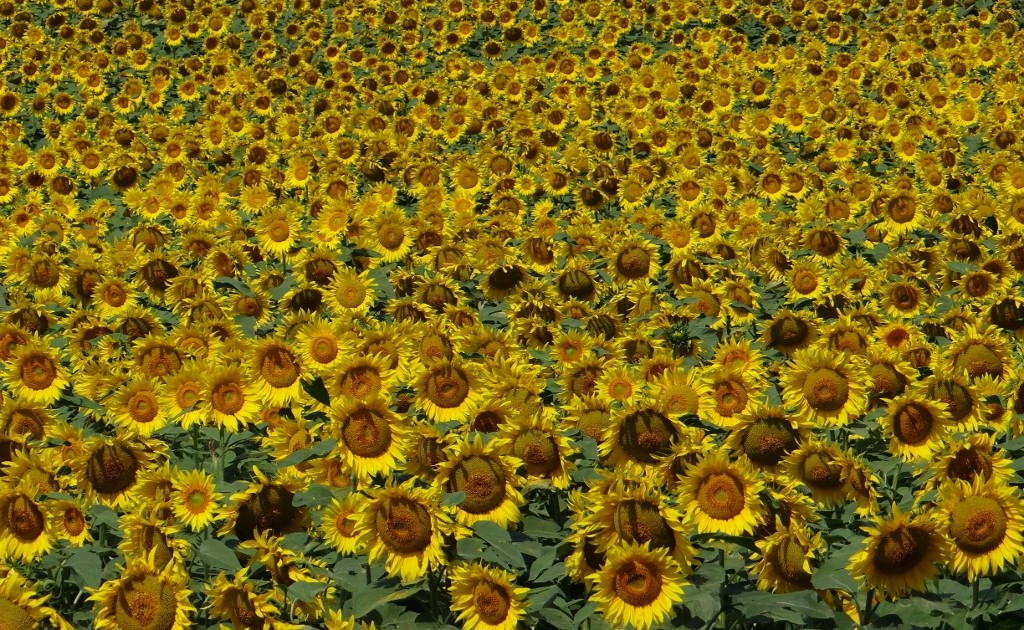 We reached the queue for the border with no problems and waited while random vans and cars were searched at the Bulgaria customs post and vignettes checked – good job we coughed up.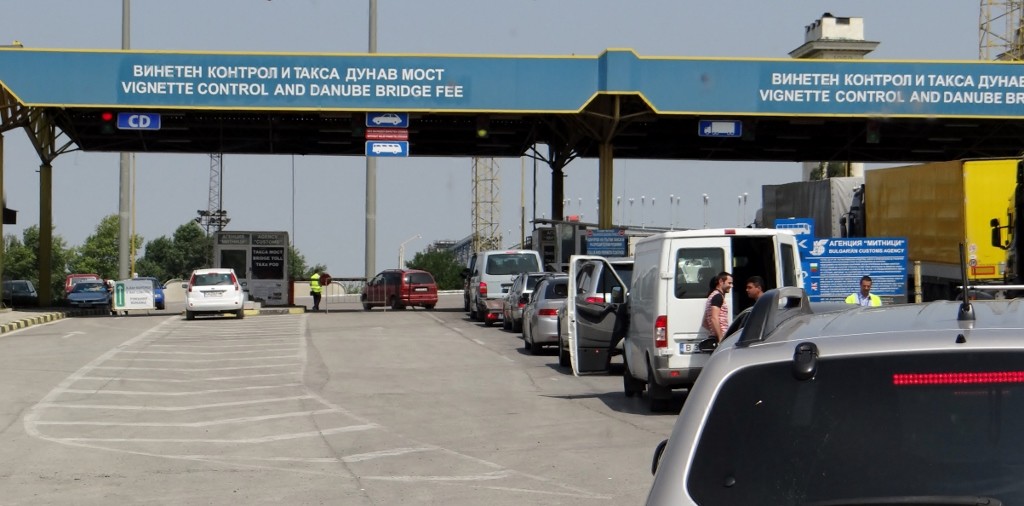 When it was our turn we were waved through and pulled up at the bridge toll booth. The sign showed several images that could have been a motorhome, with varying costs next to them. Plumping for the lowest, I walked up to the window, handed over a €2 coin and waited for my ticket like a seasoned bridge toll payer. It worked (although I'm pretty sure that was the cost anyway) and soon we were crossing over from Bulgaria to Romania – I do like it when a border crossing is a bridge, it makes it seem much more like a change in country to me than a sign on the roadside.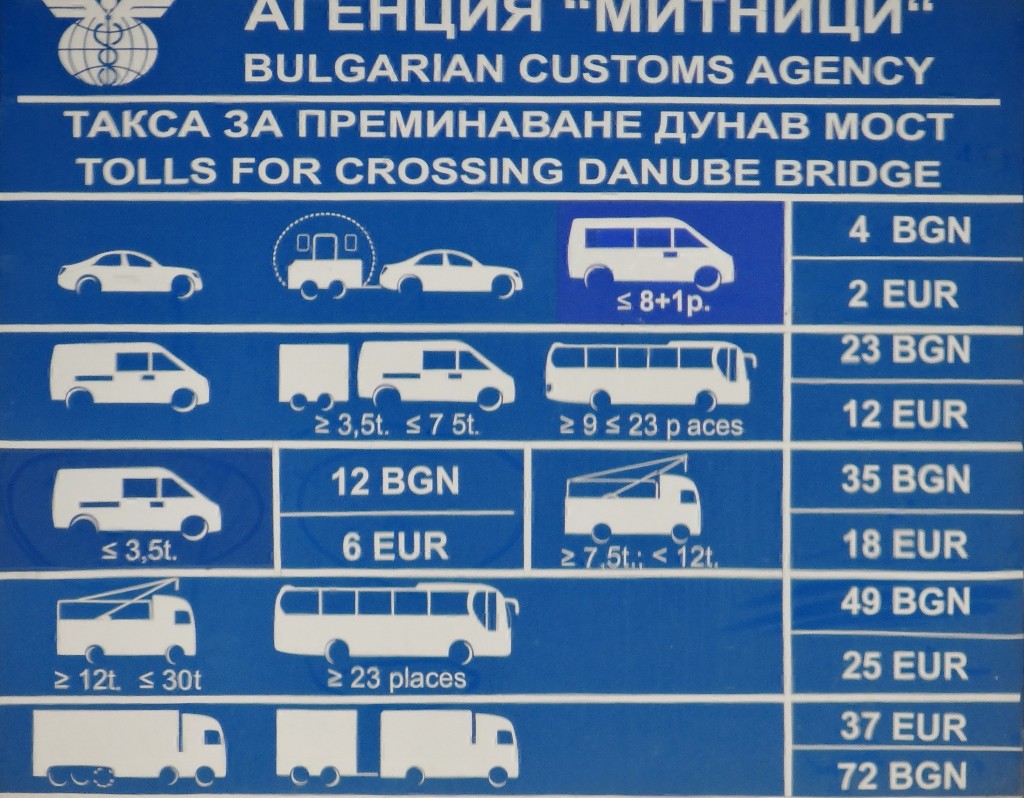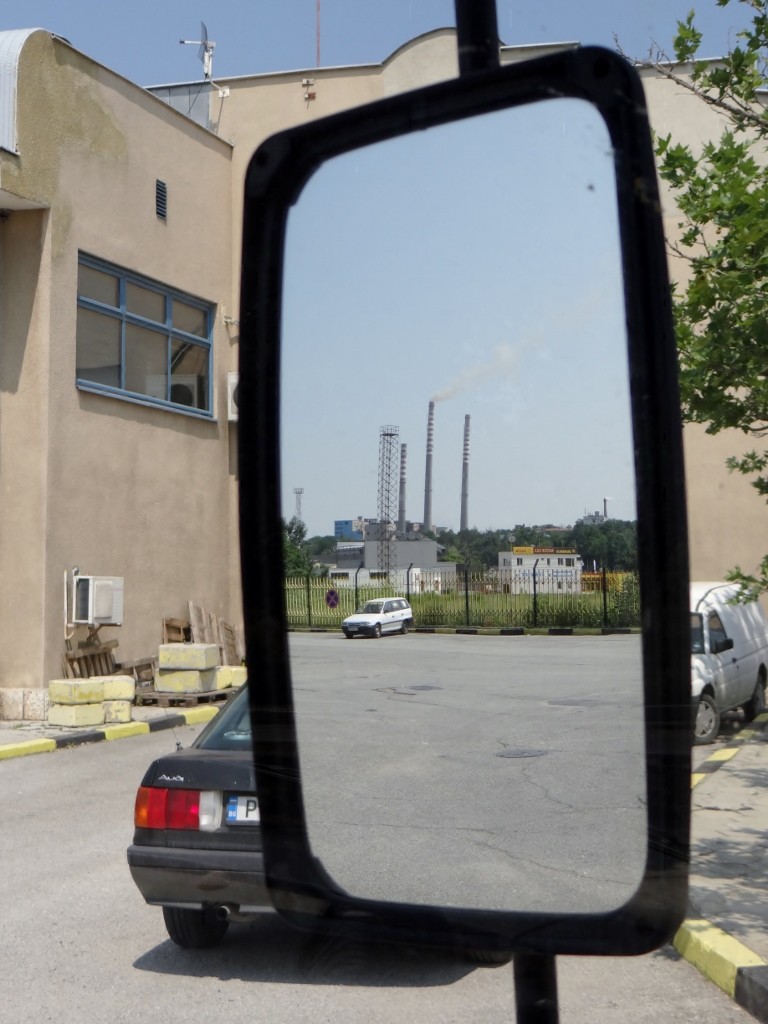 We said  'caio' and 'merci' to Bulgaria, as the country seems to have adopted the odd foreign phrase into its day-to-day language – which has been a lifesaver for us – and drove down the other side of the bridge into Romania. Our passports were quite thoroughly checked at the border (the guard asking me to look up from my frantic phrasebook reading, so I'm still not sure how to say thank you in Romanian!) and we were off.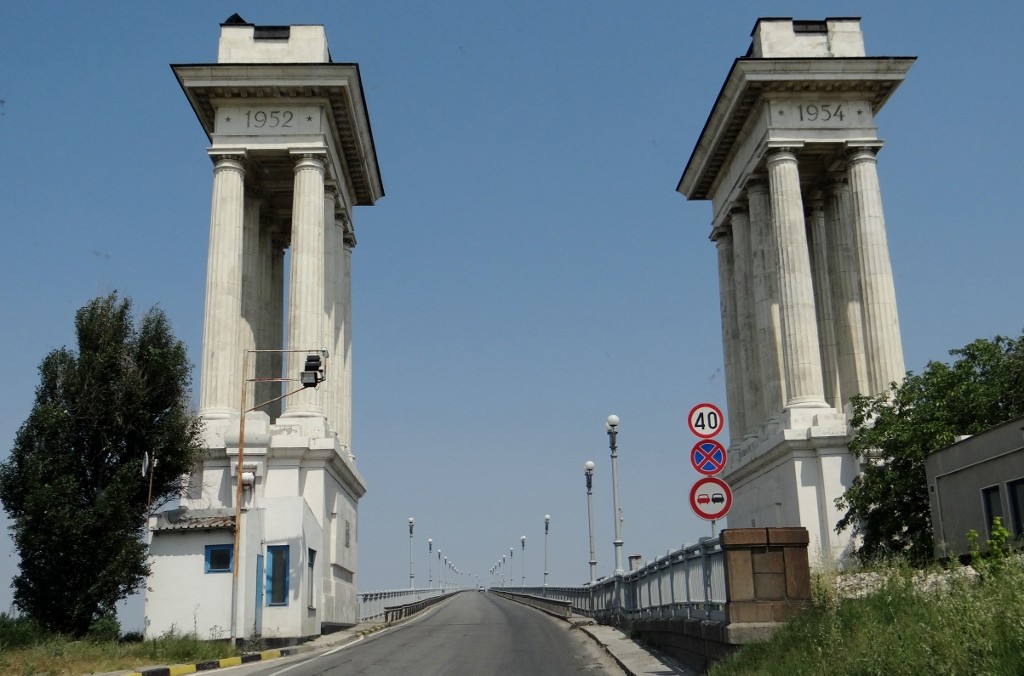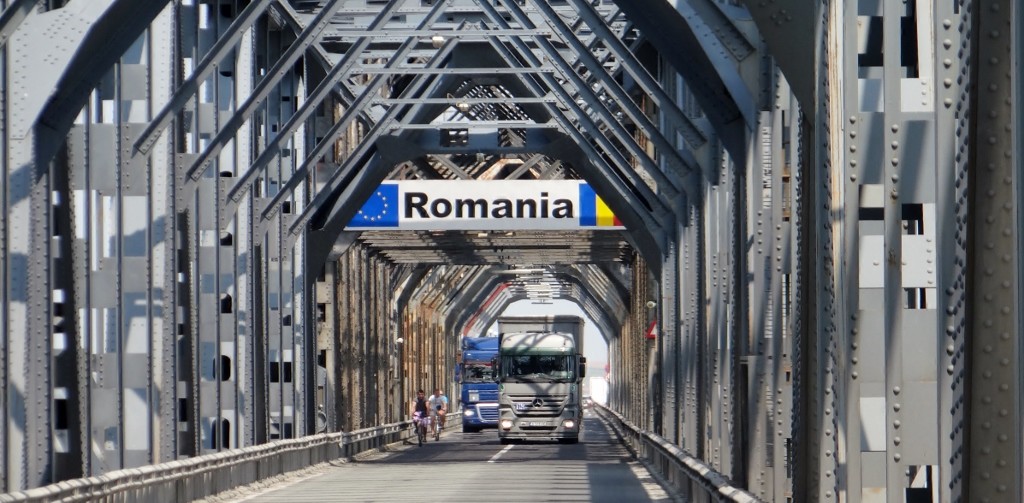 Well only as far as the little booth which sold vignettes. Bending down to poke my head in the window the woman asked where my papers were, 'what papers?' I asked, waving a little plastic laminated card that we keep on Dave's dashboard with his dimensions on it. That would do. Quite a few questions later (including 'what is your weight?', I hope she really doesn't think I'm 3.1 tonnes!), €17 handed over, and a quick check of our printed out particulars, I was handed a sheet of A4 paper with a smile 'This is your vignette, keep it safe and have a nice holiday'.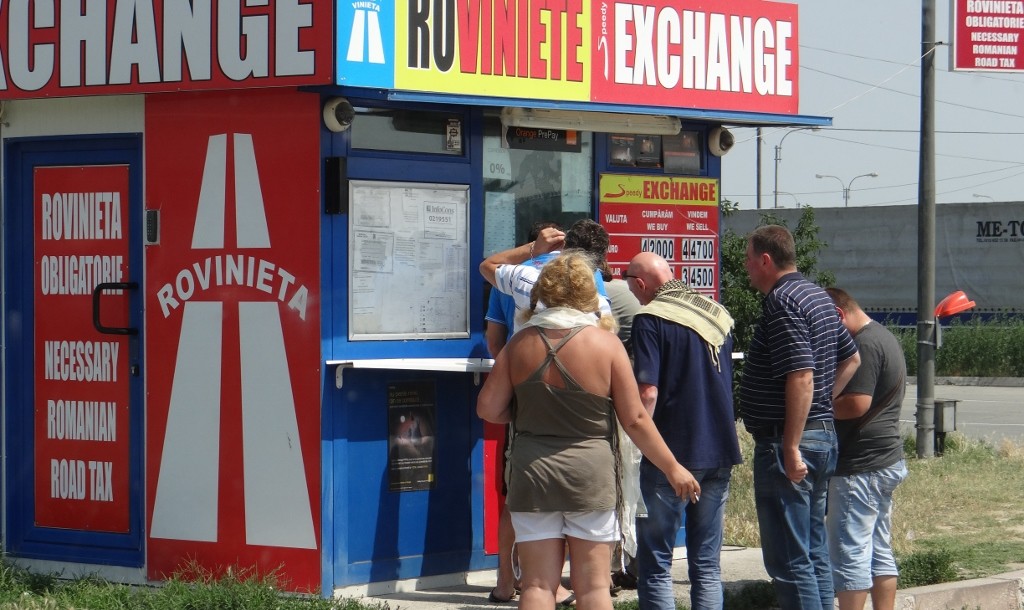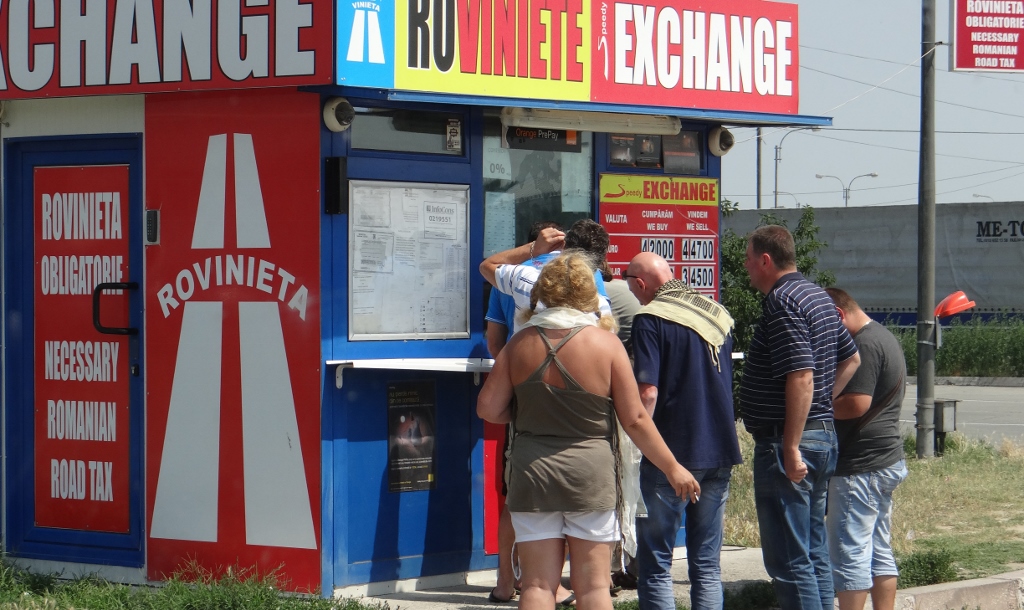 As we drove a few metres further on all the Romanian cars and lorries were stopping at the petrol station, no doubt the exchange rate here was better, but we didn't care, we were legal and in a new country. We followed the signs for Buchuresti, which led onto a narrow pot-holed road. Had we gone wrong already? No, all the other traffic was following behind us. We spotted a Kaufland supermarket and dived into the car park. I jumped out and raided the cash machine for some Lei – another new currency, I'd only just got used to working out the last one! A quick mental calculation and I couldn't bring myself to ask for 1000 Lei (about £200) – the smallest amount you could take out was 10 Lei (£2) so asking for 1000 seemed wrong – instead nine plasticy, new looking 100 Lei notes were churned out and I headed into the supermarket to find a road map of the country.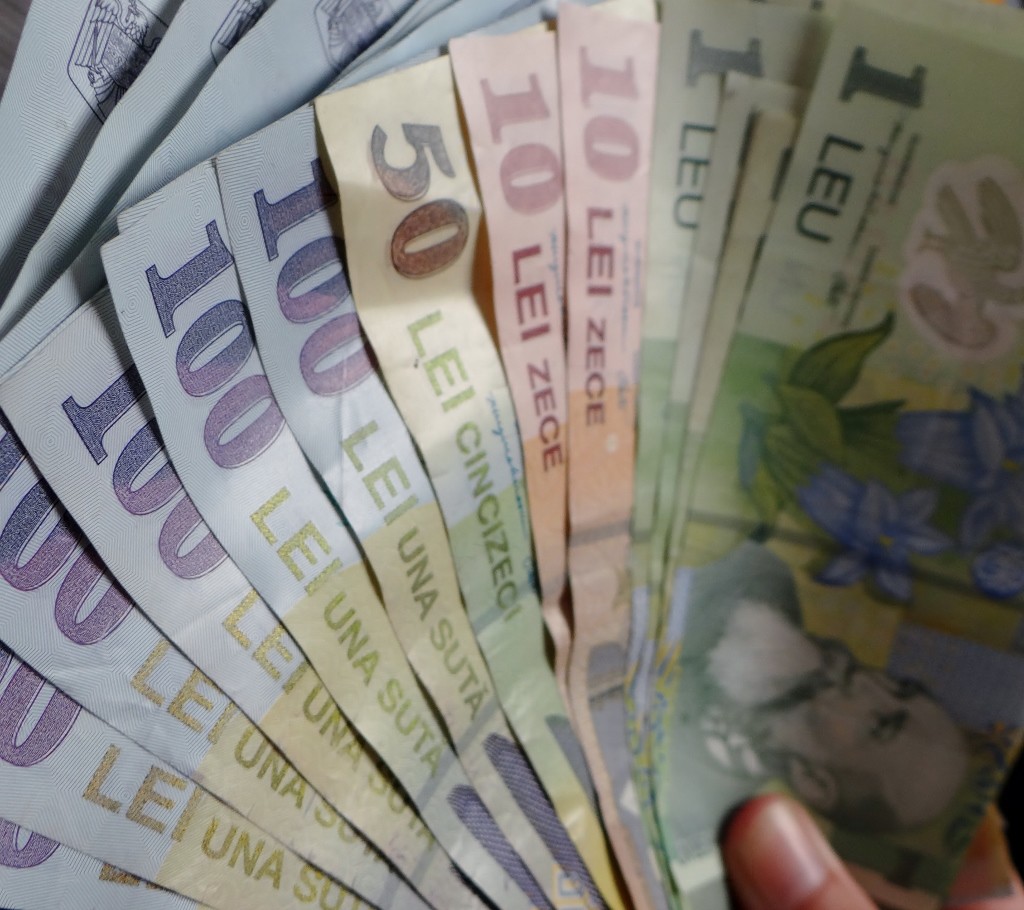 Map purchased, we fired up our satnav so we could use the GPS co-ordinates to guide ourselves into the campsite when we reached Bucharest, but what was this, a road? Satnav was back!! Oh how we've missed her dulcet tones and persistent 'turnaround where possible' chimes. Overjoyed, I sat back to enjoy the ride as she guided us across the countryside to the capital city.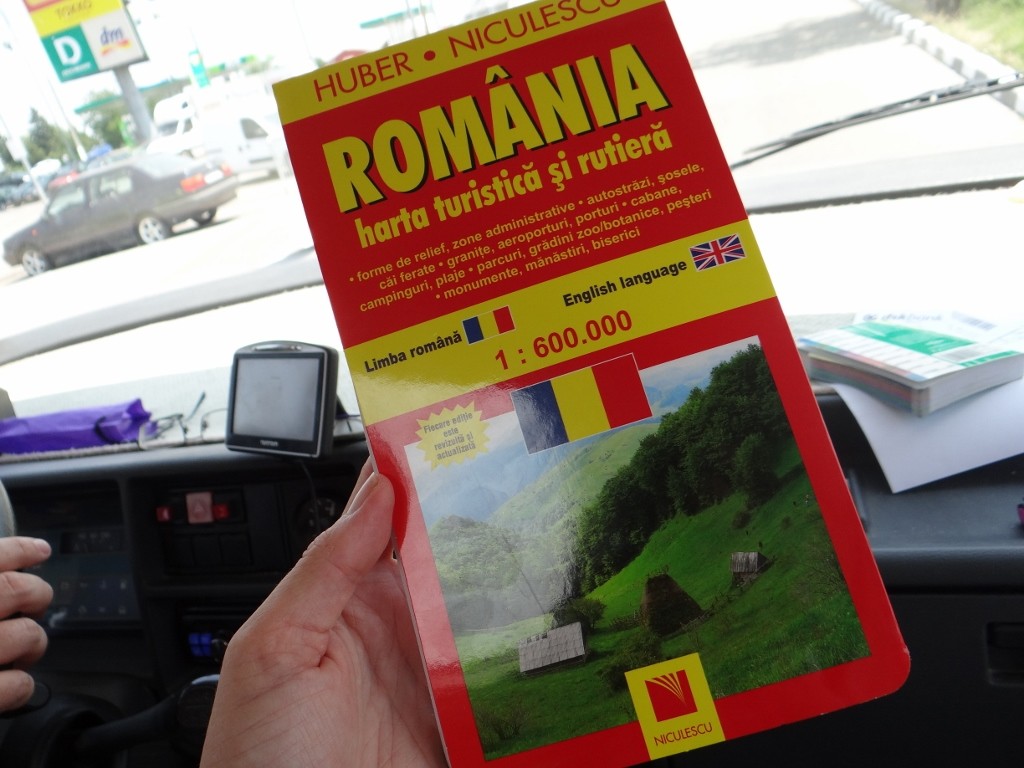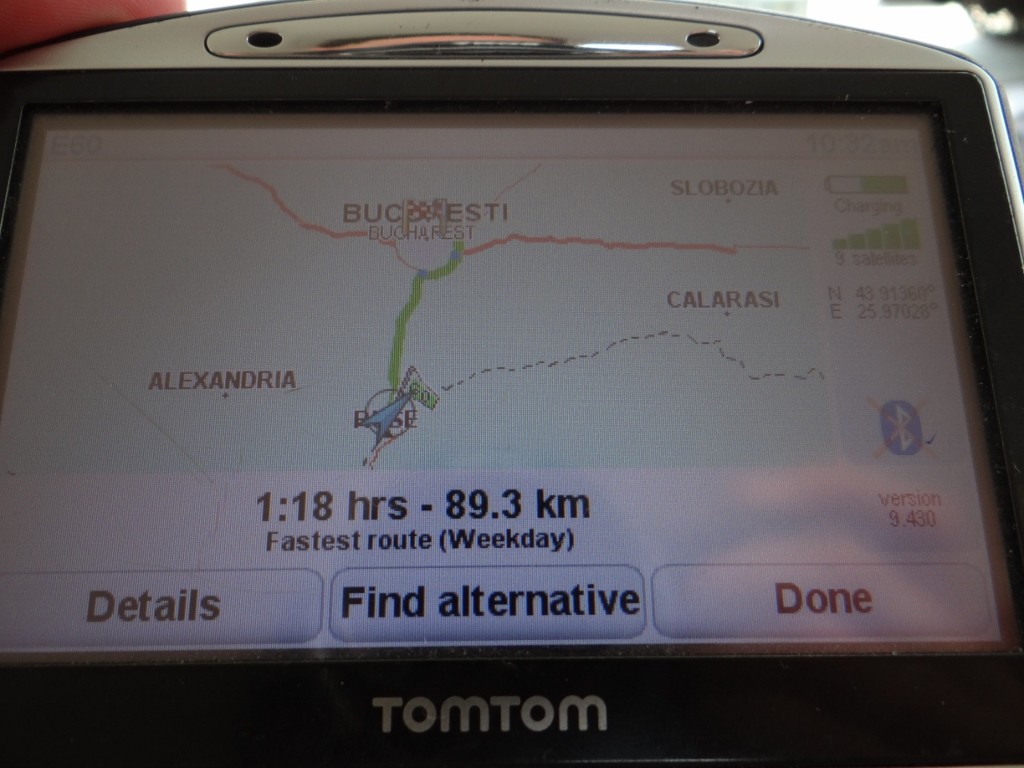 The road we were on was quite a main one, but only one lane in each direction. The other lane was taken up with cars parked outside people's houses. The mile markers counted us down towards the city, around us things seemed brighter, cleaner, more prosperous that Bulgaria. Houses didn't look in need of urgent support for fear of collapse and there wasn't a horse drawn cart in sight. Dotted along the roadside were stalls selling huge watermelons (30p per kilo), bright red tomatoes, deep red cherries and anaemic-looking peppers.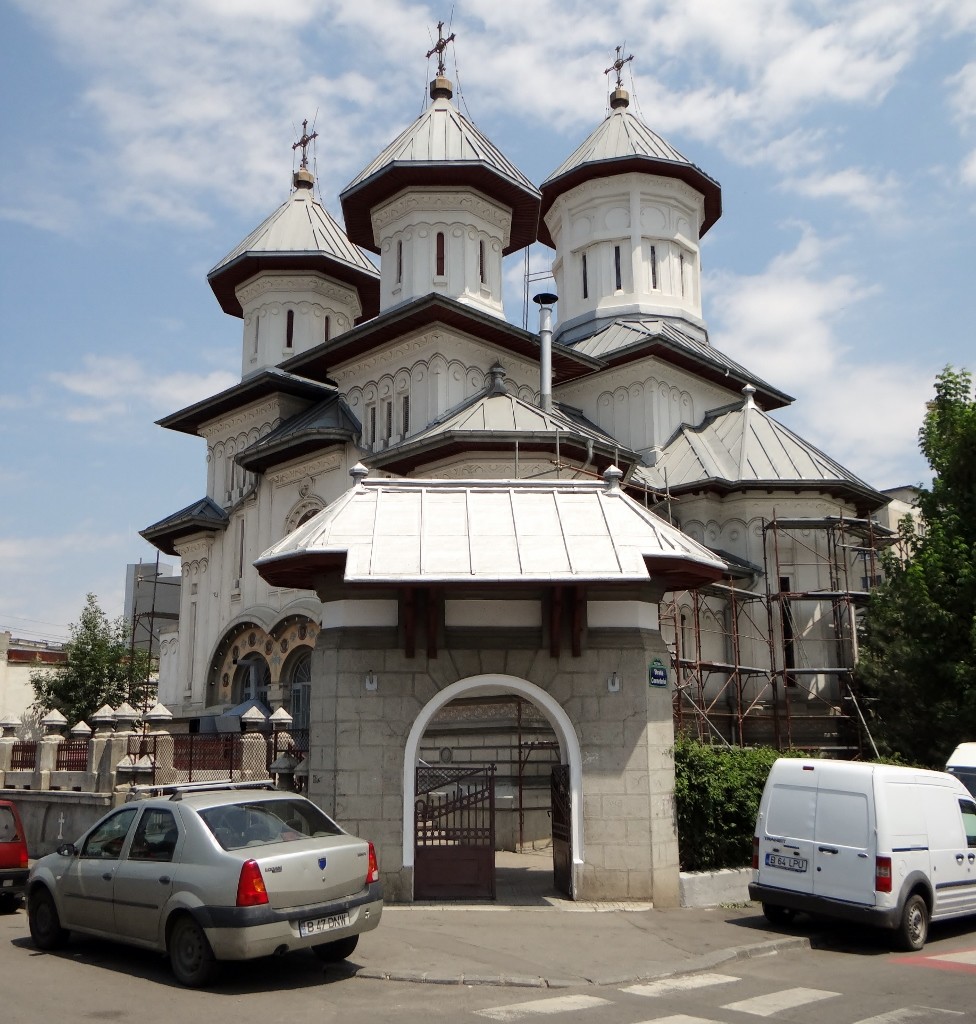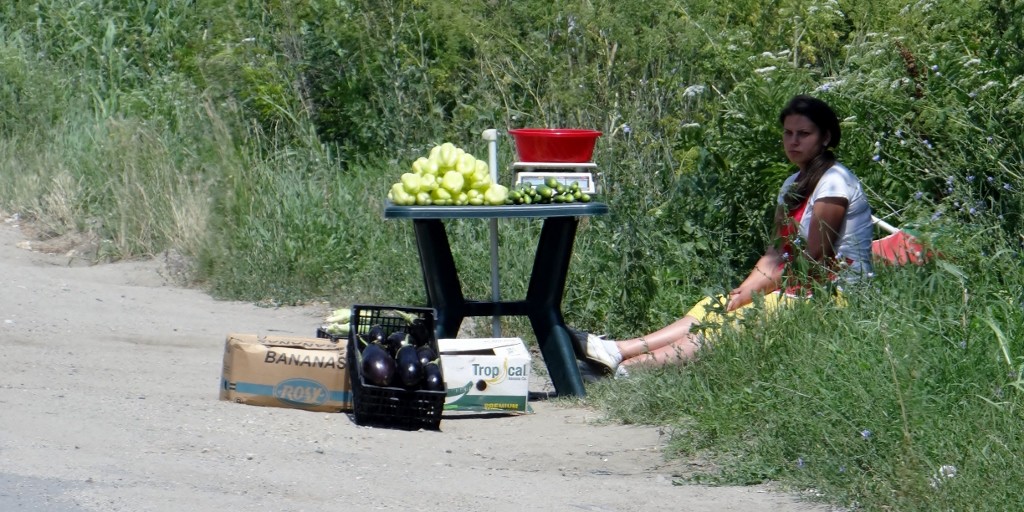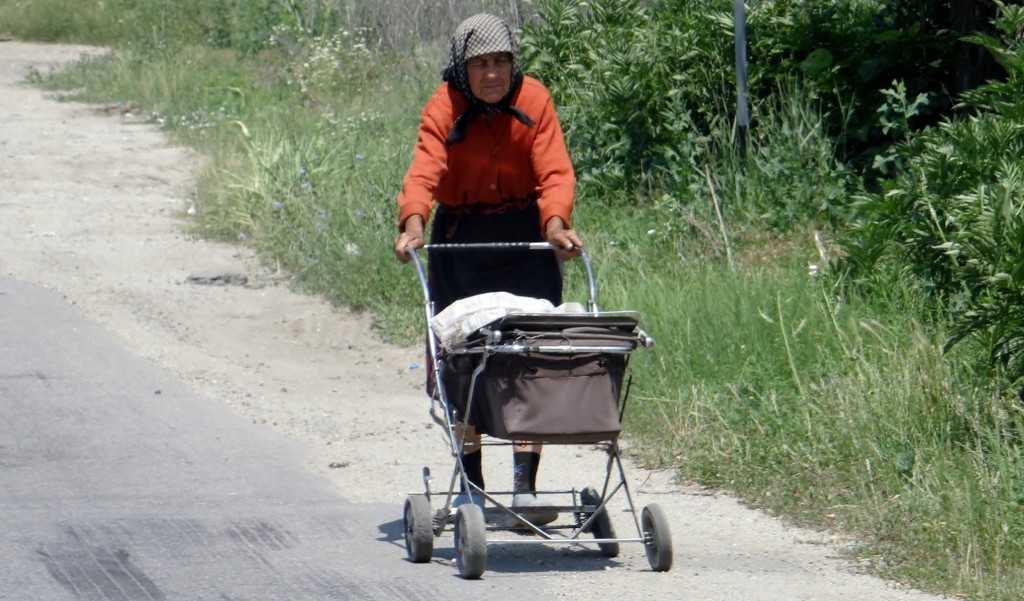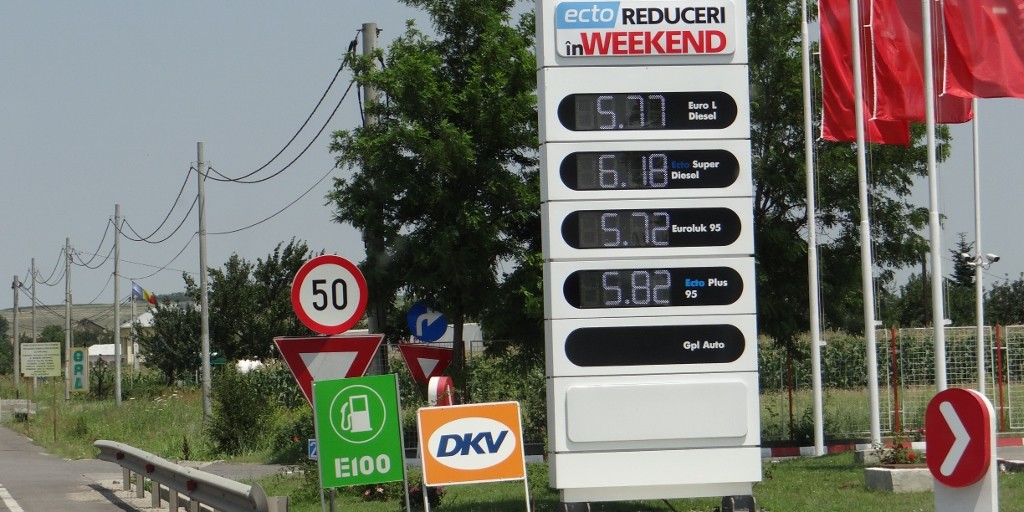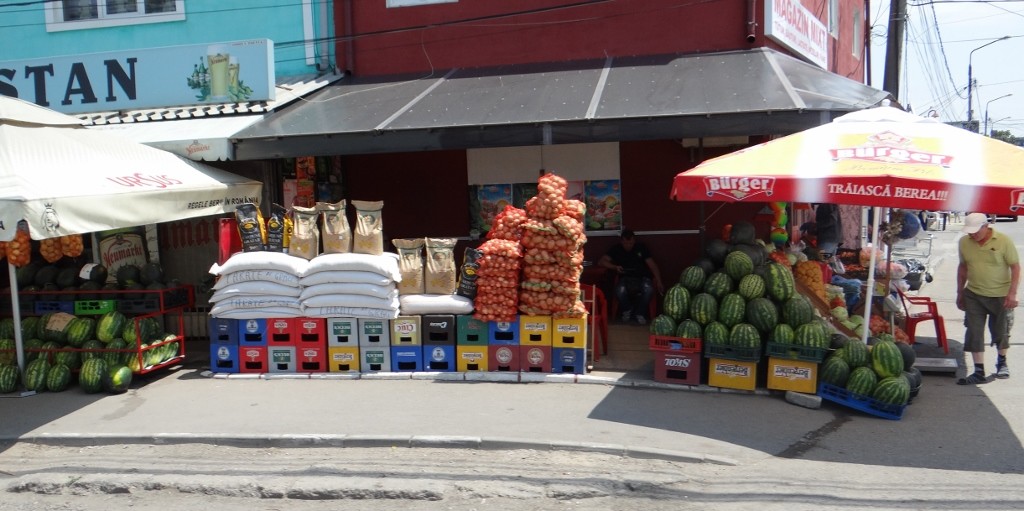 We reached the outskirts of Bucharest without any problem, then the fun began. Satnav didn't know about the main road we needed to take across the city – the one that the campsite was situated off, of course. So we tried to guess our way around a bit, as she insisted we follow her to roads she did know about. Traffic got heavier and soon we were joined by trams – although many cars drove on the tram lines and the trams were happy to pull out and park across the car lanes. All of the nice blue road signs which had guided us to the city were replaced by white signs with the names of local areas on them – no use to us as they didn't feature on our map. A fifty-fifty chance junction saw us going the wrong way, as we stopped in yet more traffic I spotted the huge presidential (previously the people's) palace down a side street – but that's right in the centre of the city? It's Friday afternoon! This isn't good.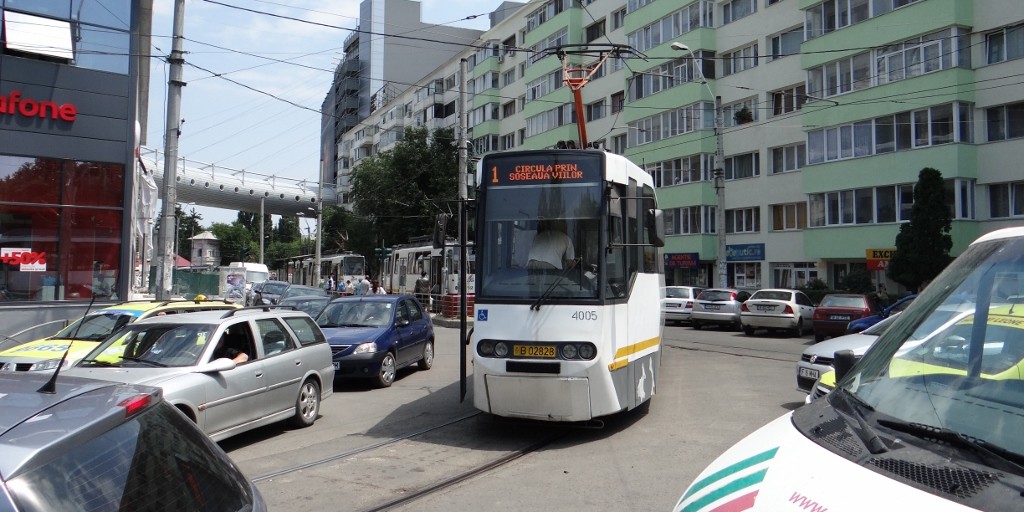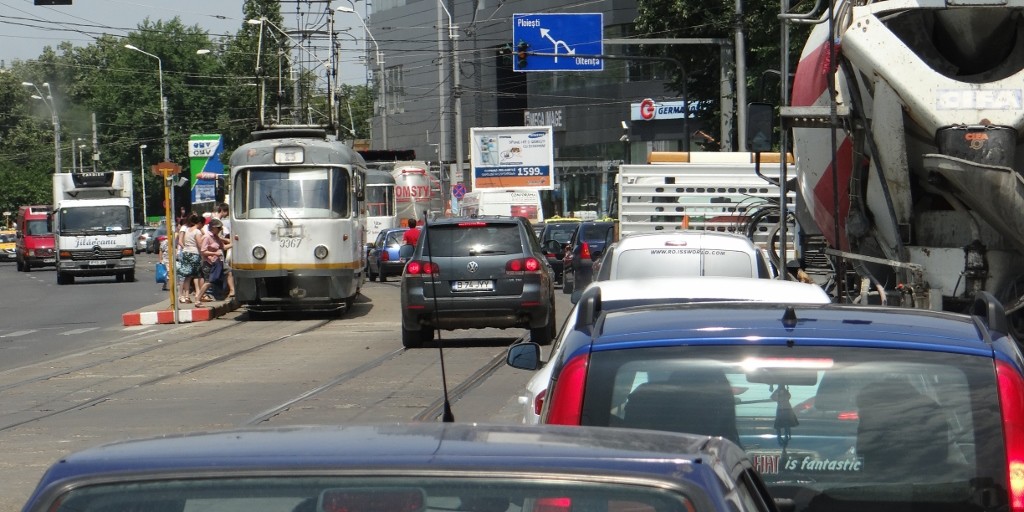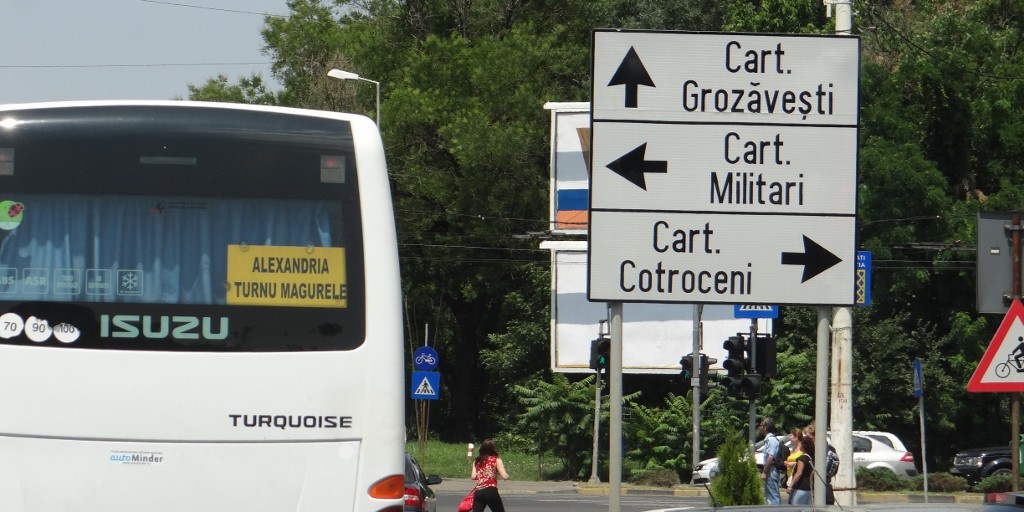 We found our way, more by luck than any sort of judgement, onto the unknown-to-satnav road and swept up over a huge flyover. At the bottom of it, no signs. By now we'd been going around for about an hour, so we went with the flow and followed the majority of the traffic (doing anything else was a tad difficult in amongst the several lanes). Jay's Moroccan, Italian and Tunisian driving training skills were tested to the limit and his defensive driving got us through the chaos – albeit with a few squeaky bum moments.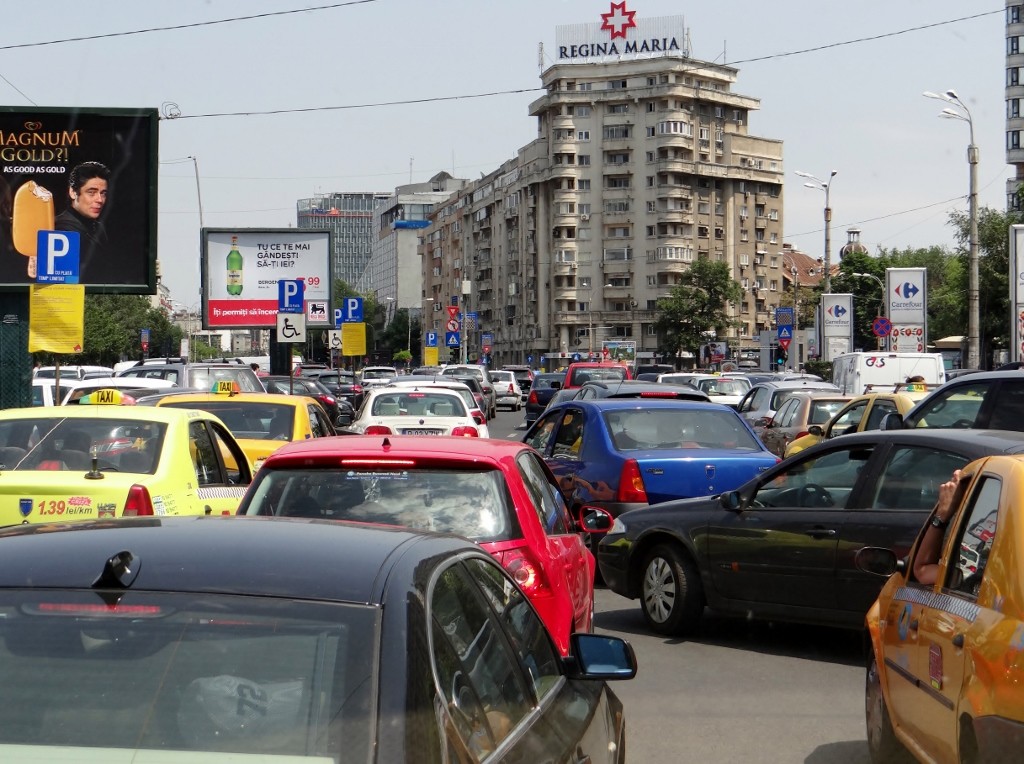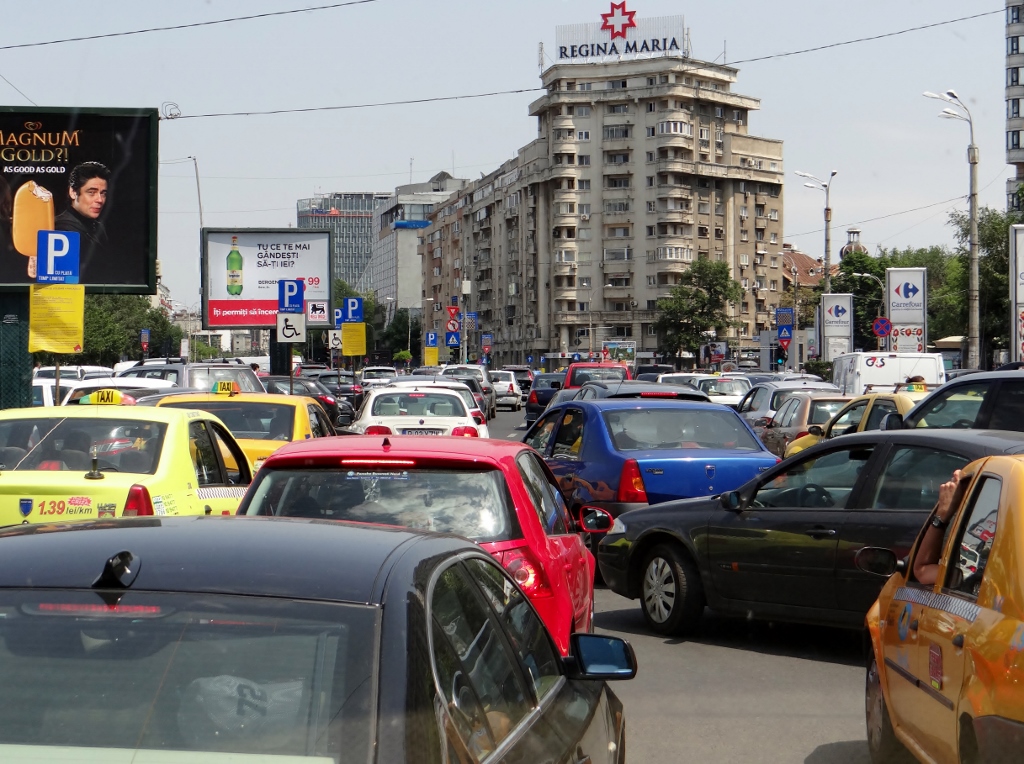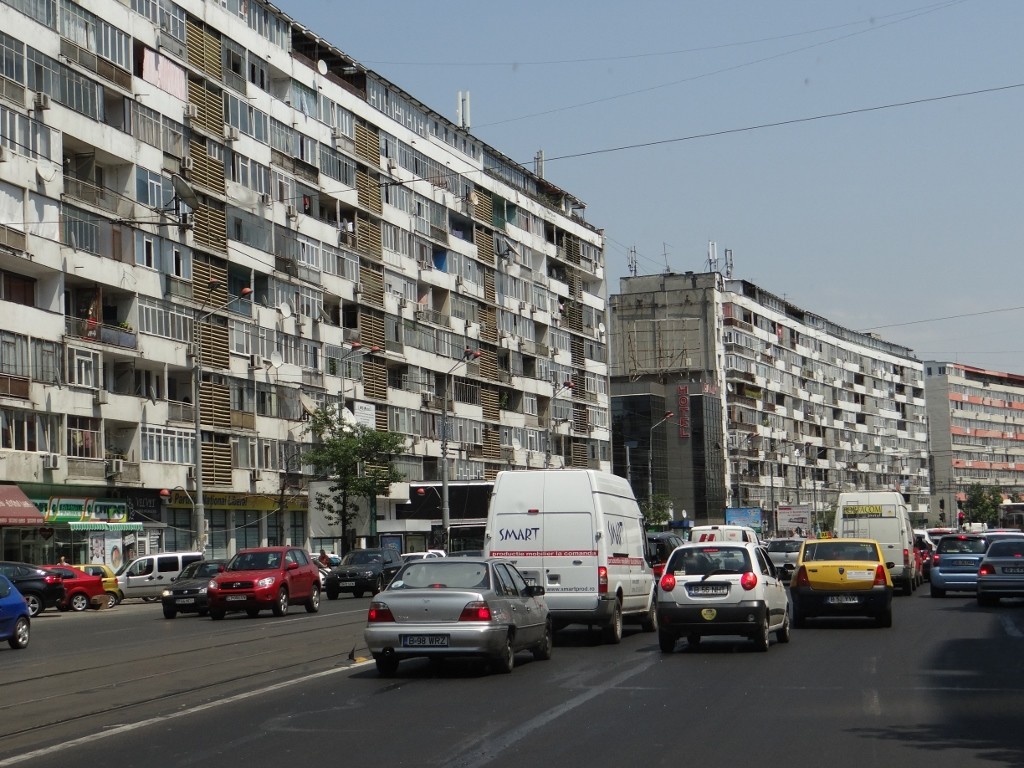 We reached a massive junction with cars everywhere. Spotting a sign for the airport, we tried in vain to get to the road it pointed to, but the flow of traffic swept us up and forced us out the other way. At this point we surrendered. We followed satnav. She directed us to the ring road, which would have been fine but she chose the road which took us just a few short miles from where we crossed it over two hours ago to enter the city. Too tired to argue or even laugh about the situation, we followed the ring road around the outside of the city until it reached the other end of the road she doesn't know about.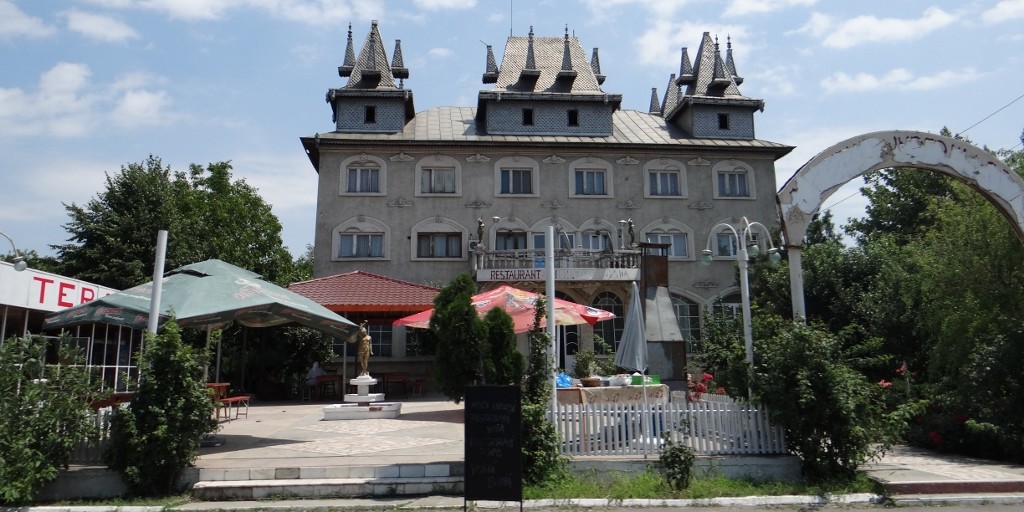 We guessed our way back towards the city until we saw a sign for the camping. Missing the second sign (hidden behind a tree) we were almost back in the city, so we turned around again and made our way back out towards the ring road. Then we saw it, our turning – heaven.
Rounding in on our target we drove along the road, but of course the campsite was on the opposite side of the road and we had cars hanging on Dave's rear bumper. We carried on, making a note to turn at the junction with the prostitute wearing a Ferrari vest top (well you wouldn't want one in a Dacia vest top!) and ten minutes later we were in. Jay parked Dave in the shade of a tree while Alessandro on reception took our details from me. We're not sure if the price is 80 Lei per camper, per night or 80 Lei per person, but we're not moving. We're here and we've survived the Bucharest traffic.

Jay cracked open a litre Bulgarian beer to celebrate before he and Charlie went for a stroll around the area. There's a nice park and restaurant behind us, and we're in an area surrounded by little wooden camping huts – it's all very cute. I asked about how we get into the city tomorrow – bus 301 was the answer. Do we buy tickets on the bus? I asked, no you buy them here but we don't have any, maybe tomorrow – only a tad worrying, but it won't stop us. We've got a capital city to see and a huge palace. Oh and it's the weekend!! Bring it on.
Ju x