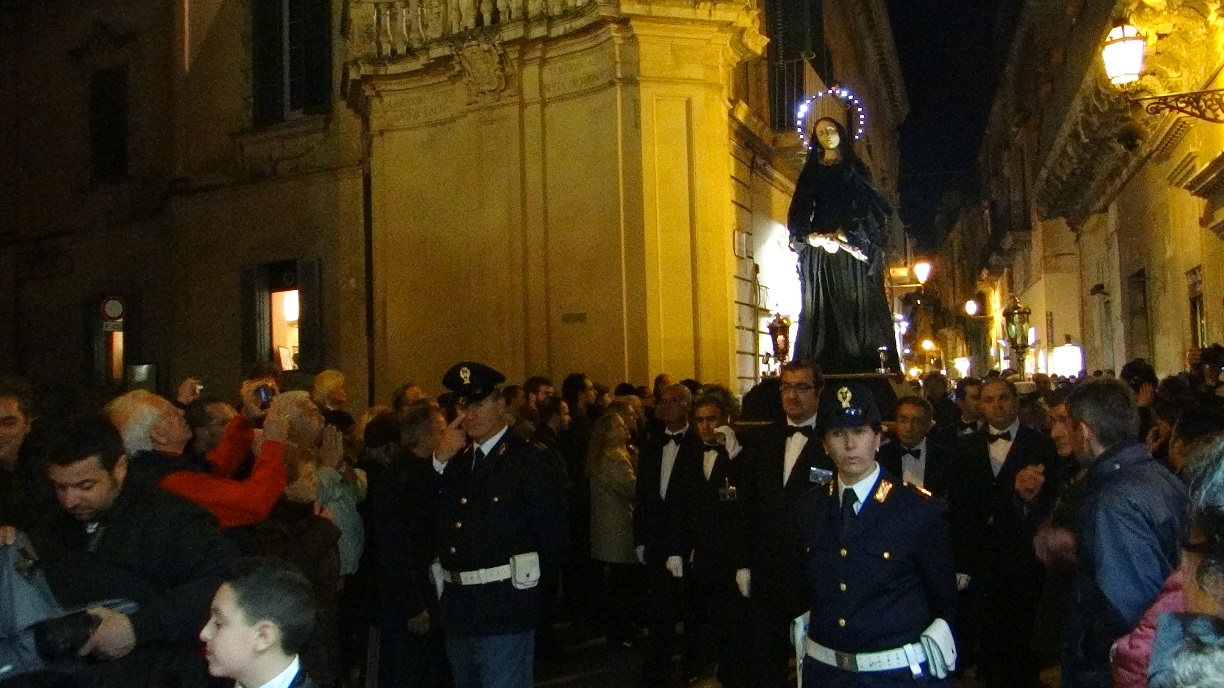 Dave the motorhome is surrounded by Italian motorhomes who joined us this morning on the parking just outside Lecce's beautifully atmospheric old town. I had a bad feeling about this car park, without much foundation I suspect, but having ten or so neighbouring homes on wheels has a calming affect and we were both comfortable to head off into the town during the day and again in the evening. Charlie's had a good ball chase, even snaffling a new one, most likely from the tennis courts next door!

Lecce's been here for over 1800 years. Like most of these incredibly old Italian cities, it seems to rise from nowhere as we drive in; I suspect there is no Italian word for 'suburb', although there must certainly be words for 'urban sprawl'. Staid concrete sploshed with what seems a standardised set of pale pink, beige and green hues stands like the city's latest set of walls, mid-rise blocks of flats replacing fields of olive trees and (so we've read but not seen) tobacco. It's off-putting, driving into this modern function-over-form living space. But once you're in and are on foot, walking through the massive warm-stone triumphant archway into the city, roles are reversed; form stands tall over function, it's all winding narrow streets and leaping cherubs, it's beautiful.

There are Roman remains here; an amphitheatre and theatre, but they're pretty dire. The former's little more than low standing stones and a few seats, most of it having been built over to make up the main square in town. The latter's closed in by buildings and is, well, dull. The architecture's all about the 17th century when some obviously fabulously rich Spanish occupiers took advantage of the availability of a soft local stone to get their churches and palaces seriously blinged-up, baroque-style. Ju's taken advantage too but as we're not quite as loaded, has restricted herself to a €7.50 stone lamp, a lovely little thing.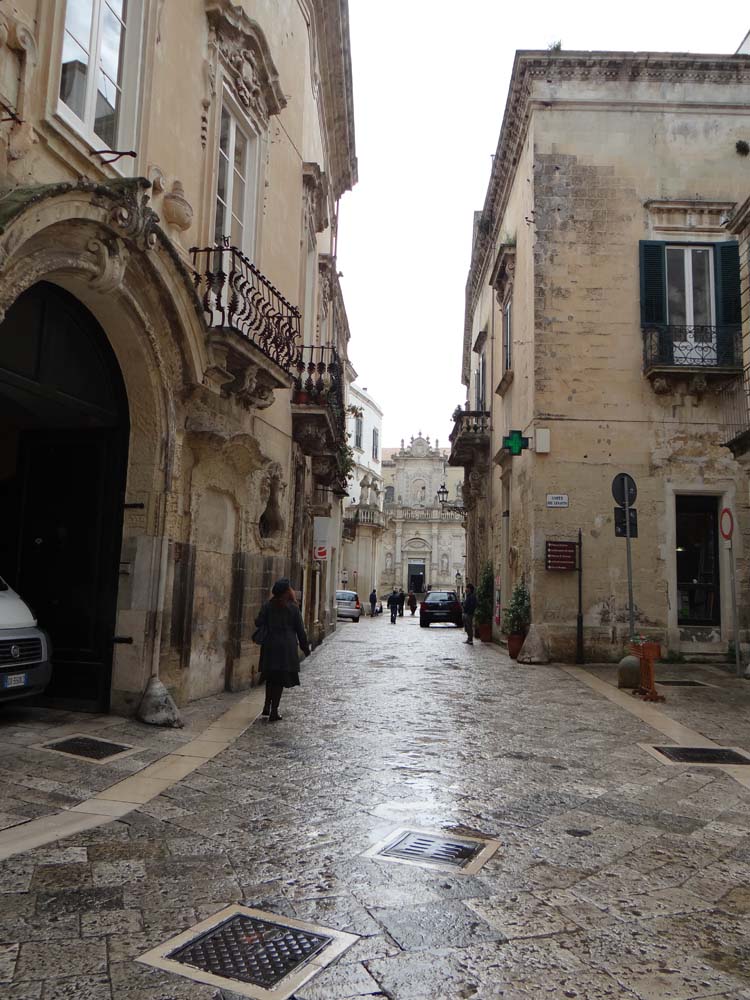 Baroque's my thing so I've discovered on this trip. The Chiesa di Santa Croce (Church of the Holy Cross) is the highlight here, plastered with surely-that's-not-stone sculptures, although the entire town gives glimpses in a similar vein wherever you look. Even half-covered in scaffold, the work which took over a hundred years, is too much to take in, I find myself seeking out individual details to try and absorb the magnificence of the thing.
As we've walked around, the sun's gradually broken through clouds and our layers of protective clothing have been removed. We've soaked it up, getting in some of the quintessential Italian activities in anticipation of leaving for Greece next week. Restaurants which look beyond our budget are far from it, offering menus rivalling even the famous Spanish menu del dia. For €14 each (including the cover charge and bread), we ate some sumptuous grub. Lecce's a reputation for putting together gourmet food from cheap ingredients,  and stuffed full of secondo (second course) horse meat (go Ju go) and cuttlefish (chew Jay, chew) we washed it down with the included half litre of house red and a bottle of water. The only other chap in the restaurant played Tetris on his iPad as he ate, the surroundings and quality of food obviously the absolute norm to him.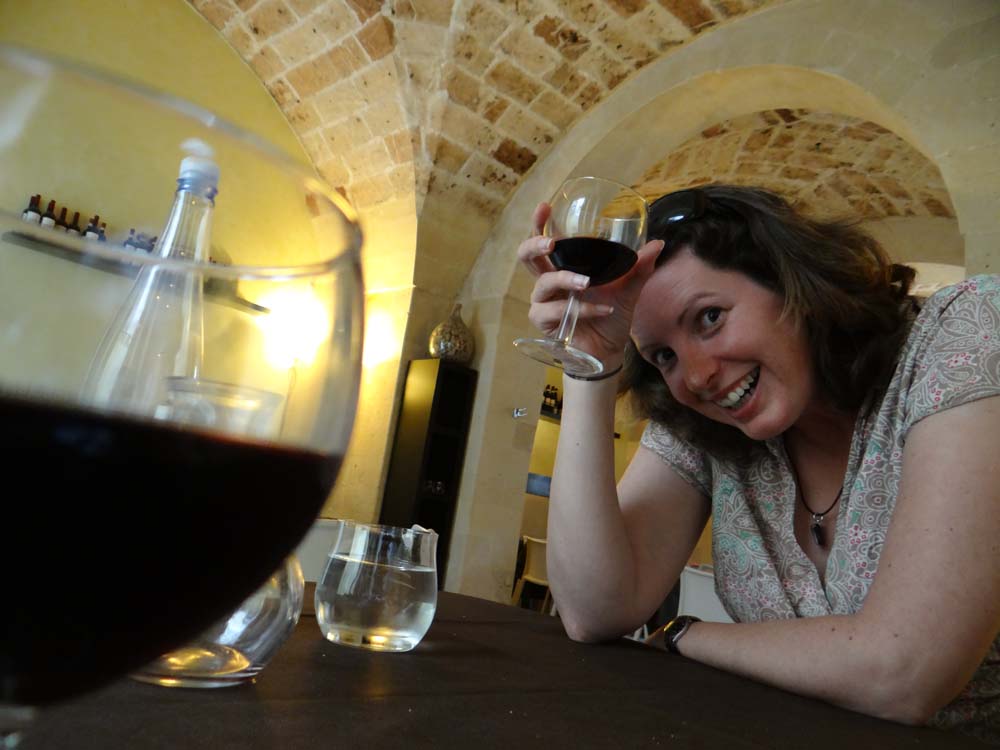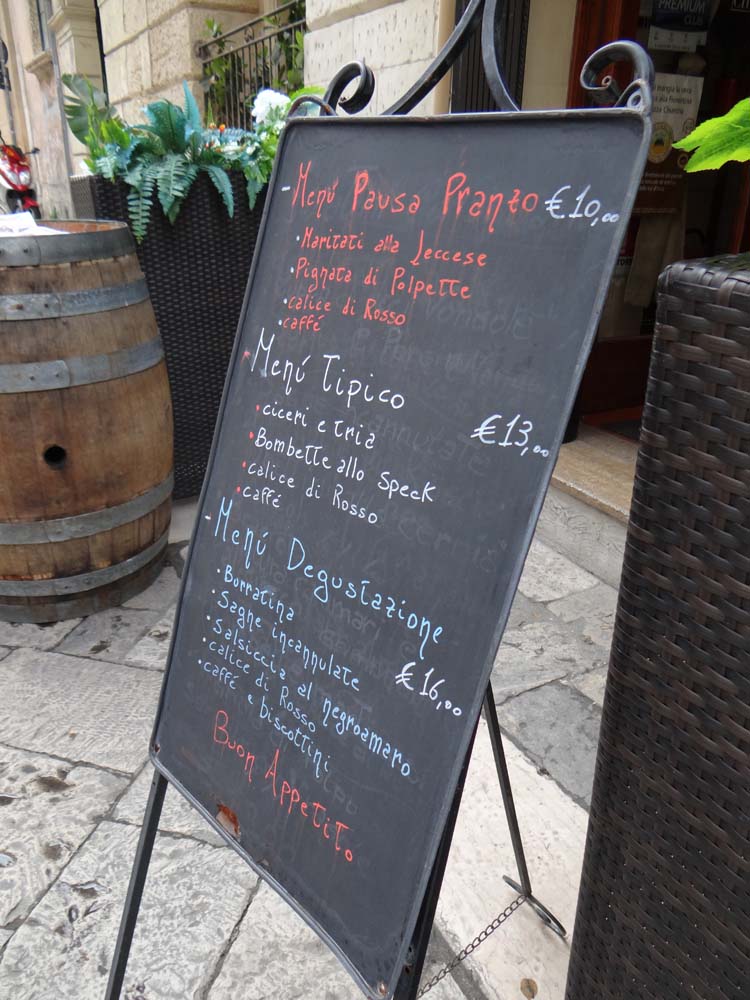 With the evening came the reverence. Being Italy, the towns here seem to have as many churches as English towns have pubs. As night fell, we wandered into one of them to see the service playing out ahead of us, all latin, crosses and robes. The doors remained open and no-one seemed perturbed that we walked in, grabbed a couple of flash-less photos and left. Out in the street we topped up our energy levels with yet more thick sweet Italian ice cream (if you've never had it, it's like Ben and Jerry's, but somehow better) and joined the throng of the passeggiata in the streets.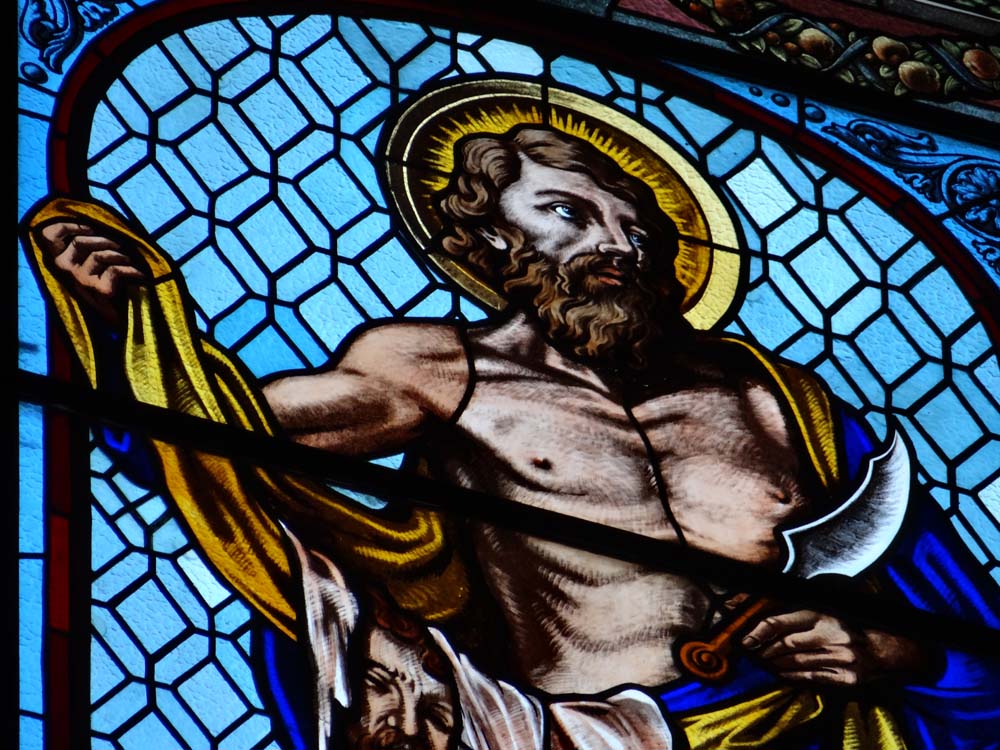 So! This is where everyone's been! In the past week or two we've seen so few people it's a blessed relief to see all this life. With a 7:30pm procession through the streets planned, the crowds of people built up, clogging up the route like a fattened artery, the police (their white-holstered guns always catch my eye) riding through two-abreast on motorbikes to clear a path like a stent. Into the gap haltingly flowed a procession of uniformed fellows, what appeared a mix of the religious and secular, upstanding members of the Lecce's society no doubt. The crowds went silent, many folks crossing themselves and touching their lips as a glass case containing a crucified Christ passed by, followed by a Virgin Mary, held high above us. It felt quite electric, and I somehow doubt Father Ted's very popular around here though.
Once the procession was past, the bulk of people fell into step behind to march through the streets. We chose to march back here, grabbing some chips on the way. Our neighbours arrived a few minutes after us and we're all now settled into our little wander's village outside the city walls. Our table's adorned with a map of Greece we picked up today. Only problem is the place names on it appear to be an Italian version of the transliteration from the Greek alphabet, so we kind of need an Italian-English dictionary for Greek place names, erm, which I don't think exists. No worries, I've got all keen and started to learn the Greek alphabet (a physics degree taught me half of it anyway), so we can read the names direct in a few days. A bit more Italy to see before we head off though, starting tomorrow.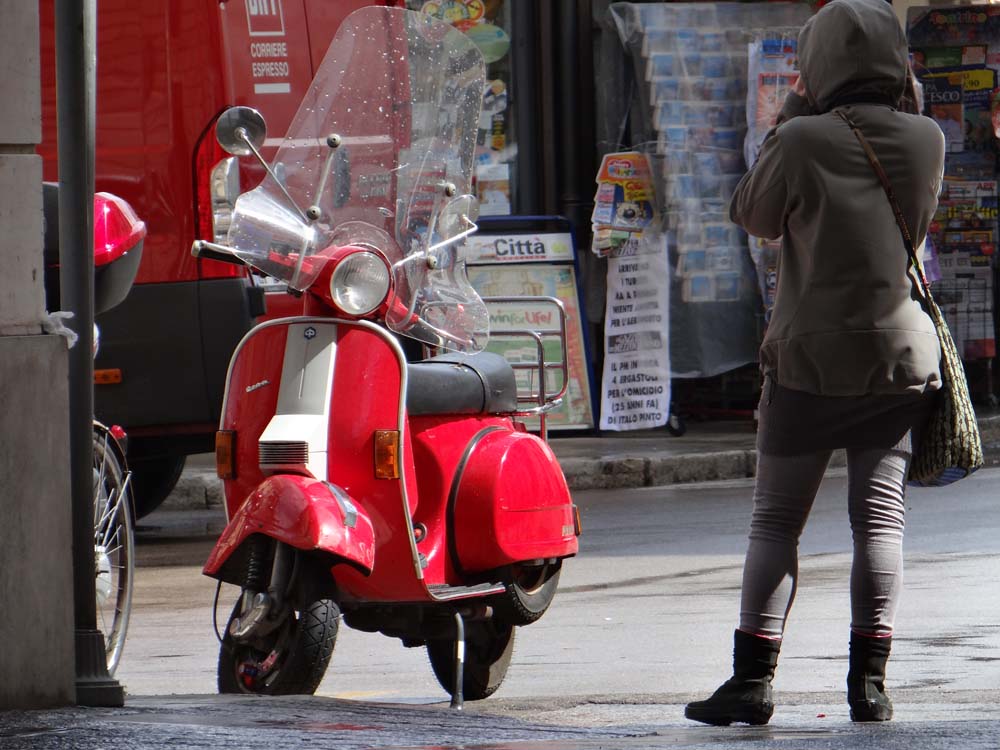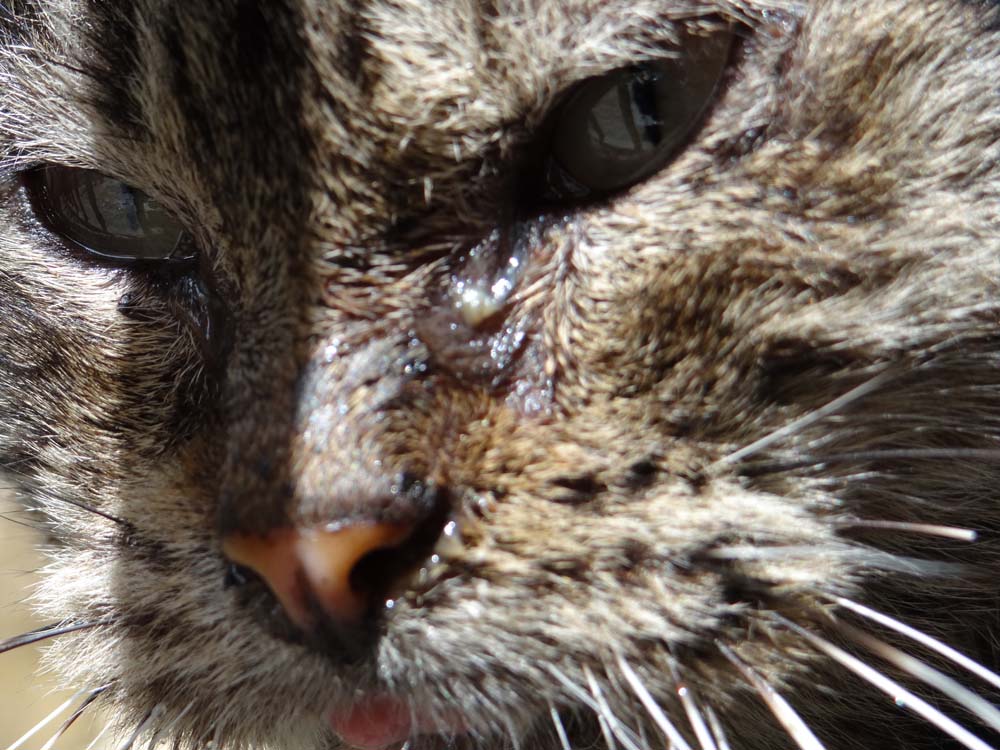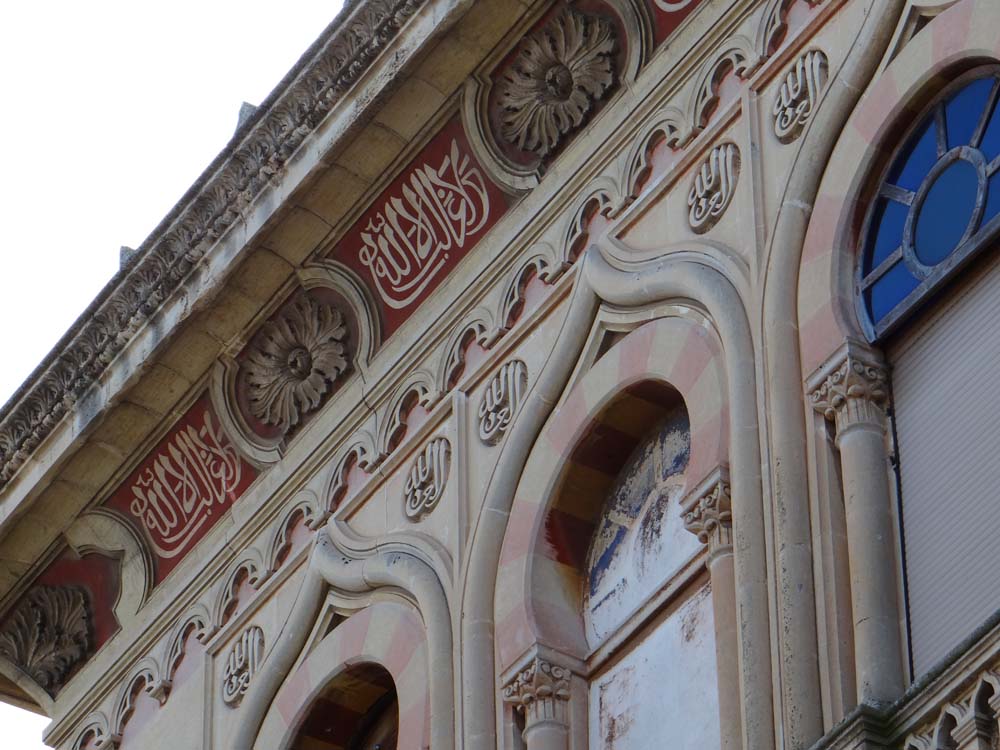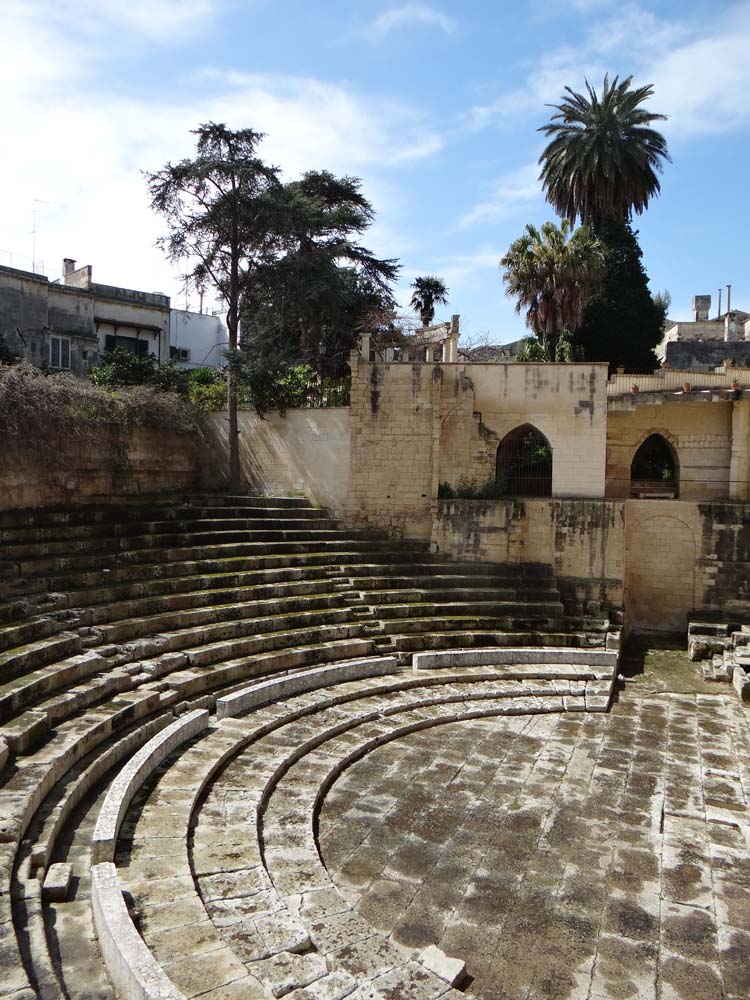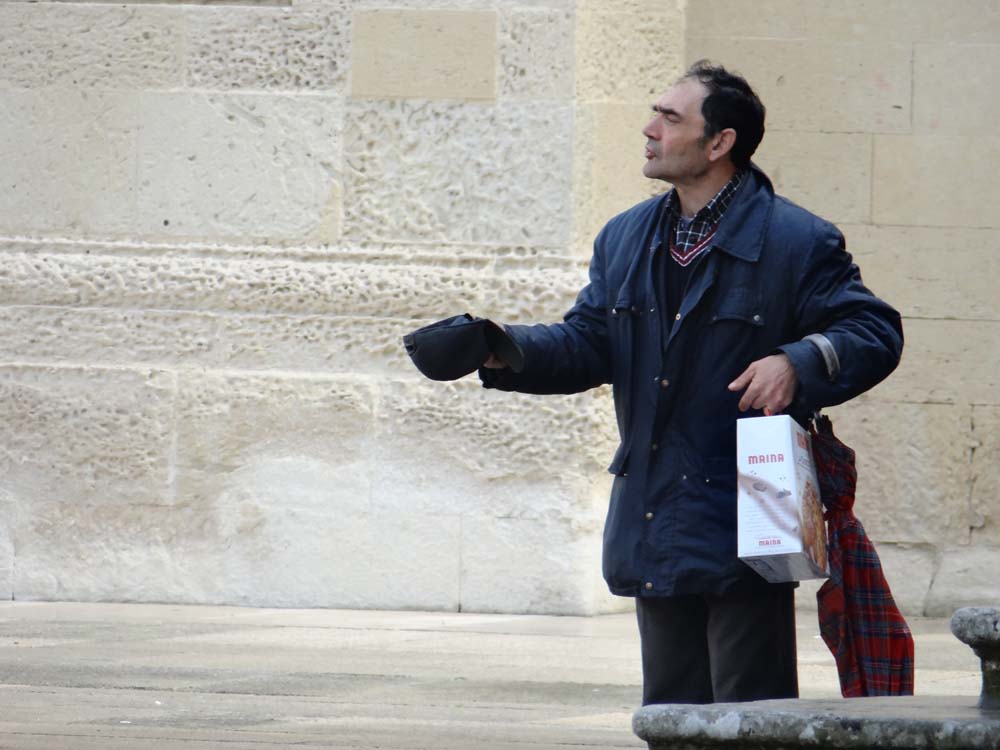 Cheers, Jay
P.S. It's now 9:41pm. Ju's just reported there are now 17 vans here. Some of them have disgorged families, including small nippers who are being wrapped up in readiness to head out for the night! We're about ready for bed. :)