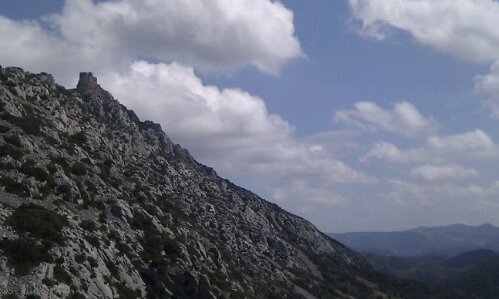 We're here: N42.86150 E2.56490
The weather is: sunny, then clouding over in the afternoon
When we woke this morning, the cloud had lifted and the sun was working its way down the valley towards us. We could now see the Pic Du Canigou, which sat snow covered behind the abbey we climbed up to yesterday.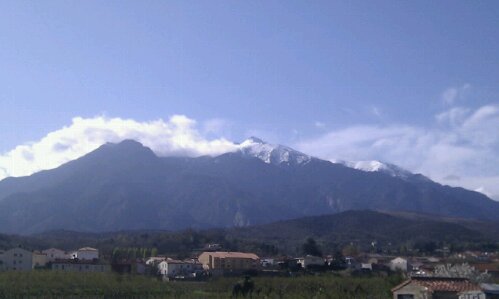 We set off back down and along the Tet valley. We're still in Catalan, but everything is becoming more French by the kilometre. Within 30 minutes we'd driven past a Super U, an Intermarche and two men peeing by the roadside – we must be in France by now!
We headed north into Cathar Country (according to the leaflet) which contains '20 exceptional sites', including Carcassonne. After passing a rather appropriately named village –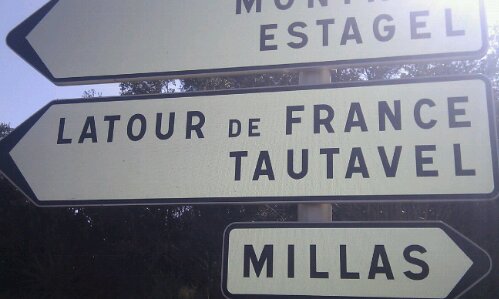 we found ourselves at our first Cathar Castle of the day. A quick search on the internet told me that the Cathars also lived at Meteroa in Greece – another place on my 'to visit' list. So who were they? It seems they were people who:
– opposed gross materialism (especially as practiced by the church of the time)
– doubted the divinity of Jesus.
– believed God ruled in heaven and the devil controlled the earth.
Needless to say these beliefs got them in big trouble with the church. So, like many societies that expressed alternative beliefs, they were hunted down and burnt at the stake. In an effort to keep the church at bay, they sought refuge in some mighty fine castles in this region.
The two we visited today both had a busy past having been part of France's defences against Aragon, until 1659 when the border moved – strange to think that borders can move, but I guess it's easier to do here than on our island.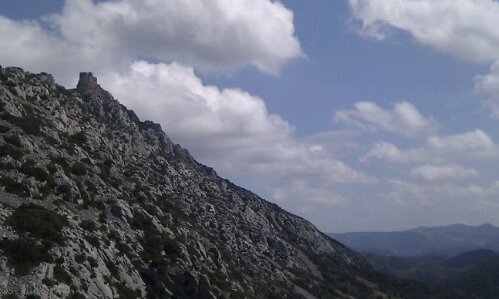 The Chateau de Queribus sits perched on top of a rock at the end of a steep road. Poor Dave's clutch still isn't on top form, so we left him at base camp and set off on foot.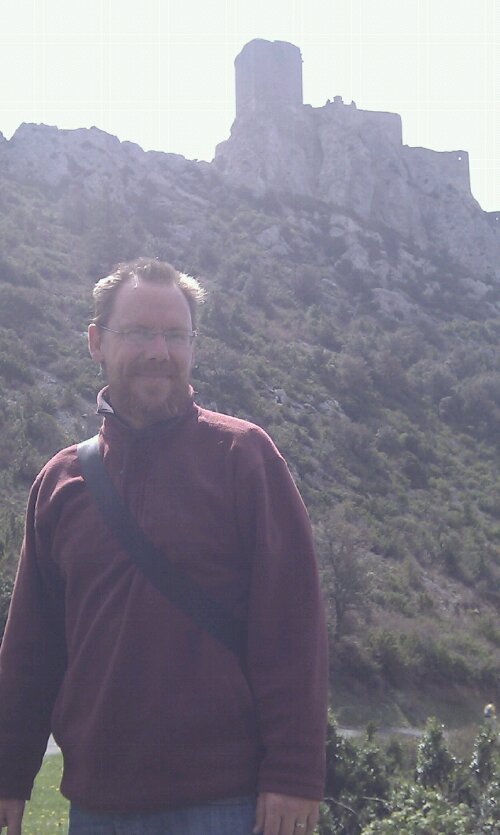 After 2km we reached the ticket office we decided to have a rest then head back down. We'd read in our guide book that if you only visit one castle in the region, the one at Peyrepertuse is the best. It was only 6km away with an aire in the village below it, so our money was going there.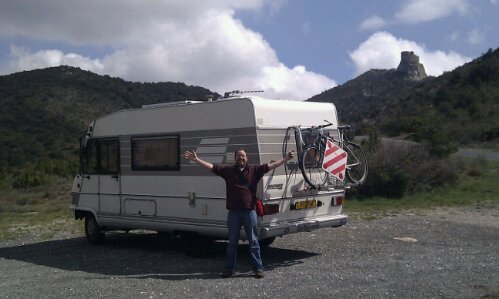 Back at Dave we set off for the village of Duilhac. As we drove along it soon became clear that a ridge of rocks on top of a hill was our destination, the castle was built into it. We parked up in the aire and fortified ourselves with some lunch.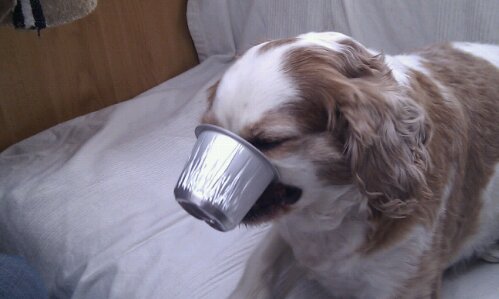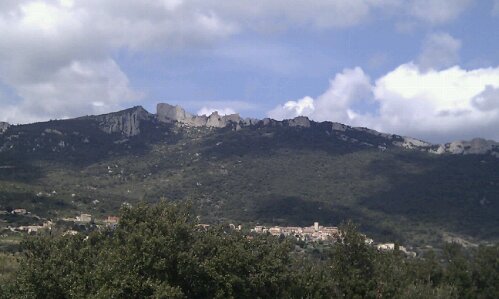 Again we set off on foot and walked the 3.5km up to the castle. It took a tad longer than the hour it said on the sign, but then we'd already climbed up to one today, and an Abbey yesterday – my poor legs. We arrived at the ticket office, paid up and walked through the turnstile to be greeted by a sign saying it's a 15 minute walk up to the castle! By the time we finally got there I had seriously wobbly legs, but the views were worth it.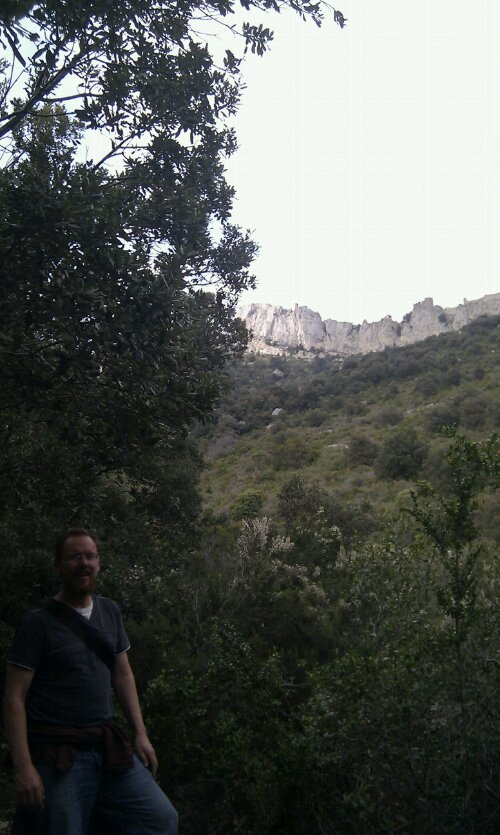 Our audio guides were in English, but narrated with a dodgy french accent, so it was a bit of a struggle to find out what it was talking about. The castle is in two parts, with the best part up a steep flight of stairs cut into the stone. J pointed out as I huffed my way up them that they would have been much harder to make than climb – I kept quiet.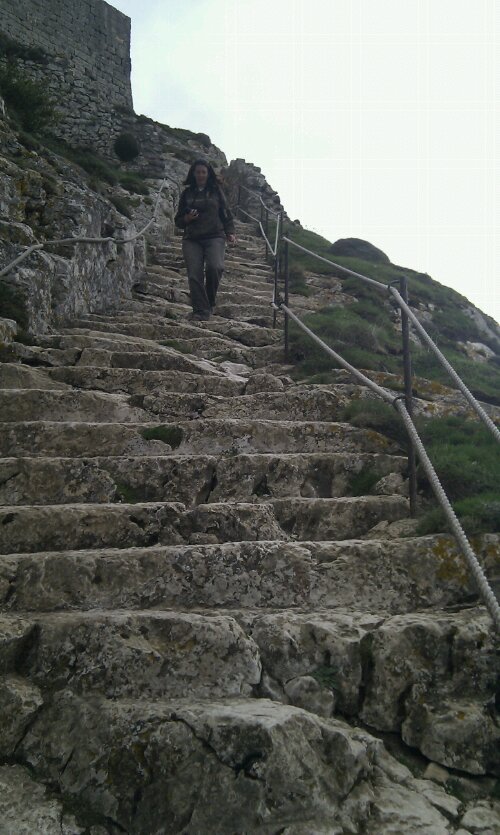 We finally reached the top as the cloud started to come in, but it didn't spoil our enjoyment of a chocolate bar between us and the view.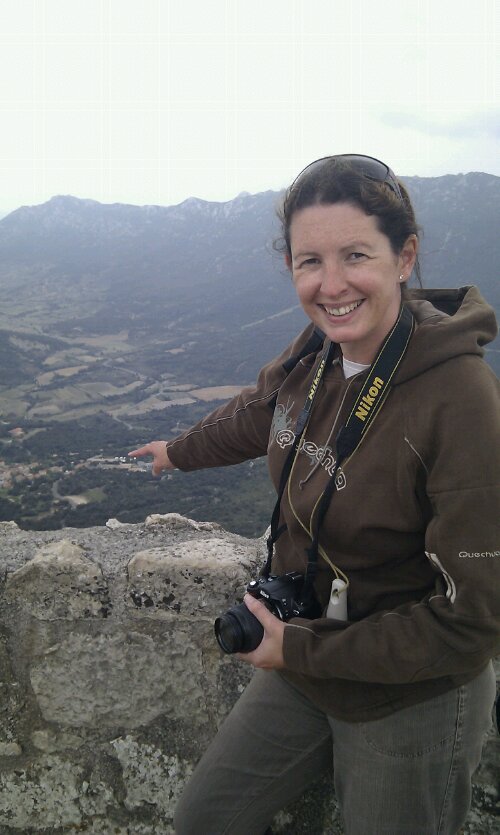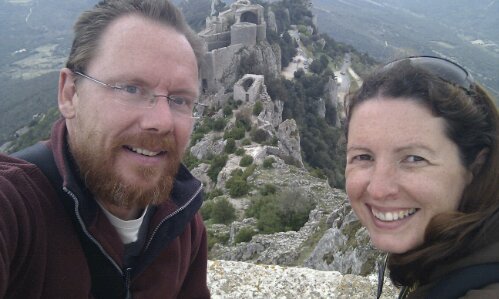 The descent was much quicker with Charlie leading the way – desperate to get back for some sleep. So just four hours after we set off we're back in Dave – who's been joined by nine other motorhomes, again you can tell we're back in France as there are so many more motorhomes around.
I suspect we'll all sleep like logs tonight (Charlie is already snoring loudly), but not before J knocks up a slap up dinner as a reward for some serious walking and a great day.
Ju x