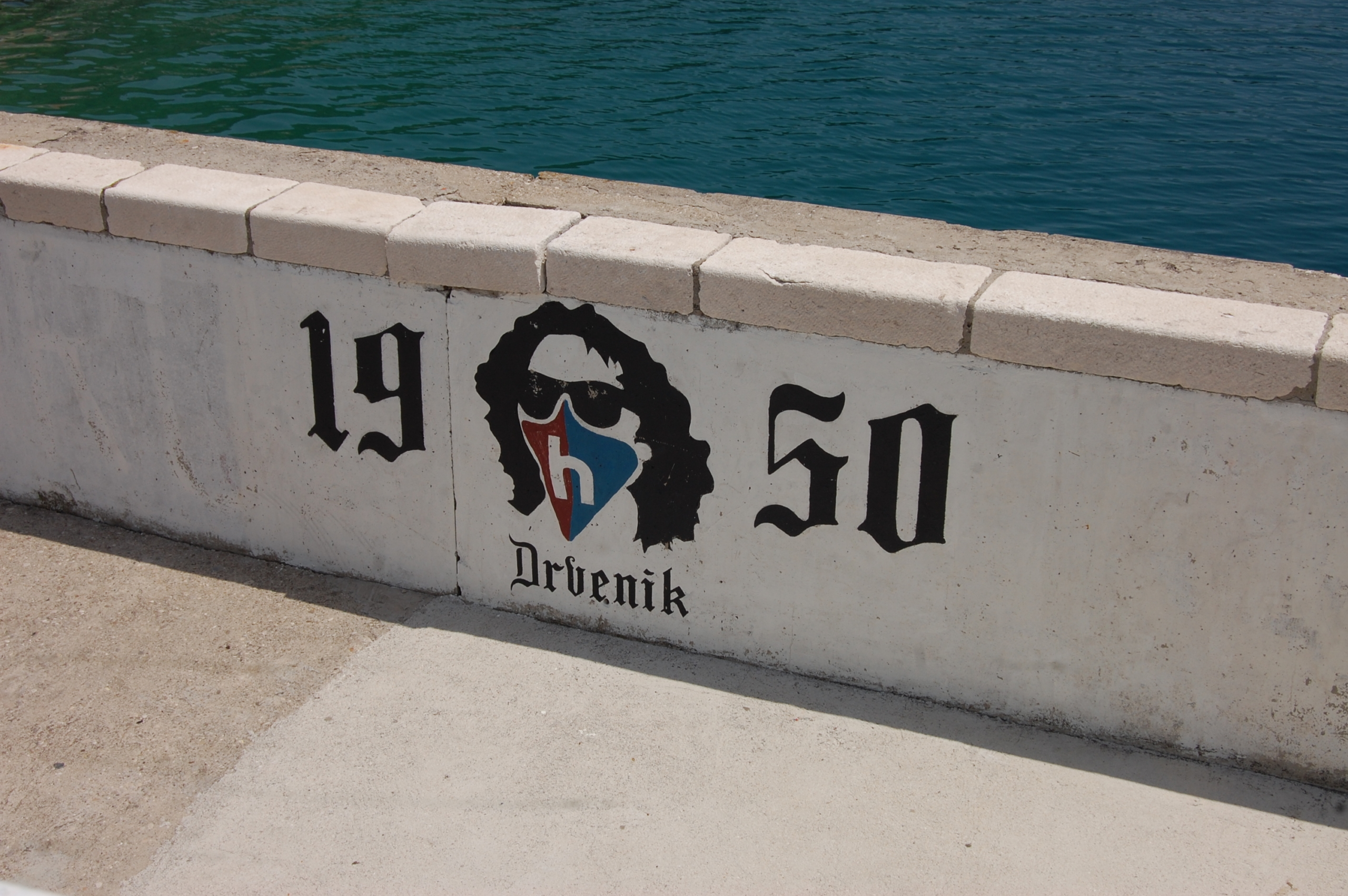 Dave the motorhome is in Camping Solitudo (N42.66209 E18.07081), officially in the city of Dubrovnik, in practice a few miles from the old town. Camping Solitudo takes camping cheques until mid-July, woo-hoo! 'Solitudo', it has to be said, is a little implausable for a city campsite with 300 pitches, and a statute book of rules :).
Hvar, was a siren, tough to leave. The solitude, friendliness and 'look what we just discovered' feel to it had us truly entranced in holiday mode. Another impediment to departure was the island-long road, 50km of crumble, running to the teeny port of Sućuraj. Road planners seem to have lazily simply selected an island contour; the subsequent difficulty in building the road is told by the road itself. Where the terrain required steep stone embankments, or triangular hacks into the mountain side, the arduous nature of the graft is betrayed by the way the road pinches inwards. Along these stretches the dotted white line is more an aspiration of two-way. Soon after hitting the road, a blur of black wings its way towards us around a corner, making gainful employment of our side of the road, passing us with a screech of locked-up tyres and a 'whadddyeerfffliippingeck'* from me.
Since this stretch of causeway only sees serious traffic (4 or 5 cars in a row, point man looking harried) when a ferry arrives once an hour, we settled into cruise mode, wondering what the contents of our cupboards would look like after this washing machine of a journey. Half of Hvar is half of nothing, maybe in now small part due to the need to navigate this road to get to it. Sad little huddles of unused, or unloved, villas appear once in a while. In between the countryside is rugged, mysteriously segmented parcels of land, dissected by thick dry stone walls overgrown with scrub. Cyprus trees strike skywards above the tussle of olive trees, like smooth strokes from green-tipped narrow brush. Lavender bushes close to the road call a temporary halt, as Ju nips out to grab a few stems, unsure whether we're thieves or foragers.
Reaching the port without arrest or clashes of wing mirror, we waited in a small queue, the ferry already docked and it's ramp softly resting on doormats. Ticket bought, and no sign of a departure time, we wander to the water to gaze in amazement at the clarity of the stuff. Accompanied by half the queue members sat behind us, we're all caught out at the ferry staff are suddenly impatiently whistling and waving us over. Legging it back to Dave, we're first on. A car arriving ticketless, as the ramp was sliding away from the dock, was last. His wife just had time to grab a ticket and calmly step on board.
The Adriatic seems a benign, restful creature. Our flat-faced ferry causing scarcely a ripple which caught the sun and glinted it playfully back up to us. The only notable event on the crossing was a mild altercation between a sun-bathing husband and wife, brought to our attention by a stinging slapping sound. The chap, of unknown nationality, later asked Ju to photograph him, and then oddly asked to photograph Ju, on his camera, and then asked for her Facebook details. Lecherous or congenial, we dunno, but we guess his wife does.
It's the 1st of July, and the sun knows it, pressing down on us, lighting up the mountains and sea like a Croatian football flare. Nothing for it, we head for Debrovnik, battling the heat of the day with the gush of wind past cab windows. Our SatNav decides it will take us 8 hours to get here, unfathomably wishing to take us either via a sea route or Sarajevo. We surprise it by nipping into a well-trodden Bosnian strip of seaside and back out again. This weird bit of land, chopping off the bottom of mainland Croatia, was handed over to the Turks at some point in the past, them being deemed the lesser of two evils than the Venetians. Bosnia has it now, but the border crossings are lax, cursory glances at passports at best. A couple of 'worthy of an Italian' oncoming overtakers had me wary of local drivers, heightened by our total lack of insurance on this 15km Bosnian stretch of land.
Sweating and, truth be told, swearing, we arrive at the campsite and hurl the camping chairs out. A gasping Charlie is mistreated to a few minutes beneath a cold tap. Ju cracks open the last of our ice, pitifully inadequate, shrinking by the second in luke warm pints of raspberry squash. A couple of nearby Brits from Warwick put us to shame, an 87 year old 3 litre Bentley and a fading tent being their mode of transport and accommodation. Free Wifi here offers the chance of research into the practicalities of attending the wonders of Dubrovnik, dog in hand. Buses are out, boats don't leave from here, parking is non-existent. Another taxi calls. Tomorrow.
We're at our southerly turn around point now. Once Dubrovnik has been enjoyed, we'll turn north into Bosnia and trace a faltering line back to Dunkirk. Talk has turned intermittently to booking a channel ferry, a French vet, and an MOT. Despite our aim to swing back out into Europe until Spring of 2013, and despite the whole privilege of being able to do a trip like this at all, I feel a little sad. We'll book a return ferry.
Cheers, Jay
* Not my actual words, which included at least two heartfelt expletives, and would have earned me a spell in prison in old Venice.
;