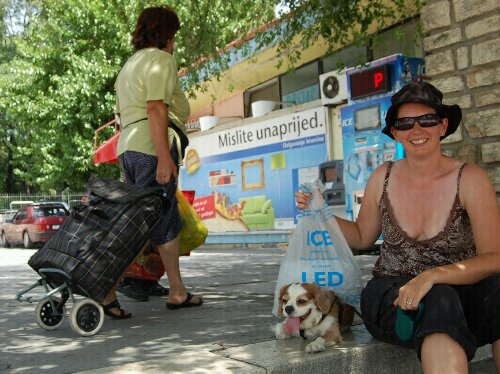 Dave the motorhome is parked near Split, Croatia (at N43.50473 E16.52940, Camping Strobec. They take camping cheques, excellent!).
Our southern descent continued today. As it's my 40th birthday tomorrow, Ju gave me the lone choice on today's destination. I was tempted by an inland detour to Knin, self-declared capital of the area of Croatia occupied by rebel Serbs during the civil war. Reading up on the place, it sounded like a shadow of itself. Ethnically cleansed Serbs left it in droves, taking its economy with them. We expected to find the cracks papered over, deserted houses occupied or reduced to rubble. In the end the decision came down to whether Krka national park, which is on the way back from Knin, was similarly worth a look. Lonely Planet indicated it was, we agreed, but as it closely resembles Plitvice Lakes, again we skipped.
Instead we drove the coast road, through dry woodland peppered with 'for gods' sake don't set a fire' signs, and a couple of wild boar warning signs.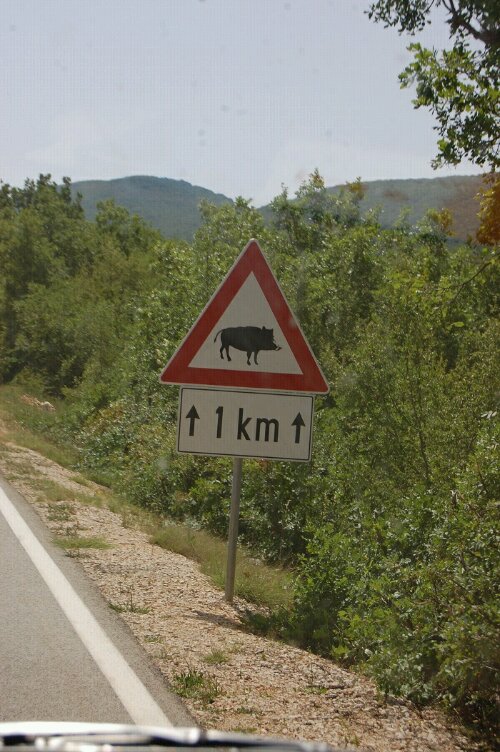 Where the woods have been wiped away, a sort of scrappy countryside has grown up. Scrub, tatty and tarted-up vineyards, olive orchards and little islands of planted fields border the road.
A long line of concrete power poles poke up from the woods, following the road. Where the power cables should cross the road, they're absent. The poles sprout short sections of cable, no longer serving a purpose. Some poles appear to have chunks of their trunk missing; crumbled or blown away by artillery, we don't know. It's a melancholy sight.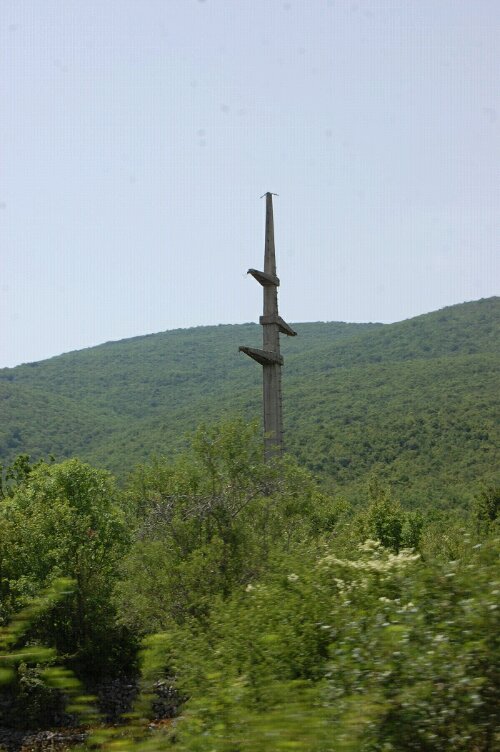 It's hard to ignore the 'hero' billboards along the road, proclaiming this or that town's support for General Ante Gotovina. He's a real life Hollywood character, having returned from life in the French Foreign Legion (and various dodgy security assignments) to join his newly independent homeland's army. Over the course of the civil war, he earned his hero moniker, commanding actions which liberated huge areas of the country. After the war, not liking the way the fighting was being portrayed politically, he and 11 other Croatian generals wrote an open and rather snotty letter to the governance. All the generals were forcibly put into retirement the next day in a 'we're the boss, back in your box' move by the government.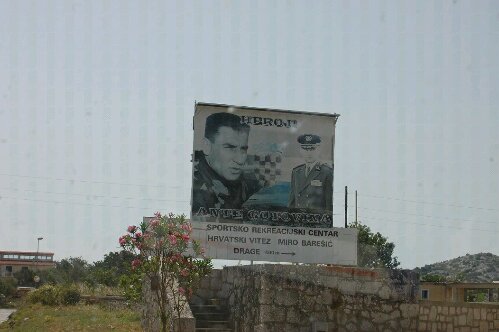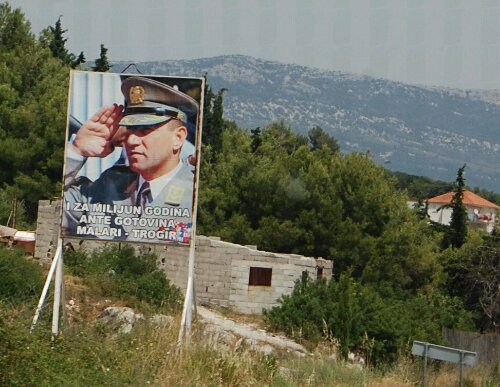 Soon enough, allegations of war crimes are made. Ante dutifully legs it. Attempts to find him mysteriously failed until EU membership rested on it, then he was arrested over dinner, living under a couple of assumed names in Playa de las America's, Tenerife (I wonder if I met him?).
An international tribunal subsequently found him, along with a co defendant guilty. The killing of 324 civilians counted amongst the various acts he failed to prevent. To me, he sounds like a talented, vengeful thug. To the Croations around here, who actually suffered at the hands of equally murderous attackers, it's little surprise they idolise him.
Only one stop today: Trogir. 'Gorgeous and tiny' describes Lonely Planet man. 'beautifully set within medieval walls, it's streets knotted and mazelike' he continues. Our arrival found all nearby parking is paid, some charging motorhomes £4 an hour. Trundling another 300m got the price down to £2.50 an hour, outrageous for the patch of gravel. The barriers operate using a bar code scanner, Croatia seems to lead the world in extracting stationary tax from drivers.
The town itself was a delight, crowded onto a small island. It's another UNESCO protected spot, previously owned by Venice and with an obvious legacy. The streets twisted and stumbled around as promised, the cafes were shady and good value, and the sun was baking.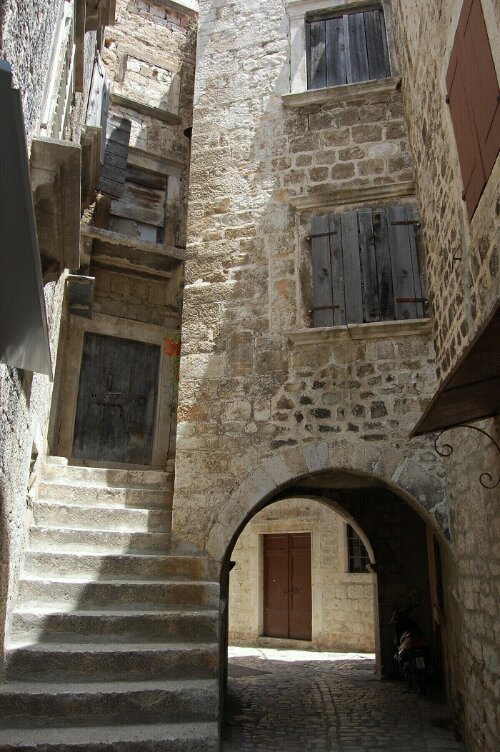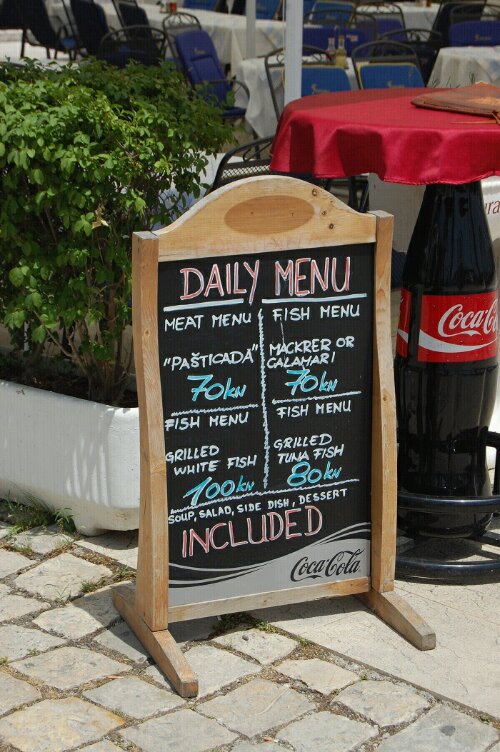 A sackful of ice helped us all cool off, but my view of the place was starting to dim as we all reached boiling point. 'It's a crumbling dinosaur, unnaturally kept alive with a UNESCO life support machine powered by gullible tat-buying tourists' I darkly grumbled, to myself. Ignore me, it's lovely, just best not to come at midday in a heatwave with a panting pooch and a 'car park mortgage' stopwatch!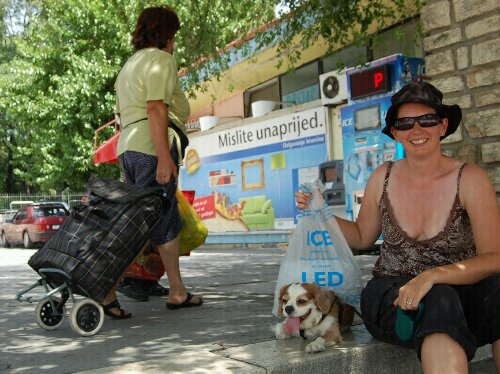 We'd planned to stop in at one or two other spots, but the heat forced us to head straight to Split, via a supermarket where Ju witnessed, without being involved, in some amateur queue jumping scraps.
Dave's thermometer reads only 32 degrees now. Outside it's lovely, we're sat under the awning and Charlie's almost stopped panting. Time to wrestle my contact lenses in for a snorkel. Tomorrow, I turn 40, and we'll celebrate in Split, I'm the luckiest man alive.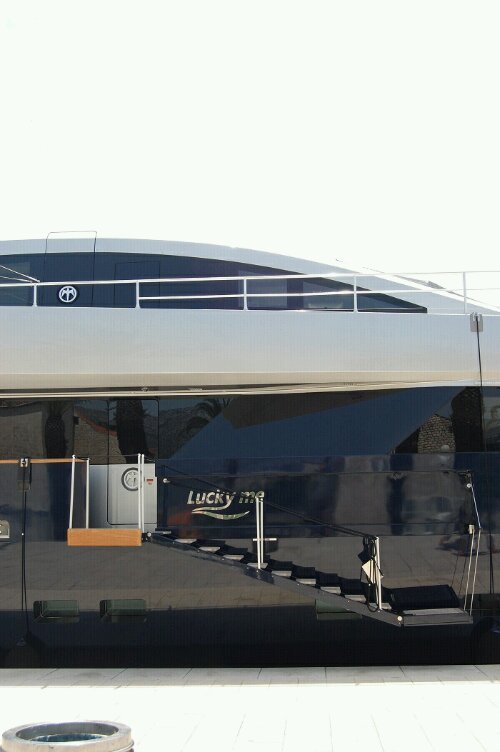 Jay x