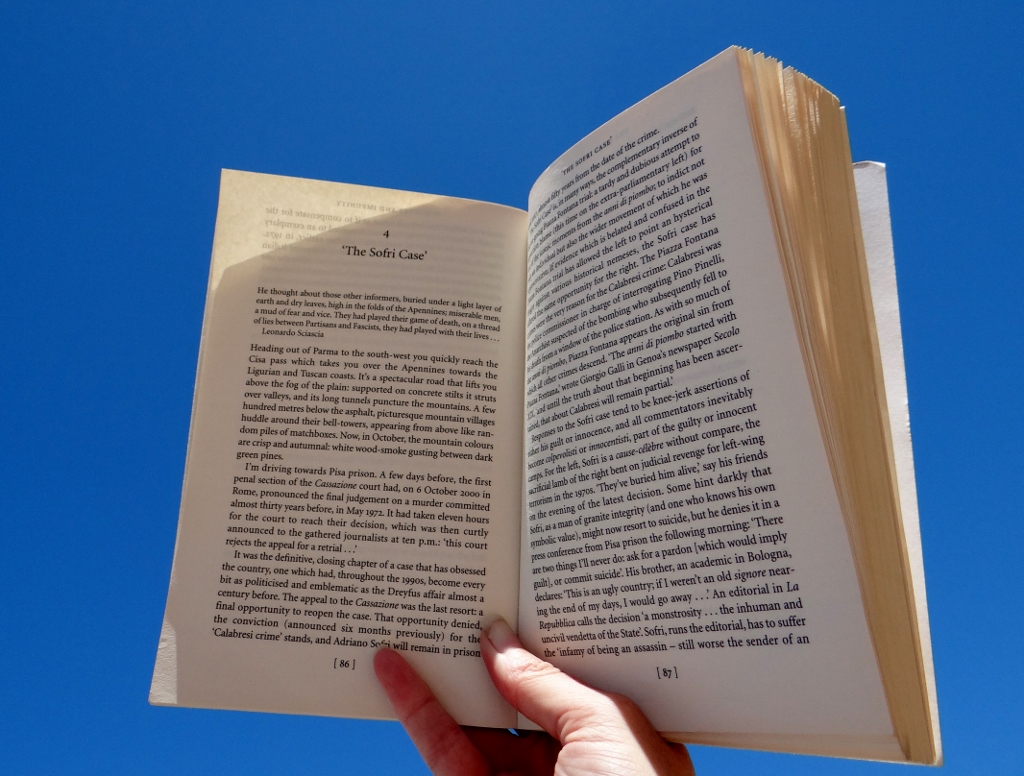 Dave the motorhome is sitting on a rocky promontory in Romanos looking out to sea (N36.98967 E21.64905). The view of the curve of golden sand from his windscreen is almost perfect, a leisure hotel complex the only blight, but even that is in tasteful sand coloured brick.
We could happily have stayed a few more days by the beach in Kalon Neron, but there's loads more of Greece to see and we had a short, but significant 'to do' list which consisted of: cashpoint, diesel, bins, Lidl, water, and loo emptying – although not necessarily in that order. Just before 9am we hit the road.
Our first attempt to get water, by the graveyard in Kalon Neron was aborted as there was a Greek truck parked right by the hosepipe. It's owner smiled and waved as we drove past, but as water is easy to come by in Greece, most towns have a tap or fountain, we held off for one that was easier to get to as filling Dave can take some time. We followed the sign for the National Road – I'm not entirely sure where this road runs from or to, but it seems to be everywhere we've been so far. If signs are not for the National Road, they are ones for the Old National Road or the New National Road; road numbers seemingly don't exist.
We'd set ourselves a diesel price of €1.42, anything lower than this and we'd stop and fill up, (the more fuel we have in the tank, the lower we set our price – today we were just below a quarter), we only had to pass a couple of stations before we found one in our price range. Our emergency €50 note went into the self service pump, so now we really needed a cash point. As we approached the town of Kyparissia that familiar yellow and blue sign came into view; Lidl. With no cash we chanced it and drove in, a promising sign on the door said they took Visa, Mastercard and Maestro – we had two out of those three, with fingers crossed we ventured in.
I know we go on about Lidl, a lot, but when you're away from home for a long time it's nice to have somewhere you can go and know what's what. Lidl is that for us. It's been in pretty much every country we've visited, it runs country promotion weeks where they sell selected foods from other countries – we've only ever hit on UK week once. The main draw for me is that whatever the local language is, details are almost always written in English underneath, and finally it enables us to compare like for like when we list the price of things in our country guides.
As always the store is the same, yet different. Yesterday we had a whole conversation about what remains the same in Lidls in each country and what changes – sometimes when you've been with someone 24/7 for eighteen months you'll talk about anything! We picked up around €42 worth of local (sausages, meatballs, sheep yoghurt, wine) and old favourite (chocolate muesli, beer, biccies) foods, but steered clear of the 2kg tubs of feta cheese as Dave's fridge and our waistlines would struggle to hold that much. I managed to resist sneaking a packet of After Eight's into the trolley, but only just, but had to grab a packed of 'bacon' – could it really be after all of these months? We'll find out tomorrow morning when we cook it. Then came the nail biting moment; the till. In Italy, and a few other countries, Lidl won't take any of the cards we have, we've tried several times. Fortunately we've always managed to scrape together enough cash to pay, but that wasn't going to be the case this time. Our check-out fella knew we were English so pointed to the total on the screen, I handed over my Caxton FX card and it worked – first time! We're loving Greece right now.
With Dave's cupboards fuller than the feeling you get after scoffing a huge portion of fish and chips from the local chippy, we carried on to Kyparissia. In the town centre was a cash point, Jay double parked Dave – see we had been in Italy too long – and I jumped out. There was a short queue, one fella in it had left his motorbike running by the pavement, which gave me time to get distracted by the bakery across the road. Everyone has told us that we must try the Baklava here, so I nipped in and my senses were instantly assaulted by a million and one tasty looking and smelling treats. Unable to work out which label said Baklava, I opted for another local snack; a cheese pie. Not a pie in the sense we know it in the UK, but a spiral of cheese coated in filo pastry. The cashier pointed to one of spirals and asked if that one was OK, 'Si' I replied, she looked at me to double check and my brain went into a spin, eventually a weak, questioning 'Ne?' passed my lips. She smiled and popped it into a bag for me.
The warm cheese pie was scoffed when I got back into Dave, my wallet replenished with cash. We drove down to the water front and found a quiet bit of beach (it wasn't hard, the whole place was pretty empty) for Jay to go for a snorkel. Charlie chased stones for around 30 minutes until he saw the wetsuit clad figure walking towards him, then he came and sat next to me, cowering. It was almost as if he knew what was coming next – Charlie swim time. He's not a big fan of swimming, but now the fear in his eyes is diminishing with each doggy paddle back to shore.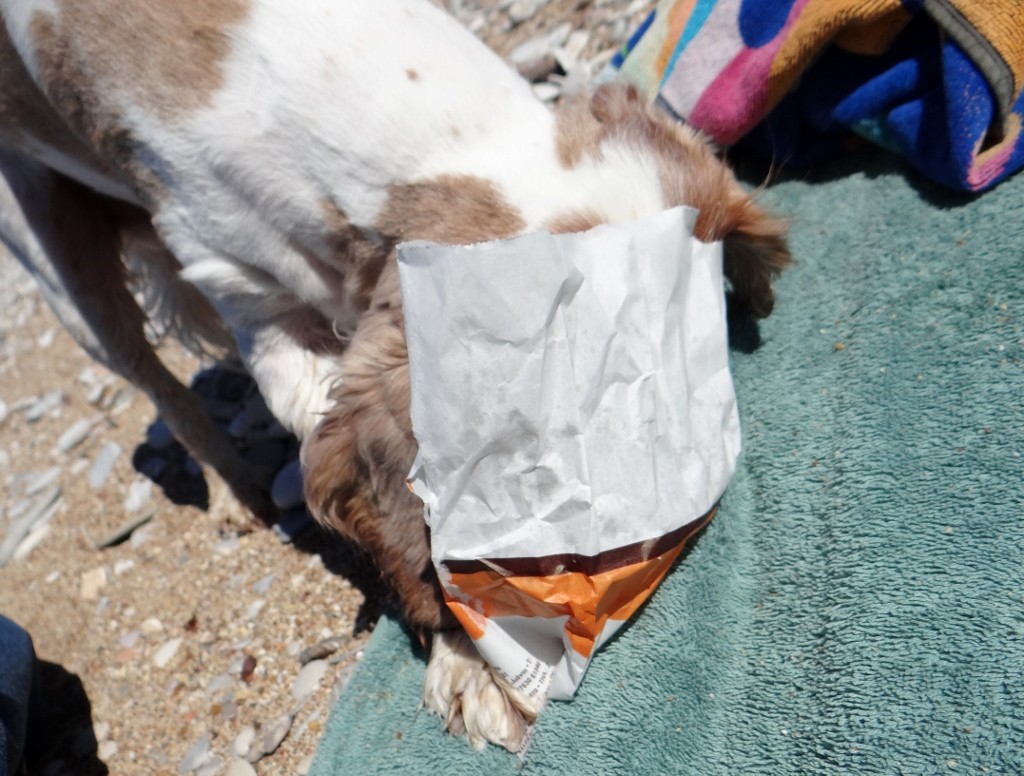 As we sat in the sunshine a bouncy puppy bounded over to us and wanted to play with Charlie. Old before his time he was having none of it, but did finally get a few barks in and a bit of stone chase racing. The owner of the puppy was Aλινα, who chatted with us for a while telling us all sorts about Greece. She was from Romania originally, but has worked in many countries, so it was really good to get another outsider's view of the place. After arriving in Greece she immersed herself in the language and was able to read, speak and write it within three months, which puts our attempts to shame. Aλινα recommended some food stuff to try while in Greece including wave salad, so I'm on the look out for it now. She told us how meat isn't eaten right now until after Easter – hang on! We've just had Easter, but not in Greece they haven't. Here it's not until 5 May (they're on the Orthodox calendar here, Italians are of course Roman Catholic), no wonder the chocolate eggs weren't reduced in Lidl! Still we get to celebrate it twice – winner!

After a bite to eat we headed off, we'd read that wild campers had been moved on in the area and Aλινα told us that camping was no longer an option there. The nearest campsite was no good either as you had to park 2 kilometres away and walk to it. Turning off the National Road we followed the coast, winding our way down narrow lanes surrounded by olive trees.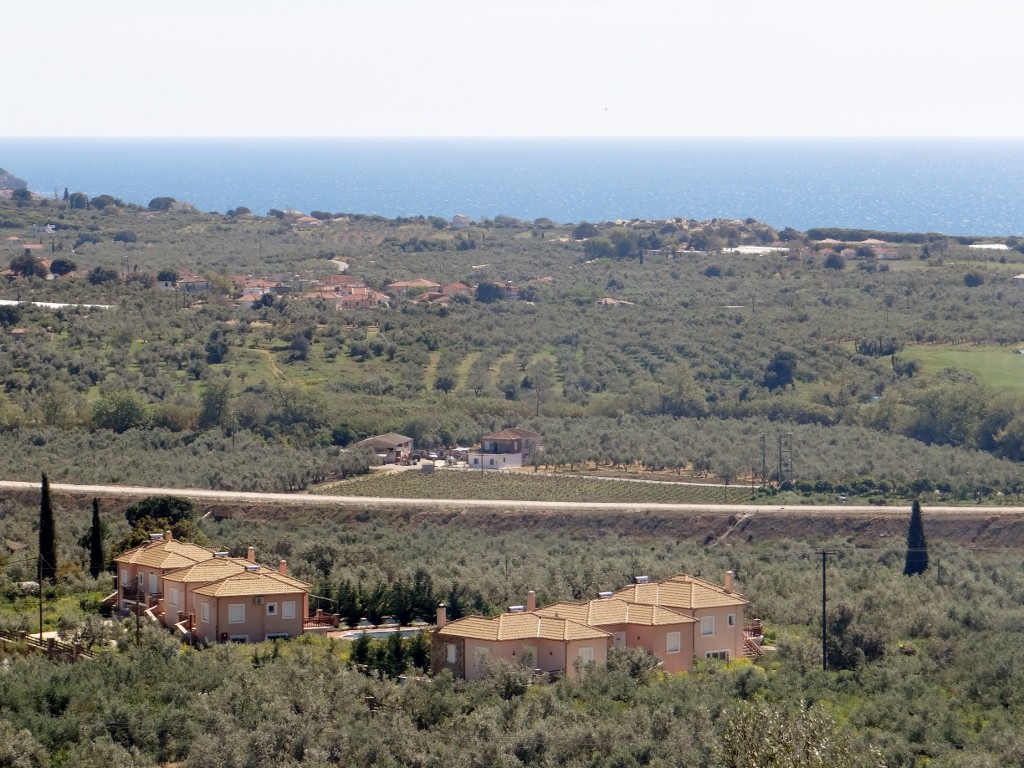 The silver green of the leaves stretched out up the hills around us and down to the sea, sitting in fields of flowers and bare red soil. Eagle-eyed Jay spotted a water tap so we filled Dave and our drinking water bottles up. A bit further along we found both a normal and a recycling bin, our rubbish was sorted and put into the right ones, although peeping into the recycling one I'm not sure everyone else is so thorough.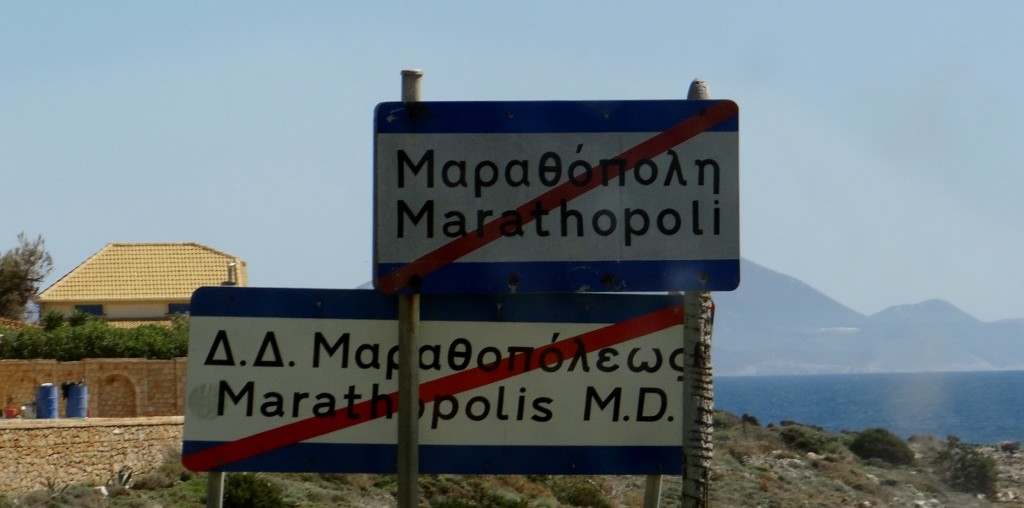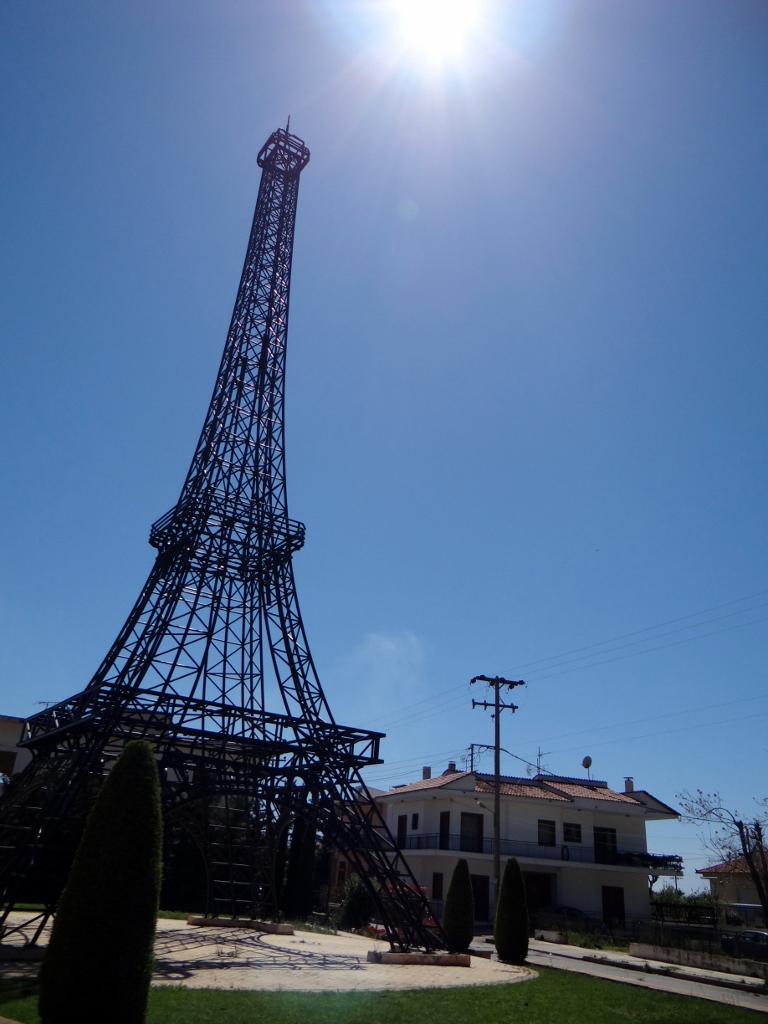 We arrived at Romanos and followed the signs for the beach. The road ended and a bumpy path lead up to where we are parked, just past the 'no camping or sleeping in any sort of vehicle' signs. It's out of season, so hopefully they won't mind us being here for one night. Jay headed out for a snorkel while Charlie and I chilled out in the sunshine; me reading, Charlie snoozing.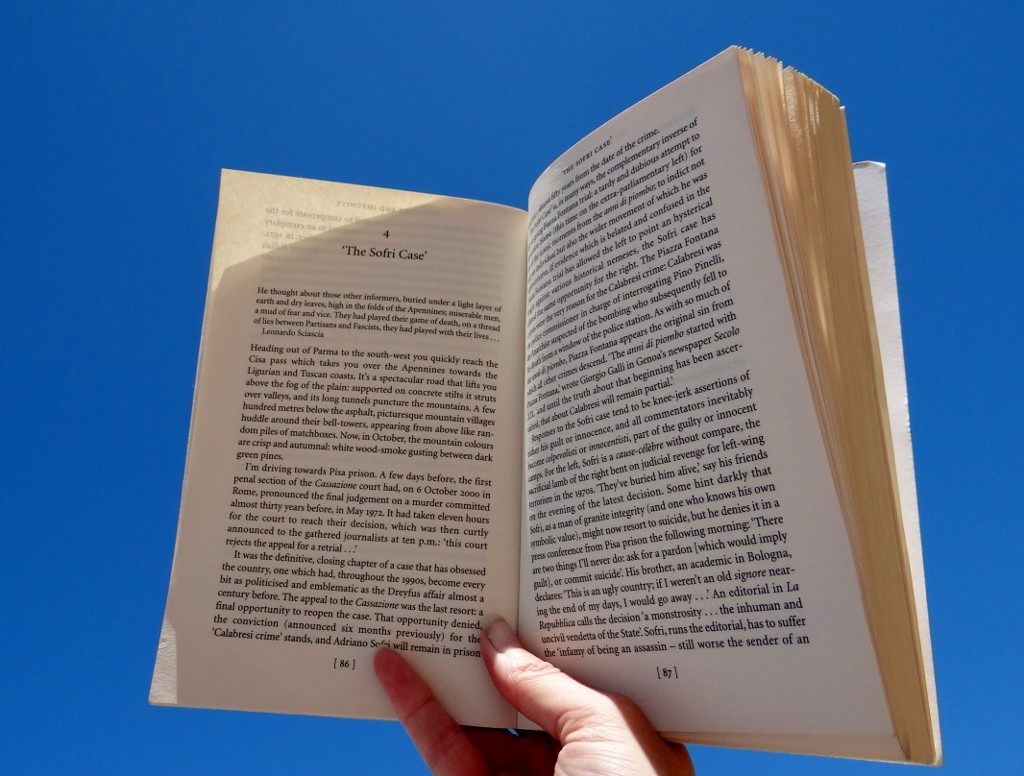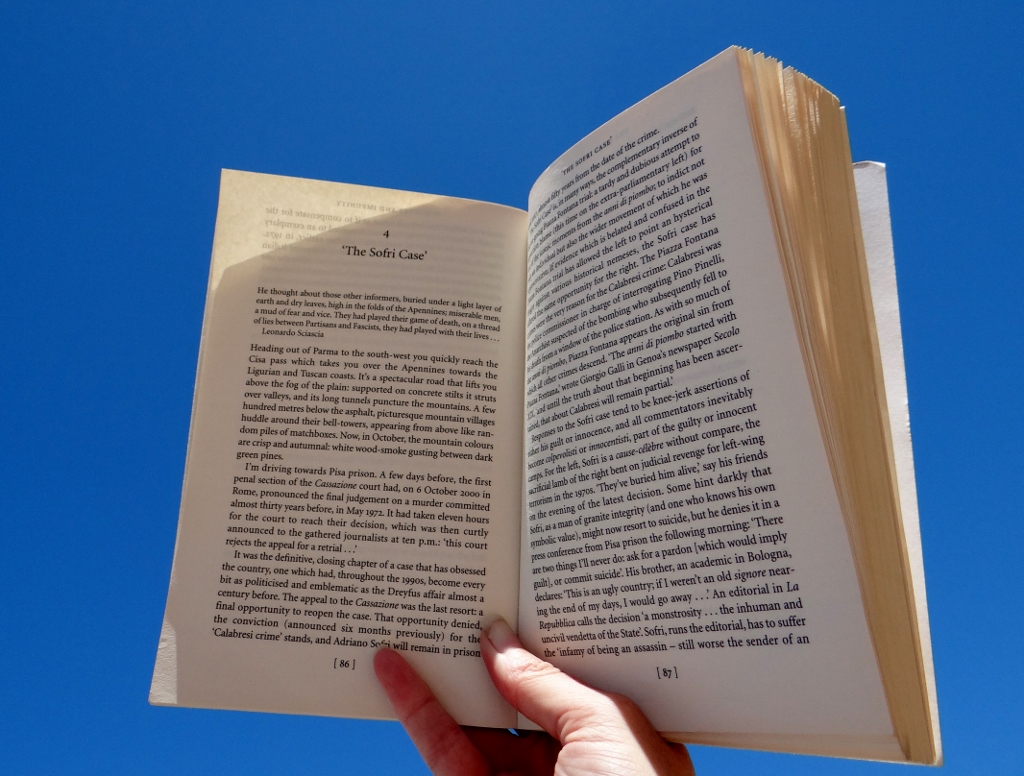 Our check list for today was completed apart from one item; loo emptying. Sadly as we'd driven through each town we didn't look at the views or the architecture, just for any sign of a WC! There were none. Dave's loo is going to have to last another night, then we'll have to drive very carefully and take the corners slowly until we reach our next stopping point which is on a marina; so it must have a loo, right?!

Ju x