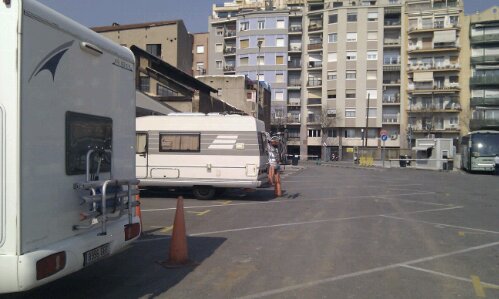 We're here: N41.40389 E2.18306. It's a gated, guarded 24hr car park in the centre of Barcelona, 5 minutes from the Sagrada Famila. It's costing us €20 a night (10am to 10am, credit card only, and you can book on the Internet), which seems like a bargain for such a brilliant location.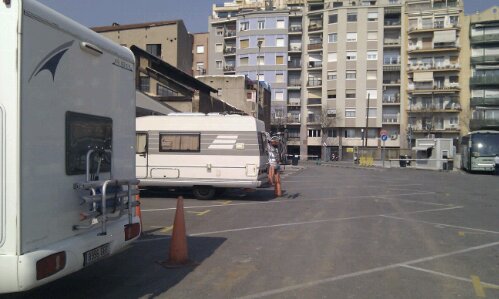 The weather is: despite a pessimistic weather forecast, lovely and sunny. A Carrefour Discount lager is cooling in the fridge. Come to Daddy.
We left Dave on the campsite this morning and headed for the bus stop. As soon as we arrived, so did the bus. Charlie was quickly bagged up, as instructed by the campsite receptionist, but to no avail. Bus driver woman takes one look at him and wags a 'no dogs on here' finger at us, before driving off. Turned out lucky for us. We left the campsite and drove into town instead, finding this great spot which means we can leave Charlie more easily, and see the sights.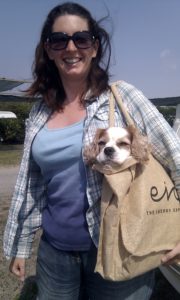 Sight #1: Sagrada Famila. We spotted the familiar spires as we drove in. We left Charlie in the van and walked the short distance to the place. Mobbed it was, understandably, but still we only queued 5 mins to get in. €13 entry each, plus €4 each for a guided tour. Not cheap, but they need the money! No smartphone camera could do the place justice. Probably no camera designed by man could; you need to see it with your own eyes.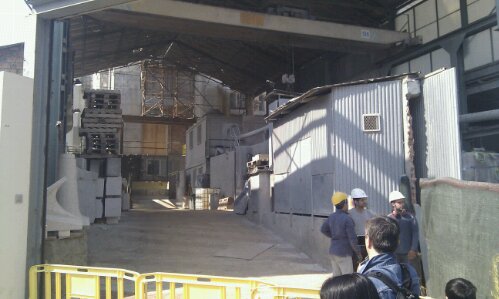 The guide told us how work had started in 1882, but within a year the architect had fallen out with the commitee running the show. Fortuitous for us, since he'd got some conservative design in mind, and we've seen far too many churches and cathedrals. Enter stage left: Antoni Gaudi. 31 years old, clearly a genius, and working on this monumental project along with others in the city. He soon sussed the task would outive him so left detailed designs and models for it's completion after his death. An unfortunate encounter with a tram saw him off in 1926, and amidst the Spanish Civil War, his workshop was blown up, doing away with the plans and models. Our Rough Guide tells us George Orwell was not pleased with this situation, wanting the Sagrada itself to be destroyed.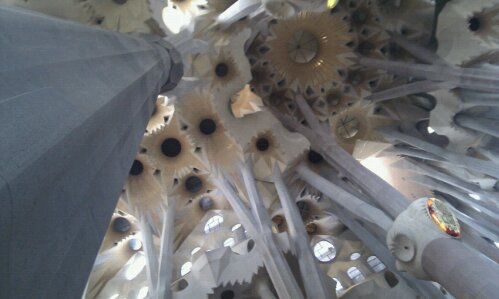 Work started again in the 50's, using the reconstructed models, and photographs of them. Judging by the modern, angular sculptures on one face of the building, some artistic license had been used too.
Anyway, even for a confirmed atheist like me, the exterior of the building is stunning. The interior is eye popping. My words and pictures cannot do it justice, and why anyone would want to destroy anything so beautiful, even to counter it's symbolic meaning, is beyond me. Incredibly it is only 75% complete; another 15 years should see it complete. We'll hopefully be able to return then.
Our guide had picked up the wrong name badge. The one he had said Marc, so that's what I'll call him. He knew his stuff, continually invited questions and was worth every cent. Once we'd left him, we came back via a patiseria and fed Charlie, and ourselves.
The next 6 hours saw us wandering the streets of the city with Charlie. It's Spain's second largest, after Madrid, so it took that long to get around. We found the Ramblas, one long wide street which keeps inexplicably changing name as you walk down it towards the sea, with occasional forays into Barri Gotic, the medieval old town. Spiffing it was, taking in the sun, eyeing up some 1900 year old Roman graves, window shopping and making acquaintance with lots of Barcelonan pooches and their owners.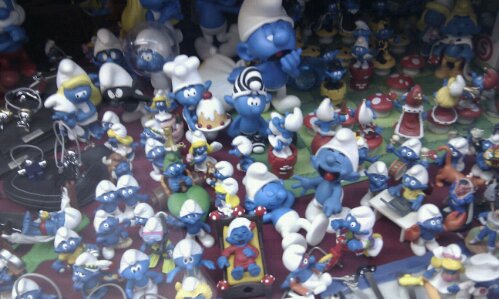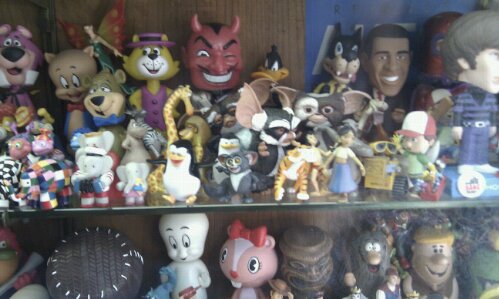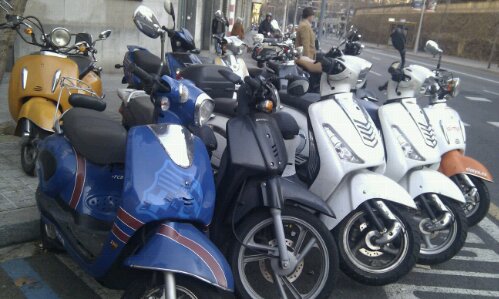 We're now back in Dave for a regroup. Charlie's brushed and is frantically snoring to my left. Ju's getting a nap in, and I'm about to tuck into that lager. Tonight, we dine in the city!
Cheers, Jay