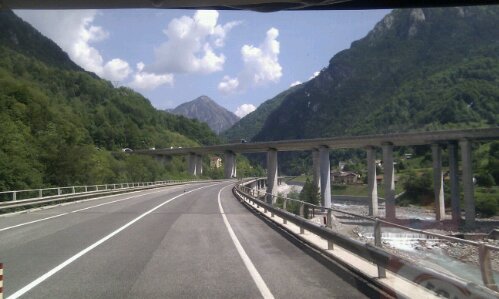 We're here: N46.66525 E13.97690
Weather: warm and cloudy with the odd downpour
Last night we got to witness another massive thunderstorm, as did my parents as we were on Skype to the during it. It was really hot all night as the rain from the storm never reached us.
This morning we were woken by the helicopter ambulance landing at the hospital next to where we were parked. As we were up early we decided to head for the ski resort of Tarvisio in the top corner of Italy.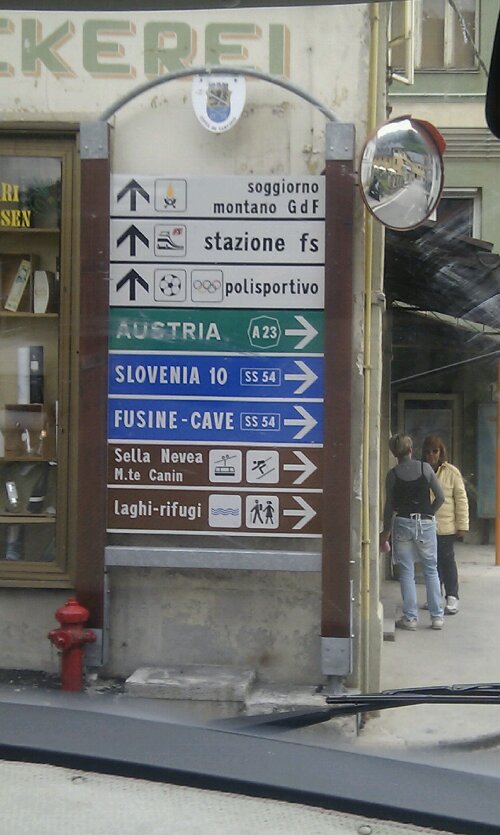 We were running low on diesel and every petrol station we passed seemed to be ridiculously priced, so we thought we'd be truly European and nip over the border to Slovenia for some cheaper fuel. The stations in and around Tarvisio were charging €1.69 a litre. The fuel light came on about 40km from Slovenia, it then proceeded to flash on and off depending on the slope on the road. It was fully lit as we climbed out of Italy and through the old border checkpoint into Slovenia. On a wing and a prayer we made it over the Col and descended to the nearest petrol station. At €1.30 a litre we saved over €20 and I got chance to try out my first 'dober dan' – Slovenian for hello.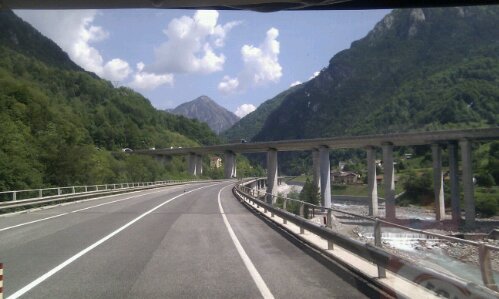 All fuelled up we headed for the Wurzen pass over to Austria only to find the road signs all taped over. Undeterred we carried on until a fella walking by the side of the road gestured we should turn around. The pass was closed, we have to go via Italy. So back we went to Tarvisio and found the sosta in the town. It was at the back of a huge empty car park which was free for cars, but for campers it was €0.60 an hour. We pulled in and had a bite to eat (without paying). The military police cruised by but didn't stop. After lunch Jay and Charlie went for a walk up the nearby ski slopes and got caught in a huge thundery downpour. They sheltered in a little hut on the blue run until it passed. By the time they got back to Dave I had a plan. We drive to the Hymer dealer in Villach (Austria) then have a couple of nights at a campsite by lake Ossiach which takes camping cheques – as we still have over 20 to use up.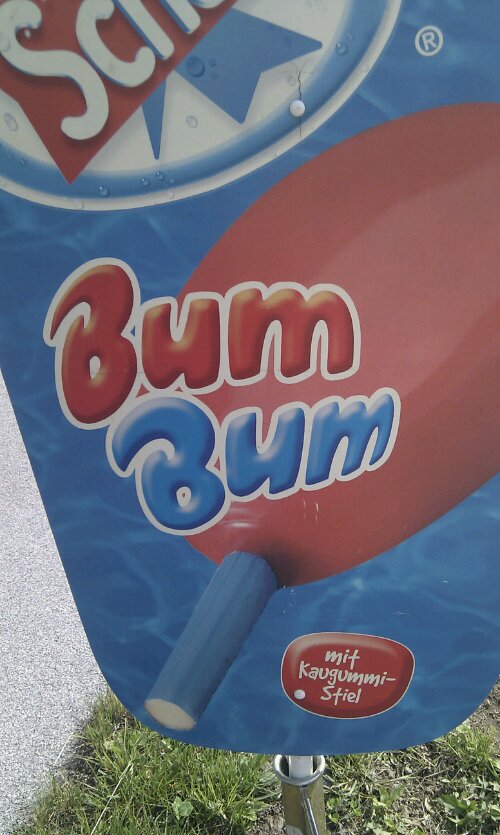 We set off and before we know it we're in Austria. We find the motorhome dealer and with the help of Google translate ask them to try and order the elusive hinge for us to repair Dave's door. They've taken our details and will call us tomorrow, as we left they were discussing if it would be easier to replace all four hinges!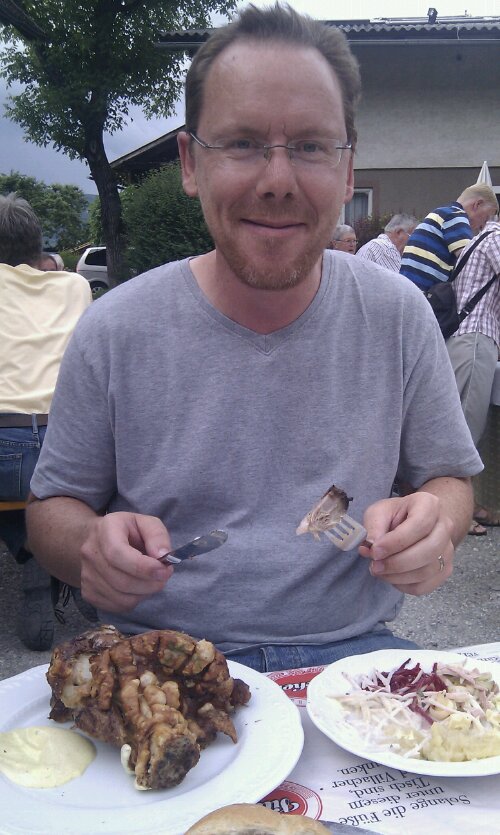 We found the campsite and after checking in heard the magic words – all you can eat barbecue tonight for €10.80 per person. As soon as Jay saw pig knuckle on the menu the deal was done. We took Charlie on a walk on the hill covered trees surrounding the lake, then left him in Dave to smell the bbq aroma while we went and ate ourselves silly. The food was fantastic and after a few beers even the europop music was OK.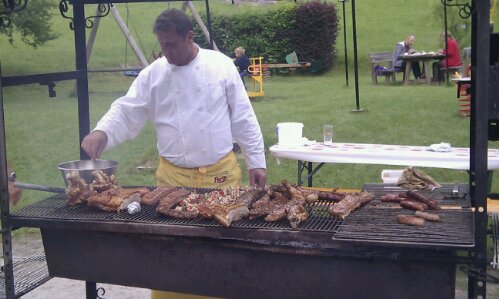 We ate until we were stuffed, struggled through a conversation with the people on our table and marvelled when everyone sang along with the song 'who the f**k is Alice?'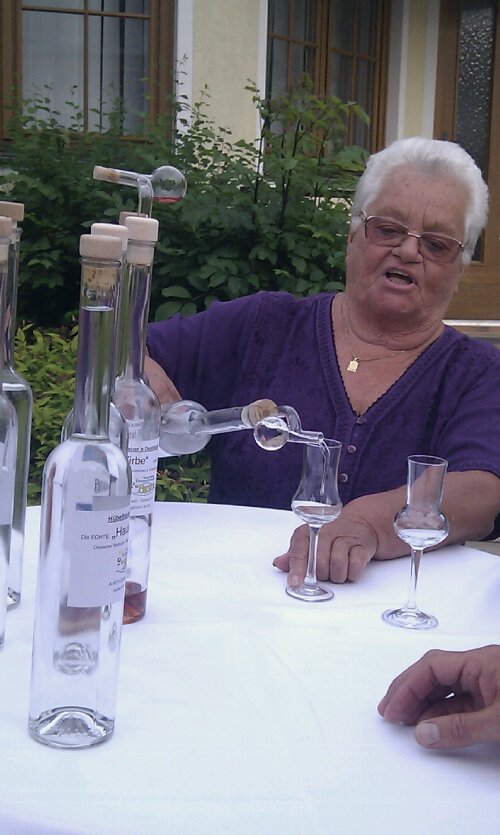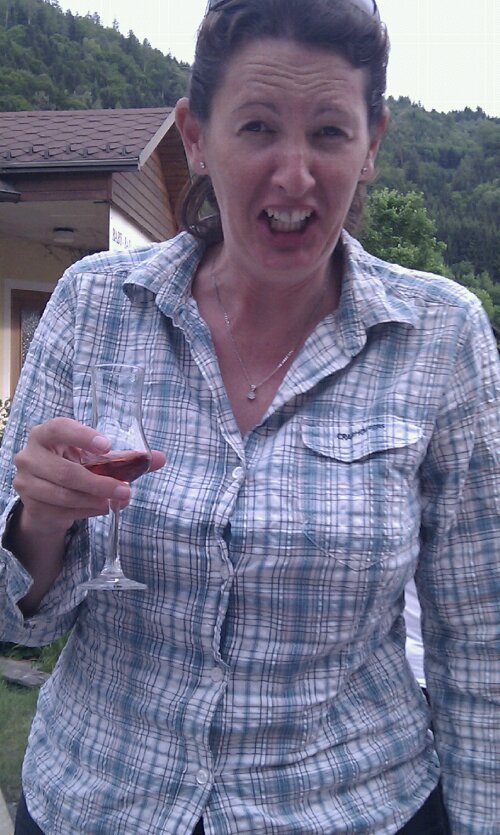 As the night fell we paid up and retreated to Dave where we had beer in the fridge and a view over the party still going on below. It's hard to remember what language to speak, but great being able to nip between countries.
Ju x