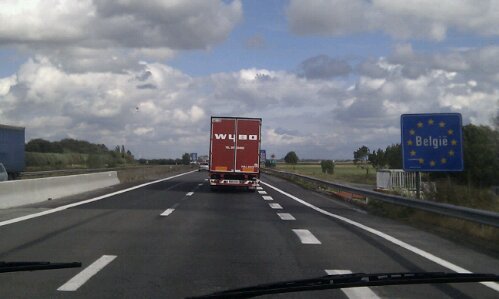 Dave the motorhome is braced against the sea breeze in Westende-Bad, Belgium (N51.16674 E2.76497).
Our quiet spot by the beach at Dover got very noisy around 4am when the thunderstorm we had been watching earlier over France reached British shores. Dave lit up with each lightning bolt as the rain hammered on the roof inches above our heads. By this morning the worst of it had cleared and it was only the strong winds that kept the sea choppy.
We arrived at the port (about half a mile from where we had slept) just after 8.30am. We were waved through both sets of passport controls before being directed into the customs shed. Here Dave's bonet was removed and his engine bay peered into, a few of his outer lockers browsed over and Jay was asked if we were carrying anything shown on a poster – firearms, knives? Yes, we once again declared our kitchen knives but they're obviously too blunt for whatever it is they are searching for. Finally the customs officer waved casually at images of an array of death stars and knuckle dusters and asked if we had 'any of this Jackie Chan stuff?'. Trying to keep a straight face Jay replied that we hadn't and at that the shutter doors opened and we were released to the check in desks.
Soon we were on board listening to the captain telling us to take care when walking around. We positioned ourselves on the lowest deck we could, as close to the front and centre as physically possible. In front of us a double height glass wall gave us a panoramic view of the white cliffs of Dover as we set sail.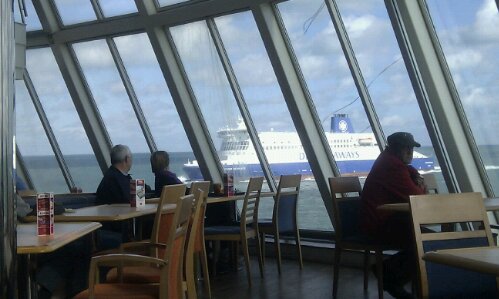 With Baileys costing more in duty free than at Tesco, we avoided a shopping spree, instead taking in the view and advantage of the on board wifi. The sea calmed as we reached Dunkirk and I almost succumbed to a bag of crisps from the cafe, but at 85p for a standard pack it was just a little too steep for me.
We disembarked and followed the convoy of cars and motorhomes to the motorway, no customs or passport checks here. Then we turned left and made our way to a motorhome service point in Bray Dunes to empty our waste water tank and brimming toilet.
As Jay held his nose I nipped into the Carrefour market next door and bought a roasted chicken which provided a welcome lunch and time to look at the maps. We fill up with fuel (phew, back to €1.40 a litre instead of high UK prices) then push on North for another 30 minutes, crossing over into Belgium on the way – so much for the big tasty French hypermarket food shop I've been dreaming about!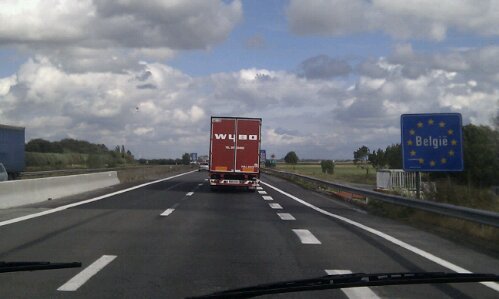 Our Aires book tells us it's €5 for 24 hours, our database says it's €5 a day and you can't sleep here until October. The neighbouring Belgian motorhome says they stopped last night for free as the paying machine has gone. So we'll stop here and see what happens.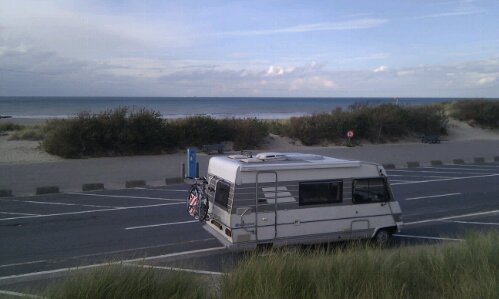 Charlie is happy to be back by the beach (he's already scored a dead crab snack), Jay is happy to be back driving on the right, and after the heartache of saying goodbye to loved ones I'm happy to be back on the road again.
Ju x
For the techie ones among our readers this post was uploaded using our EuropaSIM. As we're pretty much in the middle of nowhere I was surprised that we managed to pick up a wifi signal using our new antenna. We did, but there was only one and it was locked.