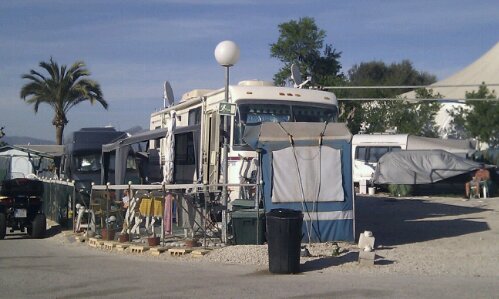 We're here: N38.54569 W0.10432. It's Camping La Torreta in Benidorm. We've spoken with some guys free camping around the corner who have had no problems, so we'll leave the campsite tomorrow after filling up with water. The campsite is nice, and appears filled with long stay guests, but we're wanting to save ourselves €24 a night (costs €27 with electricity).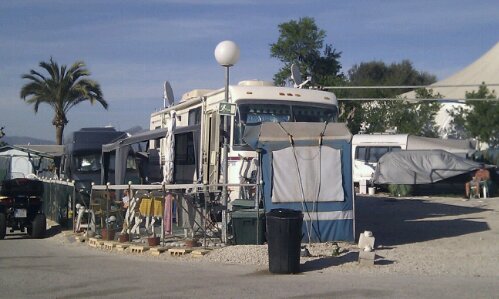 The weather is: as all the British say: hot in the day, but cold at night.
After a good sleep last night in our beachside free camp, I nipped into the sea for a snorkel. A walk of all of about 20m over powder sand. It's cold in there, but I'd been reading Band of Brothers about US WW2 paratroopers, so I manned up and got on with it. Saw next to nothing. No wonder the fishermen we saw on the beach didn't catch much.
Our trip up from Alicante to 'the Dorm' was pretty uneventful. Apart from me nearly stoving Dave into a line of stationary traffic, hitting the brakes as Ju shouted a warning, which flung open the fridge door and smashed a glass jar of blue cheese sauce. Much to Charlie's delight. I'd been mesmerised by an oncoming bus flashing his lights like a madman.
No harm done, we drove into the Dorm, amazed by the sudden appearance of tens of high rise hotels. It's like New York, only with more skyscrapers.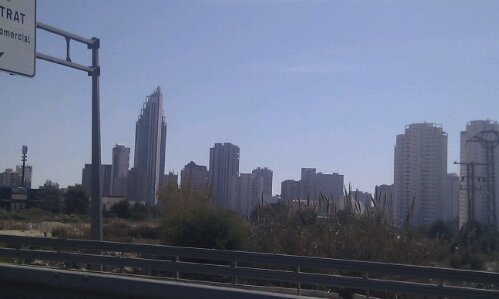 We walked to Ju's parents' hotel nearby, attracted the attention of a security guard by photographing their mobility scooter high rates, and were duly rescued by Judith and Malcolm.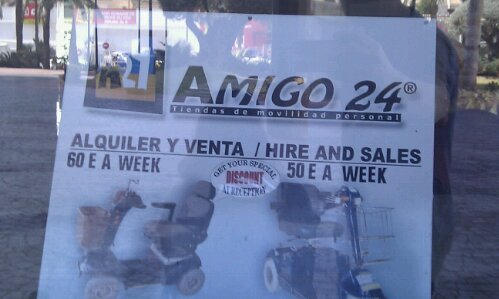 A wander around the place revealed that this is where all the British are hiding! The place is weirdly busy (we've spent 5 months travelling the off season) , with a full beach and the odd bouncing joint packed with €1 a pint punters. 'Genuine' full English breakfasts, mixed grills and huge blokes shouting at TV horse racing completes the picture. The town is clearly affluent, with manicured palms along the beach front prom, marble pathways and foot washing stations on the beach (saltwater, no good for Charlie).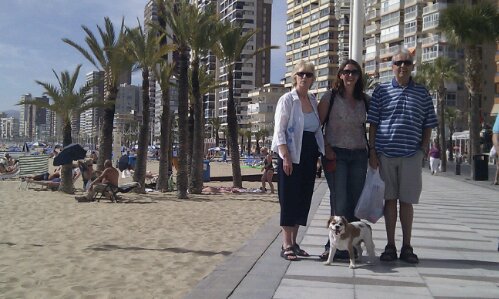 The atmosphere is friendly and a little party like, even at 4pm.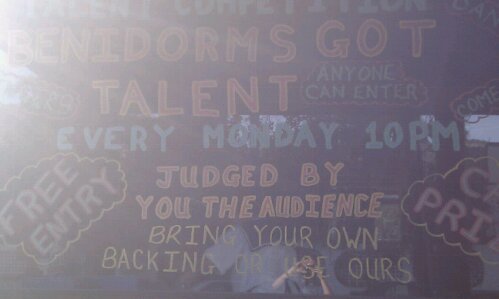 We stretch ourselves to a €1.50 pint of Amstel before heading back to the hotel to pick up our flown-in goodies. I scored a Ukulele for Dummies book, a recent PC PRO and a Guinness T Shirt. Lots of other goodies make up the package. Fandabbydosy.
We're invited up to share in the 4 star hotel love (also known as the evening buffet) by Judith. Malcolm's been volunteered to pay. Coupled with the cost of our wedding, my appearance 9 years ago has cost the poor fella dearly.
I'm now off to find the grey water emptying point so we can make a fast escape tomorrow!
Cheers, Jay