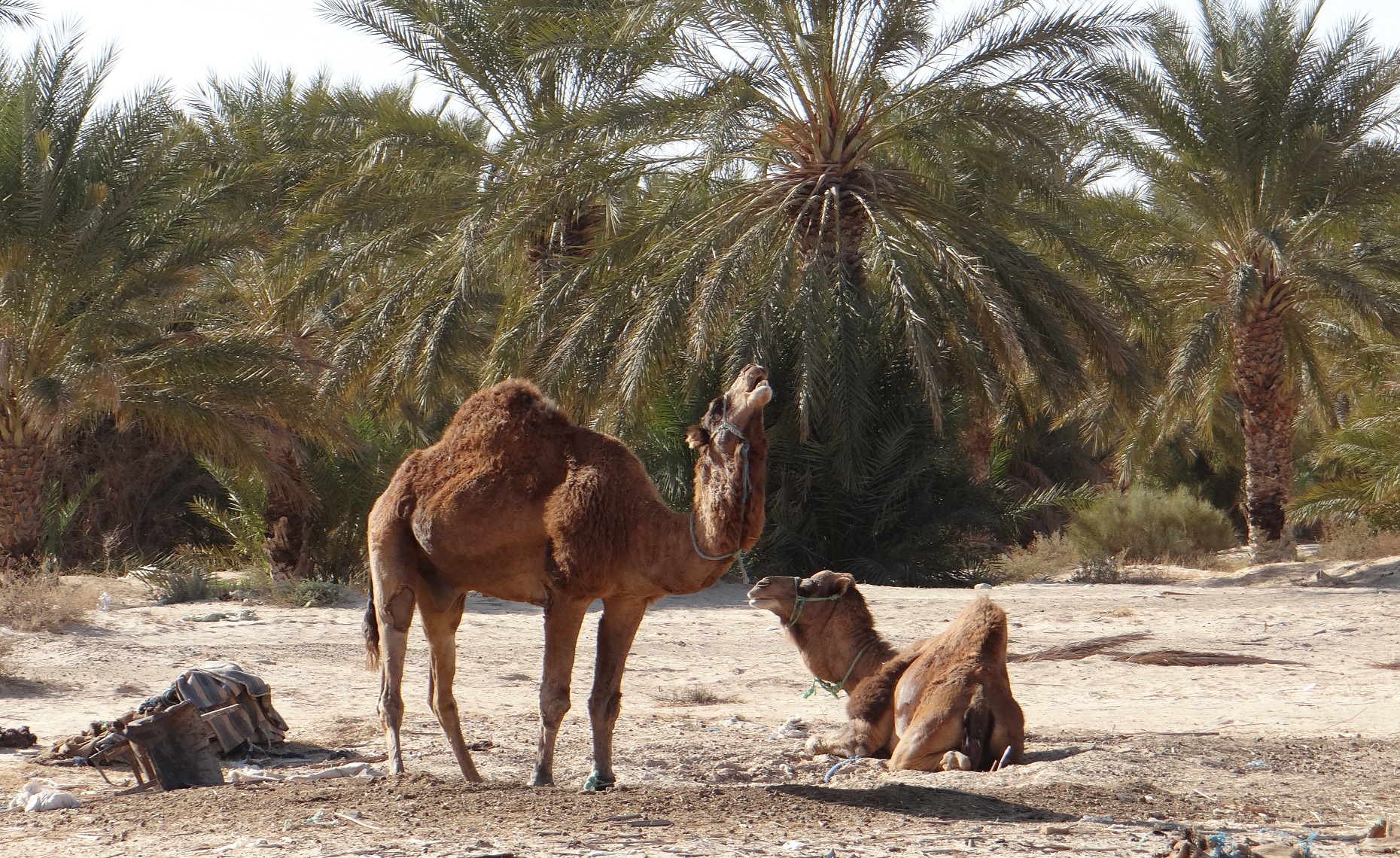 Dave the motorhome is wondering what-the? He's not moved for days, and we're again stationary in
Camping Desert Club, Douz. We've realised, we think, that just the other side of the dried palm fence we're parked up against is the animal enclosure for the souk tomorrow, which starts at 5am or some such. Bring it on!
Our trip to Morocco ended up costing us more per day than we'd normally spend in Europe. As the
food was so cheap to eat out, we ate out, although eating in is always far cheaper. Maybe we'll
fall into the same pleasant trap here in Tunisia? On our way to the Publinet office yesterday for
our daily half-hour Internet fix, a chap outside one of the restuarants Janet recommended to us
called us inside, showing us through the back to a bedoin tent-type indoor thing. It looked cool,
we said we'd come back. For once we did, although we took a table in the main part of the resturant
so we could listen to the arabic TV, and eyeball the odd local eating in there. The sight of a menu
with prices was a welcome one, especially as they were rather reasonable. A 'Brick' (an egg-in-
pastry type thing), Brochette (skewered and roasted chicken and vegetables), Roast Chicken, two
lots of beautifully greasy chips, bread, olives, two cans of pop, dates and oranges came to 19000,
about €9.50.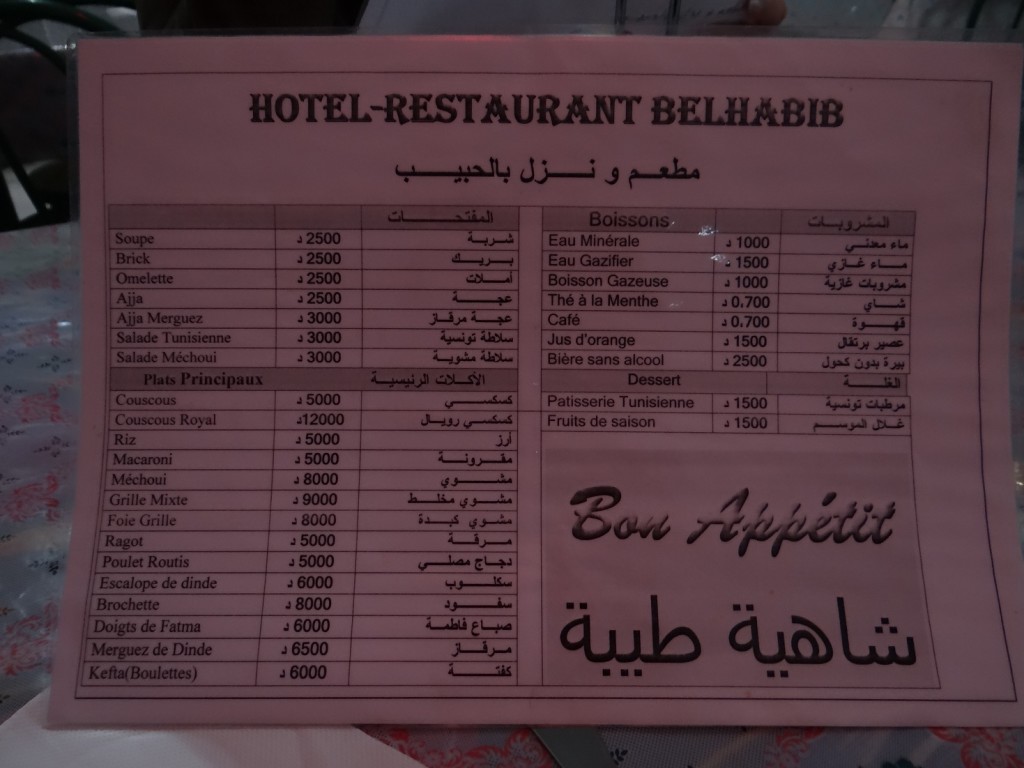 Time's slowing down here. Everything, apart from taxis and mopeds, and thankfully the Internet
speed at the Publinets, moves slowly. Things lope along, or much of the time, don't shift at all.
Sophie, the camp site manager, only moves quickly when the phone rings, which is does maybe once a
day. The site staff sit. Once in a while one will get up, probably at Sophie's insistence, and run
a rake over the sand, or empty the bins into the larger one outside. We're getting sucked in too I
think, waking at 9am, doing a great deal of not much.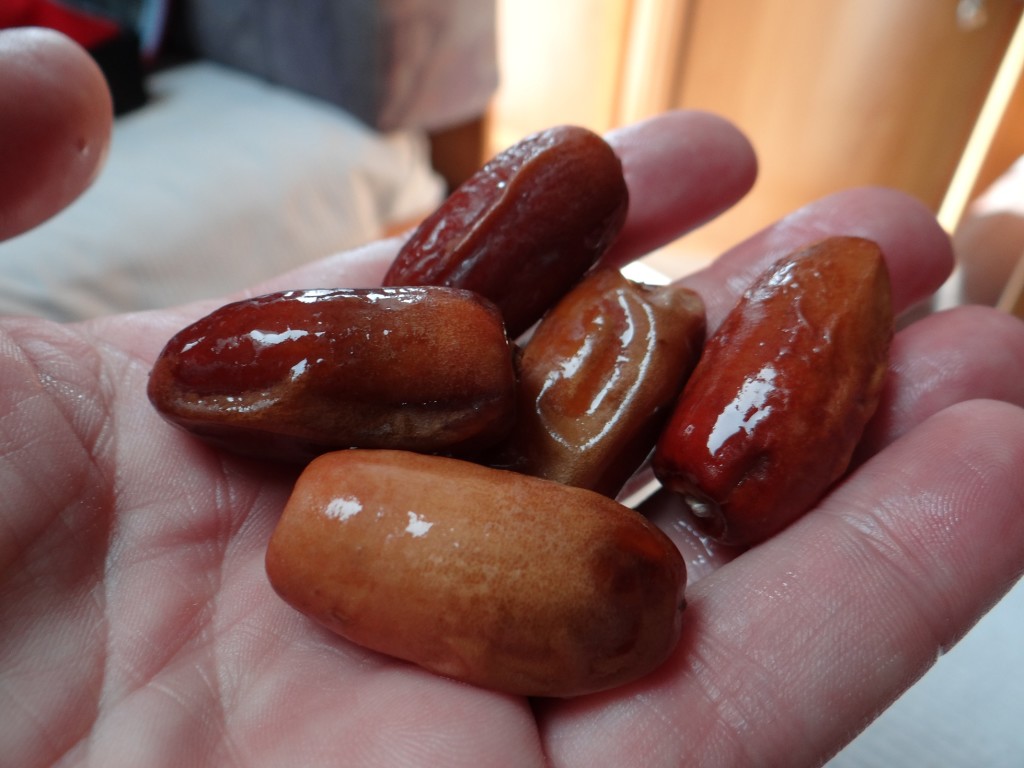 Today's hive of activity, ahem, for us started with a wander over to the campsite gate to photo the
water flowing over the oasis floor outside. A network of buried pipes, joined by the little
concrete wells, channel water around the huge forest of trees. Using pipes cuts down on
evaoporative loss; not much of a problem now when the days are back-warmingly comfortable, more of
an issue when it hits 50 degrees C. The floor of the oasis is used for growing other crops; here it
seems to be mainly fodder for animals.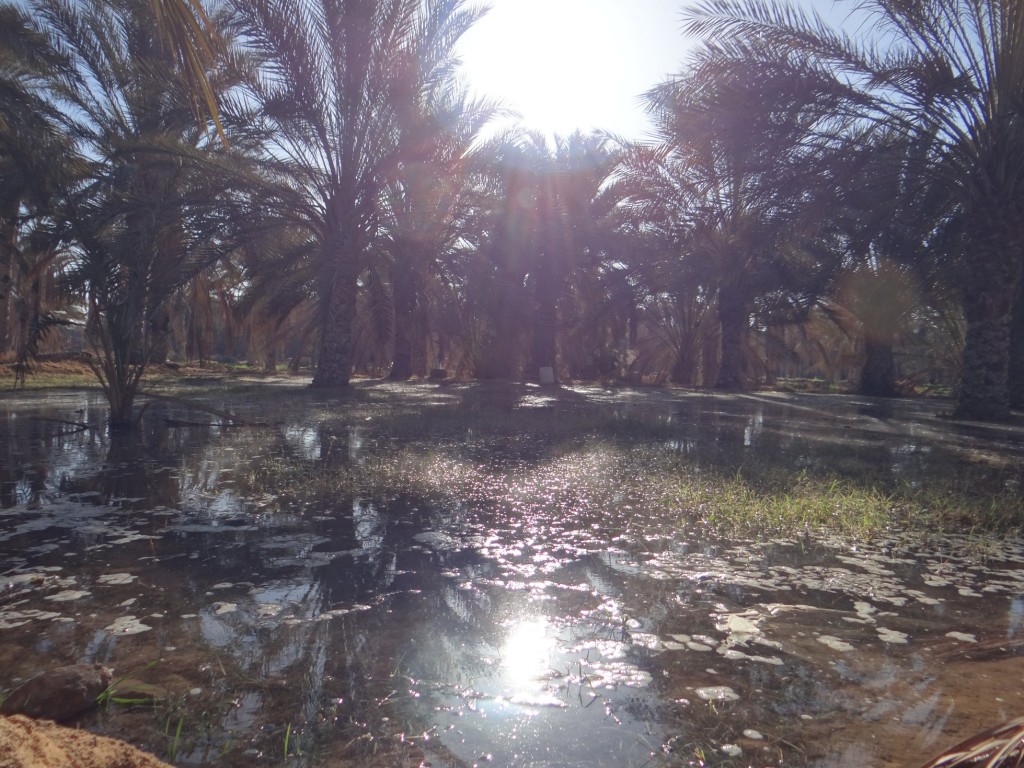 Breakfasted and showered, the sight of Wijm returning from the town with bags of vegetables
explained why his pooch was sat staring patiently at the ungated entrance. The town souk's started.
A two day affair, we've not been able to suss quite what happens today (Wed), prior to the main
event tomorrow. Locking the crowd-hating Charlie into the van we hooked up with Les and Anne-Maire
from the van next door for a wander about.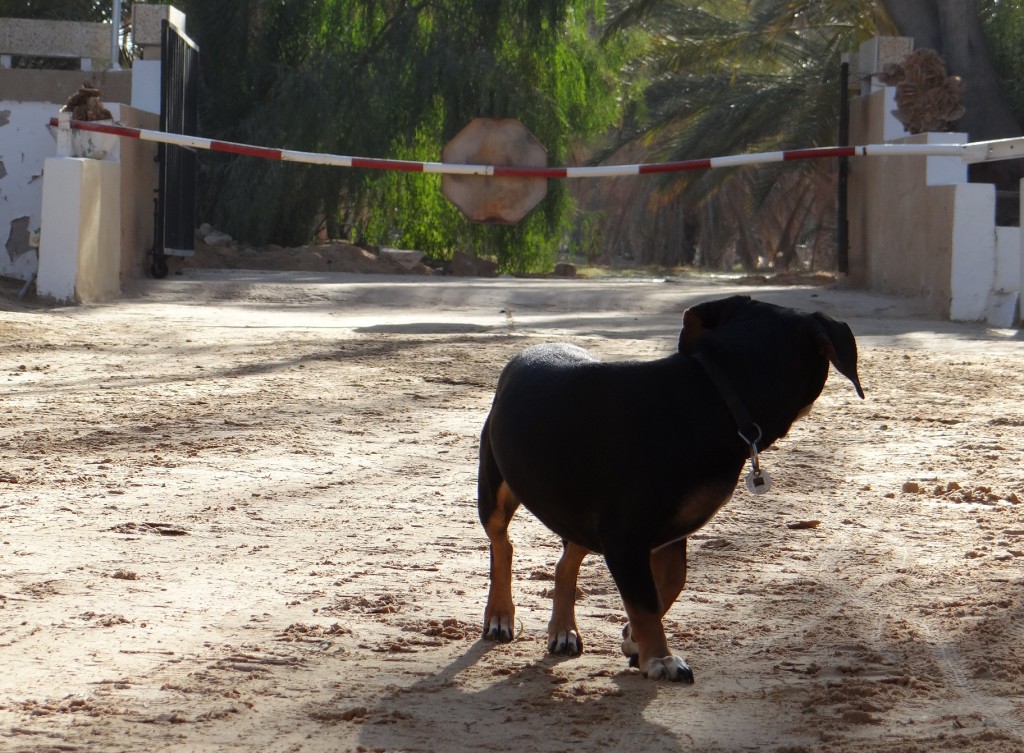 It's fruit and vegetable day, and when they do markets here, they clearly bring their entire crop. Enormous stacks of plumb tomatoes, small green peppers, truck-loads of potatoes, squashes (which were left out unguarded all night), celeriac and oranges.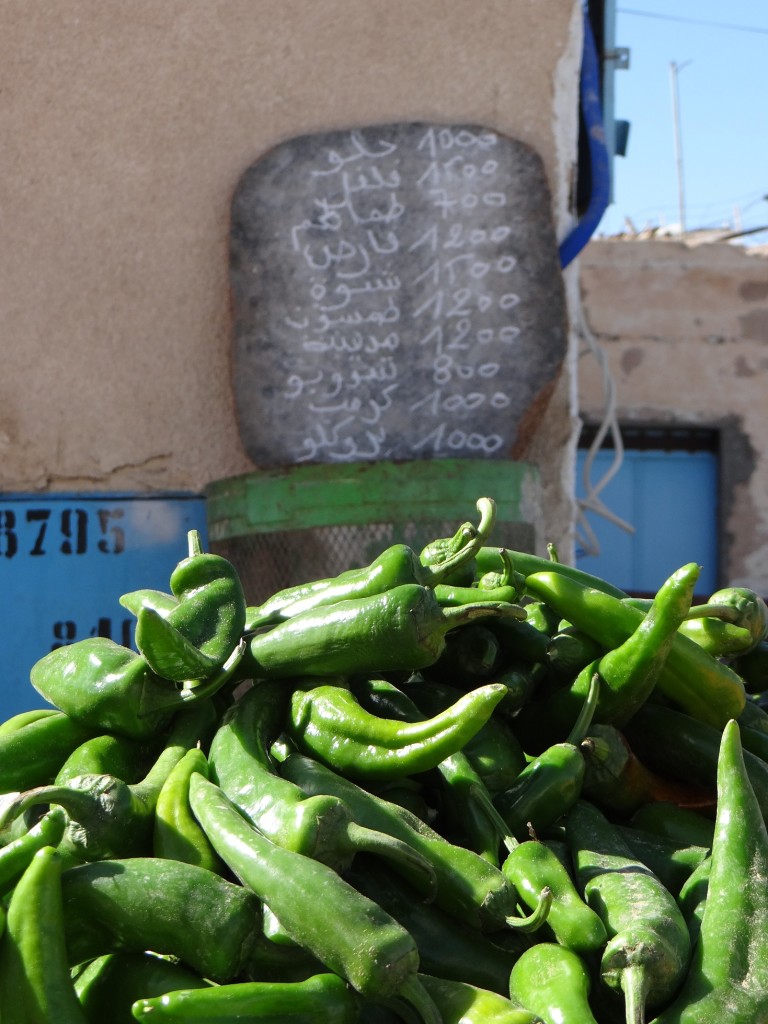 A few random stalls crept in, selling the usual assortment of household stuff, along with 200 packs
of cigarettes and umpteen nappies, which only ever seem to be discarded alongside the road after
use. Cloudy olive oil appeared in second-hand bottles, huge buckets of brine preserved the olives
which avoided the crushing process.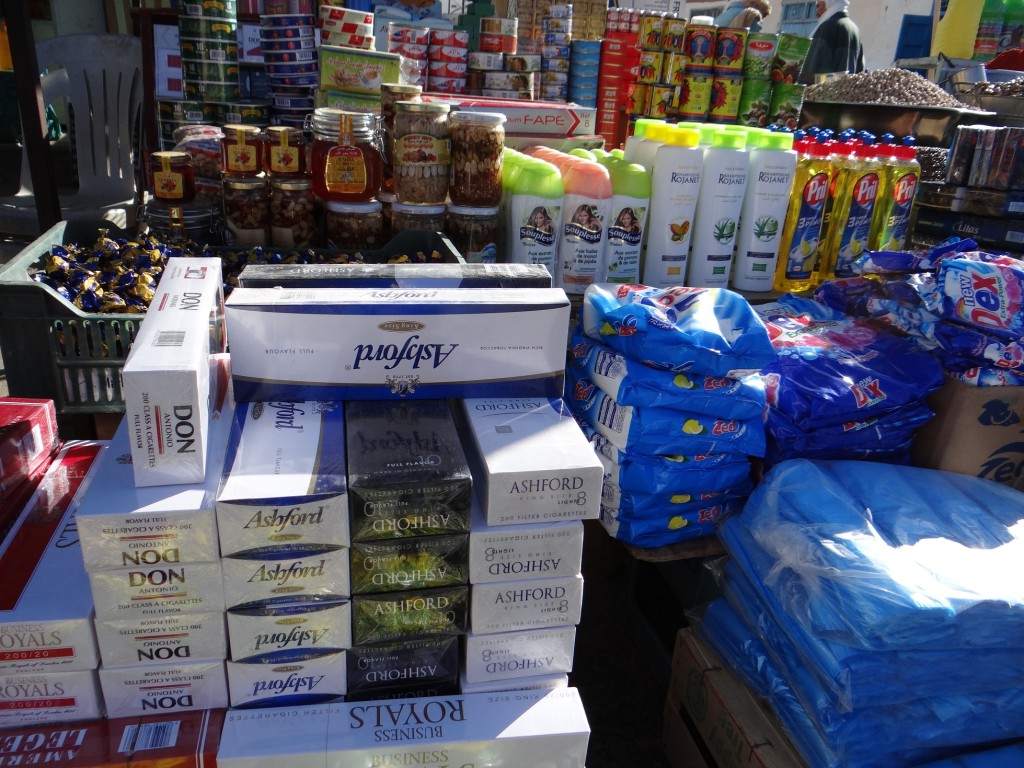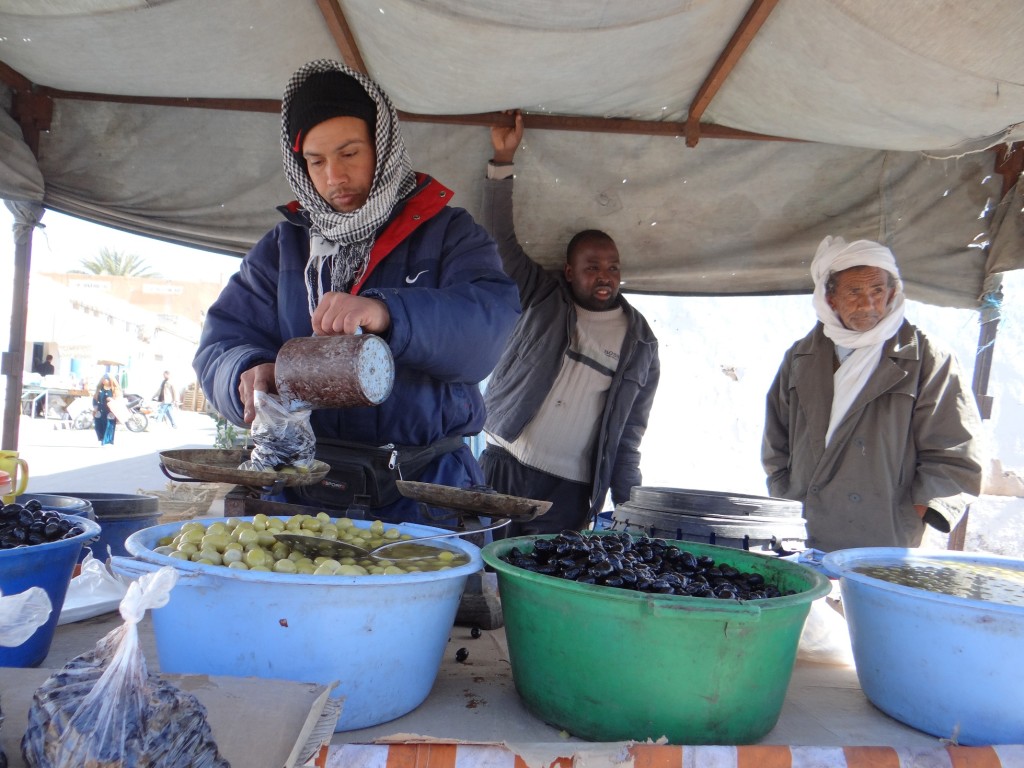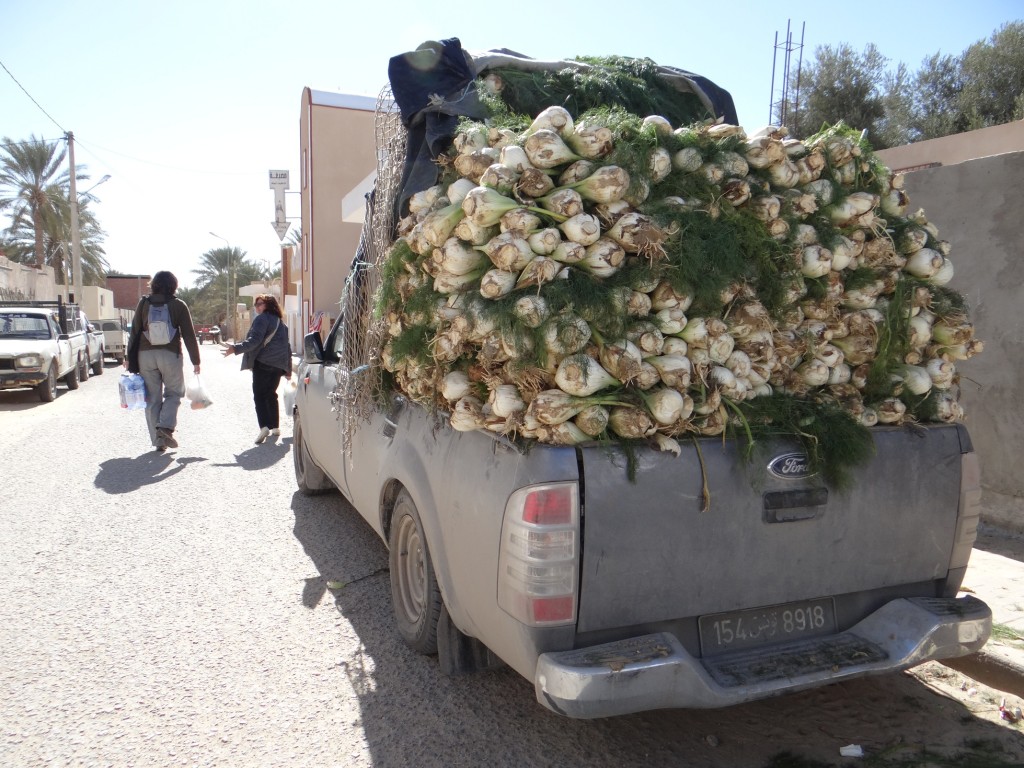 The four of us took to the main square, pretty much deserted but for some stalls piled with clothes
and apparently odd shoes (looking closer they were pairs, you just had to pair them yourself, and
supply the laces). White plastic chairs in the corner announced a cafe, completely devoid of
punters. We sat down anyway, the owner telling us (through Les and Anne-Marie who speak fluent
French) the world had gone mad, there were no tourists any more. Mint tea'd up, we chatted about
their home near Narbonne, where we'd broken down all those months ago. Anne-Marie runs a shop (6
months open, 6 months closed while they travel), flying to Thailand and Bali to source and buy the
goods she sells.
Honey featured on our shopping list. Some stalls had it, unpriced. A couple of corner shops, known
here as supermarkets, also had it, so we went in and priced it up. About 9TD per Kg. Outside the
stall owners eyed us up, one pronouncing 17TD per Kg ('good quality'), the other a bit less.
Haggling is, we are told, not the done thing over food, except in the souk. Unsure if this was the
souk or not, went back to the supermarket and grabbed it from there, topping up with water, milk
and the like for our upcoming trip south to Ksar Ghilane. A roast chicken made it into the bag, for
7.50TD rather than the 12TD I was quoted the other day; we went halves on it with Anne-Marie.


Once we'd done walking the souk, picking up more bits and bobs, we headed back to the campsite, yet
again being greeted by the beaming face of Ali, the chap who attempted to sell me an open-air 'act'
a couple of days ago. I can't quite get my head around it; it would take a lifetime for me to
understand this Eastern world.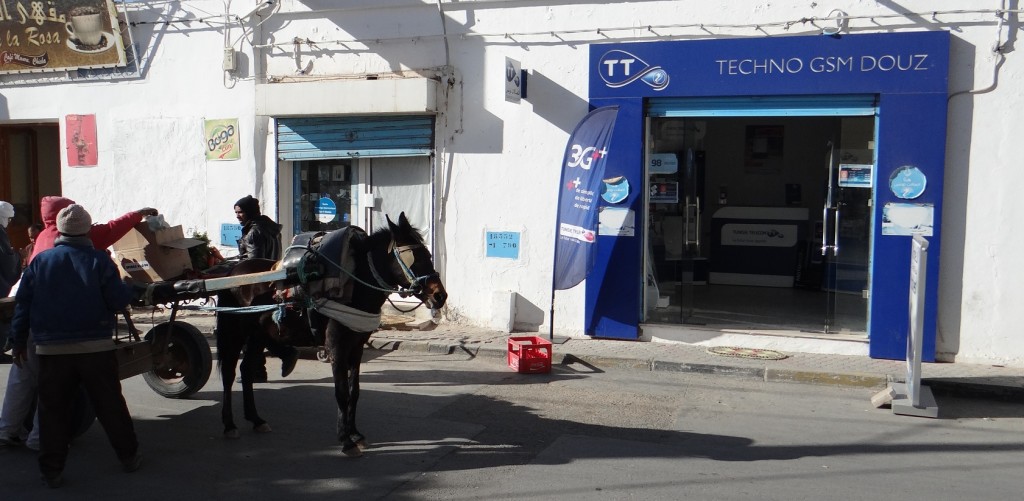 Out on the other side of the huge oasis here, a mile wide with trees, is the start of an Erg, a
sand desert. Charlie's not going to make it out again for the main souk tomorrow, risking being
trampled under human, camel, sheep or goat feet, so we ambled off south with him for a few mile
walk. The road leads direct to the flat ground and incongrous whitewashed stand used for the
Festival of the Sahara – a spectacular event we hear which takes place in late December. Closing in
on an archway through the stands, we noticed although the black top turns right, the 4×4's just
continue, a track leading off into the enticingly sea-like flow of low beige dunes beyond. Our
second tout of the day rounded in on us across the wide packed earth. They're an amiable lot
though, we just explain we've done all the camel/desert stuff, and they wish us a good day
(literally) and are gone.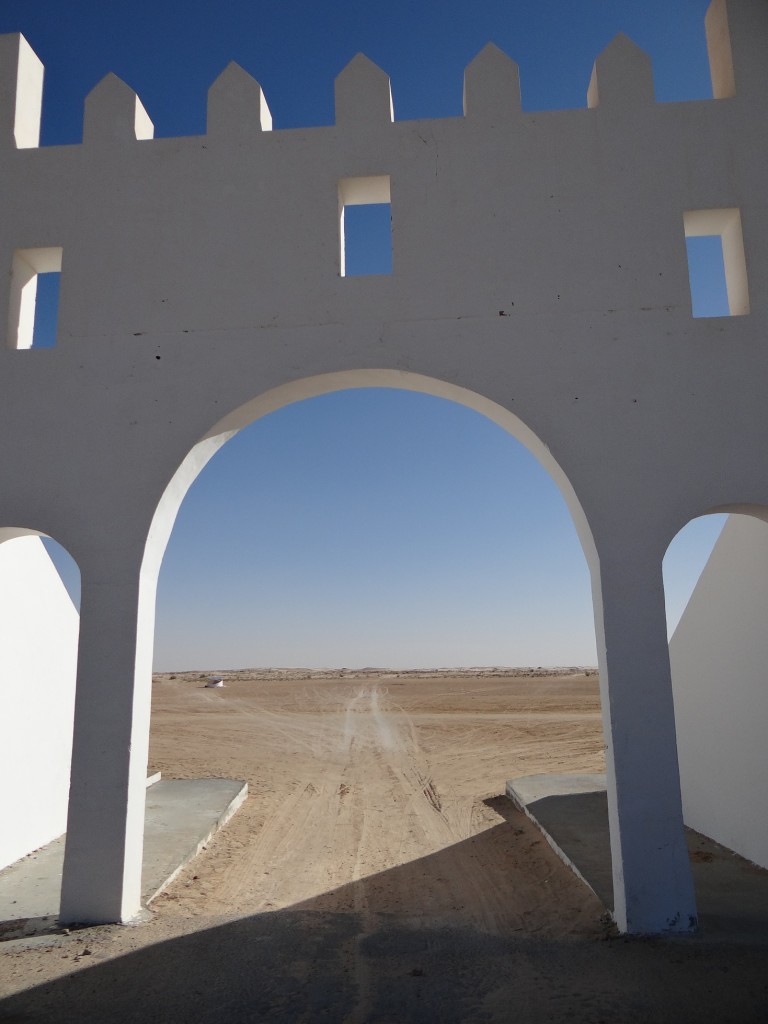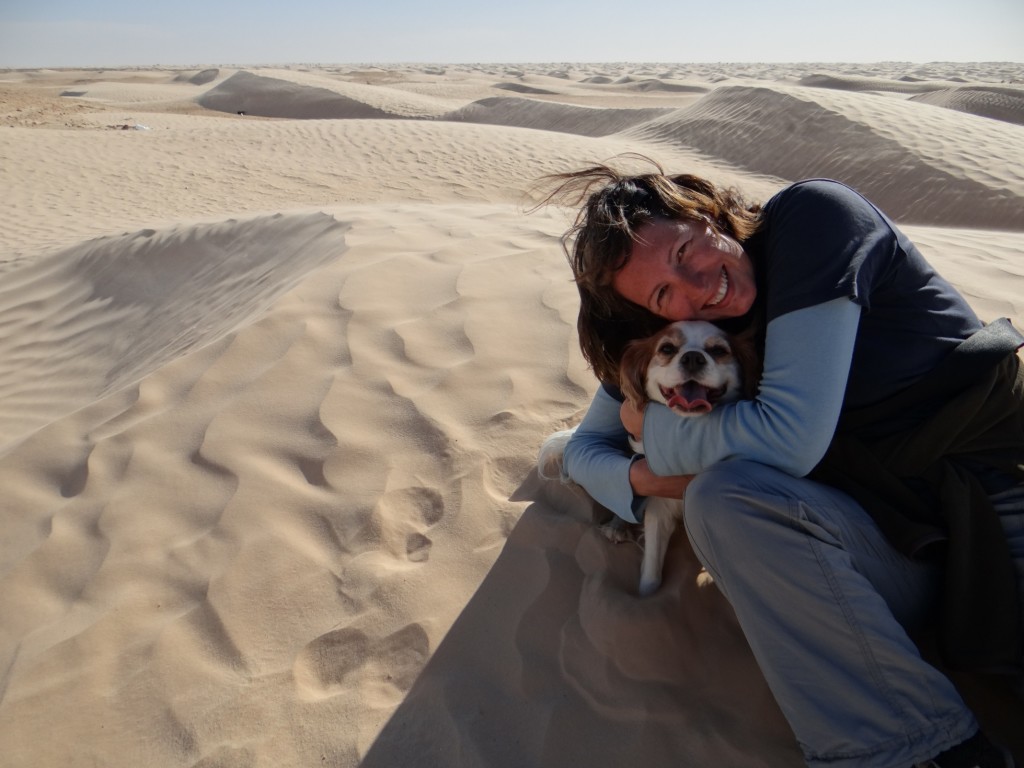 The Erg is magnetic. It is everything the romantic desert film promises. It reaches out to the
horizon, swirling wind brings the surface alive like a fluttering silk sheet. The sun casts smooth,
chocolate shadows along crests and edges. It's just plain bloody beautiful, awe-inspiring and
fearsome, a death-zone. Even just a few hundred meters into it, our teeth ground grit and we stood
with out backs to the wind to shield our eyes and our camera. Charlie pegged it around after bits
of stone and dried camel poop. We grabbed photos, and left, looking backwards as we walked. The
pipeline road south to Ksar Ghilane will bring us back, I can hardly wait.

Tomorrow will bring, hopefully, what we've been waiting here for, the main souk, and a hundred new
things to see. I hope I've got the gumption to photograph some of them.
Jay
P.S. There are loads of these flighty fellas about the place, but they're fast and it took ages to get one – any ideas?